Get ready to experience chocolate chip cookie heaven with The Best Vegan Chocolate Chip Cookies! Baked to perfection, these cookies boast a soft and chewy texture with gooey pockets of chocolate in every bite + they are sweetened with applesauce! These mouthwatering treats are an absolute delight for both vegans and non-vegans alike. You won't believe they're entirely plant-based! Trust me---this is THE BEST vegan chocolate chip cookie recipe you will ever find. Completely Dairy-free + Egg-free. Gluten-free option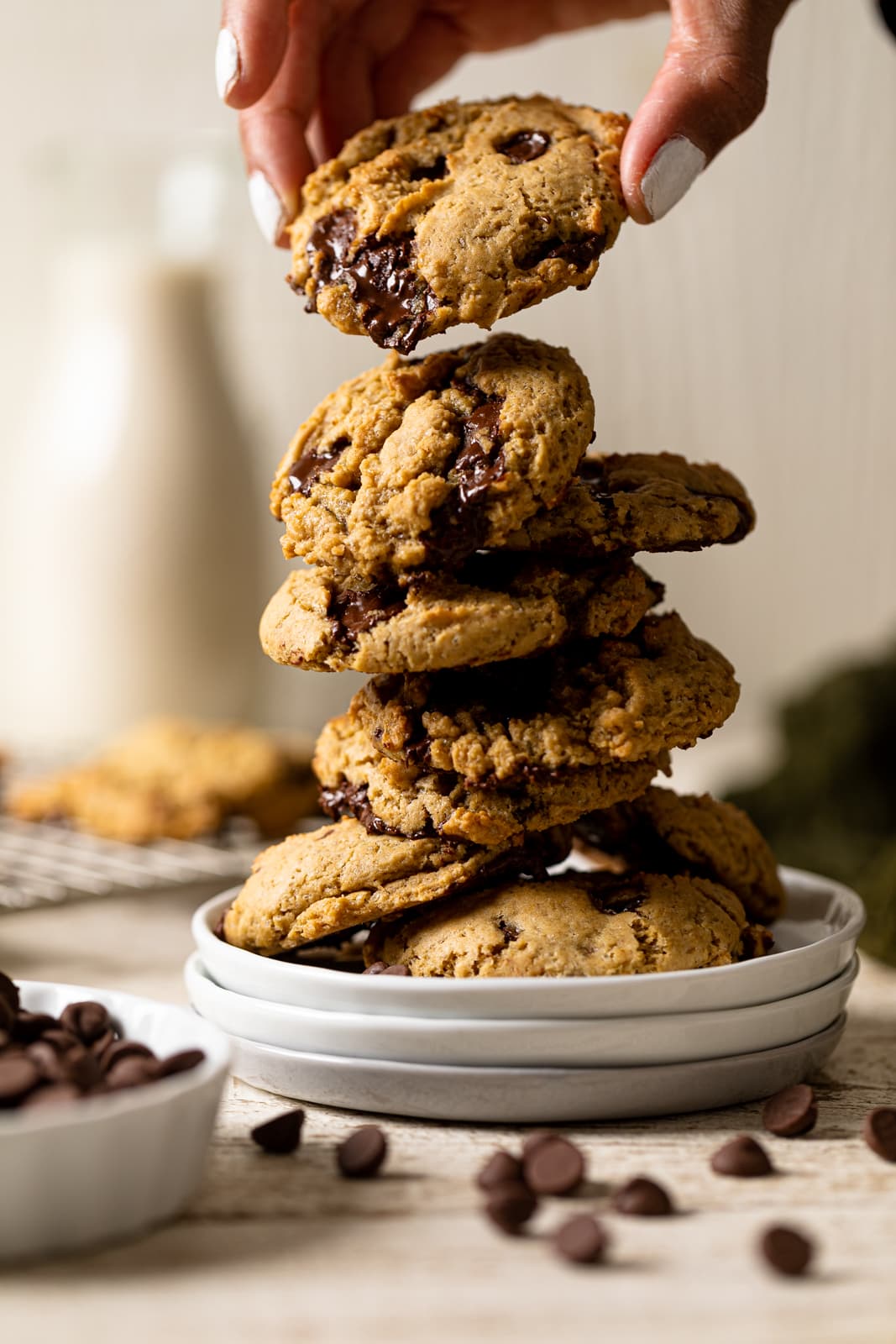 Why Are These Vegan Chocolate Chip Cookies The BEST?
I've always loved cookies. They're truly the perfect pick-me-up snack. My favorite cookies are soft, chewy, and full of chocolate. I also love out-of-the-box cookies like my Chunky Vegan Chocolate Chip + Pretzel Cookies or Soft Oversized Crinkled Sprinkle Sugar Cookies. But these are my favorite classic and timeless chocolate chip cookies that happen to be dairy-free and egg-free. 
These really are the best vegan chocolate chip cookies, I don't use the term 'the best' lightly y'all-- Think soft, thick, and chewy-- Just as good as the classic. Even non-vegans will agree. Whether you're baking with kids for a fun-filled activity or sending these delectable cookies home with guests as the ultimate party favor, this versatile vegan cookie recipe is perfect for every occasion! Prepare to win hearts with each delicious chocolate-y melt-in-your-mouth bite.
Love giant cookies? Try these cookie recipes next, Big Bakery-Style Oatmeal Chocolate Chip Cookies and Jumbo Chocolate Stuffed Butter Pecan Cookies
Jump to: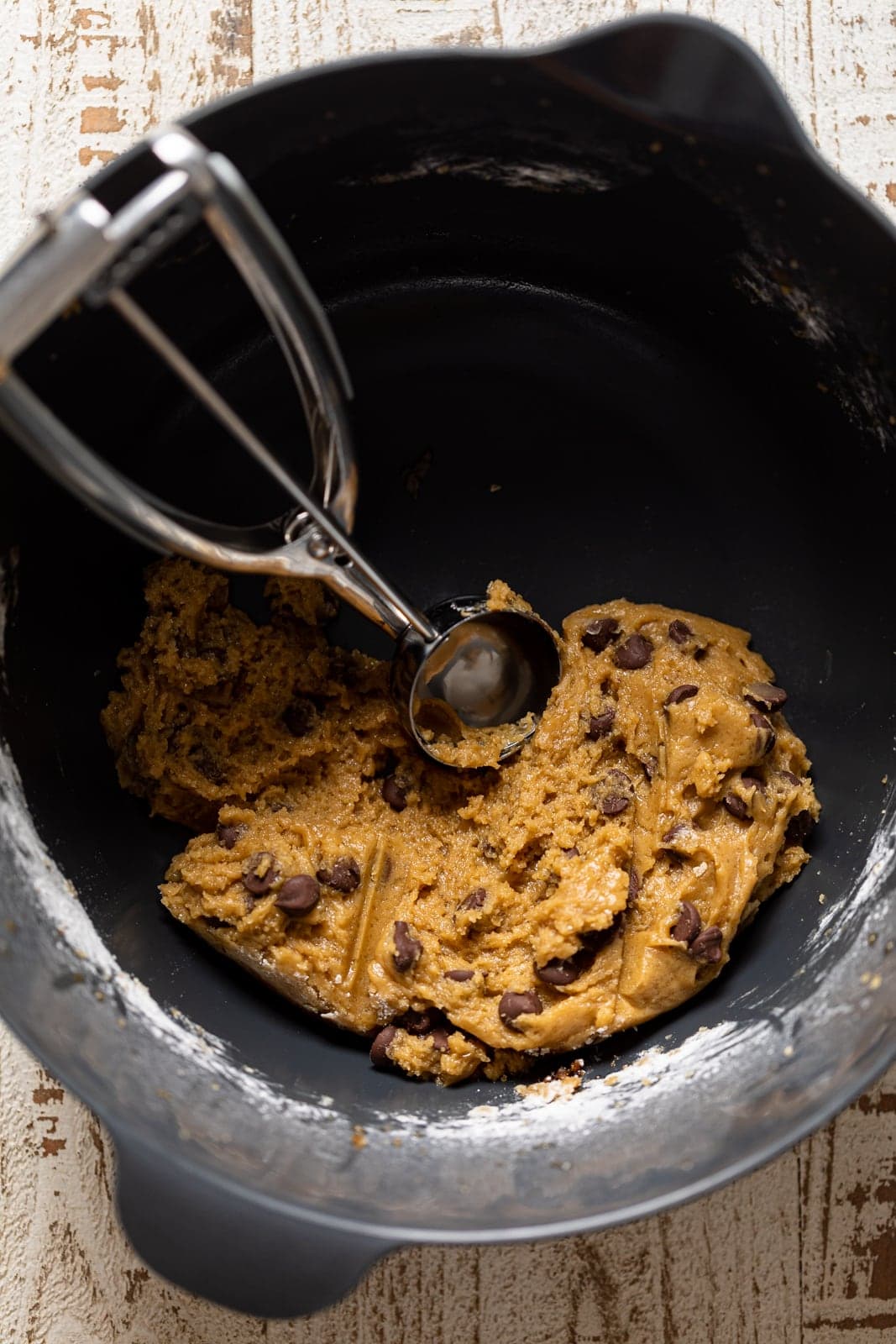 How to Make Soft Vegan Chocolate Chip Cookies
These cookies take just 20 minutes to whip up. You'll need a few important ingredients to achieve the thick, chewy texture perfectly:
Coconut oil. This cooking oil is solid at room temperature like butter, so your cookies stay nice and firm after baking. There's no need to melt the oil for your cookie dough.
Brown sugar. Choose organic sugar to ensure it's vegan.
Vanilla. To balance the rich chocolate flavor.
Almond milk. You can use any kind of dairy-free milk.
Applesauce. This is the secret to soft and cakey cookies without lots of added sugar.
Flour. I use King Arthur Flour all-purpose (organic).
Baking soda. To help your cookies rise in the oven.
Chocolate chips. I use the mini vegan chocolate chips from Enjoy Life Food.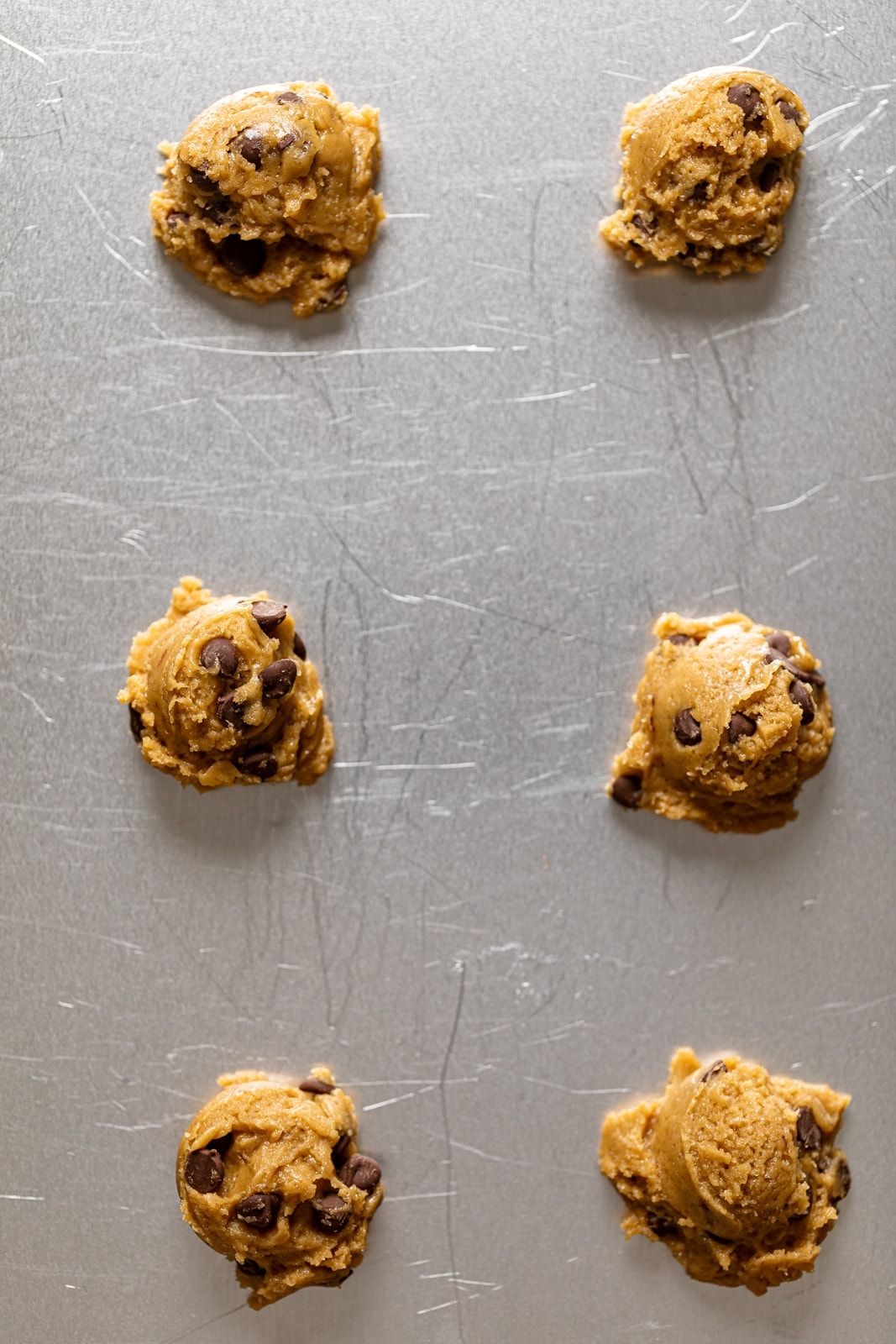 Tips for Baking THE BEST Vegan Cookies
When it comes to baking vegan cookies, this can be quiet the challenge since dairy, egg, and butter play such an important role in the perfect cookie texture and form. However, I've learned a few takeaways while failing and mastering vegan cookies and wanted to share them below for you. For additional tips, you can check out Buzzfeed's article.
MY TOP TIPS
Make sure that the chocolate chips are actually vegan. My favorite brand is Enjoy Life Products.
Choose the best egg substitute and understand the different types. For the cookies, I specifically used applesauce as my substitute, however, you can also use mashed bananas, flaxseeds, or tofu.
Ensure that you use vegan-friendly brown sugars and cane sugar instead of regular white or brown sugar.
If you don't want to use vegan butter, you can use coconut oil, but keep it solid. I always recommend refrigerating the coconut oil beforehand if it's melted.
You can substitute honey for Agave or maple syrup at a 1:1 ratio.
Don't over bake. With vegan cookies, you literally just need to wait until the edges are brown. No need to keep them in too long since there aren't any raw ingredients.
A mixer isn't necessary! While I often use an electric mixer for regular cookies, I actually prefer mixing my cookie dough for vegan cookies with a rubber spatula. Of course, if physically you need to use a mixer, then do so, but it's definitely not necessary.
Why You Will LOVE These Vegan Chocolate Chip Cookies
Super soft + chewy inside.
Crisp & crunchy outside.
Minimal ingredients.
Easy steps.
Melts in your mouth.
Loaded with chocolate chips.
Delicious with EVERY. SINGLE. BITE.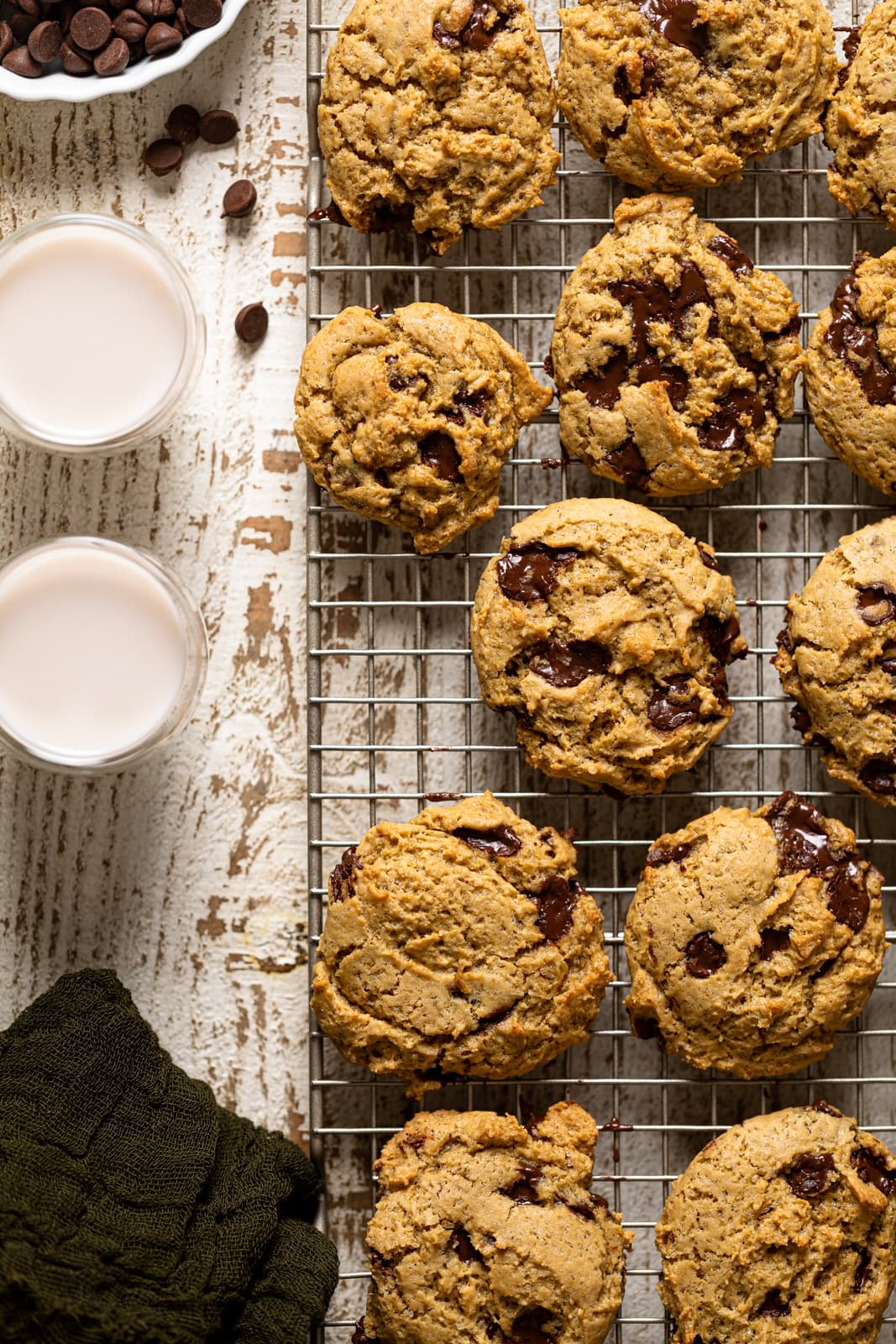 What is the Banging Process?
The trick with how beautiful these vegan cookies look is in the banging. While this process is optional (and you prefer chunky, dome-like cookies), I definitely like doing it a bit to flatten them and have them spread out a bit more.
The banging process.
During the baking process, you have to bang the baking sheet with your cookies a few times before they are fully baked.
Therefore, the "crinkling" comes as a result of the center of the cookies falling inward, pushing the rest of it outward. I know, it sounds pretty crazy, but it's so cool!
Combining this "crinkling" process with the flavor combo of butterscotch is like Heaven on Earth with each bite.
WHO CREATED THIS BANGING METHOD, EXACTLY?
I originally saw the "crinkled" cookie recipe about 2-3 years ago in the New York Times, which was originally by Sarah Keiffer, a baker and blogger of The Vanilla Bean Blog.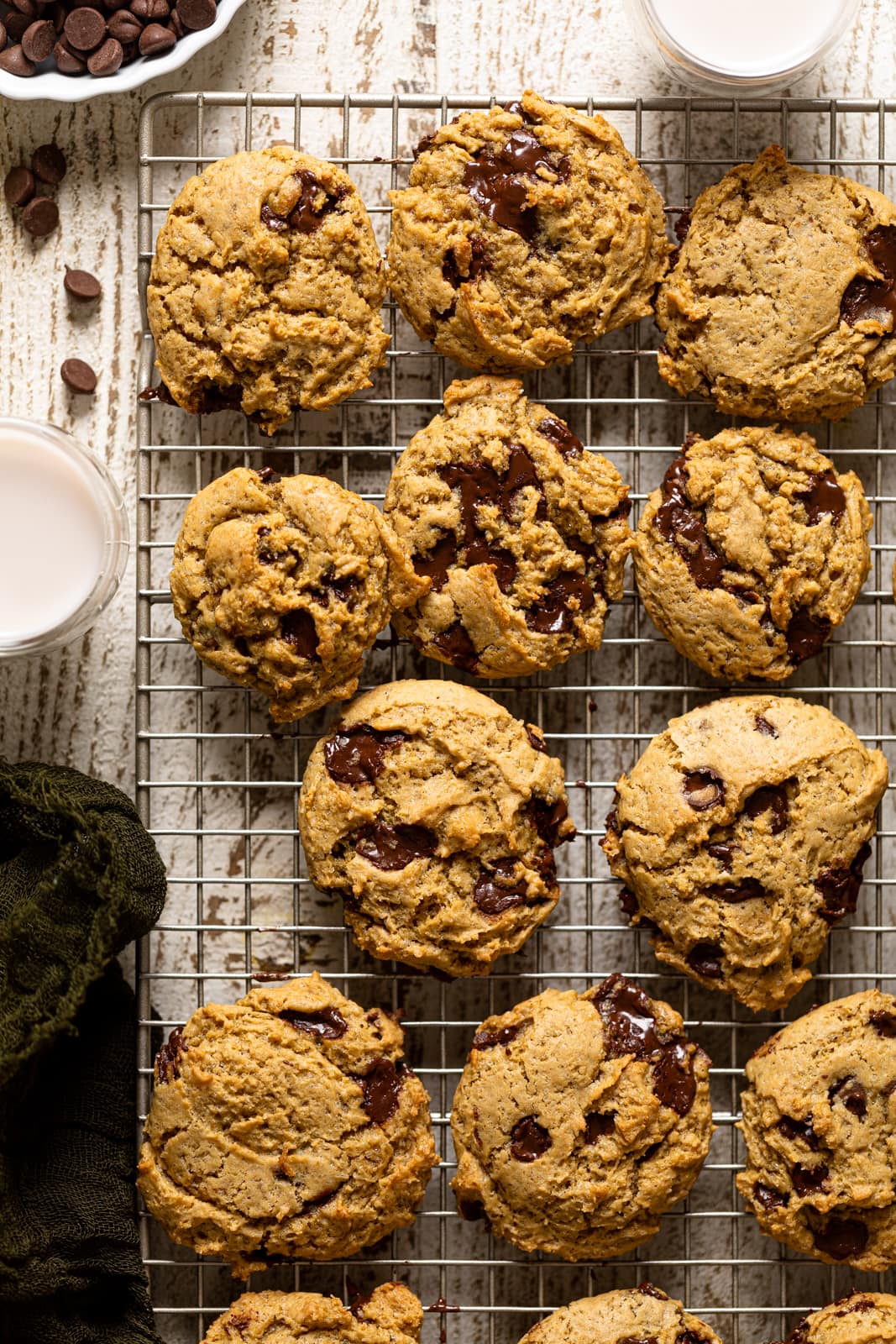 What Should The Vegan Cookie Dough Feel Like?
The texture of vegan cookie dough should be similar to traditional non-vegan cookie dough, look for this -
Coherent and Holds Shape: The dough should still hold its shape and be cohesive enough to form into balls or drop onto a baking sheet. It shouldn't be overly wet or runny.
Easy to Handle: You should be able to handle the dough easily without it sticking too much to your hands. If it feels too sticky, you can refrigerate it for a short while to firm it up.
What Should I Do If My Dough Is Too Sticky Or Dry?
If the dough appears too wet or sticky, add a little more flour (1 tablespoon at a time); However, if the dough appears too dry (add 1 tablespoon of Almond milk at a time).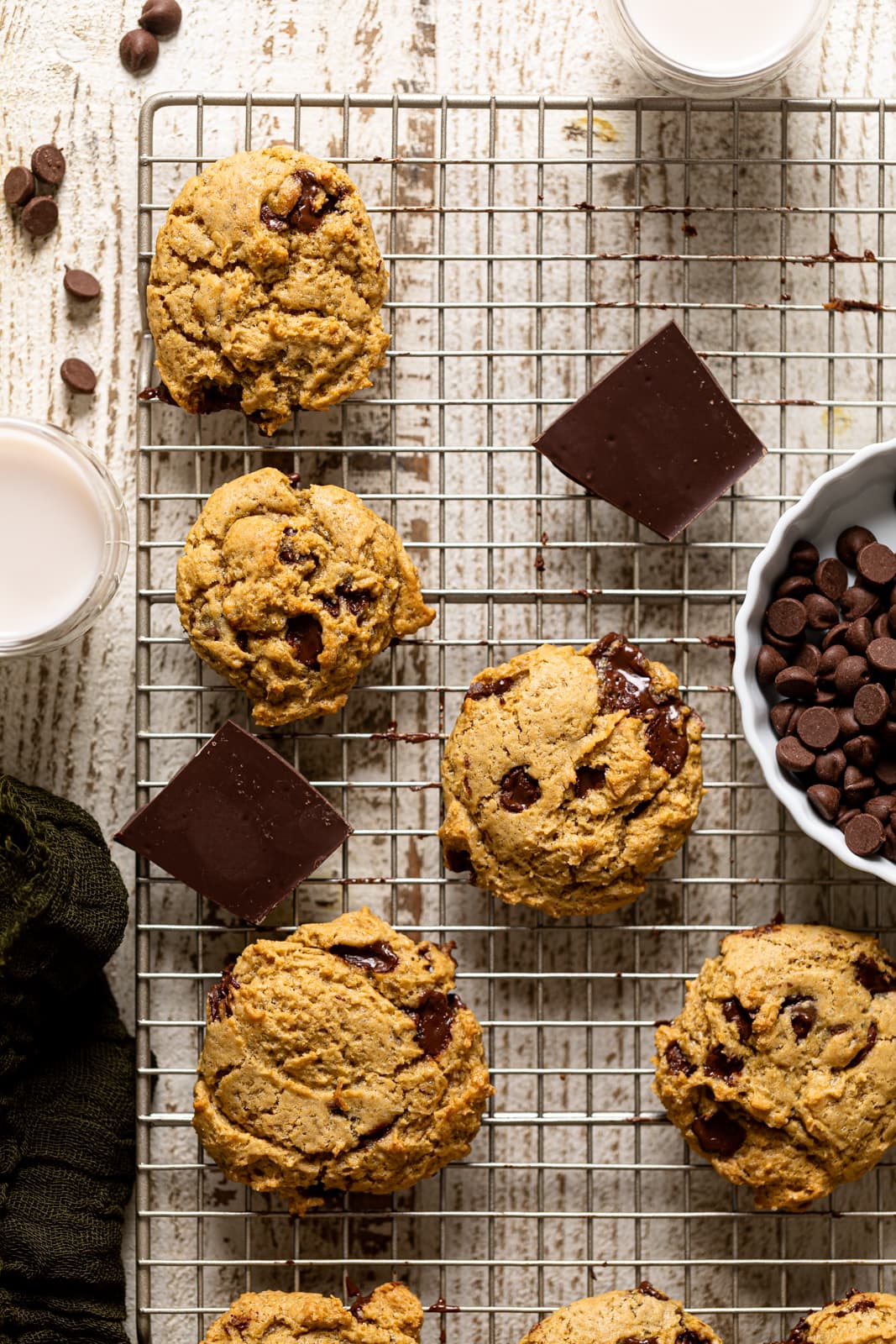 Are Chocolate Chips Vegan?
Not all chocolate chips are vegan since many contain dairy ingredients like butter or milk fat. To ensure they are vegan, check the package for ingredients. Alternatively, you can use vegan chocolate bars and chop them up for chocolate chunk cookies. Some of my favorite vegan chocolate chips are, Trader Joes Semi-Sweet Chocolate Chips and Enjoy Life's Semi-Sweet Chocolate Mega Chunks
Ingredient Substitutions and Swaps
You can easily mix up the flavor in these vegan cookies. For an additional crunch-----I like to add things like pecans, walnuts or macadamia nuts. And if you are a fellow prezel lover, then you have to try out these Chunky Vegan Chocolate Chip + Pretzel Cookies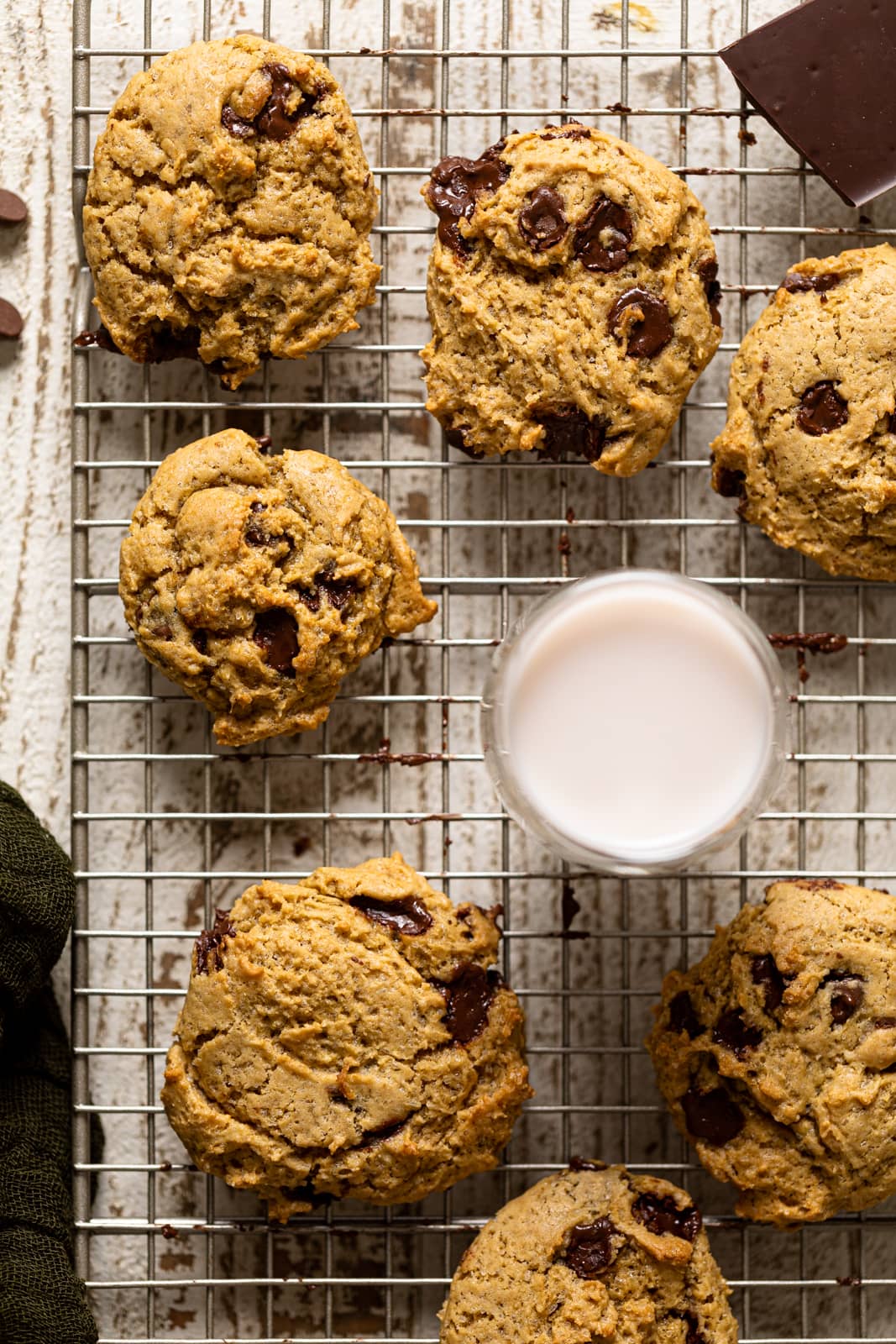 The Best Sugar Alternatives
The Best Healthy Sugar Alternatives + Substitutes list is all about finding better ways to enjoy your favorite sweets without compromising your healthy lifestyle. For those who follow a vegetarian and/or vegan lifestyle, this lists offers a few great ideas to incorporate healthy sweeteners into your diet.
SHOP MY FAVORITE TOOLS FOR BAKING, ESPECIALLY FOR THESE COOKIES!
Here, I've curated a list of baking essentials that I use to achieve my favorite baked goods, especially with these Vegan Choc Chip Cookies. Everything from my fave large scoop, baking sheet, liners, and more. SEE THEM HERE!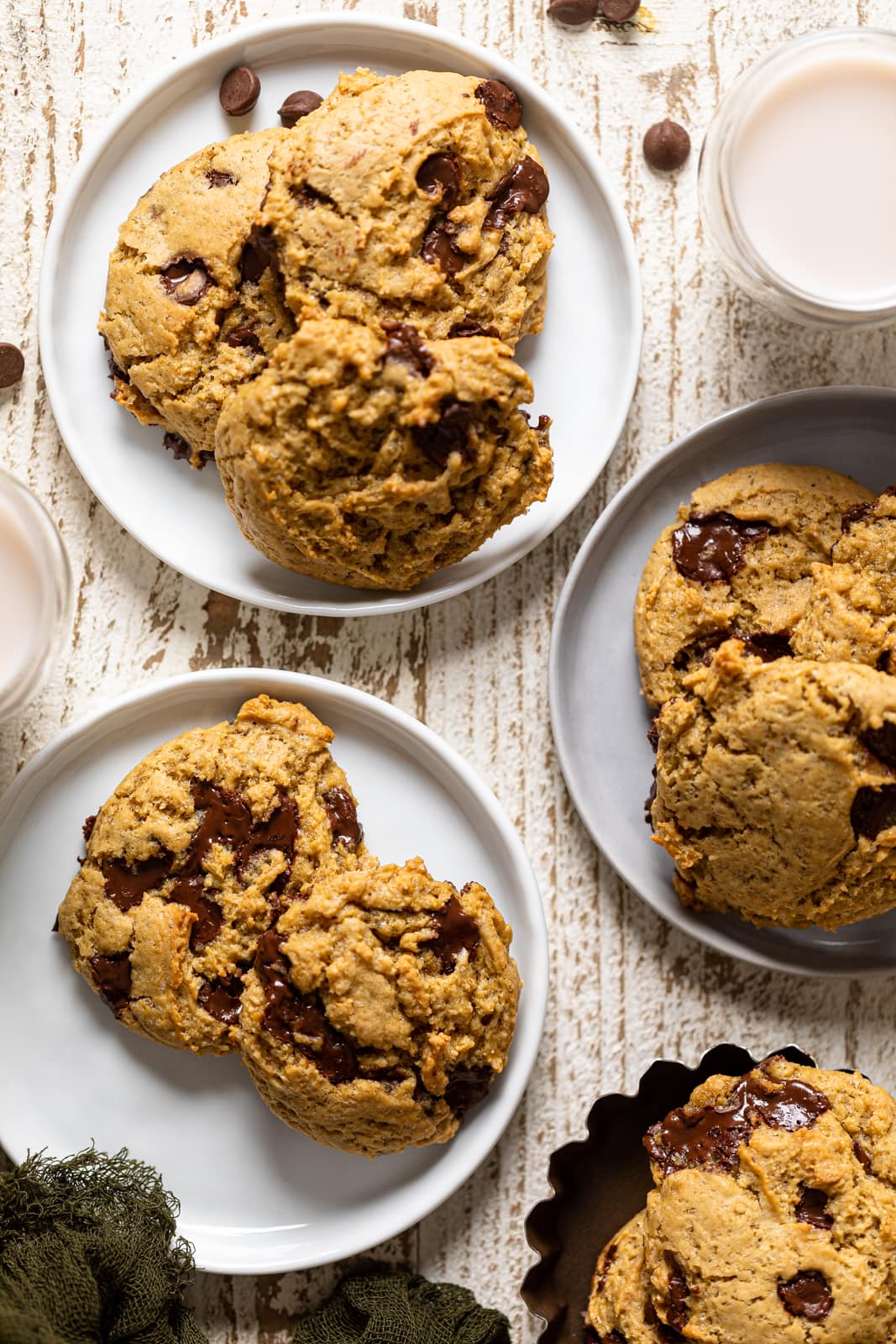 The Best Vegan Choc Chip Cookies Q + A's
How To Store Choc Chip Vegan Cookies?
Cookies can be stored in a tightly covered container at room temperature for up to 3 days or refrigerated for slightly longer freshness (about 2 weeks). Can be frozen for 4-5 months and reheated to thaw out.
Can I Freeze The Dough?
Any unused cookie dough batter can be refrigerated for up to 3 days or frozen for up to 1 month and then thaw overnight in the fridge, if you choose not to use it right away!
Can I Make the Cookies Gluten-Free?
Absolutely! You can substitute the all-purpose flour with GF all-purpose flour or 1:1 gluten-free flour if you're avoiding gluten. 
Can I Make A Bigger Batch?
Sure! To make more cookies, simply double or triple the amount of ingredients
Can I Eat Vegan Cookie Dough Raw?
Absolutely! One of the best things about vegan cookie dough is that it doesn't contain any eggs, so it's safe to eat raw.
Can I Use Coconut Oil That Isn't Solid?
No it will change the outcome and texture. For coconut oil that's is melted or not that solid, place amount required for recipe into a mason jar and place in the refrigerator for up to an hour, or until fully solid. When ready to use, let sit at room temperature for 10-15 minutes so that it is easier to scoop (not rock hard!) and incorporate.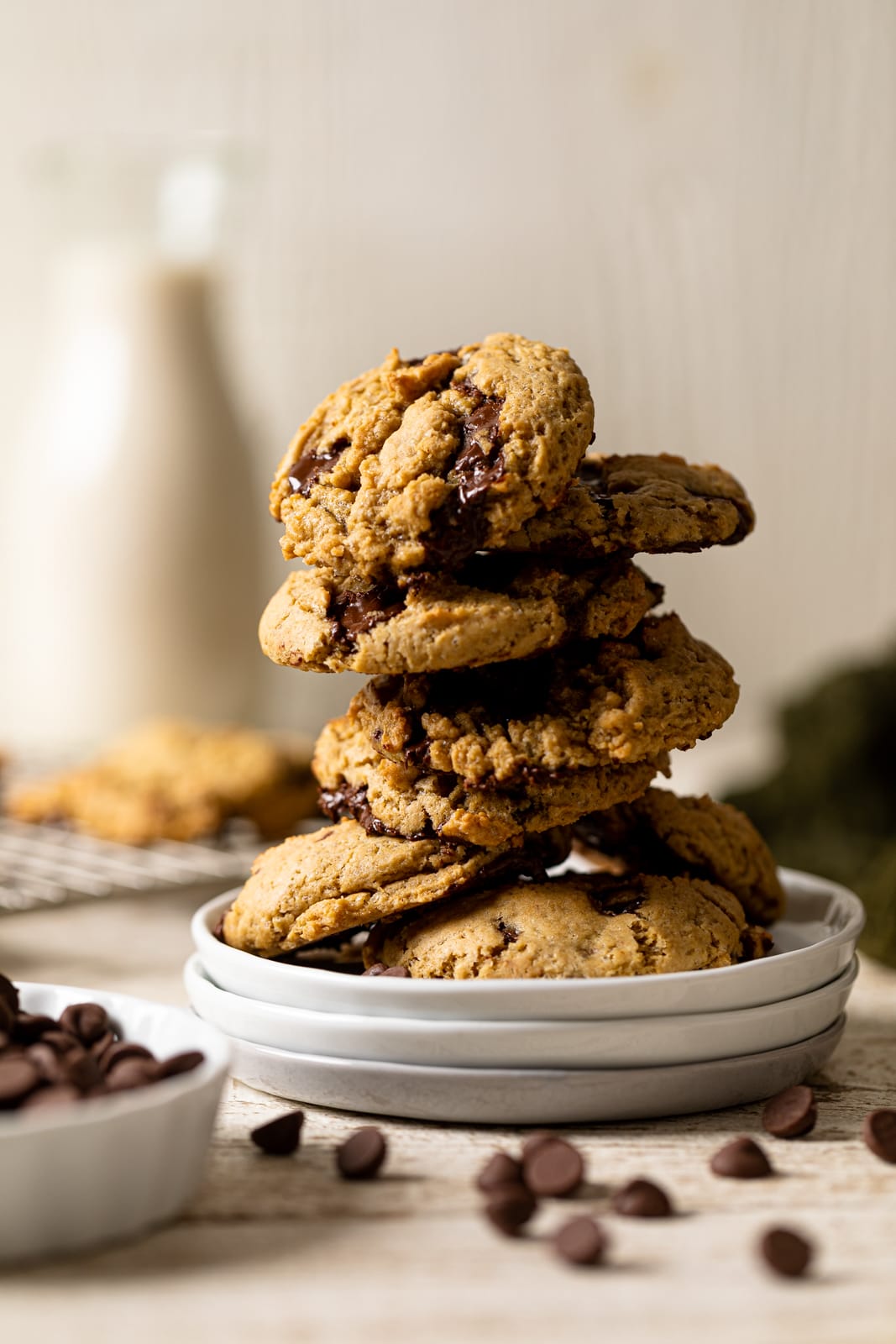 More Vegan Sweet Treat Recipes
MADE OUR RECIPE(S)?
If you make this Vegan Chocolate Chip Cookies recipe, tag @orchidsnsweettea_ on Instagram and hashtag it #orchidsandsweettea!
COOKIES:
2 ¼

cups

organic all-purpose flour

1

teaspoon

baking soda

½

cup

organic brown sugar

¾

cup

organic cane sugar

½

teaspoon

sea salt

Pinch of

ground cinnamon

½

cup

softened coconut oil, NOT MELTED!

(See Notes!)

1

tablespoon

molasses

1

teaspoon

vanilla extract

¼

cup

Almond milk, room temp.

(You can use your favorite plant-based milk!)

¼

cup

organic applesauce, unsweetened

1 ½

cups

vegan chocolate chips

(You can also use chopped vegan whole chocolate as well!)
Preheat the oven to 375 degrees Fahrenheit and lightly grease a large cookie sheet.

In a large bowl, add in the softened coconut oil and both sugars, whisking everything until well combined and the mixture looks smooth and well combined. Add in the molasses, applesauce, and vanilla, whisking them together until combined.

Add in the flour, baking soda, salt, and pinch of cinnamon, mixing everything together using a rubber spatula until the mixture becomes wet, thick, and holds together well. Fold in chocolate chips.

Using a medium-size scoop (about 1 ½ Tbsps), scoop each cookie dough onto the prepared cookie sheet, leaving 1-inches between each cookie for spreading when they bake. 

Bake for 11 to 12 minutes, or until the edges are golden brown.

OPTIONAL: At 5 minute mark (cookies should be slightly puffed in the center), lift baking sheet and let it drop against the rack. Repeat about twice if needed. This allows the edges to set and the inside to fall down.

Remove the cookies from the oven and press remaining chocolate chips on top of warm cookies, if desired. 

Cool cookies on the cookie sheet for a few minutes before serving. Enjoy with your favorite glass of dairy-free milk.

Bon Appetit!
TIP: If the dough appears too sticky, add a little more flour (1 tablespoon at a time); However, if the dough appears too dry (add 1 tablespoon of Almond milk at a time).
STORAGE: Once properly stored in an air-tight container, cookies last for 3-4 days at room temperature. 
FREEZE: You can also freeze your cookie dough (once formed into a ball) so that you can store them longer and bake as needed.
COCONUT OIL: If Coconut Oil is melted or not that solid, place amount required for recipe into a mason jar and place in the refrigerator for up to an hour, or until fully solid. When ready to use, let sit at room temperature for 10-15 minutes so that it is easier to scoop (not rock hard!) and incorporate.
BANGING METHOD: I love making my cookies chunky, however, if you chose to use the "banging method" in this recipe to avoid cookies from being too puffy, it's definitely optional!
Calories:
359
kcal
|
Carbohydrates:
55
g
|
Protein:
4
g
|
Fat:
17
g
|
Saturated Fat:
12
g
|
Polyunsaturated Fat:
0.3
g
|
Monounsaturated Fat:
1
g
|
Sodium:
199
mg
|
Potassium:
70
mg
|
Fiber:
2
g
|
Sugar:
34
g
|
Vitamin A:
2
IU
|
Vitamin C:
0.1
mg
|
Calcium:
50
mg
|
Iron:
3
mg