This Loaded Nachos: Chicken + Black Beans recipe is super easy, quick, full of flavor, and finger-licking good! It's full of cheesy goodness and whether you choose to top with the optional sour cream or other garnishes, it's still simply amazing.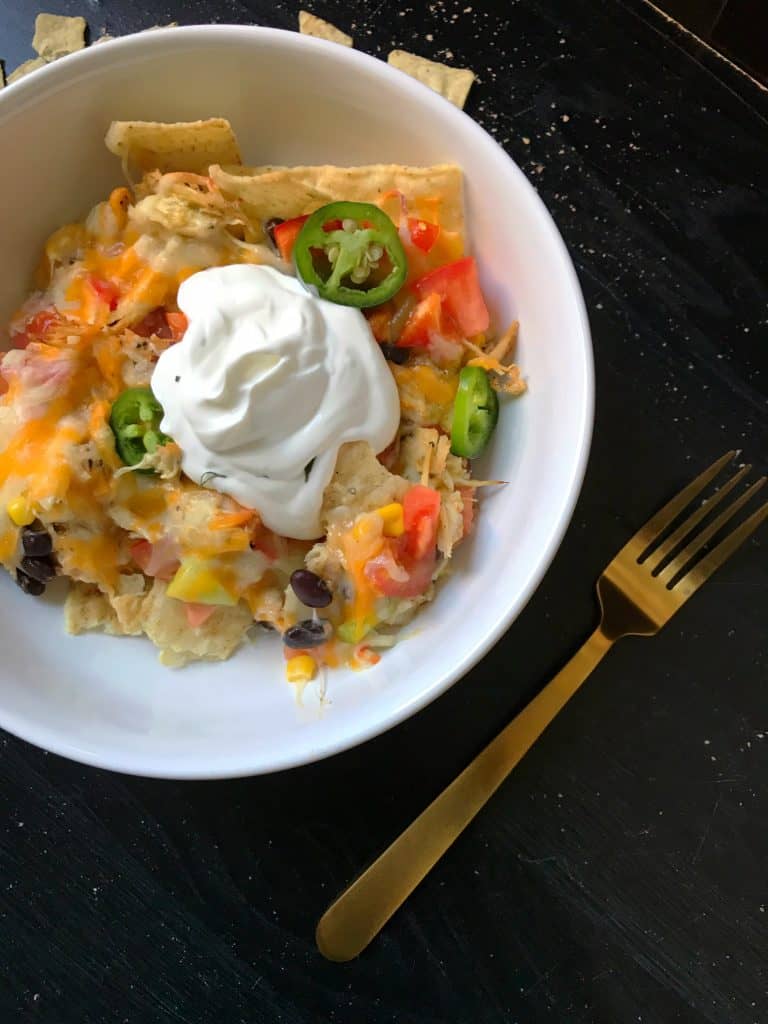 What better way to spend the weekend than with a bowl full of Loaded Nachos, while watching Power or Insecure?
Anyone who knows me, knows that I absolutely love Mexican-inspired dishes (Think of all the gooey, cheesy goodness). For the love of Tacos, Burritos, Nachos, Enchiladas, Burrito Bowls, and the list could go on. Yummy! My mouth is just watering thinking about these amazing dishes. Anyway, I'm so happy to have been able to indulge in this nacho recipe before my transition to being vegan (although the flavors and great dishes won't stop here at all, Ya'll!). In addition to the great burst of flavor in this recipe, I thoroughly enjoyed the easy cleanup from using a foil paper wrapped baking sheet. It's always a win when you don't have many dishes to clean after, right? Especially when you have a little one running around all the time!
Moreover, I truly had a blast making this dish. The concept pretty much requires that you add a layer of ingredients, which include: chicken, tomatoes, red bell pepper, green bell pepper, jalapenos, cheese (and MORE cheese!), nacho chips, black beans, and wallah! Plus, you can feel free to add a dollop of sour cream on top if you choose and you've got yourself a real meal. After about my first bowl (filled to the top) I was all full! Per usual, I made my black beans by soaking them overnight and boiling them for about 45 minutes or so. By the way, I usually like to season the water (with salt, pepper, and taco seasoning) that the beans are boiled in, so that the flavor soaks in. Just one of my rule of thumbs. IT'S ALL ABOUT THAT FLAVOR, YA'LL! Just an FYI.
Everything else simply required a bit of prepping (chopping or slicing) and that's all. Oh and the chicken, I made sure to bake it in the oven (on 400 degrees Fahrenheit) for about 30-35 minutes, and shredded each chicken breast, to ensure that it's easy to eat and grasp the juices in the loaded nachos. Just sprinkle a bit of sea salt and pepper on each chicken breast before baking and you're good to go! Also, because I didn't want my loaded nachos to be "dry", I chose to pour a small can of Green Enchilada sauce (mild heat) to allow the cheese and other ingredients to marry well together. All in all, this recipe is super easy and quick, once the star ingredients (black beans and chicken) are already prepared. It served as a great Sunday meal in our house, which usually consists of a lot of family time, movies, sermons, and hang outs. I think it made us even more ready for the week ahead in a great way! Haha!
Be sure to check out the recipe below so that you can try it out for yourself and be the judge of how good it is. Enjoy!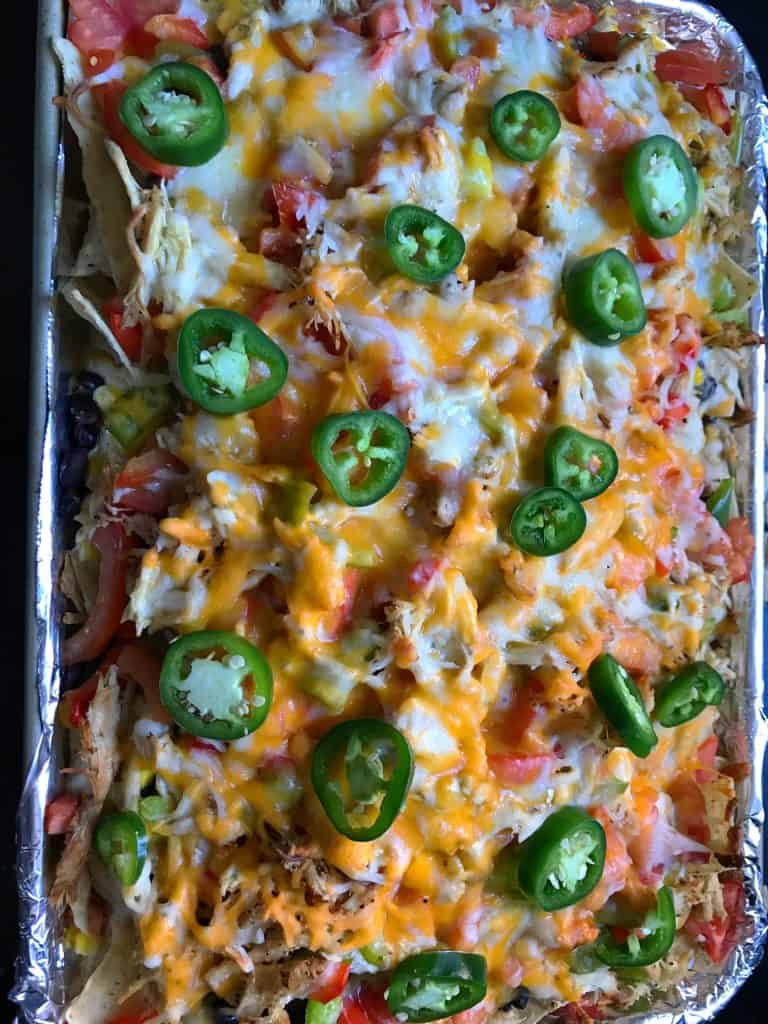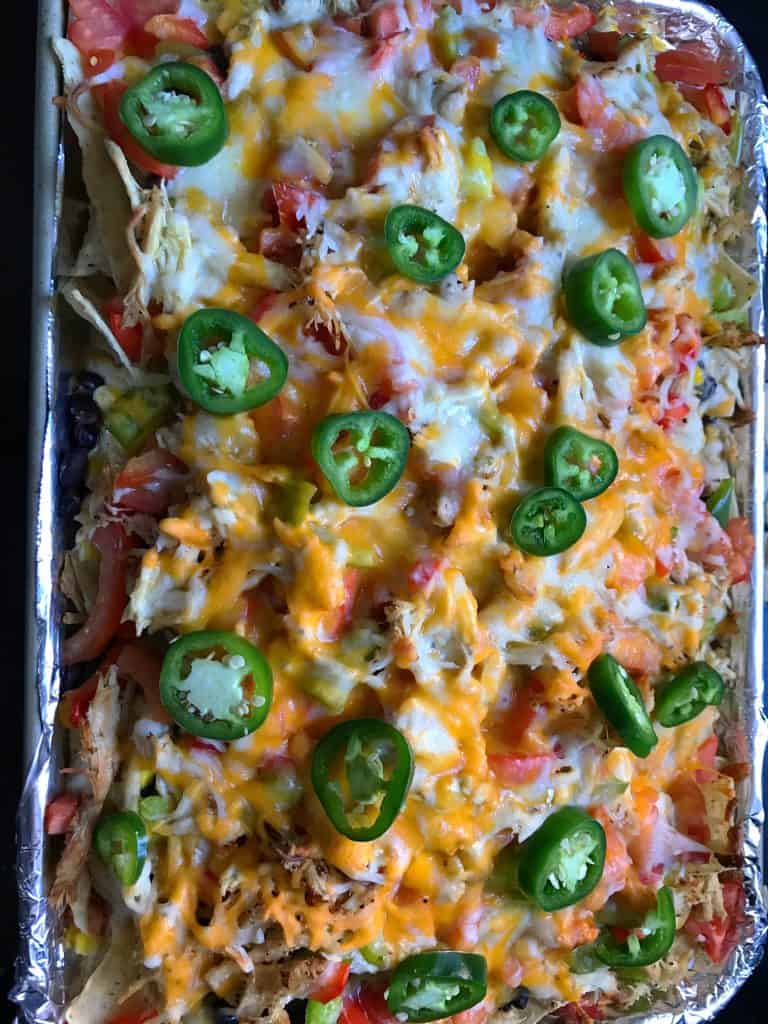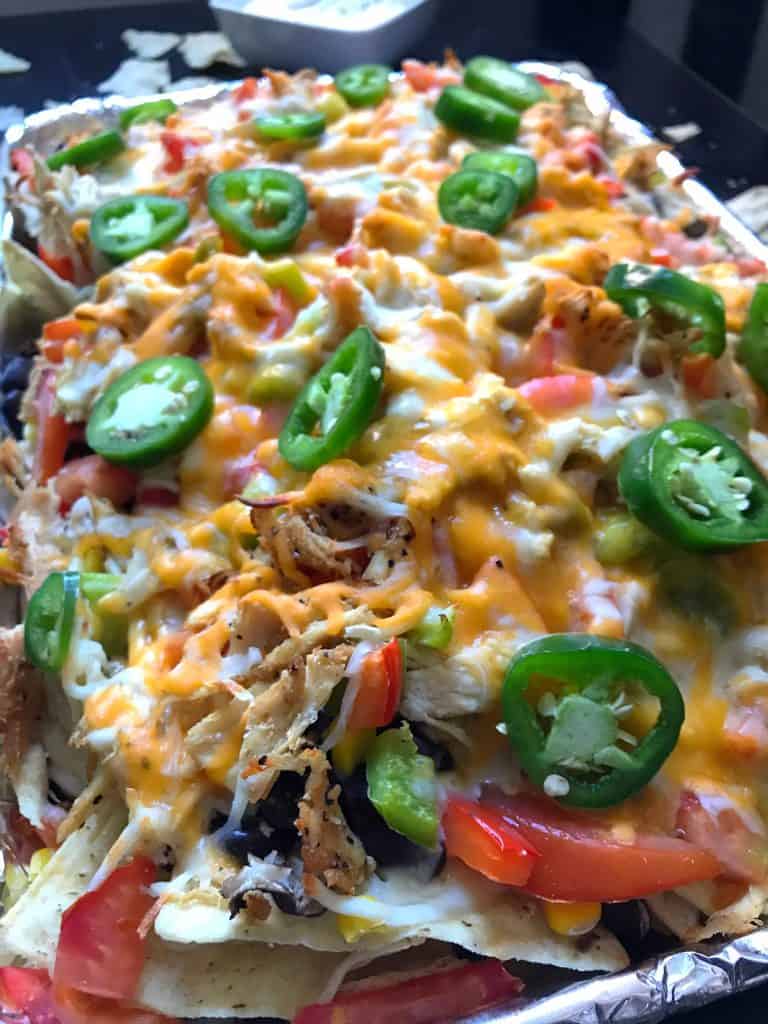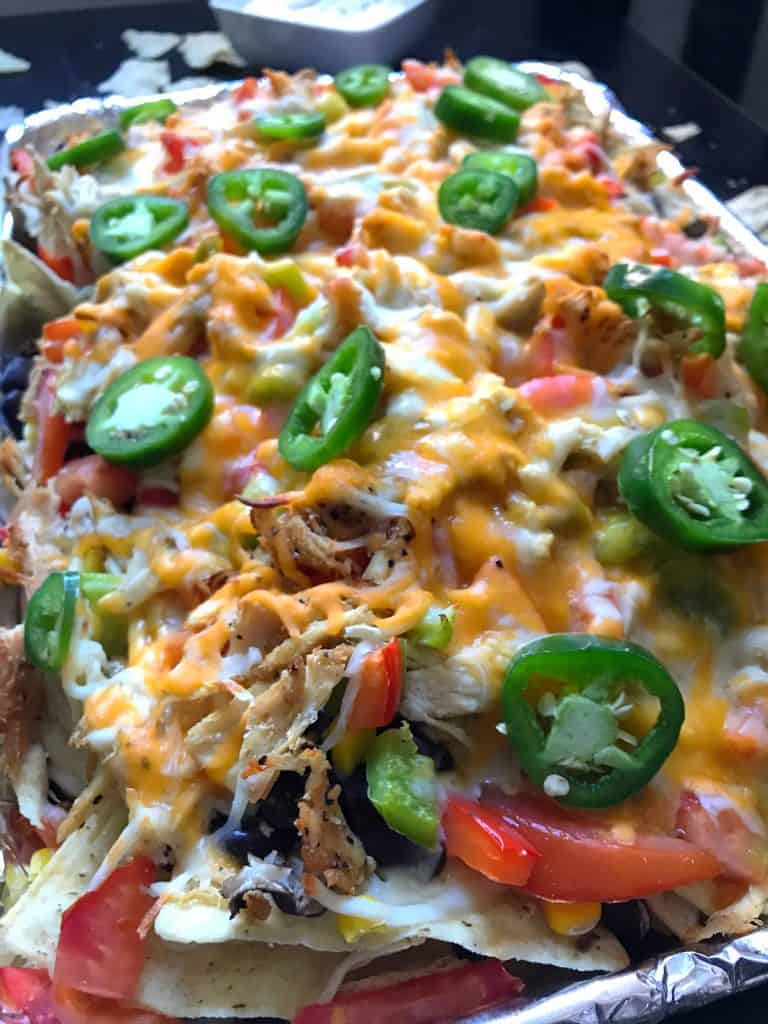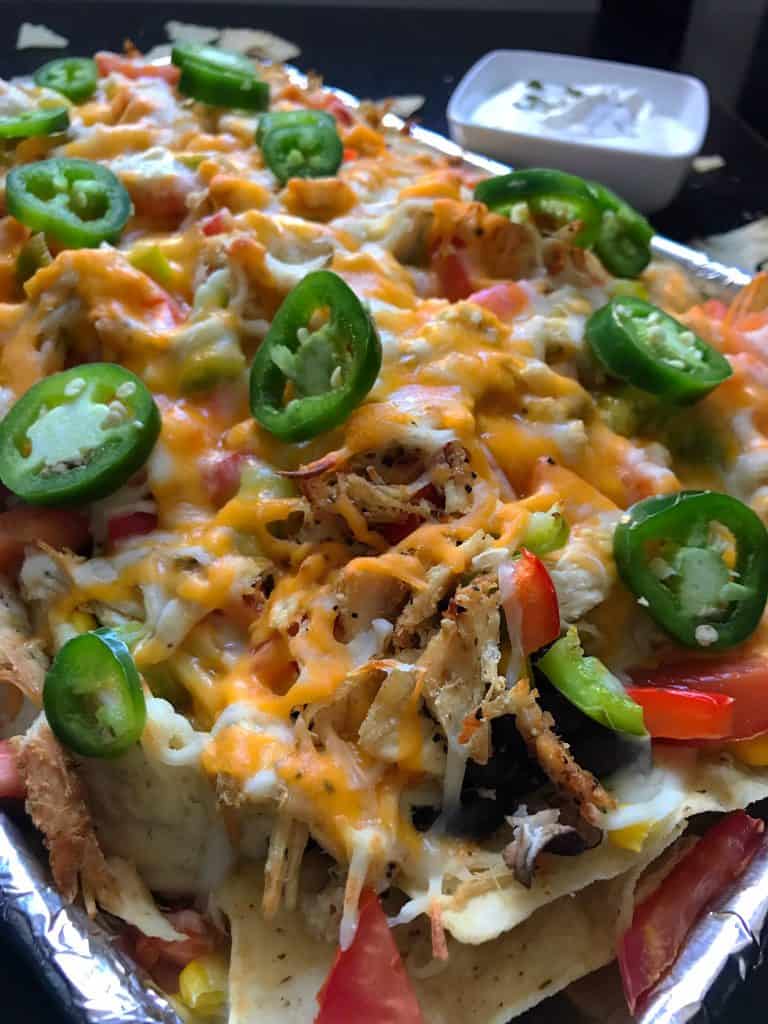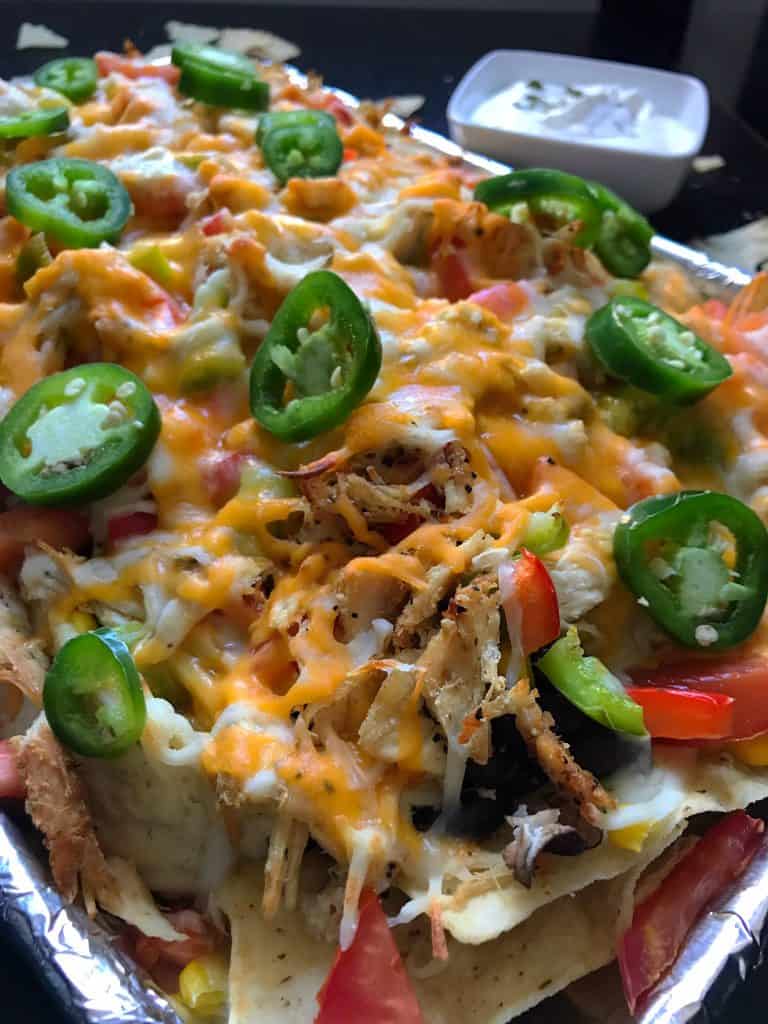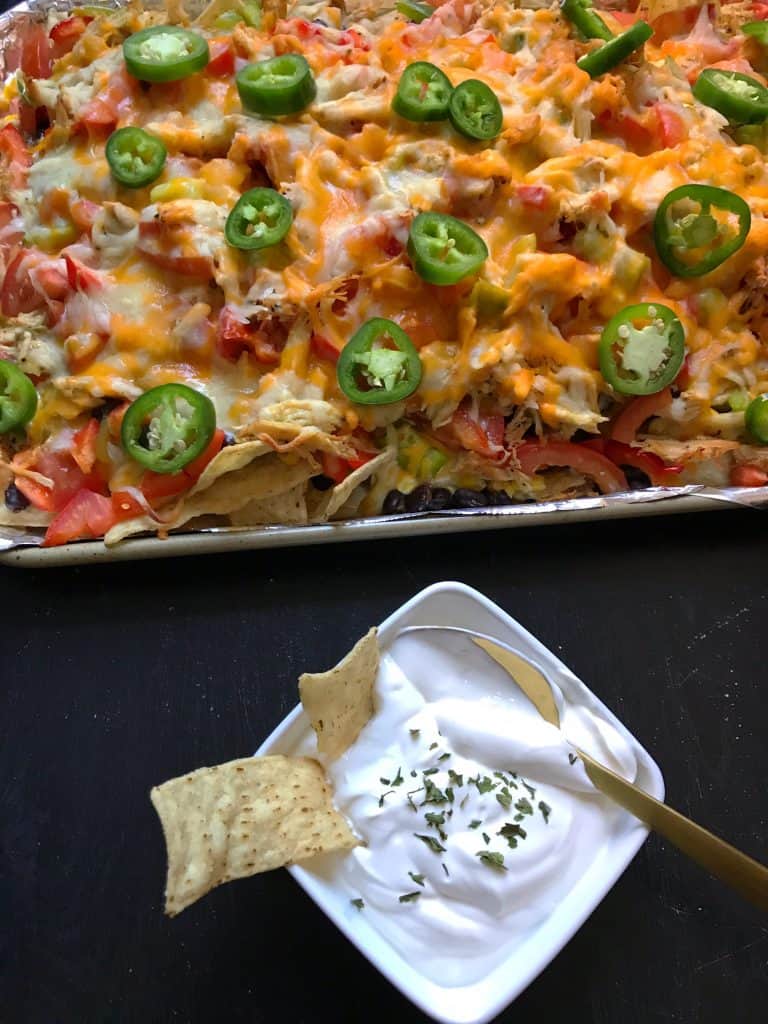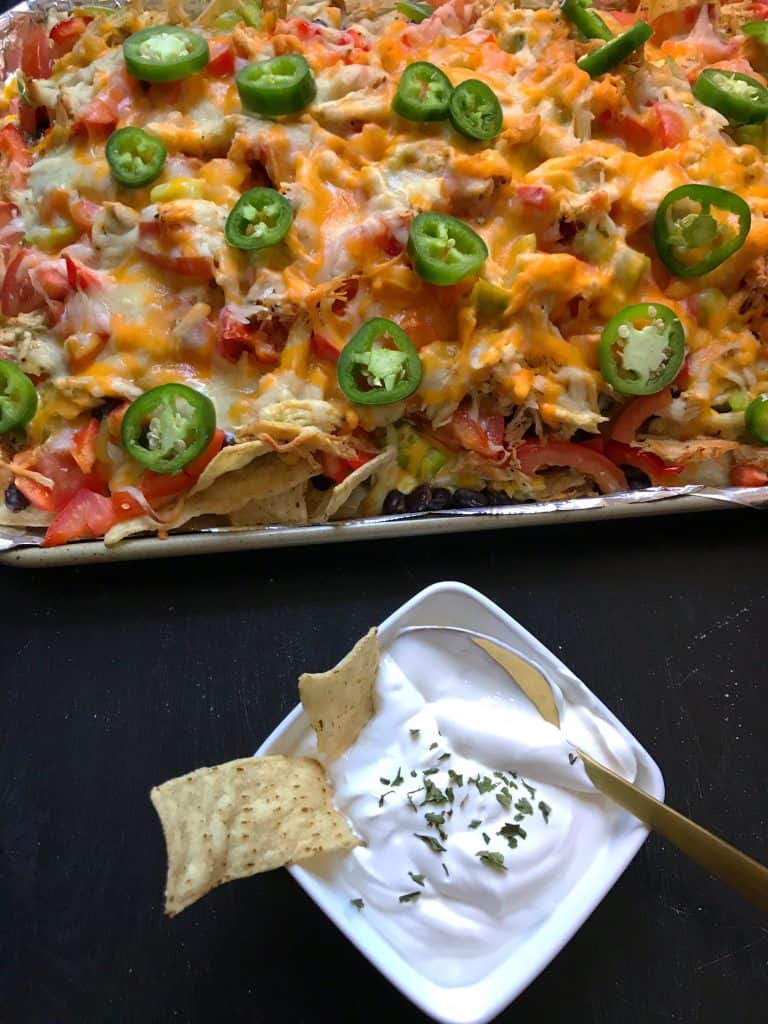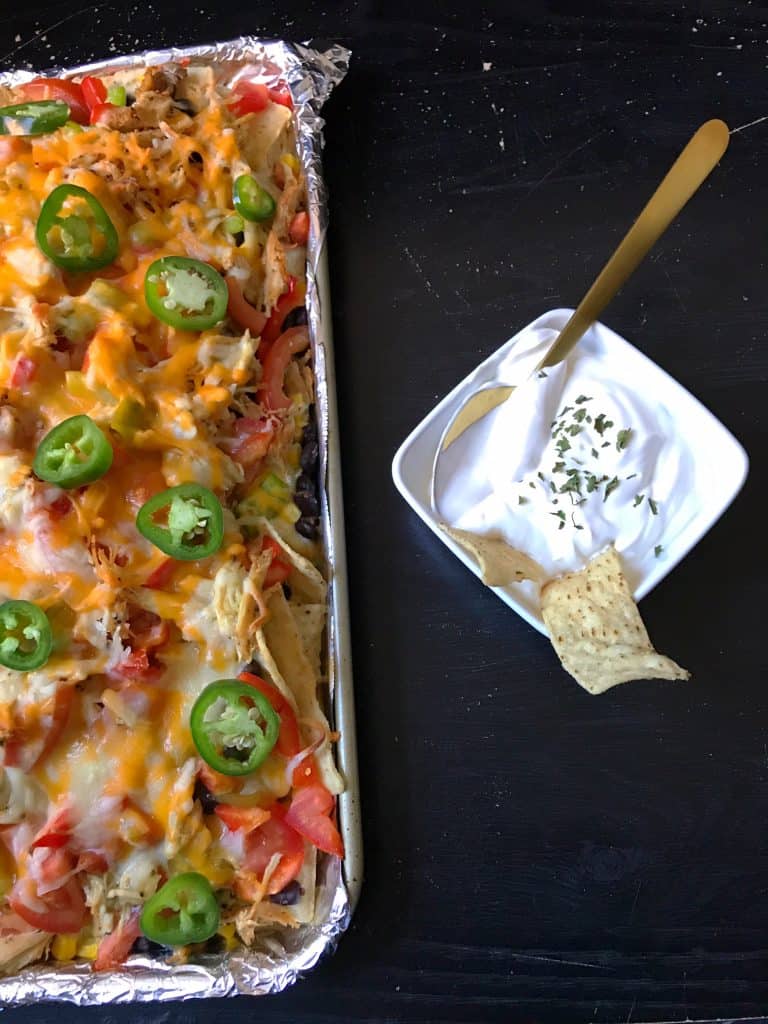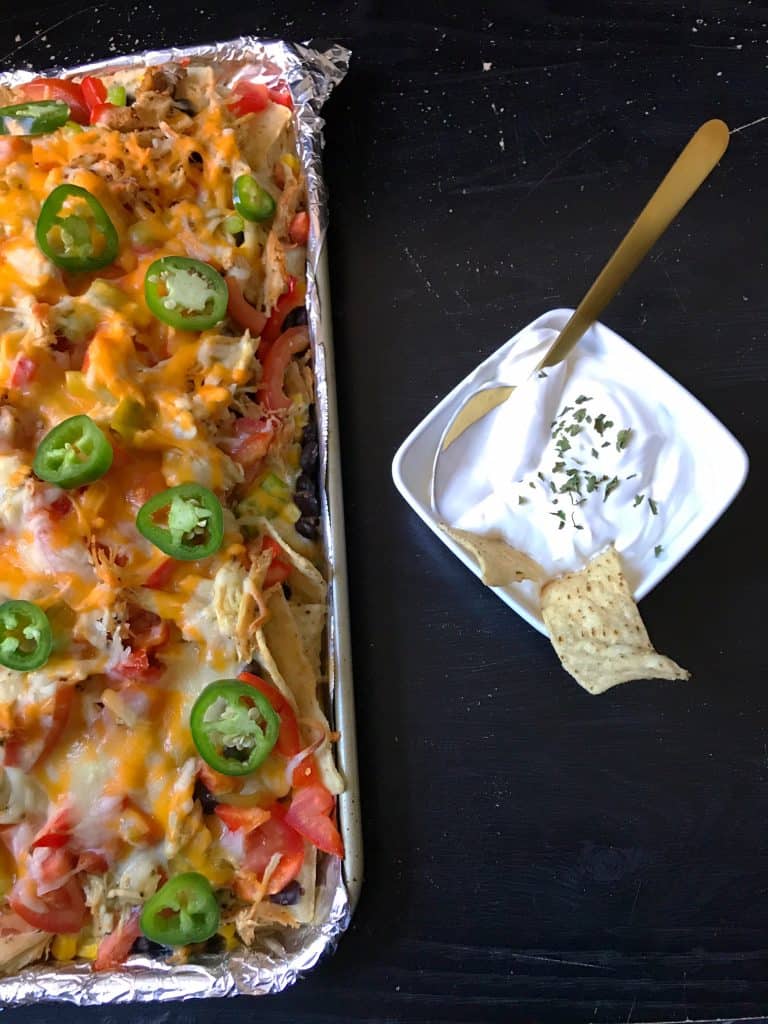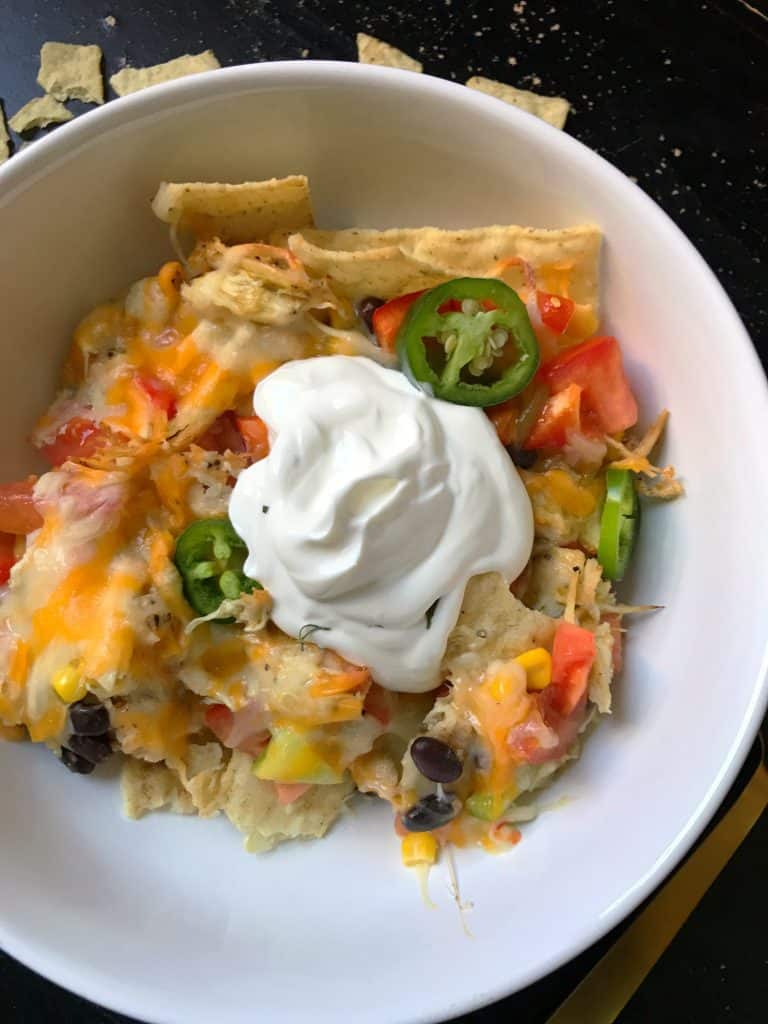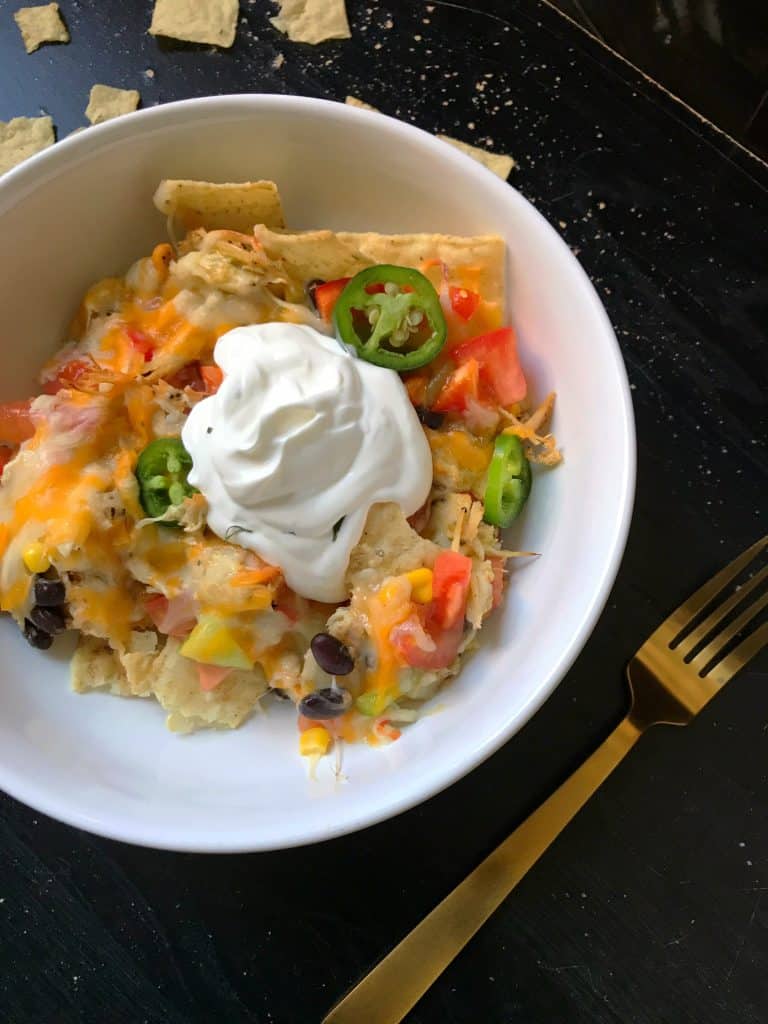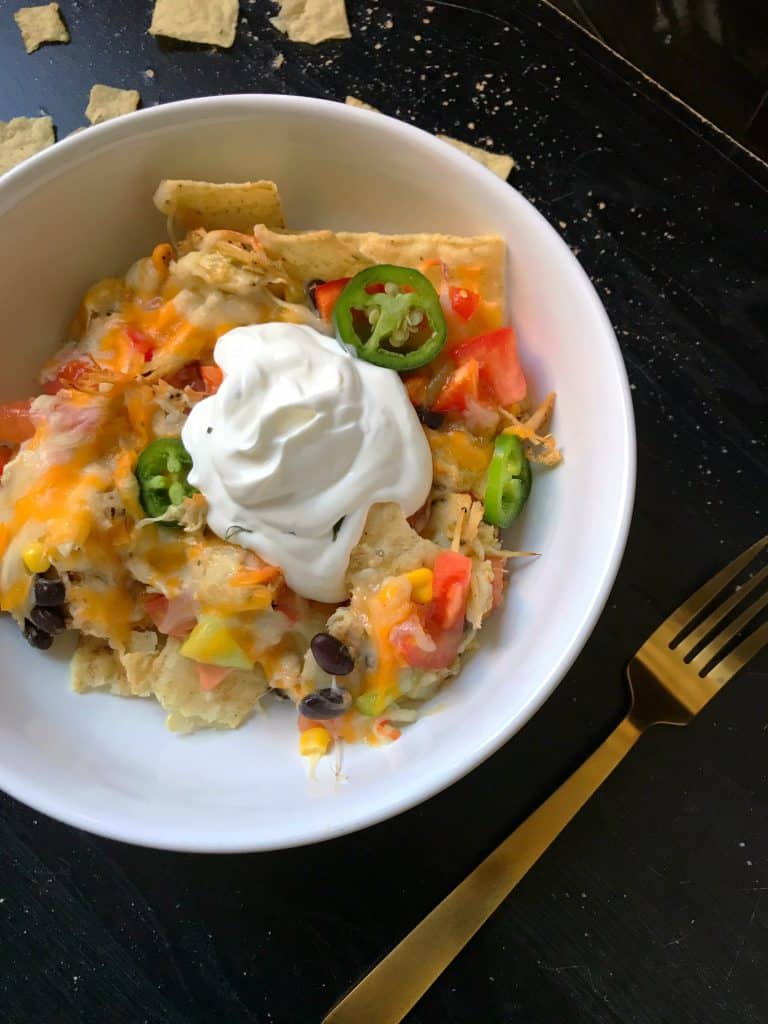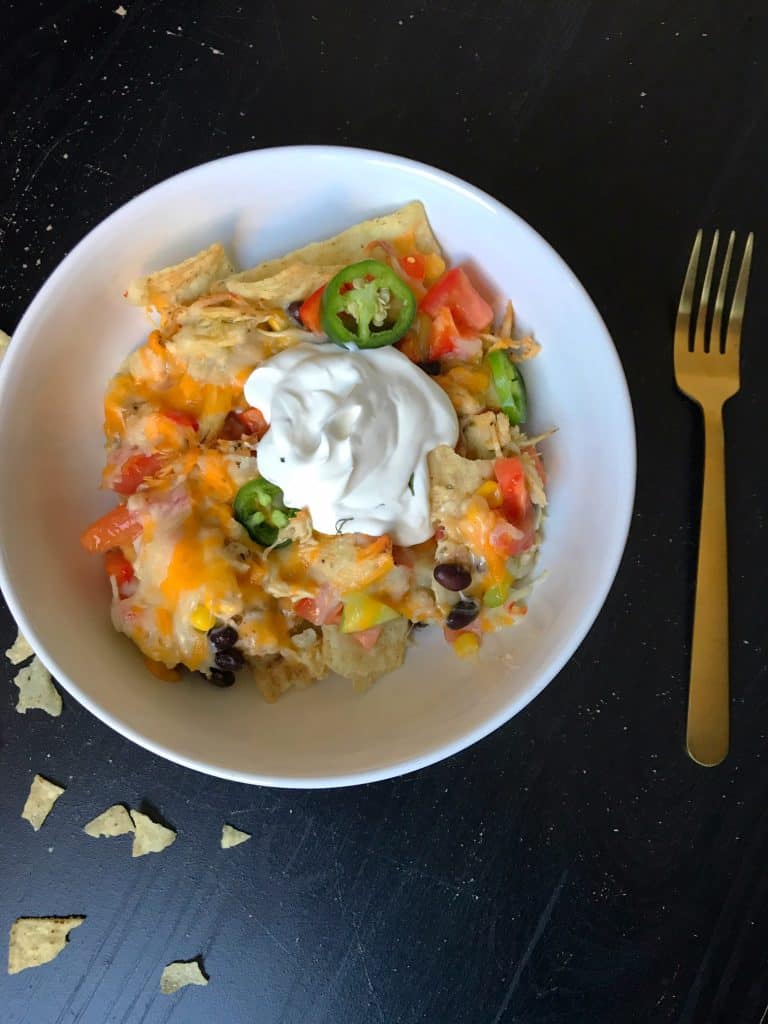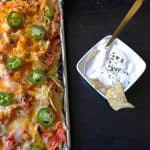 Delicious Loaded Chicken Black Bean Nachos
Must-Haves:
one

13 oz

bag of tortilla chips

(I used Mission's brand of tortilla chips)

one

10 oz

can of green enchilada sauce

1/2

red bell pepper

(chopped)

1/2

green bell pepper

(chopped)

2

plum tomatoes

(diced)

1

jalapeno

(sliced)

one

15 oz

can of black beans

(or 2 cups of cooked black beans)

2

cups

cooked chicken breasts

(shredded)

2

cups

frozen corn

Two

8 oz

packages of favorite shredded cheese

(I used mozzarella + sharp cheddar)

sour cream

(garnish)

1

Tbsp

extra virgin olive oil
Instructions:
For Veggies
Add olive oil to a skillet over medium heat.

Add red bell peppers, green bell peppers, and tomatoes and cook for about 5 minutes or until softened. Set aside.
Assembly of Loaded Nachos
Preheat oven to 425 degrees Fahrenheit and place foil paper to cover a 9 inch baking sheet or pan.

Add all tortilla chips and ensure that it is spread out evenly throughout the pan.

Next, add black beans, a layer of cheese, veggies, and chicken; ensuring that all ingredients are sprinkled evenly.

Lastly, pour enchilada sauce over ingredients and add remaining cheese to completely cover the top.

Bake for 15-20 minutes, or until cheese is fully melted.

Remove from oven, add sliced jalapenos over the top of loaded nachos and garnish with sour cream if desired.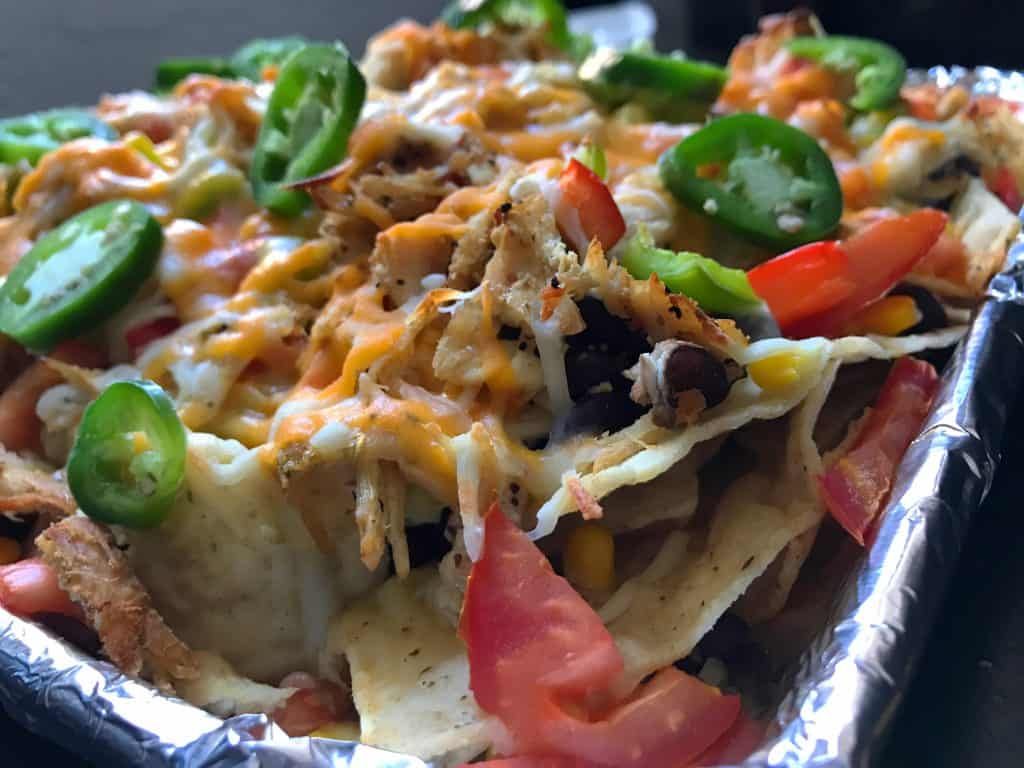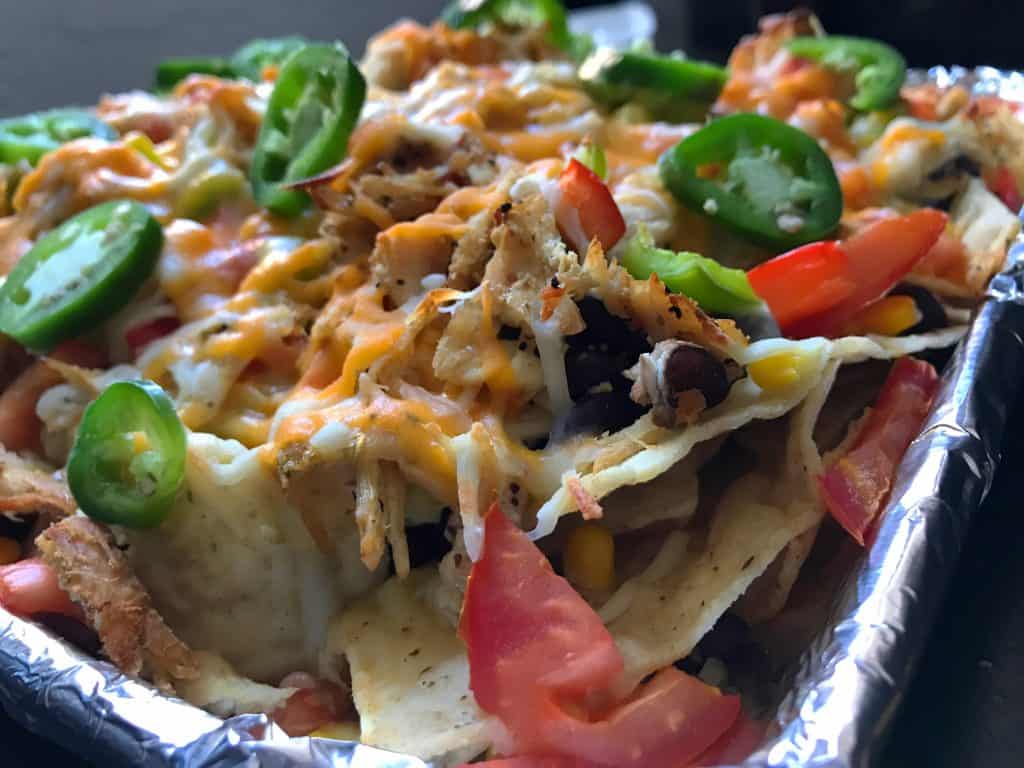 There you have it! An easy fun, hand-held recipe that's perfect for any occasion!
Remember, to rate this Recipe + Share it with your Friends + Family!
Are you a fan of Loaded Nachos? Do you have a favorite Mexican-inspired dish?? Be sure to let me know down below in the comments.