This Coconut Raspberry Chia Pudding is topped with flaked coconut for a nicely sweet vegan dessert or breakfast treat with homemade raspberry compote and coconut milk/cream. The perfect combo just in time for the Spring season!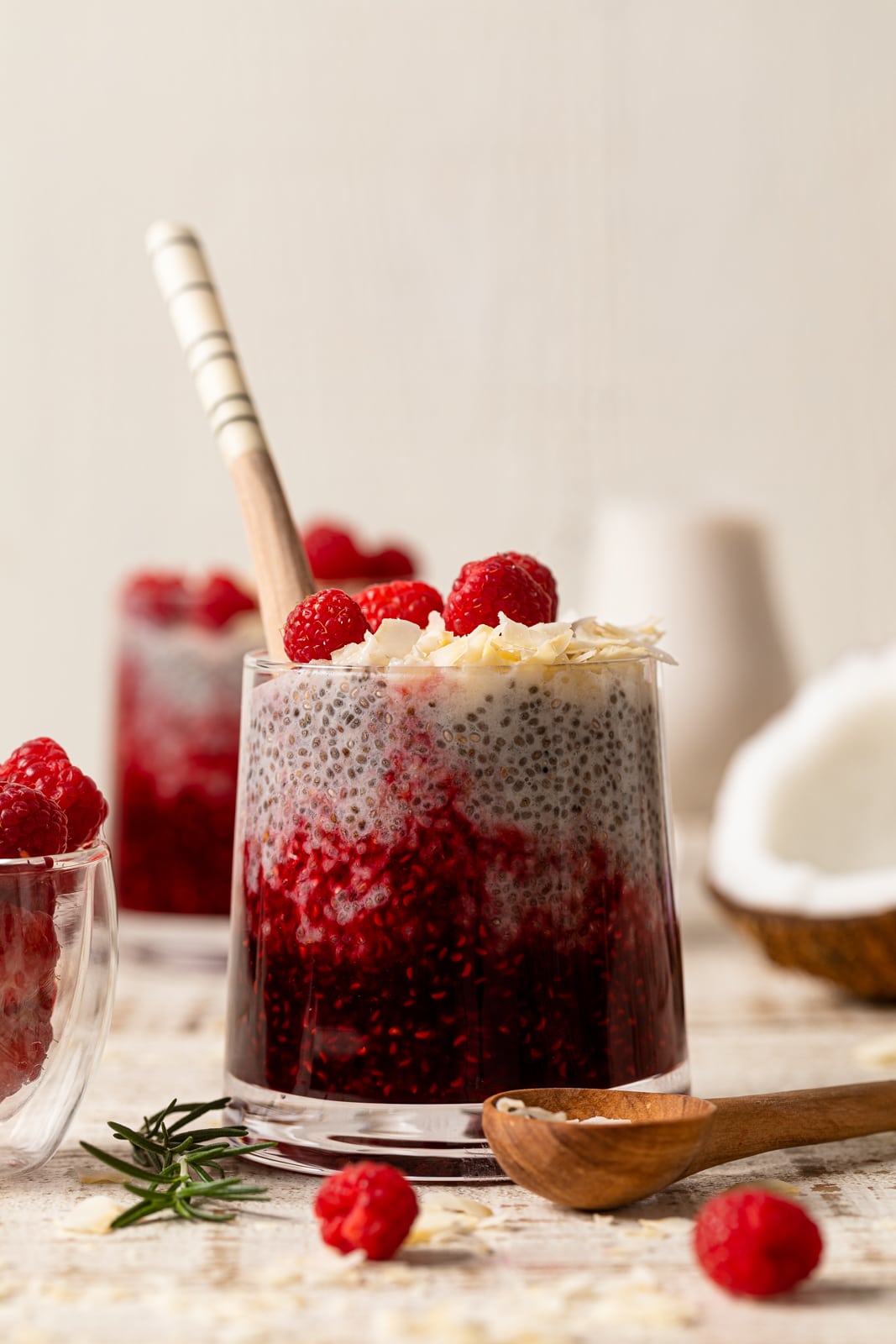 Each time that I make chia pudding, I can honestly say that it's better than the last. This Coconut Raspberry Chia Pudding is the perfect addition to the sunny skies, freshly bloomed flowers, and nice Spring weather ahead. Heck---you can actually enjoy this in the winter too, but I just love seeing the brightly red color of raspberries around this time.
If you're into simple, easy breakfast recipes then overnight oats and chia pudding is definitely one of my go-to's and I think that you'll begin to be just as obsessed after this too.
I personally love chia pudding and overnight oats because they offer something for everyone. Plus, I have these Healthy Chia Pudding 3-Ways that I recently did which shows you just how simple it is to spruce up this easy morning meal, depending on your tastebuds.
Oats and seeds are ultra nutritious, so you are getting a healthy breakfast made from whole ingredients.
Chia Seed Health Benefits
Perhaps the best health benefit of chia seeds is how rich they are in omega-3 fatty acids. These are the healthy fats that our bodies need but do not produce on their own. Omega-3s help to reduce inflammation and may fight free radicals, reducing the risk of chronic disease.
In addition, chia seeds can be added to almost anything. Sprinkle them on your sandwich, add some to your morning smoothie, or scoop a tablespoon into your cereal. No matter how you eat them, chia seeds are extremely beneficial to your diet!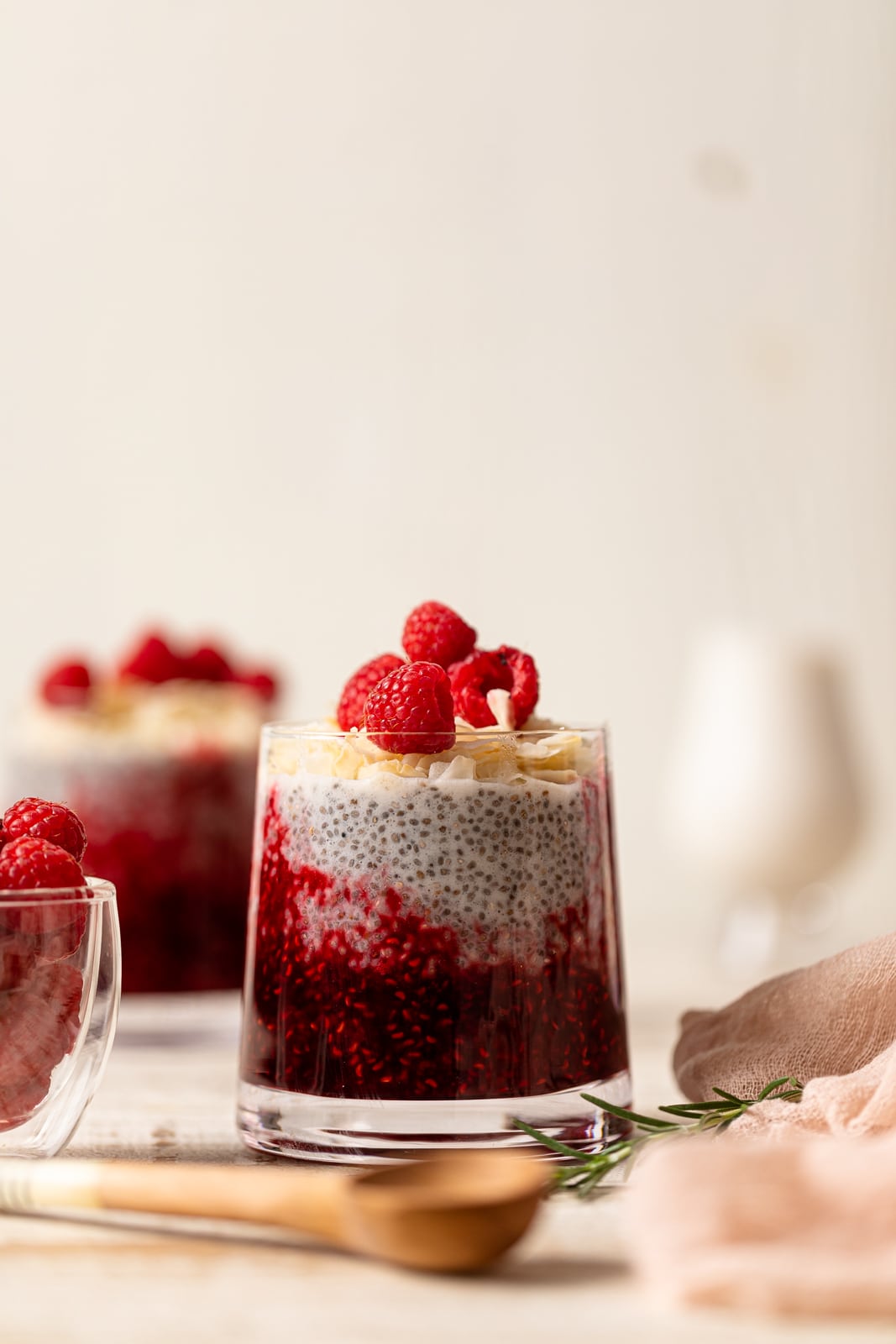 How to Make Coconut Raspberry Chia Pudding
Making this coconut raspberry chia pudding is fun and easy because these little chia seeds do all of the work for you. As they sit, they absorb liquid and firm up into a creamy and fluffy texture, which means that it's similar to a "set it and forget it" kind of recipe.
And the best part about this recipe is that it doesn't need to rest overnight to be ready to serve. After you mix everything together, it's ready to serve after just 15 minutes ---although you can make these overnight as further mentioned in my recipe notes.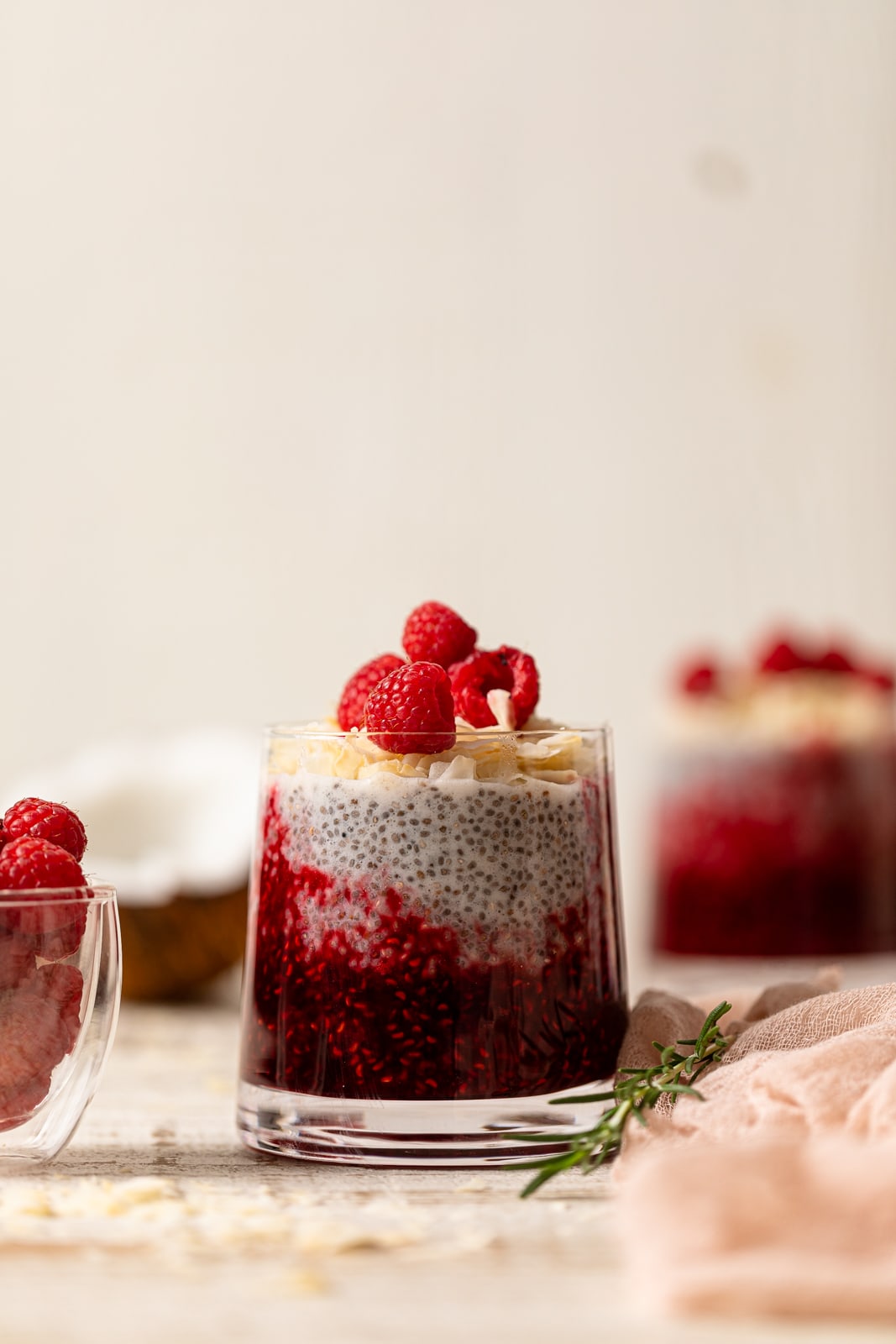 Ingredients in Coconut Raspberry Chia Pudding
FOR CHIA PUDDING:
½ cup chia seeds
2 tablespoons agave syrup
1 ½ cups Full-fat coconut cream or milk (the canned version)
1 teaspoon vanilla extract
TOPPINGS:
Coconut flakes
Fresh raspberries
Granola
INGREDIENT NOTES
A few helpful notes on the ingredients for your caramel macchiato chia puddings:
Agave syrup. I like this liquid sweetener because it's not refined and it's liquid, so it dissolves easily. It's also fully vegan. You can swap it out for maple syrup, vegan honey or regular honey if you're not vegan.
Coconut milk or cream. The richness of full-fat coconut milk is what really puts this chia pudding into dessert territory. If you'd rather keep the pudding lighter, you can use light coconut milk or another plant-based milk option.
Raspberry compote. I love adding a nice layer to my chia pudding which is why I chose to create a raspberry compote for an extra kick of flavor. You can also just choose to use fresh raspberries instead or maybe a yogurt base.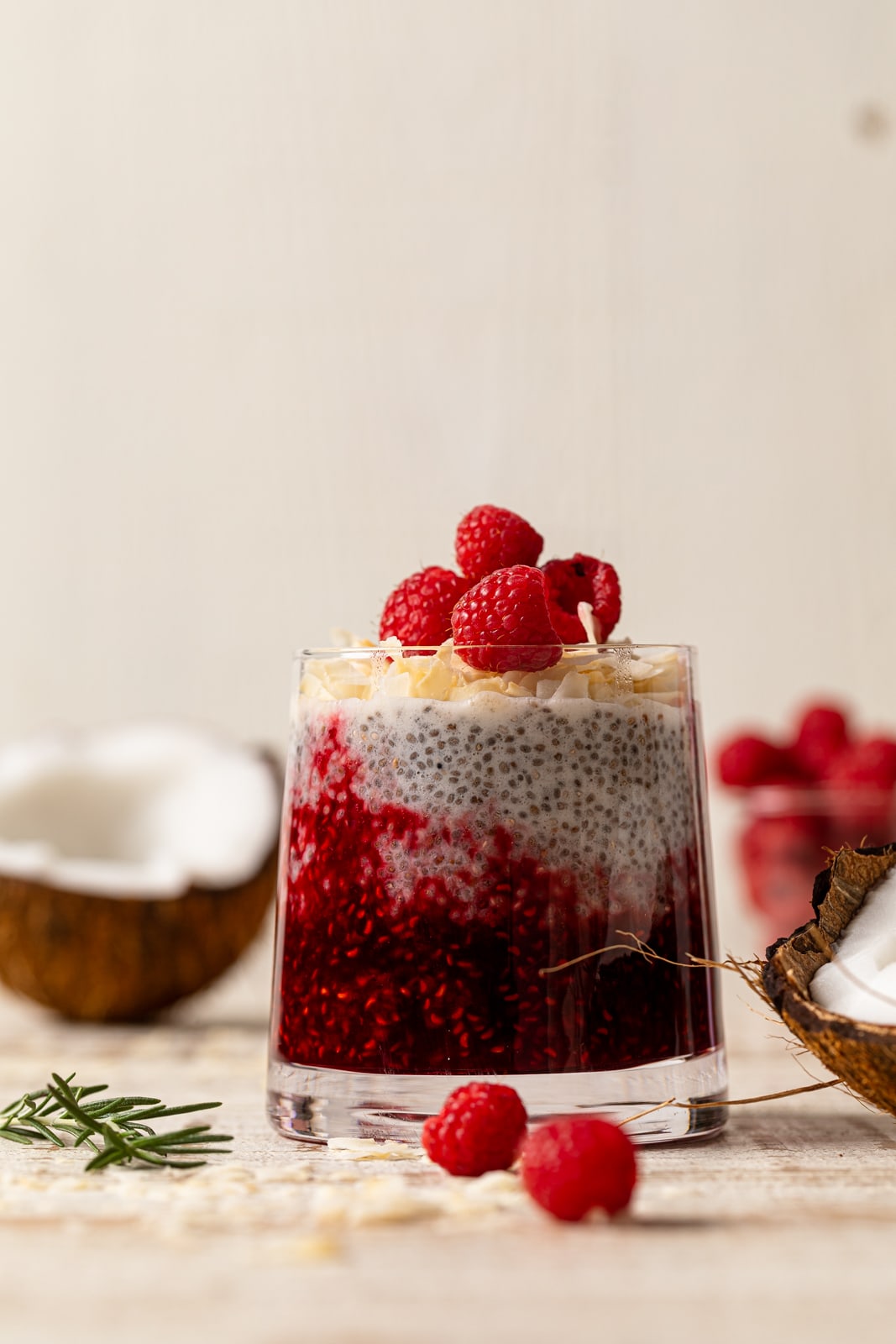 Can I Make this with Almond Milk or Others?
Absolutely! Although I chose to use canned coconut milk for this recipe to amplify the coconut flavors, you can always feel free to use your favorite plant-based milk such as Almond milk, coconut milk, oat milk (froths/foams VERY WELL), cashew milk, potato milk, flax milk, etc.
How to Make Chia Pudding Overnight
To make these chia pudding in advance or overnight, it's fairly simple. Follow the recipe steps and then tightly cover bowl with plastic wrap and refrigerate overnight (or at least 8 hours). Remove bowl from the fridge when ready to use and assemble chia pudding per usual. You can also make the raspberry compote beforehand and to store----let it fully cool before keeping it in an airtight container or jar and refrigerated.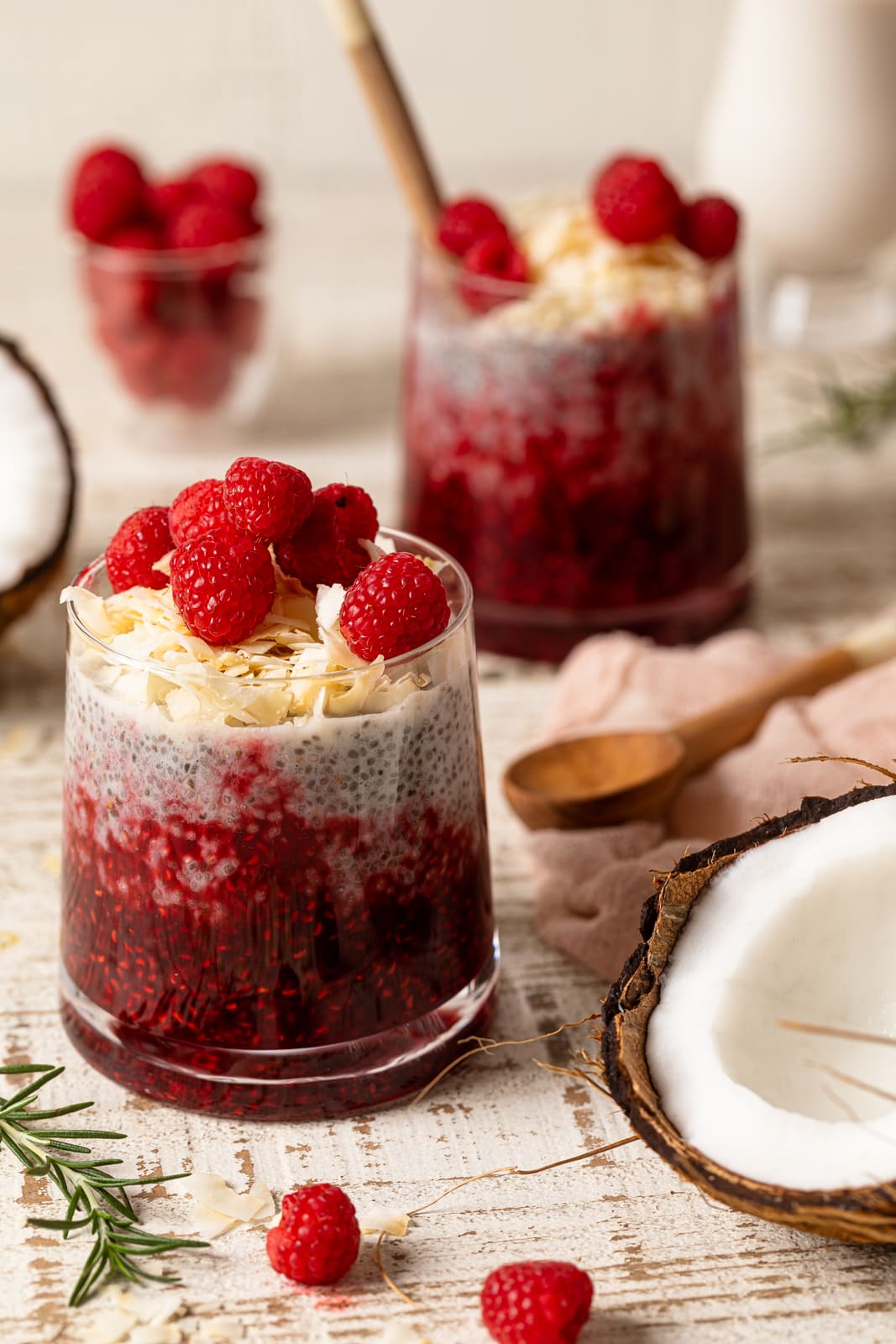 Other Recipes You'll Love
If you love this dynamic chia pudding recipe, you will enjoy some of my other easy vegan breakfast recipes!
MADE OUR RECIPE(S)?
If you choose to make these Coconut Raspberry Chia Pudding or any other recipe from us, be sure to tag us on Instagram at #Orchidsandsweettea so that we can share the love, rate, comment below, + share!
RASPBERRY COMPOTE:
2

cups

raspberries, fresh or frozen

½

cup

organic cane sugar

¼

cup

filtered water

1

teaspoon

freshly-squeezed lemon juice

½

teaspoon

vanilla extract
TOPPINGS:
Coconut flakes

Fresh raspberries
TO MAKE RASPBERRY COMPOTE:
In a saucepan, add together all ingredients over medium-high heat, stirring until combined. Continue cooking, stirring until mixture begins to thicken a bit and raspberries are broken down and softened, about 2-3 minutes. Remove from heat and let cool.
TO MAKE CHIA PUDDING:
Add all ingredients to a medium-size bowl, stirring together until well combined.

Let mixture sit at room temperature for 10-15 minutes or until it begins to thicken and becomes creamy. Stir slightly.

To serve, add a few spoonfuls (about 2 Tbsps) of cooled raspberry compote to the bottom of a cup or jar followed by: ½ cup of chia pudding and top with coconut flakes and fresh raspberries, if desired. Repeat for each serving.

Bon Appetit!
STORAGE: Leftovers can be stored in the refrigerator for up to 5 days. Perfect for meal prep for the week!
SWEETENER: Instead of Agave, you can simply use maple syrup throughout entire recipe.
OVERNIGHT OPTION:Follow the recipe steps and then tightly cover bowl with plastic wrap and refrigerate overnight (or at least 8 hours). Remove bowl from the fridge when ready to use and assemble chia pudding per usual.
Calories:
844
kcal
|
Carbohydrates:
104
g
|
Protein:
12
g
|
Fat:
50
g
|
Saturated Fat:
34
g
|
Polyunsaturated Fat:
11
g
|
Monounsaturated Fat:
3
g
|
Trans Fat:
0.1
g
|
Sodium:
33
mg
|
Potassium:
751
mg
|
Fiber:
22
g
|
Sugar:
70
g
|
Vitamin A:
63
IU
|
Vitamin C:
38
mg
|
Calcium:
330
mg
|
Iron:
10
mg