These Vegan Superfood Breakfast Cookies are ultra crispy and chewy, yet soft in the middle! More importantly, these cookies are a healthy, satisfying and energizing option for the perfect grab-n-go breakfast for the entire family. Made from thickly cut GF oats, almond flour and jam-packed with nutrients from superfoods---chia seeds, flaxseeds, + almond butter, as well as raisins, cranberries, pumpkin seeds, greens blend powder, and naturally sweetened; these cookies are super easy to make and can be enjoyed for breakfast, as a snack, or dessert. Oil-Free and Gluten-Free.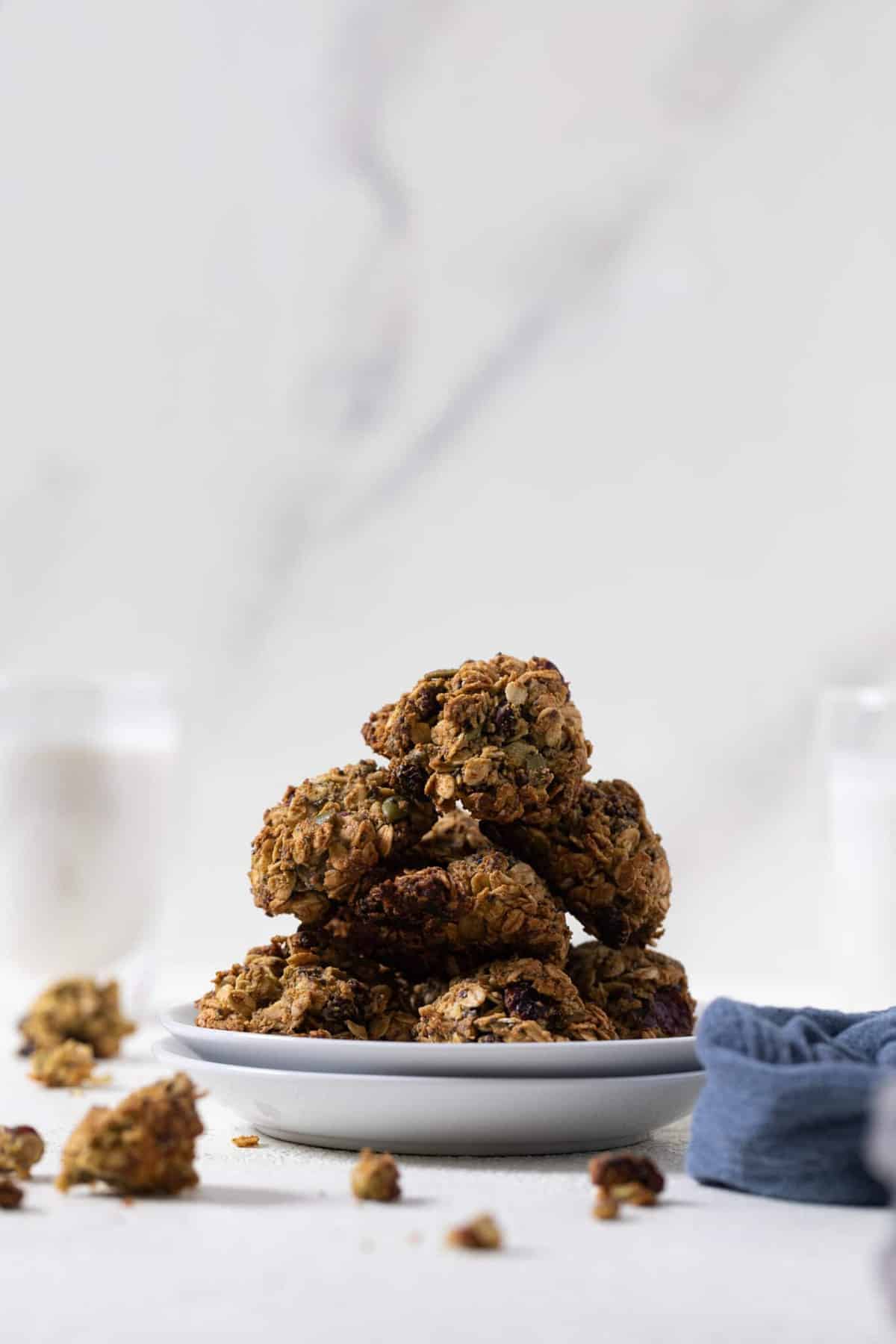 Vegan Superfood Breakfast Cookies-----so we're kicking things off with such a delicious recipe! I've been so excited to share this recipe with you because I truly enjoy easy ones like this one.
If you've been an avid reader of Orchids + Sweet Tea, then you're aware of my easy and complex recipes that are often created, not for the faint of taste buds. Haha. They truly do come loaded with flavor and unique ingredients combinations because that's just the way that my brain works.
I do like to keep things simple for you guys, especially for those of you who are extremely busy or not so kitchen savvy. Believe me, this recipe is one of those EASY recipes that will be great for the entire family. Who doesn't love a good excuse to eat a cookie, right? But what about an excuse to eat a cookie for breakfast?
These Vegan Superfood Breakfast Cookies truly are something fun + healthy for your early mornings!
If you weren't already aware, oats are considered a superfood and are a great source of a ton of nutrients such as Iron, Magnesium, Phosphorous, Folate, Zinc, and so many others. In addition, it is a great food for providing good amounts of fiber and other antioxidants that are important to our body's functioning.
Plus, these are really great for feeding your picky eater (if you have one like me), since cookies are their faves! But at least you can rest easy knowing that these come loaded with delicious flavors and nutrients, for both you and your family.
Honestly, one of my favorite things to make is breakfast, especially on the weekends when I have the time to whip together pancakes, waffles, or something amazing! However, I know how crazy the week can be, so I wanted to share a healthy quick, grab-n-go recipe for many of us with less time in the mornings.
Oh and if you're into something similar with a fresh twist, you need to try this Healthy Cranberry Orange Oatmeal. The epitome of goodness in a bowl. This oatmeal is creamy, loaded with warm spices + orange-infused flavor, and will surely keep you full all morning! Topped with a simple cranberry sauce atop gives a great sweet + tart addition, while the walnuts + pumpkin seeds add a nice crunch, which together creates a beautiful burst of flavor!
BENEFITS OF OATS!?
As mentioned briefly before, oats are super nutritious! They include a great source of carbs, fiber (the soluble kind!), protein, and fat. In addition, they are loaded with important vitamins, minerals, and antioxidant.
Other great benefits:
They can help to lower cholesterol.
Improves Blood Sugar levels.
May help with losing weight.
Great alternative for skincare.
Helps to relieve constipation.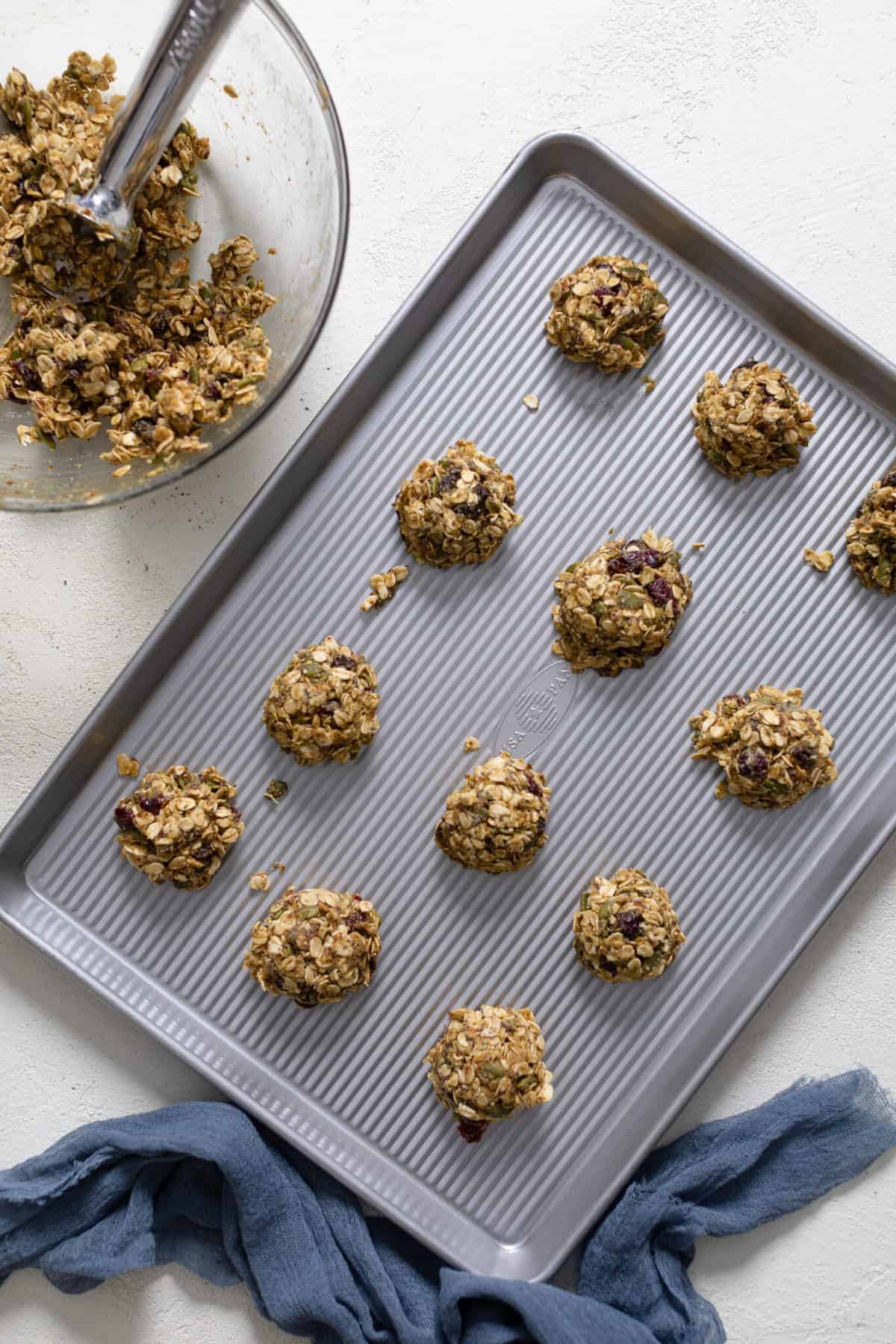 My Top Homemade Cookie Recipes.
Oh, and if you're looking for some other great cookie flavors beside these cookies, you can try these delicious recipes (some of which are dairy-free, vegan, etc.):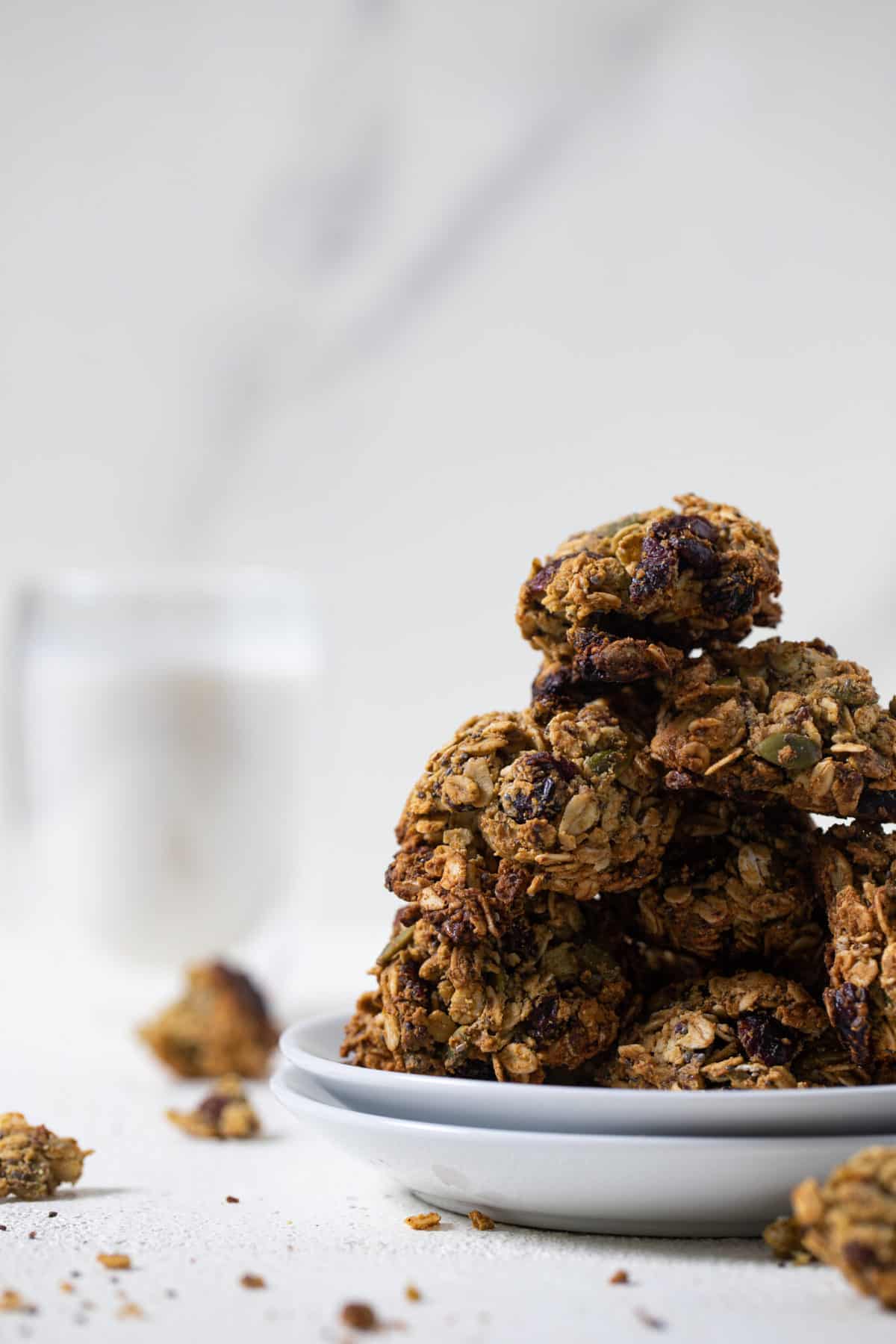 4 TIPS TO MAKE THESE BREAKFAST COOKIES PERFECT.
Tip #1: ENSURE THAT YOU HAVE A GREAT 'BINDER' INGREDIENT.
Honestly, this was the one thing that I had to learn after several fails with this recipe. When it comes to vegan baking in general, having the best 'binder' ingredient (which acts the same way that eggs do in baking) is super important. For these breakfast cookies, I added 'flax eggs' (flaxseed meal + water) as well as chia seeds. Both are really great binders and often help to keep things together! In addition, the almond butter works as a really great binder as well.
Tip #2: WORK SMALLER SCOOPS AS OPPOSED TO BIGGER ONES.
Personally, I found that my breakfast cookies baked better (and more in tact) whenever I scooped them small instead of regular sized like traditional cookies. Because the batter is a bit more "soft" (thanks to the oats + almond flour), I find that scooping too large might make them super easy to fall apart. But of course, it all depends on the binders that you chose to use and the amount needed for extra security.
Tip #3: PARCHMENT PAPER AWAY!
I do this for all of my cookie (or baking) recipes, however, in case that you don't, it's especially important for breakfast cookies (unless you have a REALLY GREAT NON-STICK PAN like mine from USA Pan—-use that Parchment Paper or non-stick mat. It's going to ensure that they don't stick or became a disaster, especially since I've mentioned that the batter tends to be a bit more on the sticky side anyway.
Tip #4: COOL, COOL, + COOL SOME MORE!
Unlike traditional cookies which are often cooled slightly and then moved to a cooling rack to continue cooling, it's best to FULLY COOL your breakfast cookies directly on the baking sheet. These little beauties are super easy to maneuver once cooled.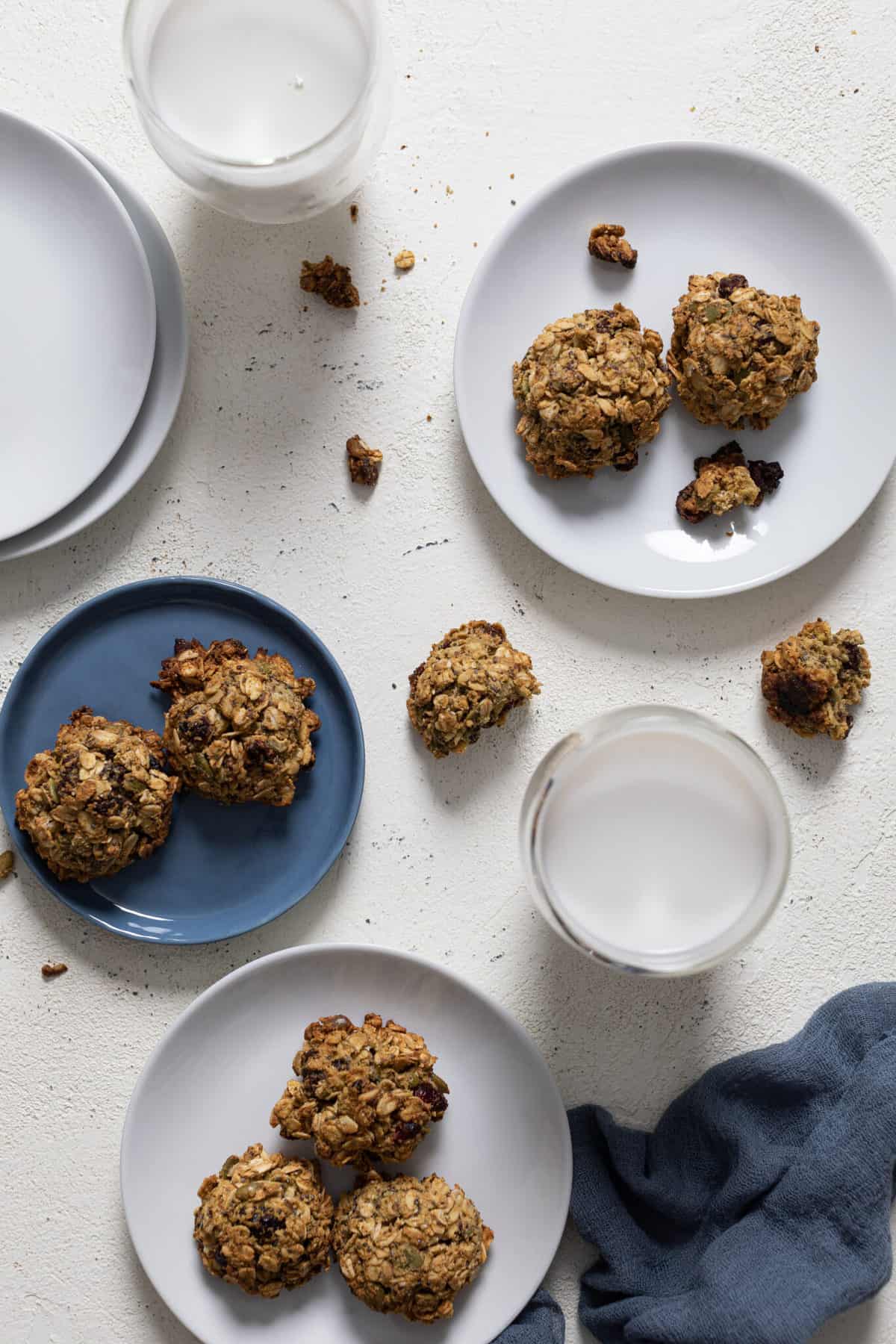 What You'll Love Most About These Breakfast Cookies?
Super crunchy + chewy with a soft middle.
Easy to make.
Minimal ingredients.
One bowl required.
All Vegan, Oil-Free, + Gluten-Free.
Packed with nutrients + superfood benefits.
Quick breakfast, snack, + dessert substitute.
Naturally sweetened.
Can be customized with other fruits, nuts, + ingredients, based on your taste buds.
Delicious with EVERY. SINGLE. BITE.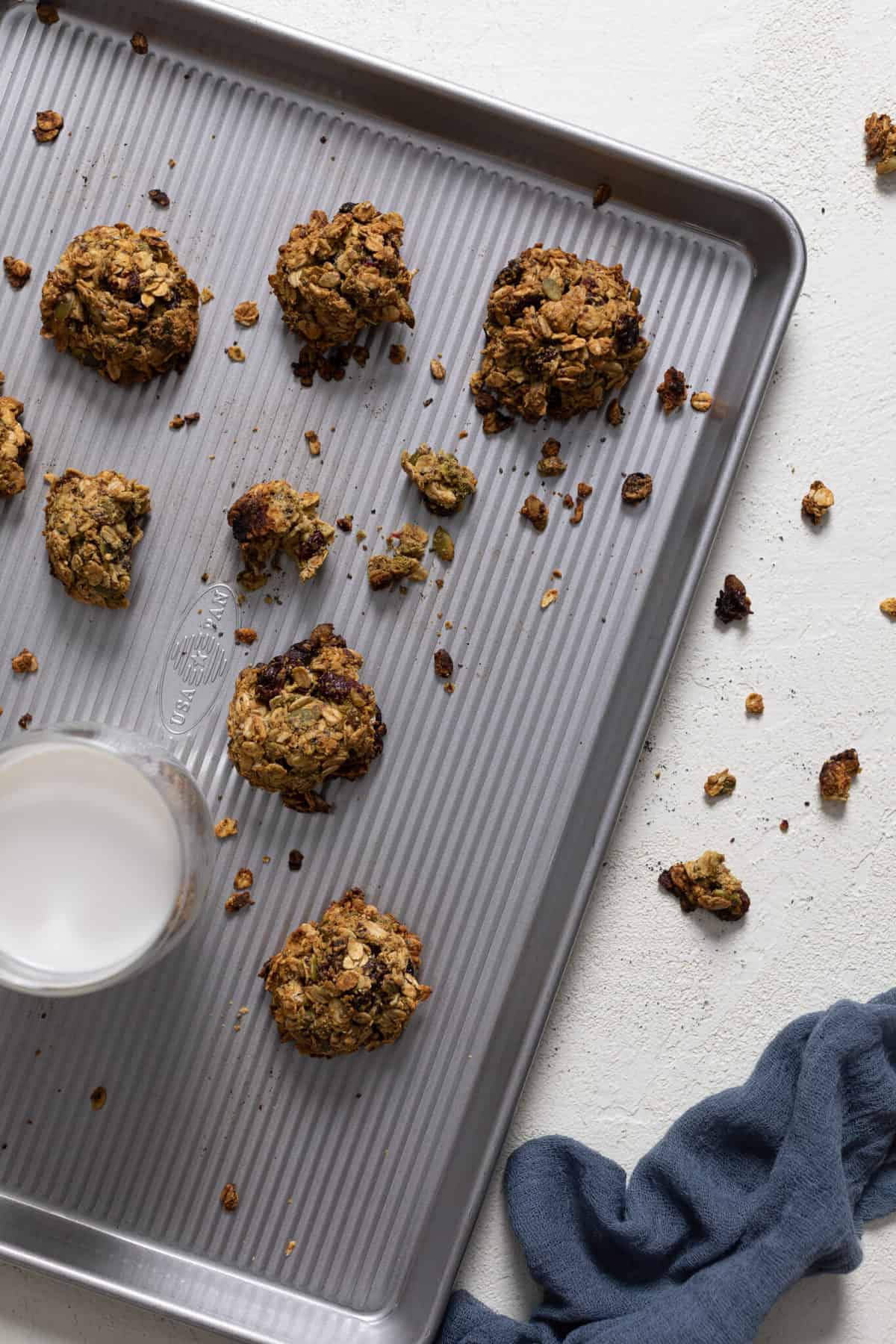 Looking for a Healthier Sweetener Option?
The Best Healthy Sugar Alternatives + Substitutes list is all about finding better ways to enjoy your favorite sweets without compromising your healthy lifestyle. For those who follow a vegetarian and/or vegan lifestyle, this lists offers a few great ideas to incorporate healthy sweeteners into your diet.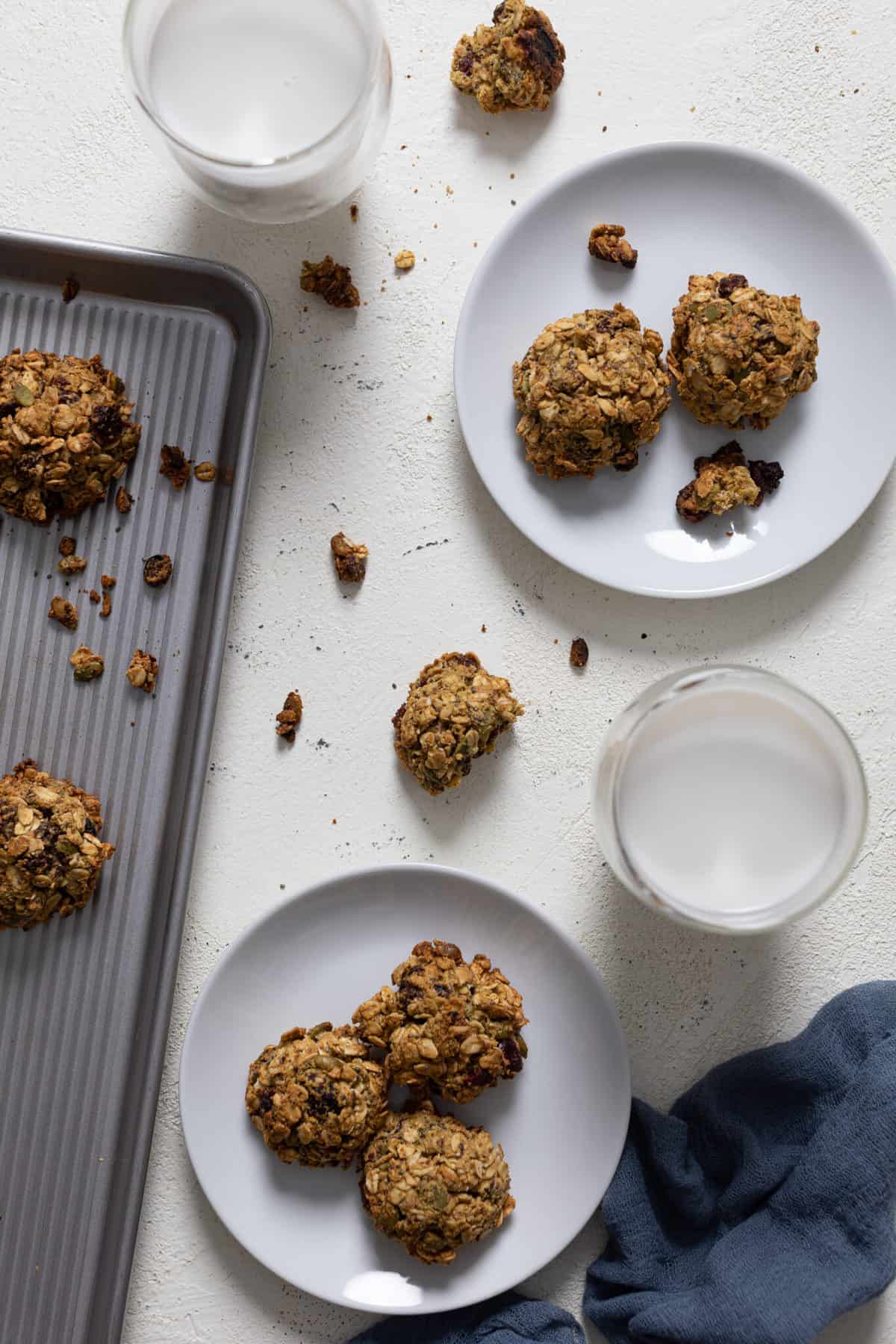 Need Other Easy Vegan Breakfast Ideas?
These Healthy Vegan Gingerbread Quinoa Muffins are the perfect grab-n-go breakfast or snack for the entire family.
This Fall Harvest Quinoa Breakfast Bowl is a healthy option for a quick breakfast or brunch and comes packed with nutrients and works perfectly for meal prep.
Maple Cinnamon Oatmeal + Caramelized Oranges — the epitome of Fall in a bowl. This oatmeal is creamy, loaded with warm spices + maple flavor, and will surely keep you full all morning!
This Balsamic Strawberry Brioche French Toast pulls together all flavor as a great option for breakfast or brunch. This French Toast is thick, delicious, uses a handful of ingredients, naturally sweetened, and completely dairy-free and vegan.
Of course, to delve deeper into our Vegan Breakfast dishes, you can visit our recipe index for more ideas.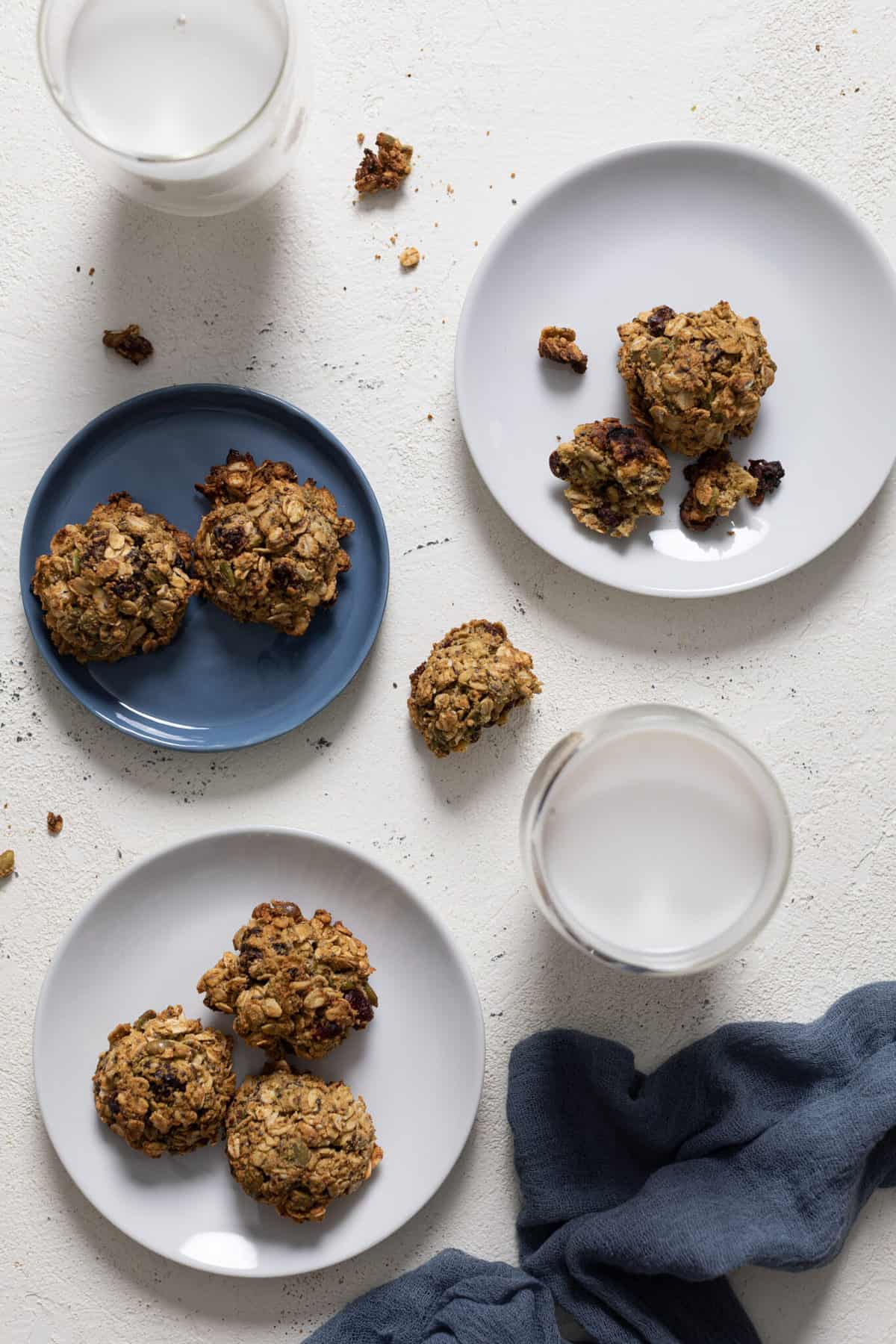 2

cups

rolled oats, GF

(I use Bob's Red Mill)

¼

cup

Almond flour

(I use Bob's Red Mill; See Notes!)

1

tablespoon

chia seeds

(I use Navitas Organics)

½

teaspoon

baking powder

½

teaspoon

baking soda

¼

teaspoon

sea salt

1

teaspoon

organic superfood + greens blend, optional

(I use Navitas Organics)

2

'flax eggs' (2 Tbsps flaxseed meal + 4 Tbsps WARM water)

1 ½

tsps

vanilla extract

¾

cup

Almond butter, softened

(See Notes!)

½

cup

pure maple syrup

⅓

cup

organic dried cranberries

(See Notes!)

⅓

cup

organic dried raisins

¼

cup

pumpkin seeds
Preheat your oven to 350 degrees Fahrenheit and line a large baking sheet with parchment paper (or a lightly greased cookie sheet) to prevent cookies from sticking and burning fast. Set aside.

Prep the 'flax eggs' by adding the flaxseed meal and warm water together in a bowl and stir together until well combined. Let sit for 10 minutes.

In a large bowl, mix together the dry ingredients, including the dried fruit + seeds. Add the wet ingredients into the dry ingredients and stir together using a rubber spatula until well combined and the batter is sticky enough to mold together.

Scoop about 3 Tbsps of cookie dough using a cookie scoop, and place it directly unto the prepared baking sheet. Repeat until all dough is made.

Bake for 15-18 minutes or until edges are golden brown around the edges.

Remove from the oven and let cool them cool completely before serving.

Bon Appetit!
STORAGE: Once properly stored in an air-tight container, cookies last for a few days (2-3 days) at room temperature. 
MAKE AHEAD: If you're not going to bake the cookies right away, you can make the dough and refrigerate for up to 2 days. When ready to use, soften at room temp. for a few minutes. 
OATS: Ensure that your oats are certified GF (Gluten-Free). I used Thick Rolled Oats, but you can also use Old Fashion if preferred.
MILK: You can use any non-dairy milk for this recipe. I love using Califia Farm's Oats + Roasted Almonds Milk or So Delicious Dairy-Free's Almond Milk, however, you can use Soy, regular Almond, Macadamia, Coconut, etc.
FLOUR: If you don't have almond flour available, you can substitute with oat flour.

SWEETENER: You can always use Agave, Vegan honey, or date syrup, as a substitute. For vegan honey—-Bee Free Honee, click link.
Calories:
2916
kcal
|
Carbohydrates:
345
g
|
Protein:
83
g
|
Fat:
149
g
|
Saturated Fat:
13
g
|
Polyunsaturated Fat:
41
g
|
Monounsaturated Fat:
69
g
|
Trans Fat:
0.03
g
|
Sodium:
1418
mg
|
Potassium:
3120
mg
|
Fiber:
55
g
|
Sugar:
138
g
|
Vitamin A:
11
IU
|
Vitamin C:
3
mg
|
Calcium:
1239
mg
|
Iron:
20
mg