Treat yourself to a beautiful Strawberry Basil Pineapple Mocktail with fresh berries, ginger beer and tropical fruit for a naturally sweet and refreshing drink.
Join me in celebrating Juneteenth by checking out the list of contributors to the 2021 Juneteenth Virtual Cookout down below. Many black creators contributed to this collaborative menu as a Freedom Day tribute. Juneteenth marks our country's second independence day, the final emancipation of those enslaved in the US back in 1865. Join in, share, and help us continue the legacy of celebrating progress. Additionally, you can easily follow each participant by using the hashtag #JuneteenthCookout2021 on Instagram.
What is Juneteenth Exactly?
Whelp, Juneteenth (a merge of the words/date June Nineteenth) marks the date in 1865 that the last enslaved people learned of their freedom.
And for over 150 years since, Black American families, home-cooks, chefs, and culinarians have commemorated the summer holiday with a wide range of food traditions that tell a story of the perseverance of a people. In Celebration, I've created this Strawberry Basil Pineapple Mocktail recipe and I'm sharing a list of other delicious, flavorful dishes that can be found below!
It's no secret around here that I'm a fan of fruity mocktails. All year long, I'm known to turn seasonal fresh fruits into delicious and colorful non-alcoholic drinks.
In the winter, I can't get enough citrus and my Blood Orange Strawberry Mocktail is a go-to drink. Come spring, I'm all about this Strawberry Pomegranate Mocktail for the antioxidants and flavor. And in the fall, who can say no to a warming Pear Ginger Lemon + Thyme Drink?
Well the weather is warm now, so I'm in summer produce mode. That means fresh berries and vibrant tropical fruits. Of course I had to take two of my favorites, strawberries and pineapple, to make my new go-to summer drink: a Strawberry Basil Pineapple Mocktail. Give it a try and you'll see why I'm going to be sipping on this chilled drink all summer long.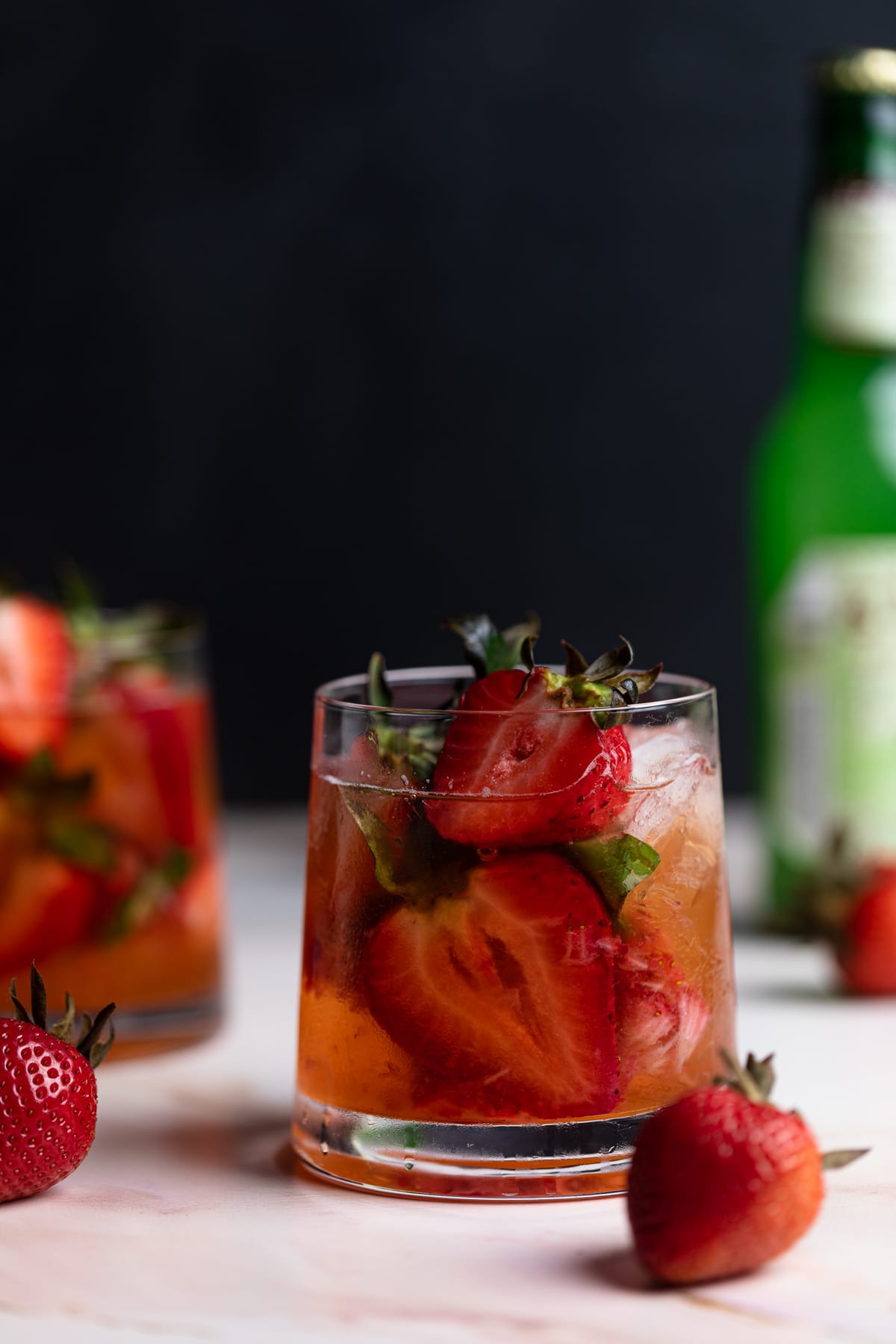 How to Make Strawberry Basil Pineapple Mocktails
The key to the balance of flavor in each sip of this fruity drink is the right amount of fresh fruit and bubbly, spicy ginger beer.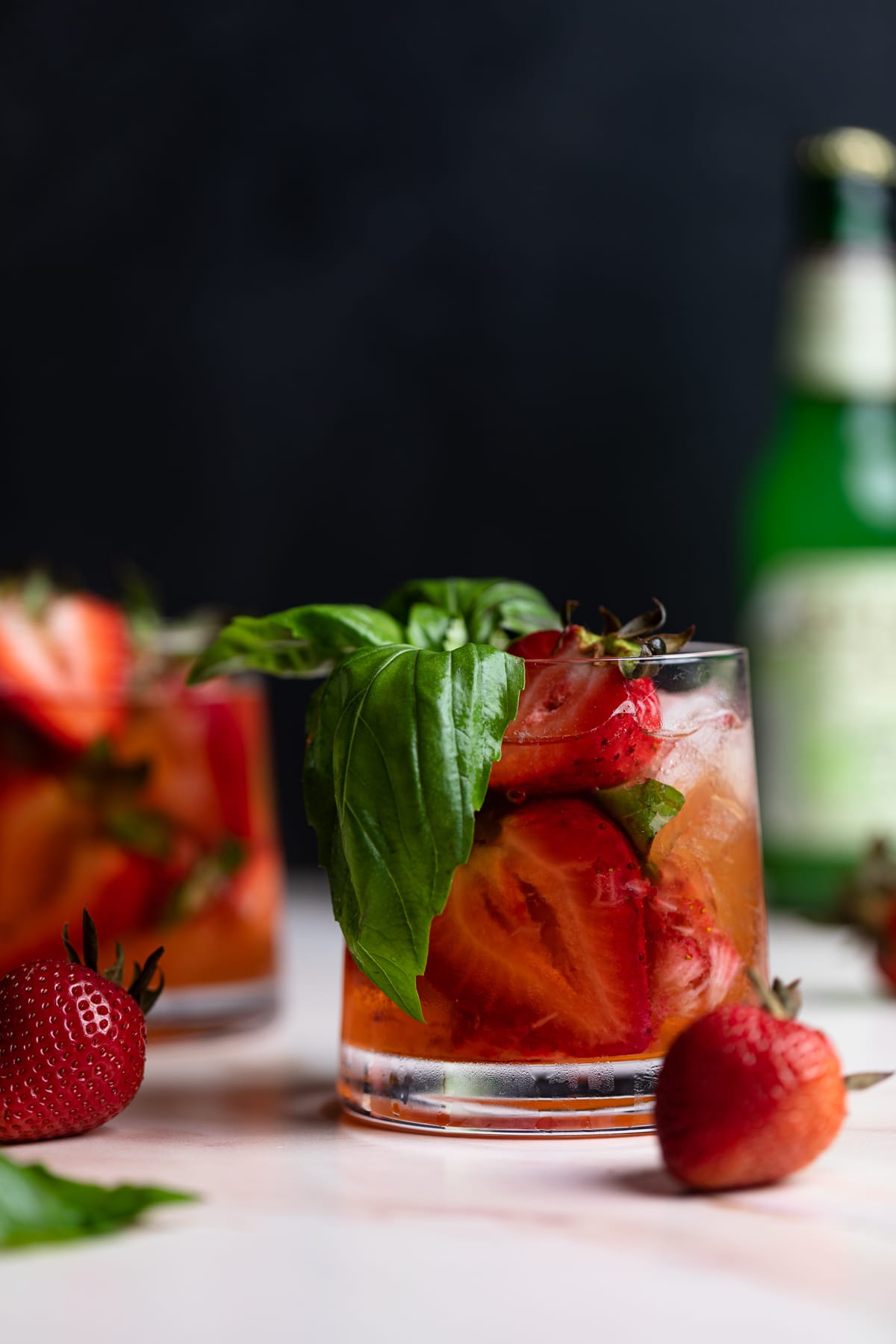 Ingredients
Here is the short and easy list of ingredients to make these fizzy drinks: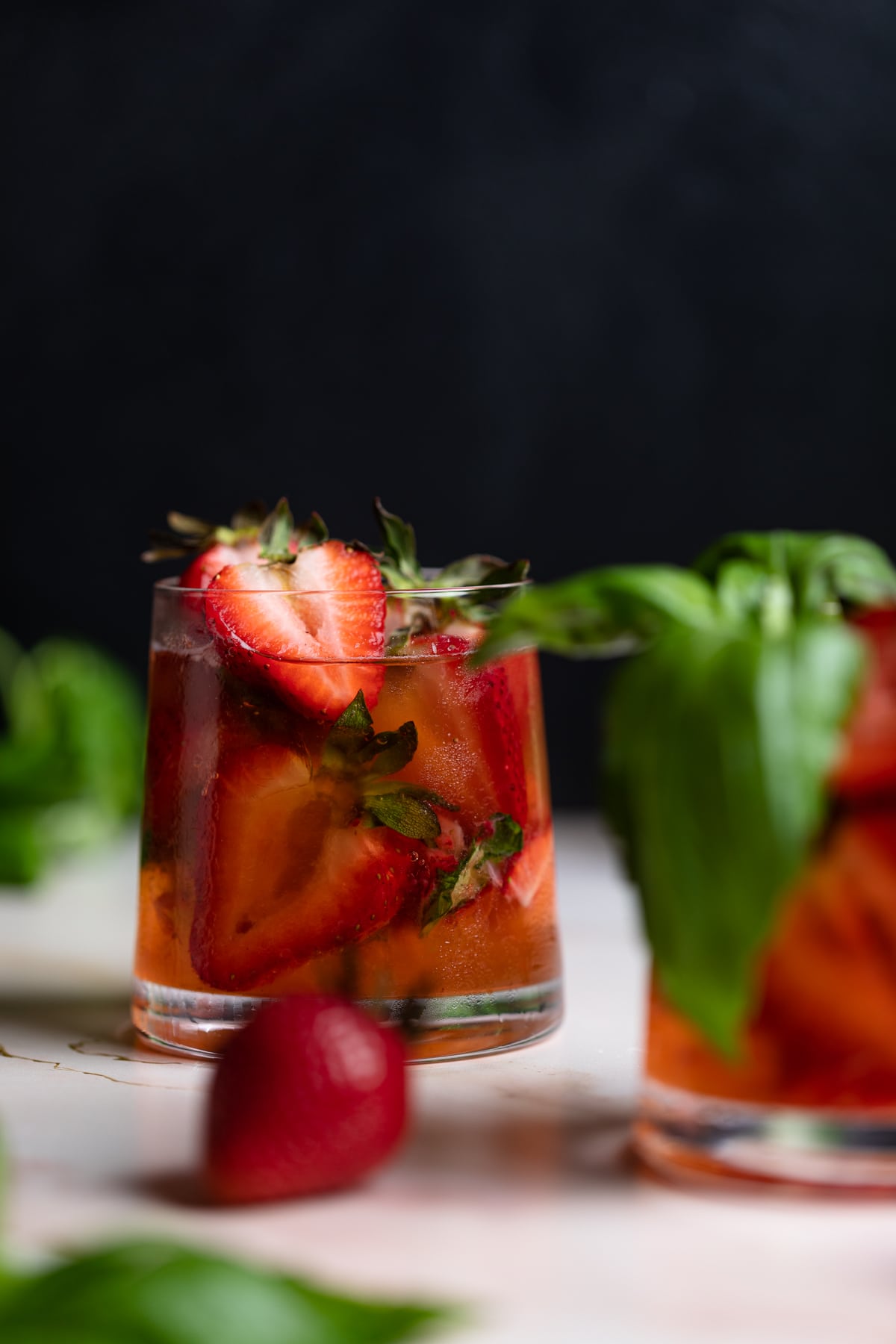 Serving Suggestions
I think this strawberry basil pineapple mocktail is best served cold over crushed ice. For garnish, add a sprig of fresh basil and a plump strawberry.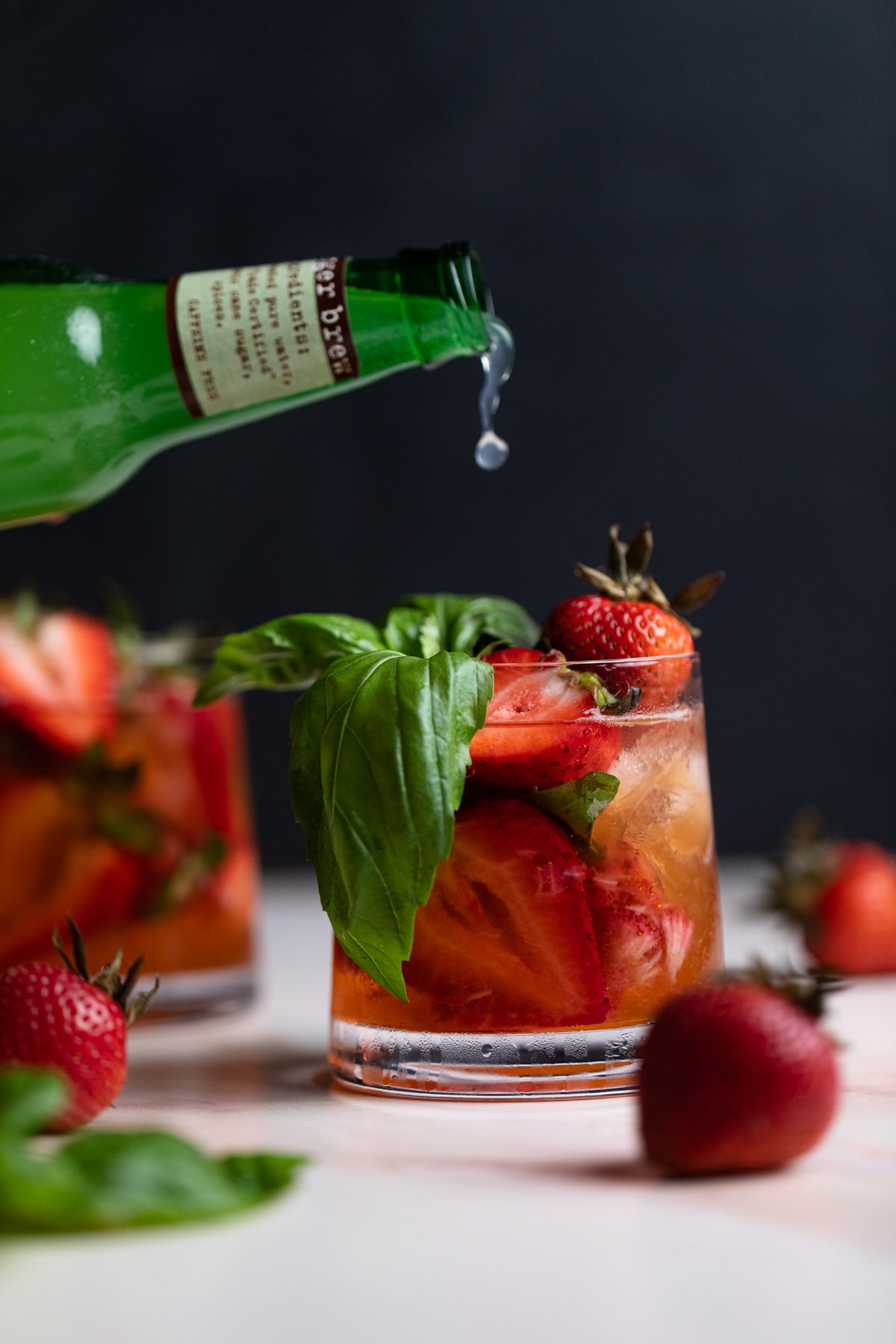 Turning it into an Adult Beverage
If you'd like to make this fruity mocktail a boozy cocktail, go for it. You can add a shot of clear liquor, like tequila or vodka in each glass of ice. Then pour in the juice and ginger beer and serve!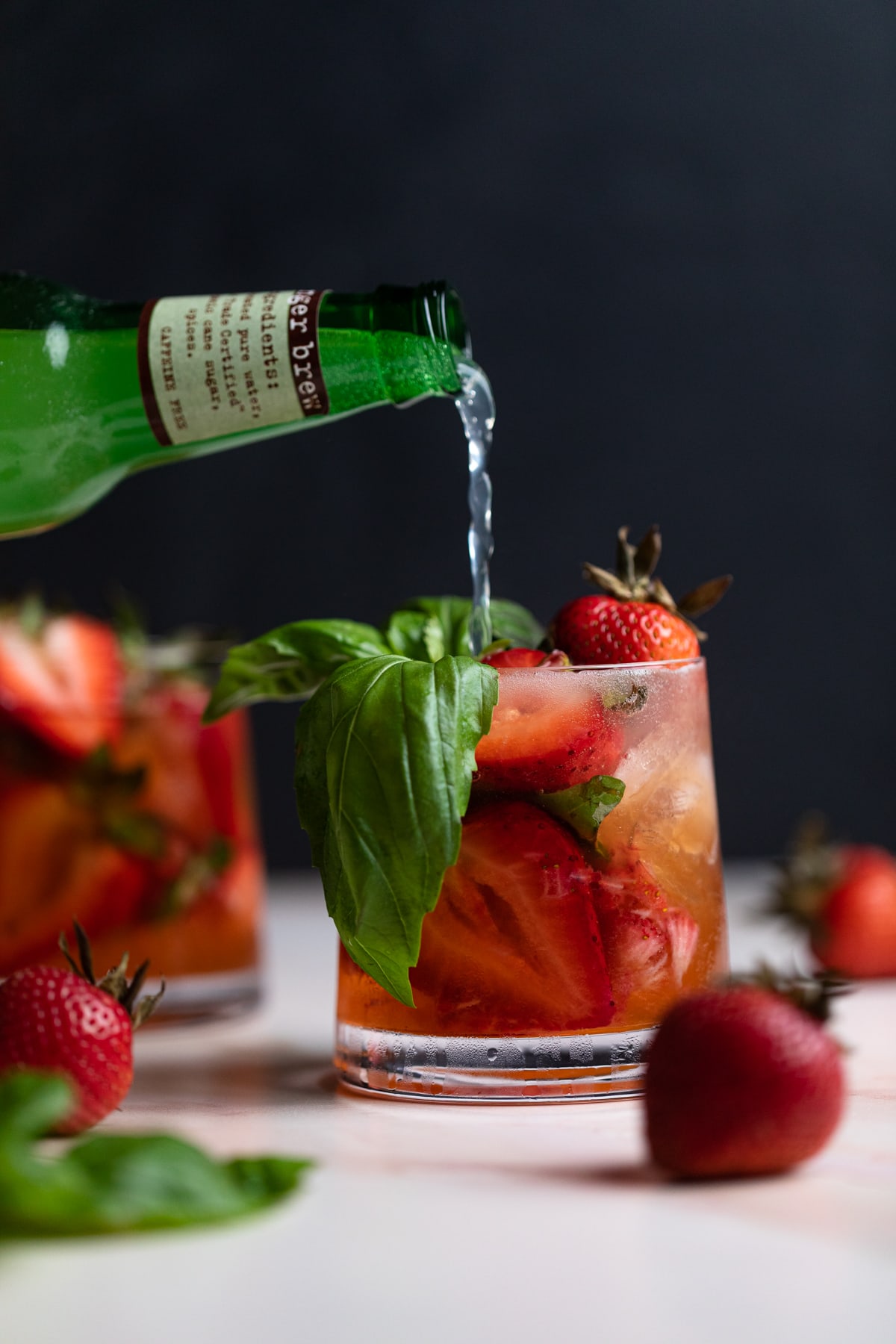 What to Pair with Strawberry Pineapple Mocktails
Sure, this makes an excellent afternoon pcik-me-up. But this fruity mocktail is also easy and fun to pair with summery foods. I like to make a big pitcher of the drink and serve it to friends and family at an outdoor BBQ. If that's the case, then I'm always serving up:
For a more laid-back weeknight dinner, you can pair your strawberry basil pineapple mocktail with a quick and easy recipe like: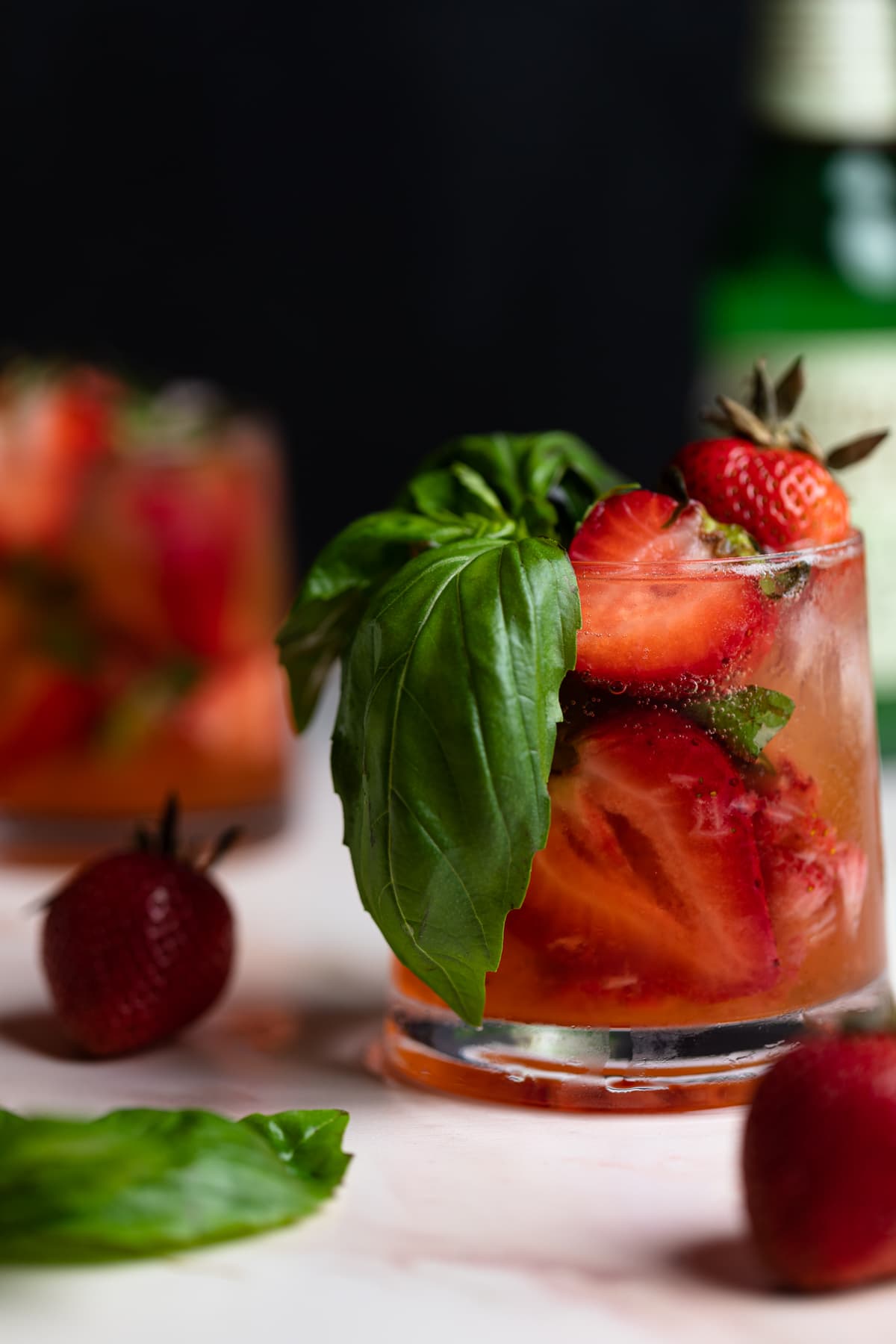 More Refreshing Fruit Mocktail Recipes
MADE OUR RECIPE(S)?
If you make this Strawberry Basil Pineapple Mocktail or any other recipe from us, be sure to tag us on Instagram at #Orchidsandsweettea so that we can share the love, rate, comment below, + share!
GARNISH:
Sliced strawberries

Fresh basil leaves
TO MAKE THE MOCKTAILS:
In a bowl, add the fresh sliced strawberries, basil leaves, and pineapple juice, mulling (crushing) everything together until strawberries are fully broken down and basil leaves are a bit crushed. Add in the Agave and stir until well combined combined. NOTE: Add additional sweetener depending on sweetness desired.

ASSEMBLY: Add crushed ice to glass(es), Add 3-4 Tbsps of mulled strawberries to bottom of glass, followed by ⅓ cup of mulled strawberry-pineapple mixture and top with ginger beer until glasses are ¾ filled. For additional garnish, add sliced strawberries, and basil leaves. Repeat for every serving. 

Sip and Enjoy!
SWEETENER: Instead of Agave syrup, you can substitute with pure maple syrup or organic cane sugar as a syrup (sugar + water boiled over the stove top).
PINEAPPLE JUICE: Instead of using organic pineapple juice, you can always substitute with lemon or orange juice for a slight change or blend sliced pineapples with ½ cup of water until fully smooth.
BASIL: Instead of basil leaves, you can substitute with mint leaves or rosemary leaves.
Calories:
206
kcal
|
Carbohydrates:
50
g
|
Protein:
1
g
|
Fat:
1
g
|
Saturated Fat:
0.03
g
|
Polyunsaturated Fat:
0.3
g
|
Monounsaturated Fat:
0.1
g
|
Sodium:
5
mg
|
Potassium:
375
mg
|
Fiber:
3
g
|
Sugar:
40
g
|
Vitamin A:
23
IU
|
Vitamin C:
102
mg
|
Calcium:
39
mg
|
Iron:
1
mg
2021 JUNETEENTH COOKOUT TAKEOVER RECIPES:
Kosher Lite Recipes:
Watermelon Ice Pops  by A Girl Called Adri
Juneteenth Soul Rolls by Black Girls Who Brunch
Honey Buttermilk Biscuits with Roasted Strawberries by Britney Breaks Bread
Strawberry Collins by Brownbelle
Peach Cobbler Cinnamon Rolls by Butter Be Ready
Jalapeno Cornbread Muffins by Chef Curl Ardee
Lemon Sour Cream Pound Cake by Chenée Today
Vegan Ranch Style Beans by Collards Are The Old Kale
Sweet and Tangy Coleslaw by Crumb-Snatched
Strawberry-Basil Sorbet by D.M.R. Fine Foods
Red Velvet Layer Cake with Chocolate Covered Strawberries by Dash of Jazz
Red Velvet Cookies by Dish It With Tisha
Brisket Stuffed Baked Sweet Potatoes by Dude That Cookz
Black Eyed Pea Salad by FoodLoveTog
Harissa Honey Roasted Vegetable Skewers by Geo's Table
Gluten Free Peach Cobbler (Vegan) by Good Food Baddie
Crispy Gluten-free Baked BBQ Chicken Wings by Gristle and Gossip
Summer Watermelon Fizz by Handy Chef
Watermelon and Cucumber Salad by Heal Me Delicious
Smoky Party Style Jollof Rice by Immaculate Ruemu
Tamarind BBQ Wings by Just Add Hot Sauce
Hibiscus Rum Punch by Kenneth Temple
Strawberry Cheesecake Ice Cream by Lenox Bakery
Grilled Hot Links & Chow Chow by Meiko And The Dish
Strawberry Lemonade Sangria by Nik Snacks
Brown Sugar Caramel No-Churn Ice Cream by Open Invitation Entertainment
Lemon Meringue Tart by Peaches 2 Peaches
Strawberry Crunch Cake Brownies by Razzle Dazzle Life
Grilled Maque Choux Salad by Savor and Sage
Country Style Potato Salad by Sense & Edibility
Rum Punch by Sweet & Sorrel
Mint Julep by Sweet Tea + Thyme
Almond Peach Cake by That Green Lyfe
Strawberry Cobbler Galette by The Dana Renée Way
------------
Gluten Free Recipes:
Watermelon Ice Pops  by A Girl Called Adri
Strawberry Collins by Brownbelle
Red Hot Pepper Shrimps by Chef and Steward
Vegan Ranch Style Beans by Collards Are The Old Kale
Jamaican Jerk BBQ Ribs by Cooks with Soul
Sweet and Tangy Coleslaw by Crumb-Snatched
Strawberry-Basil Sorbet by D.M.R. Fine Foods
Brisket Stuffed Baked Sweet Potatoes by Dude That Cookz
BBQ Baked Beans by Food Fidelity
Black Eyed Pea Salad by FoodLoveTog
Harissa Honey Roasted Vegetable Skewers by Geo's Table
Gluten Free Peach Cobbler (Vegan) by Good Food Baddie
Crispy Gluten-free Baked BBQ Chicken Wings by Gristle and Gossip
Summer Watermelon Fizz by Handy Chef
Watermelon and Cucumber Salad by Heal Me Delicious
Smoky Party Style Jollof Rice by Immaculate Ruemu
Crab Boil & Garlic Butter Sauce by Jamieson Diaries
Tamarind BBQ Wings by Just Add Hot Sauce
Hibiscus Rum Punch by Kenneth Temple
Strawberry Cheesecake Ice Cream by Lenox Bakery
Strawberry Lemonade Sangria by Nik Snacks
Brown Sugar Caramel No-Churn Ice Cream by Open Invitation Entertainment
Spicy Shrimp Creole by Pink Owl Kitchen
Grilled Maque Choux Salad by Savor and Sage
Savannah Red Rice by Seasoned To Taste
Country Style Potato Salad by Sense & Edibility
Deviled Eggs by Slight Kitchen Werk
Rum Punch by Sweet & Sorrel
Mint Julep by Sweet Tea + Thyme
Strawberry Cobbler Galette by The Dana Renée Way
Strawberry Baby Back Ribs by This Worthey Life
------------
Dairy Free Recipes:
Watermelon Ice Pops  by A Girl Called Adri
Strawberry Collins by Brownbelle
Red Hot Pepper Shrimps by Chef and Steward
Vegan Ranch Style Beans by Collards Are The Old Kale
Jamaican Jerk BBQ Ribs by Cooks with Soul
Sweet and Tangy Coleslaw by Crumb-Snatched
Strawberry-Basil Sorbet by D.M.R. Fine Foods
Brisket Stuffed Baked Sweet Potatoes by Dude That Cookz
BBQ Baked Beans by Food Fidelity
Black Eyed Pea Salad by FoodLoveTog
Harissa Honey Roasted Vegetable Skewers by Geo's Table
Gluten Free Peach Cobbler (Vegan) by Good Food Baddie
Crispy Gluten-free Baked BBQ Chicken Wings by Gristle and Gossip
Summer Watermelon Fizz by Handy Chef
Watermelon and Cucumber Salad by Heal Me Delicious
Smoky Party Style Jollof Rice by Immaculate Ruemu
Crab Boil & Garlic Butter Sauce by Jamieson Diaries
Tamarind BBQ Wings by Just Add Hot Sauce
Hibiscus Rum Punch by Kenneth Temple
Crockpot BBQ Pulled Pork Sandwiches by Mash & Spread
Grilled Hot Links & Chow Chow by Meiko And The Dish
Strawberry Lemonade Sangria by Nik Snacks
Spicy Shrimp Creole by Pink Owl Kitchen
Grilled Maque Choux Salad by Savor and Sage
Savannah Red Rice by Seasoned To Taste
Country Style Potato Salad by Sense & Edibility
Deviled Eggs by Slight Kitchen Werk
Rum Punch by Sweet & Sorrel
Mint Julep by Sweet Tea + Thyme
Almond Peach Cake by That Green Lyfe
Strawberry Cobbler Galette by The Dana Renée Way
Strawberry Baby Back Ribs by This Worthey Life