This Raspberry Sunrise Smoothie is tropics in a glass. Yup, even if you are rugged up under a blanket, you can pretend you are lying on a sunbed on a tropical island with this drink. Full of fruity plant-based flavor, this smoothie is creamy, enjoyably thick, and super easy to make----whipped together in just 5 short minutes (Perfect for all the busy bees out there) This smoothie nutrient-packed healthy way to start your day or even replace a meal. Dairy-free & Vegan.
Lately, I have been full steam ahead on the morning smoothie train! I'm so happy to share this creative tropical Raspberry Sunrise Smoothie recipe with you y'all!
This breakfast smoothie is not only beautiful but also extremely tasty, thanks to its ideal balance of sweet and tart flavors. It only takes a few minutes to prepare and is ready to enjoy in no time at all!
Smoothies are just about the most genius things ever made, and I sometimes use them to get my little one to eat his veggies and fruits because a Moms has gotta do what she's gotta do... I'm learning that being creative is an awesome way to make things run more smoothly.
Does anyone else have a picky eater on their hands? This smoothie is a great kid-friendly recipe that you and the little ones can enjoy together, full of protein, fiber, and vitamins!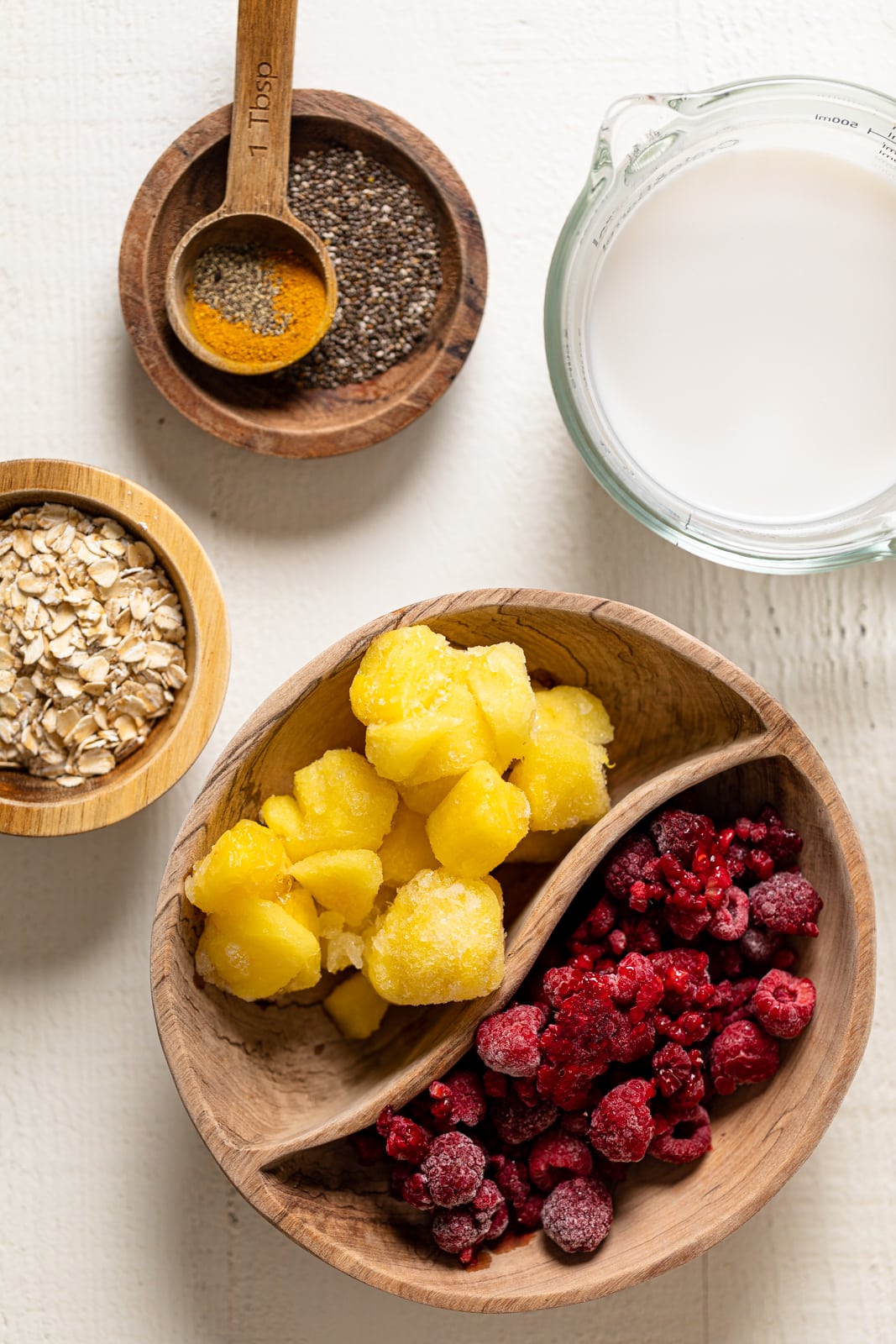 Are Smoothies Healthy?
Yes! At the beginning of the year, I chose to go on a detox using smoothies, and it was a refreshing experience. I believe that it's super important to detoxify your body ever so often, especially with all the variety of things we tend to eat on a daily basis (good + bad). A little cleanse and "rest" for our digestive system does the body wonders, trust me! To see what smoothies I used, see the list of Healthy Detox Smoothies for the New Year.
When I make a smoothie, I only use healthy, plant-based whole foods that my family loves too! None of my smoothies have any kind of artificial sugar or sweetener added to them. Smoothies are such a great way to add more nutrients to your diet easily. Be sure to check the ingredients if you are buying smoothies when you are out. Sometimes they contain some nasty ingredients!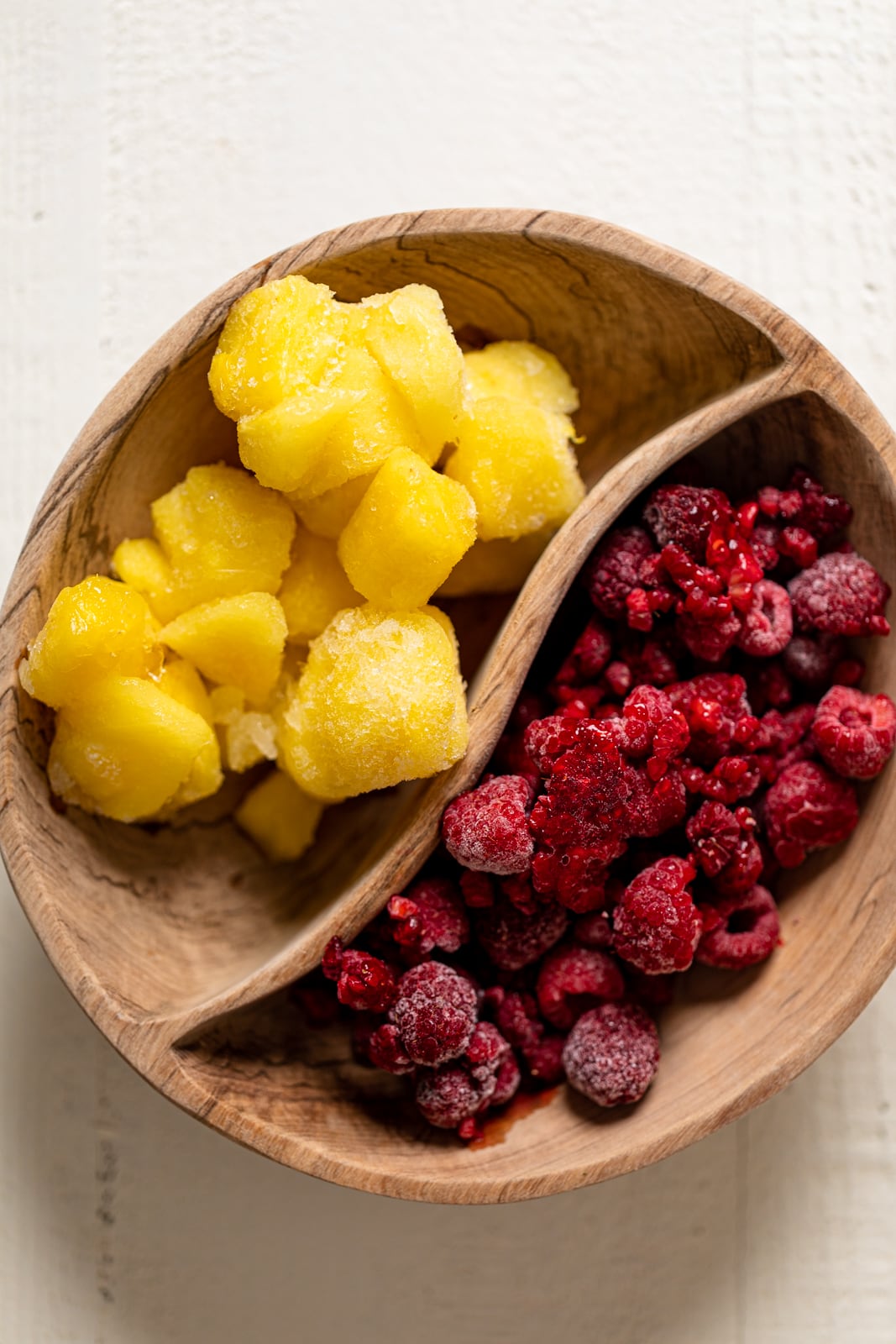 How to Make Raspberry Sunrise Smoothie
This Raspberry Sunrise Smoothie is super easy to whip together and doesn't require anything special when it comes to ingredients. The only piece of kitchen equipment you'll need to whip this vibrant tropical smoothie up in minutes is a high-speed blender. This is a simple dump-and-go breakfast recipe that's ideal for busy weekday mornings or as a healthy snack.
Ingredients
All you need to whip up this simple fruity plant-based pick-me-up smoothie is:
Bananas for creaminess.
Mango for tropical feels.
Raspberries for that tart berry flavor.
Chia seeds they are rich in fiber!
Rolled oats for thickness.
Coconut milk for a more yummy creamy flavor.
Optional add-ons: plant-based yogurt, ground flaxseed meal, orange juice, peanut butter, lemon juice
Just add all the ingredients to a blender and blend until desired consistency is met. Wallah!
Flavor Variations!
This Raspberry Sunrise Smoothie tastes incredible as is. But if you'd like to mix it up, I've got ideas!
Here are some ingredients for ways to make it even tastier:
Ginger. The spice queen is ready to clear those sinuses. Add ½ teaspoon of grated ginger!
Mint or basil. Add a few fresh mint or basil leaves for an herby spin on this.
Pineapple. If you like Pina Coladas.. and getting caught in the rain... Ok, you get the idea. Sub out the mango for pineapple if that's more your flavor!
Turmeric powder. Add ½ teaspoon, this golden spice adds a hint of earthy flavor to balance out the sweetness of the fruit. It also adds a brighter color and has natural antioxidant properties, thanks to the curcumin in turmeric!
For this Raspberry Sunrise Smoothie, I wanted to toss together a few tropical flavors, and it worked! Usually, I use water as my base, but this time for added creaminess, I chose to use coconut milk. This smoothie is bursting with freshness!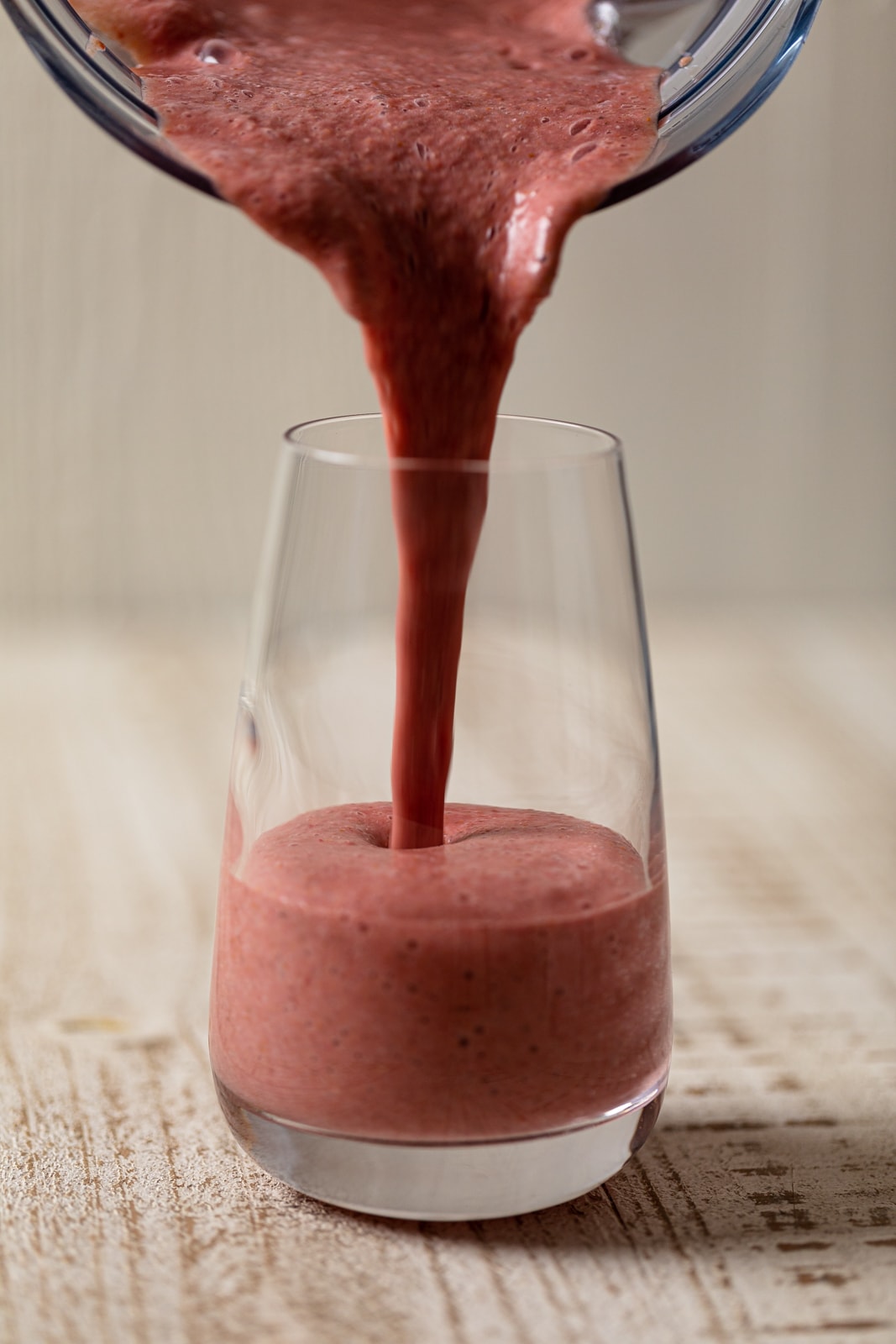 Smoothie Storage
Smoothies are best to drink immediately after blending. But this Raspberry Sunrise Smoothie can last for 1 day refrigerated. Just be sure to store it in a sealed container. NOTE: If it starts to separate, give it a good shake it up before drinking!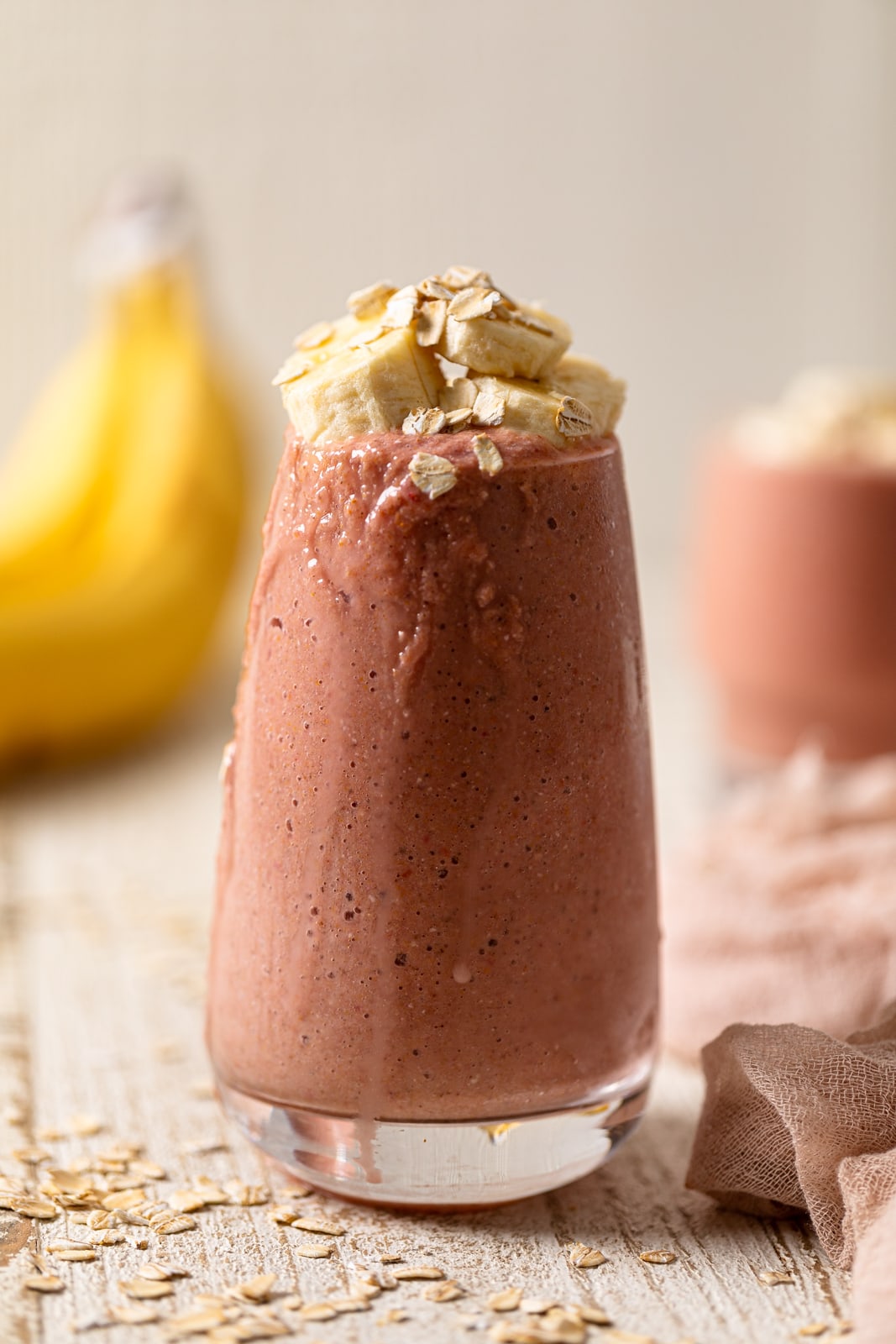 Raspberries Are So Good for You
Raspberry's potent health benefits might come as a pleasant surprise.
Over half of your recommended daily intake of vitamin C can be found in just one cup of raspberries, making them a great plant-based choice for boosting your immune system, skin health, and collagen production.
One serving of fresh raspberries has only 5 grams of sugar, making them a low-sugar fruit option.
Raspberries are antioxidant powerhouses.
A cup of raspberries packs an impressive 8 grams of dietary fiber, a third of the daily minimum goal.
More Healthy Smoothie Recipes to try!
Ready to kick start your day the right way? Try some of my all-time favorite plant-based smoothie recipes!
SMOOTHIE:
1

ripe

banana, sliced

1

cup

frozen mango chunks

(You can also use fresh pineapple chunks)

1

cup

frozen raspberries

(You can also use fresh raspberries)

3

Tbsps

rolled oats, gluten-free

1

tablespoon

chia seeds

1 ½

cups

Coconut milk

(You can use your fave plant-based milk)
Add all ingredients to a high-powered blender (adding the frozen pineapples + raspberries first, then the rest following) and blend until smooth.

Adjust the amount of milk (or add ice), depending on desired consistency, adding 1 tablespoon more at a time, if needed.

To serve—pour smoothie in your favorite glass and top with banana slices and sprinkles of chia seeds, if desired.

Sip and enjoy!
STORAGE: Store any leftovers in the refrigerator, tightly sealed or in a covered mason jar, ensuring that you drink it within the same day for best taste and consistency.
TURMERIC: For health benefits of using turmeric, ensuring that it is paired with black pepper, helps to aid in curcumin absorption.
PINEAPPLES: If you're using freshly chopped pineapple, you can freeze them prior to adding them to this smoothie or just add ice for a "smoothie-like" consistency. 
EQUIPMENT: See my favorite equipment to use daily via my AMAZON SHOP LIST.
Calories:
478
kcal
|
Carbohydrates:
33
g
|
Protein:
7
g
|
Fat:
39
g
|
Saturated Fat:
32
g
|
Polyunsaturated Fat:
2
g
|
Monounsaturated Fat:
2
g
|
Trans Fat:
0.01
g
|
Sodium:
25
mg
|
Potassium:
661
mg
|
Fiber:
8
g
|
Sugar:
14
g
|
Vitamin A:
916
IU
|
Vitamin C:
48
mg
|
Calcium:
97
mg
|
Iron:
7
mg
Raspberry Sunrise Smoothie.