These Oversized Crinkled Chocolate Chip Butterscotch Cookies are the epitome of the best chocolate chip cookies ever with a twist! Unlike standard chocolate chip cookies, these large handheld favorites are full of sweet flavor from the nice balance of chocolate-y sweet and butterscotch charm, which work perfectly together. Plus, their crinkled look and thick, chewy bodies make for a real sweet indulge + obsession. Gluten-Free option.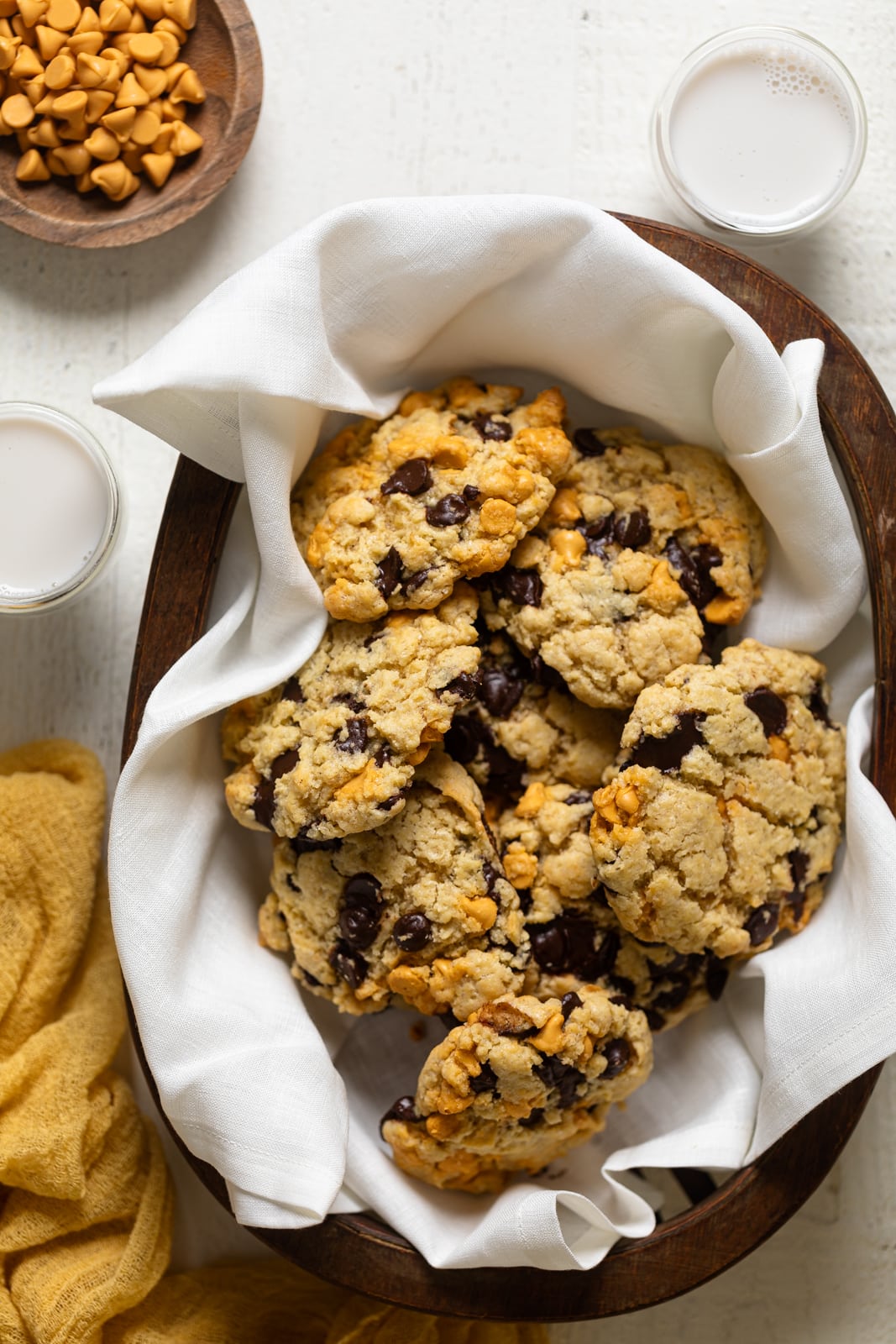 Growing up, I loved butterscotch candy, so this was right up my alley. But who knew that butterscotch would go so perfectly with chocolate chip? Well, guys----it's perfect! For a second, I almost thought that this combination beats out the chocolate-caramel combo. Haha. Juts kidding! But it comes VERY close.
Previously, I saw a "crinkled" cookie recipe a few years ago in the New York Times, which was originally by Sarah Keiffer, a baker and blogger who initially I believe invented the idea of this concept.
These Oversized Crinkled Chocolate Chip Butterscotch Cookies are such a genius idea when it comes to flavors marrying together and while it can be intimidating to execute due to the process of getting them done right, I'll be sure to walk you through everything carefully so that you can make these beauties perfectly! Plus, these Bakery-Style Biscoff Cookie Butter Cookies are the perfect sweet to indulge in right after dinner or as a pick-me-up in the mornings with your favorite cup of coffee or tea or as a slam dunk in your favorite glass of milk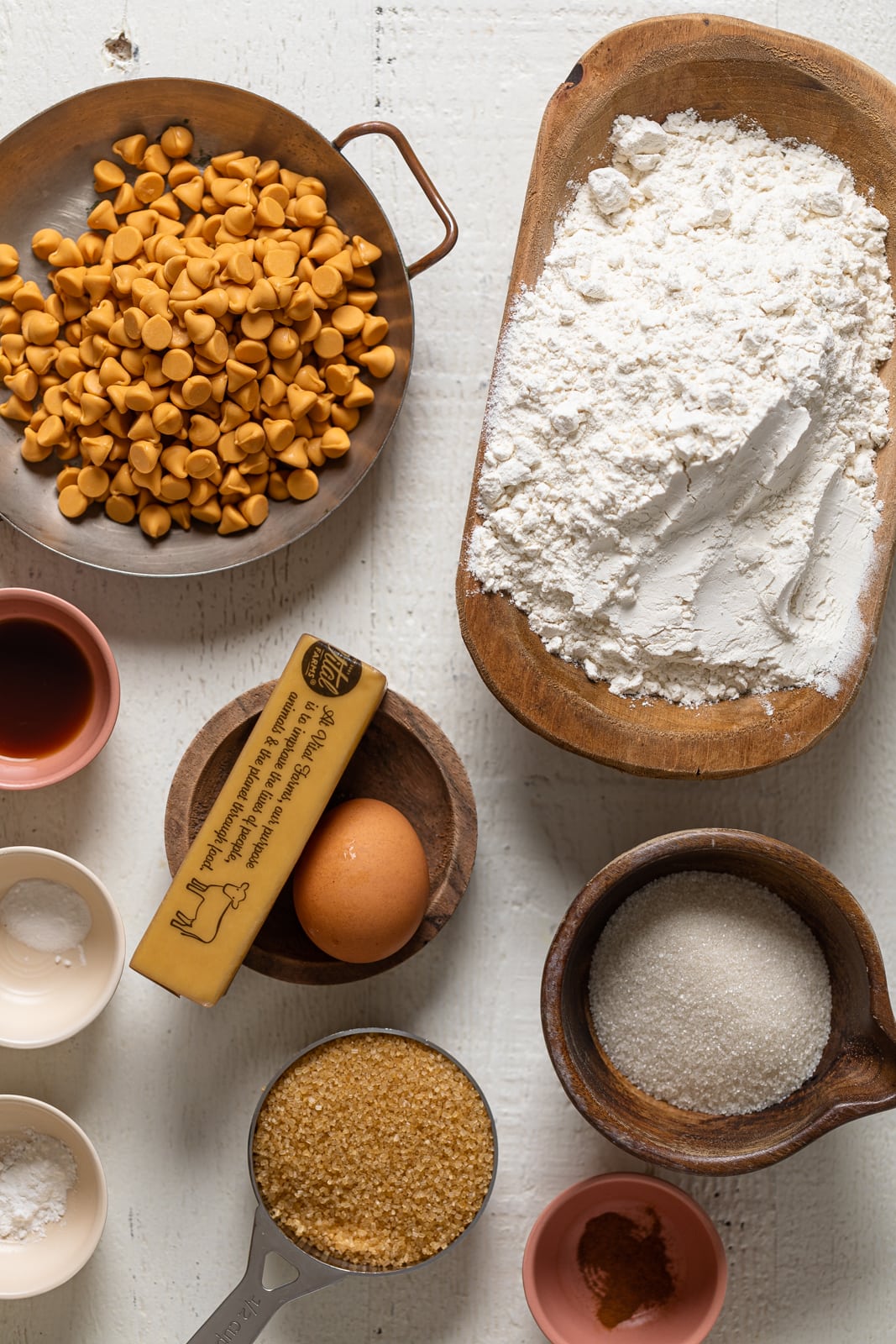 How to Make Oversized Crinkled Chocolate Chip Butterscotch Cookies
Generally, these cookies take just less than 20 minutes (in total) to whip up. You'll need a few important ingredients to achieve the thick, chewy texture perfectly:
Unsalted butter. Always ensure that your butter is at room temperature, so your cookies stay nice and firm after baking. For an extra hint of flavor, you can also use salted butter.
Brown sugar. Choose organic sugar to ensure it's vegan and healthier. 
Cane sugar. I like to use organic cane sugar as well. Using this hand in hand with brown sugar allows the cookies to have a nice color, spread nicely, while keeping firm as well.
Vanilla. To balance the rich chocolate flavor.
Egg. This is the binder for your cookies.
Flour. I use Bob's Red Mill or King Arthur Flour all-purpose (organic). For GF, just substitute with GF all-purpose flour or 1-to-1 GF Baking flour.
Baking soda + baking powder. To help your cookies rise in the oven.
Cinnamon. Helps to enhance the chocolate flavor in these cookies. Just a pinch is needed.
Butterscotch baking chips. I love using baking chips because it helps to create a nice balance in between the pockets of chocolate.
Chocolate. I use 4 oz. or so chocolate bars from Ghirardelli or Hu Kitchen and chopped them roughly into medium sized pieces. You can also use chocolate chips as well.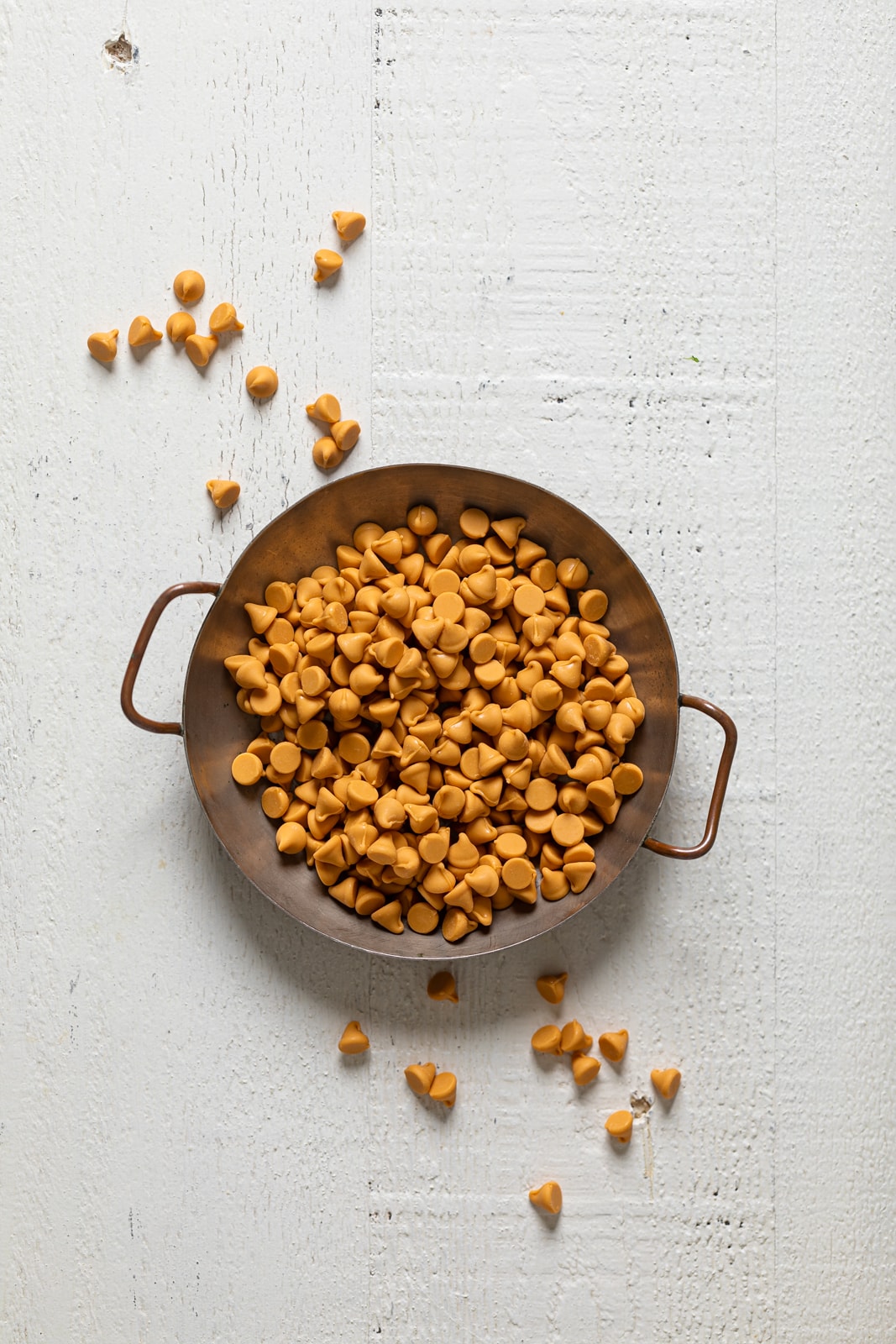 What is the Banging Process?
The trick with how beautiful these Oversized Crinkled Chocolate Chip Butterscotch Cookies look is in the banging. During the baking process, you have to bang the baking sheet with your cookies a few times before they are fully baked.
Therefore, the "crinkling" comes as a result of the center of the cookies falling inward, pushing the rest of it outward. I know, it sounds pretty crazy, but it's so cool!
Combining this "crinkling" process with the flavor combo of chocolate and butterscotch (something that I felt inspired by based on my childhood), plus the fact that you get a bigger sized cookie is like heaven on Earth.
And don't worry---theses cookies aren't too big! OK, so they may be too big to dip in a glass full of milk, but they aren't too big to enjoy, for sure! Cheers to that!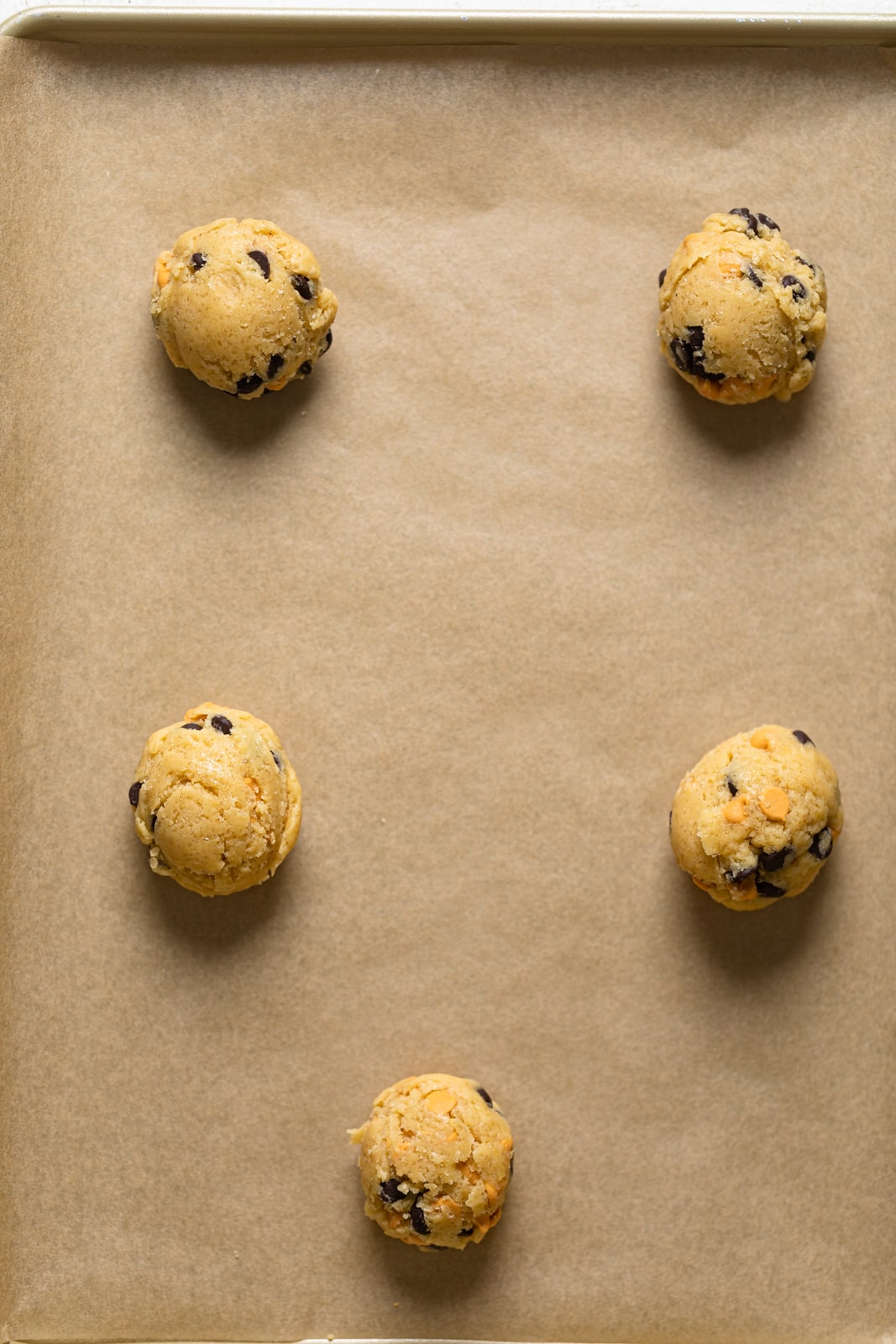 Ingredient Substitutions and Swaps
You can easily mix up the inclusions in these cookies. Instead of butterscotch chips, you can use caramel or toffee. For an additional crunch-----I like to add things like pecans, walnuts or macadamia nuts. You could omit the chocolate if you're not a fan or use white chocolate for a sweeter flavor. 
PS: The Best Healthy Sugar Alternatives + Substitutes list is all about finding better ways to enjoy your favorite sweets without compromising your healthy lifestyle. For those who follow a vegetarian and/or vegan lifestyle, this lists offers a few great ideas to incorporate healthy sweeteners into your diet.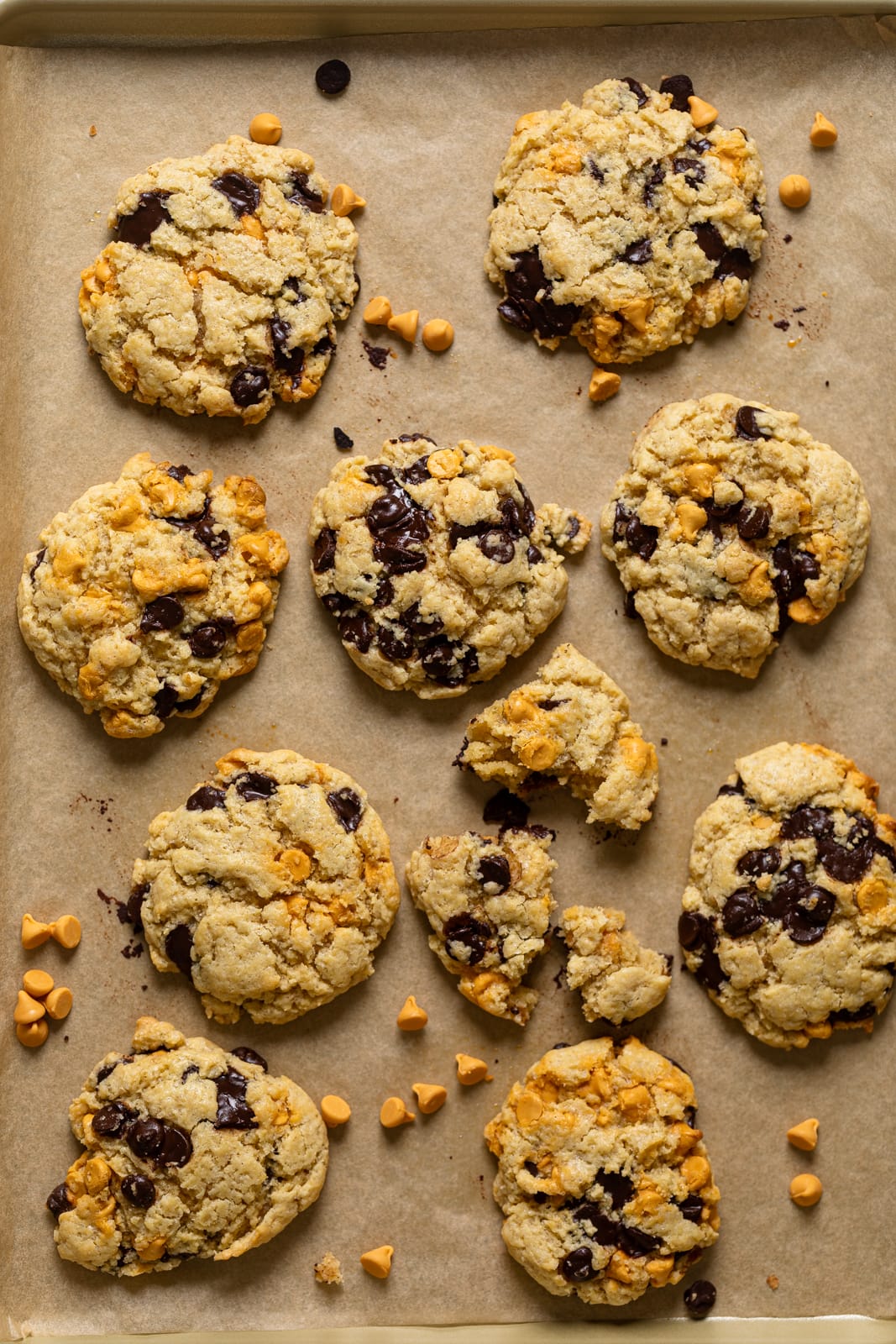 The Main Event – The Cookie Recipe
In a bowl of an electric stand mixer (fitted w/ a paddle attachment), cream the softened butter on medium-high speed, for about 1 minute or so.
Add both sugars continue beating at medium-high speed until fluffy.
Add in the egg and vanilla extract and reduce the speed to medium, ensuring that everything is well combined. Scrape down the sides of the bowl to incorporate as needed.
In a separate bowl, whisk together the all-purpose flour, baking powder, baking soda, cinnamon, and sea salt.
Reducing the mixer's speed to low, slowly add the dry ingredients to the butter-sugar mixture and continue mixing until well-incorporated.
Once combined, fold in the chopped chocolate and butterscotch baking chips using a rubber spatula.
I don't chill my dough for these cookies, but if you need to: cover the dough in the mixing bowl and refrigerate for 1-2 hours.
Once chilled, remove it from the refrigerator and let it sit at room temperature for a few minutes if the dough has hardened a lot.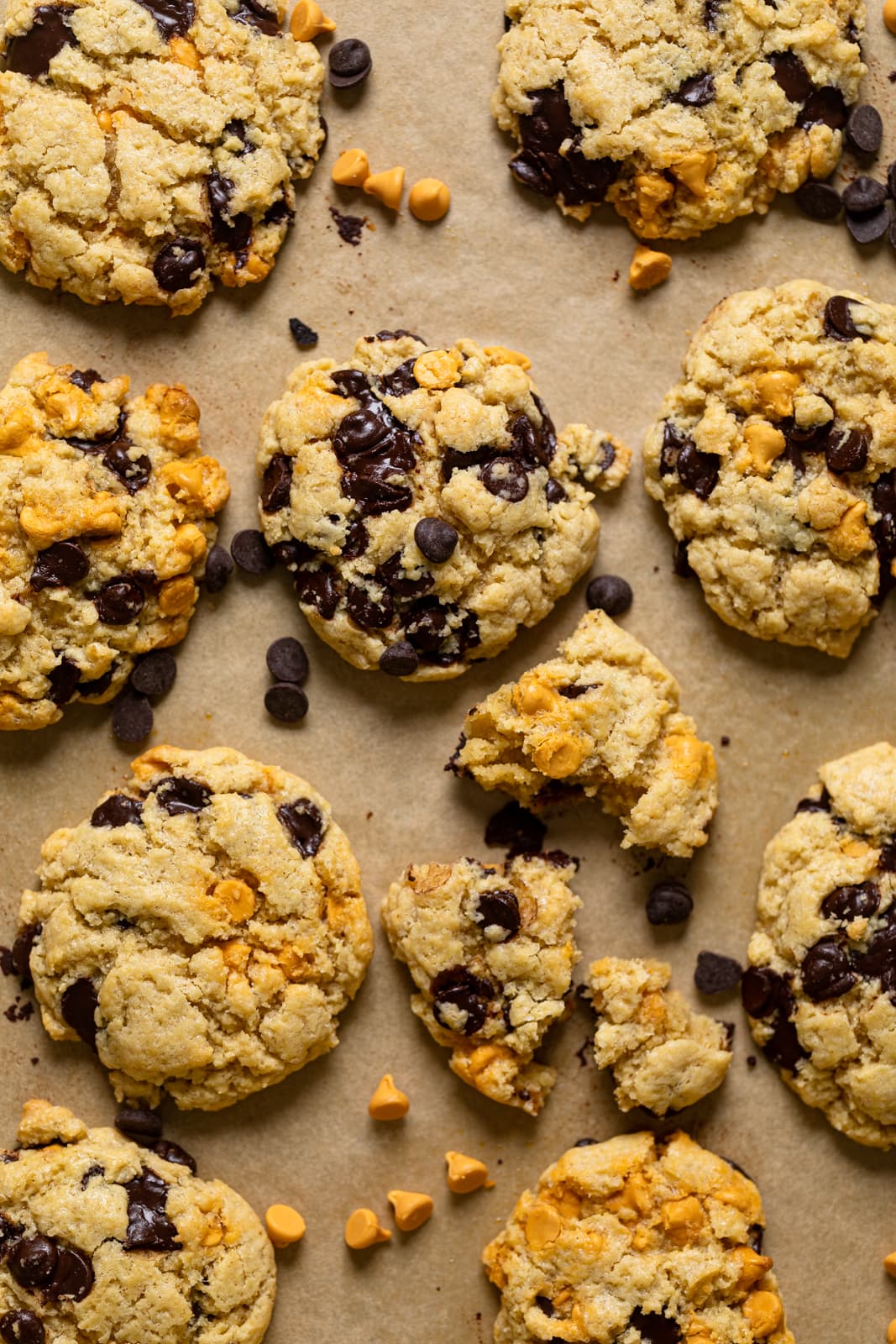 The Secret to Making the Best Cookies
Baking the best cookies as I stated before is kind of like a science, however, I've gathered a few tips that have helped me to master them along the years:
TIP 1: SOFTEN YOUR BUTTER.
This is a must! In the past, I never understood how important this step was, but I've now realized that it is. I like to let my butter sit out for at least 1-2 hours so that it's the softest it can get without melting. If you forget to leave your butter out, I sometimes add hot water to a glass, pour it out, and then add the butter to that heated glass for a few minutes and it works!
TIP 2: CREAM THE BUTTER.
Yet another step that I often overlooked, however, creaming your butter with a mixer until pale and fluffy, helps to make the most softest cookies ever! 
TIP 3: ALWAYS, ALWAYS USE PARCHMENT PAPER!
I can't stress this enough. Lining your baking sheet with parchment makes things seamless and avoids your cookies from browning too quickly and sticking to the pan.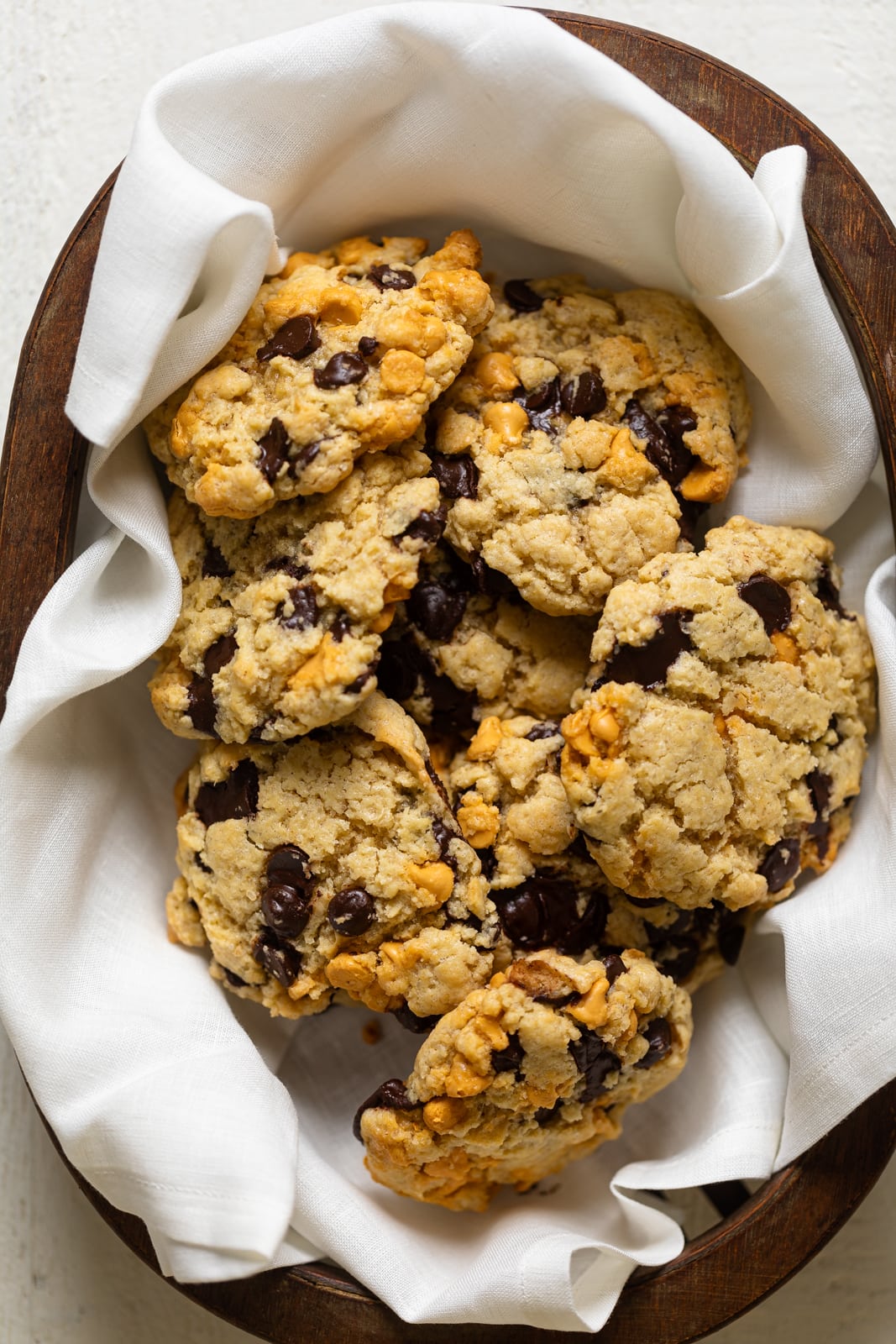 TIP 4: ADD IN THE FLOUR IN BATCHES.
We might think that dumping in all the dry ingredients to the wet ingredients at once might seem right, but it's not the best thing to do. I definitely recommend adding in the flour/dry ingredients in increments, mixing as you add to create a nicely combined batter without having to over-mix.
TIP 5: FOLD IN CHOCOLATE OR CHOCOLATE CHIPS.
Never use a mixer when adding in chopped chocolate or chocolate chips. For one—-you risk breaking the chocolate up into small pieces while mixing and two—-again, you end up making the chocolate melt or get a little moist, which affects the batter. Simply fold in chocolate by hand a few times and you're done!
Storing Leftover Cookies
You can store these cookies in an airtight container on the counter for up to four days. To keep them really fresh, I recommend popping them into the freezer. You can freeze vegan chocolate chip cookies for up to six months (if they last that long!). 
You can also freeze the uncooked dough. When you want to bake a batch, let the dough defrost in the fridge overnight before scooping out your cookies and baking as directed in the recipe.
Can I Make the Cookies Gluten-Free?
Absolutely! You can substitute the all-purpose flour with GF all-purpose flour or 1:1 gluten-free flour if you're avoiding gluten. 
My Top Favorite Cookie Recipes
MADE OUR RECIPE(S)?
If you make these Oversized Crinkled Chocolate Chip Butterscotch Cookies, be sure to tag me on Instagram @orchidsandsweettea!
2

cups

organic all-purpose flour

½

cup

organic cane sugar

½

cup

organic brown sugar

½

teaspoon

baking powder

1

teaspoon

baking soda

Pinch of

ground cinnamon

¾

cup

unsalted butter, softened at room temp.

2

large

organic eggs, at room temp.

1

teaspoon

vanilla extract

1

cup

chopped chocolate bar, semi-sweet

¾

cup

butterscotch baking chips
Preheat the oven to 375 degrees Fahrenheit.

Start by adjusting your oven rack to the middle of the oven and lining two baking sheets with parchment paper.

In a large bowl, add in the softened butter and both sugars, beating them together using a hand mixer (or electric stand mixer)until the mixture looks smooth and fluffy. Add in the eggs and vanilla, and continue to mix until combined.

In a bowl, add together the flour, baking soda, baking powder, and cinnamon, whisking together until combined.

With the mixer on low-speed, add in the dry ingredients to the wet ingredients, mixing until  the mixture becomes smooth, moistened, and holds together well. Fold in the the chopped chocolate and butterscotch baking chips using a spatula.

Using a medium-size scoop, scoop (about 3 Tbsps or so) each cookie dough onto the prepared baking sheets, leaving 1-2 inches between each cookie for spreading when they bake.

Bake (one baking sheet at a time) for about 16-18 minutes total, but with the following steps:

At 10 minute mark (cookies should be slightly puffed in the center), lift baking sheet and let it drop against the rack. Repeat about twice if needed. This allows the edges to set and the inside to fall down. Then 3 minutes later, repeat the banging process again, doing so another time after 3 minutes again. NOTE: You should bang baking sheets a total of 3 x's for each baking sheet.

Remove the first batch from the oven to cool and begin with the second baking sheet---following the same steps.

Once done, cool cookies onto the baking sheet for a few minutes before transferring them unto a cooling rack to cool completely.

Enjoy with your favorite glass of milk (dairy-free or regular).

Bon Appetit!
STORAGE: Once properly stored in an air-tight container, cookies last for 3-4 days at room temperature or in the refrigerator for a little longer. Reheat slightly (a few seconds) in the oven, toaster oven, or microwave when ready to serve.
FREEZE: You can also freeze your cookie dough (once formed into a ball) so that you can store them longer and bake as needed.
LARGER BATCHES: To make more cookies, simply double or triple the amount of ingredients!
GLUTEN-FREE OPTION: To make these cookies GF, simply substitute flour with all-purpose GF flour or 1-to-1 Baking flour. Also, ensure that rolled oats are certified GF.
CHOCOLATE: If preferred, you can always use premium chocolate baking chips instead of chocolate bars. However, for best results----chocolate bars are what I recommend.
Calories:
455
kcal
|
Carbohydrates:
61
g
|
Protein:
5
g
|
Fat:
22
g
|
Saturated Fat:
13
g
|
Polyunsaturated Fat:
1
g
|
Monounsaturated Fat:
6
g
|
Trans Fat:
1
g
|
Cholesterol:
76
mg
|
Sodium:
202
mg
|
Potassium:
163
mg
|
Fiber:
2
g
|
Sugar:
38
g
|
Vitamin A:
501
IU
|
Calcium:
46
mg
|
Iron:
3
mg
Oversized Crinkled Chocolate Chip Butterscotch Cookies.