This is the all-time best Vegan Pumpkin Pie, with an orange-infused, buttery, flaky crust and a fluffy pumpkin-spiced filling. Including a gluten-free option!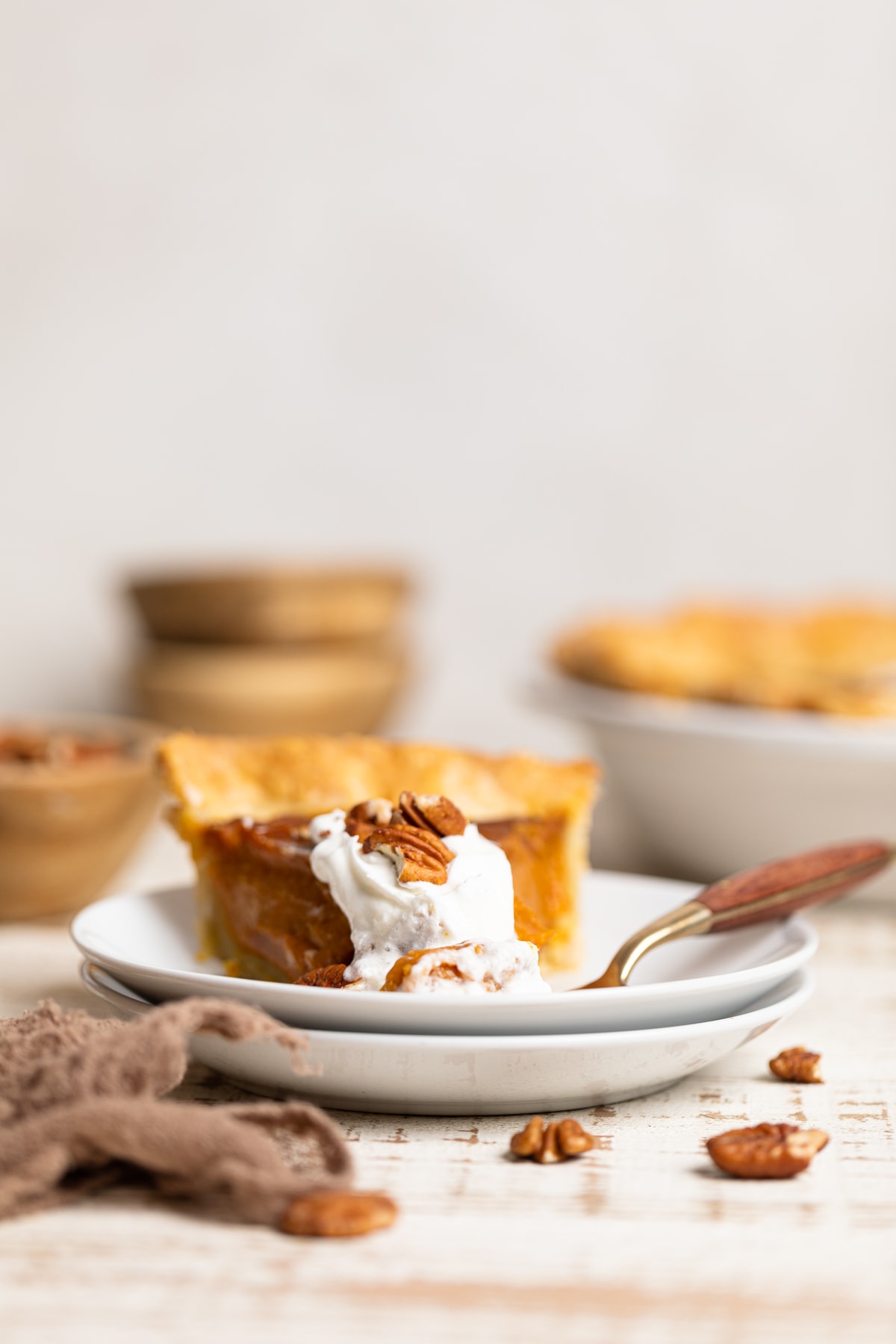 National Pumpkin Day on October 26th is always my cue to start thinking about (and eating) more pumpkin recipes and this Delicious Vegan Pumpkin Pie is one for the books. From Brown Butter Pumpkin Cornbread to Easy Vegan Pumpkin Poppyseed Pancakes, there are dozens of ways to eat this healthy seasonal veggie from breakfast to dessert. Get your pumpkin spice + pie fix with this extremely delicious Easy Pumpkin Pie Iced Latte!
And of course, you can't have pumpkin without this Dairy-Free Pumpkin Spice Latte or these Homemade Pumpkin Chai Cinnamon Rolls! But of course, there's nothing more classic than old-fashioned pumpkin pie. Since I've been cutting back on my dairy intake, I wanted to make a totally dairy-free version of this holiday favorite. I went ahead and took out the eggs to offer a fully vegan pumpkin pie that's every bit as sweet and satisfying as traditional recipes. There's even an easy hack to make the recipe gluten-free so you can have a dessert for everyone at your holiday table.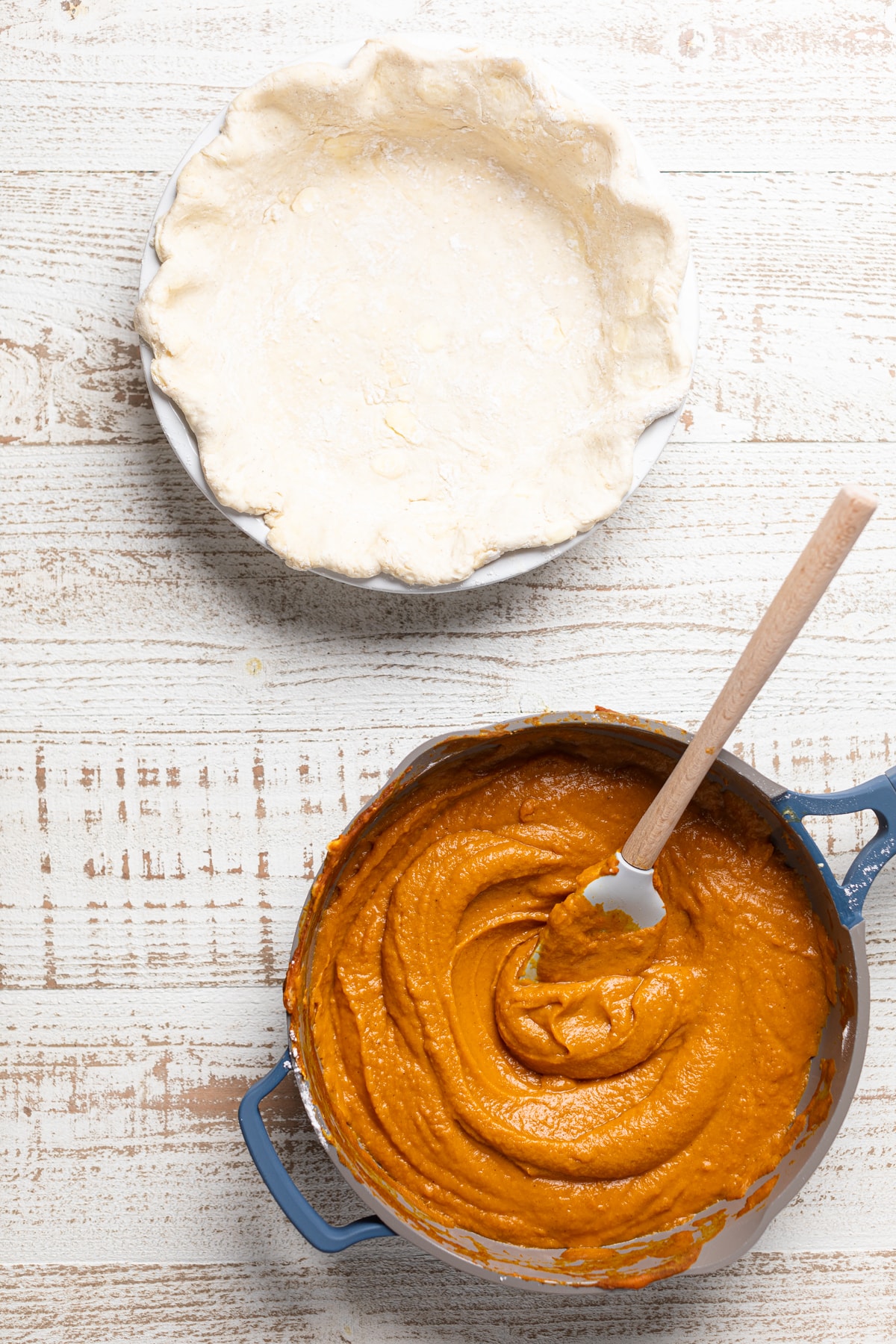 How to Make Vegan Pumpkin Pie
This recipe took a few tries to get just right. I wanted to make sure the pie tasted as delicious as a great pumpkin spice drink with the firm and creamy texture you expect from a custard-filled pie. 
Vegan Pie Crust Ingredients
Here's what you need to make this impressive dairy-free pie crust:
All-purpose flour. I use organic flour from Bob's Red Mill.
Pastry flour. This gives a better flakier texture to your crust.
Orange zest. I love the bright citrus flavor, but you can leave this out if you prefer.
Cinnamon. For a hint of warmth.
Cane sugar. I use organic to make sure it's vegan.
Vegan butter. Make sure your butter is very cold! This is the key to flaky layers.
Almond milk. You can use water or other dairy-free milk if you like.
Apple cider vinegar. This adds a tangy buttermilk-like flavor without actual buttermilk.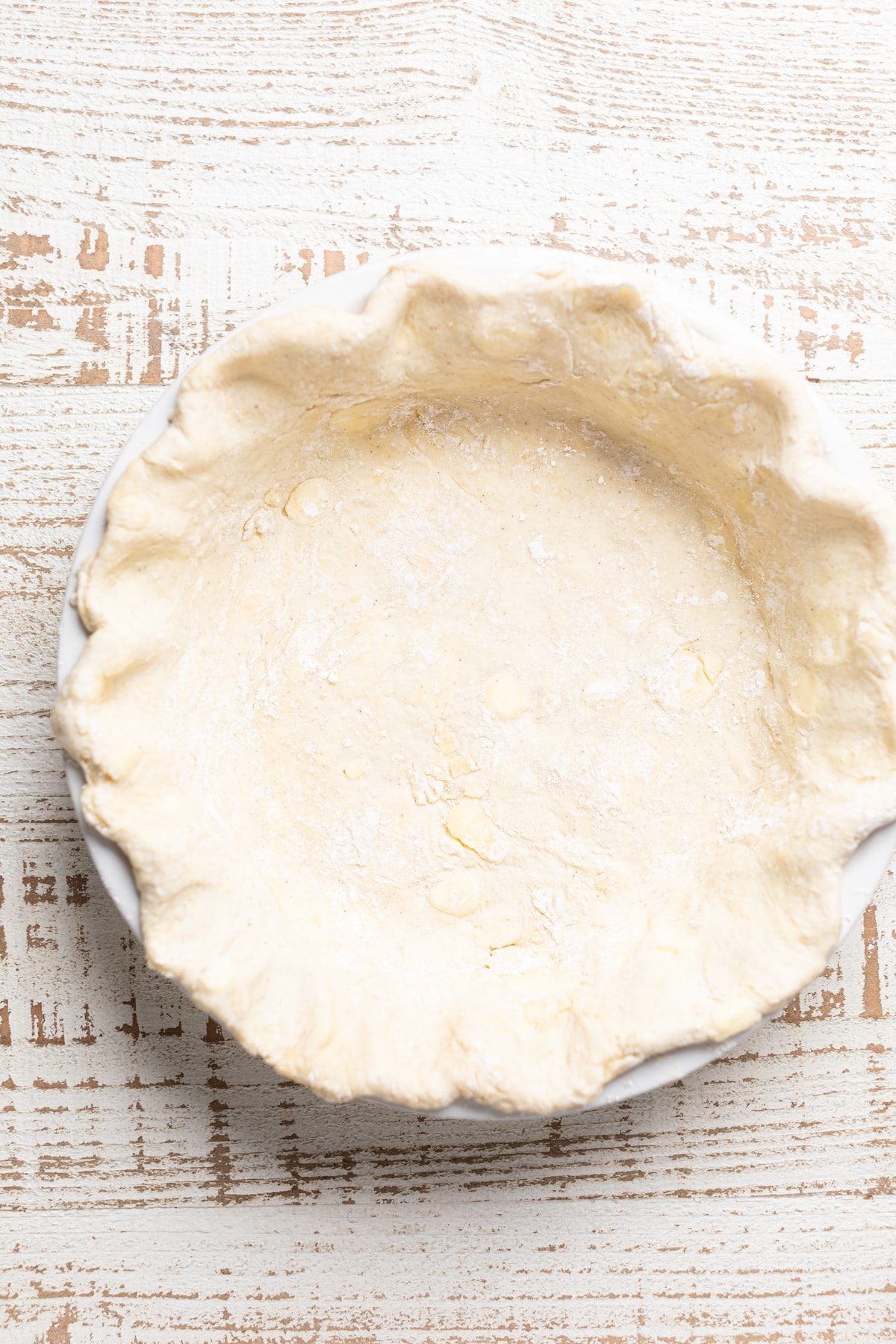 Vegan Pumpkin Pie Filling
The crust needs to chill after it's made and before baking. In the meantime, make the pumpkin filling. Here's what you'll need:
Pumpkin puree. Make sure you're using real pumpkin puree, not pie filling
Coconut cream. Full-fat coconut milk will also work. 
Brown sugar. Choose organic if possible.
Arrowroot starch. This is a vegan and gluten-free thickener to help your pie set nicely. 
Maple syrup. You could also use honey if you're not vegan, but maple gives the best flavor. 
Vanilla extract
Warm spices. Cinnamon, nutmeg, ginger, cloves, and allspice for the best pumpkin spice flavor!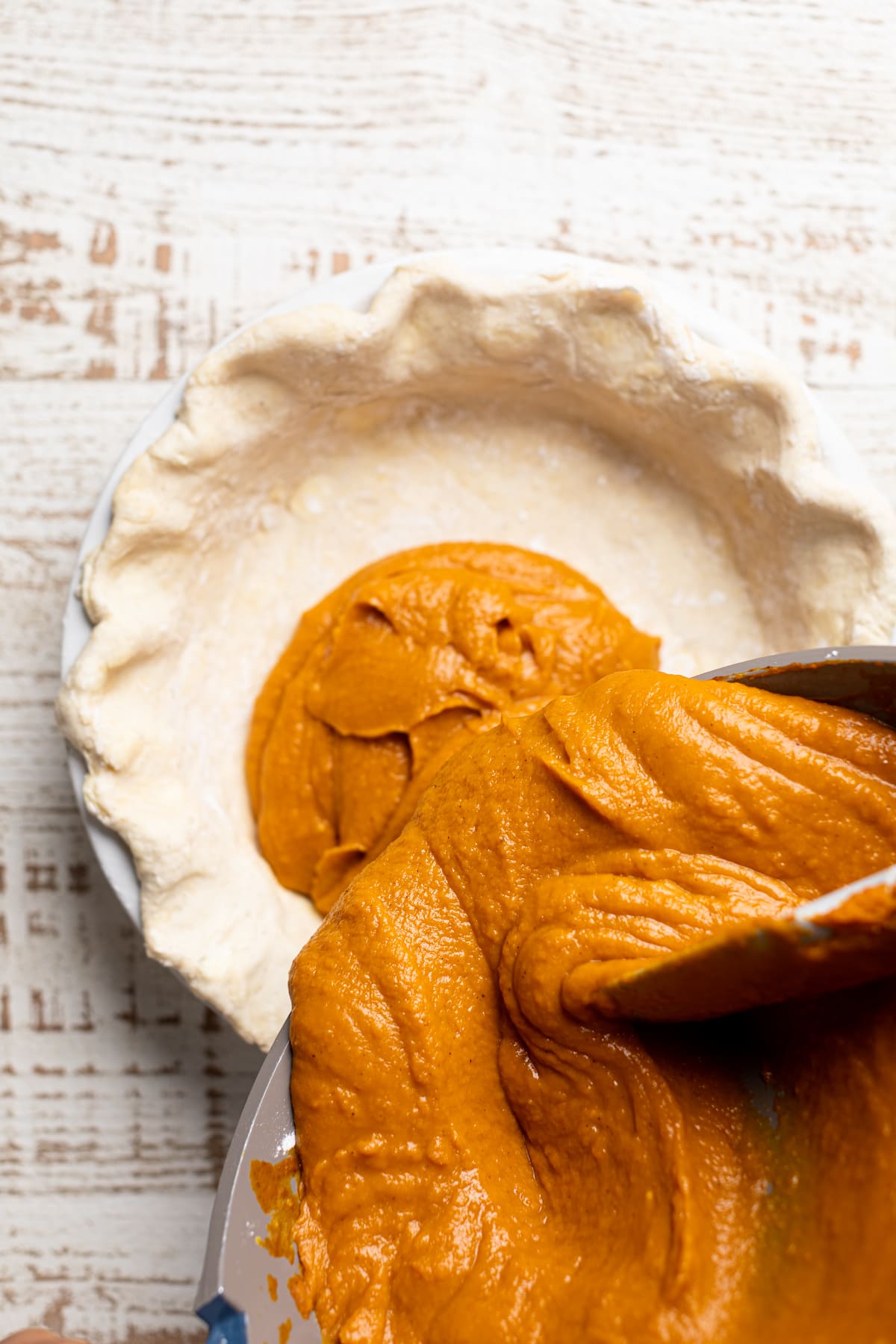 Health Benefits of Pumpkin
It must be noted that this recipe (and most sweet or savory pumpkin recipes) calls for 100% pumpkin puree, NOT pumpkin pie filling! Pumpkin pie filling is quite literally the sweet pumpkin custard that you find in traditional pumpkin pie. It already contains sugar, cinnamon, clove, and other ingredients that make a pie filling.
Adding pumpkin pie filling to a dish that calls for 100% pumpkin puree will add an un-welcomed sweetness, essentially ruining the dish. Even if you are unsure of what type of pumpkin a recipe is calling for, go for the 100% pumpkin puree.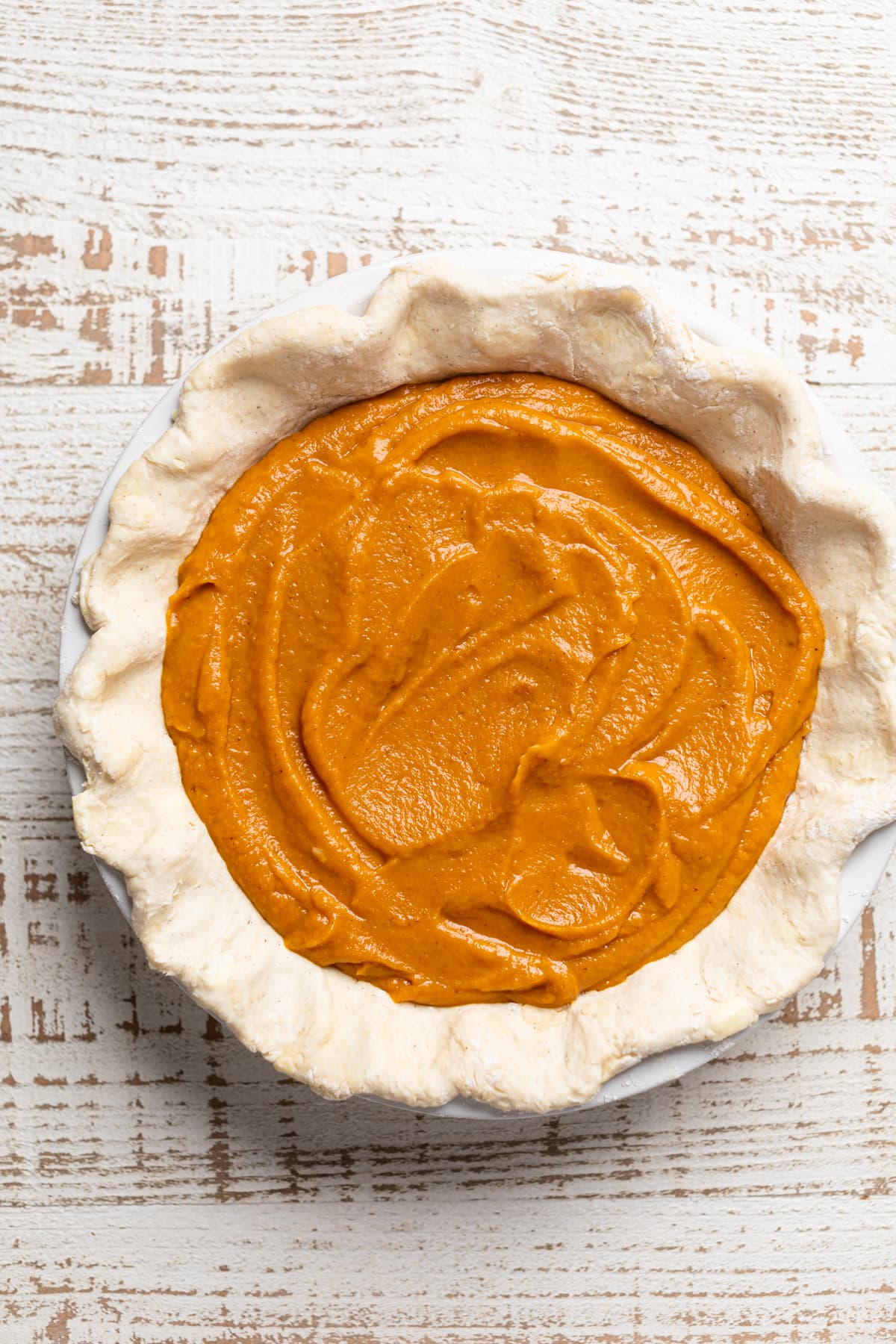 Tips For Making the Flakiest Vegan Pie Crust
The butter is SUPER important. When it comes to the vegan buttery sticks, ensuring that they are COLD and of course from a great brand is key! For Vegan pastry crusts, I generally go for Earth's Best Buttery Sticks, which taste like real unsalted butter.
Adding Shortening works too! Although I tend to use buttery sticks alone, adding shortening or lard adds great wonders as well. All you need is half shortening and half butter.
Fridge time is an important time! Chilling your dough for an hour at a minimum is so imperative to a flaky crust. Even slightly longer makes for a great advantage.
Your flours matter, big time! While different brands of flour hydrate differently (causing a slightly different result), ensuring that you mix in all-purpose flour with pastry flour is also just as important. Believe it or not, pastry flour makes a difference and serves a greater purpose!
SLOWLY pour in water, don't dump it! Gently pouring in the water-ACV mixture is so imperative. I pour ¼ cup at a time and work the dough with my hands to eyeball how wet or dry everything is.
The dough can be made in advance, too. If making your crust ahead, you can always store it in the refrigerator for up to 2 days. No longer! 
Not too Thick or Thin. Ensuring that you roll out a good enough crust is of course a must. Most go by the rule of thumb being ⅛ of an inch thickness or even slightly thicker. This helps your crust to the perfect thickness to carry the weight of your filling without compromising flakiness.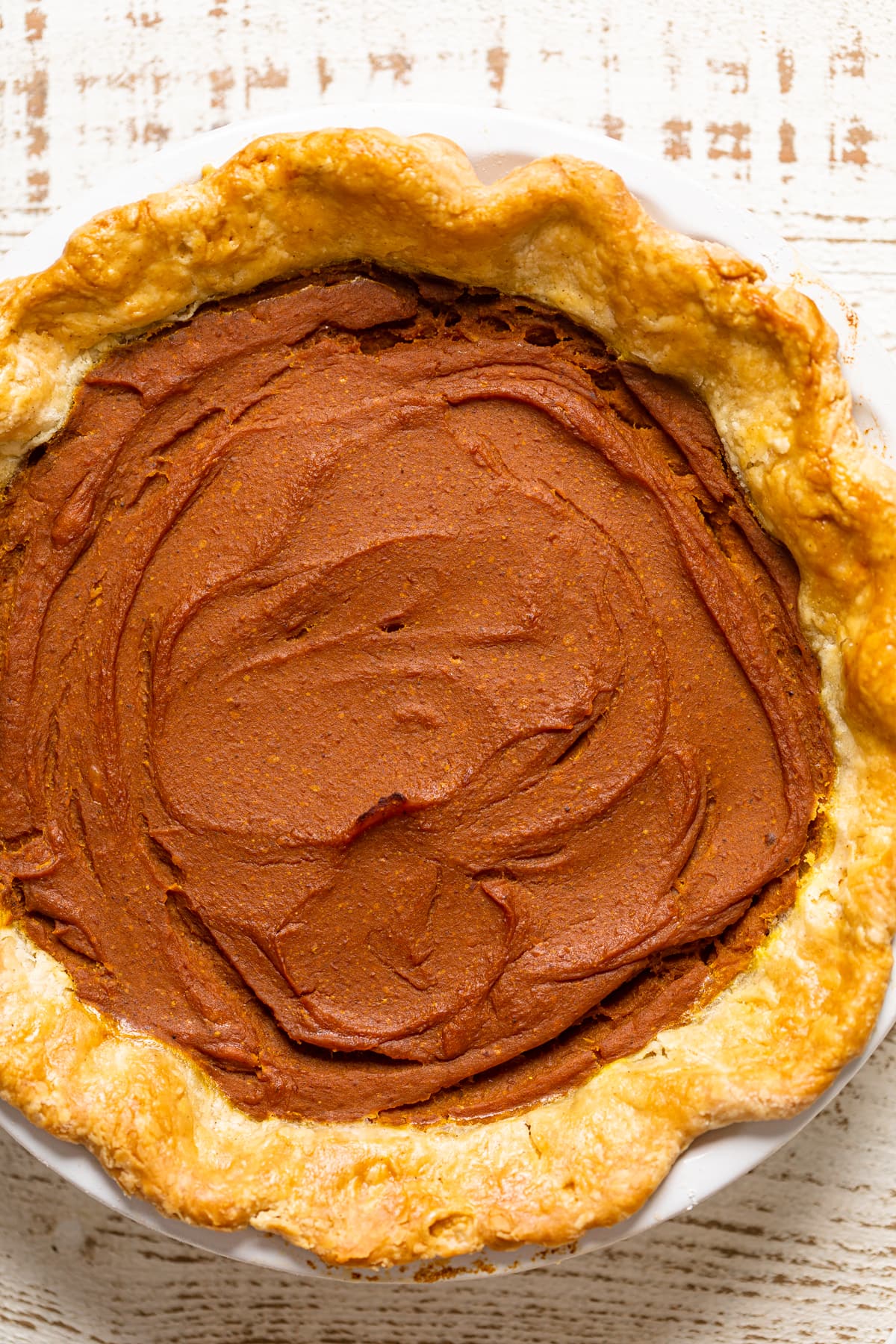 How to Make Your Own Pumpkin Puree
If you're thinking about making your own pumpkin puree instead of using a store-bought canned version, then you'll be happy to know that it is rather simple:
Step 1: Cut your pumpkins in half and scoop out the seeds. Be sure to save the seeds for another time because you can definitely use those!
Step 2: Feel free to cube the pumpkins into medium-large chunks and then place them unto a baking sheet lined with parchment paper. NOTE: ensure that the skin of pumpkin are peeled off at this point.
Step 3: Always season your pumpkin pieces (salt, black pepper, + smoked paprika) and lightly grease with olive oil until coated.
Step 4: Roast in the oven at 375 degrees Fahrenheit for about 40-45 minutes or until the edges are golden and they become super tender once tested with a fork or knife.
Step 5: Using a food processor or blender, puree your pumpkin along with water or veggie stock, until smooth. You can either use this immediately in whatever pumpkin recipe you'd like, store it in the freezer for later use.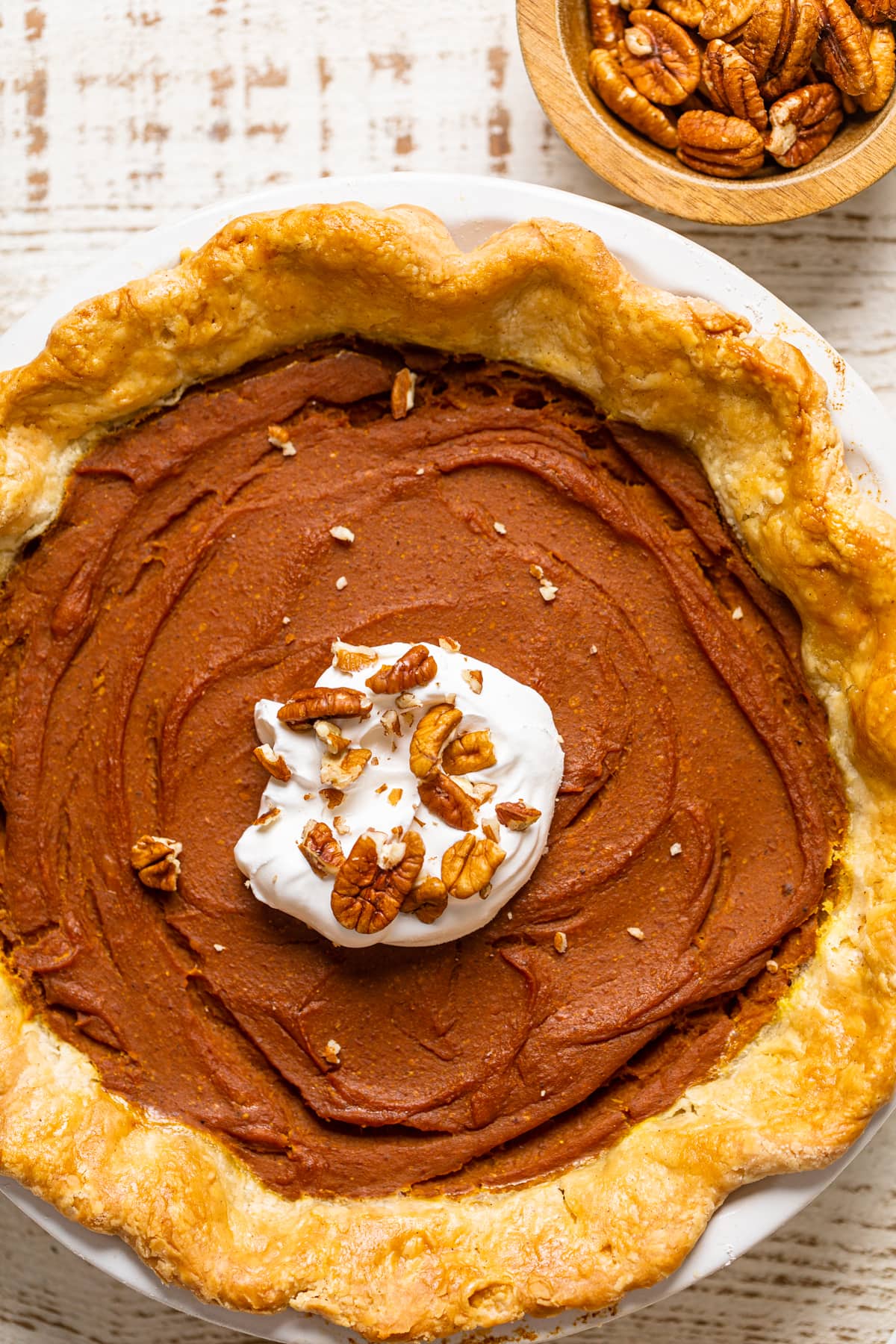 Make-Ahead Pumpkin Pie
Yes, you can certainly make the pie ahead of time. In act, the pumpkin custard needs time to set up nicely. It's even better if you make the pie the day before. Simply wrap the pie in plastic wrap and keep it in the fridge. A few hours before you plan to serve the pie, place it on the counter and serve at room temperature.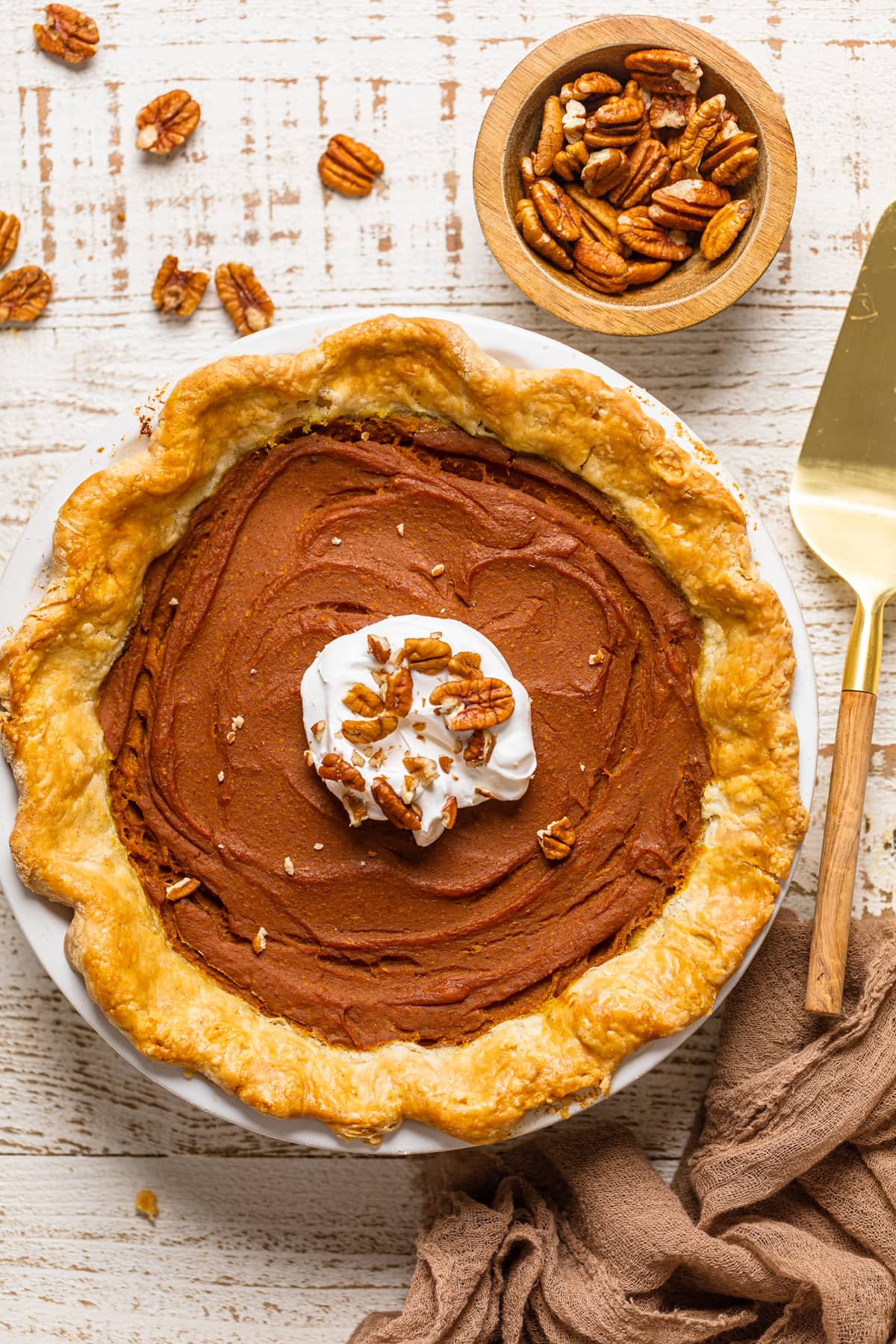 Serving Suggestions
The classic way to serve this pumpkin pie is with a big dollop of whipped cream. To keep things dairy-free, use coconut whipped cream.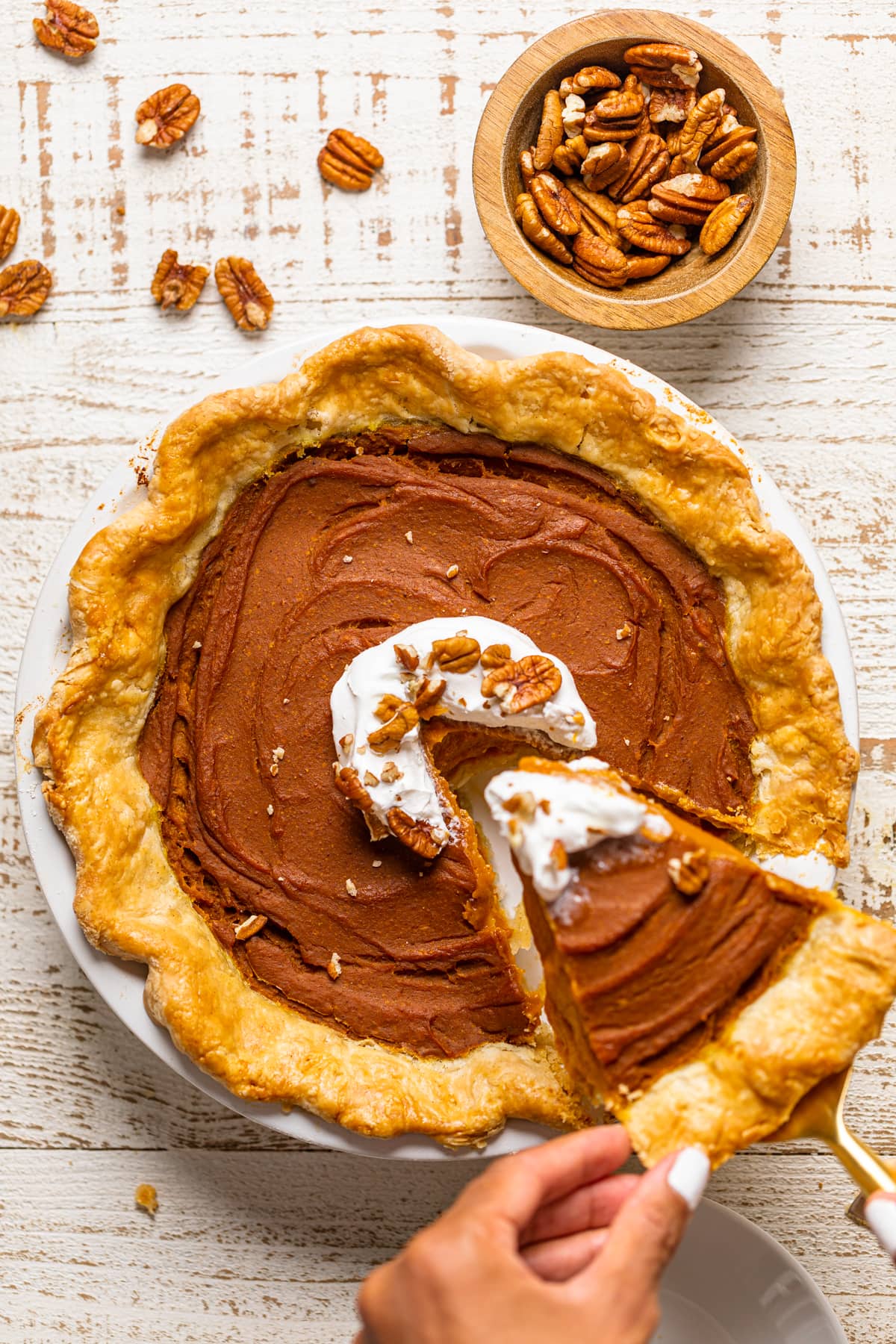 I also like to add some crunch with crumbled toasted pecans. For an extra-decadent serving, top each slice with Vegan Pecan Praline Sauce. The recipe is below!
VEGAN PRALINE PECAN SAUCE:
½ cup organic brown sugar 
2 Tbsps vegan butter
Pinch of sea salt
⅓ cup canned coconut milk
⅓ cup chopped pecans, toasted
HOW TO MAKE: In a small saucepan (heated on medium-high heat), add the vegan butter, organic brown sugar, and sea salt, stirring until well combined. Once heated through, this mixture will begin to liquify a bit and become bubbly. Continue to simmer for 2-3 minutes, whisking occasionally.
Add canned coconut milk, whisking frequently, for about 3-4 minutes until the sauce becomes like caramel sauce (although it will be liquid-y at first). Remove from heat and fold in the toasted pecans. Keep stirring (using a rubber spatula) for another minute or so until pecans are well dressed in the sauce. Set aside to cool for about 5 minutes so that the sauce can thicken.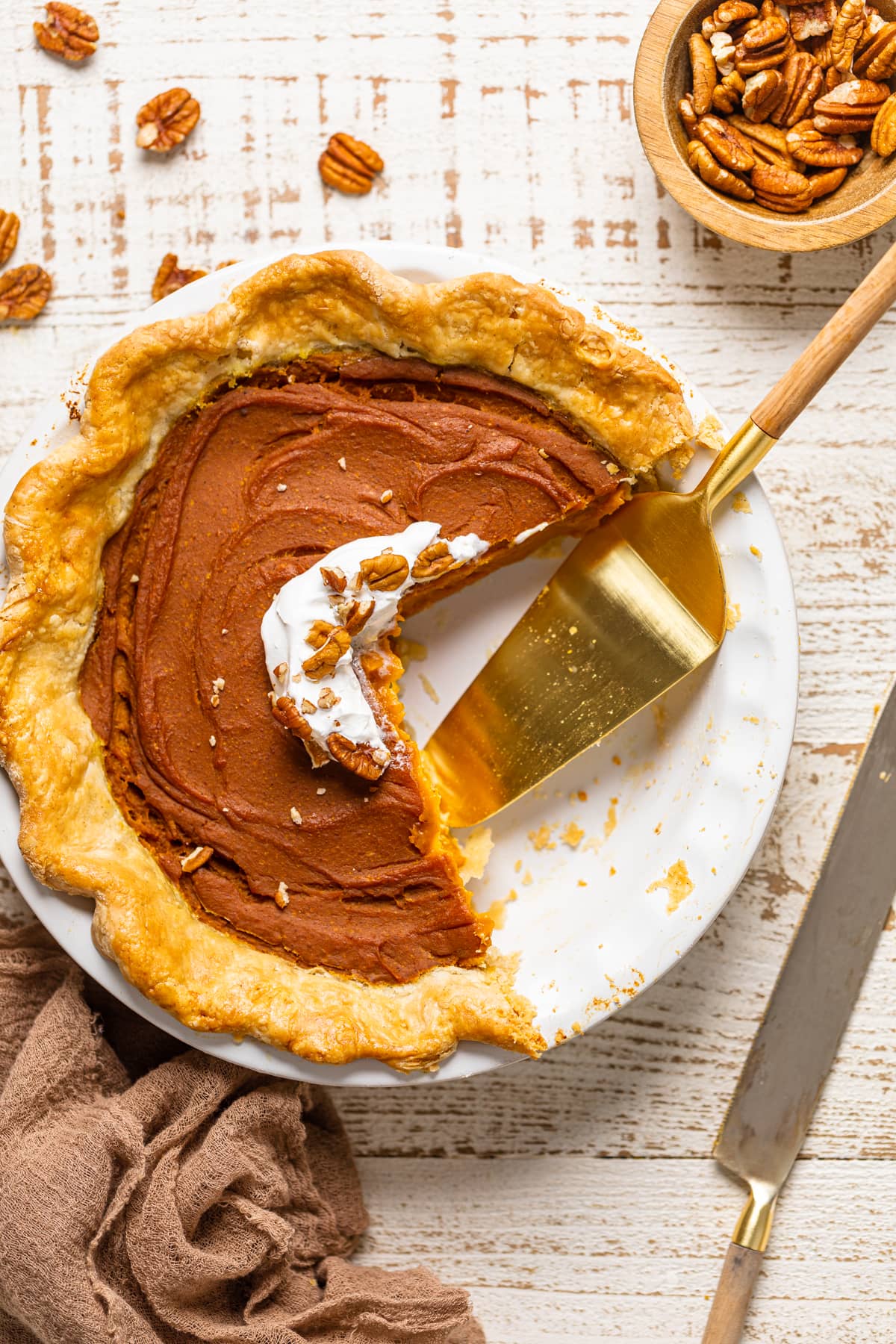 Gluten-Free and Vegan Pumpkin Pie
To make this dairy-free and egg-free pie gluten-free too, simply use a gluten-free pie crust. The filling is already gluten-free (it's thickened with arrowroot starch). 
To make the pie crust gluten-free, substitute the all-purpose flour with 2 cups of gluten-free all-purpose (I recommend Bob's Red Mill). Replace the pastry flour with ½ cup of coconut flour. And if you're using a GF flour blend without xanthan gum, add a teaspoon to the dry ingredients. 
Finally, use 1 ¾ sticks of vegan butter instead of two. The rest of the recipe instructions are the same!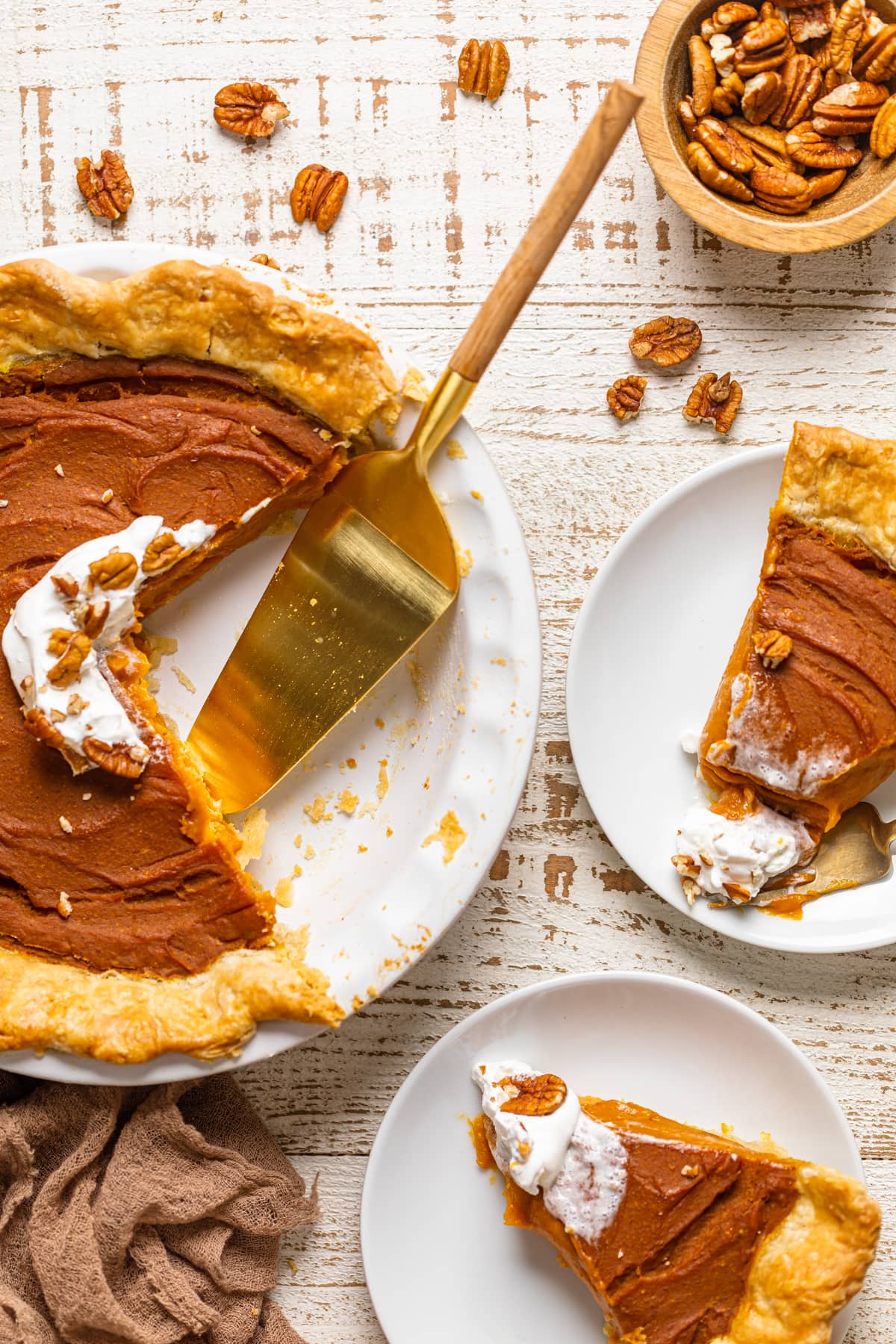 Storing Leftover Vegan Pumpkin Pie
Store any leftover pie tightly wrapped in plastic wrap in an airtight container in the fridge for up to 4 days. You can let the pie come to room temperature to serve or heat it in the microwave in 30-second intervals. 
Freeze pumpkin pie for up to three months. The day before you serve the pie, place it in the fridge to thaw overnight. Then serve at room temperature or gently reheat the pie in the microwave in 30-second intervals until warm.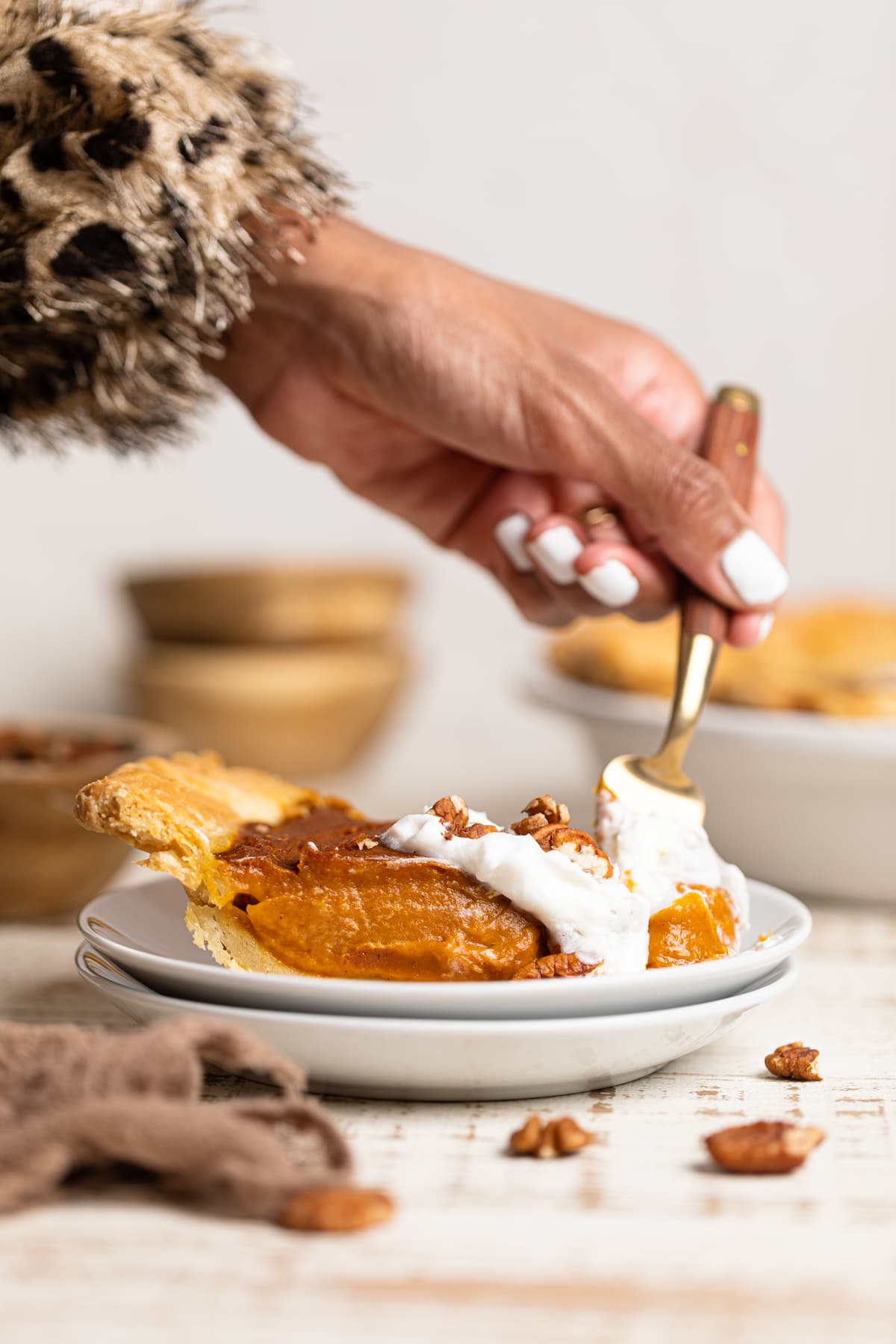 More Holiday Pie Recipes to Try Next!
MADE OUR RECIPE(S)?
If you make this Delicious Vegan Pumpkin Pie or any other recipe from us, be sure to tag us on Instagram at #Orchidsandsweettea so that we can share the love, rate, comment below, + share!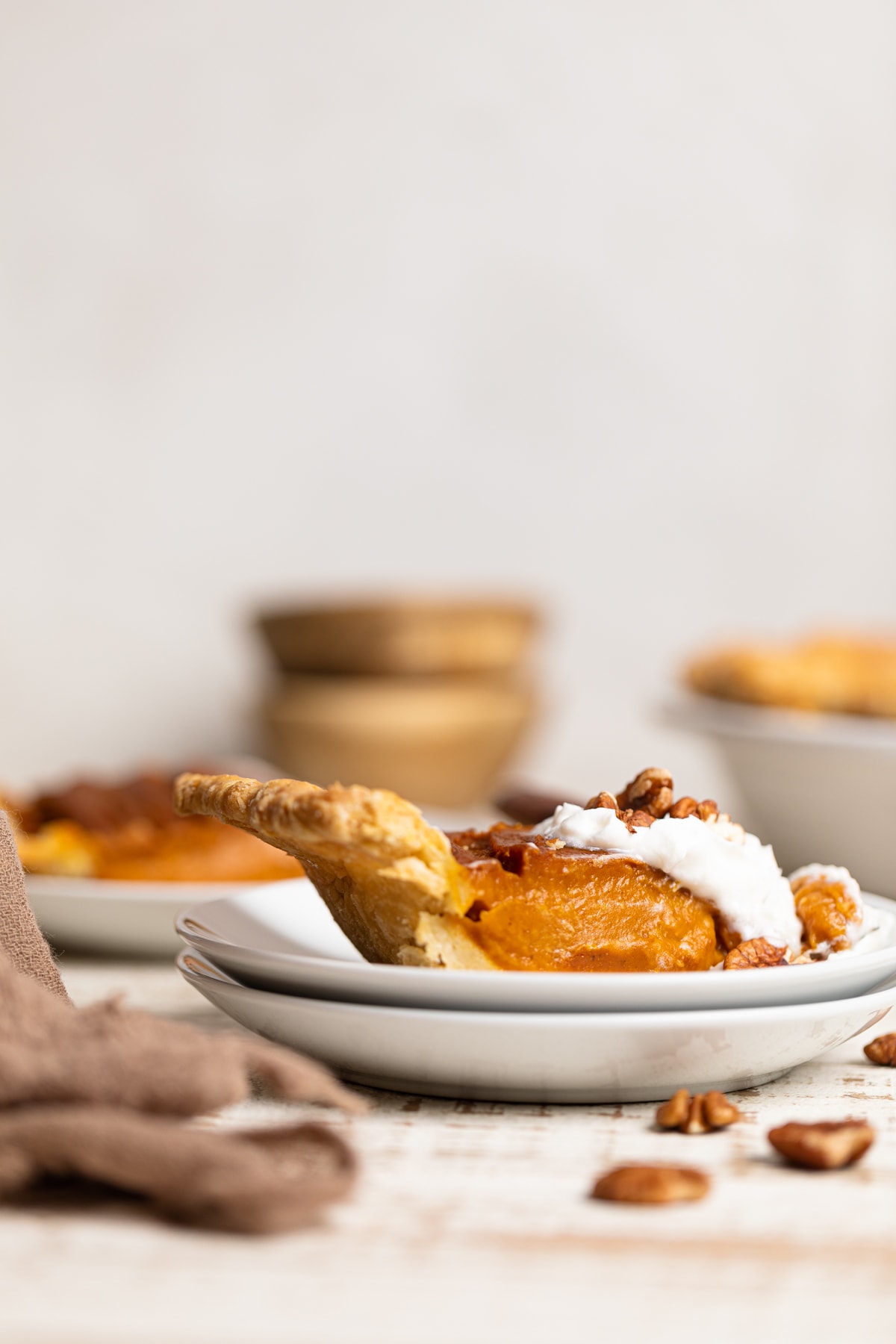 Total Time:
1

hour
10

minutes
CRUST:
1

cup

organic all-purpose flour

½

cup

organic pastry flour

1

tablespoon

orange zest, optional

½

teaspoon

ground cinnamon

2

Tbsps

organic cane sugar 

pinch of

sea salt

½

cup

vegan butter, COLD!

½

cup

Almond milk + 2 Tbsps, very cold

(You can also use water, if preferred!)

1

teaspoon

apple cider vinegar
FILLING:
2

(15 oz.) cans

organic 100% pumpkin puree

(Not Pie filling!)

½

cup

canned coconut cream 

(You can also use canned coconut milk)

½

cup

organic brown sugar

¼

cup

Arrowroot starch

(See Notes!)

¼

cup

pure maple syrup

1

teaspoon

vanilla extract

2

tsps

Homemade pumpkin spice
OPTIONAL TOPPING:
Pecan Praline Sauce

(See Notes!)

CocoWhip!

Toasted chopped pecans
CRUST:
In a measuring cup, add the milk and apple cider vinegar, stir and set aside.

In a large bowl, add the all-purpose flour, pastry flour, sea salt, cinnamon, orange zest, and organic pure cane sugar, whisking them all together.

Add the cubed vegan butter sticks (or regular vegan butter) and using a pastry blender, blend butter into dry ingredients until the mixture becomes "peas-like" and crumbly.

Pour the cold apple cider vinegar-milk mixture (slowly) and stir (working it together with one hand) until the dry ingredients are moistened. NOTE: If the ingredients feels a little too dry, add 1 tablespoon of milk at a time, until it's moistened BUT not too wet!

Once you're able to form it into a ball and wrap it in plastic wrap and refrigerate for 1 hour (minimum), up to 1 and a half hours or of course overnight.

In the meantime, make the Pie Filling.
FILLING:
In a medium saucepan on medium-high heat, add the pumpkin puree, brown sugar, and maple syrup, whisking until well combined and sugar has fully dissolved, about 2-3 minutes. Remove from heat and set aside and let cool.

In a large bowl, add the cooled pumpkin puree mixture along with: coconut cream/milk, vanilla extract, pumpkin spice, sea salt, and arrowroot starch mixture, whisking until combined and smooth. Filling mixture should be thickened at this point.

Preheat the oven to 375 degrees Fahrenheit and lightly grease a standard pie dish with vegan butter.
ASSEMBLY:
Remove dough ball from the refrigerator and place it onto a lightly floured surface. Roll out dough ball using a rolling pin (not making it too thin), about ½-inch thick and gently placing it in your pie dish; working it around evenly. Be sure to do any folding or tucking of any excess pie crust.

Pour pie filling mixture over crust and lightly brush the top of pie crust with melted vegan butter.

Bake for 60-65 minutes, until crust becomes golden brown and the center of the filling is only 'slightly jiggly'. NOTE: If the crust begins to get too dark quickly, cover around the pie's crust with foil paper, leaving the middle opened and exposed.

Once done, remove from the the oven and let cool completely, about 30-45 minutes. When cooled, place pie in the refrigerator for at least 4 hours before serving and slicing.

To serve, add Cocowhip! or Pecan Praline Sauce atop a slice of pumpkin pie and enjoy!

Bon Appetit!
STORAGE: Keep leftover pie tightly wrapped with heavy duty plastic wrap or foil and refrigerated for 3-4 days. Re-heat each slice when serving.
FLOUR: If you don't have Pastry Flour available, simply substitute for All-Purpose Flour.
FOOD PROCESSOR FOR CRUST: If using a food processor to incorporate water to flour/butter mixture, ONLY ADD ¼ cup of water AT A TIME to your dough, keeping it on "pulse" to avoid the dough from breaking down too much and it becoming "watery". With this method, you may not need the entire 1 cup of water.
GLUTEN-FREE VERSION: To make these GF, simply substitute All-Purpose Flour with 2 cups Gluten-Free Flour (Bob's Red Mill has a great one!) and the Pastry Flour with ½ cup coconut flour. If your GF Flour doesn't have Xanthan Gum included, add 1tsp in recipe. Also, reduce vegan butter to 1 ¾ sticks instead of 2. Continue all other steps!
ARROWROOT: If you don't have arrowroot starch, feel free to substitute with regular starch or all-purpose flour, which both act as a thickening agent. Simply mix starch into WARM water until it becomes 'milky' and liquified.
COCONUT CREAM: If you don't have Thai Kitchen's Coconut Cream on hand, you can use canned Coconut Milk and refrigerate it overnight so that it thickens into a cream.
TOASTED NUTS: Add chopped pecans to a baking sheet and toasting them in the oven (400 degrees Fahrenheit) for 5-10 minutes, tossing them halfway to avoid browning on one side.
Calories:
339
kcal
|
Carbohydrates:
46
g
|
Protein:
3
g
|
Fat:
17
g
|
Saturated Fat:
7
g
|
Polyunsaturated Fat:
4
g
|
Monounsaturated Fat:
6
g
|
Trans Fat:
2
g
|
Sodium:
113
mg
|
Potassium:
147
mg
|
Fiber:
2
g
|
Sugar:
23
g
|
Vitamin A:
45
IU
|
Vitamin C:
1
mg
|
Calcium:
58
mg
|
Iron:
2
mg