If you have ever had Jamaican food in general, you know it's all about flavor + spice! Embrace the heat with my Authentic Jamaican Curry Chicken. With a fragrant blend of spices and tender chicken simmered in a sauce of hot peppers, chicken stock, garlic, and coconut milk, this dish is sure to transport your taste buds to the sunny shores of Jamaica. A real nostalgic comfort food dish for many Jamaicans. Completely Dairy-free + Gluten-free option.
Disclaimer: This post contains affiliate links via Amazon for products that I wholeheartedly love and receive commission from.
This original Jamaican Curry Chicken recipe is definitely one of those recipes that is a must make on any given night especially with a side of Basmati Rice----whether for an easy weeknight meal or a laidback weekend vibe. Plus, this Spicy Butter Chickpeas is such a nice twist of curry flavor to try next! And this Spicy Coconut Curry Chicken Bowl and Weeknight Jamaican Curry Chicken + Gnocchi is a great easy weeknight alternative for the entire family!
Such a long time coming, but I wanted to make sure that I was sharing something tried and true as well as authentic to what I grew up eating. I love sharing classic recipes from my roots, and have a ton of amazing Jamaican Recipes for you to try like this Authentic Jamaican Brown Stew Chicken, this Creamy Jamaican Cornmeal Porridge, these Spicy Jamaican Beef Patties, or this Baked Jamaican Pineapple Jerk Chicken.
Of course, there are varied versions of Jamaican curry chicken available, but this one is sure to knock your socks off-----promise! Plus, you're able to adjust the spicy flavors based on your tastebuds---so don't worry. This will be mentioned more in depth throughout this post. Haha. I also have a list of my Top 10 ingredients that are a must-have for making Jamaican dishes. These ingredients are incredibly important in creating authentic and flavorful Jamaican dishes, especially when it comes to seasonings + herbs.
And if you aren't a meat eater or just want to have a meatless Jamaican indulgence don't worry you're fully covered with options at the bottom of this post.
What is Jamaican Curry Chicken Made of?
Traditional authentic Jamaican curry chicken with coconut milk recipe is made with scotch bonnet peppers and curry powder, which is what this recipe entails. In addition, I used browning (a 'coloring' seasoning often used on meats), ginger root, thyme sprigs, potatoes (which helps to thicken the sauce), carrots, garlic, and herbs + spices for a nice marriage of flavor.
Jump to: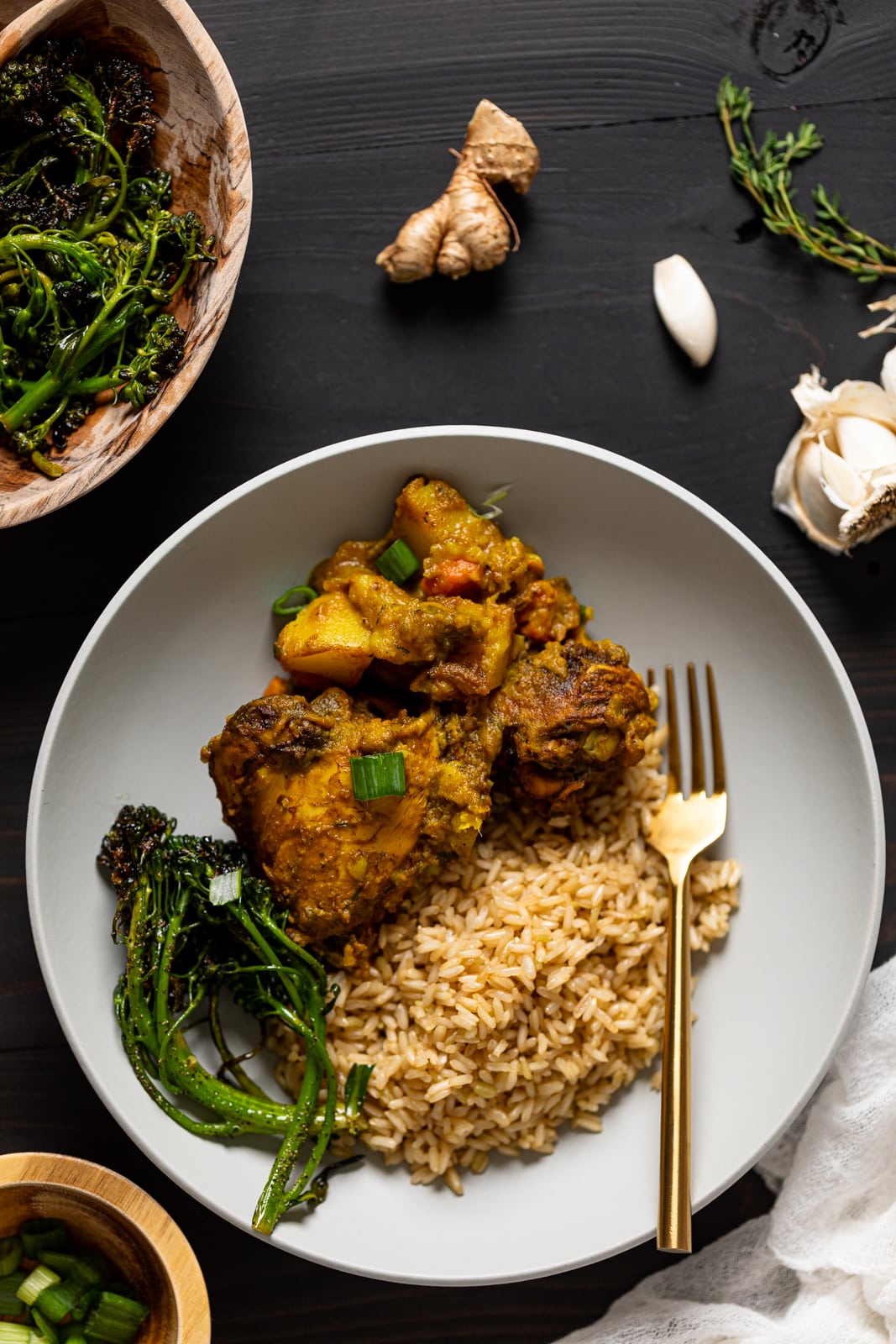 What is Jamaican Curry?
There is no singular recipe for Jamaican curry because all families have their own traditions. However, it is generally a mix of locally-found seasonings. You can find either store-bought mixes or you can season your curry on your own using a variety of flavorings.
Scotch bonnet peppers are found in many Jamaican dishes, so I had to include them in this sauce. They add a sweet-spicy kick, but watch out! These guys can get seriously spicy, especially for those with mild heat tolerance. Coconut milk in my curry cools down the dish just enough. So, you won't die of overheating. Haha.
What is Curry Powder?
Basically, curry powder is a combination of dried spices often used in Indian cuisine, however, is rather popular amongst other cultures like Asian, Caribbean, etc.
What is the Difference between Curry and Jamaican Curry?
The main difference between curry and Jamaican curry is that Jamaican curry is made with actual curry powder. Despite the newest variations of Indian curries, traditionally, it's usually made as a sauce-base and consists of a blend of coconut milk, tomatoes, fresh herbs, and spices.
What is Jamaican Browning Sauce?
Jamaican browning sauce combines brown sugar and hot boiling water to form a syrup-like sauce and it's used to enhance the flavors of many dishes like stews, gravy, cakes, etc. In addition, it give a rich color to your dish.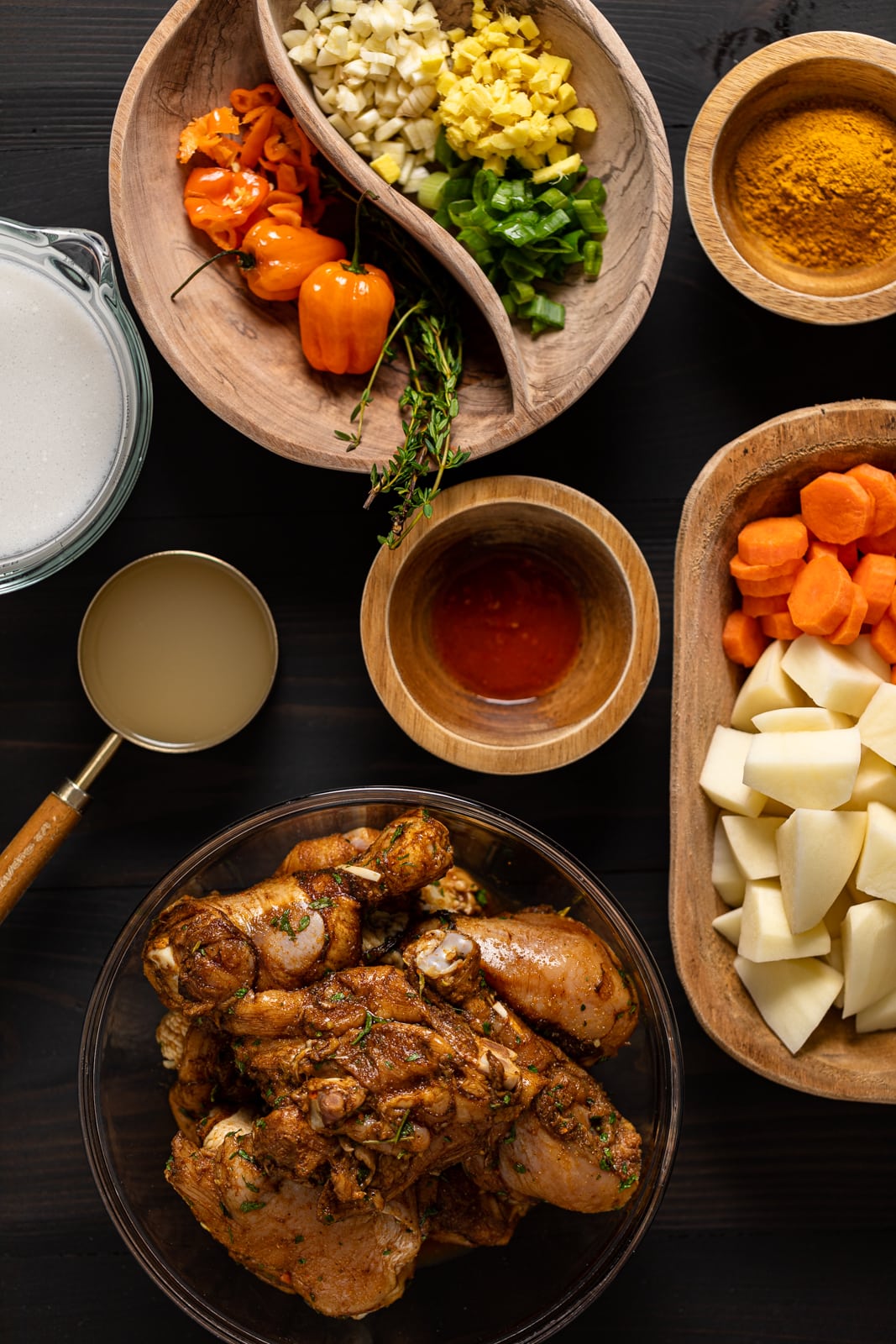 Ingredients in Authentic Jamaican Curry Chicken
Here's what you need to make this Jamaican Chicken Curry:
Chicken. You can use a mixture of thighs, wings, and drumsticks, just remove the skin first. See further below for other meats that work really well with curry also!
Browning sauce. This is optional, but adds nice color to your chicken and helps to enhance flavor of this dish. Traditionally, you can "burn brown sugar" to create a caramelized sauce to brown your chicken as well.
Dried herbs and spices. I love to season my dishes in "layers" which means that marinating your chicken overnight in seasoning is best! Generally, you'll need a combination of salt, black pepper, smoked paprika, garlic powder, onion powder, thyme, parsley, and an all-purpose seasoning-----Flavo Rice is an authentic Jamaican seasoning.
Carrots. I love adding carrots. You can peel + chop and use them raw or roast them for added flavor.
Red onion. Substitute with yellow or white if that's what you have.
Olive oil. You can also use avocado oil  or Grapeseed oil, if you prefer.
Chicken stock. This adds great additional flavor. Use store-bought low-sodium broth or make your own! For added nutrition, add in half the amount in bone broth or substitute with vegetable stock if that's what you have handy.
Garlic + ginger. I prefer fresh, but you could substitute with 1 teaspoon garlic powder and ½ teaspoon ground ginger in a pinch.
Curry powder. It's best to use authentic Jamaican curry from Blue Mountain Jamaican Curry Powder or Betapac. You can use a quality curry powder or turmeric as a substitute, if desired.
Scallions (aka Green onions). Don't skimp on these! They add extra color, freshness, and flavor.
Thyme. I recommend fresh, but if you only have dried, use a half teaspoon.
Scotch bonnet. If you don't like spice, use less of the peppers.
Coconut Milk. You can use either full-fat canned coconut milk or cream.
Soy sauce. I like to add soy sauce for additional saltiness and umami flavor, but you can omit this or substitute with tamari, Worcestershire, etc.
Bell pepper. I like to use mini sweet peppers, however, you can use bell peppers and chop them up!
Potatoes. This is a nice thickening agent in your curry sauce and adds a hearty bite in this dish. Keep things traditional with Irish potato or yukon.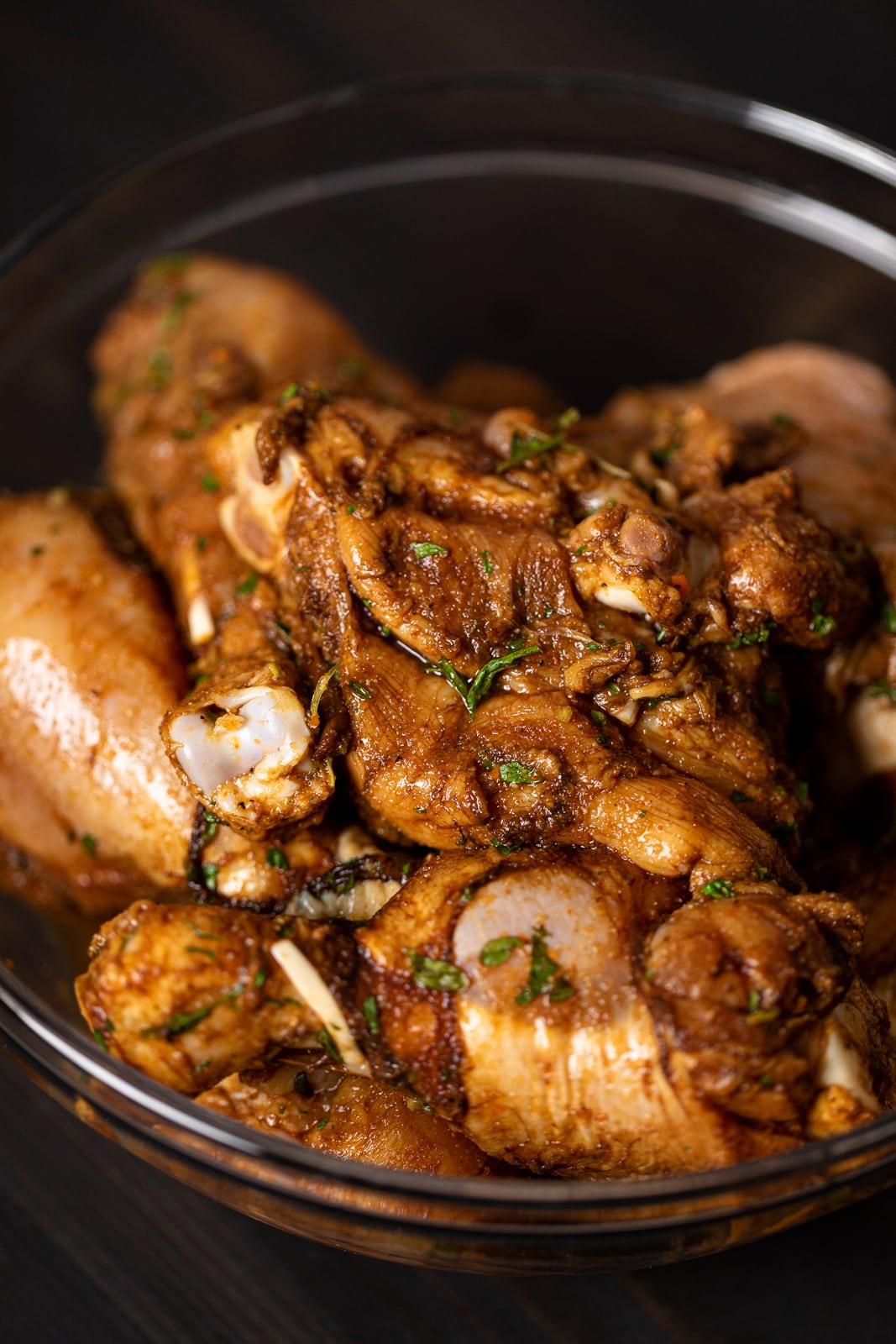 Why Authentic Jamaican Curry?
Curry is one of my go-to meal options on nights when I need something easy and quick to cook, these are some of my favorite defaults, Spicy Curry Vegan Meatballs + Orzo, Easy Spicy Curry Chickpea + Potatoes, and Vegan Pumpkin Curry Butternut Squash.
BUT when I tell you Jamaican Curry is SO special and SO unique I mean it.
This curry recipe features classic ingredients like coconut milk and spices but with a unique twist: the heat has a subtle sweetness, and the spices offer a warm flavor profile, unlike other curries.
This curry is my go-to comfort food, especially on chilly evenings when I need something to warm me up. But you know what? It's also surprisingly refreshing on hot summer days! That might be why it's so popular in the Caribbean, where it's warm year-round. Trust me, this Jamaican curry is the perfect dish to satisfy your cravings no matter the weather.
Making my Jamaican curry sauce with full-fat coconut milk is something that I love because that's honestly how I saw my parents and other family members do it. Besides, it definitely adds a nice creaminess to things and as I mentioned before, it helps to cool down all of the spicy flavors.
What Meats or Meat Alternatives are Best with Curry?
If you aren't a fan of chicken, want to switch things up, or just try something else entirely--no worries! The following meats + meat alternatives are perfect with curry and can easily be substituted for chicken:
Shrimp
Fish
Meatballs
Beef
Mushrooms
Beans & Legumes
Scallops
Tofu
Vegetables (i.e. peas, carrots, potatoes, etc.)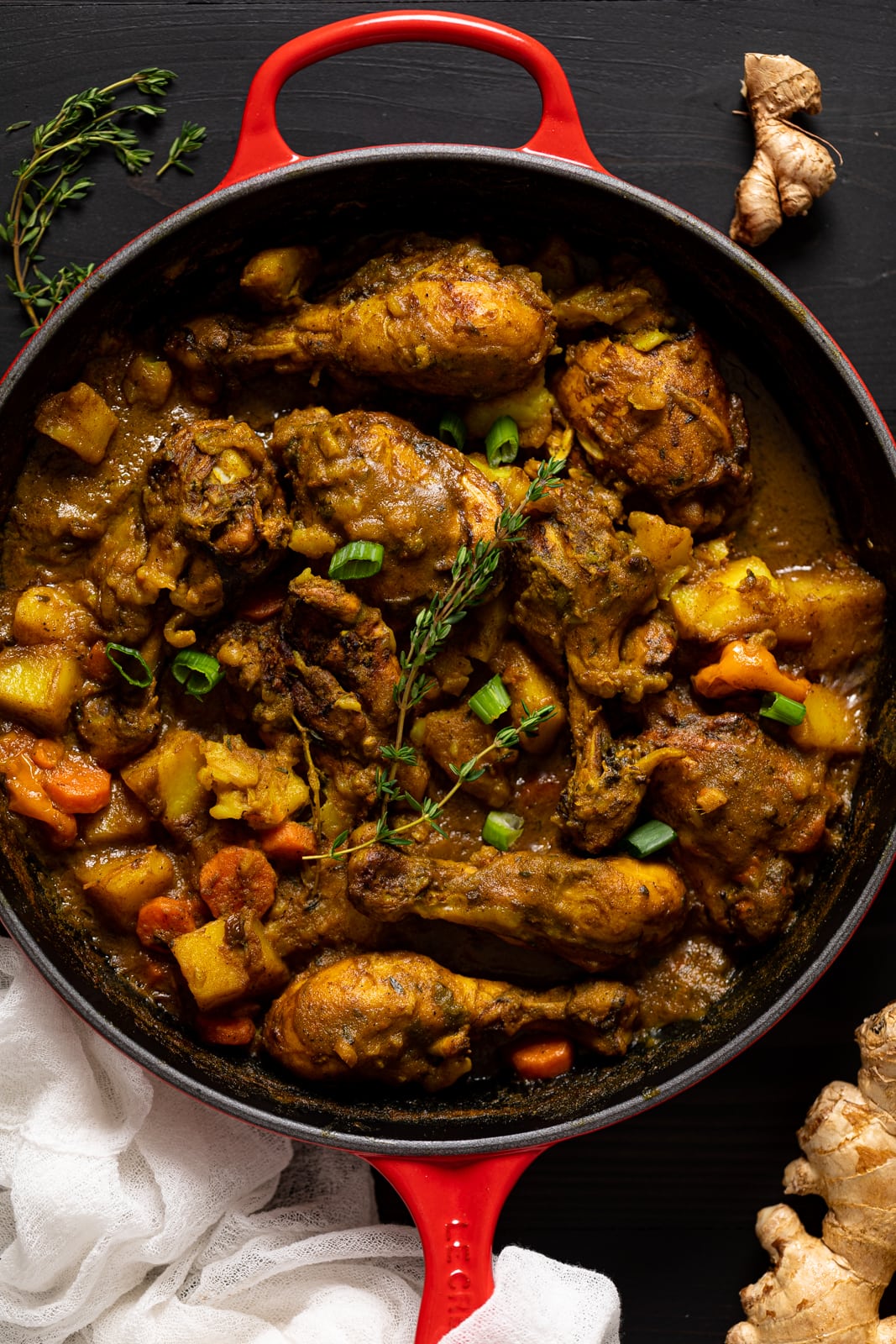 Jamaican Curry Chicken Q + A's
Jamaican Curry Chicken and Potatoes? Can I use Sweet Potatoes?
Absolutely use those potatoes in your curry. Two reasons why: it adds nice "body" or thickness to the sauce as they cook in with the chicken and sauce; two------it makes for a nice addition when eating the chicken with your favorite side. I'm always big on experimenting and so, I would definitely add sweet potatoes instead to change things up. No harm to me.
What to Serve with Jamaican Curry Chicken?
Usually, Jamaican curry chicken comes served with a side of white rice along with cooked veggies or fried plantain. I've enjoyed my curry chicken with a side of brown Basmati rice, mashed potatoes, sautéed veggies, etc. for a healthier twist. It's definitely up to you---even serving it with a side of orzo is also a thing. Just have fun with it----neutral sides work best!
What Is The Ideal Chicken Cut To Use?
For this Jamaican Curry Chicken, I prefer using boneless and skinless thighs. However, if you prefer bone-in chicken, you can use it by cutting it into pieces and removing the skin. It's best to chop larger chicken pieces into smaller ones. I advise against using only chicken breast for this recipe as it contains less fat and can quickly become dry during cooking.
Is This Jamaican Curry Chicken Recipe Dairy-free?
Yes, it uses coconut milk for the creaminess so if you are dairy-free this recipe has you covered!

How to Substitute Scotch Bonnet Peppers?
While traditionally scotch bonnet peppers are used in Jamaican dishes, unfortunately, they might not be found easily in some areas, therefore, substituting them with habanero peppers, jalapeños, etc works just fine! For equal spice to scotch bonnet, you can add a pinch of cayenne pepper and a few drops of hot sauce when substituting.
How to Substitute Jamaican Curry Powder?
Unlike regular curry powder, Jamaican curry powder contains more turmeric (hence the bold yellow color) and allspice. Therefore, if you don't have Jamaican curry powder handy, simply use regular curry powder and add additional turmeric powder and a few pinches of allspice powder.
Is Jamaican Curry Chicken Spicy?
Generally, yes! However, you can create a milder dish by reducing the amount of scotch bonnet peppers used or substituting with milder peppers like jalapeños, etc.
How Can I Create More Gravy?
If you love your curry chicken with a lot more gravy, no worries! Just use less potatoes (because they work as a thickener as everything cooks) or add additional liquid (stock or water), about 1 cup halfway through the cooking process for more gravy.
Tips to Making the Best Jamaican Curry Chicken
The following tips and tricks will make cooking the best Jamaican curry chicken easier and with greater results:
Marinate the chicken. This is a VERY IMPORTANT step that most overlook but makes a world of a difference. Traditionally, Jamaicans will clean, rinse, and season their chicken 1-2 days prior to making this dish. Simply add your seasoned chicken to a ziplock bag or airtight container and refrigerate overnight (or for up to 2 days). When ready to cook, remove from the refrigerator and let it sit at room temperature for 30 minutes or so.
Remove the skin. Keeping or removing the skin of the chicken is an individual preference for many, however, removing it for curry chicken helps the flavors to soak into the meat better, especially during marination.
Chop the chicken into smaller pieces. Since you can use various pieces of chicken for this recipe, chopping them up into smaller pieces helps the chicken to cook through better and makes for an easier bite.
Browning the chicken first is key. Whether you choose to use browning sauce or not, "browning" or searing your chicken first in oil is imperative to creating a nice crispy outside with a tender inside.
Brown your Jamaican curry powder. Whenever using Jamaican curry powder, it's important to burn the powder first to avoid digestive issues for some people because of its potency. In addition, the "burning" process releases better flavor + color.
Slow + simmer is BEST. With any Jamaican dish, slow and simmer is always the best. Once you add all of the ingredients (including the chicken), cover the pot and reduce the heat to simmer everything until it's all cooked through, tender, and the sauce has thickened nicely.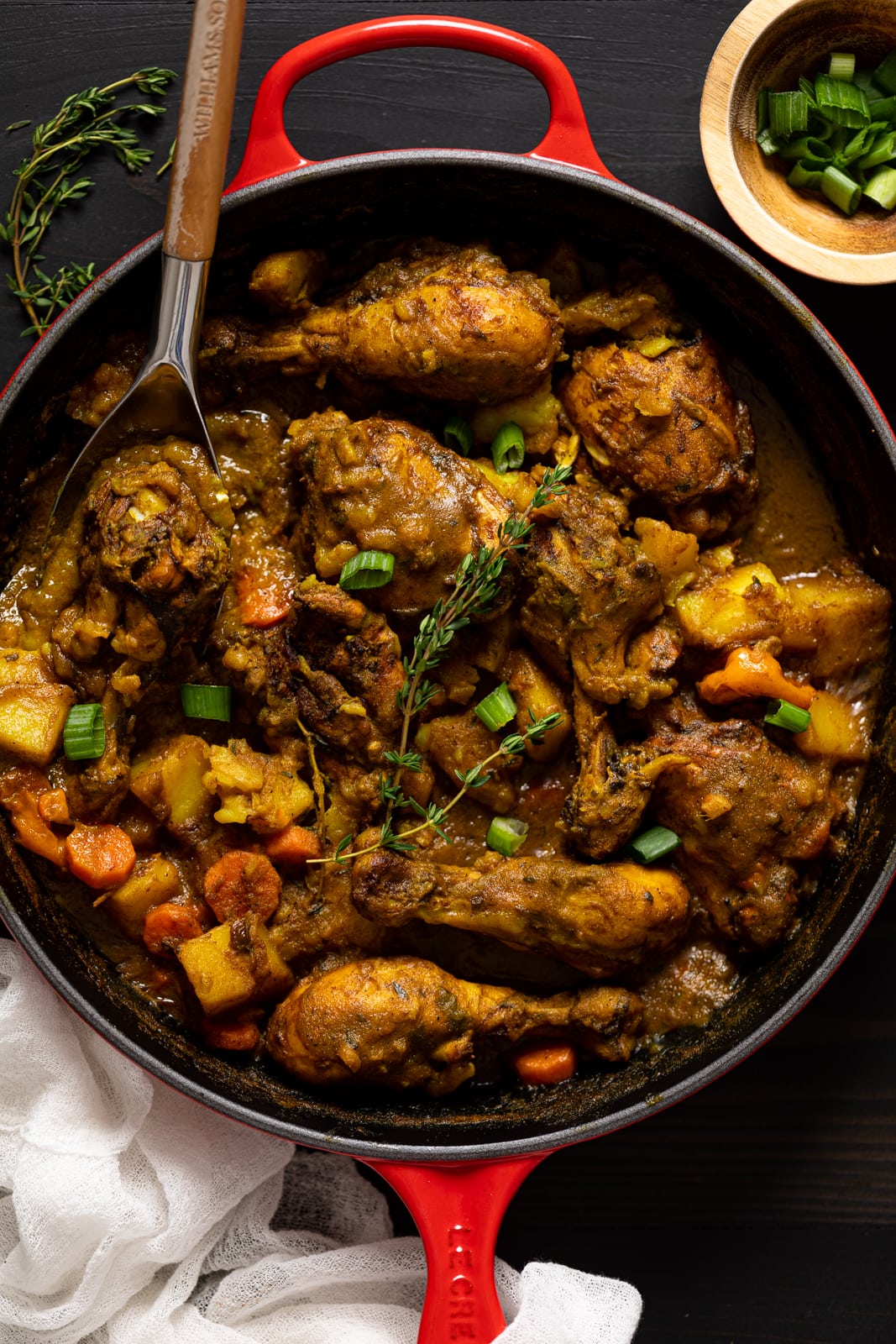 Why You'll Love this Curry Chicken
Hearty flavors and super easy to make
Absolutely delicious--bold curry flavors that you don't want to miss
A kick of spice
Tender meat
Authentic in the methods of this recipe and substitute with ingredients for your preference
Irresistible flavors that will have you coming back for more
Dairy-free goodness
How To Store and Reheat Jamaican Curry Chicken?
I personally think that leftovers are even more delicious than the first day! You can keep leftover chicken curry in an airtight container in the fridge for up to three days. To gently reheat the leftovers, use a Dutch oven on the stovetop over medium-low heat. Alternatively, you can also use the microwave to reheat the dish as well.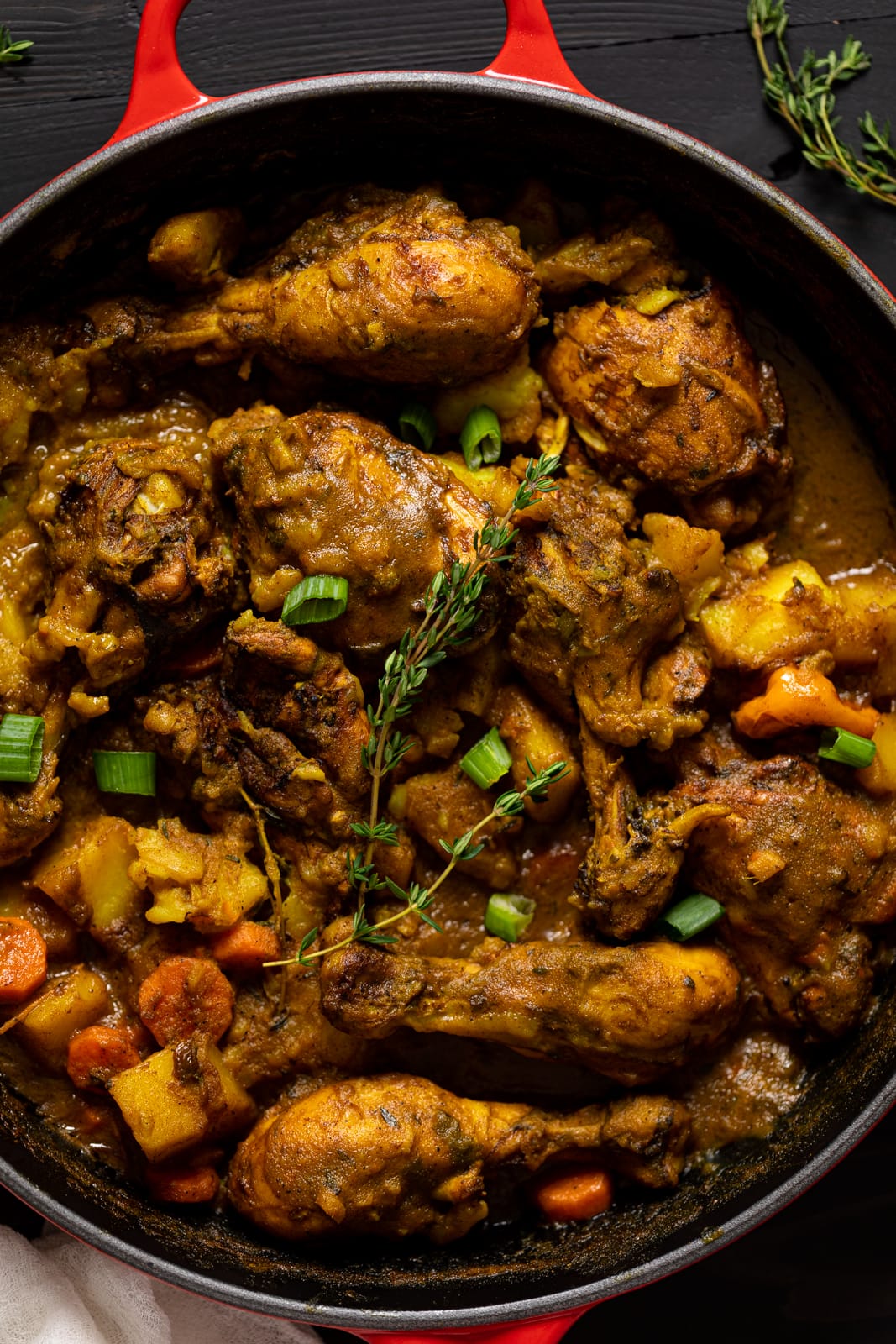 JAMAICAN HERBS YOU SHOULD ALWAYS KEEP ON HAND + REMEDIES
Growing up in a Jamaican household means I learned about a lot of great Jamaican spices. While these spices go great in recipes for their flavor, they also have many healing properties. I'm going to share a list of Jamaican herbs that I always keep on hand for their medicinal purposes.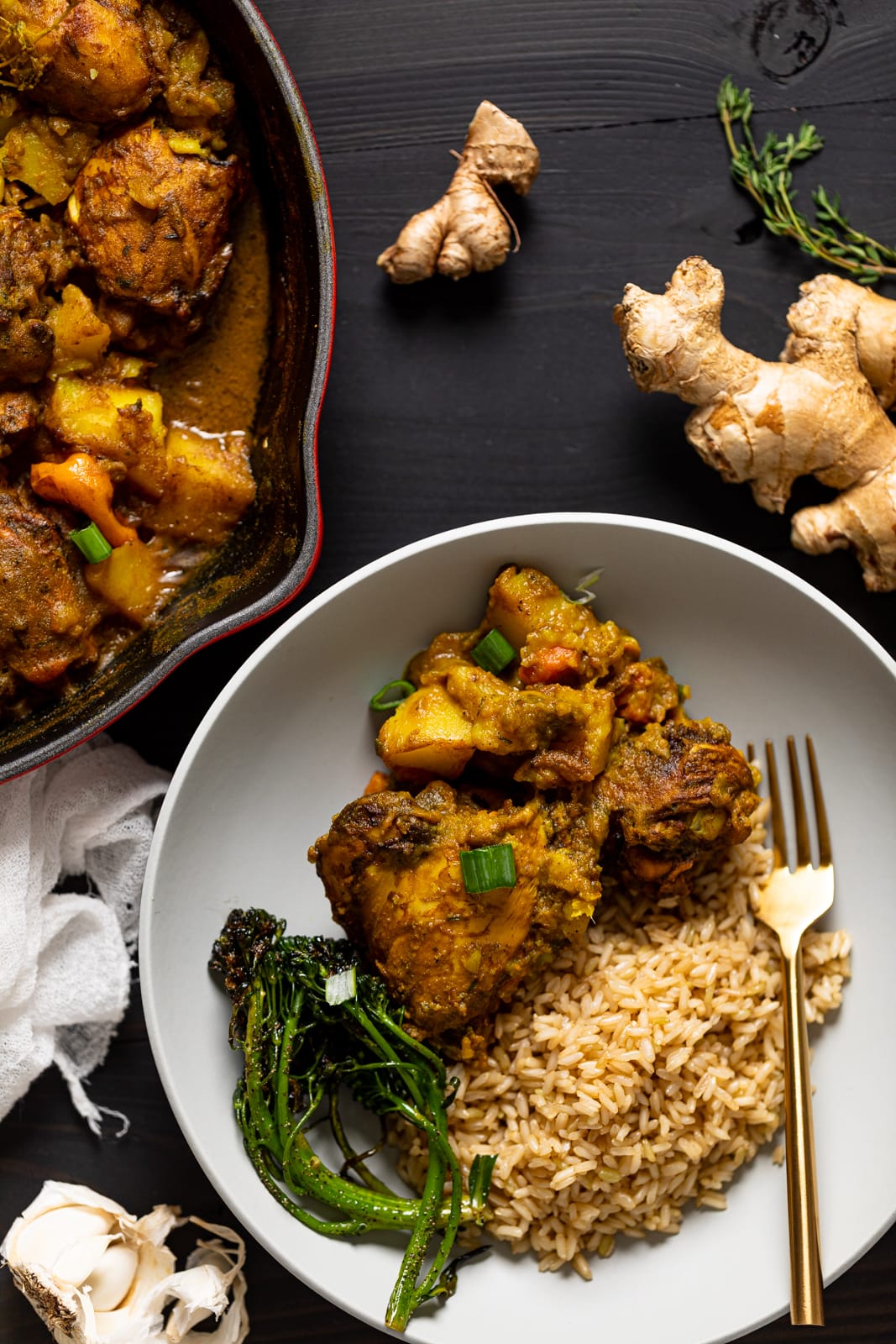 Other Jamaican Recipes That You'll Love!
Loving this Authentic Jamaican Curry Chicken and want more Jamaican cuisine? Here are some reader faves!
MADE OUR RECIPE(S)?
If you tried this Authentic Jamaican Curry Chicken or any other recipe on my website, please please leave a 🌟 star rating and let me know how you go in the 📝 comments below. I love hearing from you.
CHICKEN + MARINADE
3-4

lbs.

organic chicken, skin removed

(Drumsticks + Thigh pieces work great!)

1-2

Tbsps

browning, optional

(See Notes!)

2

Tbsps

Jamaican curry powder

1

teaspoon

sea salt

1

teaspoon

black pepper

1

teaspoon

garlic powder

1

teaspoon

onion powder

1

teaspoon

dried parsley

1

teaspoon

Flavo Rice, optional 

(You can substitute with all-purpose seasoning!)

½

teaspoon

smoked paprika
SPICY JAMAICAN CURRY SAUCE:
2

Tbsps

Extra virgin olive oil

1

(14 oz.) can

full-fat coconut milk

2

russet potatoes, peeled + cubed

2

carrots, peeled + chopped

1

bell pepper, cored removed + chopped

3

garlic cloves, minced

2

Tbsps

minced fresh ginger

1-3

scotch bonnet peppers

(Adjust to your level of spiciness; You can also use habanero peppers)

2

green onions, lightly crushed or chopped

(a.k.a. Scallion)

1-2

fresh thyme sprigs

½

cup

organic chicken stock, low-sodium

1

tablespoon

soy sauce, low-sodium

2 ½

Tbsps

Jamaican curry powder

1

tablespoon

Jamaican hot sauce

(You can substitute with your favorite brand)

1

teaspoon

ground allspice

1

teaspoon

sea salt

1

teaspoon

black pepper
MARINATE THE CHICKEN:
In a large bowl, add your freshly cleaned + rinsed chicken along with browning, salt, black pepper, garlic powder, onion powder, smoked paprika, parsley, Flavo Rice (or all-purpose seasoning), and curry powder, mixing everything together until chicken is fully coated. Add coated chicken to a securely sealed ziplock bag and place in the refrigerator for 3 hours (minimum). Best if marinaded overnight. When ready to use, let chicken sit at room temperature for 15-20 minutes before cooking.
BURN THE CURRY POWDER:
If using authentic Jamaican curry powder, it's super important to first "burn" your powder. SEE NOTES FOR MORE.

In a deep skillet or pot over medium-high heat, add the olive oil and once fully heated, add curry powder. Stir curry powder in oil and let it sit until it becomes a dark brown and becomes fragrant, about 2-3 minutes.
COOK CHICKEN:
Add the minced garlic, ginger, scotch bonnet peppers, green onions, and bell peppers, sautéing until fragrant and golden. Add the allspice, salt, and black pepper, stirring until combined. Now, add in the marinated chicken and cook on each side until seared, about 3-4 minutes each side.

Pour in the coconut milk, soy sauce, chicken stock, and hot sauce, stirring until combined. Let the mixture boil for a minute or so before adding the chopped carrots and potatoes. Toss them in sauce, add in the thyme sprigs and reduce heat to simmer for about 20-25 minutes or until sauce thickens and the chicken is cooked through and tender, stirring occasionally. Remove from heat once done.

To serve, enjoy the curry chicken with your favorite side (i.e. rice, veggies, etc.). Garnish with a bit of dried parsley and sprinkles of red pepper flakes, if desired.

Bon Appétit!
STORAGE: Any leftovers can be kept in a tightly sealed container and refrigerated for up to 3-4 days.
TURMERIC: You can add 1 teaspoon of turmeric to the curry sauce, if desired. While adding turmeric is optional, it definitely has benefits: powerful medicinal properties, natural anti-inflammatory ingredient, increases antioxidant activity in the body, and more.
JAMAICAN SEASONINGS: If authentic Jamaican seasonings (i.e. browning, curry powder, Flavo Rice, etc.) aren't readily available near you, they are available for purchase on Amazon. Otherwise, substitute with your favorite brand. 
BURNING THE CURRY POWDER: When using Jamaican curry powder, it's important to burn the powder first to avoid digestive issues for some people because of it's potency. In addition, the "burning" process releases better flavor + color.
GLUTEN-FREE OPTION: Ensure that all ingredients are GF-certified. 
Calories:
636
kcal
|
Carbohydrates:
35
g
|
Protein:
79
g
|
Fat:
19
g
|
Saturated Fat:
4
g
|
Polyunsaturated Fat:
4
g
|
Monounsaturated Fat:
9
g
|
Cholesterol:
239
mg
|
Sodium:
1848
mg
|
Potassium:
1638
mg
|
Fiber:
7
g
|
Sugar:
5
g
|
Vitamin A:
6526
IU
|
Vitamin C:
63
mg
|
Calcium:
143
mg
|
Iron:
7
mg