This Banana Peanut Butter Overnight Oats recipe is a heavenly healthy way to kick start your day. This quick and simple breakfast recipe is packed with flavor thanks to the combination of flax, cinnamon, rolled oats, and warming spices. These oats are protein-packed, super creamy, and nutty, plus totally Vegan, Dairy-Free and Gluten-free. The best part? This easy recipe takes under 5 minutes to prepare!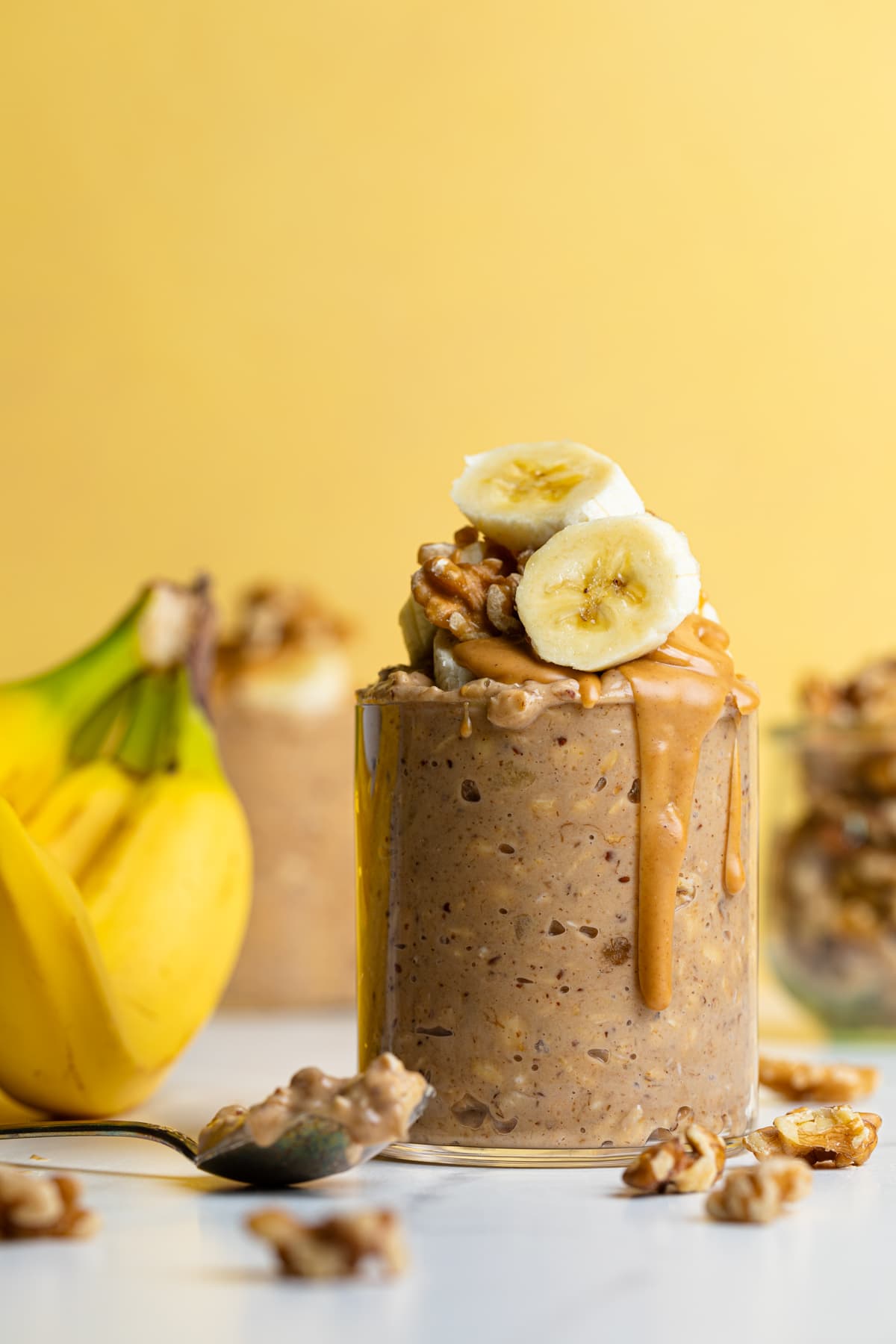 Overnight oats are one of my favorite breakfast foods because they are portable, healthy, nutritious, and easily made vegan. I'm sure you've seen by now how much I enjoy experimenting with different flavors----especially with this Banana Peanut Butter Overnight Oats recipe!
This recipe was actually the first time I ever made overnight oats. And boy was I impressed. They came out so creamy, luxurious, and flavorful! I've been making them ever since, including these Pumpkin Spice Overnight Oats for fall and these Superfood Overnight Oats: Maca, Cacao, + Chia Seeds for detoxing. 
If you love peanut butter,  you're going to go wild for these nutty, creamy, and protein-packed Vegan overnight oats! 
What Are Overnight Oats?
If you have never tasted overnight oats, they are essentially a no-cook way to prepare oatmeal. We soak the raw uncooked oats in milk rather than heating them on the stovetop or microwave. The soaking process enables the oats to absorb the liquid and become sufficiently soft for eating raw. The oats only need to soak and rest in the refrigerator for two hours. But soaking it overnight is best. Hence, overnight oats!
The next morning, you have a lovely, creamy bowl or jar of "oatmeal" that is ready to eat. The texture is similar to that of pudding or porridge. However, it has a more rich and creamy texture than heated oatmeal. This Banana Peanut Butter Overnight Oats recipe provides a simple, healthy, protein-packed breakfast for those hectic mornings.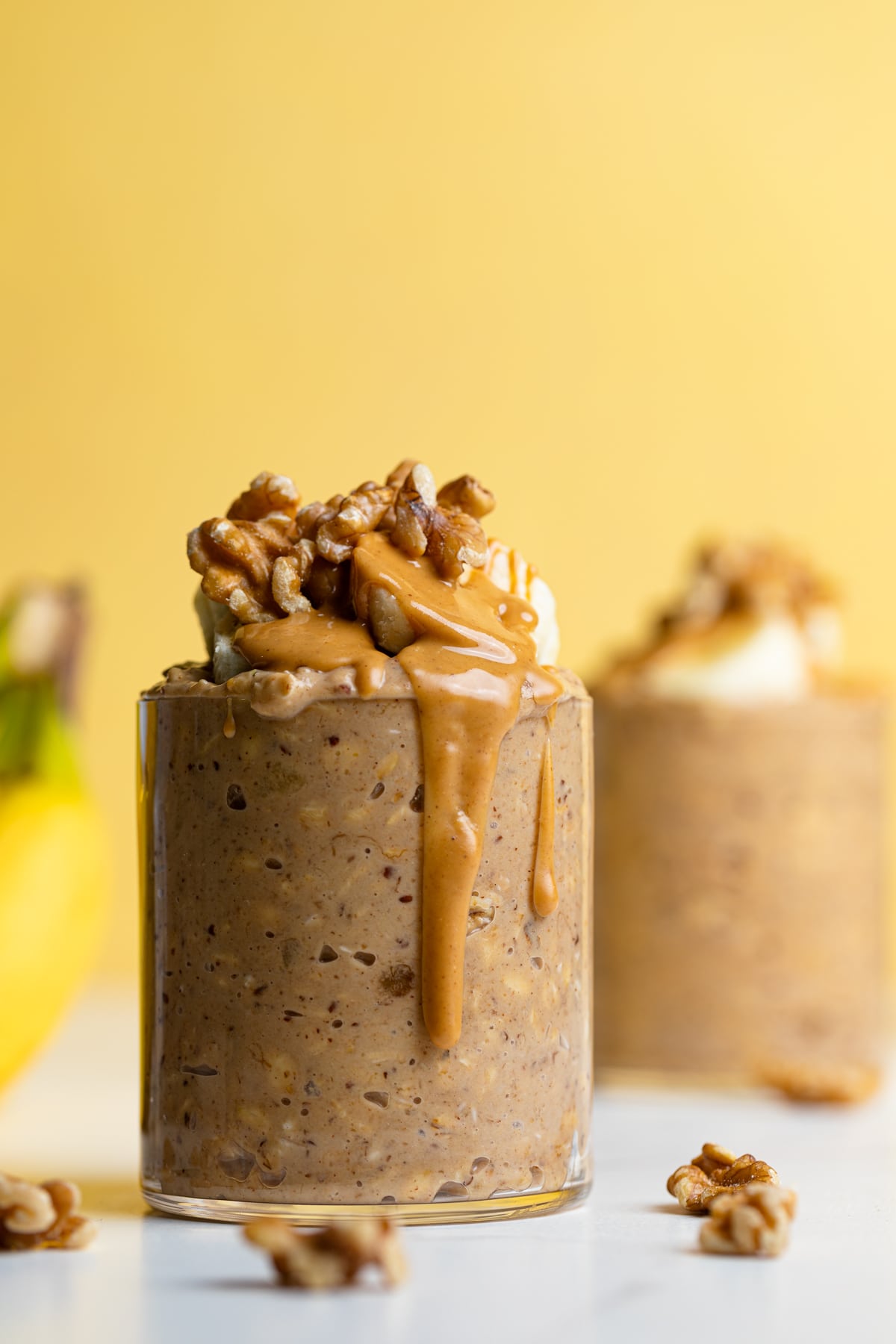 How to Make the Best Peanut Butter Overnight Oats
The secret to the creamiest and sweetest overnight oats without tons of added sugar is to use a nice ripe banana. It should have some brown spots on the peel and be nice and soft. When you mash it up, the fruit gets even sweeter!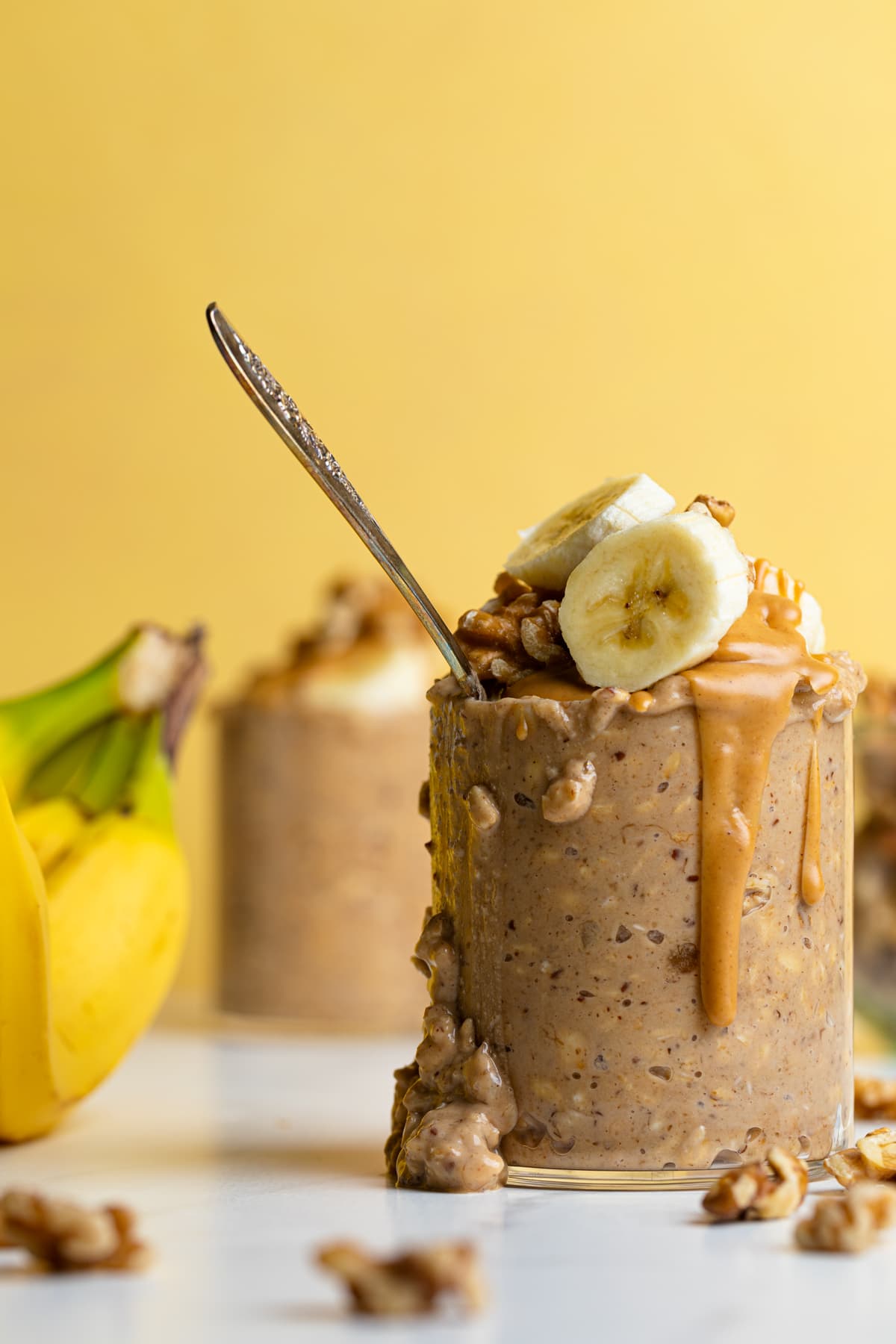 Overnight Oats Ingredient + Subs & Swaps
Easy to prepare and filled with protein, these Peanut Butter Banana Overnight Oats require only a few pantry staples. This is a very forgiving overnight oatmeal recipe, so feel free to sub out ingredients and use what's in your pantry. Here are the basics:
Oats. I highly recommend using thick-cut rolled oats, which absorb flavors well but don't turn to total mush overnight. However, if you only have rolled or quick oats, you can still make this recipe with them. Quick oats will become quite soft if left to soak overnight though. 
Almond milk. Or use any dairy-free milk you like Creamy Homemade Oat Milk or Homemade Coconut Milk
Peanut butter. You can easily make these banana overnight oats with almond butter, pistachio butter, or even sunflower seed butter to make it nut-free. Yay, healthy fats and plant-based packed- protein ahoy!
Agave. I like this vegan liquid sweeter, but other options like date syrup, coconut sugar, or maple syrup also work. 
Cinnamon, nutmeg, and allspice. You can also use pumpkin pie spice!
How To Make Overnight Oats
Overnight oats are simple to prepare, even for newbies!
Combine whole rolled oats with your favorite plant-based milk; for this recipe, I usually use coconut or almond milk, but any kind of milk will do. Afterward, mix in your protein-packed peanut butter, flax meal for extra thickness and gooeyness, and your banana and sweetener, and spices.
Remember to do all this the night before you want to eat your oats. Ready to enjoy the next morning, you can eat them straight from the bowl, or you can put them into an on-the-go container or jar! Yup, that's it. It is that easy. 
Storage Tips
This Banana Peanut Butter Overnight Oats recipe can be stored in the fridge for up to 5 days if stored in an airtight container or mason jars. This allows you to take them with you everywhere you go, making them perfect for the hectic workday lifestyle. If it has been sitting for a while, give it a good stir and perhaps add a little more plant-based milk to loosen everything up!
Health Benefits of Overnight Oats
Oats especially rolled oats, are super nutritious! They include slow-burning carbs, soluble fiber, protein, and fat. In addition, they are loaded with important vitamins, minerals, and antioxidants.
Here are a few reasons to eat more oatmeal-
They can help lower cholesterol.
Balance blood sugar levels to prevent cravings or crashes. 
May help with losing weight because of the high fiber content.
Can help reduce inflammation in the skin.
Helps to relieve constipation.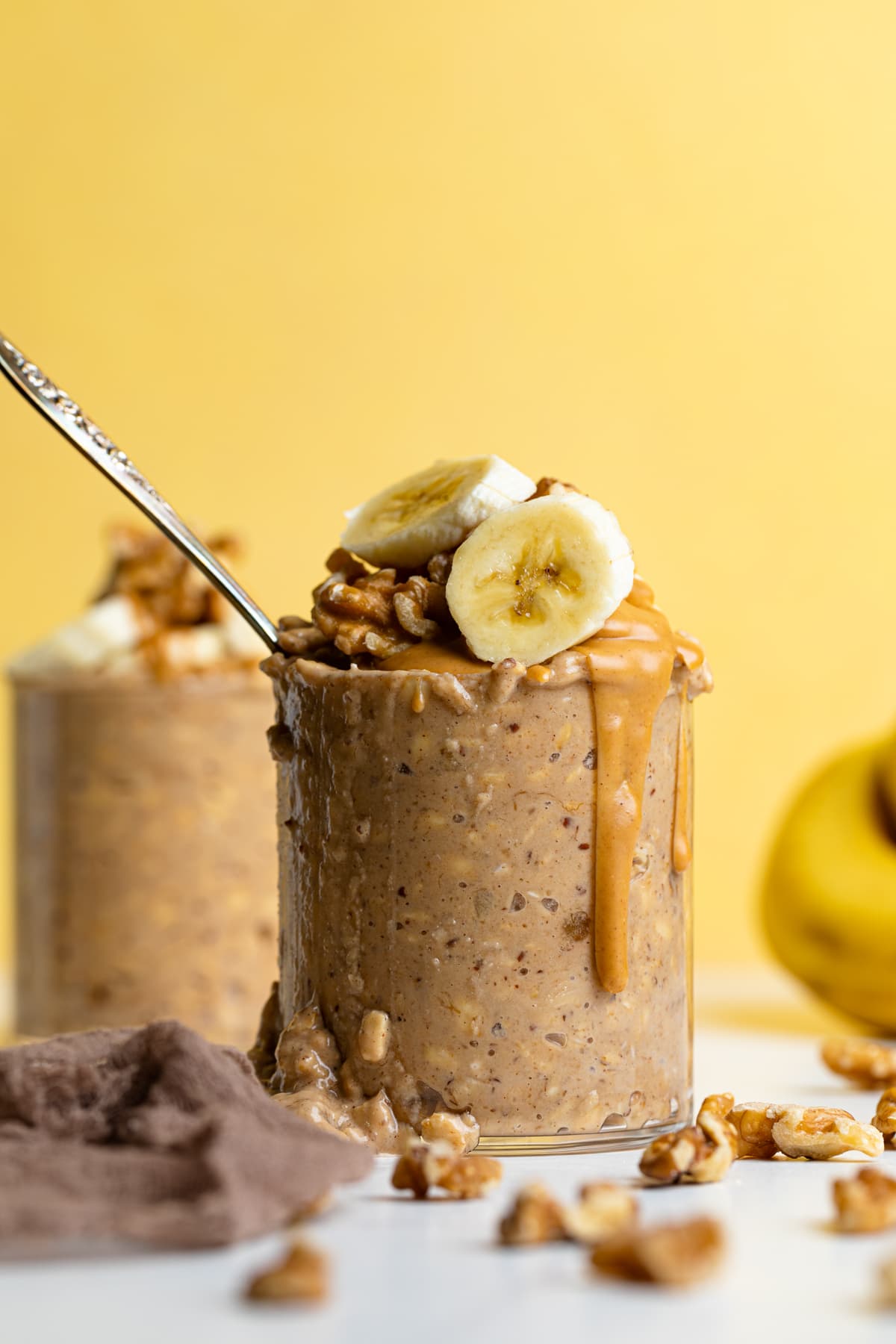 More Overnight Oat Breakfast Recipes to Try
MADE OUR RECIPE(S)?
If you make these Banana Peanut Butter Overnight Oats or any other recipe from us, be sure to tag us on Instagram at #Orchidsandsweettea so that we can share the love!
OVERNIGHT OATS:
1

cup

Thick-cut rolled oats, GF certified

1

medium

banana, mashed

1

cup

Almond milk

4

Tbsps

peanut butter, softened

(Make sure that PB is vegan-friendly; See Notes!)

1

tablespoon

flaxseed meal

2

Tbsps

Agave syrup

(See Notes!)

2

tsps

vanilla extract

1

teaspoon

ground cinnamon

½

teaspoon

ground nutmeg

pinch of

ground allspice

pinch of

sea salt
TOPPINGS:
Your favorite chopped nuts

Sliced bananas

Peanut butter, softened or melted
TO MAKE THE OVERNIGHT OATS:
Add all ingredients to a medium bowl, stirring until well combined.

Tightly cover bowl with plastic wrap and refrigerate overnight (or at least 8 hours).

To serve (hot or cold), add oats to a bowl or mason jar and top it with your favorite nuts, sliced bananas, and drizzle peanut butter atop.

Bon Appetit!
STORAGE: Can be stored in the refrigerator for up to 5 days. Perfect for meal prep for the week!
TOASTED NUTS:Add chopped pecans/walnuts to a baking sheet and toasting them in the oven (400 degrees Fahrenheit) for 5-10 minutes, tossing them halfway to avoid browning on one side.
NUT BUTTER: If preferred, you can always substitute peanut butter with Almond butter, SunButter (perfect for allergy-free needs!), Tahini (Sesame Seed Butter), Hazelnut Butter, etc.
SWEETENER: Instead of Agave, you can simply use pure maple syrup or additional mashed bananas. 
MILK: You can use your favorite plant-based milk, whether Soy, Oat, Coconut, Flax milk, etc.
Calories:
1030
kcal
|
Carbohydrates:
134
g
|
Protein:
29
g
|
Fat:
45
g
|
Saturated Fat:
8
g
|
Polyunsaturated Fat:
13
g
|
Monounsaturated Fat:
20
g
|
Sodium:
610
mg
|
Potassium:
1159
mg
|
Fiber:
18
g
|
Sugar:
52
g
|
Vitamin A:
82
IU
|
Vitamin C:
18
mg
|
Calcium:
420
mg
|
Iron:
6
mg