This herbed butter tomato pizza is a savory, cheesy, buttery dinner perfect for family pizza night, complete with a fluffy homemade crust.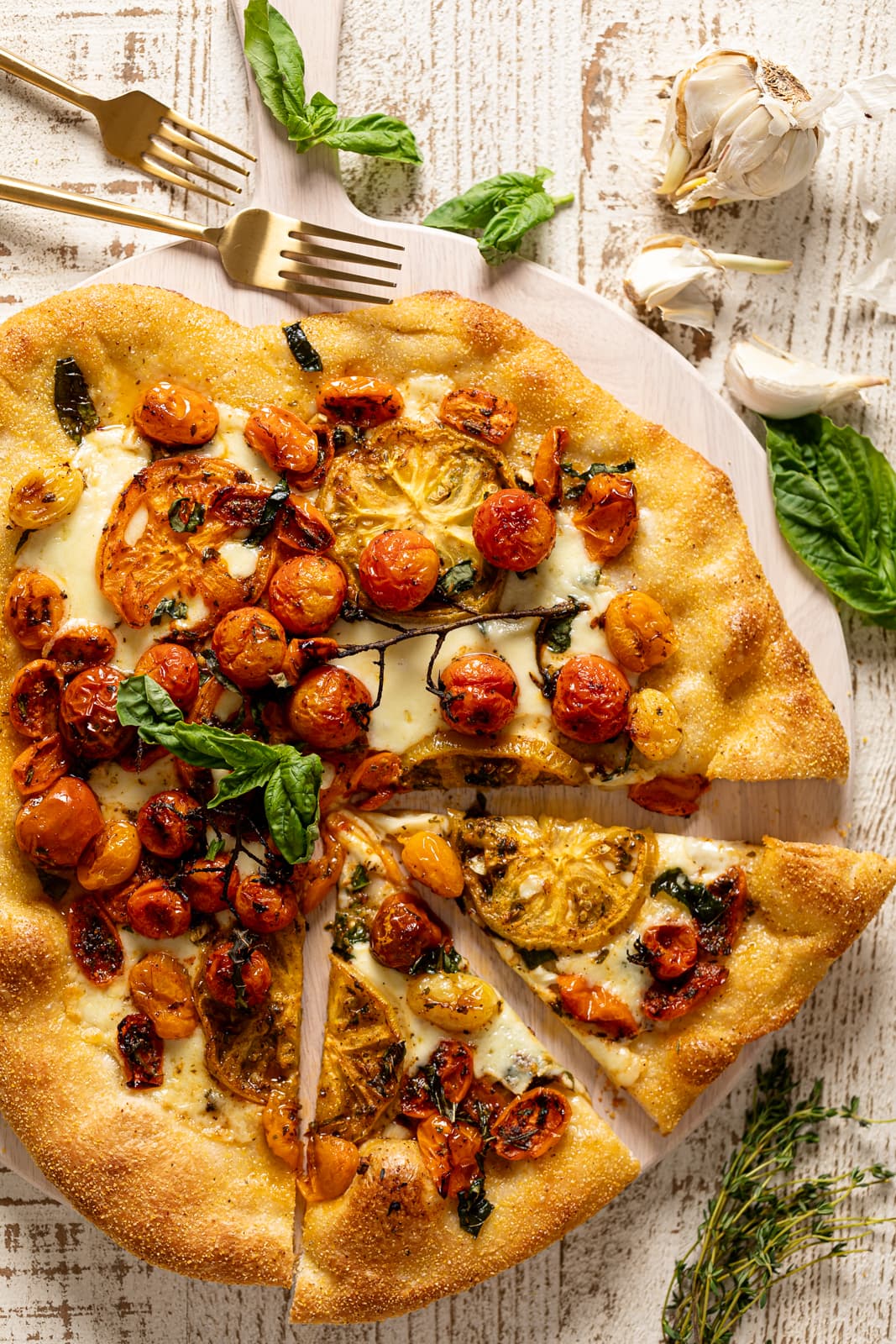 My family loves a pizza night, and this herby butter-topped pizza is a new favorite in the rotation. It's loaded with cheese, tomatoes, garlic, and spices for a totally unique and unforgettable dinner at home.
The stunning tomato topping is all about the heirloom tomatoes, which are mostly available during peak tomato season (the summer here in the northeast). Next time you see colorful, juicy tomatoes, grab a few and make this herby tomato pizza!
How to Make Herbed Butter Tomato Pizza
This pizza starts with a homemade crust. However, you can certainly use a store-bought crust if you're in a rush. My recipe yields a soft, fluffy crust that's somewhere between thin and thick. Just right, if you ask me. The other components to complete this dish are herb butter sauce, and toppings.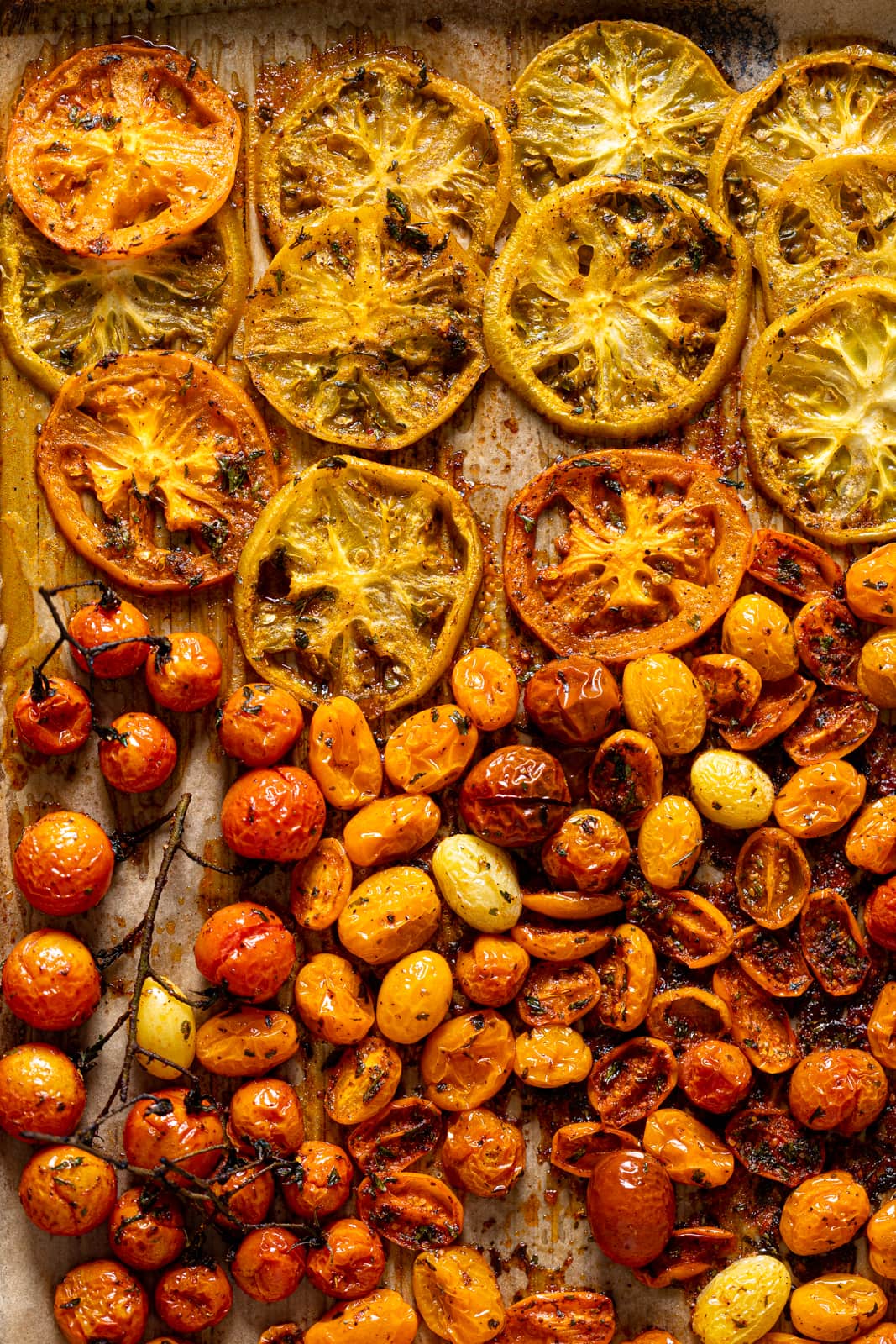 HOW TO MAKE HERB ROASTED TOMATOES
The key for this recipe is to start with great-quality tomatoes. Choose a mix of large and cherries, and several different colors if you can find them.
INGREDIENTS
Tomatoes. You can add as many tomatoes as will fit on your baking sheet.
Olive oil. Don't skimp on the oil! It helps concentrate the tomato flavor and makes a nice jammy texture. You can use these roasted tomatoes like a dressing or sauce.
Dried herbs. I like a mixture of Italian herbs like oregano, basil and parsley. But you can mix up the seasonings with other fresh or dried herbs. Thyme, rosemary, marjoram and tarragon are all delicious with tomatoes.
Spices. Likewise, feel free to play with different spices in your roasted tomatoes. I like paprika, garlic powder and a pinch of red pepper flakes for a slight kick.
Homemade Pizza Crust
Here's what you need for the crust, which is the first step in making this recipe:
All-purpose flour. I use organic flour from Bob's Red Mill.
Honey or agave. This will all be consumed by the yeast, so there's no lingering sugar in the crust.
Rapid-rise yeast. This is also sometimes labeled instant yeast.
Olive oil. To help enrich and soften the dough.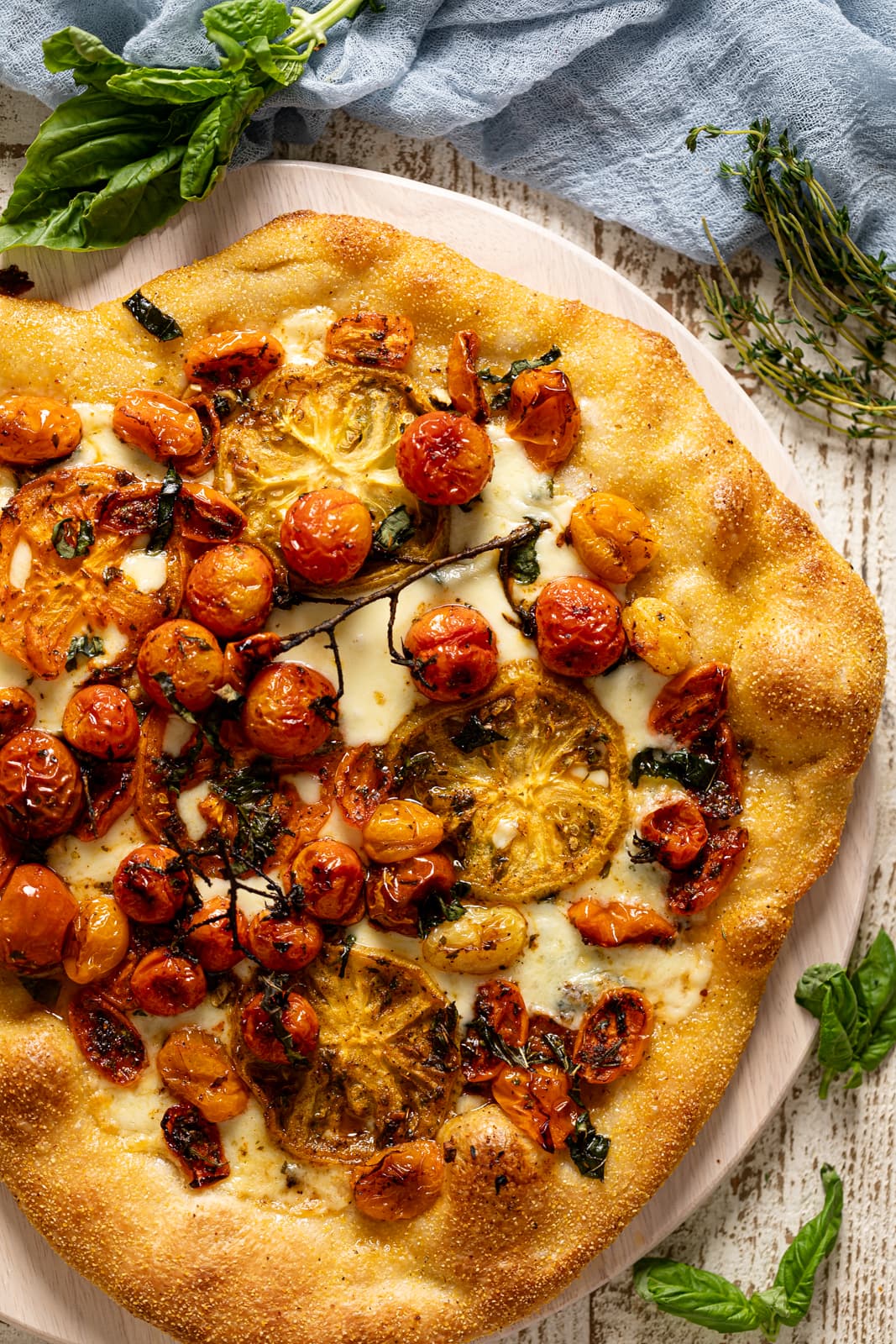 Herb Butter Pizza Sauce
This sauce is one-of-a-kind and such a delicious topping for pizza. Here's what you need to make it:
Butter. Use unsalted butter to control the seasoning in your dish.
Garlic. Fresh is best! In a pinch, you can use a dash of garlic powder.
Dried herbs. I use oregano, parsley, and thyme.
Smoked paprika. For a bit of a kick.
Olive oil
Pizza Toppings
To finish off this pizza once you've coated your homemade crust in the herbed butter sauce, add:
Mozzarella cheese. I like the fresh kind, which you can grate, rather than pre-grated cheese, which has less flavor.
Grape tomatoes. Cherries work too.
Heirloom tomato. You can choose any ripe, juicy tomato that catches your eye.
Herbs and spices. The major flavor in this buttery pizza come from garlic powder, smoked paprika, dried basil, oregano, parsley and red pepper flakes. Yum!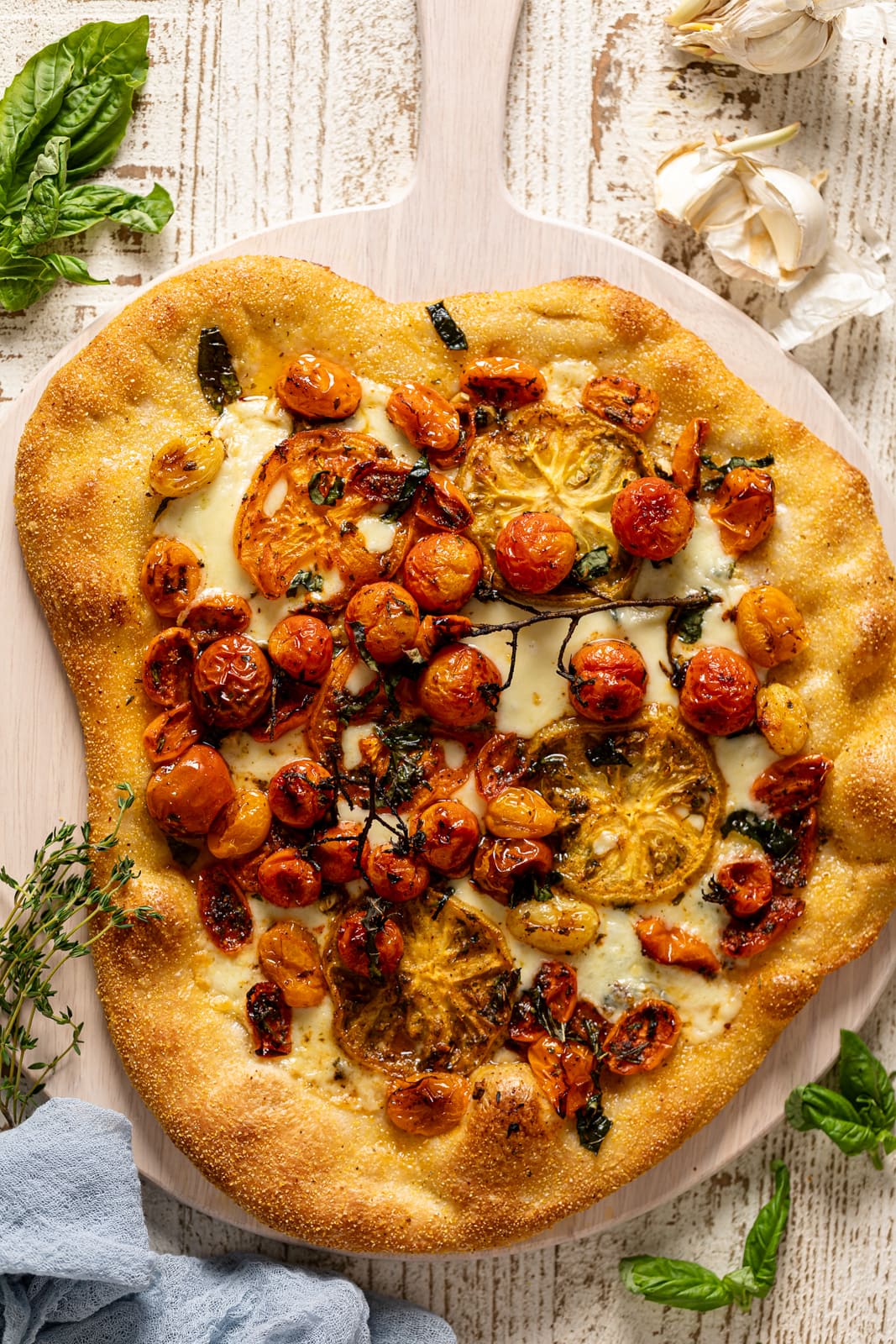 TIPS FOR MAKING NO-RISE PIZZA CRUST
If your mixture of yeast, water and honey doesn't bubble after 5 minutes, that may be a sign that your yeast is dead. The crust won't rise, so it's best to get a new packet of fresh yeast.
Use an electric mixer for the best results. Pizza dough needs to be well mixed and kneaded to activate as much gluten as possible.
The dough should be soft, supple and stretchy when it's done mixing. It shouldn't be too sticky. If it is, add a bit more flour until it easily pulls away from the side of the mixing bowl.
Can I Make Gluten-Free Pizza?
Yes! To make gluten-free pizza crust, use this recipe. It's thin, crispy and holds all of your toppings.
Storing Leftovers
Store any leftover herbed butter tomato pizza in an airtight container in the fridge for up to four days. You can reheat in the oven, in a skillet on the stove or in the microwave (though it might get soggy).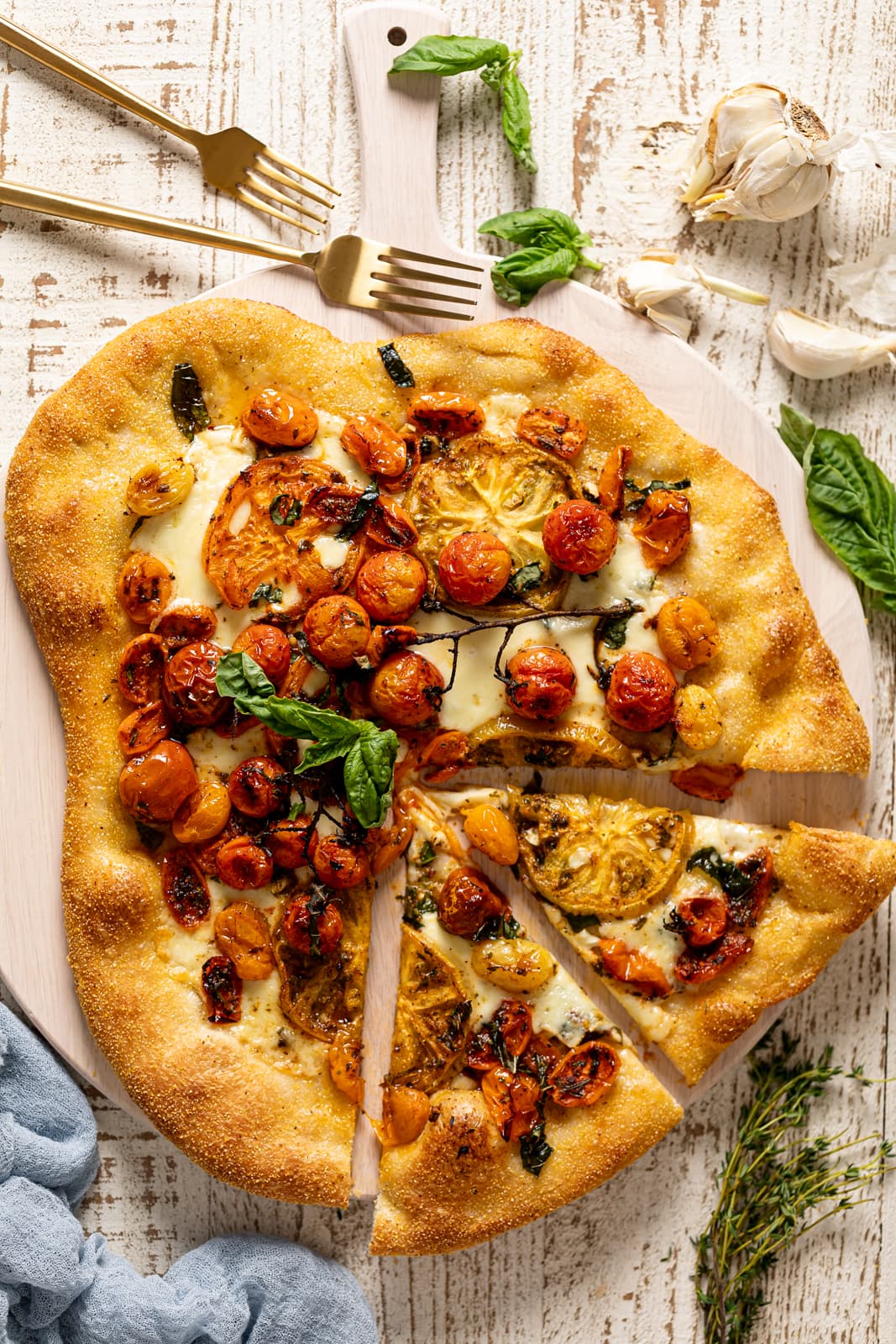 More Homemade Pizza Recipes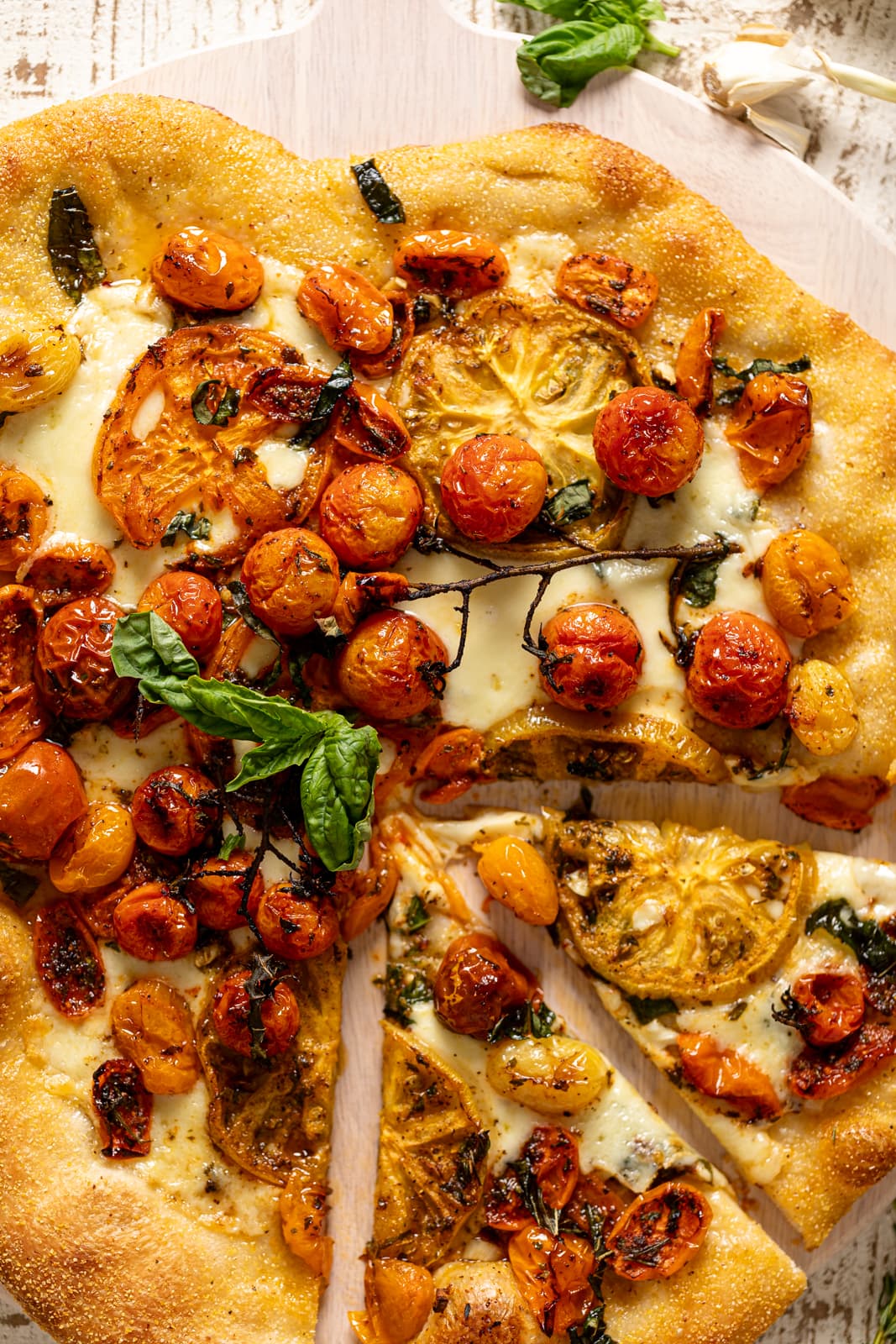 MADE OUR RECIPE(S)?
If you make this Herbed Butter Tomato Pizza, be sure to tag me @orchidsandsweettea!
PIZZA CRUST:
2 ¾

cups

organic all-purpose flour

(See Notes for GF option!)

1

cup

WARM fresh water

1

tablespoon

honey or Agave

1

packet

rapid-rise yeast

(That's 2 ¼ tsps!)

1

tablespoon

Extra virgin olive oil

¼

teaspoon

sea salt
HERB BUTTER SAUCE:
3

Tbsps

unsalted butter, melted

3

garlic cloves, minced

1

tablespoon

dried oregano

2

Tbsps

fresh chopped parsley or dried

2

Tbsps

fresh thyme leaves

1

teaspoon

smoked paprika

½

teaspoon

red pepper flakes

Pinch of

sea salt + black pepper

1

tablespoon

Extra virgin olive oil, for brushing
TOPPINGS:
2

cups

fresh mozzarella cheese

(That's about 4 ozs.)

2

cups

grape tomatoes, halved

1

hierloom tomato, sliced medium-thick

(About ¼" thick)

Handful of

tomato on the vine, halved

1

teaspoon

sea salt + black pepper, each

1

teaspoon

garlic powder

1

teaspoon

smoked paprika

1

teaspoon

dried oregano

1

teaspoon

dried basil

1

tablespoon

dried parsley

1

teaspoon

red pepper flakes
ROAST THE TOMATOES:
Preheat your oven to 400 degrees Fahrenheit and prepare a large baking sheet by lining it with parchment paper.

Add the tomatoes unto the baking sheet (in a single layer) and drizzle with olive oil and season with seasonings (salt, black pepper, garlic powder, smoked paprika, oregano, basil, parsley, and red pepper flakes) and bake for 25-30 minutes or until tomatoes are charred, wilted, and tender. Remove and let cool slightly.
TO MAKE THE PIZZA CRUST:
In the bowl of an electric mixer (with a dough hook attachment), mix together the warm water, honey, olive oil, and yeast (you might need to use a whisk to ensure that everything combines together well). Let is sit for at least 5 minutes, until yeast begins to activate and foam.

Slowly add the flour and salt (on low speed!), until fully incorporated and a soft dough is formed. NOTE: if dough is too sticky, add ½ cup of additional flour at a time)

Now, increase the speed to medium-high and knead the dough for about 5 minutes in the mixer. 

Once done, cover the dough with plastic wrap for 10 minutes, until is rises a bit. 
TO MAKE THE HERB BUTTER SAUCE:
In a bowl, add all herb butter ingredients and mix until combined.
ASSEMBLY:
Once done, add the dough onto a floured surface and slightly roll out the dough until it's flat enough to form a flat circle the rest of the way with your hands, about 11 inches in diameter. Lightly grease your pizza pan with extra virgin olive oil and place dough on one end of pan, evenly pressing it and flattening it out to fit the entire pan. Gently use your finger to stretch dough until pan is fully covered and gently pinch the edges of the dough together to form the crust.

Preheat the oven to 475 degrees Fahrenheit and place top rack into the middle of oven. NOTE: be sure to use a great pizza pan to ensure that your crust is crispy and not soggy.

Brush a generous amount of the herb butter sauce over the top of the crust until evenly coated.

Generously add pieces of fresh mozzarella atop the sauce, leaving a bit of crust bare for the edges.

Top with roasted tomatoes, until fully covered.

Lightly brush the tops of the edge of the crust with 1 tablespoon of olive oil to ensure that it becomes a nice golden brown.

Gently transfer the pizza pie to the hot oven and bake for 15-20 minutes or so, until the cheese has melted (and becomes bubbly) and the crust is crispy and golden brown.

Once done, allow pizza to rest/cool for a few minutes (about 2-3 minutes) so that the cheese sets before cutting into generous slices, using a pizza cutter.

Bon Appetit!
STORAGE: Leftover pizza is best kept tightly wrapped in foil paper, refrigerated for 3-4 days for optimal freshness.
GLUTEN-FREE CRUST: To make your pizza crust GF, see my Easy GF Pizza Crust recipe.
PIZZA CRUST: For a crispy pizza, I suggest using a pizza pan with holes to allow the crust to bake through nicely. I used the AirBake Pizza Pan, which can be found at Target!
Calories:
340
kcal
|
Carbohydrates:
40
g
|
Protein:
12
g
|
Fat:
15
g
|
Saturated Fat:
7
g
|
Polyunsaturated Fat:
1
g
|
Monounsaturated Fat:
6
g
|
Trans Fat:
0.2
g
|
Cholesterol:
33
mg
|
Sodium:
554
mg
|
Potassium:
268
mg
|
Fiber:
3
g
|
Sugar:
4
g
|
Vitamin A:
1305
IU
|
Vitamin C:
12
mg
|
Calcium:
189
mg
|
Iron:
3
mg
Herbed Butter Tomato Pizza.