This No-Churn Vanilla Ice Cream with Rainbow Sprinkles recipe is a childhood favorite that never gets old. It has a texture like real soft-serve thanks to ingredients like cold cream, vanilla, sweetened condensed milk, and maple syrup for sweetness.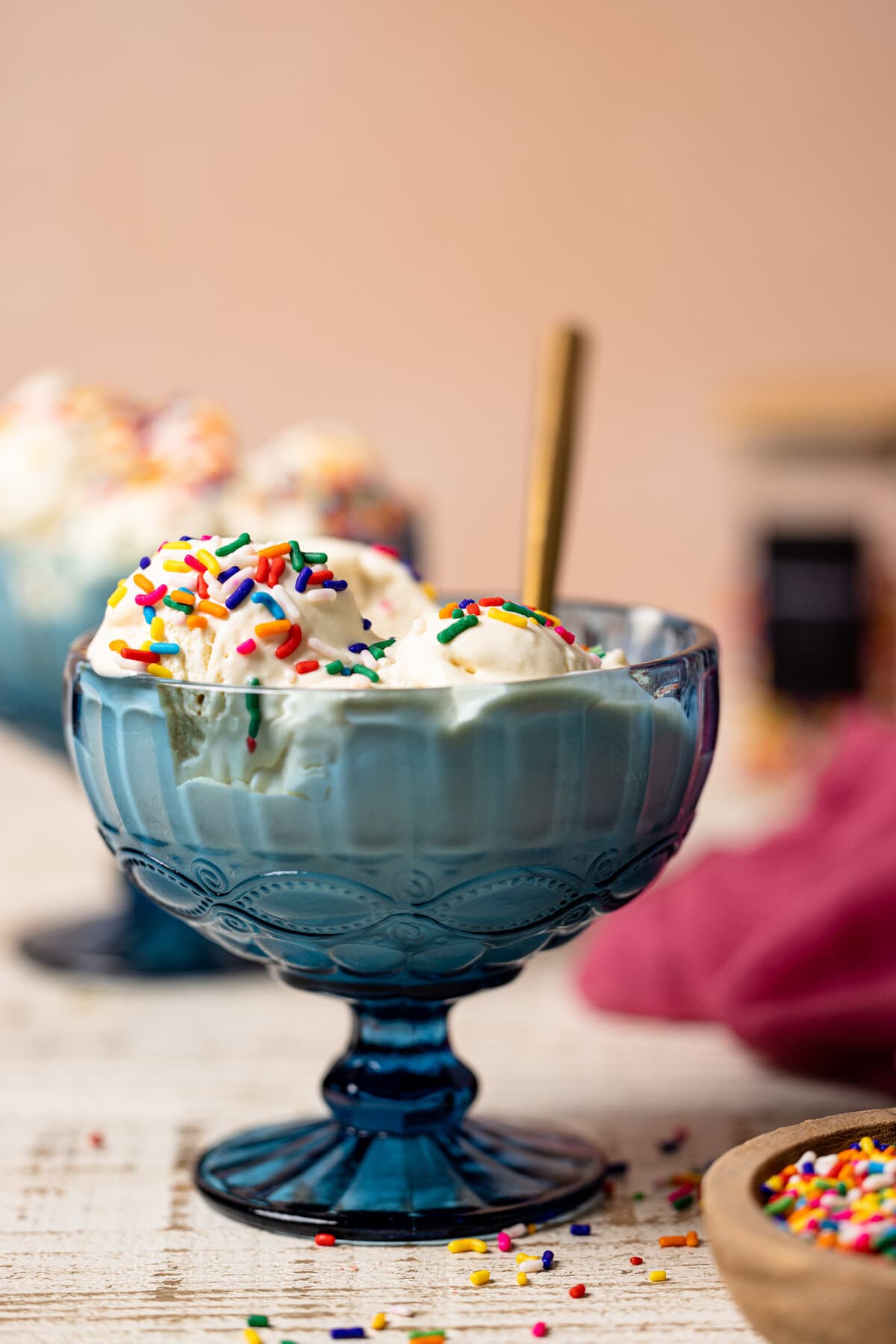 Disclaimer: This post contains affiliate links via Amazon for products that I wholeheartedly love and receive commission from.
Growing up, I always jumped at the opportunity to bring a melty Mr. Softey treat home from the ice cream truck on a hot summer day which is why I had to make this No-Churn Vanilla Ice Cream. One of my favorite treats has always been classic vanilla soft-serve ice cream with a thick coating of crunchy rainbow sprinkles. Be sure to check out my 10 Delicious No-Churn Ice Cream Flavors Worth Trying for the entire family!
These days, I don't often find myself running after the ice cream truck jingle. But I still have a hankering for sweet, creamy vanilla ice cream with rainbow sprinkles. That's why I decided to make my own, super-simple version f this childhood favorite. instead of refined sugar, my version is sweetened with agave. But it has the same light and airy texture I remember without any churning. Your freezer, not your arm, does the hard work for this ice cream recipe, and the results are beloved by kids and adults alike! However, if you're a lover of this ice cream recipe, then you're sure to love this No-Churn Chocolate Oreo Ice Cream,  No-Churn Butter Pecan Ice Cream, Loaded No-Churn Snickers Ice Cream, No-Churn Caramel Cone Ice Cream, and No-Churn Cookies + Cream Ice Cream.
If you have a birthday celebration in your future, I highly recommend pairing your no-churn ice cream with a beautiful homemade vanilla cake with dairy-free vanilla buttercream frosting. It's a classic duo that never disappoints.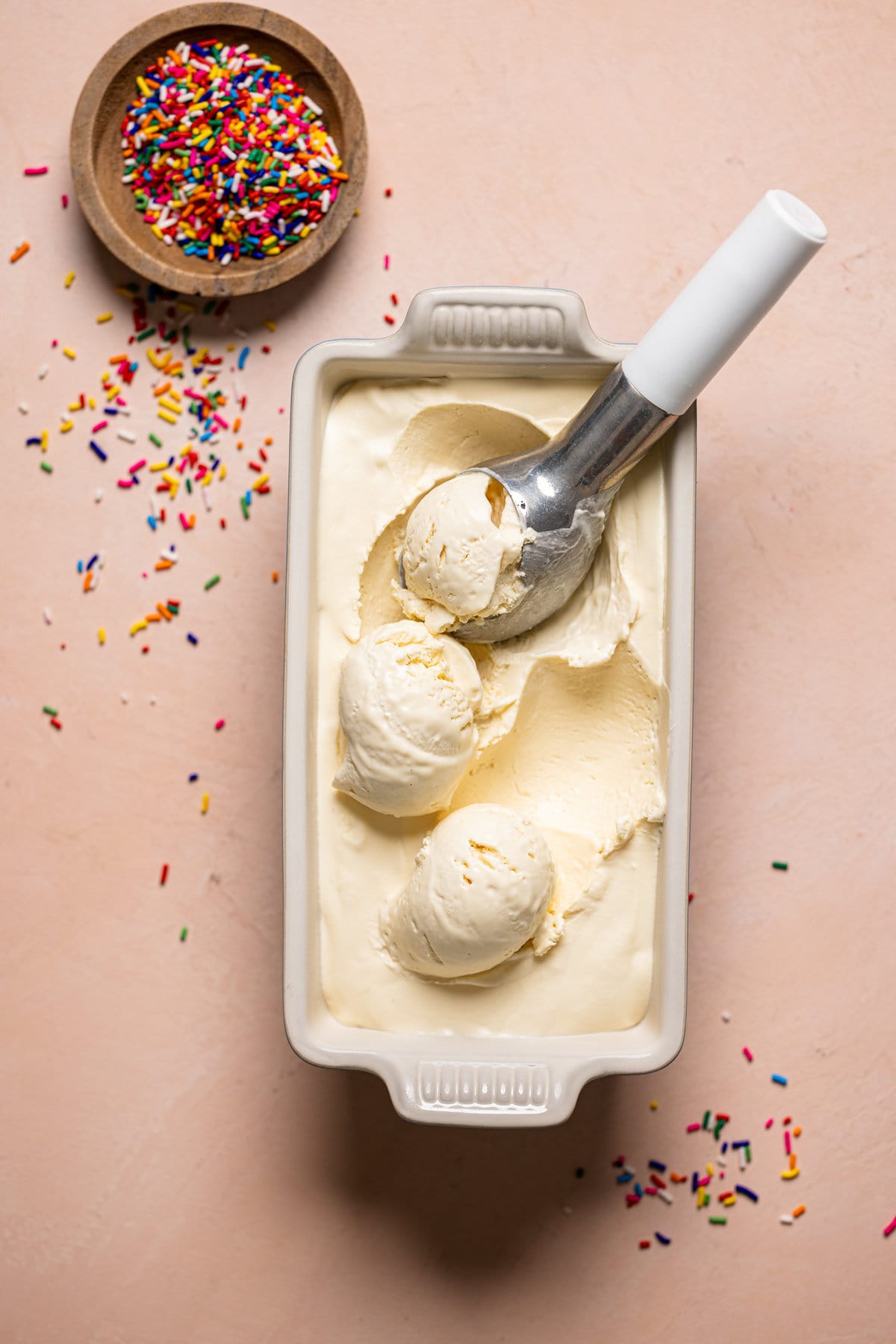 How to Make No-Churn Vanilla Ice Cream with Rainbow Sprinkles
This is a great recipe to get little helpers active in the kitchen. My son loves helping make this creamy treat–almost as much as he loves eating it!
Ingredients For Vanilla Ice Cream
Here's the short list of ingredients you need to make the best no-churn ice cream you've ever had:
Heavy whipping cream. I use Organic Valley cream. Make sure yours is VERY cold before you start making the ice cream. This will help it hold its light and fluffy texture better.
Vanilla extract. For the signature vanilla flavor.
Sweetened condensed milk. I use low-fat milk from Eagle's brand.
Maple syrup. You can easily substitute this liquid sweetener with Agave if preferred.
Vanilla bean. This is optional, but it adds bolder vanilla flavor that I love.
Rainbow sprinkles. A must- have for crunch, color and fun! it's important to get high-quality sprinkles!
Ice Cream Without a Machine?
Yes, you read that right! This No-Churn Ice Cream does not need to be churned or processed in any way for the ice cream to freeze. It does take a little technique to perfect the consistency, but it is so easy that anyone could do it!
If you take sweetened cream, flavor it, and freeze it you will be very disappointed. Unfortunately, ice cream needs air whipped into it, which is what most ice cream machines do as they freeze the base. Freezing cream will cause it to solidify and you will never be able to scoop it out.
Instead, I use heavy whipping cream and whip it to stiff peaks. Then, I fold it into sweetened condensed milk along with my other mix-ins to keep the mixture airy. This way, I get perfectly scoopable ice cream once it has hardened in the freezer.
Sugar is imperative for this step! I don't add any additional refined sugar to my ice cream recipe, as the sweetened condensed milk is sweet enough. The sugars in the mixture suspend within the ice cream, creating a soft texture. Without sugar, ice cream becomes hard, dry, and difficult to scoop.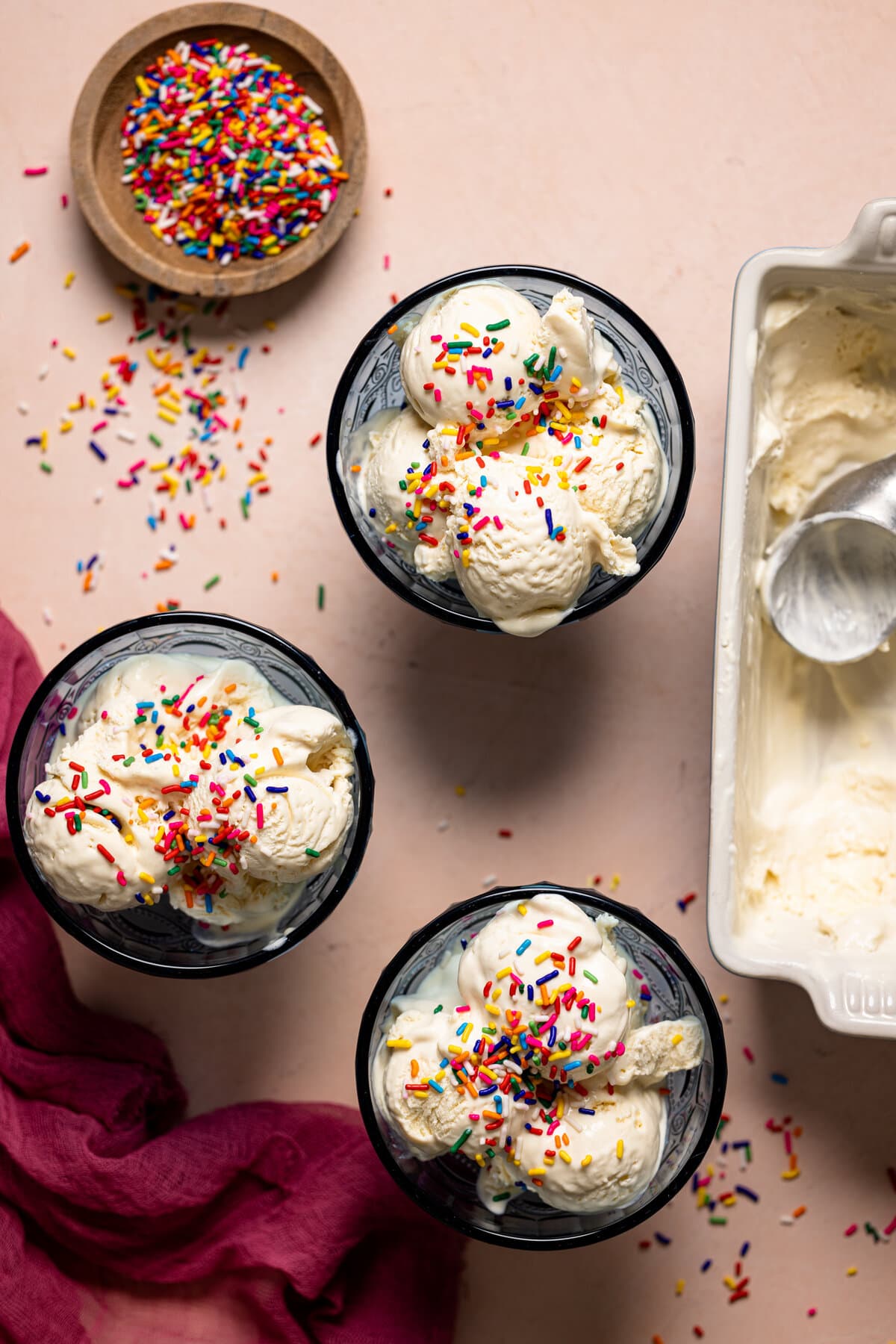 Instructions
When you're ready to start making the no-churn vanilla ice cream, get out your ingredients and follow these simple steps:
Beat the cream and vanilla into stiff peaks like whipped cream. This will take about 5 minutes in a stand mixer with a whisk attachment.
Fold in the sweetened condensed milk, maple syrup, and vanilla bean, if using.
As soon as everything is uniformly combined, transfer the ice cream mixture into a 9x5-inch loaf pan and freeze for 6 to 8 hours. If you can, freeze the ice cream overnight.
Let the ice cream temper on the counter for about 5 minutes before serving, topped with plenty of rainbow sprinkles.
SHOP MY FAVORITE TOOLS FOR BAKING, ESPECIALLY FOR THIS ICE CREAM!
Here, I've curated a list of baking essentials that I use to achieve my favorite baked goods, especially with this No-Churn Vanilla Ice Cream. Everything from my fave large scoop, baking sheet, liners, and more. SEE THEM HERE!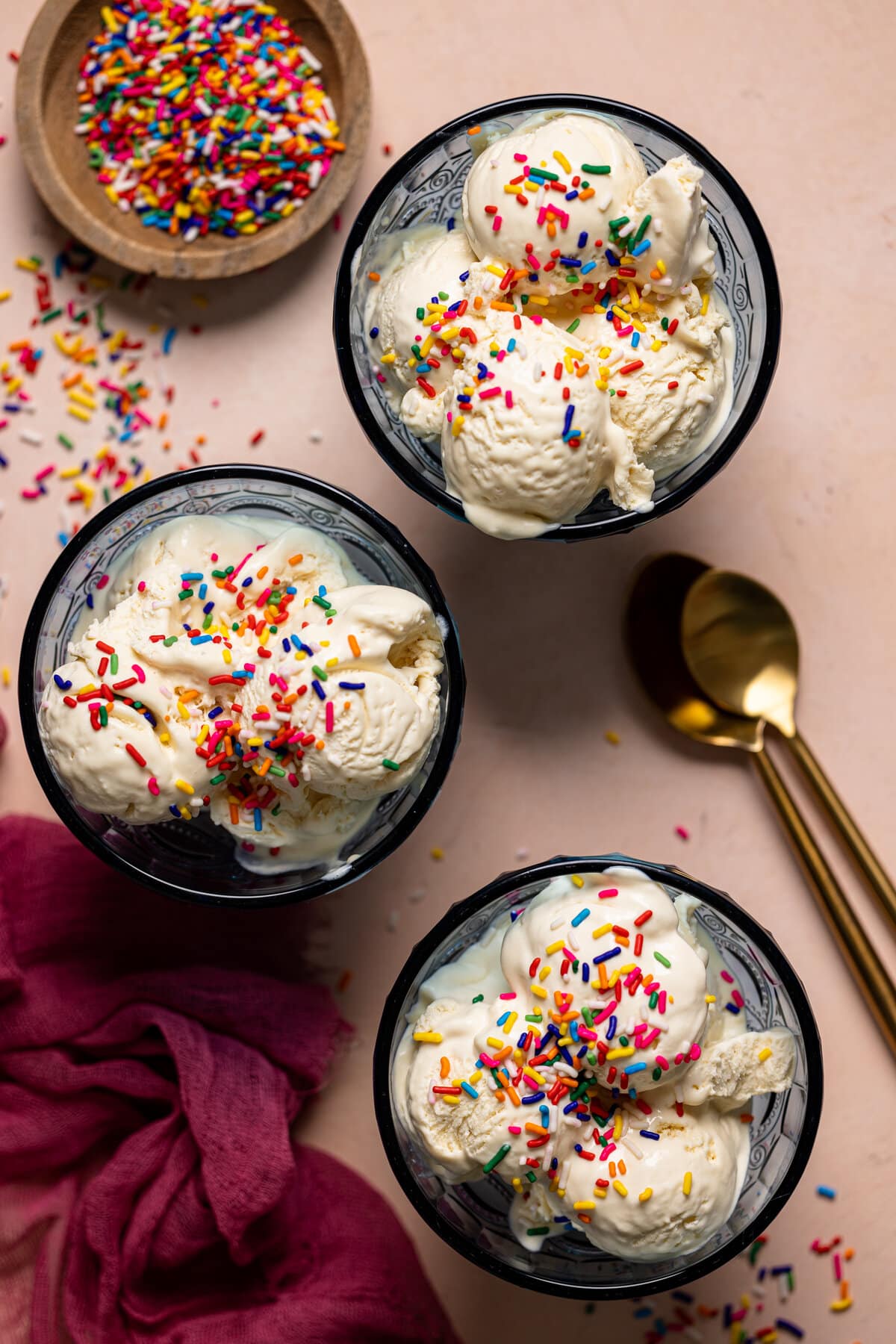 Can I Use Cool Whip?
Yes and No! If you want to make this recipe even faster and easier, you can replace the heavy cream with 2 cups of cool whip, however, the texture won't be as solid and "ice cream" like as this one. Cool whip creates a more "gummy" and a less smooth texture. Simply place the cool whip in a stand mixer bowl and fold in the remaining ingredients until uniform. Then place in the loaf pan and freeze as directed.
Storage Suggestions For Vanilla Ice Cream
Store leftover ice cream in an airtight container in the freezer for up to two weeks–if it lasts that long!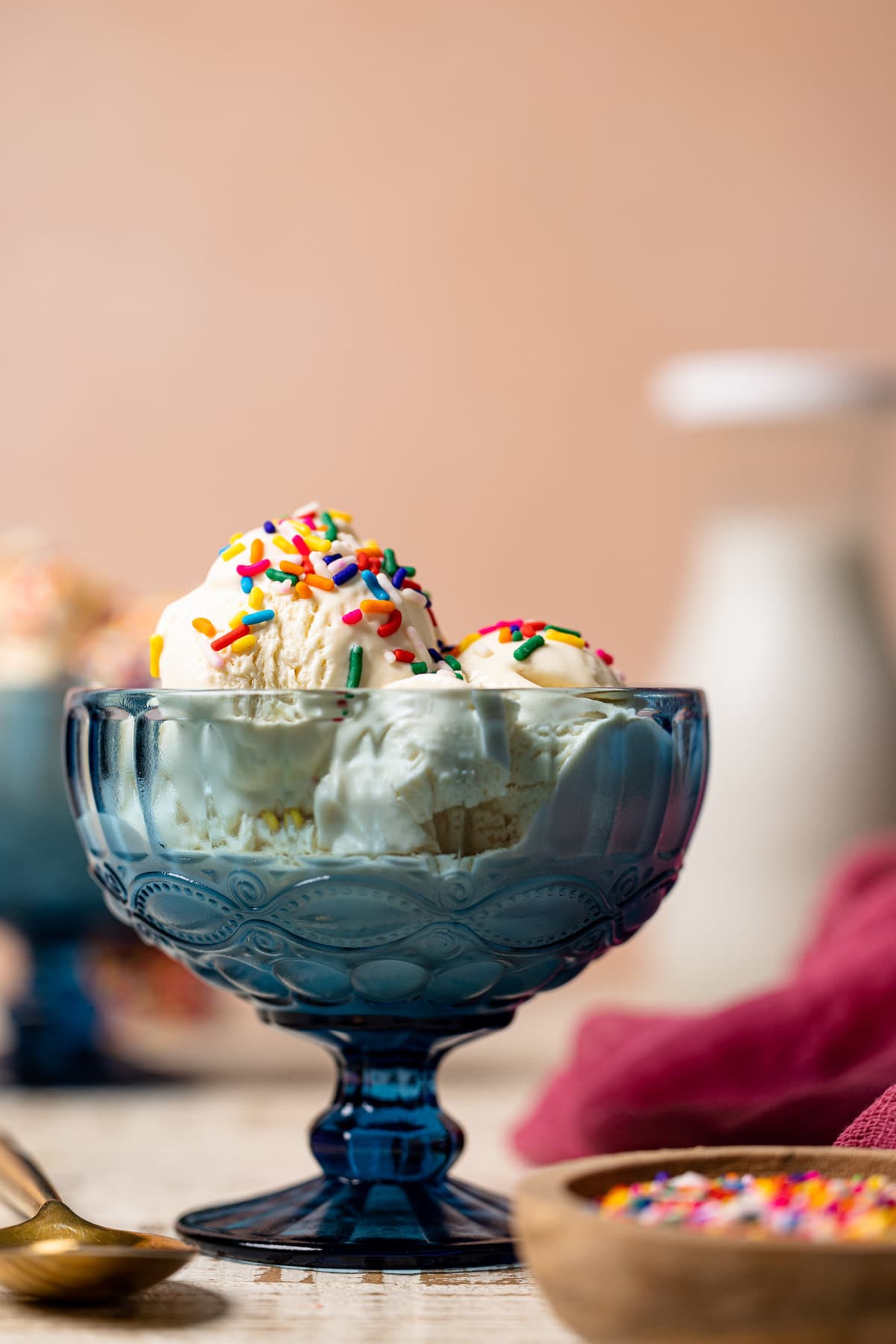 More Favorite Ice Cream Recipes to Master
After you've licked your bowl of soft vanilla ice cream clean, move on to one of these other popular recipes for frozen treats (bonus: they're all no-churn!):
No-Churn Brownie Ice Cream
Homemade S'mores Ice Cream: No-Churn Required
MADE OUR RECIPE(S)?
If you choose to make this No-Churn Vanilla Ice Cream + Rainbow Sprinkles or any other recipe from us, be sure to tag us on Instagram at #Orchidsandsweettea so that we can share the love, rate, comment below, + share!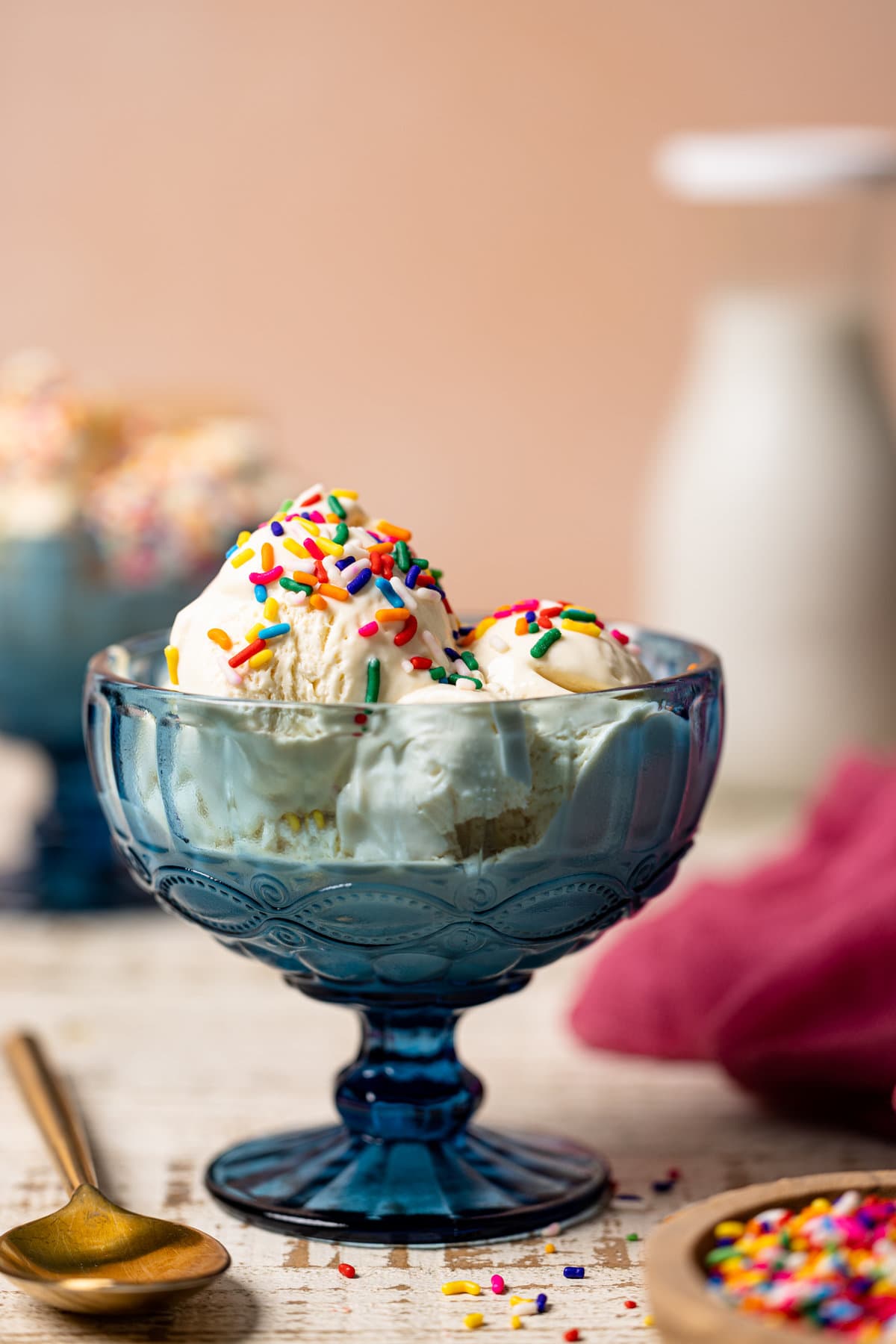 ICE CREAM:
2

cups

organic heavy whipping cream, VERY COLD!

1

tablespoon

vanilla extract

1

(14 oz.) can

sweetened condensed milk, low-fat

2

Tbsps

pure maple syrup

(See Notes!)

1

stick

vanilla bean, optional

(For bolder vanilla flavor!)
TO MAKE THE ICE CREAM:
In the bowl of an electric mixer on medium-high speed, whip together the heavy cream, vanilla bean insides scooped out (if using), and vanilla until peaks form, before reducing speed to medium-low and continue mixing until stiff peaks form.

Now, fold in the sweetened condensed milk and maple syrup into the whipped cream and immediately pour everything into a 9x5 loaf pan (or small metal bowl) and freeze for 6 hours or overnight.

To serve, remove from the freezer and let it sit at room temperature for a couple of minutes to help it soften slightly before scooping. Top with rainbow sprinkles and Enjoy.

Bon Appetit!
SWEETENER: If you choose to opt out of pure maple syrup, you can always substitute with Agave as well.
STORAGE: When kept in an air-tight container, ice cream lasts for about 2 weeks.
Calories:
619
kcal
|
Carbohydrates:
68
g
|
Protein:
7
g
|
Fat:
36
g
|
Saturated Fat:
23
g
|
Polyunsaturated Fat:
1
g
|
Monounsaturated Fat:
9
g
|
Cholesterol:
112
mg
|
Sodium:
106
mg
|
Potassium:
338
mg
|
Sugar:
67
g
|
Vitamin A:
1342
IU
|
Vitamin C:
2
mg
|
Calcium:
247
mg
|
Iron:
0.2
mg