Make a festive Giant Pop Tart filled with Orange Marmalade and topped with a sweet glaze for a one-of-a-kind holiday dessert.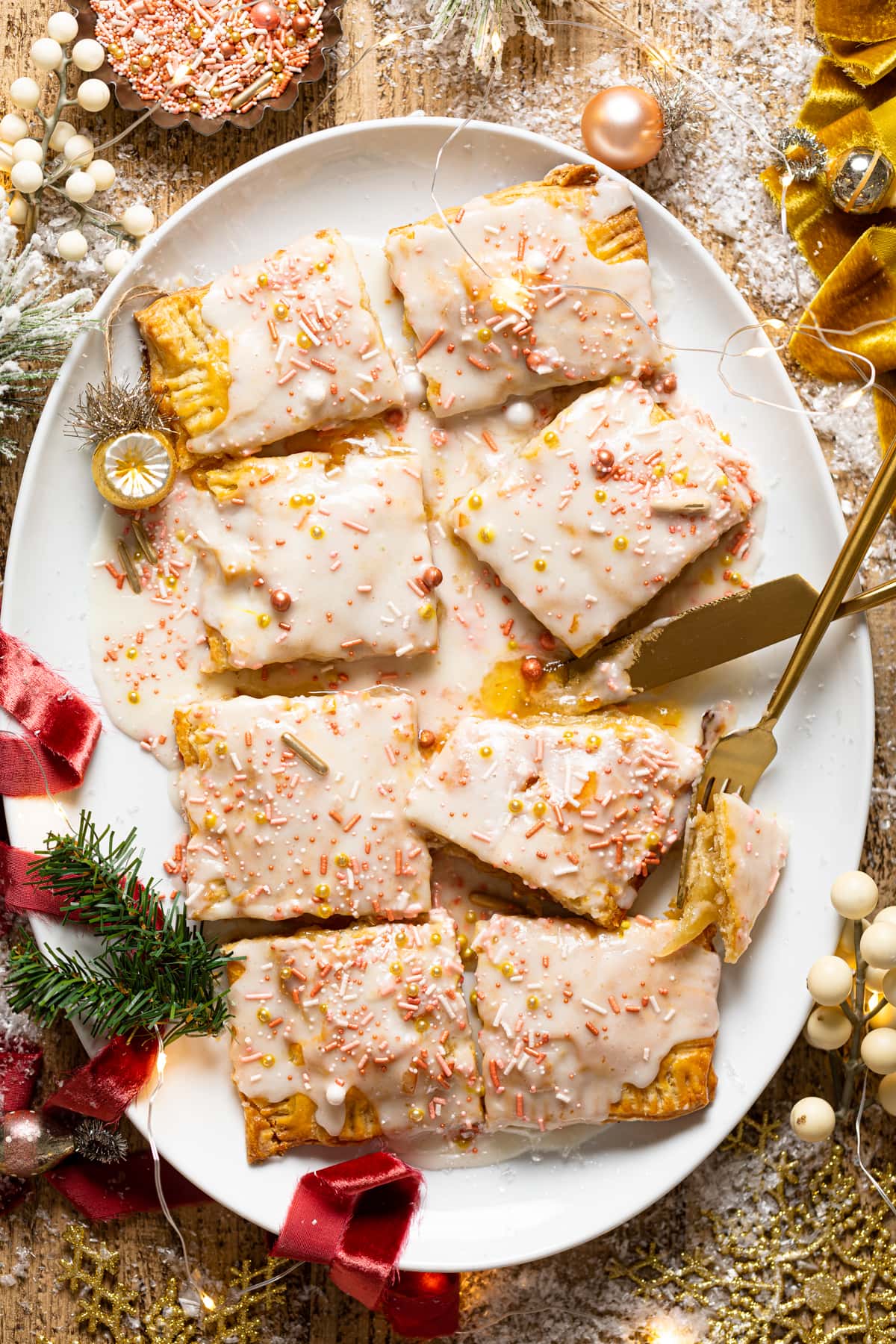 If your childhood dream breakfast involved a soft, warm toasted pastry that came out of a plastic package, then you're going ot want to save this recipe. It has all of the charm of a store-bought Pop Tart with a sophisticated twist that's shareable and ideal for a holiday dessert. This Giant Pop Tart with Orange Marmalade is filled with a tangy, sweet and sour orange marmalade and made big enough to feed a crowd. If you're planning a New Year's Eve party, this dessert is a guaranteed show-stopper.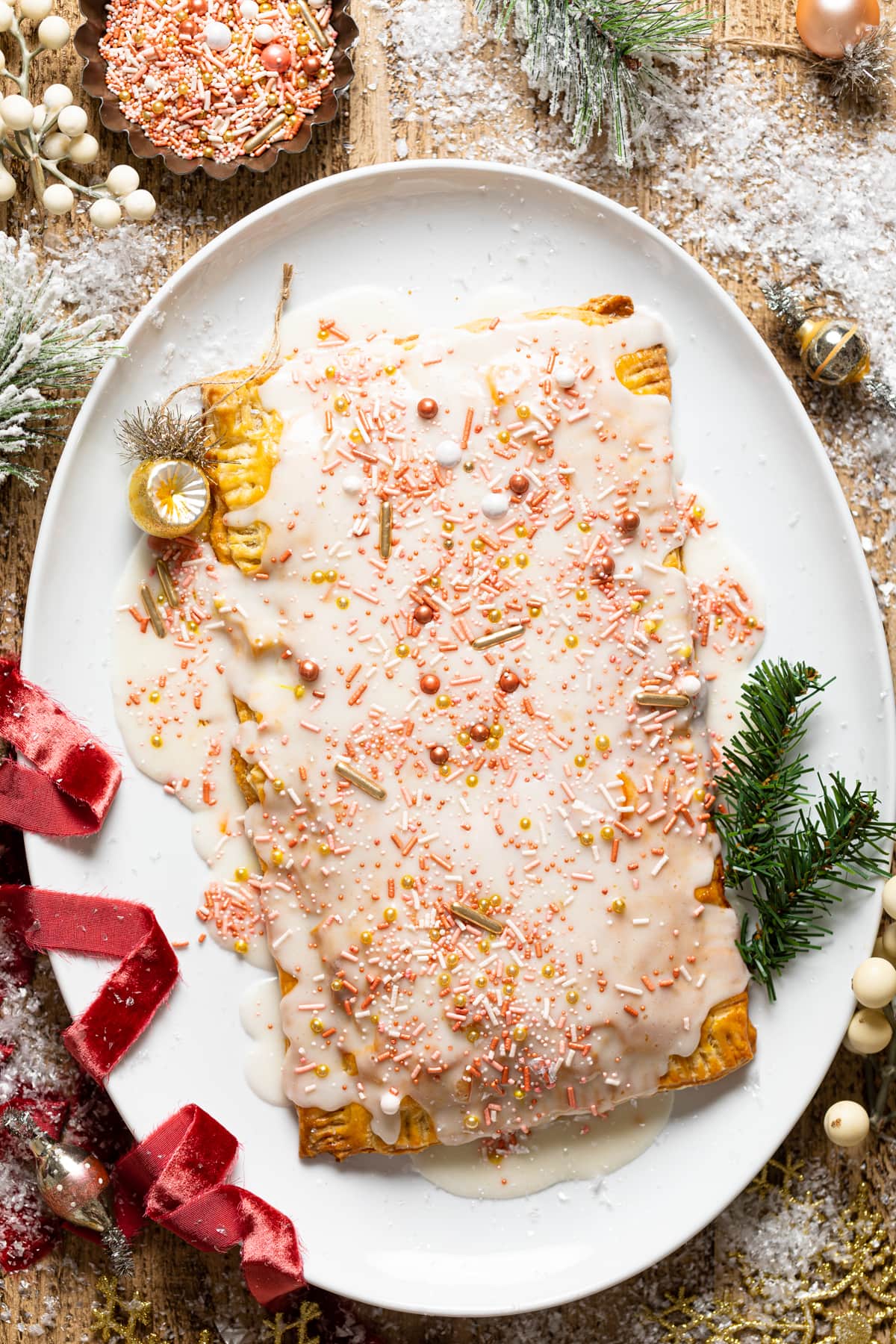 Ingredients for Orange Marmalade Pop Tarts
The components for this giant orange-filled Pop Tart are the crust, filling, and glaze. Start by making the flaky dairy-free crust. Then, prepare the orange filling. Finally, while the Pop Tart is baking, make the simple white glaze. Then assemble, and cover your pastry with sprinkles to serve.
Here's what you need for the dairy-free crust:
Flour. I use organic all-purpose flour from Bob's Red Mill.
Cane sugar. Choose organic if you want a higher-quality or vegan sugar.
Cinnamon
Vegan butter. Make sure it's cold so your pastry bakes up nice and flaky!
Almond milk. This should also be cold. You can use a different kind of vegan milk if you prefer.
Apple cider vinegar. This adds a slight tang to your pastry dough. Similar to buttermilk.
To make the tangy orange marmalade filling, find:
Marmalade preserves. I love Bonne Maman preserves.
Lemon juice
Egg. I recommend organic eggs if you can!
Almond milk. Another kind of dairy-free milk will work.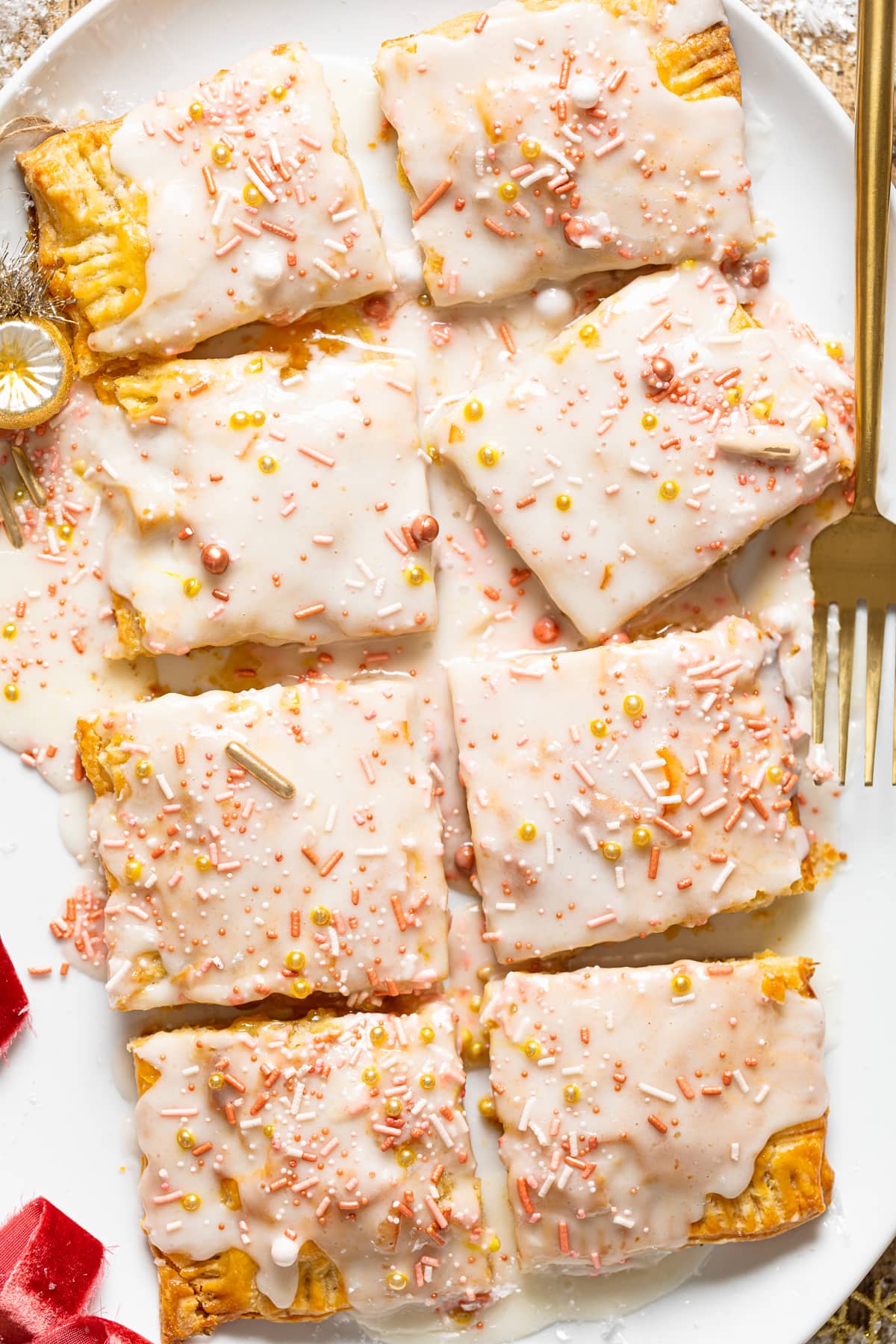 Decorating Giant Pop Tarts
No Pop Tart would be complete without a glaze and sprinkles. To make the simple dairy-free white glaze for your pastry, combine:
Powdered sugar. Granulated sugar will give your frosting a grainy texture you won't like.
Orange marmalade for extra flavor
Almond milk. Or any other non-dairy milk.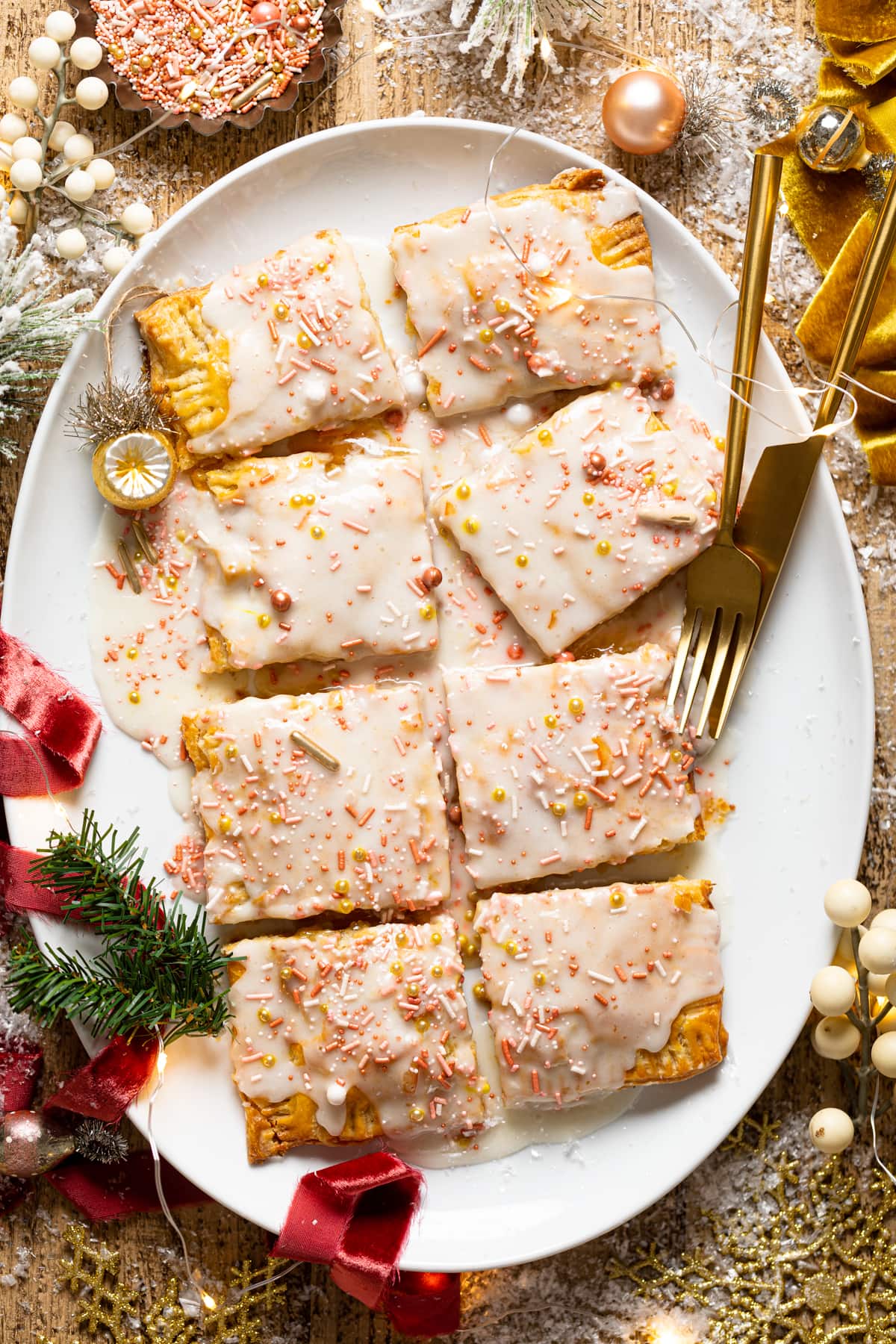 Tips for Making Homemade Pop Tarts
Here are a few helpful tips when making the pastry, filling and frosting for this recipe:
Make sure your (non) dairy products are cold for the pastry. This way, it will hold its shape well and make flaky, buttery layers. Otherwise, the butter may melt out of your pastry in the oven.
for the same reason, it's important to let the dough chill for at least an hour before rolling and baking. You can make the pastry dough a day ahead of time if you like.
I recommend using parchment paper on your baking sheets. The orange marmalade may leak out of your filling a bit, which can make a sticky mess!
Make sure to generously coat the edges of your pastry with egg wash. This helps keep your pastry fully closed so it holds that delicious filling inside.
Cool your Pop Tart fully at room temperature before adding the frosting or attempting to slice it. Otherwise, you risk losing that warm filling!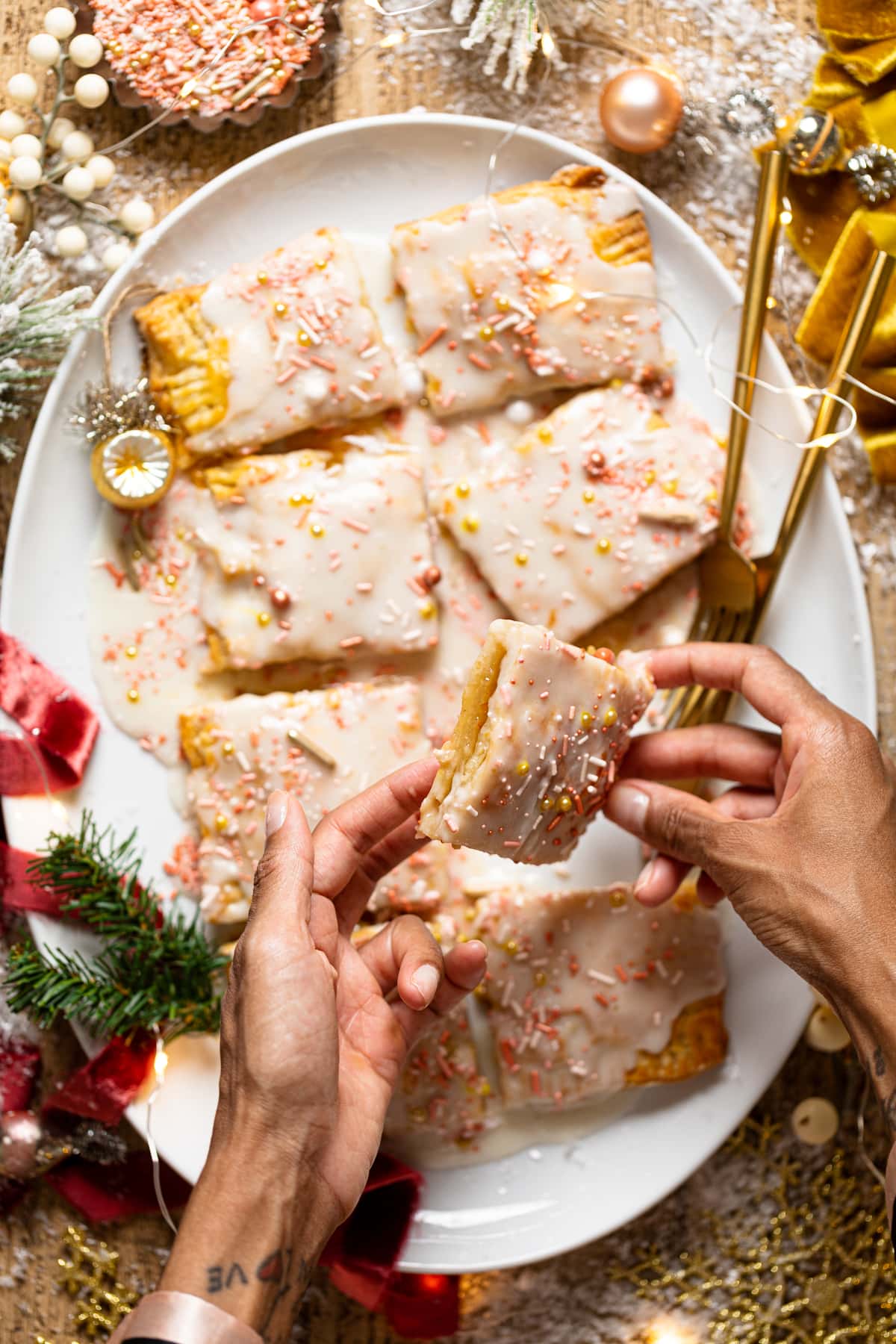 Storage Suggestions
Store leftover Pop Tart in an airtight container at room temperature for up to 3 days. You and serve slices at room temperature or warm them in the microwave for 30 seconds to a minute.
You can also freeze the Pop Tart for up to three months. When you want to serve it, defrost the pastry on the counter for a few hours to come to room temperature.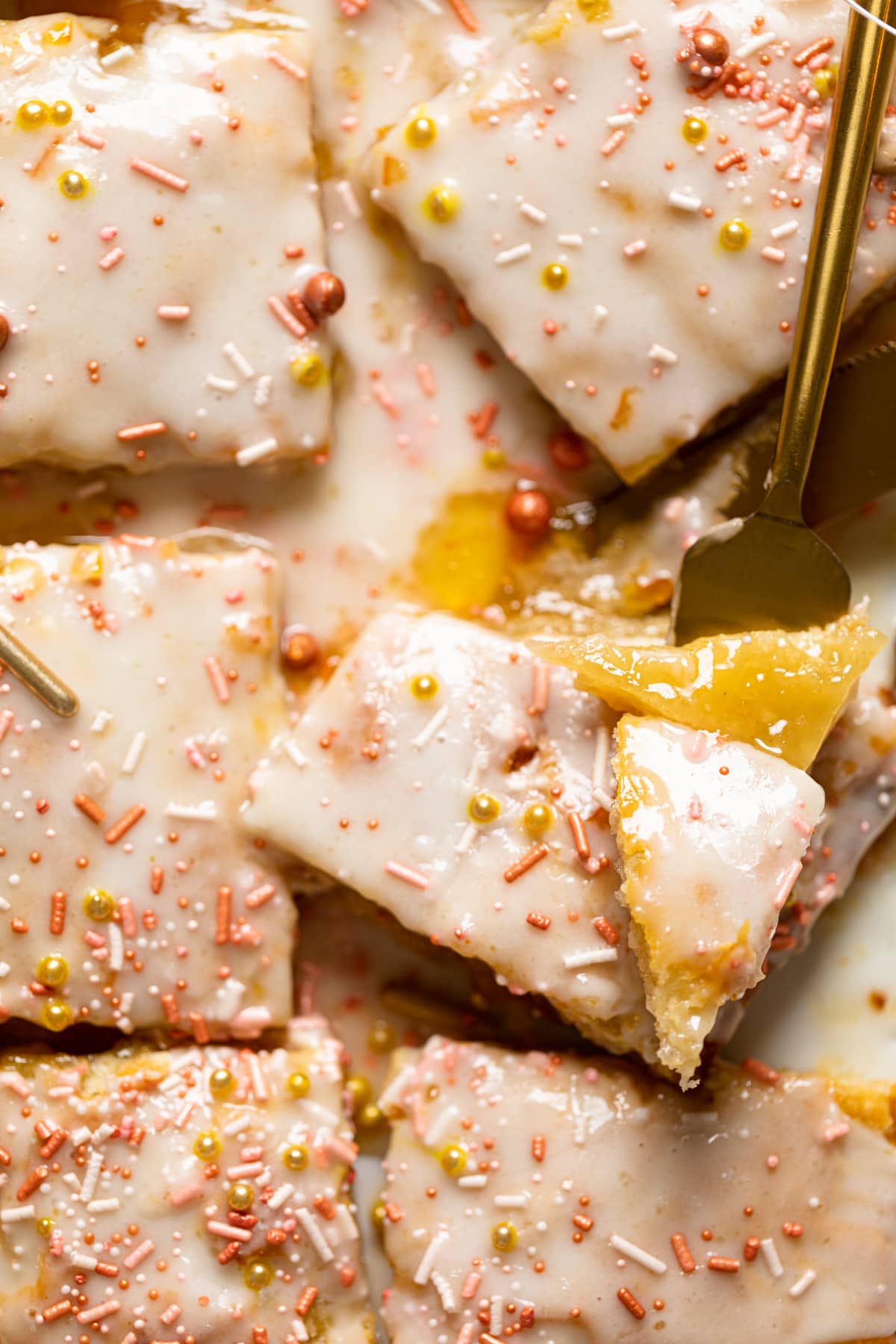 More Citrus Dessert Recipes to Try
Orange Olive Oil Mini Bundt Cakes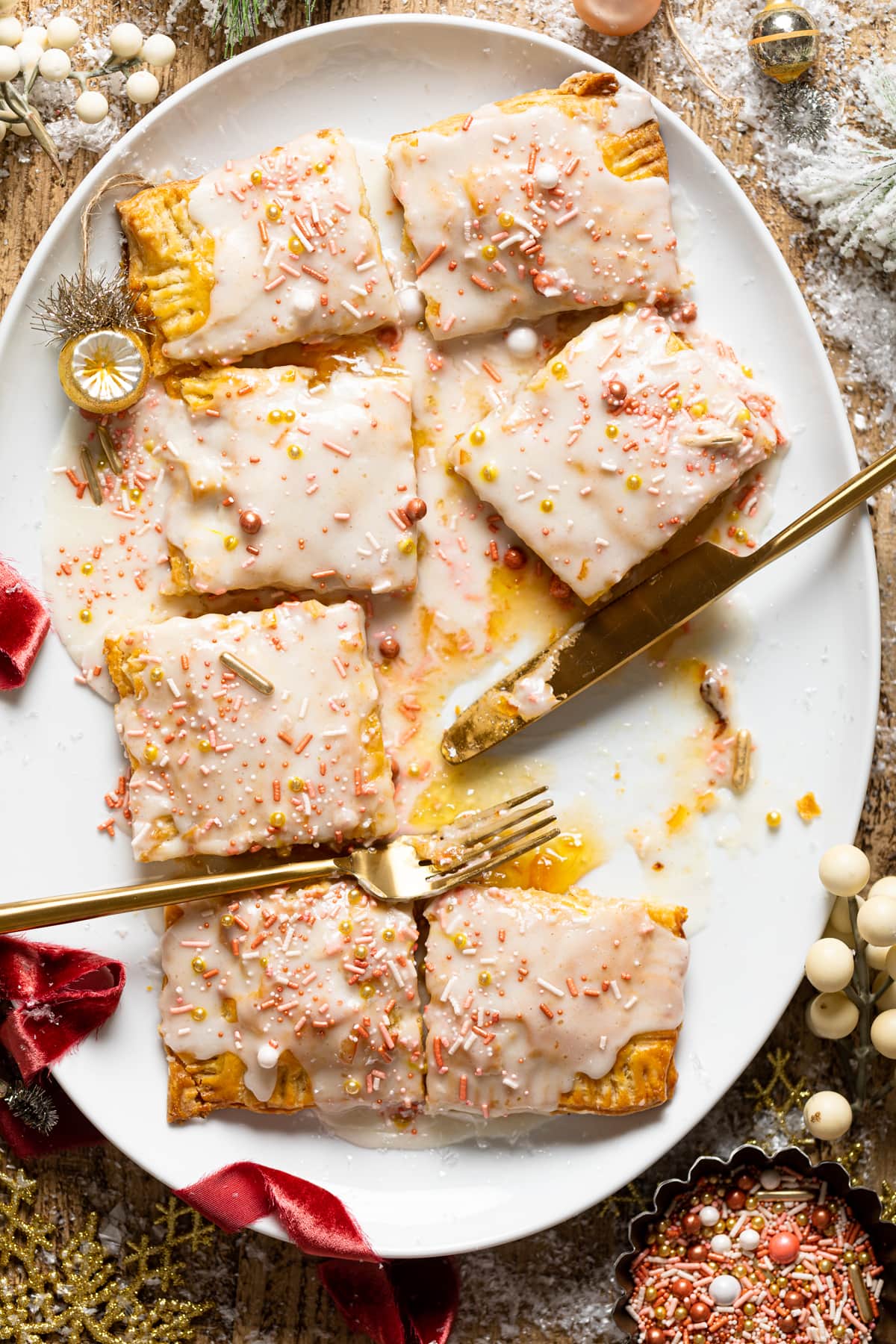 MADE OUR RECIPE(S)?
If you make this Giant Pop Tart recipe, tag @orchidsnsweettea_ on Instagram and hashtag it #orchidsandsweettea
CRUST:
2 ½

cups

organic all-purpose flour

2

Tbsps

organic pure cane sugar 

pinch of

ground cinnamon

pinch of

sea salt

¾

cup

vegan butter, COLD + cut into pieces

1

cup

VERY COLD Almond milk

1

tablespoon

apple cider vinegar
FOR THE CRUST:
In a measuring cup, add the COLD milk and apple cider vinegar, stirring together until combined. Set aside to activate for 5 minutes.

In a large bowl, add the flour, sea salt, cinnamon, and sugar, whisking them all together until combined.

Add the vegan butter pieces and using a pastry blender, blend butter into dry ingredients until the mixture becomes "peas-like" and crumbly.

Pour the cold apple cider vinegar-milk mixture and stir (working it together with one hand) until the dry ingredients are moistened. NOTE: If the ingredients feels a little too dry, add 1 tablespoon of cold milk at a time, until it's moistened BUT not too wet!

Now, shape the dough into a ball and wrap it in plastic wrap and flatten it slightly and chill for at least 1 hour.

In the meantime, make the Filling.
FOR THE FILLING:
In a small bowl, add the orange marmalade preserves and lightly-squeezed lemon juice together and stir until combined and easier to stir.
ASSEMBLY:
Preheat the oven to 350 degrees Fahrenheit and line a baking sheet with parchment paper.

Once chilled, remove the dough from the refrigerator and place on a lightly floured surface, cutting it in equal halves and roll each half out into a large rectangle (about 3 mm thick) and cut into 4″ wide and 5-6″ long.

In a small bowl, add the milk in with whisked egg to create 'egg wash'. Repeat until all pop tarts are made.

Place one half of the large rectangular cut onto the prepared baking sheet and lightly brush egg wash around edges of dough to ensure that both crust pieces close together best! Add orange marmalade filling to the center and carefully cover it with the other half of the rectangular piece, gently pressing the edges down. Using a fork, carefully "crimp" around the edges.

Gently prick a set of holes on the top of crust using a fork.

Lightly brush the top with remaining egg wash and bake in the oven for 20-25 minutes, until golden brown and the filling begins to become bubbly and begins to slightly seep out.

Once done, remove from the oven and let it cool completely.
TO MAKE THE GLAZE/FROSTING:
In a medium bowl, whisk together the powdered sugar, orange marmalade preserve and almond milk until smooth. For more thickness, add additional powdered sugar, 1 tablespoon at a time. If too thick, add almond milk, 1 tablespoon at a time.

Once pop tart has cooled completely, spoon a few Tbsps of orange marmalade glaze atop pop tart and sprinkle with festive sprinkles. Let pop tart sit for another 1-2 minutes so that frosting hardens and 'sets'. Enjoy.

To serve, cut into 8 medium-sized pieces and enjoy!

Bon Appetit!
STORAGE: Leftover pop tarts can be stored in an airtight container for 1-3 days. To serve warm, heat in the microwave, or flat in a toaster oven. 
FREEZE: For longer storage–pop tarts can be stored in the freezer. After they have baked and are completely cooled, simply place your pop tarts onto a baking sheet (spaced apart) and freeze them for 2-3 hours. Once frozen, transfer them to a zip loc bag and reheat when ready to eat! 
FOOD PROCESSOR FOR CRUST: If using a food processor to incorporate milk to flour/butter mixture, ONLY ADD ¼ cup of milk AT A TIME to your dough, keeping it on "pulse" to avoid the dough from breaking down too much and it becoming "watery". With this method, you may not need the entire 1 cup of milk.
GLUTEN-FREE VERSION: To make these GF, simply substitute All-Purpose Flour with 2 cups Gluten-Free Flour (Bob's Red Mill has a great one!) and the Pastry Flour with ½ cup coconut flour. If your GF Flour doesn't have Xanthan Gum included, add 1tsp in recipe. Also, reduce vegan butter to 1 ¾ sticks instead of 2. Continue all other steps!
Calories:
416
kcal
|
Carbohydrates:
101
g
|
Protein:
5
g
|
Fat:
17
g
|
Saturated Fat:
3
g
|
Polyunsaturated Fat:
5
g
|
Monounsaturated Fat:
8
g
|
Trans Fat:
3
g
|
Cholesterol:
23
mg
|
Sodium:
209
mg
|
Potassium:
81
mg
|
Fiber:
2
g
|
Sugar:
29
g
|
Vitamin A:
62
IU
|
Vitamin C:
6
mg
|
Calcium:
70
mg
|
Iron:
2
mg