Espresso Rye Pecan Chocolate Chip Cookies are unlike any other baked good you've had before. They're dense, chewy, and have a unique, complex flavor from espresso powder, rye flour, and molasses.
I love a good classic chocolate chip or sugar cookie as much as the next home baker. But sometimes I just want to branch out into more tasty flavors that go beyond the basics. I picked up some rye flour and wanted to add a more complex and interesting flavor to my cookies------these Espresso Rye Pecan Chocolate Chip Cookies.
I decided to load them up with nuts, chocolate, and a hint of espresso. The result is a sophisticated dessert that's easy to whip up in a big batch and is even make-ahead friendly. Plus, these cookies are a great twist from reader faves like Big Brown Butter Chocolate Chip Cookies, Oversized Crinkled Chocolate Chip Butterscotch Cookies, Big Bakery-Style Oatmeal Chocolate Chip Cookies and Christmas Monster Cookies.
Plus, I made a browned butter chocolate chip pecan version in my cookbook, which is so delicious, Ya'll! Just as soft, chewy, melt-in-your-mouth as these!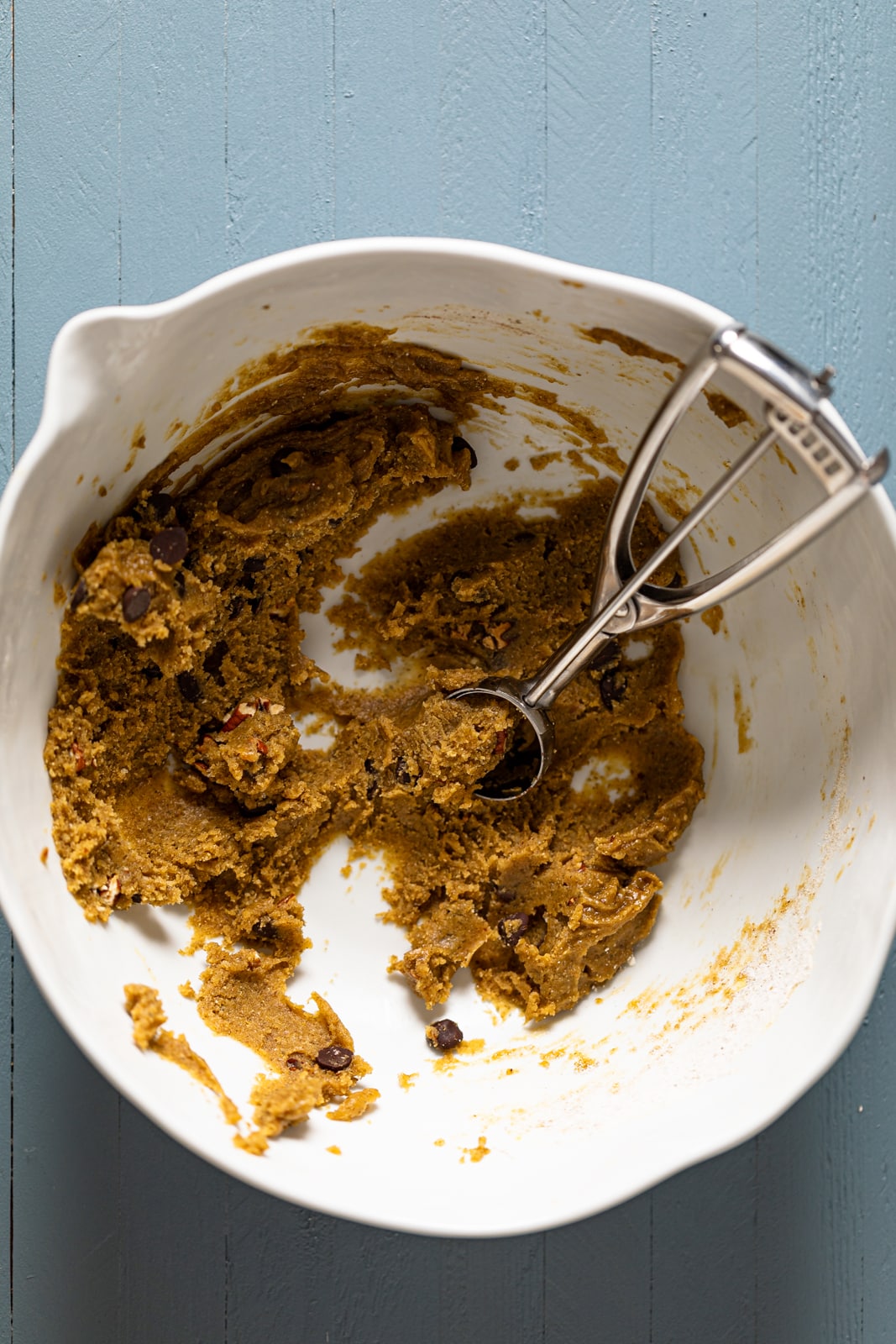 Ingredients for Espresso Rye Pecan Chocolate Chip Cookies
Some of the ingredients for these cookies are typical pantry staples. and the others, it's worth getting to enjoy some of the best homemade cookies you've ever tried! Here's what you need:
Dark rye flour. This is easy to find at most big grocery stores in the baking aisle. It's also online.
All-purpose flour. I use organic flour from Bob's Red Mill.
Espresso powder. You can also grind up coffee beans at home very finely.
Baking powder and soda
Cinnamon
Butter. Use unsalted for baking!
Brown and cane sugar. this duo adds a nice caramelized sweetness to your cookies.
Eggs. These should be at room temperature for easy blending.
Molasses. For an added depth of flavor.
Vanilla. Use pure vanilla for the best flavor.
Chocolate. You can use chocolate chips or a chopped chocolate bar.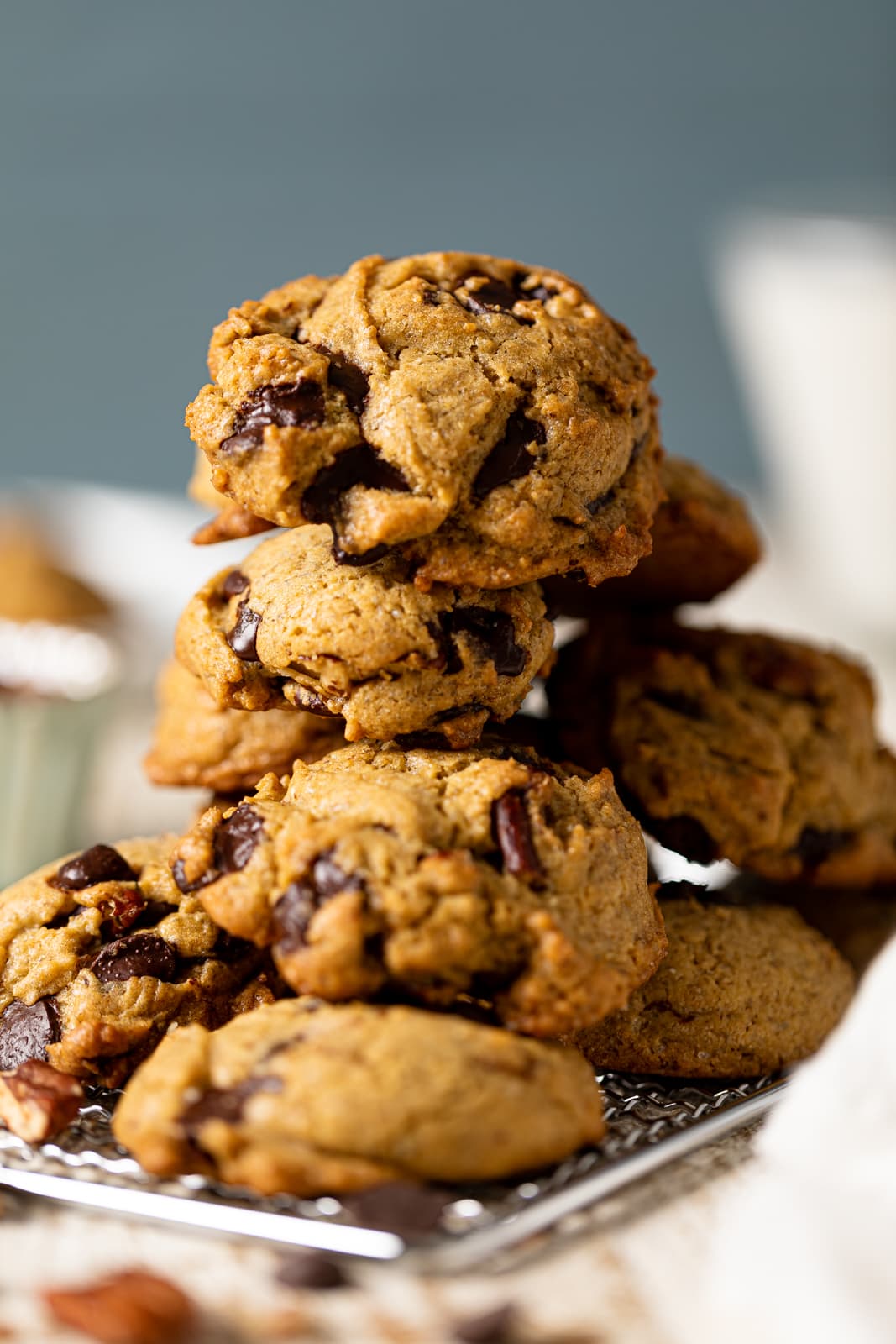 What Type of Chocolate is Best for these Cookies
If preferred, you can always use premium chocolate baking chips instead of chocolate bars. However, for best results----chocolate bars are what I recommend, which creates a more gooey, luscious texture and pockets of chocolate once melted.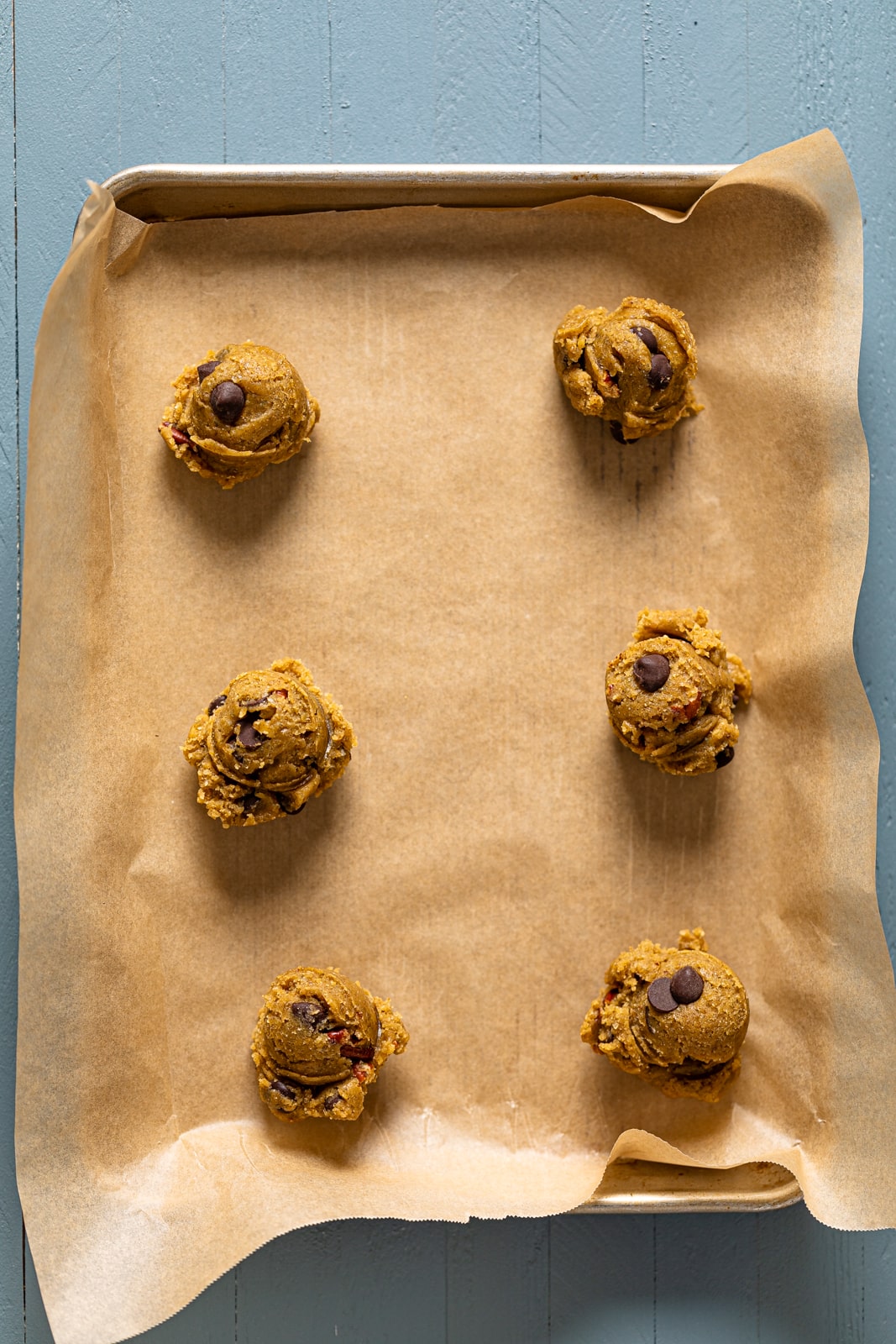 Ingredient Substitutions and Swaps
You can easily mix up the inclusions in these cookies. Instead of pecans, use walnuts or macadamia nuts. You could omit the chocolate if you're not a fan or use white chocolate for a sweeter flavor. You can also add dried fruit such as raisins or cranberries.
If you want to omit the espresso, you can with no changes to the recipe.
What is the Banging Process?
The trick with how beautiful these Espresso Rye Pecan Chocolate Chip Cookies look is in the slight banging that occurs. During the baking process, you have to bang the baking sheet with your cookies a few times before they are fully baked.
Therefore, the "crinkling" comes as a result of the center of the cookies falling inward, pushing the rest of it outward. I know, it sounds pretty crazy, but it's so cool!
Combining this "crinkling" process with the flavor combo of chocolate and butterscotch (something that I felt inspired by based on my childhood), plus the fact that you get a bigger sized cookie is like heaven on Earth.
And don't worry---theses cookies aren't too big! OK, so they may be too big to dip in a glass full of milk, but they aren't too big to enjoy, for sure! Cheers to that!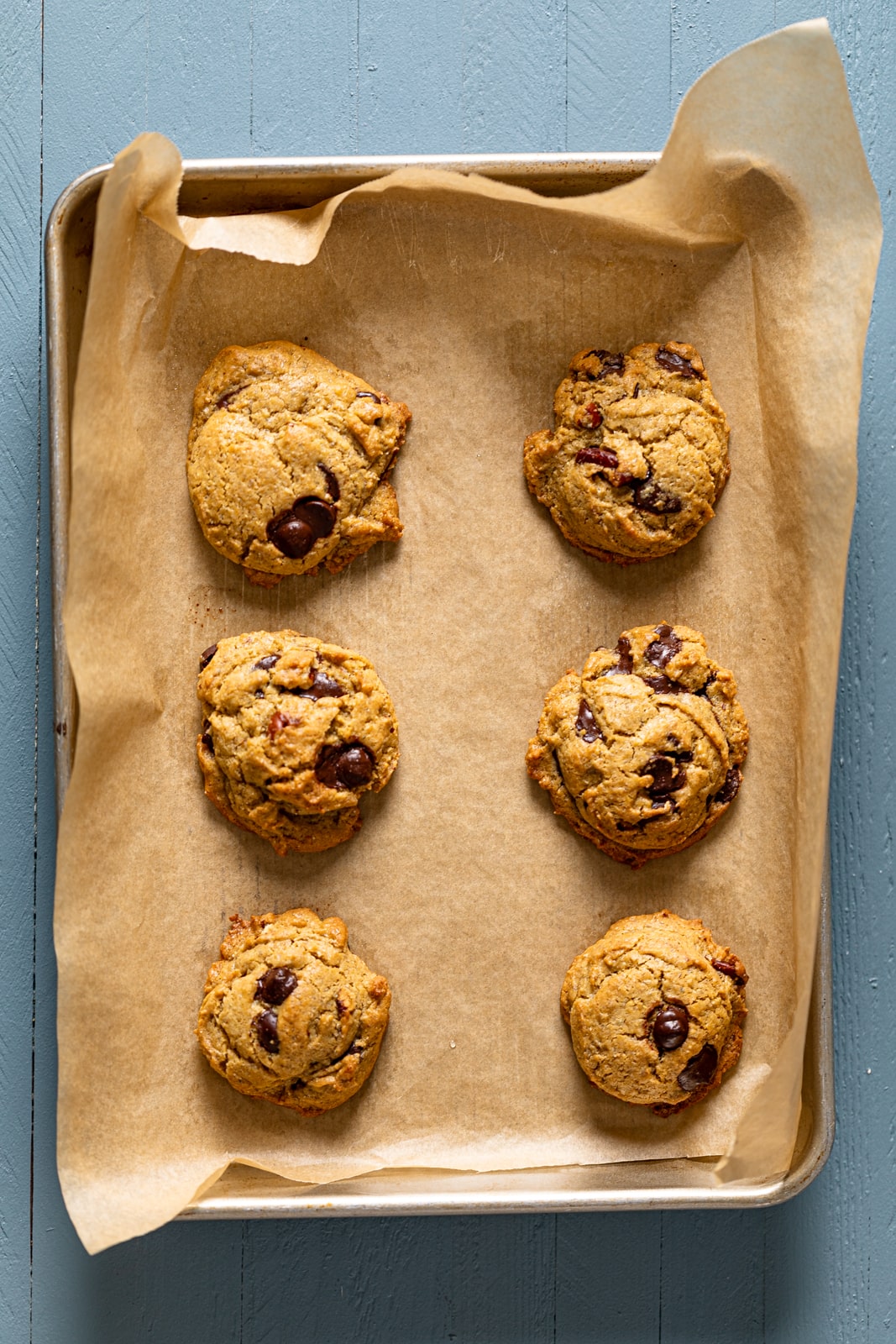 Storage Suggestions for Espresso Rye Pecan Chocolate Chip Cookies
Store leftover cookies in an airtight container at room temperature for up to four days. For longer storage, keep them in a freezer-safe container or zip-top bag for up to six months.
You can also freeze raw cookie dough. I recommend portioning the dough out into cookie-sized balls, then freezing on a baking sheet before transferring to an airtight container for longer storage. You can bake the dough from frozen, just add about a minute to the cooking time.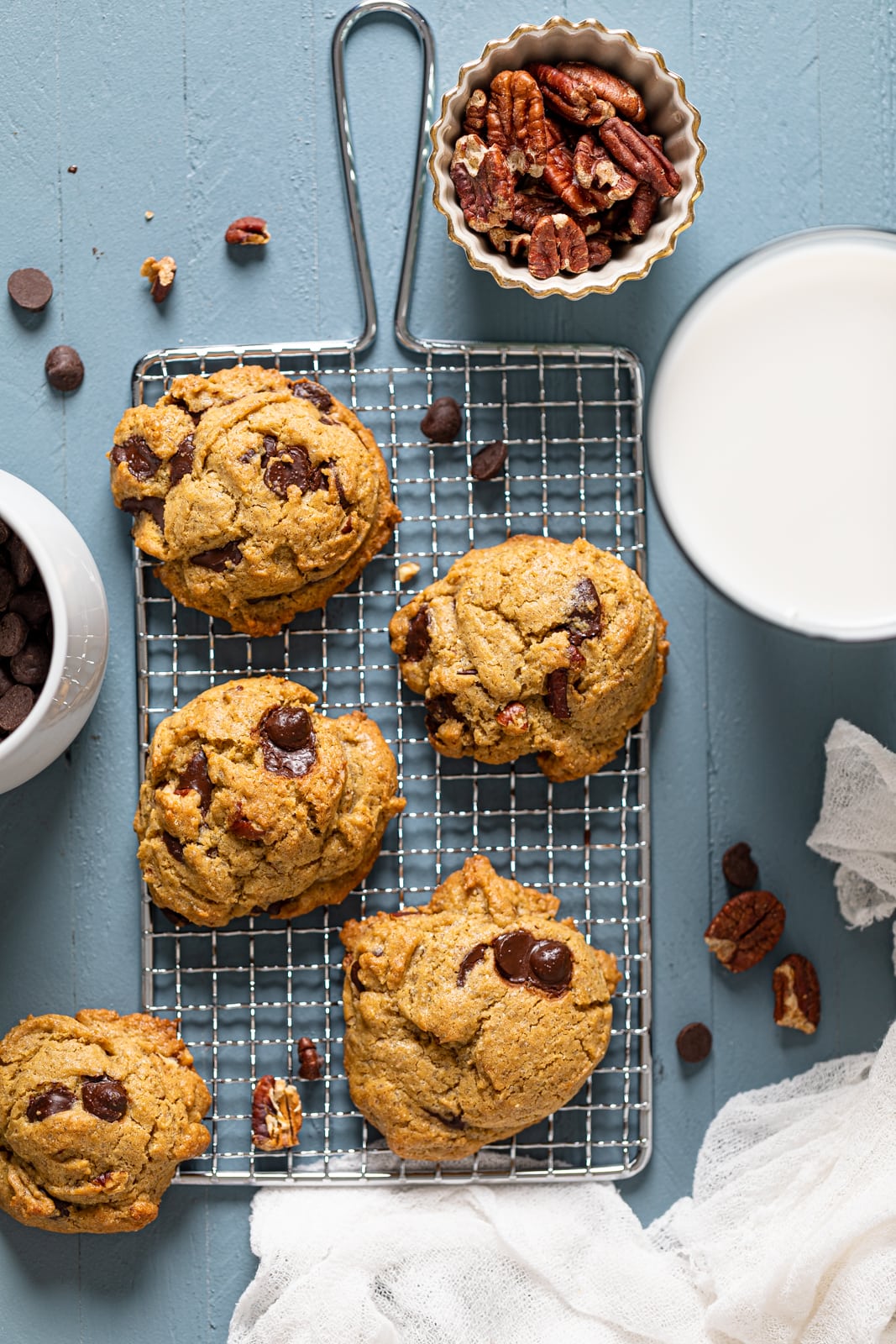 My Top Fave Cookie Recipes
PS: The Best Healthy Sugar Alternatives + Substitutes list is all about finding better ways to enjoy your favorite sweets without compromising your healthy lifestyle. For those who follow a vegetarian and/or vegan lifestyle, this lists offers a few great ideas to incorporate healthy sweeteners into your diet.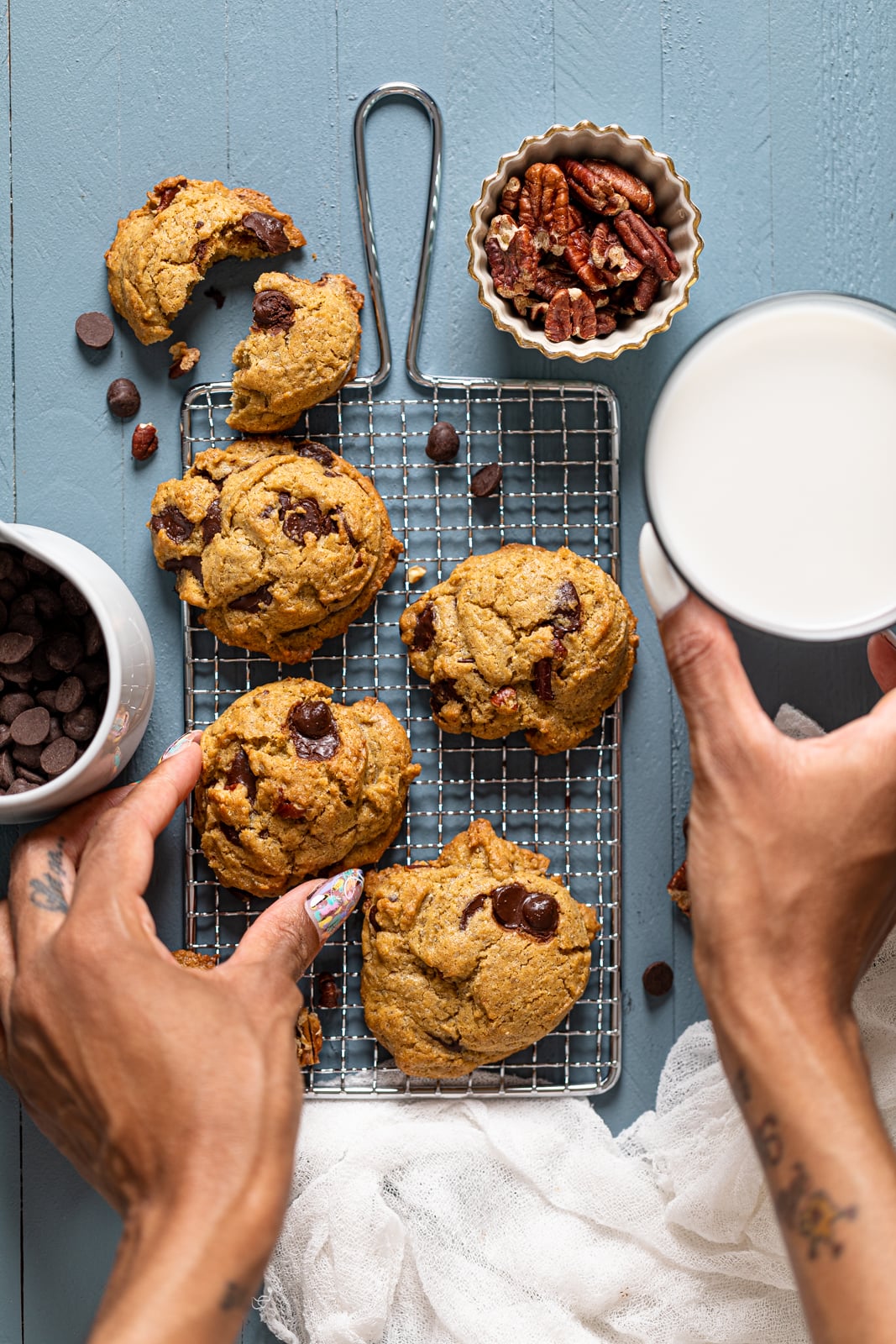 MADE OUR RECIPE(S)?
If you make these Espresso Rye Pecan Chocolate Chip Cookies, be sure to tag me on Instagram @orchidsandsweettea!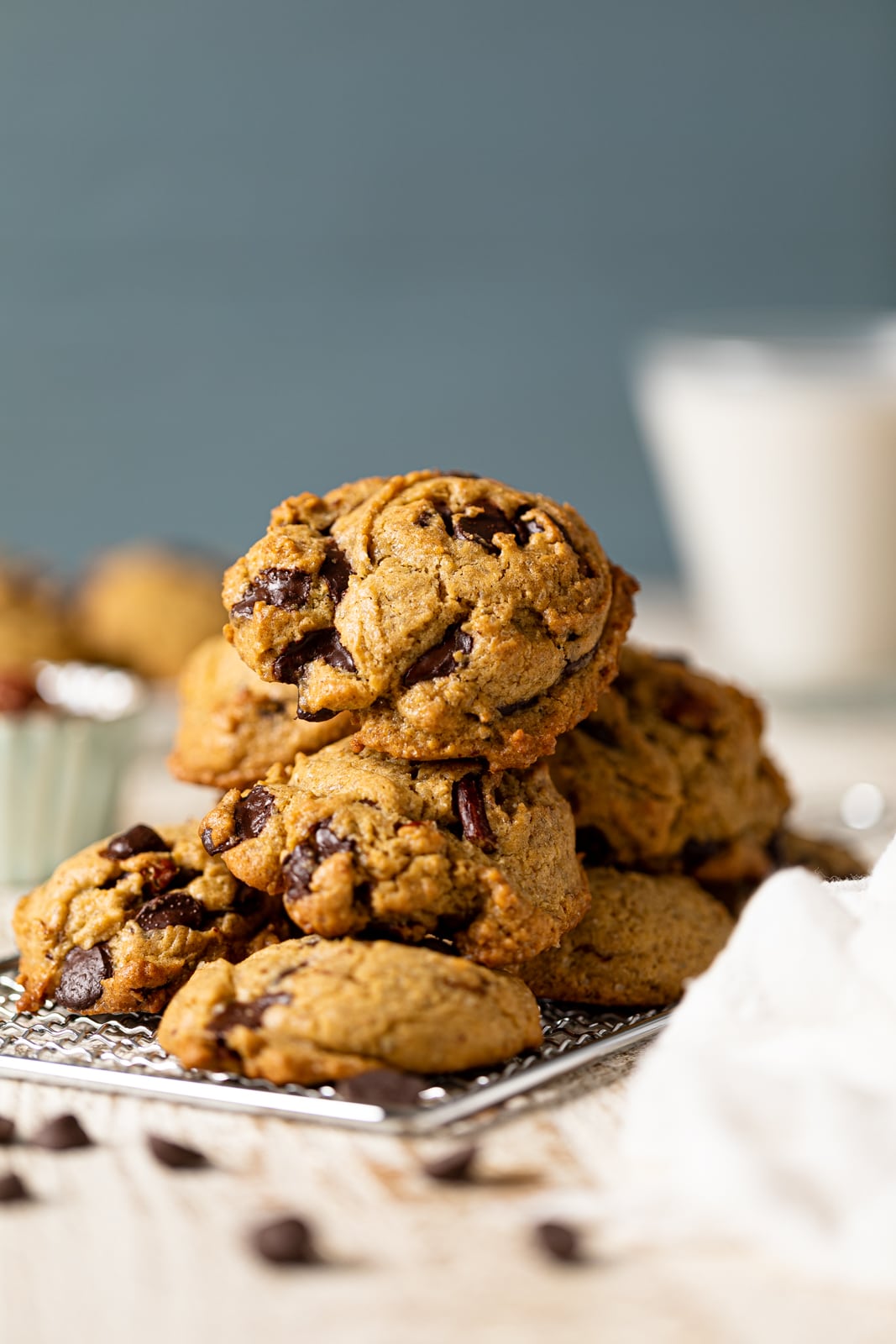 TOASTED PECANS:
1

cup

chopped pecans

Pinch of

sea salt
COOKIES:
1 ¼

cups

dark rye flour

1

cup

organic all-purpose flour

1

teaspoon

espresso powder or freshly ground coffee

¾

teaspoon

baking powder

¼

teaspoon

baking soda

Pinch of

ground cinnamon

¼

teaspoon

sea salt

1

cup

unsalted butter, cubed

1

cup

organic brown sugar, lightly-packed

½

cup

organic cane sugar + 2 Tbsps!

2

large

organic eggs, room temp. + 1 egg yolk

1

teaspoon

molasses

1

teaspoon

vanilla extract

1 ½

cups

premium chocolate chips or chopped chocolate bar
TO TOAST THE PECANS:
Preheat the oven to 400 degrees Fahrenheit. Add chopped pecans (topping them with a pinch of salt) to a baking sheet and toast them in the oven for 5-10 minutes, tossing them halfway to avoid browning on just one side. Remove from oven and let cool completely.
TO MAKE THE COOKIES:
Preheat the oven to 375 degrees Fahrenheit and line two baking sheets with parchment paper.

In a saucepan over medium-high heat, add the cubed butter and let it melt fully. Whisk in the espresso powder (or ground coffee) until smooth and combined. Remove from heat and let everything cool.

In a bowl, add both flours, baking powder, baking soda, salt, and pinch of cinnamon, whisking to combine. Set aside.

In the bowl of a stand mixer, add in the cooled espresso-butter and both sugars, mixing everything together (using a paddle attachment) on medium-high speed until combined and the mixture looks smooth and wet-like. Add in the eggs (1 at a time), egg yolk, molasses, and vanilla, mixing them together until combined.

With the mixer now on low-speed, slowly add the dry ingredients to the mixture, until smooth and combined. Fold in the chocolate chips or chopped chocolate followed by the cooled toasted pecans. Cover the cookie dough and refrigerate for 30 minutes.

Remove the cookie dough from the fridge and using a medium-size scoop (about 1 ½ Tbsps), scoop each cookie dough onto the prepared cookie sheet, leaving 1-inches between each cookie for spreading when they bake. 

Bake for 14-16 minutes, or until the edges are golden brown.

OPTIONAL: At 5 minute mark (cookies should be slightly puffed in the center), lift baking sheet and let it drop against the rack. Repeat about twice if needed. This allows the edges to set and the inside to fall down.

Remove the cookies from the oven and press remaining chocolate chips on top of warm cookies, if desired. 

Cool cookies on the cookie sheet for a few minutes (about 10 minutes or so) before transferring them over to a cooling rack to cool completely.

Serve and enjoy with your favorite glass of milk (dairy-free or not).

Bon Appetit!
STORAGE: Once properly stored in an air-tight container, cookies last for 3-4 days at room temperature. 
FREEZE: You can also freeze your cookie dough (once formed into a ball) so that you can store them longer and bake as needed.
BANGING METHOD: I love making my cookies chunky, however, if you chose to use the "banging method" in this recipe to avoid cookies from being too puffy, it's definitely optional!
CHOCOLATE: If preferred, you can always use premium chocolate baking chips instead of chocolate bars. However, for best results----chocolate bars are what I recommend.
Calories:
344
kcal
|
Carbohydrates:
37
g
|
Protein:
4
g
|
Fat:
21
g
|
Saturated Fat:
10
g
|
Polyunsaturated Fat:
2
g
|
Monounsaturated Fat:
7
g
|
Trans Fat:
0.4
g
|
Cholesterol:
49
mg
|
Sodium:
80
mg
|
Potassium:
181
mg
|
Fiber:
3
g
|
Sugar:
24
g
|
Vitamin A:
356
IU
|
Vitamin C:
0.1
mg
|
Calcium:
43
mg
|
Iron:
2
mg