Creamy Vanilla Sesame Milk is the perfect plant-based milk option when you feel like switching things up! Completely versatile and enjoyed in anything that requires milk, this recipe will become a staple in your fridge for the entire family. Made with white sesame seeds, naturally sweetened with dates, vanilla, and water. Completely Plant-based, Gluten-Free, and Vegan!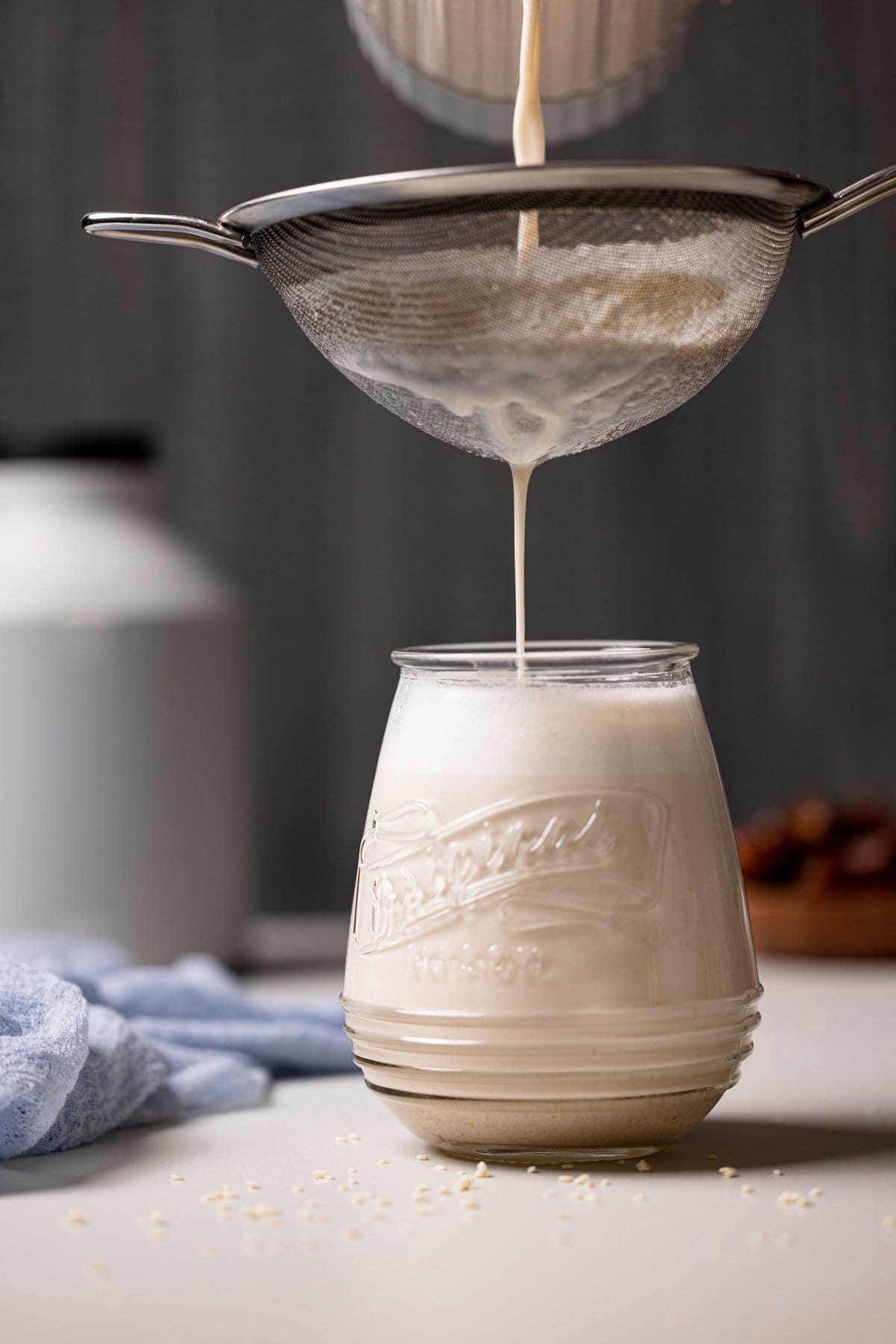 Disclaimer: This post contains affiliate links via Amazon for products that I wholeheartedly love.
I couldn't wait to share this Creamy Vanilla Sesame Milk with you because it's such a great tasting and nutrient-dense plant-based milk option that I highly recommend trying.
Prior to this recipe, I've been such a heavy fan of oat milk, which I often enjoy making it at home these days as well as purchasing it in stores by my fave brand, Ripple Foods.
Much like previous plant-based milks that I've tried making at home, this sesame milk is super easy to make, only uses minimal ingredients, comes extremely velvety and creamy, and is naturally rich in protein, calcium, antioxidants, and other vitamins.
Why Sesame Milk?
While I do understand that there are a ton of plant-based milk alternatives these days and while I've been on a roll with testing most of them out, I have to admit that sesame milk has been on my top list of faves!
Not only is the taste pretty neutral (with a distinct sesame flavor present), but the fact that sesame milk is protein-rich has been a major plus----8 times the amount of protein compared to the standard amount found in other plant-based milks to be exact!
Besides, if you're a fan of tahini or sesame butter, then you'll definitely love this milk.
I love that sesame milk is super easy to incorporate into your daily faves like coffee, cereal, smoothies, etc. and it doesn't separate (like some other plant-based milks) when added to hot beverages and it froths pretty well! Win, win.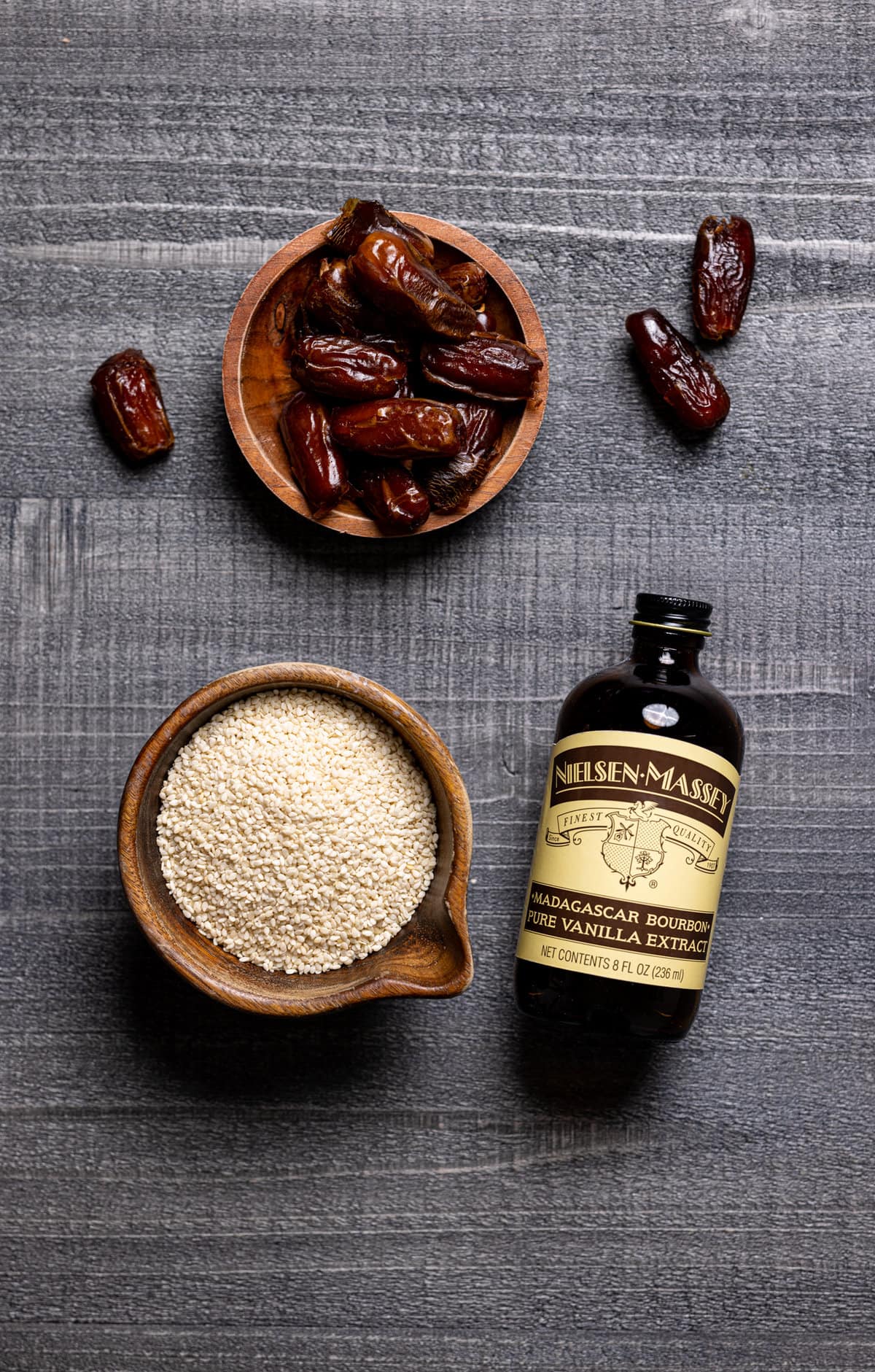 How to Make Creamy Vanilla Sesame Milk
Much like a few other vegan milks, you start by soaking your main ingredients (i.e. sesame seeds + dates). Then you'll continue by blending the drained sesame seeds and dates in a high-speed blender with filtered water and vanilla until smooth and frothy. To remove the pulp, strain the milk through a cheesecloth or a fine-mesh strainer or nut bag.
That simple!
Ingredients for Sesame Milk
The ingredients for this simple sesame milk recipe couldn't be easier to find. Here's what you need:
Sesame seeds. You can choose between white or black sesame seeds. Either way, it's the same process.
Medjool dates. These add natural sweetness. They're softer and sweeter than deglet dates. You can also use maple syrup instead if preferred.
Vanilla extract. If you want a more savory flavor for your milk, you can omit the vanilla.
Water. 
Do I Need to Soak the Dates?
Yes! To best soak the dates----add dates to a small bowl with boiling water for 10 minutes or so. This softens it and hydrates them which will result in plumper and more manageable dates for the "break down" during the blending process.
SHOP MY FAVORITE DRINKWARE ITEMS AND ACCESSORIES!
Here, I've curated a list of drinkware and mocktail essentials that I use to achieve my favorite drinking experiences, especially with this Vanilla Sesame Milk. Everything from my fave glassware, Beast Health blender, mason jars, and more. SEE THEM HERE!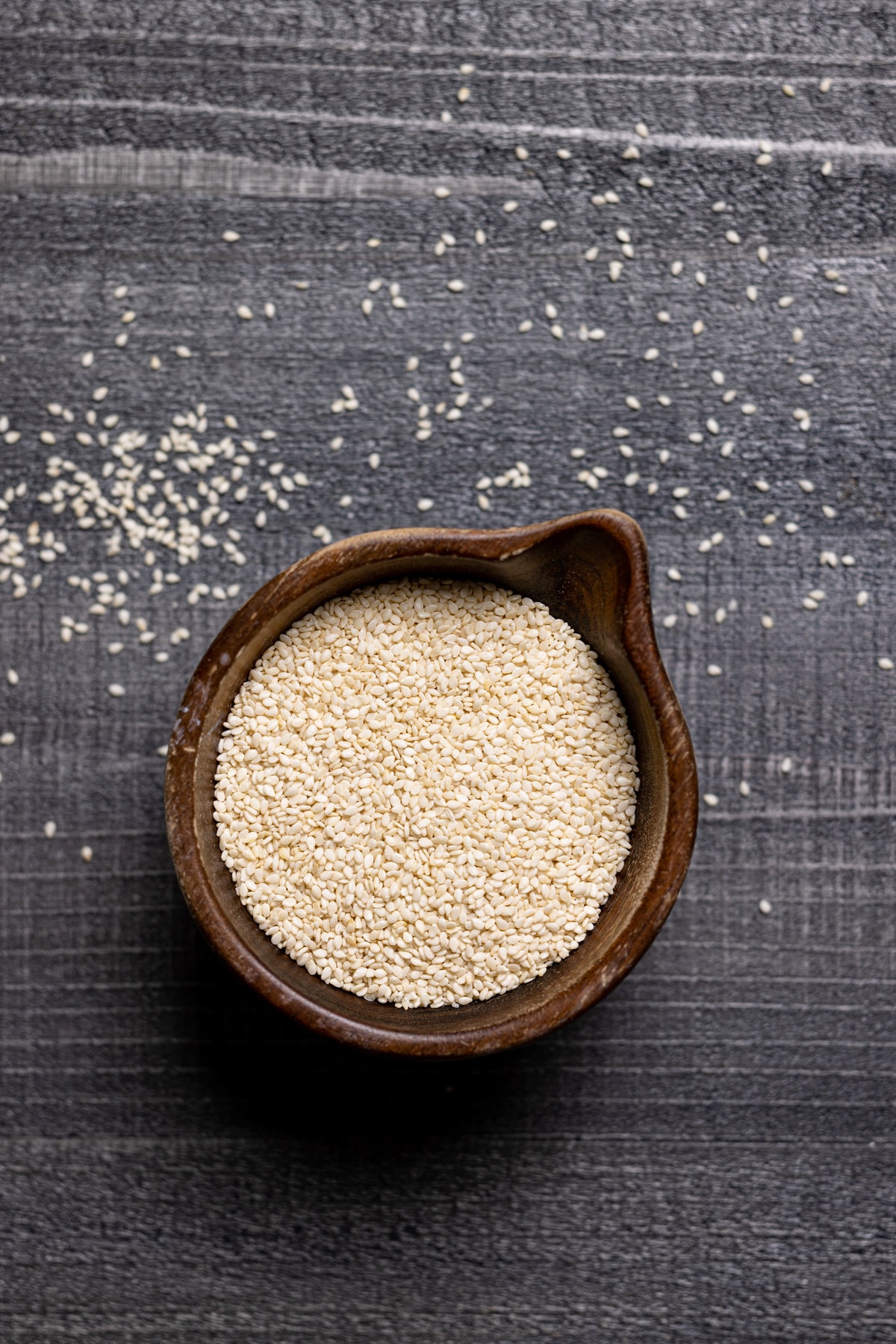 Starting a Plant-Based Diet
Plant milk is just the tip of the iceberg when it comes to cutting out animal products. While I am not a full-time vegan, I prefer to work more vegan dishes into my diet for their great taste and their health benefits. It can be challenging to go vegan or incorporate vegan meals, but the planet and the farm animals will thank you for it.
There are so many plant-based replacements for animal products. Years ago, vegans could not rely on all of the wonderful plant-based products available today. Now, plant milk, vegan cheese, and meatless meat are increasingly common in both grocery stores and restaurants.
Now is the time to take the leap if you are considering becoming vegan. Finding healthy vegan options gets easier by the day, plus, it is not hard to make vegan-based foods at home. Making Creamy Vanilla Sesame Milk is a great start to becoming plant-based.
Are Sesame Seeds Good For You?
As mentioned before, sesame seeds are super nutritious and a great way to get extra vitamins on a vegan plant-based diet or any diet for that matter! They include a great source of protein, calcium, magnesium, antioxidants, and other vitamins.
Other great benefits:
Help to lower blood pressure.

Great for heart health.

Helps with menopausal symptoms.

Has anti-inflammatory properties.

Might have anti-aging properties.
Should I Use Black Sesame Seeds or White Sesame Seeds?
In this recipe, you can totally switch things up by using either black or white sesame seeds. Overall, black sesame seeds have a slightly stronger taste than white sesame seeds, therefore, you should always keep that in mind.
In addition, black sesame seeds is said to have slighter higher amounts of antioxidants. Other than that, using either black sesame seeds or white sesame seeds won't change the recipe itself. It's completely based on your preference.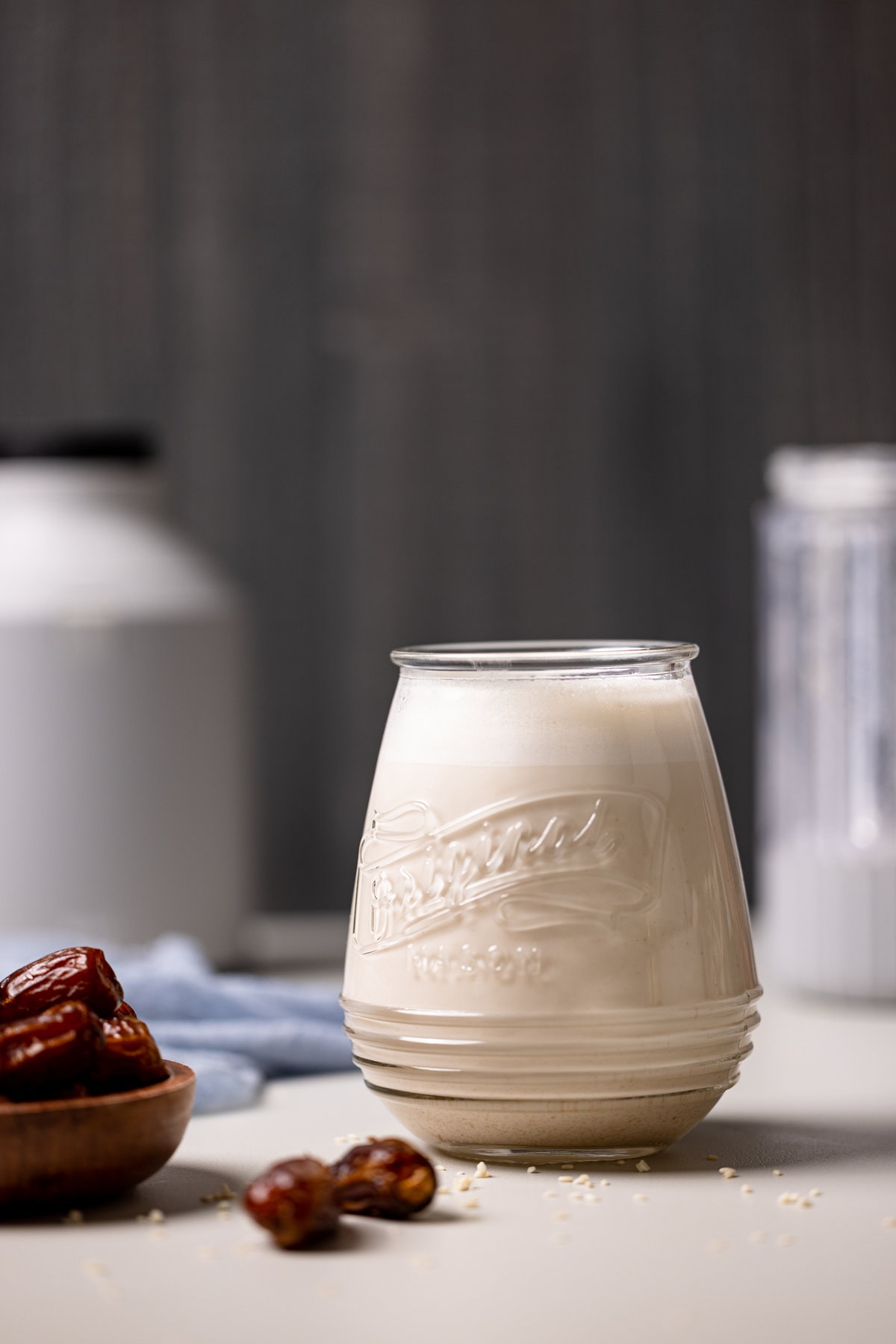 Can I Enjoy Sesame Milk with a Nut Allergy?
When it comes to trying anything new, I always recommend talking with your care physician first. In general, while sesame seeds aren't classified as nuts and are actual seeds, I've read that the protein in sesame seeds acts similar to those in nuts, therefore, making them not the best option for any sensitive to nuts.
Great Plant-based Milk Options without Nuts
Of course! If you have an allergy to nuts, then you are able to enjoy other plant-based milks such as:
THE BEST MILK ALTERNATIVES FOR YOUR ENTIRE HOUSEHOLD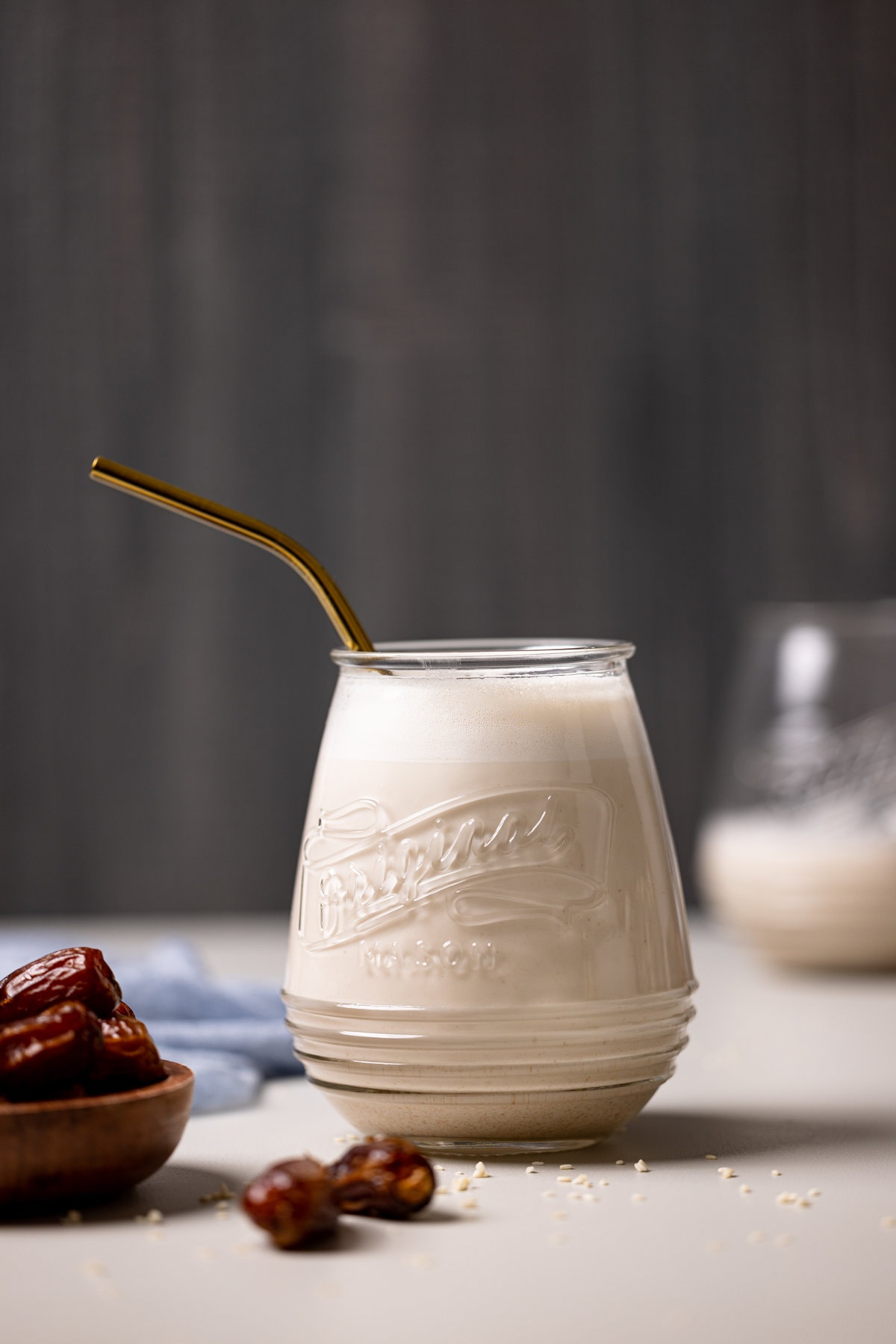 Simple Ways To Use Creamy Vanilla Sesame Milk
By the glass - On its own sesame milk is totally delicious!
Soups - For a creamy nutty flavor and texture!
Sauces -Any sauce that calls for a rich cream you can make dairy-free with sesame milk.
Coffee - A total coffee-enhancing game-changer. Watch as the coffee instantly transforms into a beautiful, mixed nutty blend! Try my Starbucks Copycat Iced Sugar Cookie Latte recipe!
Cereal - Pour straight onto your favorite cereal or cook your oatmeal this milk instead instead of water for a light and nutty boost in flavor.
Smoothies - A Sweet Potato Pie Smoothie is a great place to begin!
Desserts! - Need I say more?
How to Best Store Vanilla Sesame Milk
When properly stored in the refrigerator in a tightly sealed jar, sesame milk lasts for 3-4 days, at best or can be frozen for up to 1 month.
MADE OUR RECIPE(S)?
When you make your own Creamy Vanilla Sesame Milk, be sure to tag me on Instagram @orchidsandsweettea!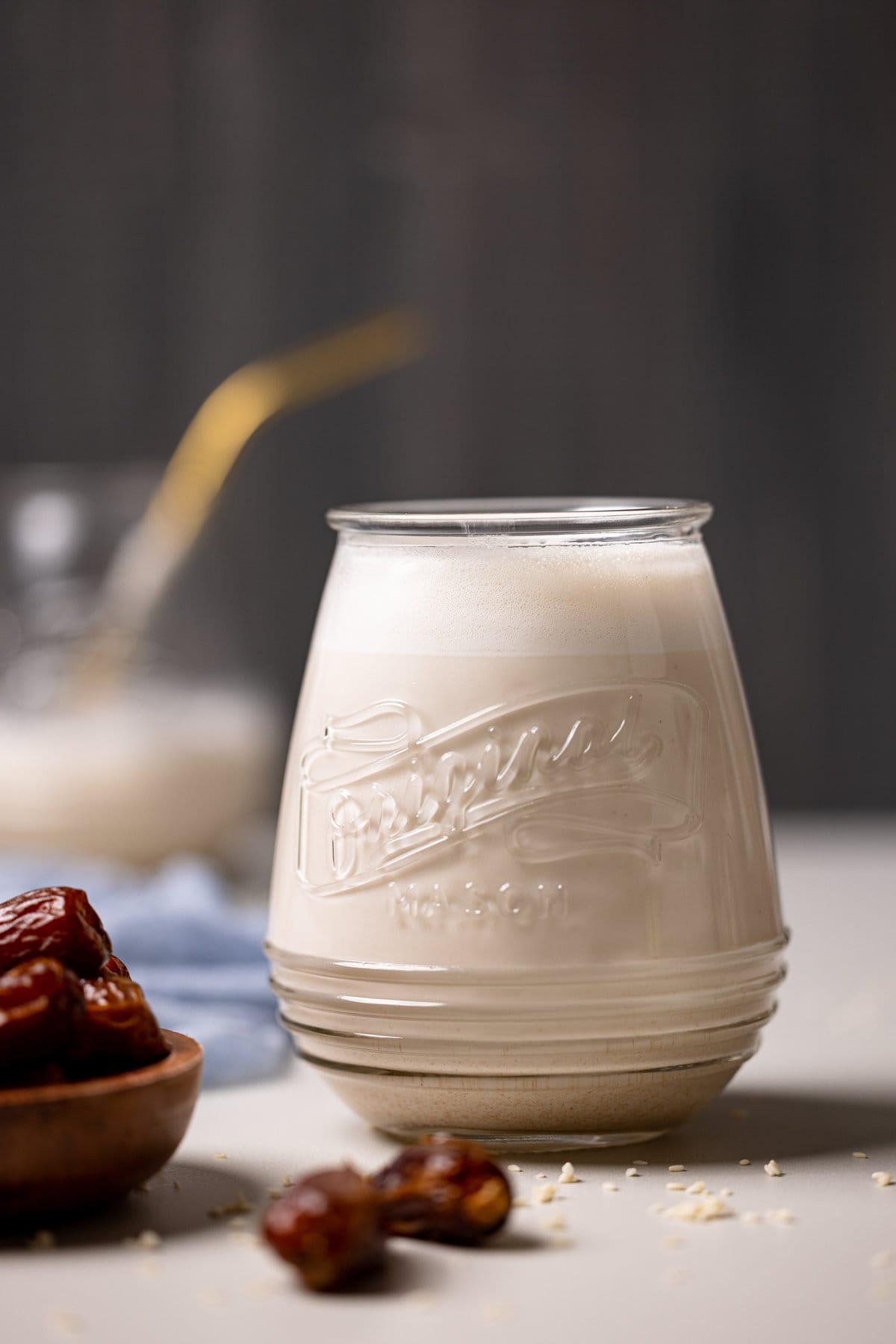 TO SOAK THE SESAME SEEDS:
In a bowl, add the white sesame seeds along with water and soak for 25-30 minutes. Once done, drain the water by straining the sesame seeds through a mesh strainer.
TO MAKE THE MILK:
Add all ingredients to a high-powered blender and blend on medium-high speed for about 30-45 SECONDS. NOTE: Do not over-blend; Adjust sweetness as needed.

Once done, slowly strain (using a cheesecloth or mesh strainer) milk into a mason jar or glass, squeezing the sesame pulp to ensure that all milk is extracted. NOTE: You may have to repeat this process until all sesame milk has been fully strained by re-pouring milk on top of pulp to extract more milk, if needed.

Refrigerate milk (best if tightly sealed/covered) for 3-4 days. Stir before serving, if needed.

Pour over your favorite cereal, in a smoothie or by itself in a glass, etc.

Sip and Enjoy!
STORAGE: When properly stored in the refrigerator in a tightly sealed jar, sesame milk lasts for 3-4 days, at best or can be frozen for up to 1 month.
SERVING: To make more, simply double or triple the measurement of ingredients, depending on your desired amount. 
SWEETENER: Instead of dates, you can use substitute sweeteners like maple syrup or Agave, if preferred.
Creamy Vanilla Sesame Milk.