It's that time of year again! As 2023 comes to a close during one of the busiest times of the year---holiday season, we're giving you a list of our faves when it comes to this Orchids + Sweet Tea's 2023 Holiday Gift Guide. This one comes filled with a little of everything for everyone----the Self-care + Wellness lover, Foodie who's into the best kitchen appliances + tools, everything Home enthusiast, things for the Men in your life, Black-owned business supporter, and the avid reader for self-improvement + development. It's one list that points you in the right direction for your shopping needs this season!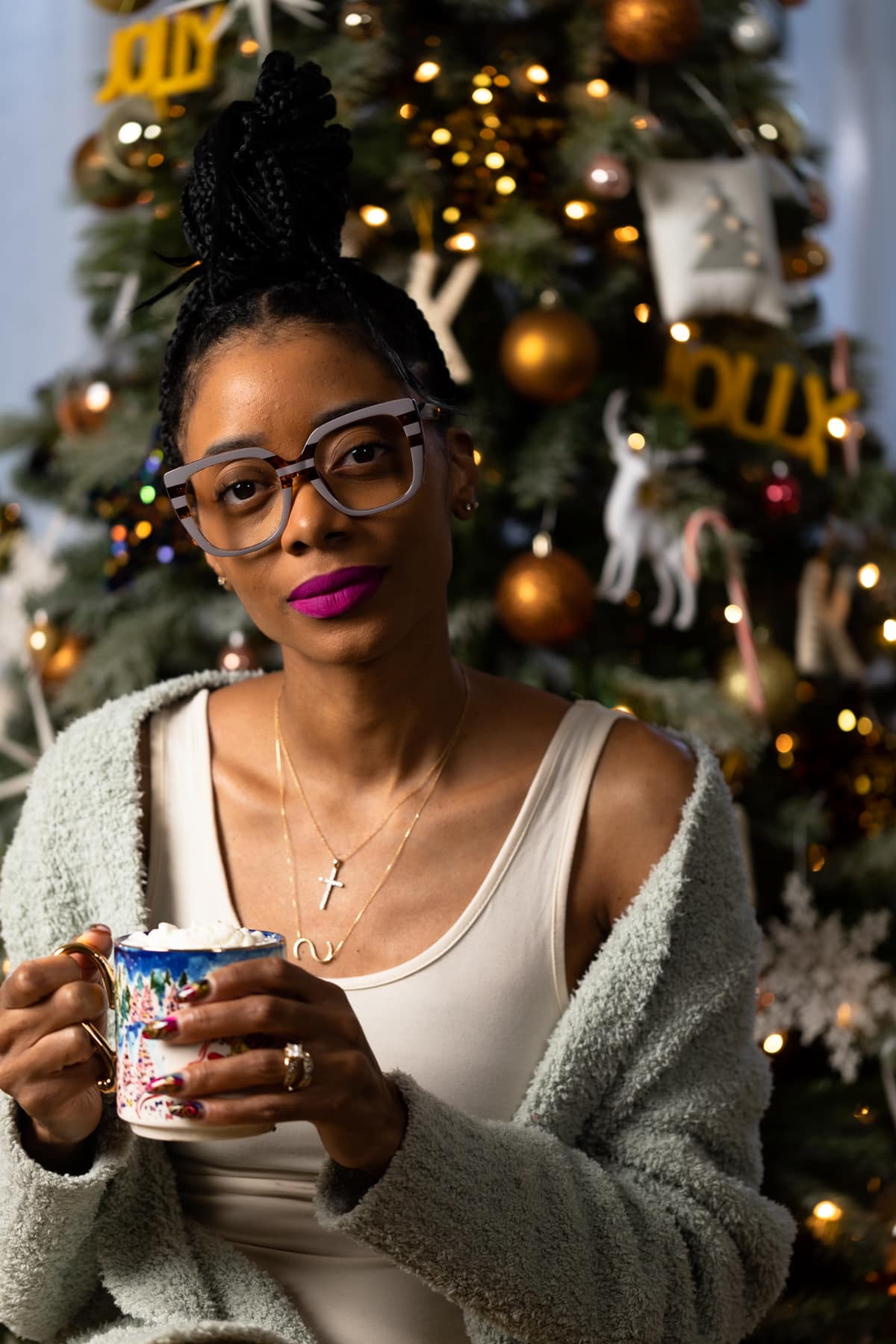 I couldn't be more excited to bring to you this list! While I didn't do guide last year, if you've been an avid reader of Orchids + Sweet Tea, then you've probably seen my Orchids + Sweet Tea 2020 + 2021 Holiday Gift Guides. In both previous gift guides, I mentioned a lot of personal faves in many categories, but this 2023 Holiday Gift Guide----I'm definitely sticking to absolute gems + faves that I enjoy using on repeat.
Jump to:
This list is definitely one for the books and you'll be able to shop + wrap those gifts up for your loved ones (or yourself) with ease. Of course, everything couldn't make the list despite my love for it, but I promise that the ones that did are truly worth the price and I made sure to add items that ranged in budget to meet your needs as best as possible.
So, grab your favorite cup of coffee or a try one of these amazing Holiday Drinks and happy browsing!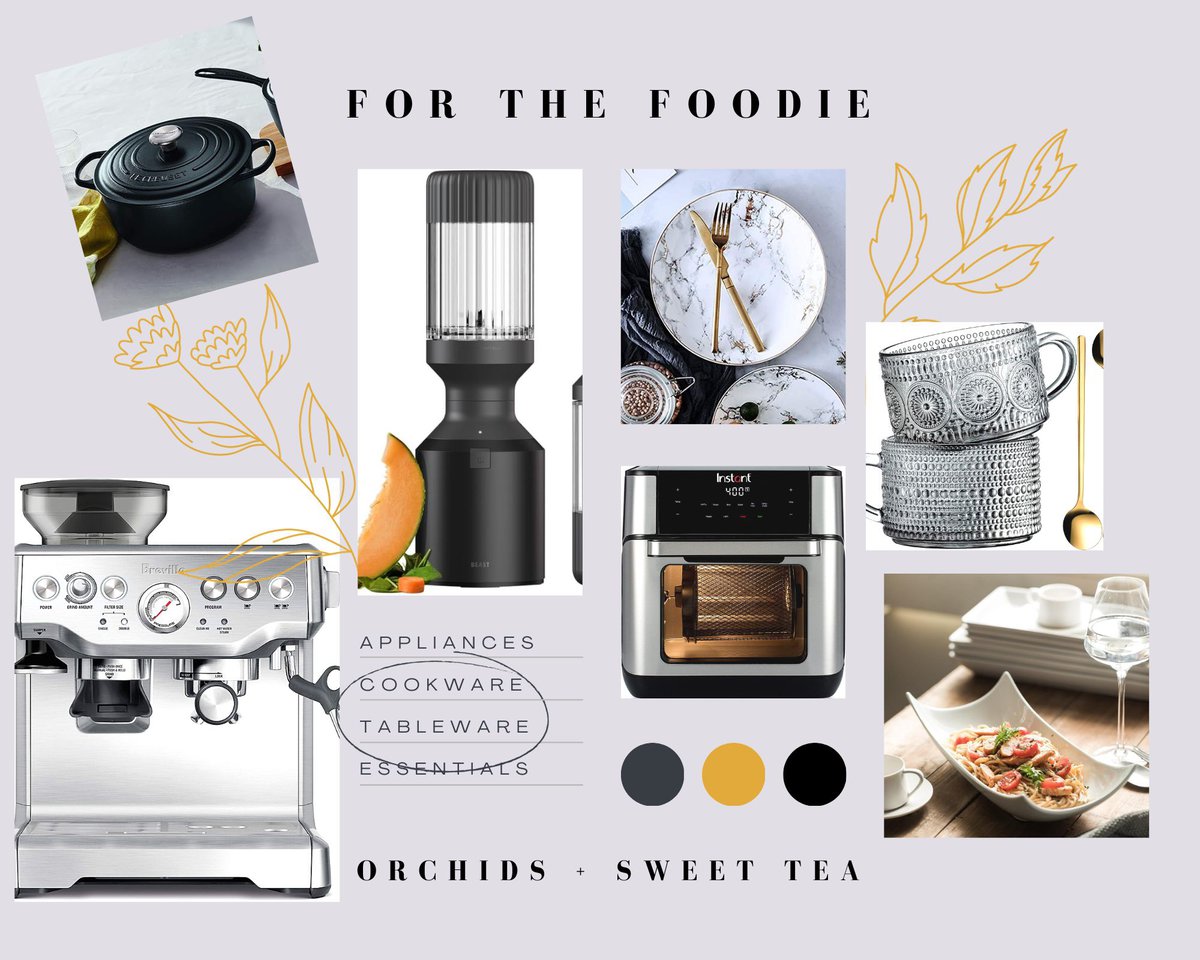 For the Ultimate Foodie
This section is full of amazing gift ideas for the ultimate foodie in your life. Everything from the best kitchen appliances to fancy dinnerware + glassware for a great "romanticizing of your life moment" to cooking tools to cookware + more.
Beast Blender -- Honestly, this is the blender that I use daily. This blender + hydration system is super compact, powerful, and works for a great on-the-go situation after a quick blend. Easy to clean and comes with a large capactiy + small capacity vessel. Definitely worth every penny!
Marble Porcelain Plates -- I promise that these beautiful marble porcelain plates are premium and they truly elevate any eating experience. I enjoy eating the simplest things on them and it truly creates a "romanticized life" experience even with the smallest touches!
Kitchenaid Hand Mixer -- I believe that every foodie needs a good hand mixer and this one is IT! As someone who bakes regularly, this one has been seamless, sturdy, and has lasted a long time. Plus, you can choose from a variety of beautiful colors. Definitely worth the buy!
Fancy Porcelain Serving Bowls -- I love a good unique, fancy table piece and these white porcelain serving bowls are perfection! They truly look more amazing in person than they do online. A great set for the foodie in your life!
Cast Iron Skillet -- A sturdy cast iron skillet is a MUST for every foodie and should be in every kitchen. My two faves are Le Creuset and Staub----both are worth their price, cooks things evenly, and come in beautiful colors! An investment piece that will live up to their return!
Food Processor -- Everyone needs a food processor. This kitchen appliance comes in handy for so many things from chopping veggies + fruit to making pie crusts, and more. I love the Cuisinart processor because it's sturdy and truly lasts. Plus, if you're a foodie like me, then having different sizes is a lifesaver!
Chef Knife -- To be transparent, I used to think that having a fancy knife wasn't necessary until I began investing in chef knives and everything changed. Truly needed for the best cut and most seamless cooking experience. My faves are this 7-inch Chef Knife and 8.5-inch Japanese Knife.
Salt + Pepper Grinder -- Now, here me out. I know that this one seems basic, but I promise that it's NOT. Having electric salt + pepper grinder are a game-changer when cooking and they're just fancy enough to create a vibe. Haha.
Dutch Oven -- This cast iron pot is literally my FAVE! I literally use it for every soup, boiling of pasta, and thing that requires a deep pot. Of course, Le Creuset is my go-to because of the quality factor, even cooking ability, and no rusting or damage to the enamel despite aggressive use.
Steel Wok -- While I don't make Asian-inspired dishes a ton, having a wok has been such a game-changer for me. This one in particular has been perfection, super easy to clean, and I just love the quality look that it exudes especially with the bamboo cover.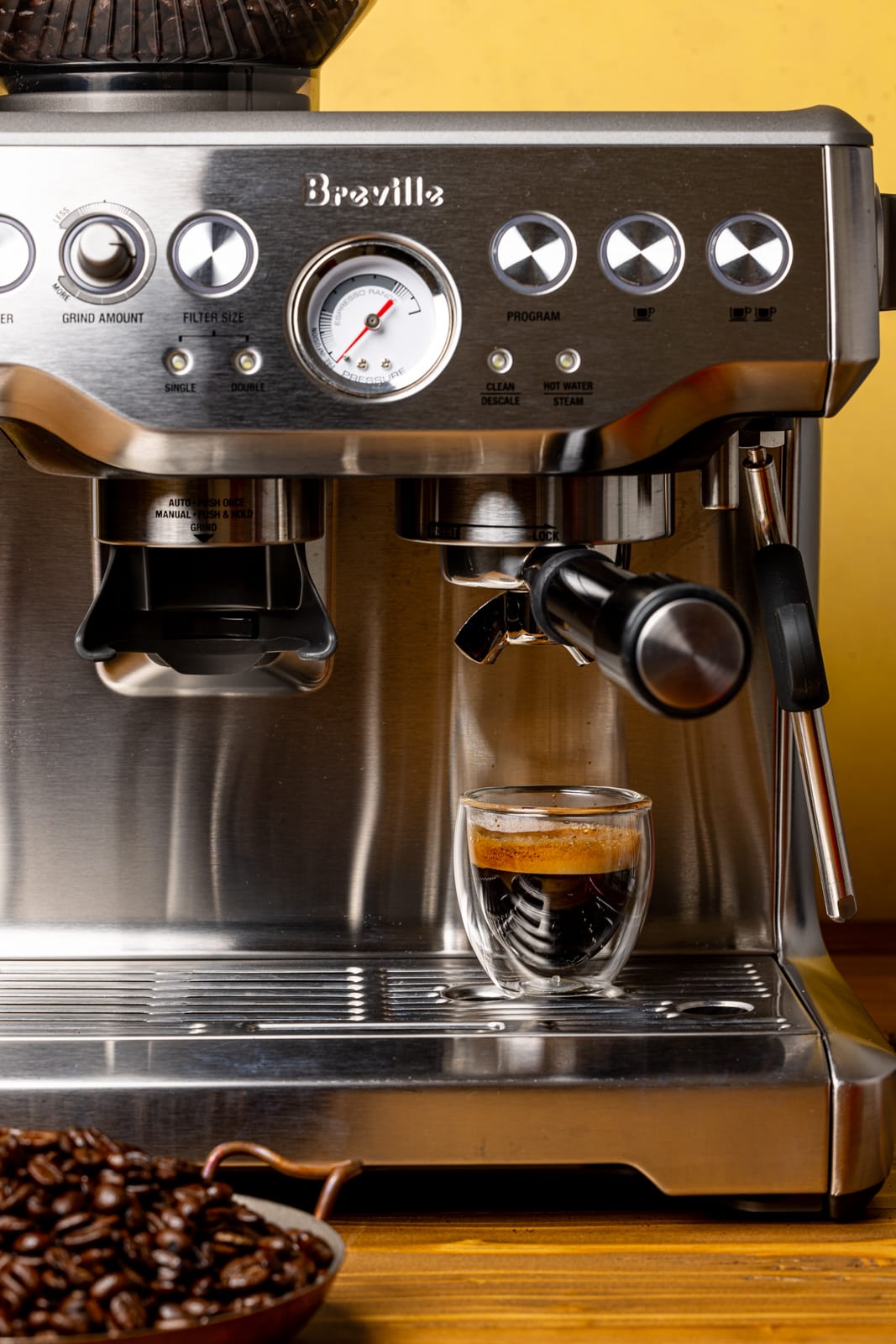 Espresso Machine -- OK, so I understand the "meh" rep that a fancy, expensive espresso machine gets from the average person, but I promise that it has truly been worth it for me. I personally stopped purchasing coffee outside and this beauty has made my lattes, macchiatos, and martinis to perfection! Plus, any foodie who loves coffee and gets this will be WELL PLEASED!
Tea-ware -- When it comes to making tea, I'm a big bleiver in keeping things fancy for the best sipping experience. No, it's not required. Yes, it makes like good. haha. My personal faves are these Vintage Glass Mugs + this beautiful Glass Stove-top Kettle.
Mini Cocottes -- These little pots are truly something special and they make for the most gorgeous baking dish when hosting a gathering or making something for individual servings. Definitely a beautiful gift!
Asparagus Steamer -- If you're a lover of asparagus, then getting this pot is a MUST. Period.
Cookware -- When it comes to cookware, I'm always about quality first because this is the one thing that gets used the most. Honestly, there are so many great options, but I personally love + use this Caraway Set, GreenPan Reserved Set, and Cuisinart Cookware Set for a nice standard silver look.
Frying Pan -- Outside of a cookware set, the best frying pan is a must. And if you love a good nonstick frying pan, then this one by HexClad is beautiful and certainly does the job! Plus, the hand stays cool and it's dish-washer + oven safe.
Vegetable Chopper -- Now, I don't know about you, but even the most experienced cook enjoys a good gadget that not only works but save time + energy during the process and this veggie chopper is legit! It slices, dices, and cuts! Definitely a MUST!
Air Fryer -- If you still haven't gotten your hands on one yet or your loved one is in need of an air fryer, then I highly recommend! This counterpart addition truly creates the best crispy foods minus the frying on the stove top debacle. Personally, this Ninja Air Fryer and Instant Pot Air Fryer.
Refrigerator Deodorizer -- I know that this sounds like it's an "extra" thing that's not worth it, but if you regularly use baking soda inside your refrigerator to keep things fresh, then you'll appreciate this deodorizer which apparently lasts for up to 10 years and has high decomposition technology for the best purification. I love it!
Glass Containers -- Whether you're a foodie who loves to cook or have the best storage containers for "take home meals" after visiting a gathering, these glass containers are amazing! I prefer using glass over plastic for a healthier option, plus these are airtight and freezer safe. Worth it!
Single-serve Coffee Maker -- So, if you aren't one who cares for a super expensive coffee maker or you should need a single-serve k-pod + ground option, then these Ninja version is a MUST! And you can get it in either the black or stone color.
For more amazing foodie gift item ideas, head over to my Amazon Shop!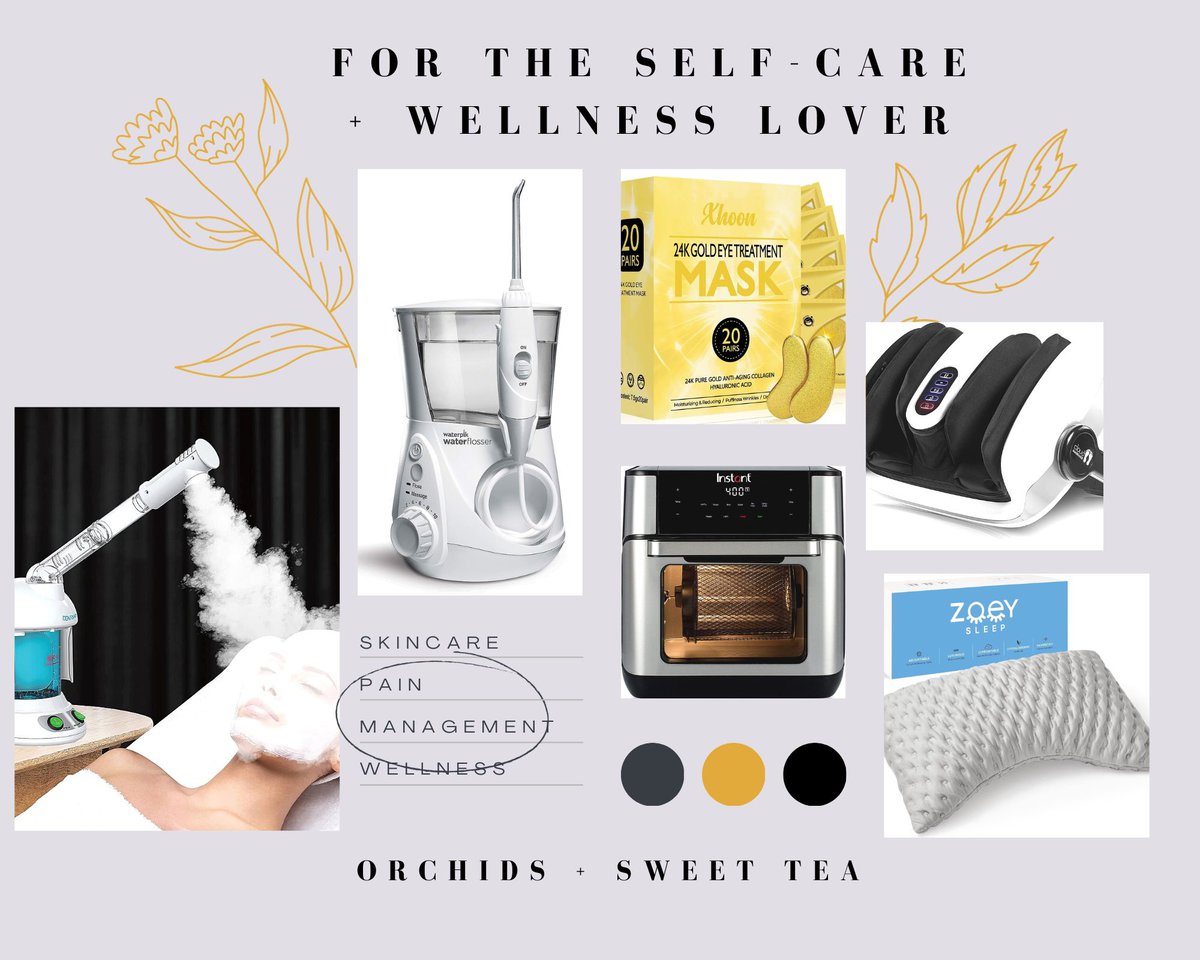 For the Self-Care + Wellness Lover
This section is full of incredible gift ideas for the self-care + wellness lover in your life. Everything from the best skincare tools to great gadgets for pain management to massagers + more. Create a real spa experience right in the comfort of your home!
Massager -- When it comes to a massager, I definitely invest in these for the best self-care moments. There's literally every kind of massager available, but this Foot Massager and Back Massager is truly worth buying and does the trick rather well!
LED Mask -- Having one of these masks for great skincare is definitely MUST! This one comes with a 7 color treatment and is FDA approved, and isn't as expensive of some others on the market. Truly a worthy buy!
Heating Pad for Neck + Shoulders -- I don't know about you, but having a heating pad specifically for my neck + shoulders has been a game-changer. A regular one is so hard to bend and keep in place for those unique areas, but this------a lifesaver!
Face Steamer -- Having spa days at home has been super cost efficient and just easier to fit in than traveling to a facility every time it's needed. This face steamer truly creates that spa feel and it's one to add to your skincare routine.
Water Flosser -- For me, it's all about the little things and this water flosser is a little thing but a BIG game-changer for teeth care moments. I love how efficient it is and it comes with 7 different tips for the most personalized use.
Cushion for Back -- We all need a good cushion when sitting for our backs and this chair pillow has great structure for providing the most relief for your lower back and tailbone. Plus, it keeps you cool + dry with special material that prevents sweating after prolonger periods of sitting. A win, win!
Under Desk Treadmill -- This treadmill is genius and makes for a great way to multi-task by getting your exercise in while working at your desk. I'm hooked and it's so convenient. Great for walking or jogging----your choice!
Adjustable Pillow -- While this might seem basic, I promise that it's NEEDED. I can't tell you how many times as a side sleeper, I've waken up with extreme shoulder + neck pain. So, this adjustable pillow is worth it if you struggle with this too. And the cover is washable so it's easy!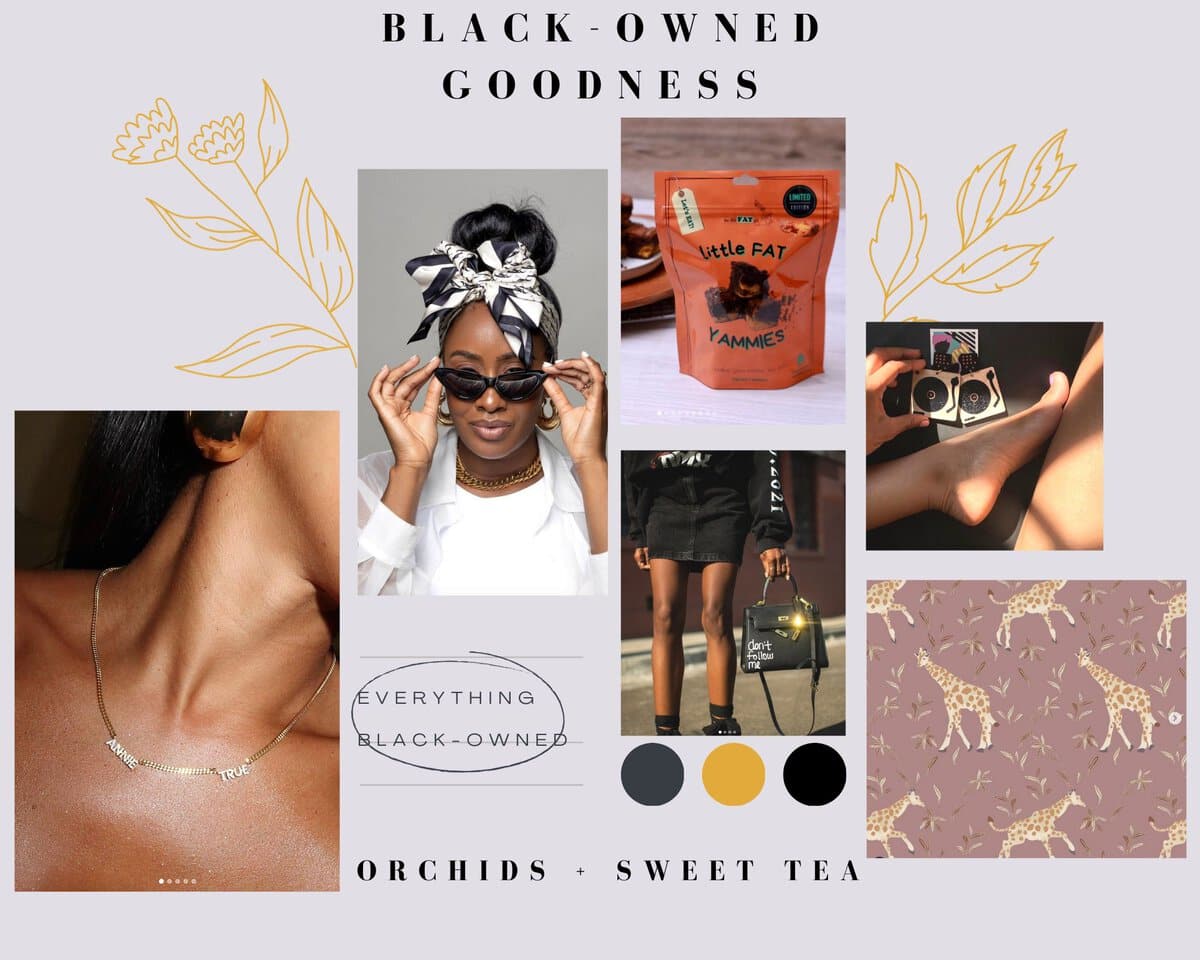 Black-Owned Goodness
It's EVERYTHING BLACK in this section! A list full of incredible gift ideas for the Black-Owned Business supporter in your life who loves a little bit of edge, uniqueness, + just that "sauce". Everything from candles to food products to jewelry to accessories to wallpaper + more.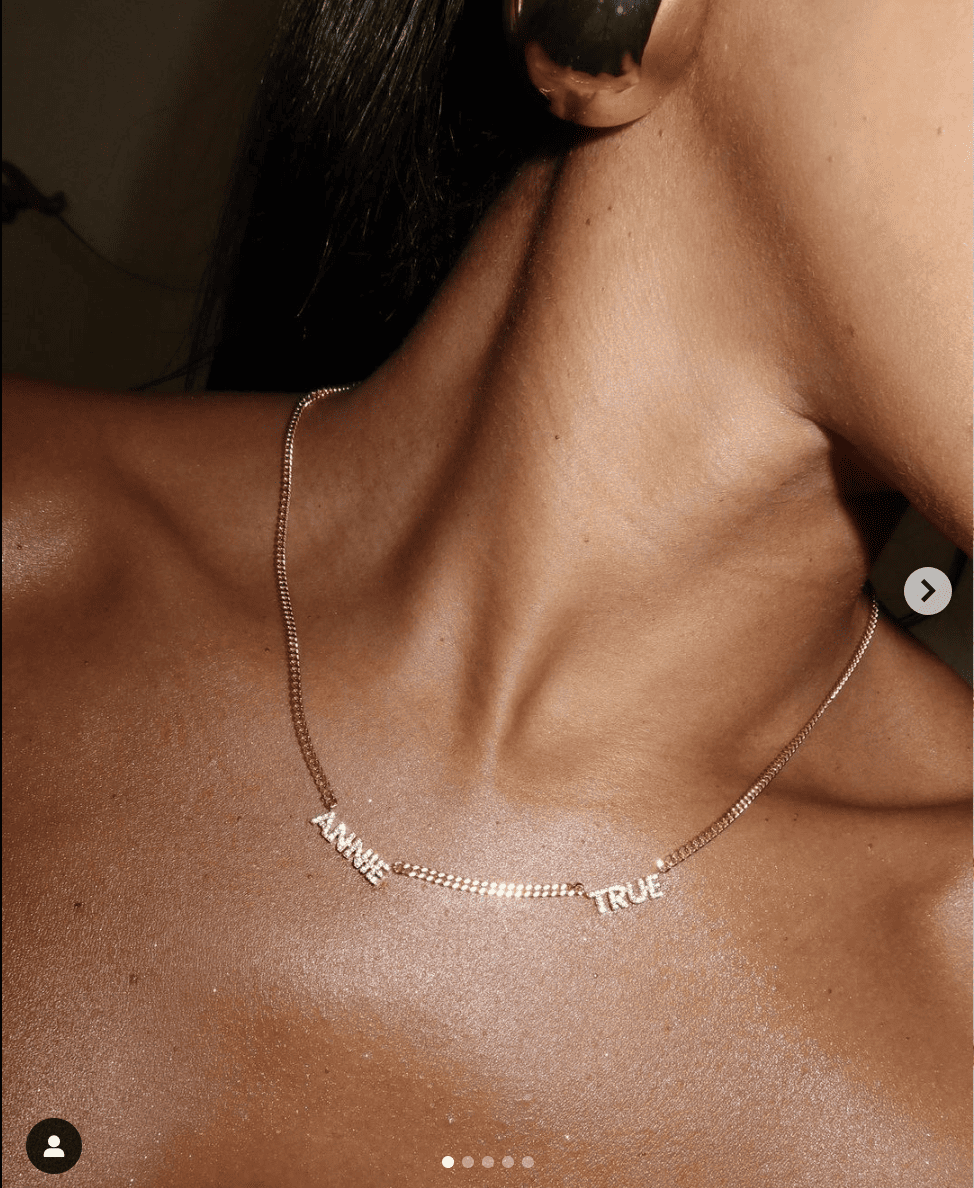 Truly one of my faves when it comes to jewelry. I've purchase a few pieces from here and it's QUALITY! I love the variety of styles available and the packaging is amazing. Definitely a nice gift for the holidays.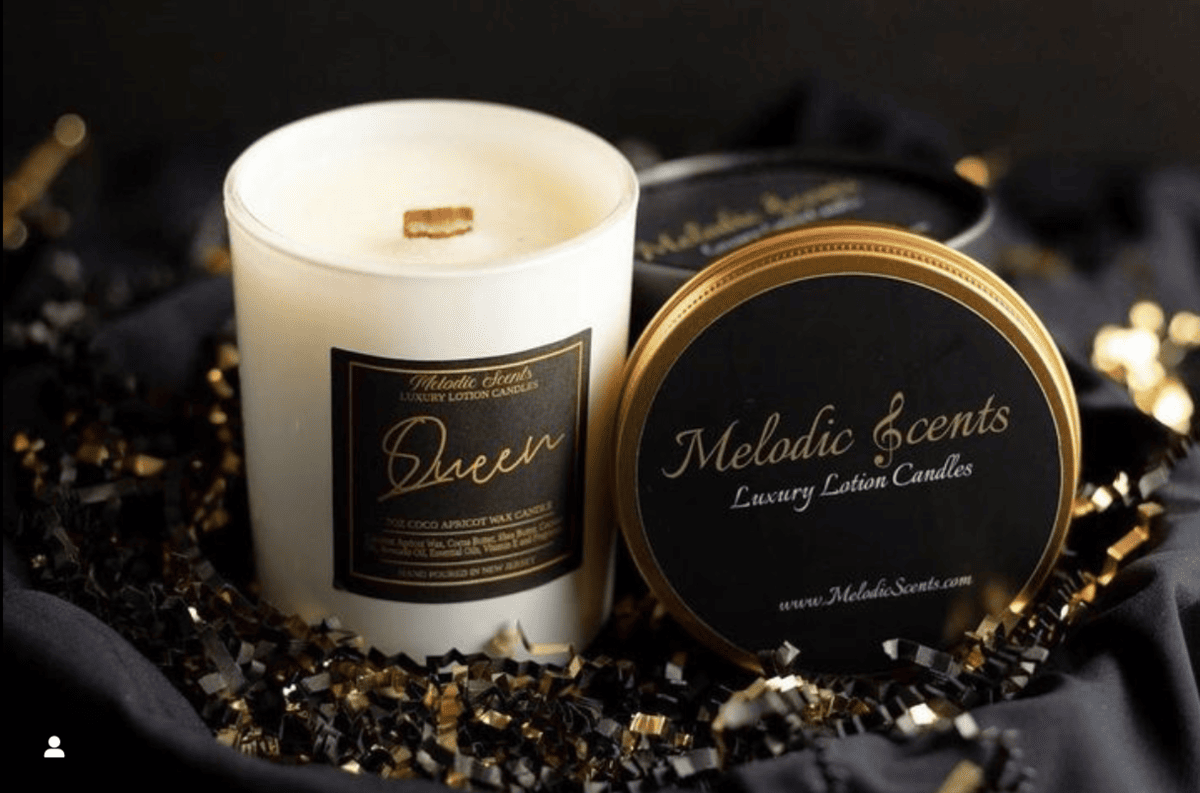 Definitely getting my hands on this candle this holiday season. It's said to give off luxury vibes and the wax actually works as a lotion for your skin. GENIUS!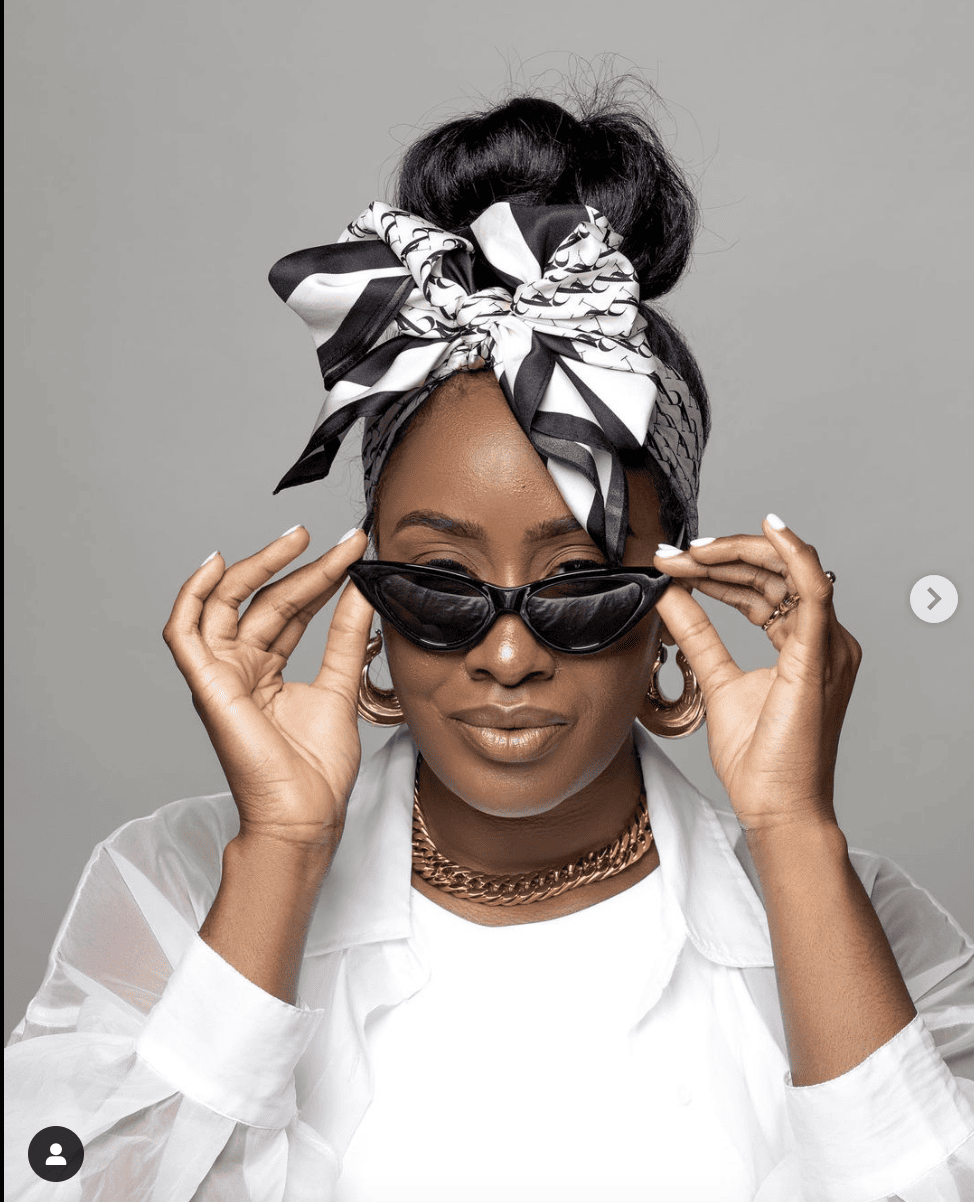 Listen! I love a good turban and these are truly up my alley! Stylish and unique with the patterns and premium quality---definitely a great buy for all the girls who love a turban situation!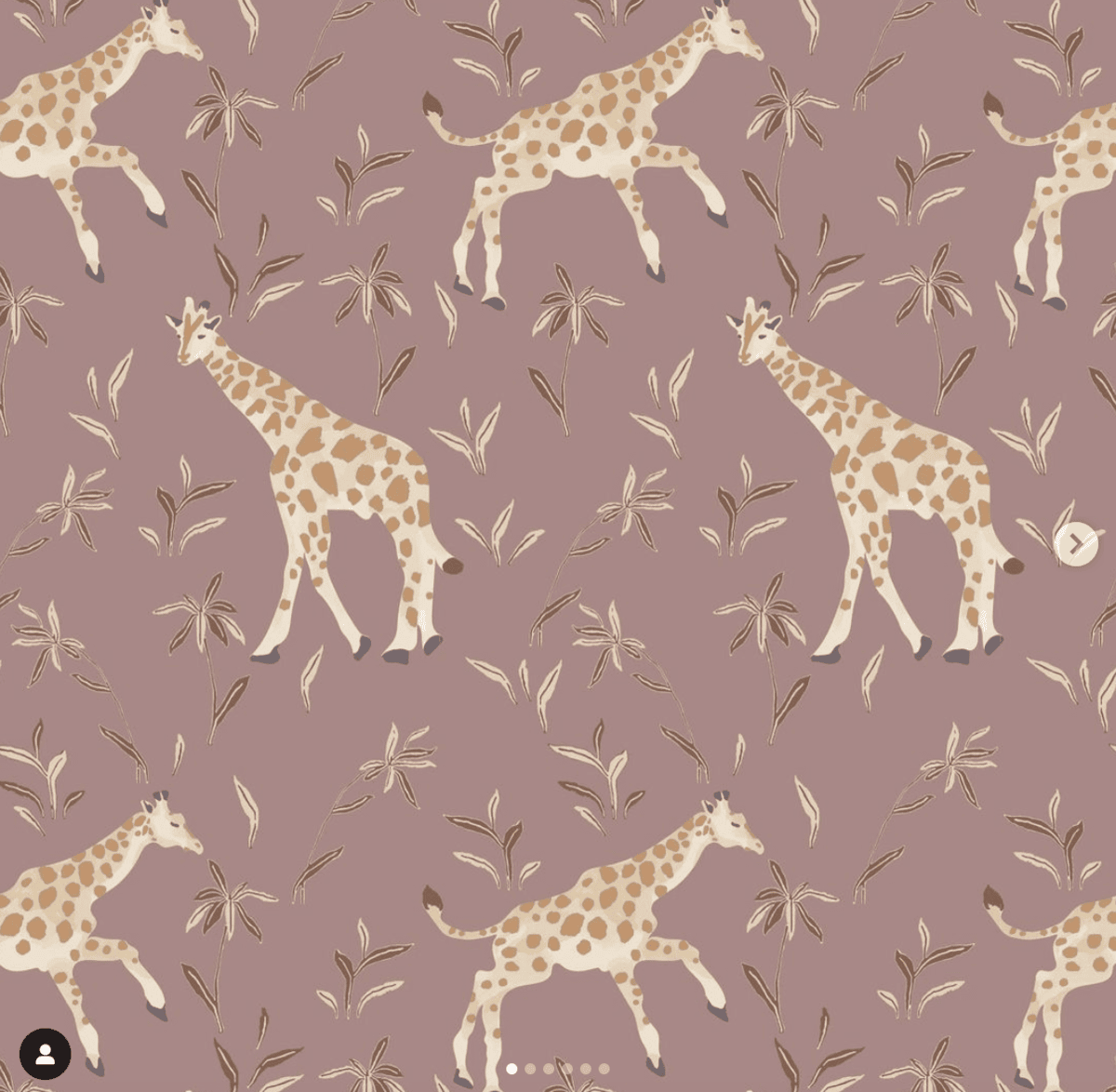 Now, I'm a lover of home decor + Interior Design so when I came across a Black-Owned wallpaper brand---I was elated! Plus, the designs are phenomenal and the owner is an Interior Designer herself and she keeps your coins in mind. Definitely recommend!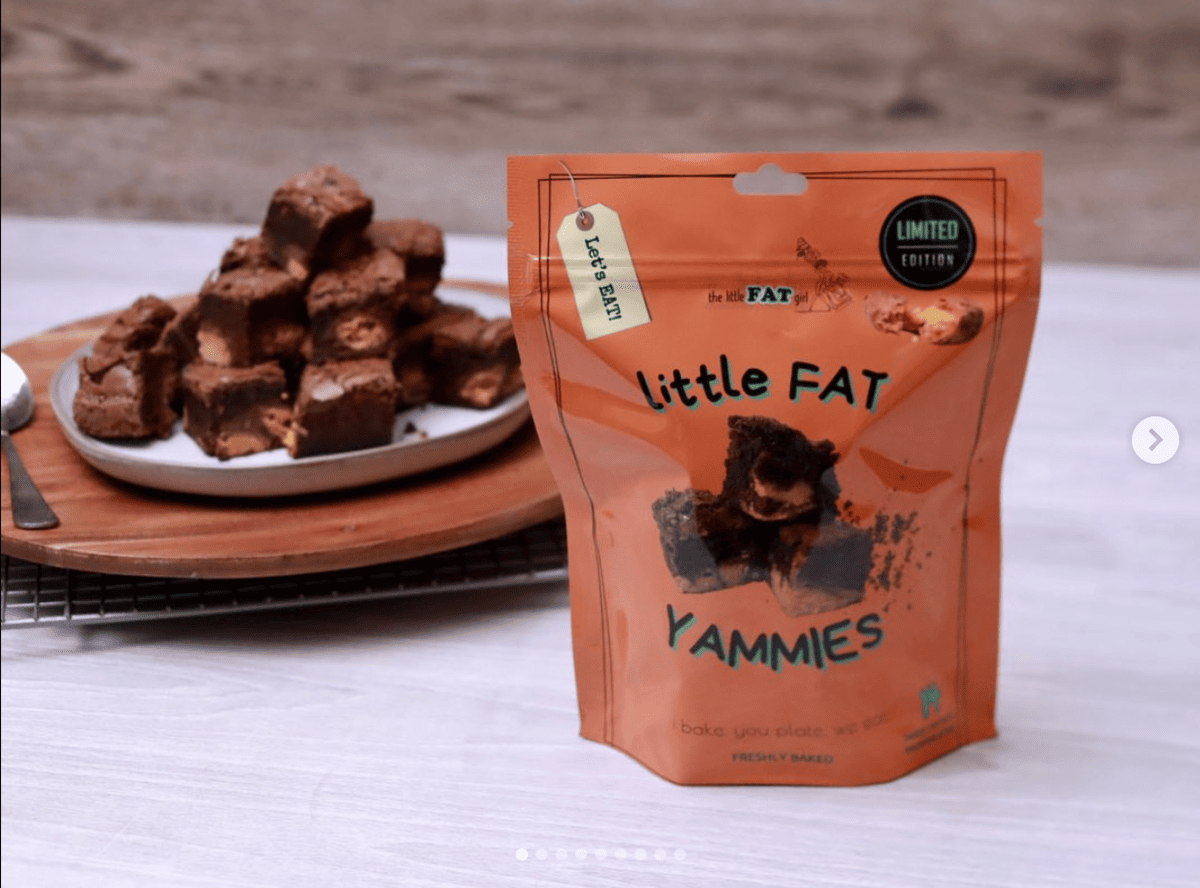 If you know me then you know that I'm a foodie at heart, so any food products are always on my radar. I heard that these brownies are legit, so I'll definitely be stocking up this season. They're moist and come in bomb flavor like sweet potato infused. Plus, they ship Nationwide!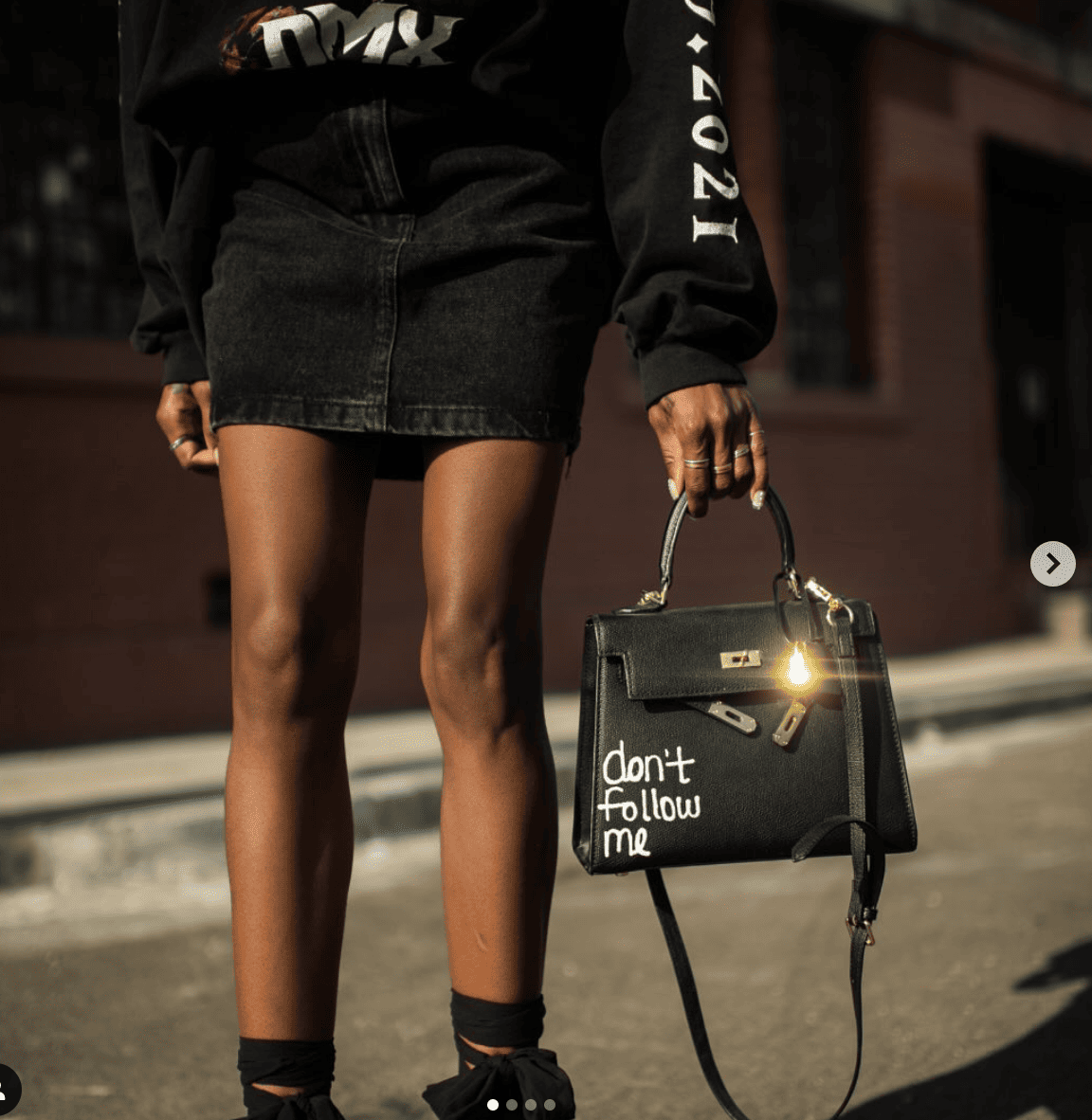 So, if you're a lover of a good handbag then this one's for you! It's made with vegan leather and it's hand painted to perfection! Super edgy and stylish! Definitely a great buy.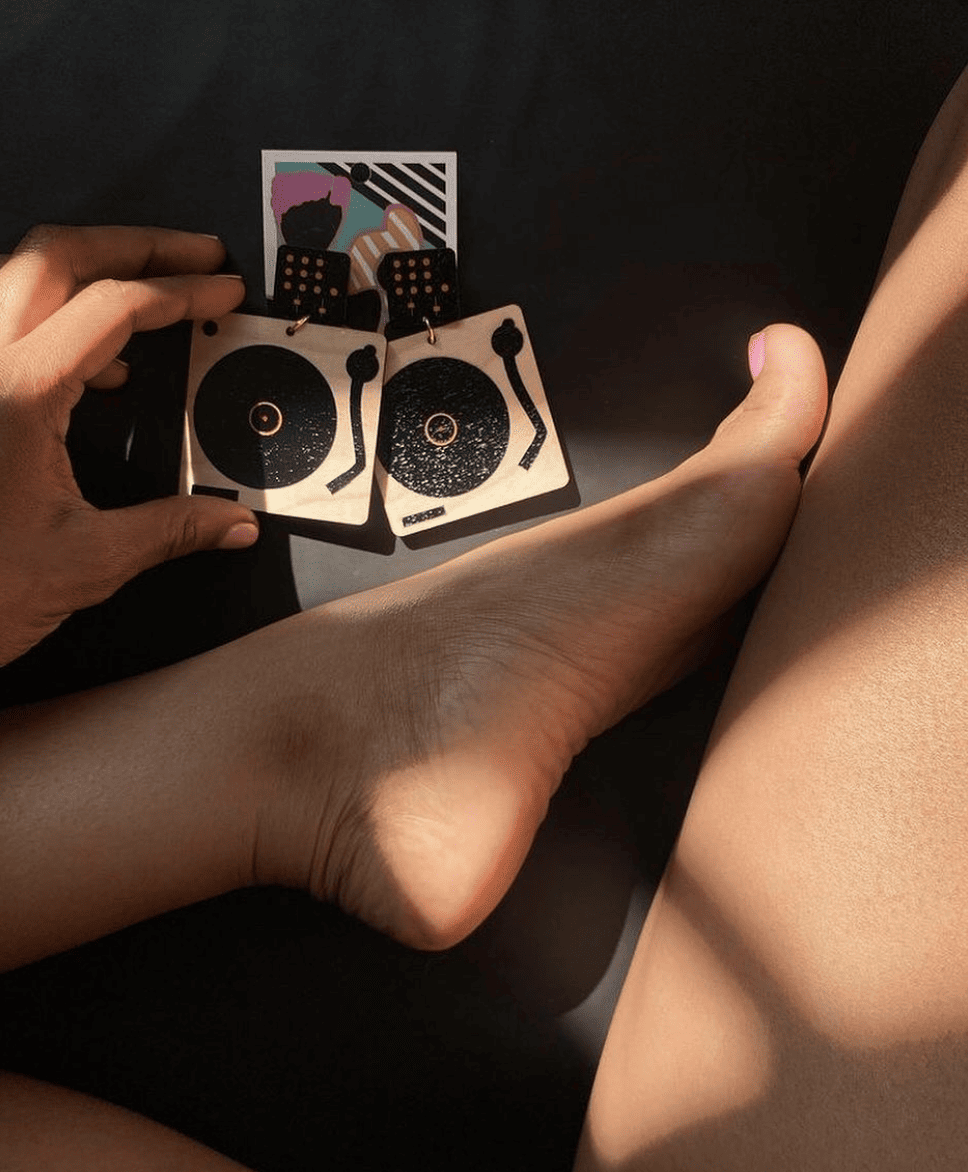 These earrings will be my go-to going forward---promise! I'm obsessed with how unique and creative these earrings are! Who needs boring earrings, right?! Everything from Poetic Justice vibes to bold + more. Definitely recommend!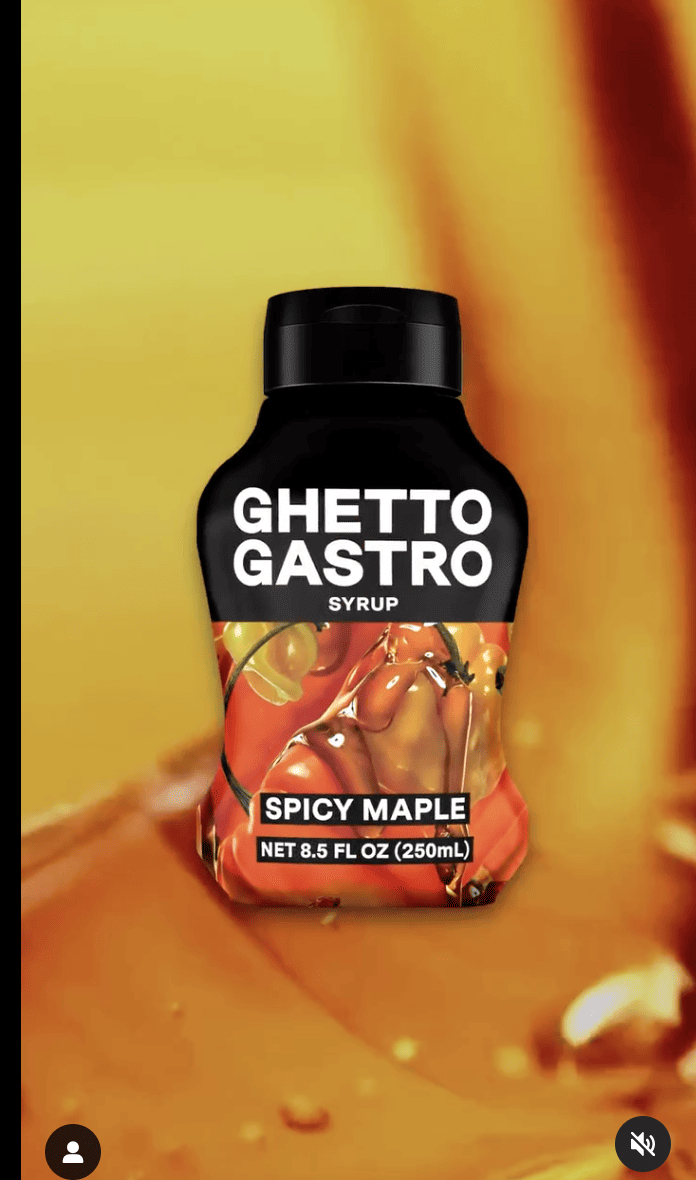 Definitely into yet another food product that's been taking the market by storm. These Ghetto Gastro products which include syrups, pop tarts, and pancakes + waffle mixes is a MUST! They have amazing flavor combos and are available in Target nationwide. A major yes!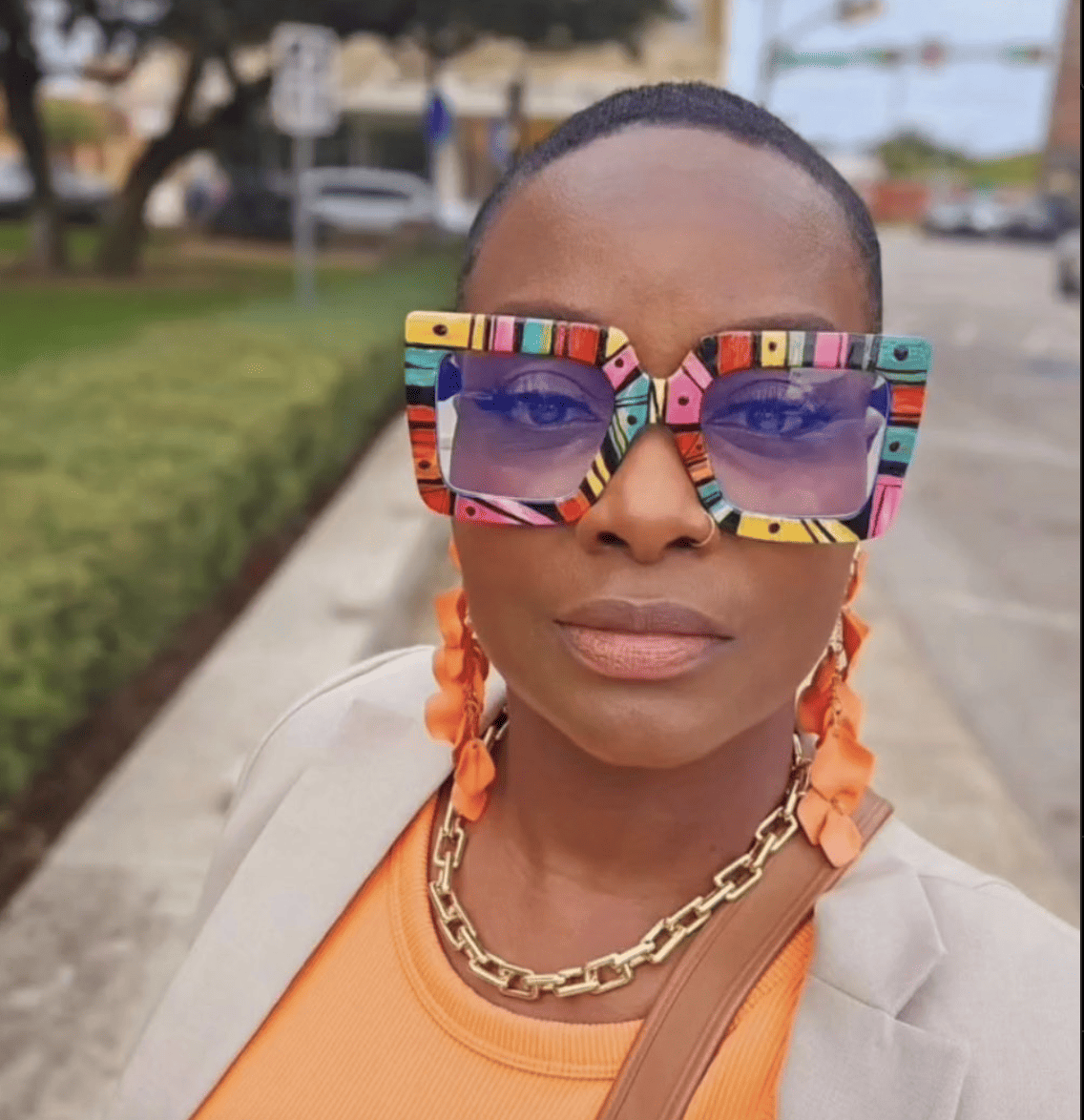 I'm always looking for a unique pair of glasses and when I saw these, I automatically clicked save! The owners have a true passion for Art/Fashion, which shows in the craftsmanship of each pair. Definitely a great buy for the fashionista in your life!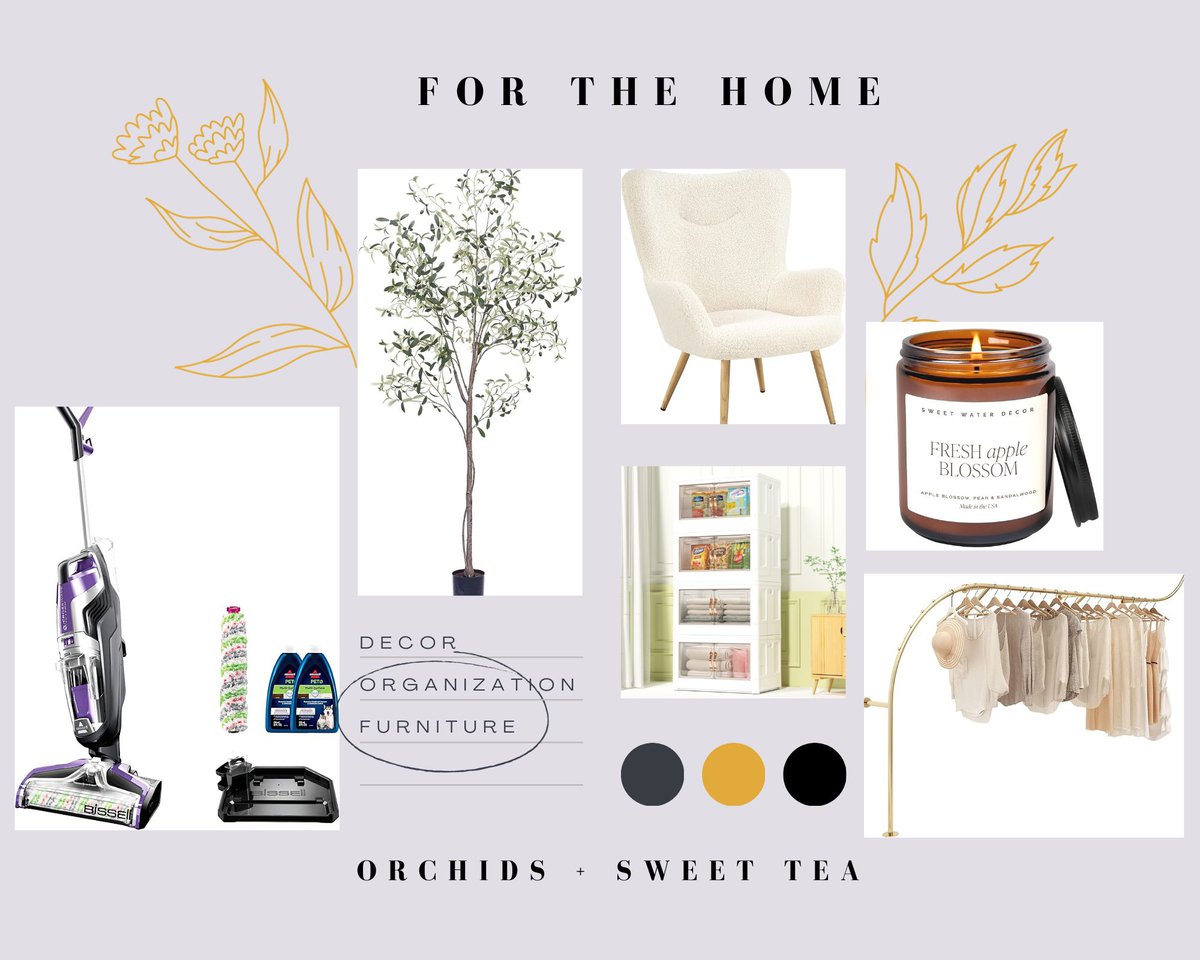 For the Home Enthusiast
This section is full of incredible gift ideas for the home enthusiast in your life. Everything from the best organizational aides to great gadgets for keeping things clean + refreshed to fancy additions to really uplift a space + more. Create the most amazing space with a few tweaks and feel like a real life Interior Designer. Haha.
Wet + Dry Vacuum -- A fancy all-in-one vacuum is truly one of a kind and a MUST for any home. I'm currently loving this Tineco Floor Vacuum and Bissell Vacuum which both offer great features and does the job on hardwood flours and rugs!
Wall Mounted Clothes Rack -- Now this clothes rack is a whole new way of keeping your clothes organized and it just gives the vibe of a good, modern home with a beautiful design. I'm obsessed!
Rotating Shoe Rack -- I recently found this on Amazon and immediately had to grab this. I love a good organize show rack and the fact that it rotates for great ease with plenty of room is a bonus!
Modern Vase -- Having a beautiful, neutral vase for any room is so important. Whether you plan of adding flowers or plants to the mix, this modern vase is sure to add character and chic to whatever room you add it to.
Electric Spin Scrubber -- Listen, this scrubber has been life-changing for me! I purchased this a few weeks ago and it's been my go-to for the intense cleaning sessions, especially in the bathroom. It comes with several "heads" that tackle a specific kind of cleaning result and it's easy to charge + store.
Sectioned Laundry Hamper w/ Lid -- This basket is for the one who wants to have clothes pre-organized for a great lift + go situation. Plus, it helps to keep odor away, is water repellent, includes removable nets, and is foldable. A very practical but thoughtful gift.
Candles -- For any home, having the best scented candle is a MUST! I love these soy candles which comes in a variety of flavors, especially the very popular Fresh Apple Blossom and Mulled Cider scents. I promise it's worth it!
Large Arched Vanity Mirror -- This beautiful mirror adds a luxurious feel to nay room that you choose to put it in and I love the brushed metal finishes and variety of colors that it comes in. Definitely a great to spruce up your living space.
Ring Video Doorbell -- Everyone needs to see who's at the door and this Ring Video bel is a great way to do just that. With cutting edge technology, this doorbell includes 3D motion detection, built-in Alexa, Two Way Talk with Audio, and more.
To see additional products in my Home List, head over to my Amazon Shop.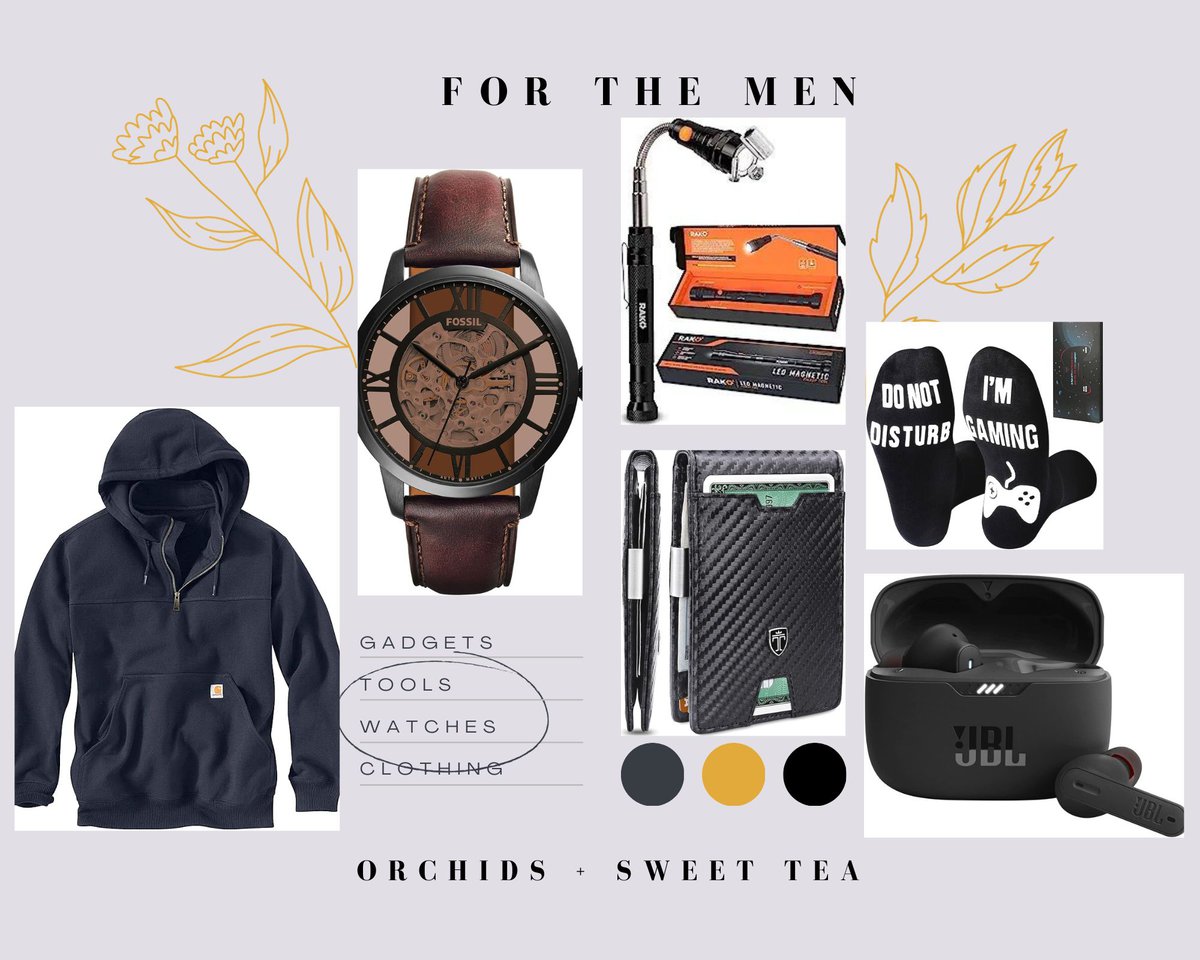 For the Men
The items in this section is full of incredible gift ideas for the men in your life. Everything from the awesome tools to help the "fixer" of the house to stylish shirts + watches to gadgets + accessories that he's into + more. A list with a few things to choose from.
Whitening Toothbrush -- Everyone needs a GOOD toothbrush, but I especially love this one because of it's modern black matte color and motor power, brush head extras, and smart timer. The perfect gift for the guy in your life that he'll cherish + use!
Noise Canceling Headphones -- I know. Headphones are a typical gift for men, but this noice canceling one is a great option for their gym time, study time, or any moment that they need focus and less distractions. Plus, the bass sound is said to be amazing and it's great for voice calls.
Gaming Socks -- I saw these and immediately grabbed a few pair for my husband. Haha. I find these socks super cute and relatable to your favorite guy if that's his thing. A great inexpensive gift that works as a stocking stuffer.
Slim Wallet/Money Clip -- Having a new wallet that's sleek, sturdy, and keeps things in tact for men is the best gift that just keeps on giving.
Unisex Crocs -- I don't know about you but I have a few pairs of crocs and they're NEEDED. Regardless of the controversy of wearing crocs on a regular basis, I'm a believe that men need comfort too and the array of color choices make for the perfect easy gift idea!
Sweatshirt -- Having a good sweatshirt is an accessory that every man needs. I love that this one in particular has a loose fit, is heavyweight, and I love a good zipper hoodie. Definitely a great buy!
Watch -- I always love getting my husband a great watch and this Fossil watch is a really simple, but modern style for any man. Plus, I love the skeleton dial which gives it some edge! But, if the guy in your life loves a more modern, sleek look, then this Fossil Copeland Stainless Steel or Michael Kors Lexington watch is superb!
Magnetic Pickup Tools -- I love a good toolbox gift and this tool is a great addition. Make things easy with this tool's ability to have a powerful grip and multipurpose use. I especially have this RAK Magnetic Pickup Tool or Telescoping Magnetic Pickup Tool on my list for the hubby!
For the other amazing items in this list, visit my Amazon Shop!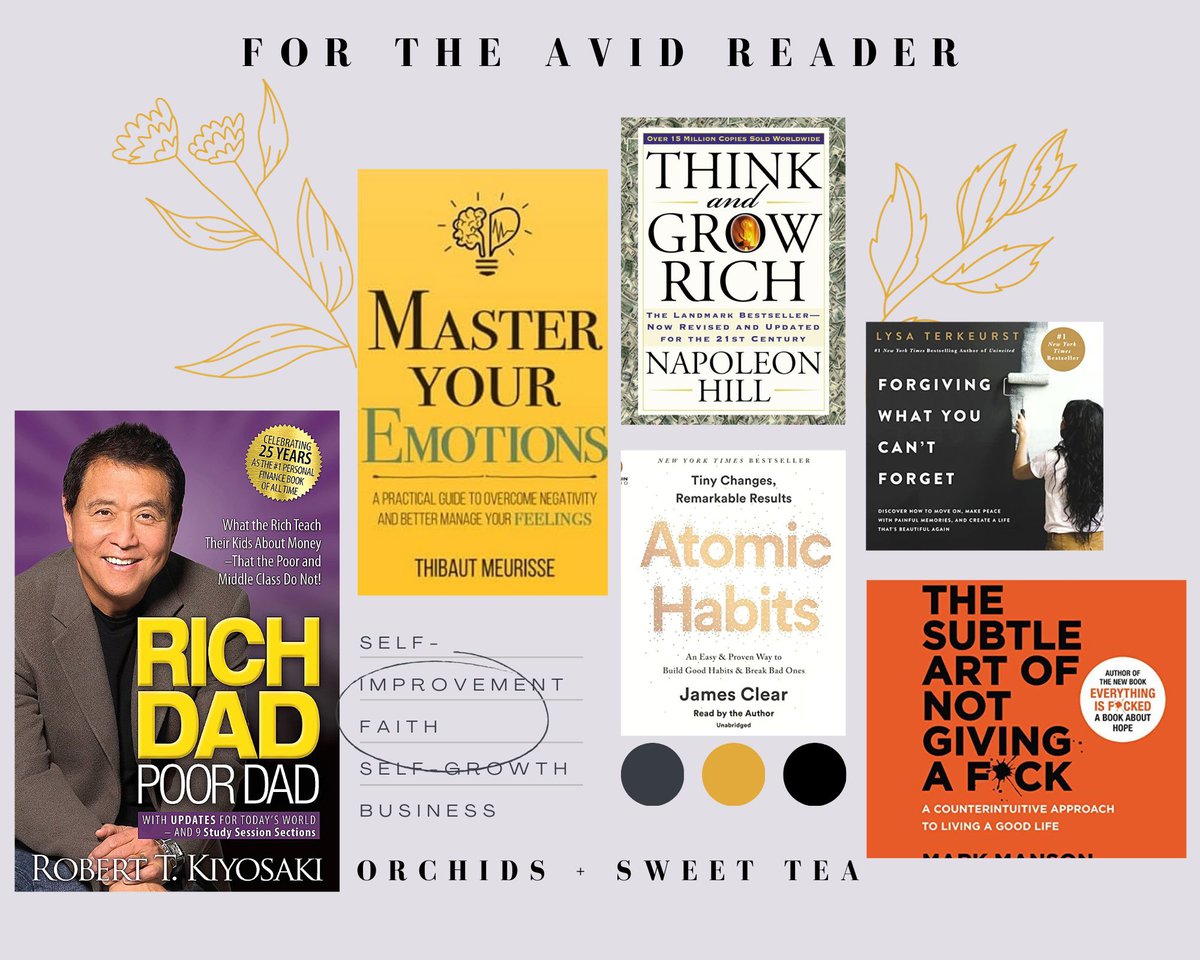 For the Avid Reader
When it comes to the items in this section, it's full of incredible books for the avid reader in your life. Everything from business to wealth building to self-improvement to faith, + more. Definitely reads that are worth delving into for a better YOU!
The Subtle Art of Not Giving a F*ck -- Yes, I know that the title seems abrasive, but I promise that this book is life-changing. I literally read it in a day and that says a lot since I'm not an avid reader. Haha. Great life lessons and mindset restructuring that's necessary in all stages of life.
Rich Dad Poor Dad -- This book might have been around for a long time, but it's a classic and for great reason! Such a profound read that shifts your mindset about money and wealth building altogether.
Damaged But Not Destroyed -- I read this book recently and I'm pleasantly surprised and how many gems I got from it. Such a great read about how our traumas and struggles don't have the complete ability to damage us unless we let it by not going to Jesus with it. Definitely recommend this one because it gives practical tools and spiritual insight into moving from damaged to better.
For the FULL list of amazing reads on this list, visit my Amazon Shop!
Whelp, we've made it to the end of the list so that's a wrap! That's it for Orchids + Sweet Tea's 2023 Holiday Gift Guide. I hope that you find the most perfect gift for the special person or people in your life this season.
PURCHASED SOMETHING FROM THIS LIST?
If you purchased anything on this Orchids + Sweet Tea's 2023 Holiday Gift Guide, please please TAG ME ON INSTAGRAM and let me know if this guide helped you in the 📝 comments below. I love hearing from you.