These Gingerbread Cinnamon Rolls just taste like Christmas! If you're like me, and you believe the holidays are all about indulging, then I have the best holiday inspired cinnamon roll recipe for you. And, beginner bakers, have no fear, because this holiday recipe is easy, easy, easy! Gluten-Free and Overnight options.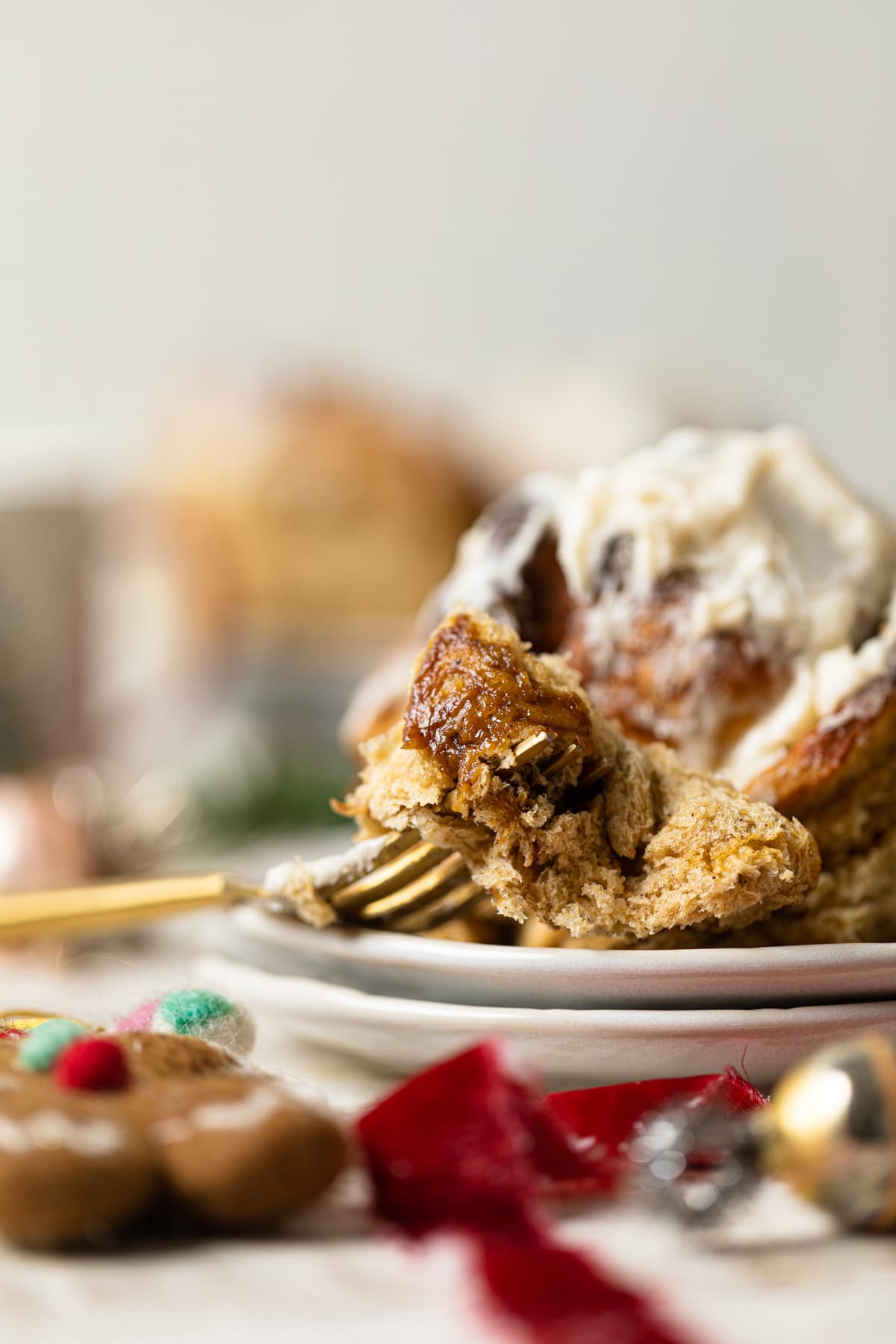 Disclaimer: This post contains affiliate links via Amazon for products that I wholeheartedly love.
Hosting a Christmas brunch? These Gingerbread Cinnamon Rolls are a great addition! If you're worried about how to keep your cinnamon rolls moist, worry not! I've got some tips and tricks to help you create a batch of homemade cinnamon rolls that have that soft, brioche bread-like feel that we all love. The dough is a combination of all your favorite spices: cinnamon, nutmeg, ginger, cloves, and all spice. Add to that some brown sugar and a little molasses, and it's pretty much the perfect holiday cinnamon roll recipe.
We baste the dough with softened butter and sprinkle it with more sugar and spice. Are you drooling yet? Because we haven't even talked about the rich, velvety eggnog cream cheese glaze.
The creamy and sweet vanilla, cinnamon and eggnog flavors come together so perfectly, and once you spread this glaze over the top of those homemade cinnamon rolls, you will have one of the most amazing Christmas breakfast recipes ever. Plus, what's better than the smell of warm, freshly baked gingerbread filling your home? 
But if you're more into classic flavors, you definitely have to try my Homemade Classic Cinnamon Rolls! Perfectly thick, fluffy, and brioche-like with a velvety cream cheese frosting. This is the cinnamon roll of your dreams!
Reasons Why You'll Love these Gingerbread Cinnamon Rolls:
They're super easy to make.
Bake time is under 1 hour.
Is completely vegetarian. Entirely kid-friendly!
Super fluffy, soft, + brioche-like.
Makes for the perfect breakfast, brunch, or dessert situation.
Perfect Fall/Winter/Holiday vibes---thanks to the gingerbread spices!
Did I mention----they're extremely DELICIOUS?!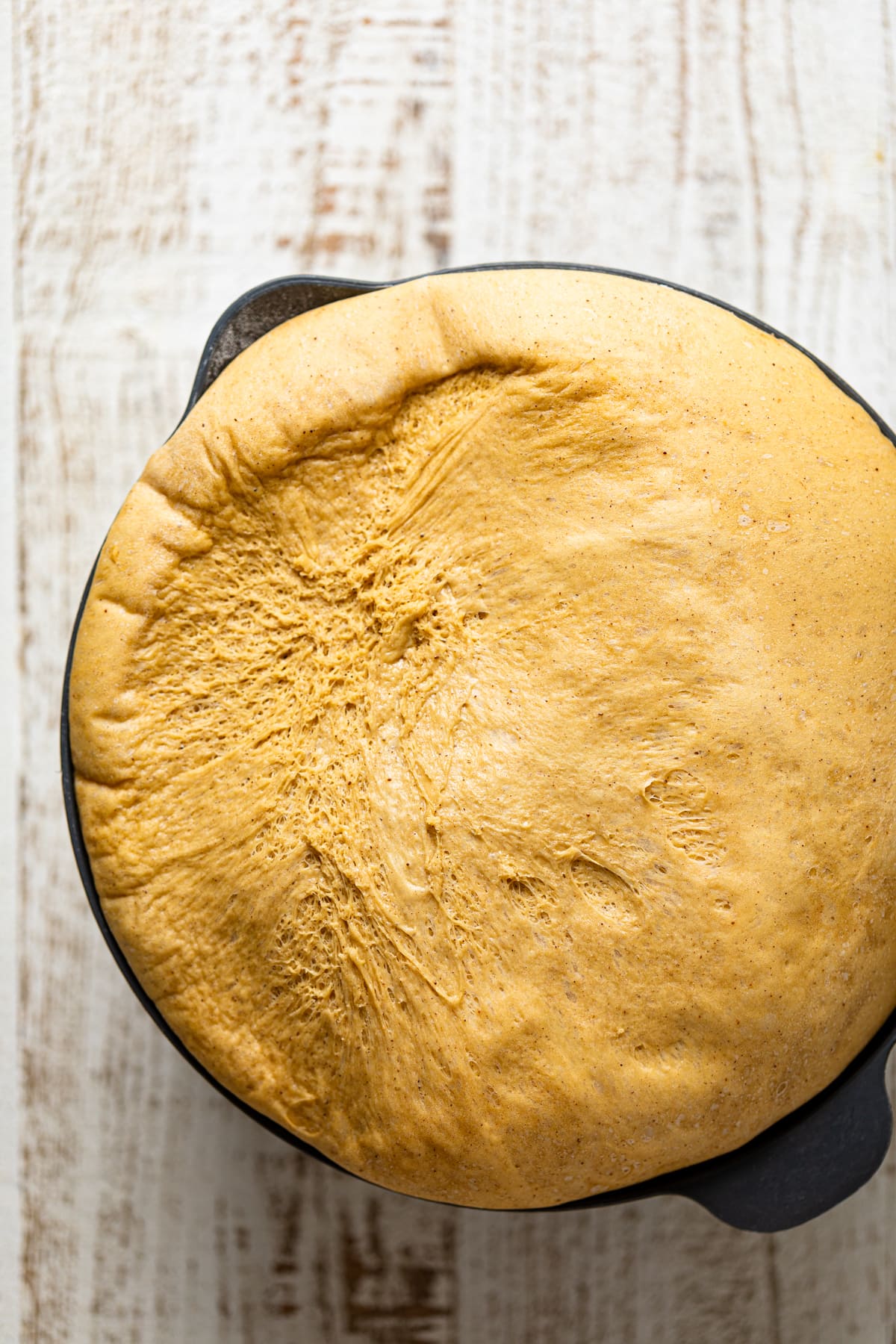 How to Make Gingerbread Cinnamon Rolls
Start by making the cinnamon roll dough and adding all of the gingerbread flavors for a great flavorful, fluffy texture. It needs to rise for at least 1 hour in a warm place for it to be super soft. Then make the filling and assemble and bake your rolls. Finally, pour the molasses mixture atop rolls and bake. Lastly, add the Eggnog Cream Cheese glaze, and dig in!
Ingredients for Gingerbread Cinnamon Rolls
Here's what you need for the fluffy gingerbread-infused brioche-style dough:
All-purpose flour. I use organic flour from Bob's Red Mill.
Bread flour. You can find this from King Author or Bob's Red Mill.
Almond milk. Choose unsweetened. Feel free to use a different plant-based milk if you like. I recommend making easy 

homemade almond milk (my recipe doesn't require soaking!)

Gingerbread spices. This adds a warming spice profile to these cinnamon rolls. You'll need ginger, cinnamon, nutmeg, cloves, and allspice.
Brown sugar. I like to use organic! You could also use brown sugar or coconut sugar.
Eggs. These should be at room temperature for easy blending.
Instant yeast. Also called Rapid Rise Yeast.
Molasses. I like to use a premium molasses.
Butter. You'll need unsalted butter that's melted and cooled to WARM.
WARM water. This is important to help activate the yeast at the beginning.
Vanilla extract. The pure vanilla is the best flavor. 
Cinnamon Roll Filling
Here's what you need to make the spiced filling for your cinnamon rolls:
Brown sugar
Butter. Again, unsalted butter. Soften the butter to room temperature.
Spices. The filling is flavored with cinnamon, nutmeg, and ginger.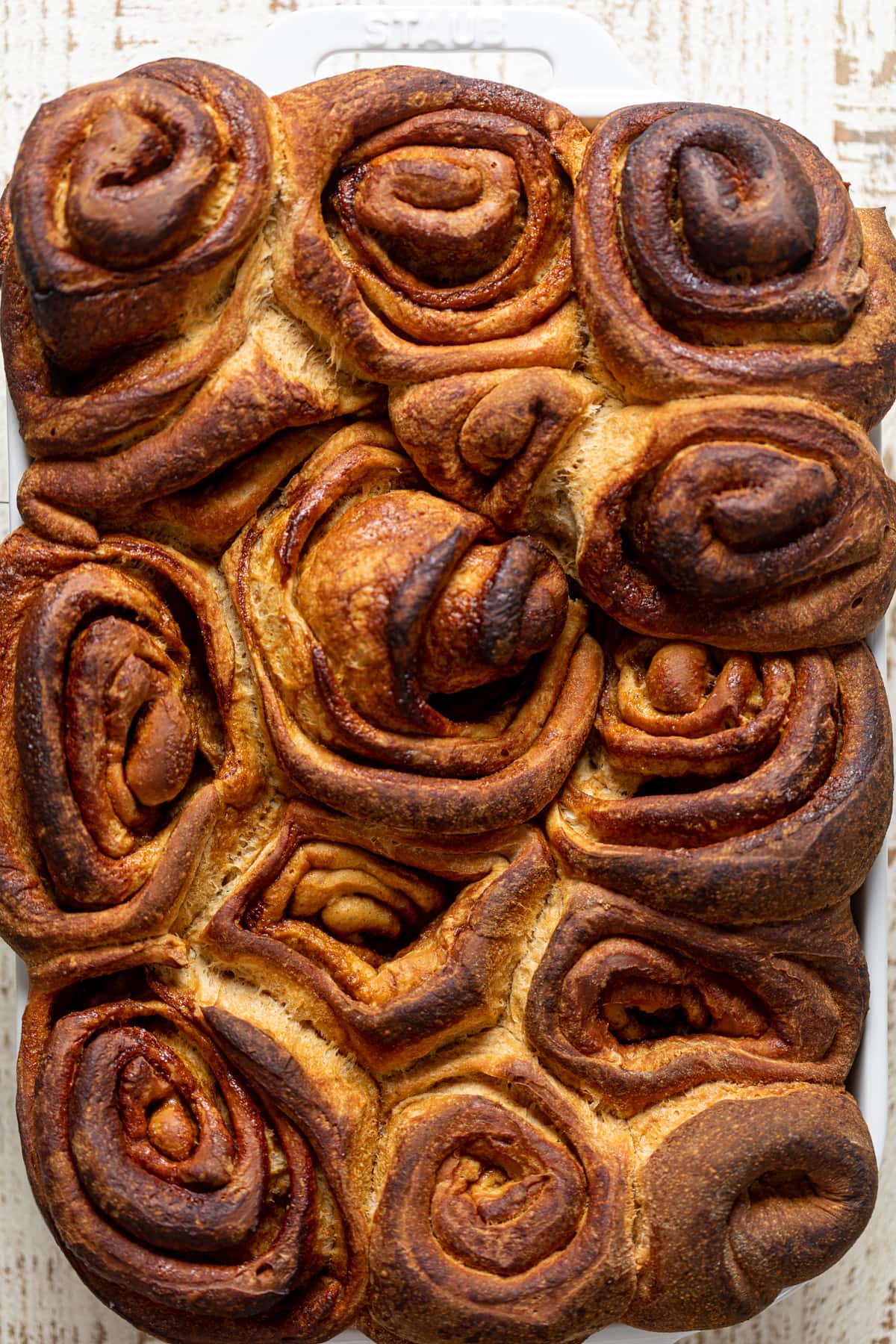 How to Make Store-Bought Rolls Taste Homemade:
When it comes to these Gingerbread Cinnamon Rolls, one of my fave parts is just how how delicious they are homemade despite the process! However, in case you aren't a fan of making them from scratch or you find yourself stumped for time, I have a few tricks + hacks to making store-bought rolls taste more cozy and homemade like this recipe. Here's what you need to do:
Use a high-quality organic store bought version of cinnamon rolls to start! I love using

@annieshomegrown

 or Immaculate Baking Co.
Add about 1 cup of WARM milk + 6 Tbsps molasses + ginger, cinnamon, nutmeg, allspice (whisked together) and pour them over rolls once in baking dish. This helps to make them "gingerbread flavored" + gives them a nice soft, fluffy texture while baking.
Never use the icing! Once baked, top your cinnamon rolls with homemade icing like my Eggnog Cream Cheese frosting (within this recipe). 
Always add icing to WARM rolls so that it semi-melts and adds further moisture to baked rolls and becomes perfectly "whipped". Wallah! Slice + enjoy!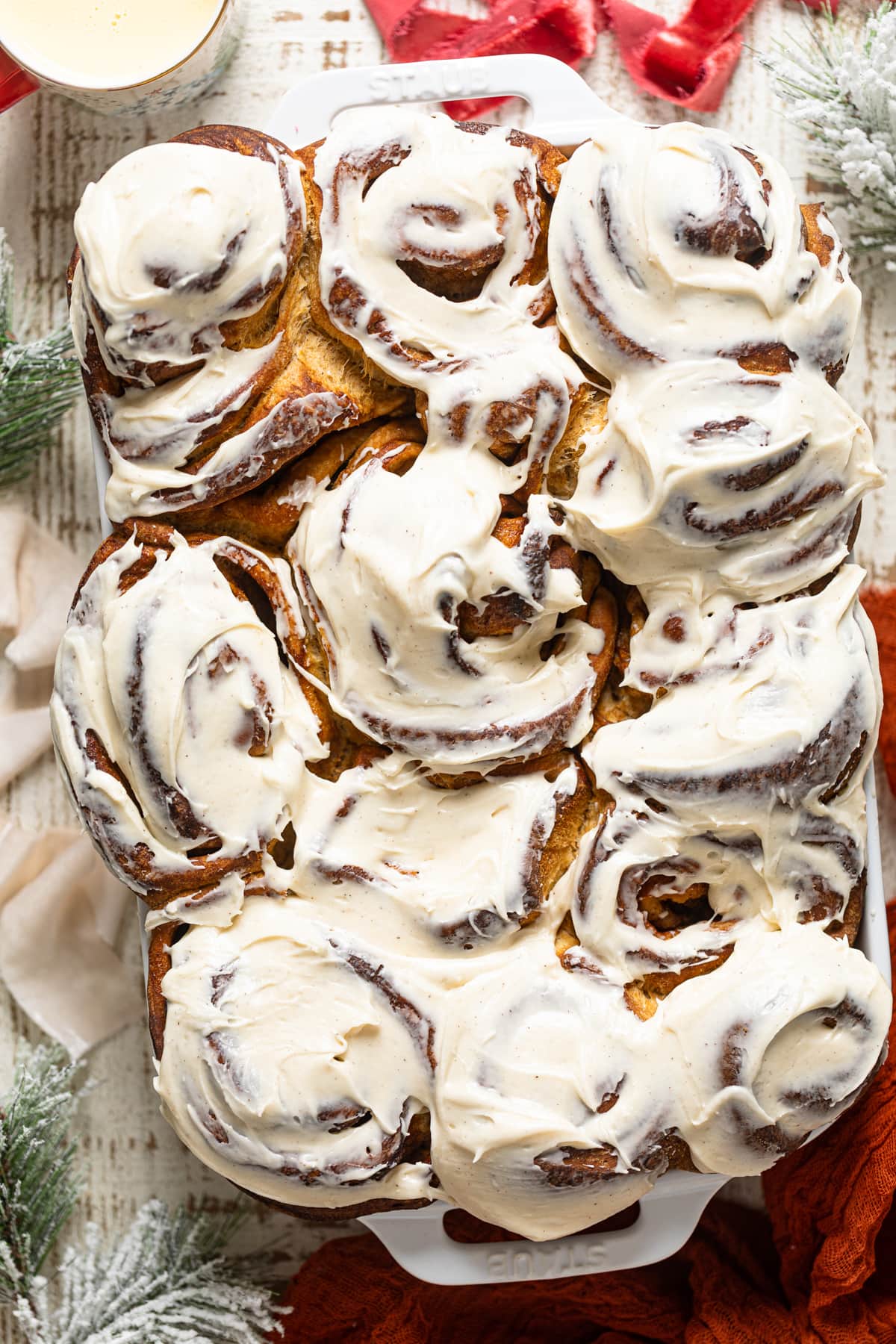 I'm so excited to share this recipe with you because these Gingerbread Cinnamon Rolls just taste like Christmas! 
Regular Molasses vs. Blackstrap Molasses for Baking
Molasses comes in a few varieties. For a really in depth look at the different types of molasses out there, this article from Spruce Eats is a great reference. 
For this recipe, I recommend using Blackstrap molasses, because Blackstrap molasses has the lowest sugar content. Because we're already adding sugar to the dough, the filling, and the frosting, controlling the places we chose to add sugar to our recipe is important.
Of course we want these delicious cinnamon rolls to be a roll of warm sweet goodness, but we want to make sure that these flavors are nice and balanced!
Best Substitutes for Molasses?
OK, so if you're not a fan of using molasses, then I completely understand. While molasses usually plays the most important role for the beautiful brown color in anything Gingerbread, there are definitely other options!
Dark Maple Syrup (Just be sure to reduce other liquids slightly to avoid an overly wet dough)
Dark Corn Syrup
DIY Mix: ½ honey + ½ brown sugar or ½ dark corn syrup + ½ maple syrup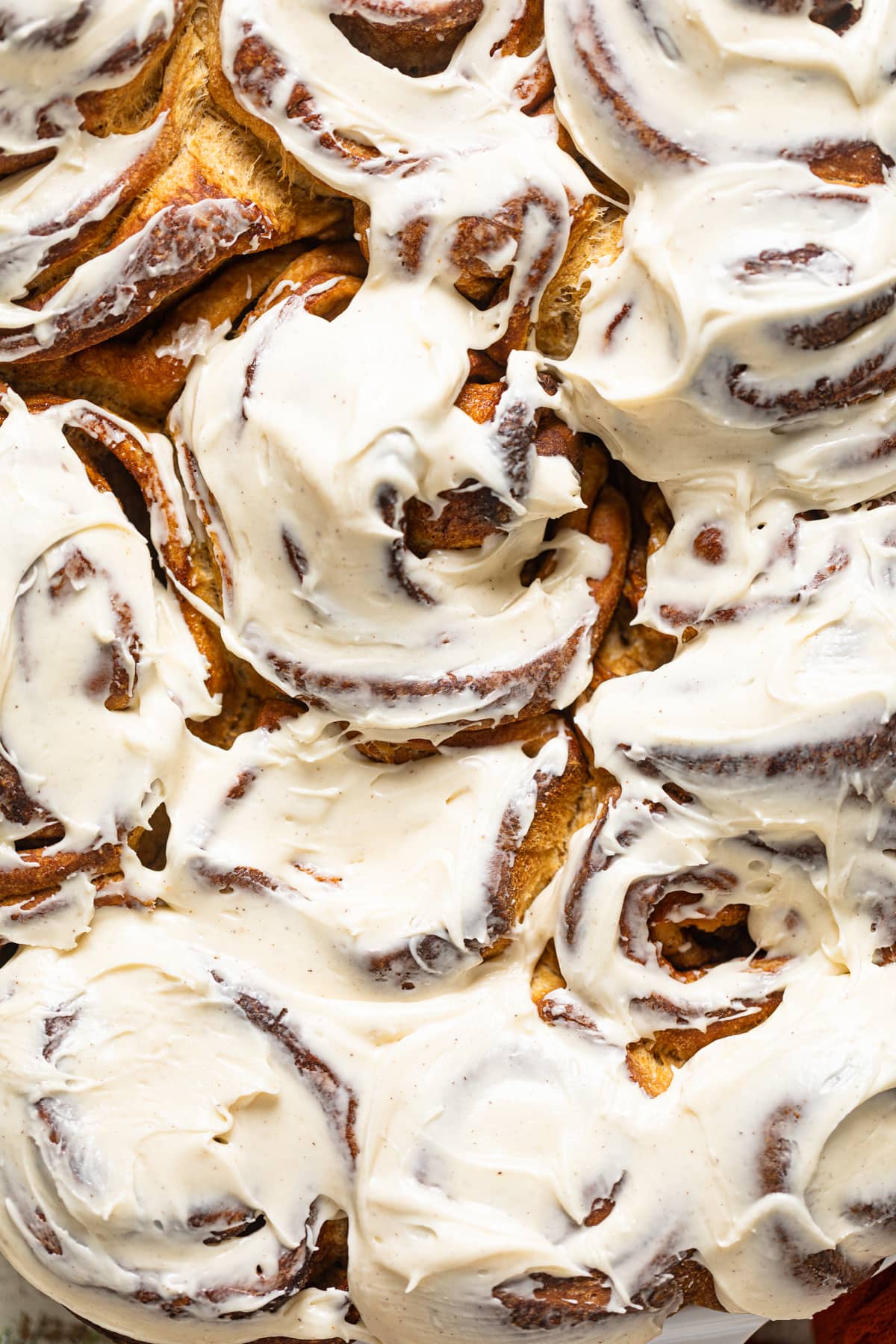 How to Prevent Dry Gingerbread Cinnamon Rolls 
OK, honestly, the biggest challenge with these cinnamon rolls is balancing the molasses. When used incorrectly, molasses can create a dry-ish cinnamon roll dough. In most cases, recipe developers avoid adding it to the dough, but I just LOVE the way the brown color of these rolls looks just like gingerbread! So, I found a solution!
To prevent dry cinnamon rolls, I've reduced the amount of molasses typically used, and substituted part of the flour in the recipe with bread flour. Viola! Soft and moist homemade cinnamon rolls!
The key is in creating a balance between molasses in both the dough + the centers.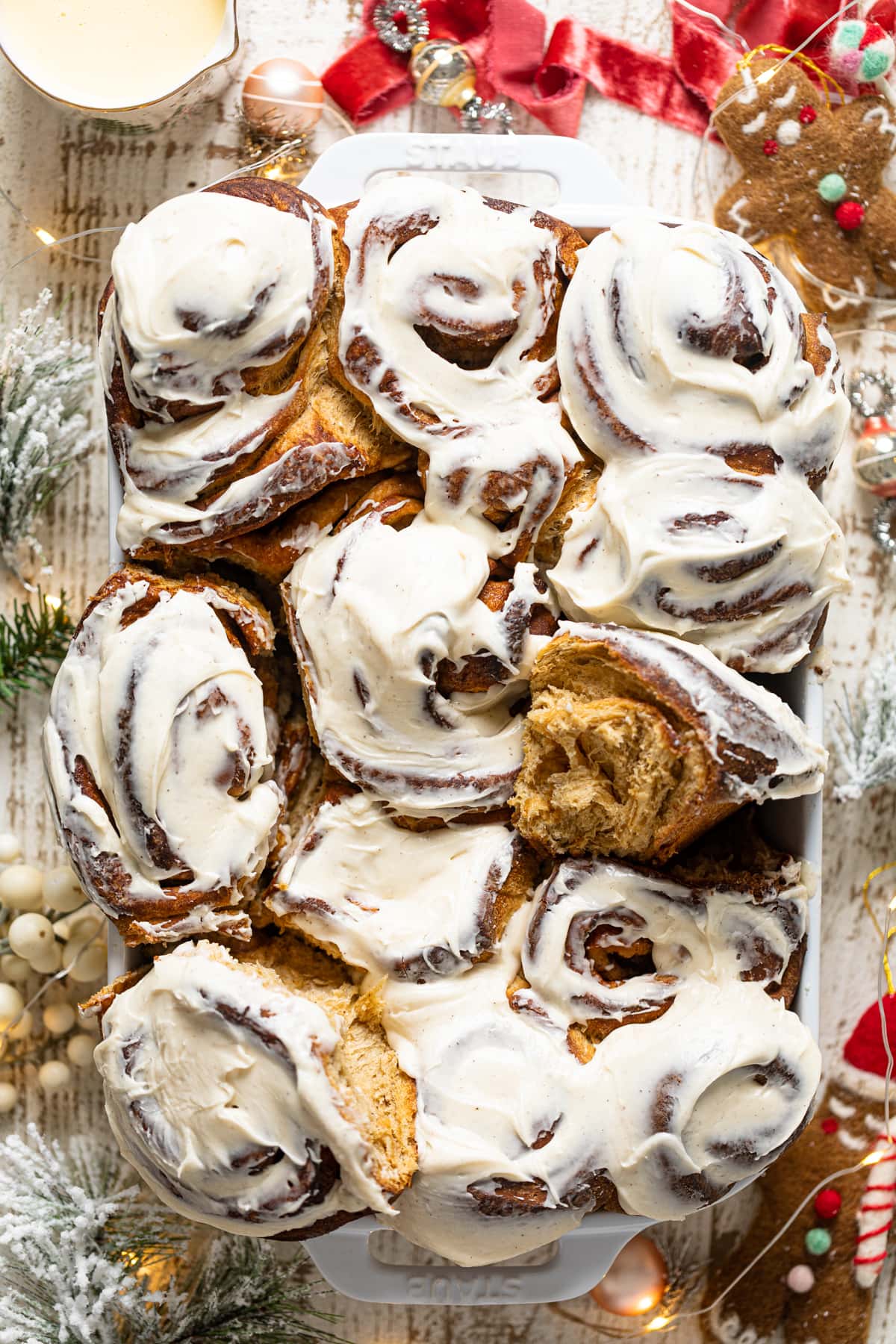 Can I Knead By Hand Instead of Using a Mixer?
Absolutely! Usually, I make my cinnamon roll dough via my electric stand-mixer which has the appropriate attachments for the kneading process, however, with these cinnamon rolls, I have had the pleasure of doing this all by hand and it wasn't difficult. 
It just requires a bit more arm work, that's all! Plus, there's nothing that a light drizzle of flour can't help, right?! You'll basically follow all steps for making the dough in a large bowl and once it begins to come together and can form a ball, then you'll begin working the dough in a front-to-back and folding motion a few times until you begin to feel the dough "soften" and become elastic-like. It took me about 5-6 minutes or so total. Not bad!
How To Make Homemade Cinnamon Rolls without Yeast
OK, so you might think it's possible, but you can totally make cinnamon rolls, including these Gingerbread Cinnamon Rolls without yeast, if you ever needed to! Just know that the texture wouldn't be as brioche-like or fluffy, and they'll be more dense, but still good.
Instead of yeast, you'll just need to substitute with 2 ¼ teaspoons baking powder to allow some level of rise to occur.
RAPID (INSTANT) RISE YEAST VS. ACTIVE DRY YEAST.
If you're not using the Rapid Rise Yeast for this recipe, please know that the rise time will be twice as long (about 3 hours) since regular Active Yeast doesn't work as quickly.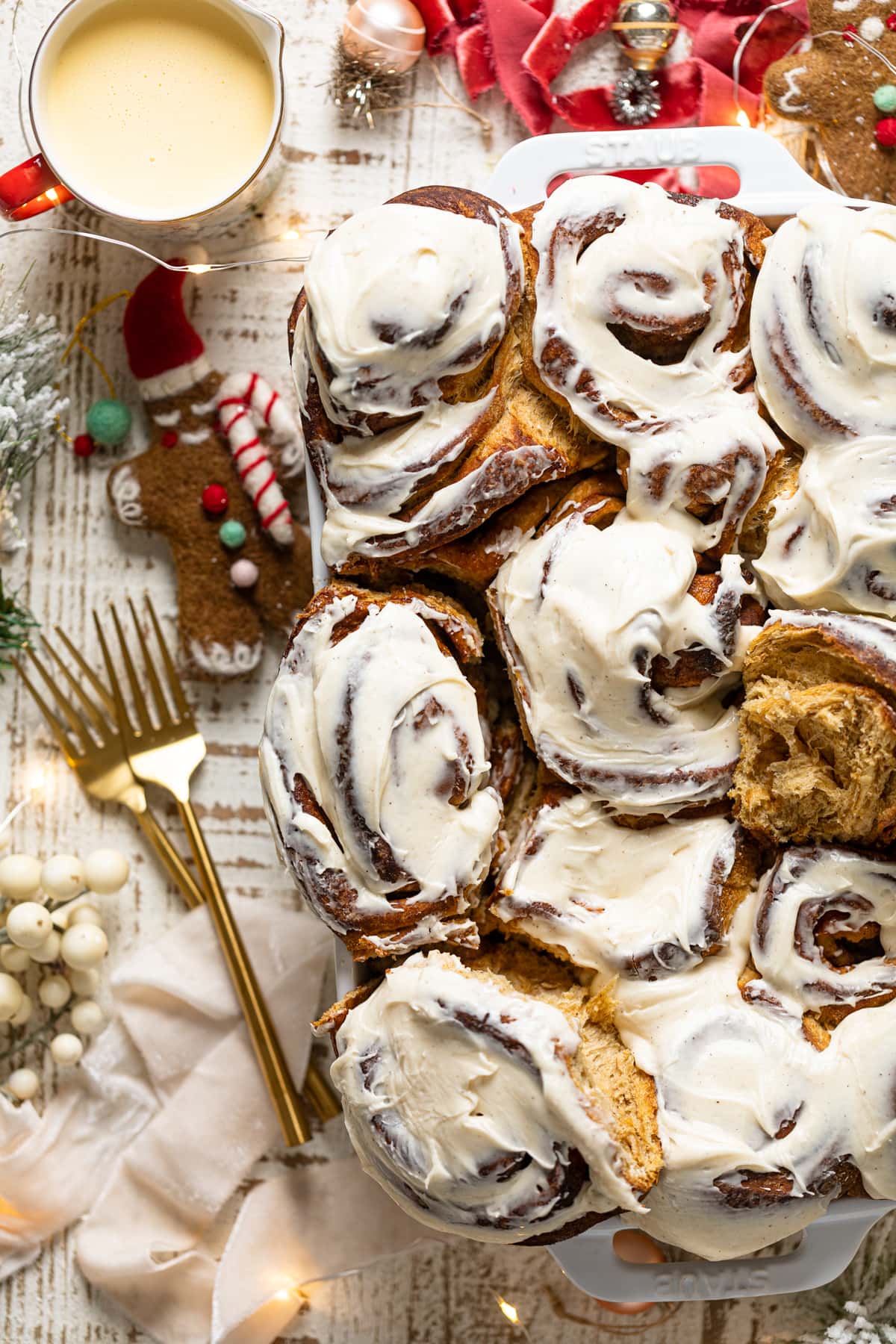 To Make the Egg Nog Cream Cheese Glaze:
8oz. pack cream cheese, softened
2 Tbsps high quality egg nog
4-5 cups organic powdered sugar
1 teaspoon vanilla extract
pinch of ground cinnamon
Simply beat the cream cheese until creamy and smooth, then add  the other ingredients until well incorporated.
Wait until the rolls are cooled before adding the glaze - about 25-30 minutes.
Can I Make Gluten-Free Gingerbread Cinnamon Rolls?
Yes! To make fluffy Gingerbread Cinnamon Rolls gluten-free, substitute both the all-purpose and bread flour with Bob's RedMill 1:1 baking flour. Reduce the amount by 1 cup and add more if necessary if the dough is too sticky.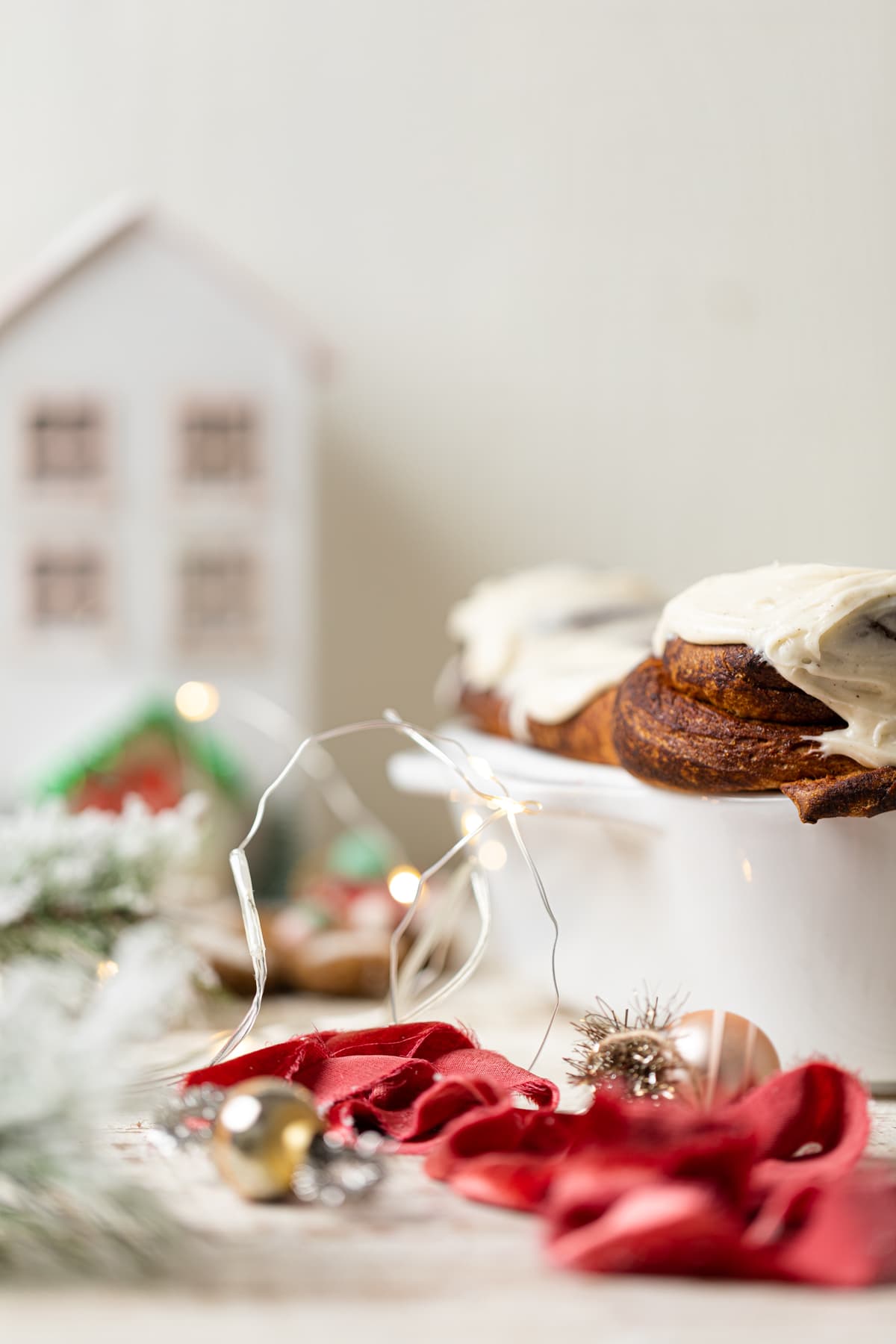 Seriously Easy Tips for the Perfect Cinnamon Rolls
Before we head over to the full recipe, here are a few tips to ensure your homemade Cinnamon Rolls turnout perfectly:
NEVER overheat the milk
Yeast is extremely finicky. Be sure that the milk used to activate the yeast is warm, not hot. The packet of yeast will have directions, but a good rule of thumb is between 100-110˚F (37-43˚C). This ensures you don't kill the yeast and your dough rises to be soft and fluffy. 
Use soft, room temperature butter 
The consistency of your butter is the ultimate secret to tender cinnamon rolls. The same way room temperature butter creates a great texture in cakes and other dough-based recipes, room temperature butter helps make these cinnamon buns super soft.
Mix, Mix, MIX! 
Mixing, or kneading the dough, is what releases the glutens and makes the dough elastic. Elastic dough is the easiest dough to work with. Why do you want the cinnamon roll dough to be elastic? Simple: it helps when rolling and allows you to create a nice flat, thin square. Making sure that your dough is a uniform shape and texture will make it easier to fill with your choice of filling. It also makes rolls much easier.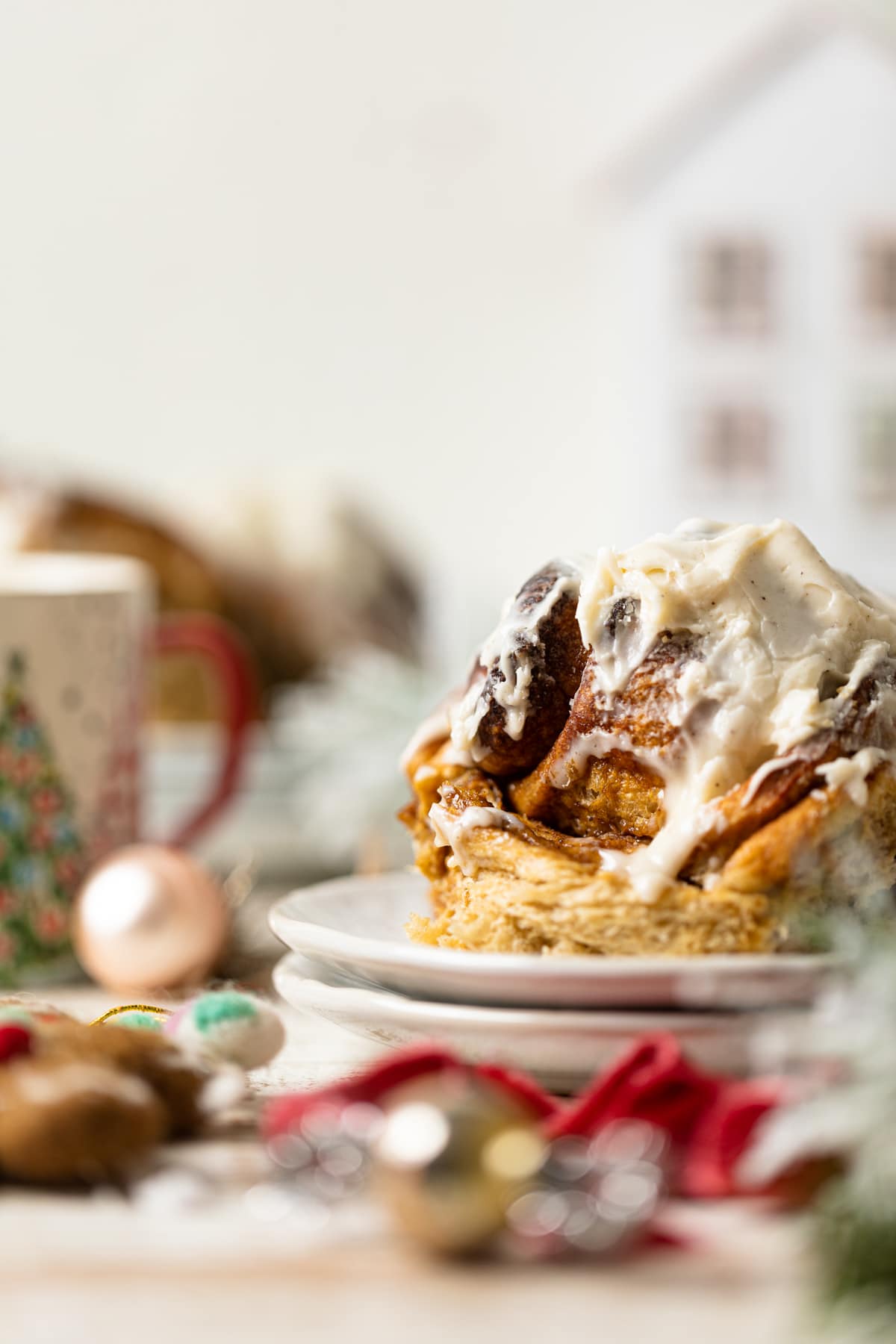 Let the dough rise overnight
Although I mostly make my cinnamon rolls  the same day, letting the dough rise overnight in the refrigerator is the best. This slow rise process allows the yeast to completely feed off of the sugar and creates great flavor and of course—a lot more fluffiness in those gingerbread cinnamon rolls!
Use Bread Flour

Bread flour is the secret ingredient in this cinnamon roll recipe. Before I discovered bread flour, I used only all-purpose flour. However, after a little experimenting, I learned that bread flour  does wonders to make baked good super soft and moist (because it absorbs moisture like a champ!) The result? Homemade cinnamon rolls that have the most beautiful texture, and are tender, thick, and even more fluffy - just like brioche bread.

Roll the dough tightly

Yes, you read that right. Although the assembly is extremely messy, the way you  roll the cinnamon roll dough is extremely important. Rolling the dough tightly creates a nice structure, and allows you to cut the dough more evenly. Evenly cut dough helps the rolls in the baking process. When rolling, always start the first roll really tight to keep the momentum throughout the log.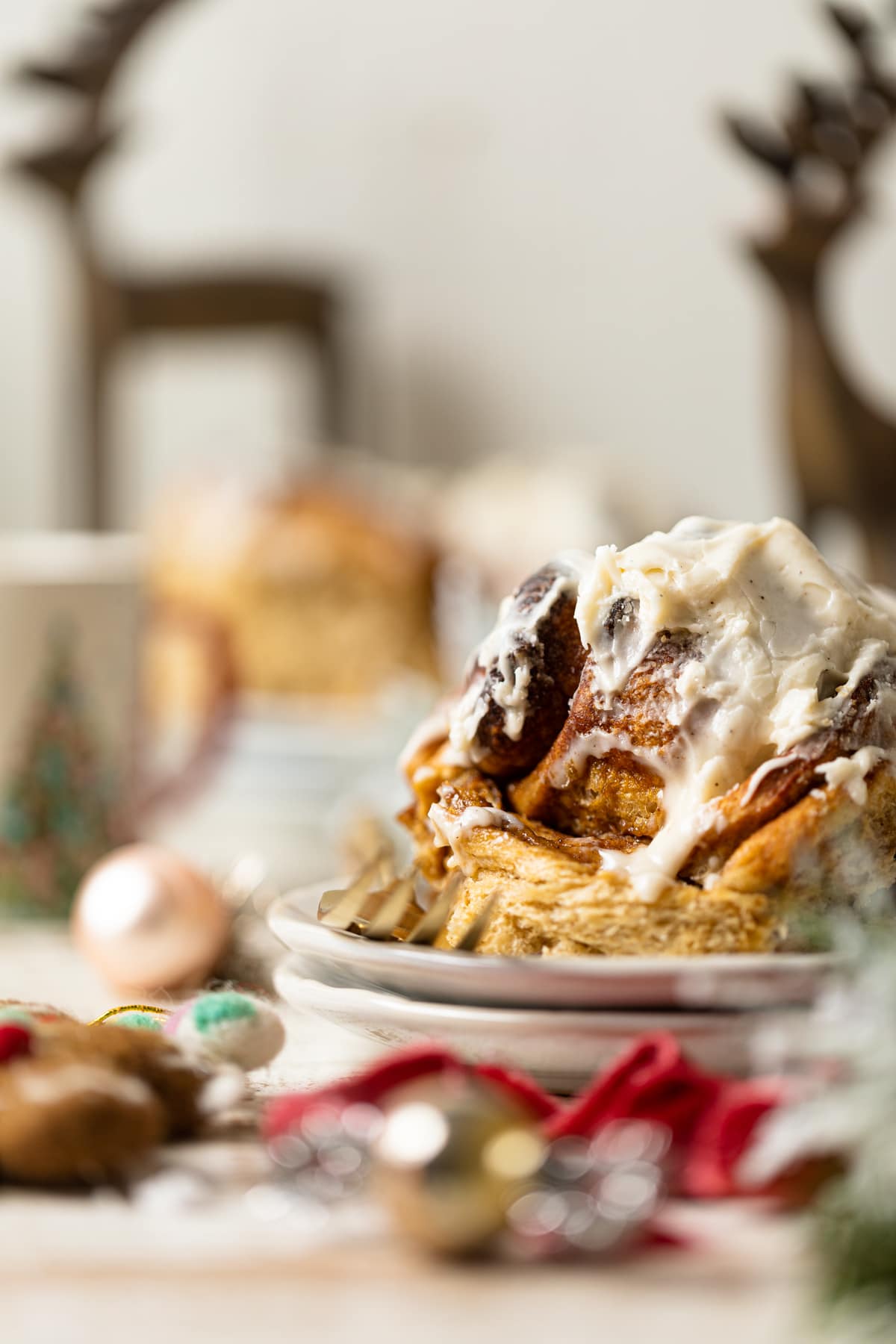 How to Serve Gingerbread Cinnamon Rolls
 Need ideas on what to serve with made-from-scratch cinnamon rolls? I have two words for you: Christmas brunch. These Gingerbread Cinnamon Rolls will, hand's down, steal the show at your next holiday brunch. Because one batch of this easy cinnamon roll recipe makes a pan of 12 utterly delicious rolls, it's great for feeding a crowd. 
But holiday brunches aren't the only occasion to whip up this festive recipe. If you want a super special Christmas morning breakfast, the warming spice of Gingerbread Cinnamon Rolls are the perfect solution.
And, if you want to double down on all things gingerbread, you can also try my special Vegan Gingerbread Cake with Chai Buttercream or these Vegan Gingerbread Donuts with a sweet Chai Glaze!
How to store Gingerbread Cinnamon Rolls
Need to store leftover cinnamon rolls? The great thing about this recipe is that in the unlikely event you have leftover cinnamon rolls (they're so good that they go pretty fast!), you won't have to worry about them losing any of their pillowy softness.
You see, the secret to these brioche-like cinnamon rolls is the bread flour. The bread flour really absorbs the water in the recipe so that even if you need to store leftover cinnamon rolls, they'll still be super soft and moist the following day.
You'll want to store the cinnamon rolls the same way I recommend storing my dairy-free Cinnamon Roll recipe for Vegan Pumpkin Cinnamon Rolls. Cover the pan tightly with plastic wrap, or place the rolls in an airtight plastic container. They will store this way on the counter for up to three days. You can also store the cinnamon rolls in the refrigerator for up to a week.
More Must-Try Cinnamon Roll Recipes
MADE OUR RECIPE(S)?
If you make these festive Gingerbread Cinnamon Rolls, tag @orchidsnsweettea_ on Instagram and hashtag it #orchidsandsweettea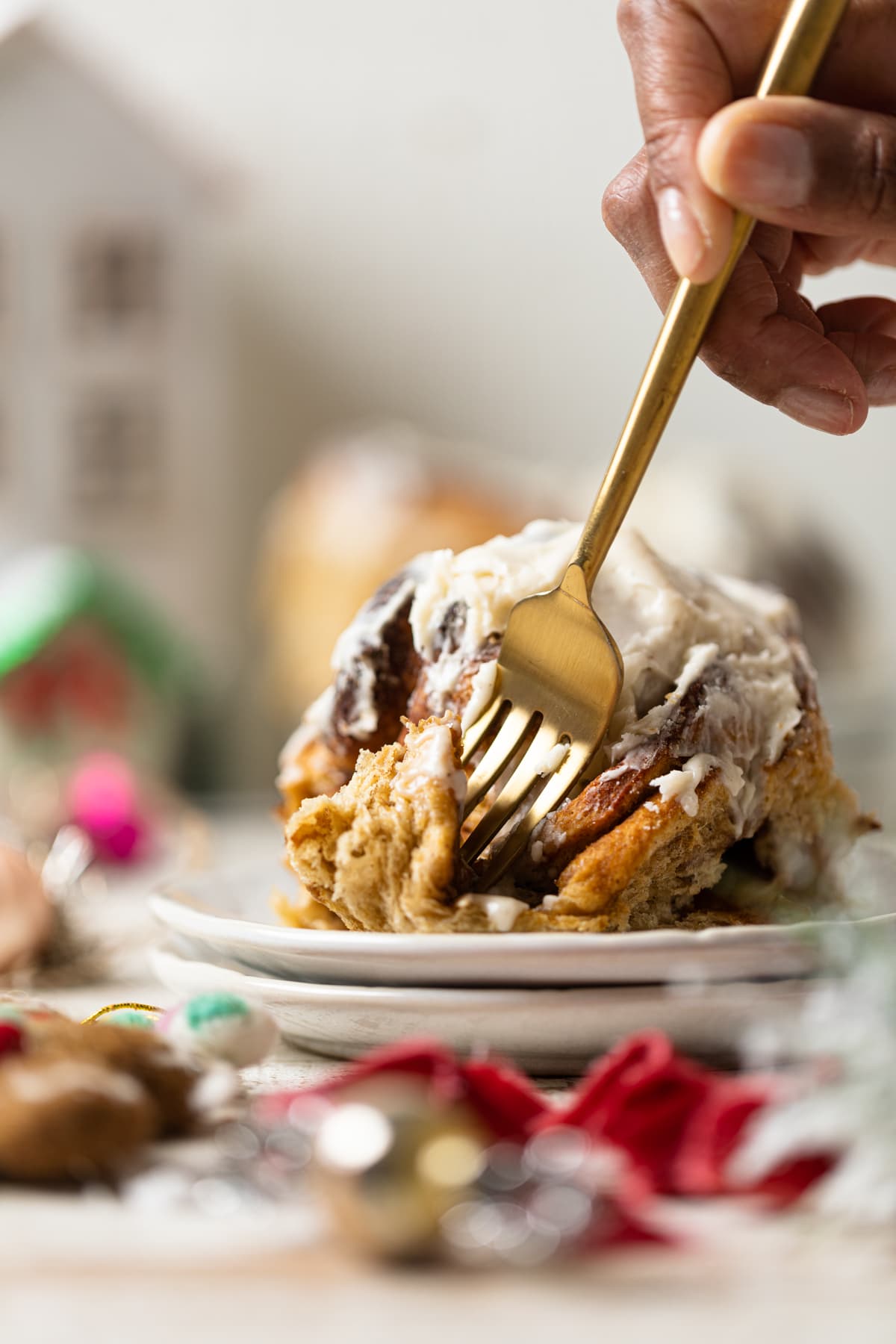 DOUGH:
3

cups

organic All-purpose flour

2

cups

Artisan Bread flour

1

packet

Rapid Rise Yeast 

(That's 2 ¼ tsps!)

½

cup

organic brown sugar + 1 Tbsp

2

tsps

ground ginger

1

teaspoon

ground cinnamon

½

teaspoon

ground nutmeg

¼

teaspoon

ground cloves

⅛

teaspoon

allspice

½

teaspoon

sea salt

1 ¼

cup

Almond milk, room temp.

(You can use your fave plant-based or whole milk!)

2

large

organic eggs, room temp.

1

tablespoon

molasses

¼

cup

WARM water

¼

cup

unsalted butter, melted + cooled to WARM
EGGNOG CREAM CHEESE GLAZE:
4-5

cups

organic powdered sugar, sifted

8

oz.

organic cream cheese, softened at room temp.

2-3

Tbsps

high-quality eggnog

1

teaspoon

vanilla extract

pinch of

ground cinnamon
FOR THE DOUGH:
Combine yeast and 1 tablespoon brown sugar in the bowl of an electric mixer and slowly pour in warm water while stirring frequently. Allow 10 minutes for the mixture to sit and for the yeast to activate.

Add in the room temperature milk and warm butter to the yeast mixture and whisk until well combined. Add in the vanilla and molasses, whisking to incorporate.

In a large bowl, whisk together the all-purpose flour, bread flour, brown sugar, ginger, cinnamon, nutmeg, allspice, cloves, and sea salt and add them to the wet ingredients and mix on low-speed until well combined and everything begins to form into a dough-like consistency, about 2-3 minutes.

Change "Mixer head" to kneading accessory and knead dough for 5-10 minutes on high speed until dough ball becomes smooth and elastic and dough springs back when lightly pressed together with 2 fingers. NOTE: If dough is still too sticky, add 1 tablespoon of flour at a time until texture is achieved!

Lightly grease a large bowl with a small amount of olive oil and place the dough ball in the bowl, tossing it around until coated. Cover with plastic wrap (or a towel) and let sit for 1 hour, allowing the dough to rise and double in size. 
FOR THE MOLASSES MIXTURE:
In a bowl, add together the warm milk and molasses, whisking until combined and smooth.

In the meantime, you can work on the filling!
FOR THE FILLING:
Add the softened butter in a small bowl and set aside. In a separate bowl, combine the spices and brown sugar, mixing them together.

Once the dough has risen fully, preheat the oven to 375 degrees Fahrenheit and line a large 9x13 baking dish with parchment paper, allowing excess to hang from the sides.

Add a bit of flour to a surface and place the dough onto it, lightly adding a bit of flour to the top. Using a rolling-pin, roll out the dough into a rectangular shape (approximately 9″x14 and ½-inch thick), trimming the edges if needed. NOTE: Try not to make the dough too thin or else rolling it up will be hard to do!

Then, generously smear the softened butter evenly atop dough, followed by the brown sugar-spice mixture, ensuring that the top is coated evenly.

Tightly roll dough (long-ways) and using a pastry cutter, cut dough into 1.5" rolls, placing each roll (cut side down) into a large baking dish (lined with parchment paper!).

Then place plastic wrap over the baking dish with rolls and let them rise again (for another 20 minutes).
BAKE TIME:
Once the rolls have doubled in size (once again!) or have gotten significantly larger, evenly pour the molasses mixture atop all rolls and then bake them for approximately 35-40 minutes in the preheated oven or until the centers come out "clean" when tested.

While all the baking magic is happening, make the Eggnog Cream Cheese Glaze.
FOR THE EGGNOG CREAM CHEESE GLAZE:
In a large bowl, beat (using a hand-mixer) the softened cream cheese until creamy and smooth. Add the powdered sugar, vanilla, cinnamon, and eggnog, beating everything together until the glaze becomes smooth and velvety. NOTE: Add additional eggnog (1 tablespoon at a time) if the glaze is too thick or powdered sugar (1 tablespoon at a time) if too thin.

Remove the rolls from oven and wait 25-30 minutes or until it completely cools, before spreading the frosting/glaze atop the rolls using a rubber spatula evenly until fully covered. NOTE: To add additional moisture and for an ultra velvety experience, add half of the glaze atop WARM cinnamon rolls so that it "seeps" through. and then add remaining after a few minutes.

To serve, cut out each roll desired and enjoy.

Bon Appetit!
TO STORE: Cinnamon Rolls can be kept fresh at room temperature when tightly wrapped or sealed for up to 3 days. Fresh for up to 1 week in the Refrigerator. Baked rolls can be frozen up to 2 months.
OVERNIGHT OPTION: If you don't want to make your Cinnamon Rolls on the same day, you can simply follow all steps (including the initial 1+ hour rise) and after cutting rolls and placing them into your baking pan, just cover them tightly (using foil paper of plastic wrap) and refrigerate them overnight or for 8-12 hours instead. The following day, remove from refrigerator and keeping them covered, let cinnamon rolls rise at room temp 1 to 1 ½ hours.
RAPID (INSTANT) RISE YEAST VS. ACTIVE DRY YEAST: If you're not using the Rapid Rise Yeast for this recipe, please know that the rise time will be twice as long (about 3 hours) since regular Active Yeast doesn't work as quickly.
FLOUR: If you don't have bread flour, you can always just use all-purpose flour entirely instead.
MOLASSES: If using regular molasses, you can use the recommended amount as listed in the recipe. If using Blackstrap Molasses, simply use 1 less tablespoon than the amount listed to ensure that the batter isn't too bitter.
GLUTEN-FREE OPTION: To make fluffy Gingerbread Cinnamon Rolls gluten-free, substitute both the all-purpose and bread flour with Bob's RedMill 1:1 baking flour. Reduce the amount by 1 cup and add more if necessary if the dough is too sticky. 
Calories:
386
kcal
|
Carbohydrates:
106
g
|
Protein:
10
g
|
Fat:
10
g
|
Saturated Fat:
5
g
|
Polyunsaturated Fat:
1
g
|
Monounsaturated Fat:
3
g
|
Trans Fat:
0.3
g
|
Cholesterol:
55
mg
|
Sodium:
287
mg
|
Potassium:
241
mg
|
Fiber:
2
g
|
Sugar:
23
g
|
Vitamin A:
300
IU
|
Vitamin C:
0.1
mg
|
Calcium:
151
mg
|
Iron:
2
mg
Gingerbread Cinnamon Rolls.