Are Chickpeas Worth the Hype? Here's Why I Say Yes! — Let's chat about some of the amazing benefits of chickpeas and why I think they truly are worth the hype! Be sure to keep reading until the end of the article for some of my top recipes with chickpeas.
Are Chickpeas Worth the Hype? Here's Why I Say Yes!
What Exactly are Chickpeas?
Chickpeas, the common name for garbanzo beans, are a Middle Eastern dietary staple that has been around for thousands of years. Chickpeas have recently garnered a ton of popularity, but their uses have long been documented in a number of traditional Middle Eastern dishes such as hummus, chana masala, and curries.
Chickpeas have a smooth, thick texture and have a strong nutty flavor that pairs well with a ton of other ingredients. Chickpeas are great for vegan and vegetarian recipes because they are high in plant-based protein and really round out the flavors of whatever you are cooking with. I love using chickpeas and sweet potatoes in my recipes for a combination of flavors for a super hearty taste.
There are two types of chickpeas: "blond" chickpeas, which are the more common variety, found in the Middle East and North America, and "black" chickpeas found in Pakistan, Ethiopia, and India. Chickpeas are often available as dried or canned varieties. Keep in mind that canned chickpeas are usually higher in sodium than traditional dried chickpeas.
What Are the Health Benefits of Chickpeas?
Despite their small size, chickpeas are super nutritious for only a moderate amount of calories, making them a great addition to meals or a plant-based protein in their own right. One cup of chickpeas is about 210 calories and contains a high percentage of protein, fiber, and complex carbohydrates. In short, chickpeas are a delicious way to get plant-based protein and feel fuller, longer.
Chickpeas are also an excellent source of a number of important vitamins including B6, folate, other B vitamins. You also get a plethora of minerals including manganese, copper, iron, magnesium, and even potassium and calcium! Overall, these little guys are super nutrient-dense and great for your body.
You can also read more about whether Chickpeas are truly healthy via Shape Magazine's article.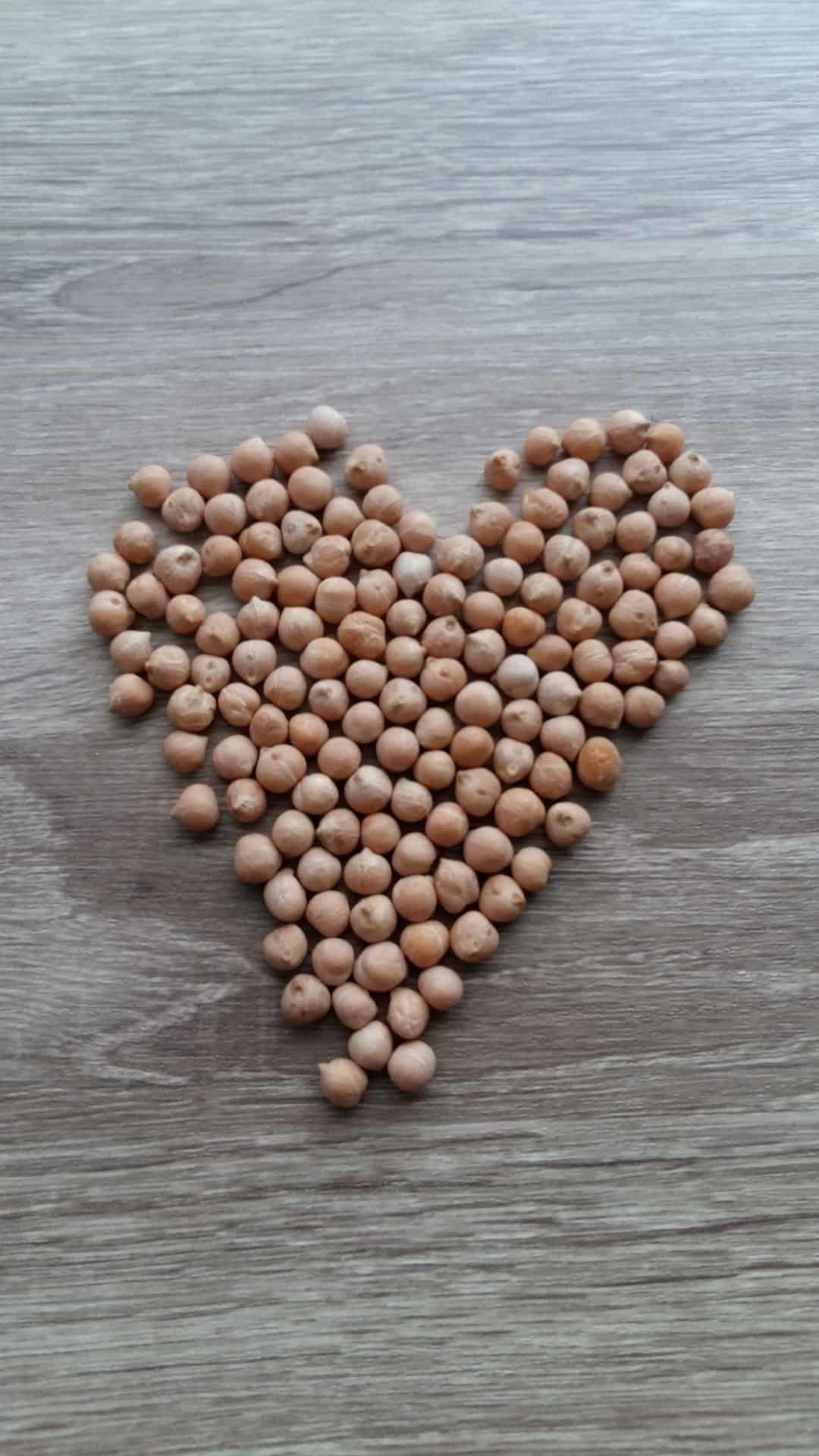 Some of the primary health benefits of chickpeas include:
Keeps your heart healthy!
With all those vitamins, minerals, and fiber, chickpeas are a great way to keep your heart healthy and strong. In fact, one cup of chickpeas contains almost 16% of your daily fiber intake! About one-third of this fiber is water-soluble making it super heart-healthy for those who may be at risk of heart disease.
Can help to regulate blood sugar.
Another great benefit of chickpeas is their ability to help regular your blood sugar, making them an excellent plant-based protein for folks with diabetes or insulin resistance. Chickpeas, along with other legumes, are high in resistant starch meaning they slow down the digestion of other carbohydrates. These high-resistant starches make chickpeas a "complex carbohydrate" versus more refined simple carbs like white bread.
Complex carbs are significantly harder for our bodies to break down into sugars which enhances your body's internal glycemic control. These types of carbohydrates will help you to feel full without the sudden energy crash of sugar or other simple carbohydrate foods.
Improves digestion and promotes healthy weight management.
As we shared above, chickpeas are high in plant-based proteins, complex carbohydrates, and fiber making them an excellent weight management food. Chickpeas improve the overall health of your digestive system by promoting the growth of healthy bowel flora. This flora keeps things moving along if you know what I mean!
Chickpeas are a great weight management option due to their high nutritional value. Chickpeas help you to feel fuller helping you to eat fewer calories overall. It is well accepted in the nutritional community that foods made from complex carbohydrates and protein are proven to improve glycemic control and a more manageable appetite.
A Word of Caution.
Legumes such as chickpeas can have a high potential for allergic reactions. This is particularly true for people who have allergies to other types of legumes such as peanuts or soy. If you have any of these allergies, please use care when trying chickpeas.
My Fave Recipes using Chickpeas
If you search my recipes, you will see that I LOVE using chickpeas in my cooking. Chickpeas are highly versatile and work well with a variety of different cuisines and flavors. Chickpeas can help to boost the plant protein quality of any meal – perfect for vegetarian or vegan dishes!
Here are some of my fave recipes incorporating chickpeas including tips on how best to prepare chickpeas in a variety of ways. Are Chickpeas Worth the Hype? Here's Why I Say Yes!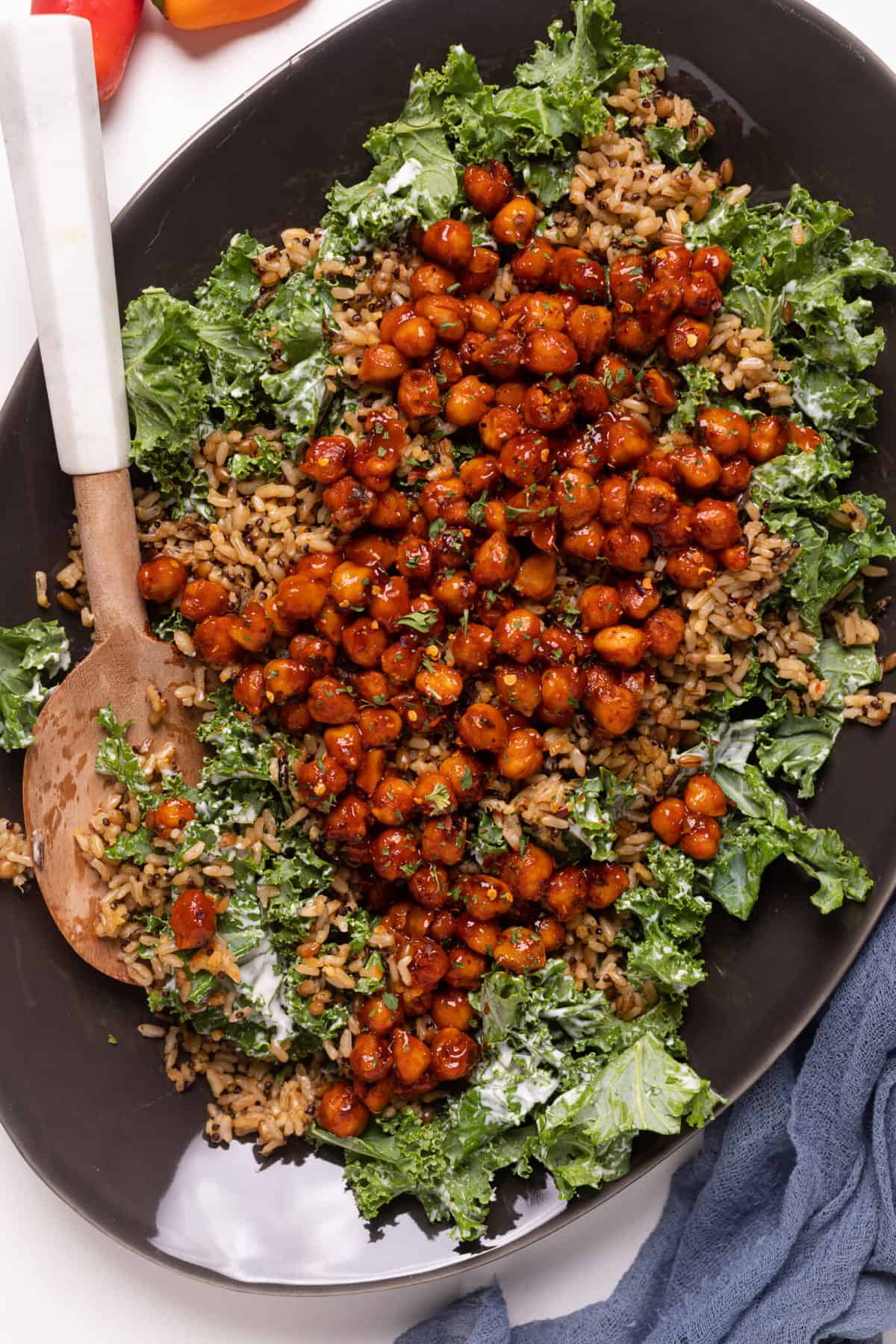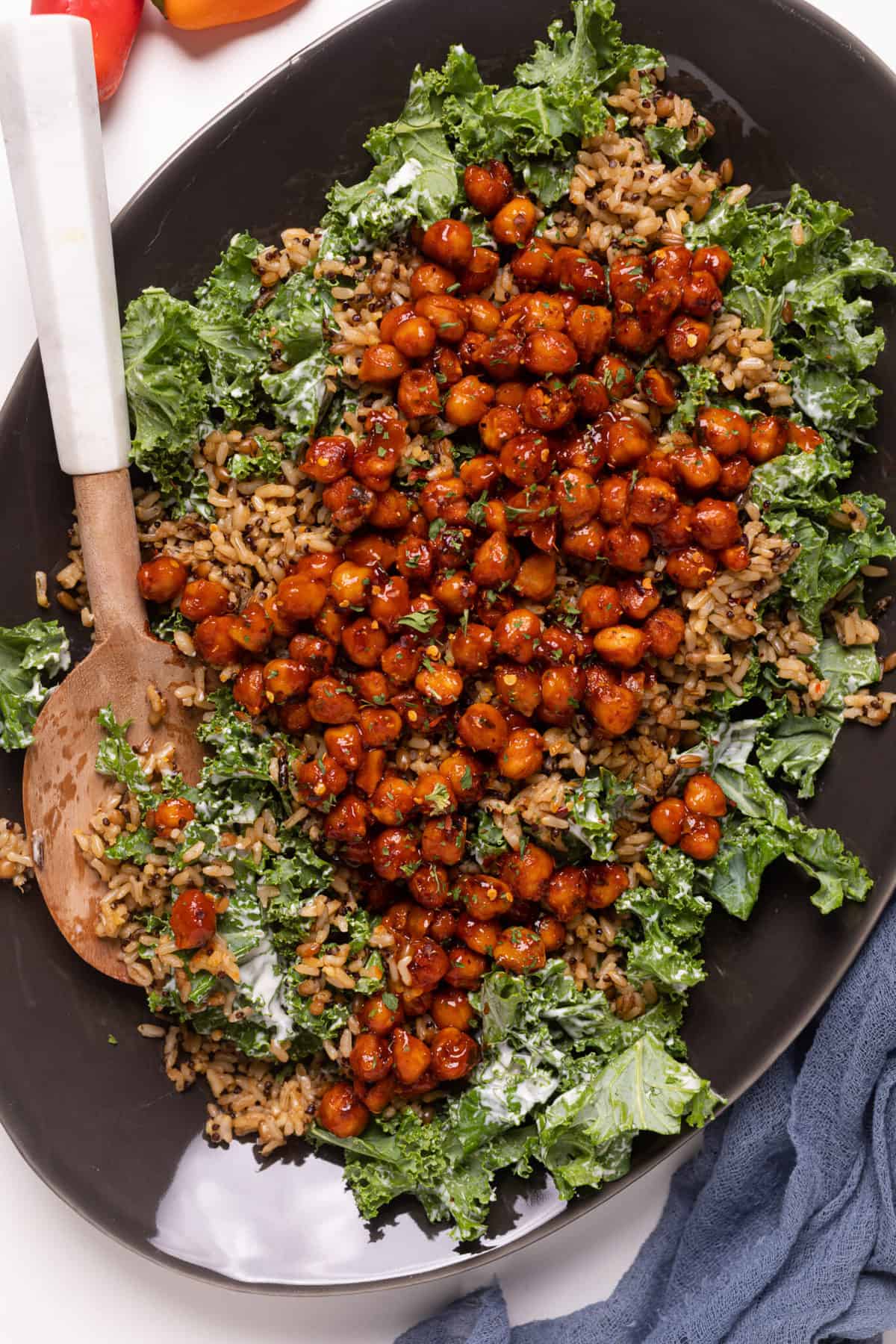 Healthy Loaded Kale Salad with Spicy Chickpeas
This loaded kale salad is a great option when you're looking for a healthy but filling lunch or as a side dish to your next BBQ or event. (Whenever it is safe to do so of course!) This recipe combines nutrient-dense veggies and a ton of plant proteins so you definitely won't be hungry after this salad!
I made roasted Buffalo Chickpeas for this recipe but you can really season the chickpeas however you'd like according to your taste and spice preferences. Make sure you always rinse your canned chickpeas well before using them!
Healthy Vegan Stuffed Sweet Potatoes
I love this savory take on a traditional stuffed or baked potato. With a ton of plant-based protein, this meal is the perfect side dish or a meal entirely on its' own. These stuffed sweet potatoes are made with entirely vegan and gluten-free ingredients and you can customize them entirely to your taste.
For this recipe, I made roasted cajun chickpeas which are some of my favorites! These cajun chickpeas add the perfect amount of spice while the nutty flavor of the chickpeas keeps it versatile enough for a number of different recipe options.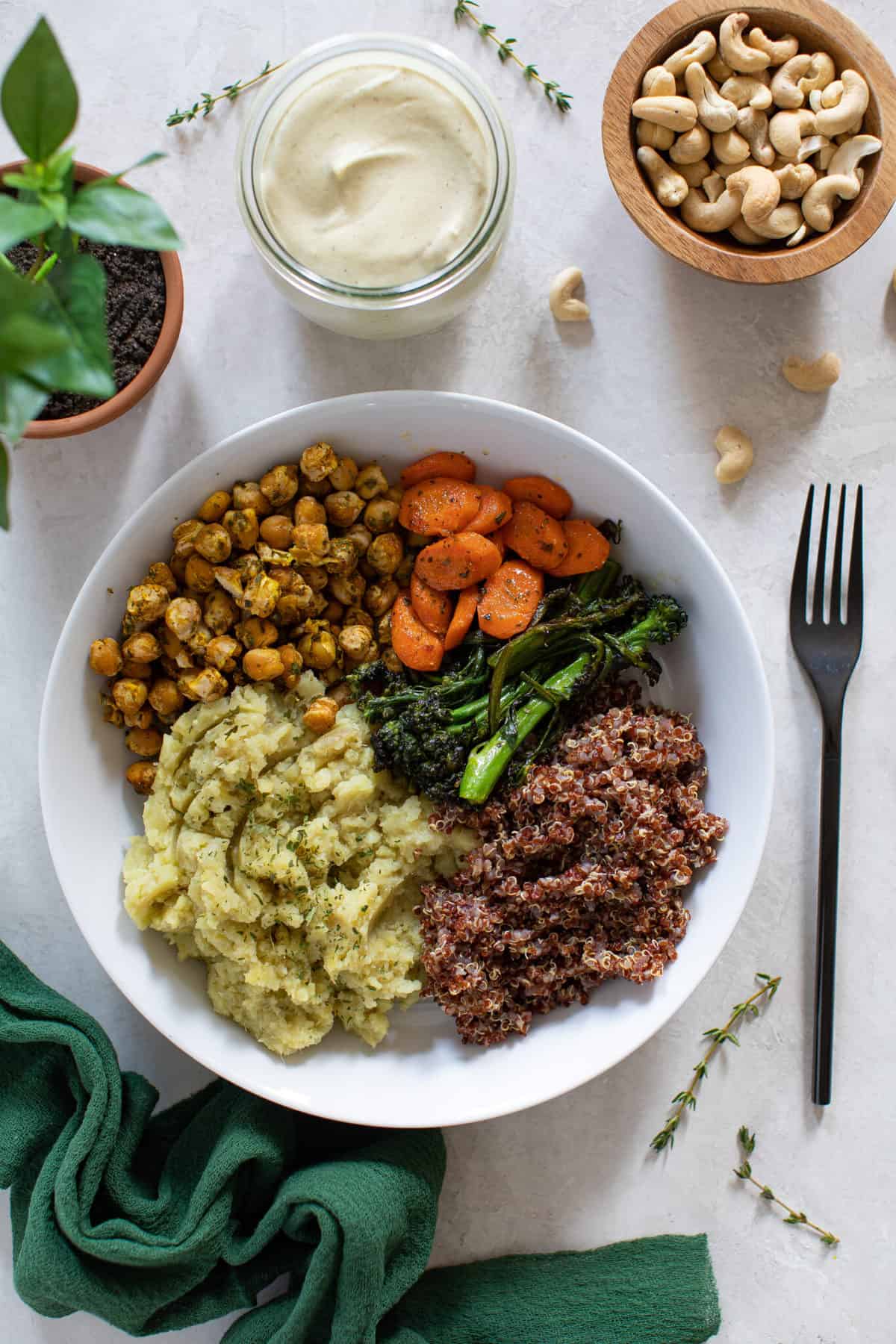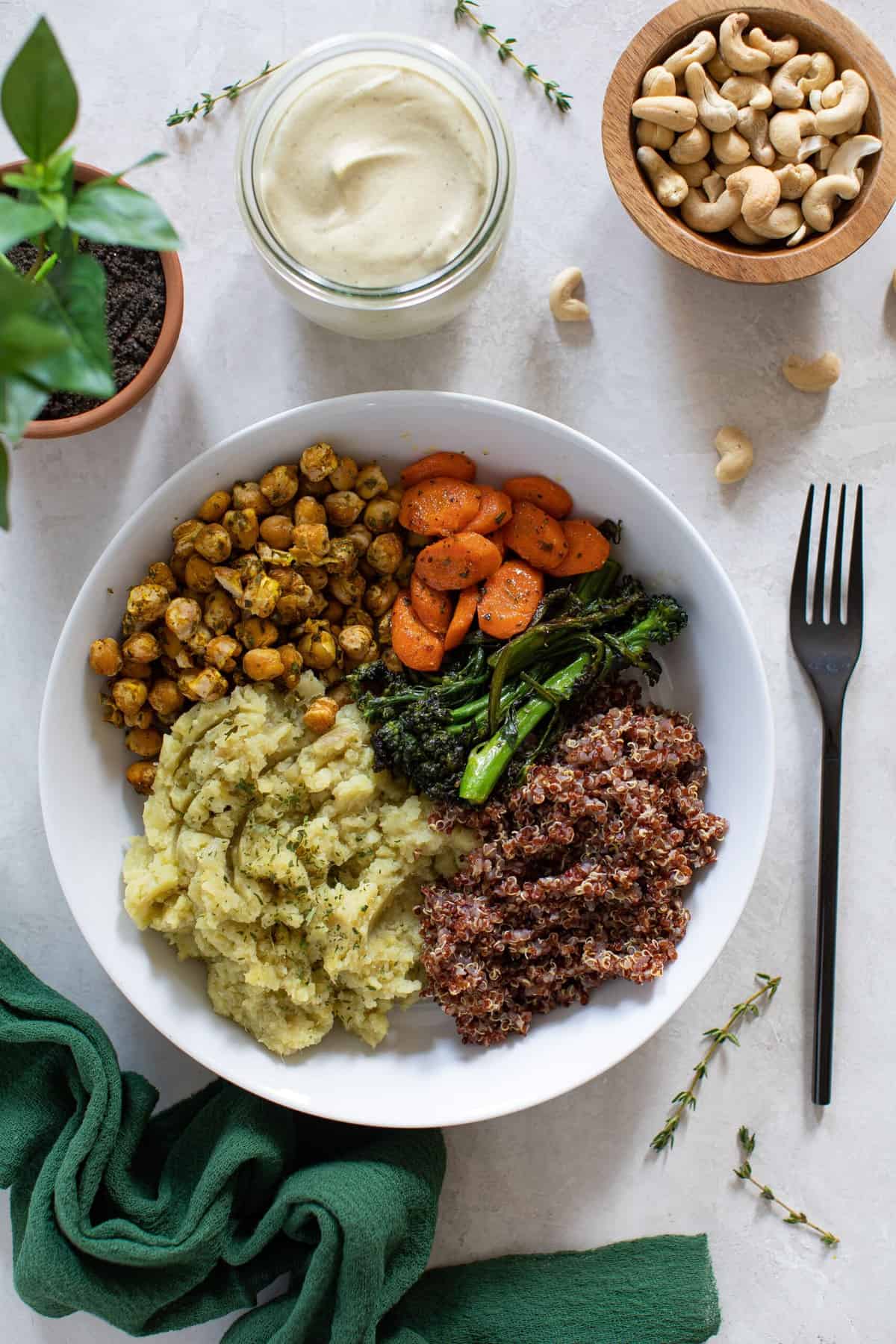 Savory Chickpea Quinoa Buddha Bowl
Breakfast bowls, buddha bowls, power bowls – what can I say, I love an all-in-one, flavor-packed, hearty meal! This savory chickpea and quinoa buddha bowl is a great lunch or dinnertime option and it is entirely dairy-free, gluten-free, and vegan! This dish consists of quinoa, mashed sweet potatoes, veggies, roasted chickpeas, and a creamy cashew sauce for a great weeknight dinner or meal-prep lunch for the office.
I love how customizable bowls can be – just mix in your preferred grains, protein, and veggies and you can have an entirely different meal every single time. When I meal prep lunches, I love having roasted chickpeas on hand for this very reason, they fit into so many different recipes ad really take on the taste of the flavors they are paired with.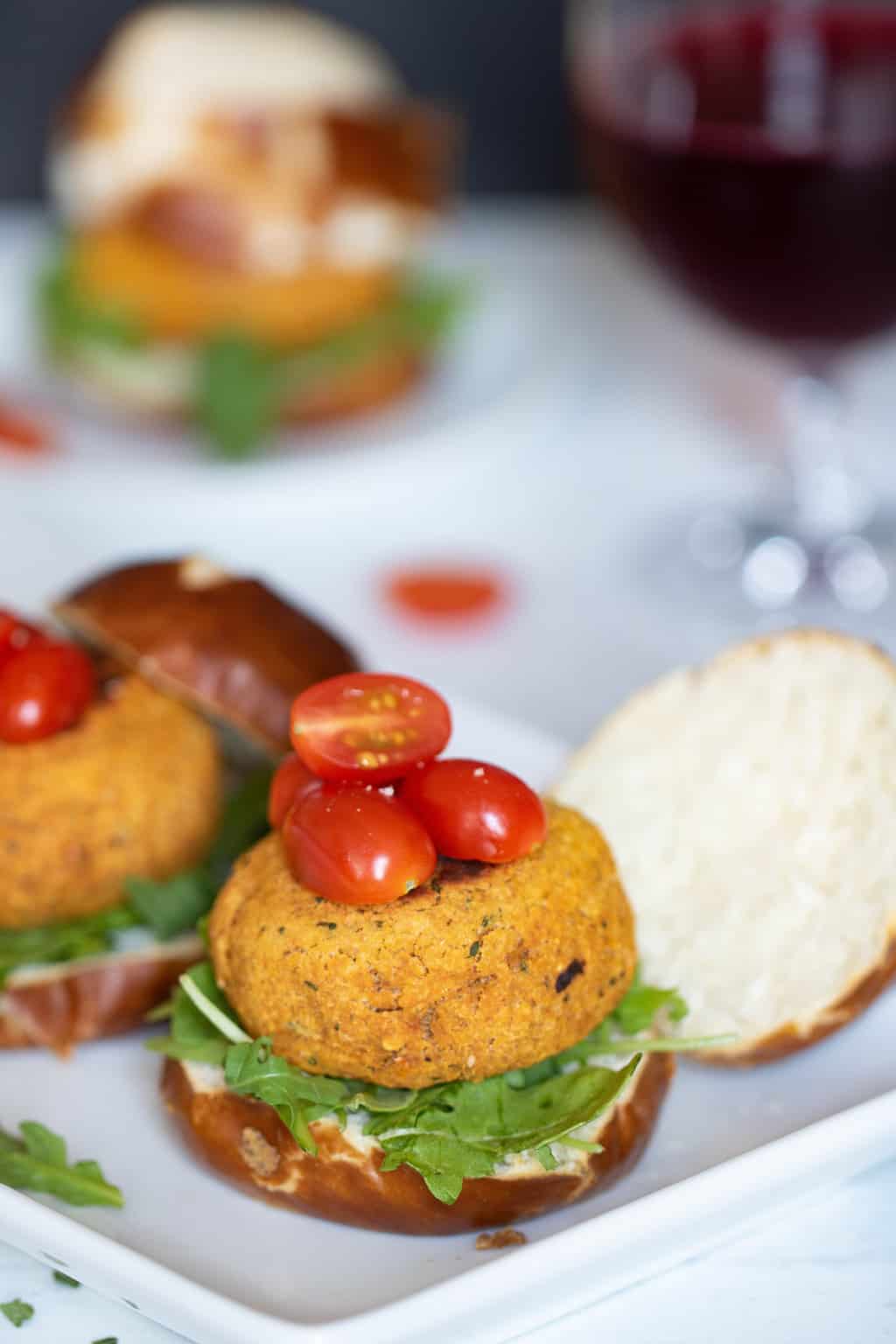 Easy Chickpea Sweet Potato Sliders + Aioli
These sliders are a great example of non-traditional ways that chickpeas can be incorporated into your everyday meals. This twist on a classic veggie burger is packed full of plant-based protein and light on preservations and unnecessary fillers. These patties are a great texture (unlike other veggie patties) and are made entirely dairy-free!
To make these patties, you will combine sweet potato, chickpeas, and my blend of spices in a food processor with bread crumbs and an egg to create that burger-like texture. Once you have blended this mixture into patties you can cook them just like you would a regular burger or pop them in a freezer for a quick meal later.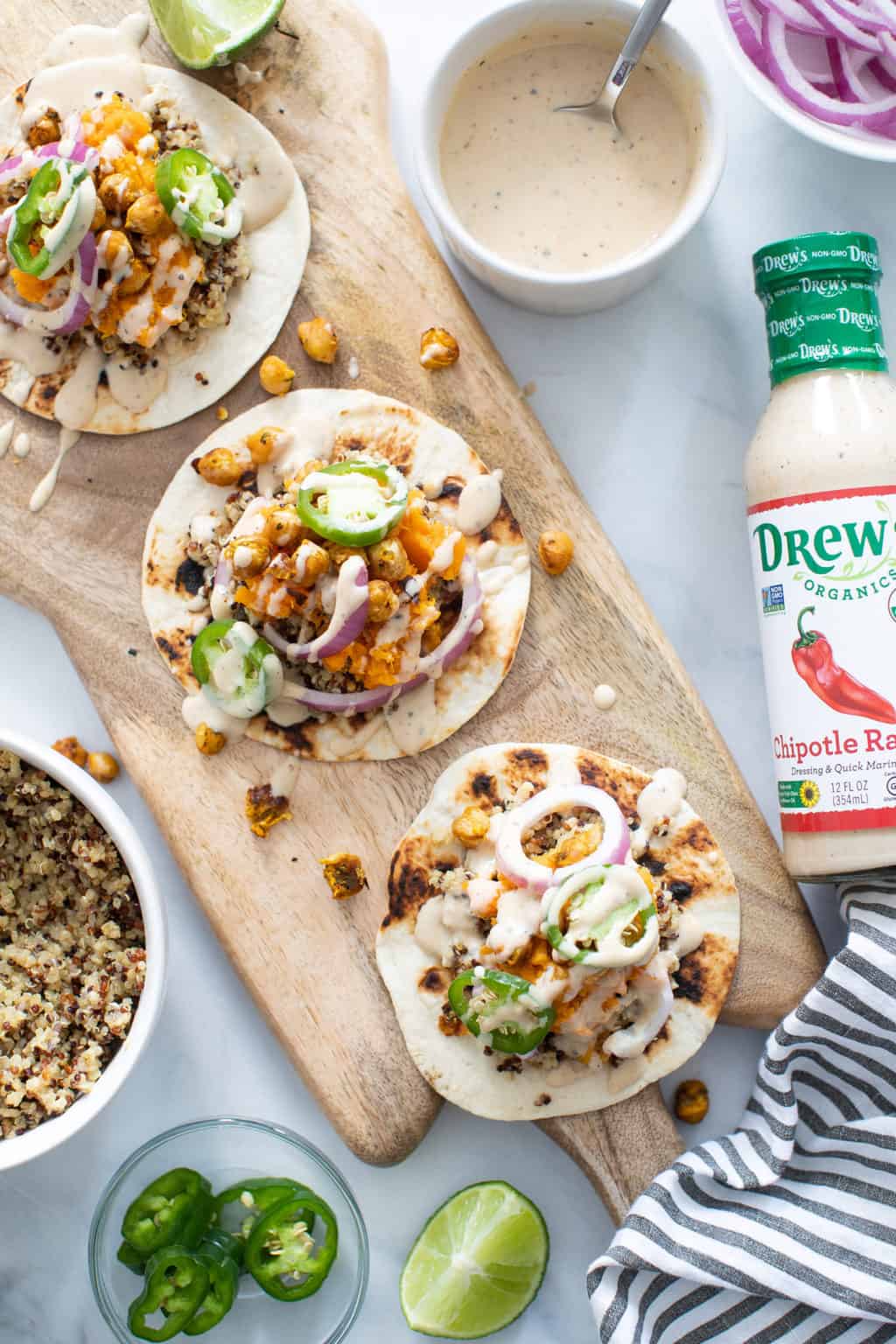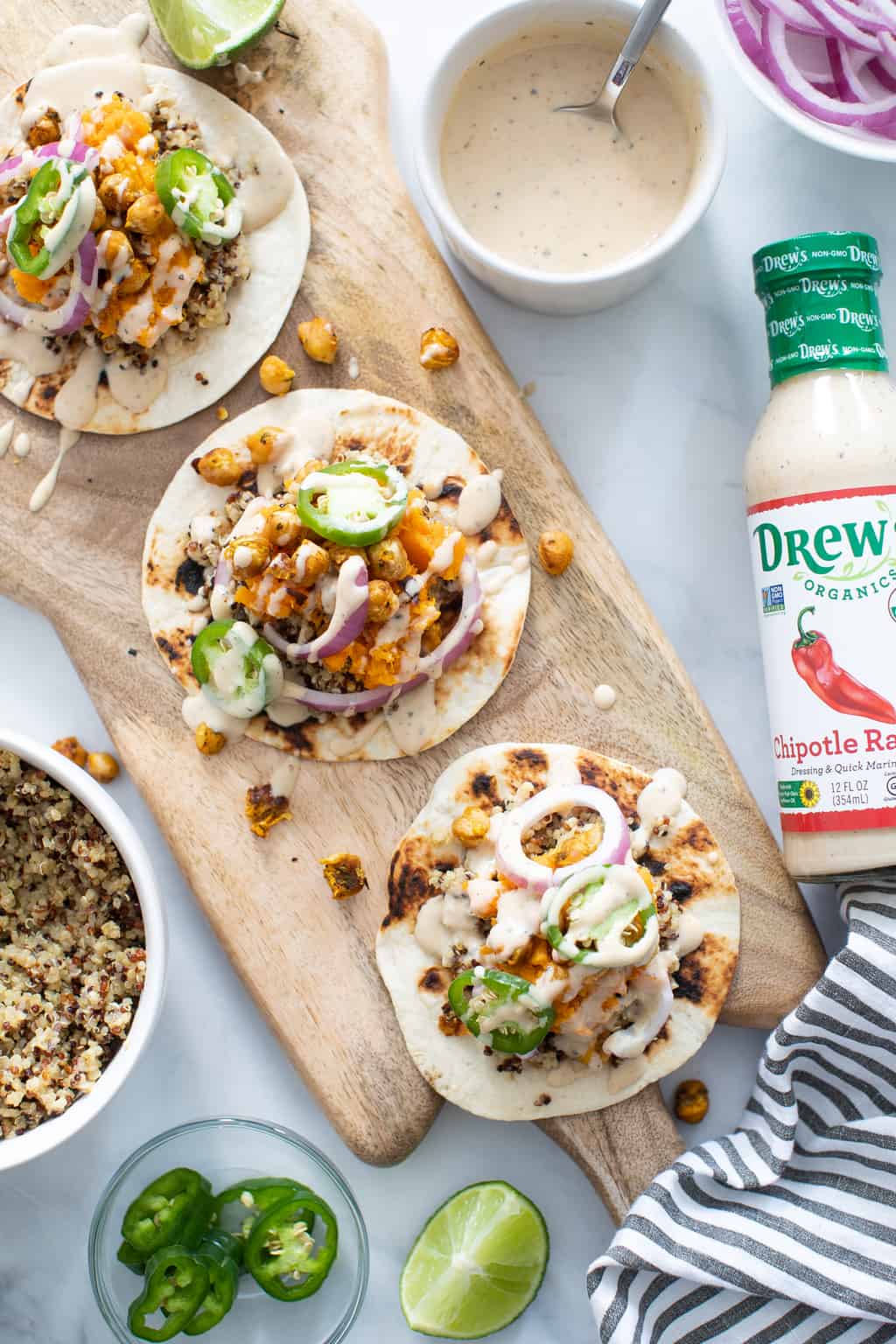 Roasted Chickpea Quinoa Sweet Potato Chipotle Ranch Tacos
These chickpea, quinoa, and sweet potato tacos are perfect for a summer bbq or get-together! These tacos are entirely vegetarian and combine ranch and chipotle for a flavorful meal. The combination of sweet and spicy go well together and can be meal prepped in advance for a quick dinner in a rush. This recipe can even be easily made gluten-free and vegan.
For this recipe, you'll want to roast the chickpeas on a baking sheet in the oven. Roasting chickpeas is one of my favorite ways to integrate chickpeas into any meal – their flavorful crush can really help bring all the flavors together.
What are your favorite ways to use chickpeas? Do you think they're worth the hype? Let me know in the comments below!