This Slow Cooker Quinoa Veggie Soup recipe is truly a delicious meal for those not so warm days. The warmth of great flavors and succulent taste of the individual veggies marrying together, makes this bowl of goodness completely irresistible. Loaded with quinoa, kale, tomatoes, carrots, onions, white beans; this recipe reminds you of the reason why eating your veggies (by themselves!) isn't such a bad idea after all. Not to mention, everything is made in a slow cooker, which means that you can easily set it and forget it! All vegan ingredients.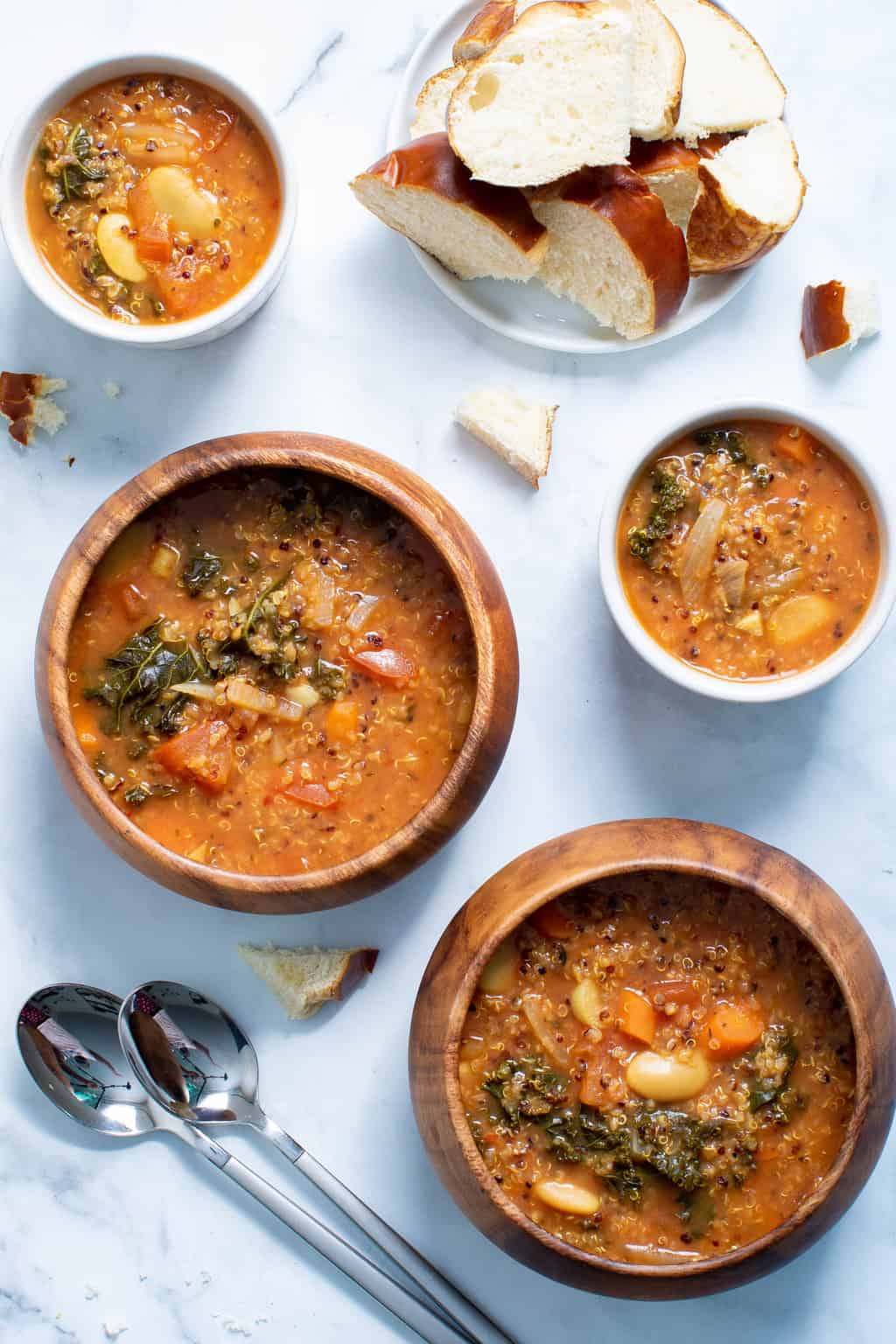 Disclaimer: This post contains affiliate links via Amazon for products that I wholeheartedly love.
Who doesn't love a good Slow Cooker meal, right? I mean, how easy is it to just throw your ingredients inside and set it to whatever time needed and let it do it's thing on it's own without worrying about anything? Seriously---you couldn't ask for a better way to make a meal and this Slow Cooker Quinoa Veggie Soup is the perfect indulge!
Honestly, I rarely use my Slow Cooker, but I understand the definite need for it and of course the trend that's happening and seems to be here to stay.
SOUP SEASON IS HERE
I'm such a HUGE fan of soup, so of course, I am really excited to share this recipe with you all. There's nothing like a hearty plant-based veggie soup, and this recipe is the epitome of that.
If you've been an avid reader of Orchids + Sweet Tea, then you're probably aware of the delicious soup options that are on our site. And honestly, this soup is just so irresistible and flavorful. I mean—-gosh! I don't know about you, but I love FLAVOR and COMFORT, and this soup brings out all of that and MORE.
If you're not well aware of the options here, I recommend checking out one of these soups:
How to Make Slow Cooker Quinoa Veggie Soup
To make this Slow Cooker Quinoa Veggie Soup, you'll start by draining and rinsing those beans. Then you'll get your Slow Cooker and heat it up at your desired setting. Sauté the veggies and then the remaining ingredients for the soup and cover. Let it simmer for a the alotted time and wallah!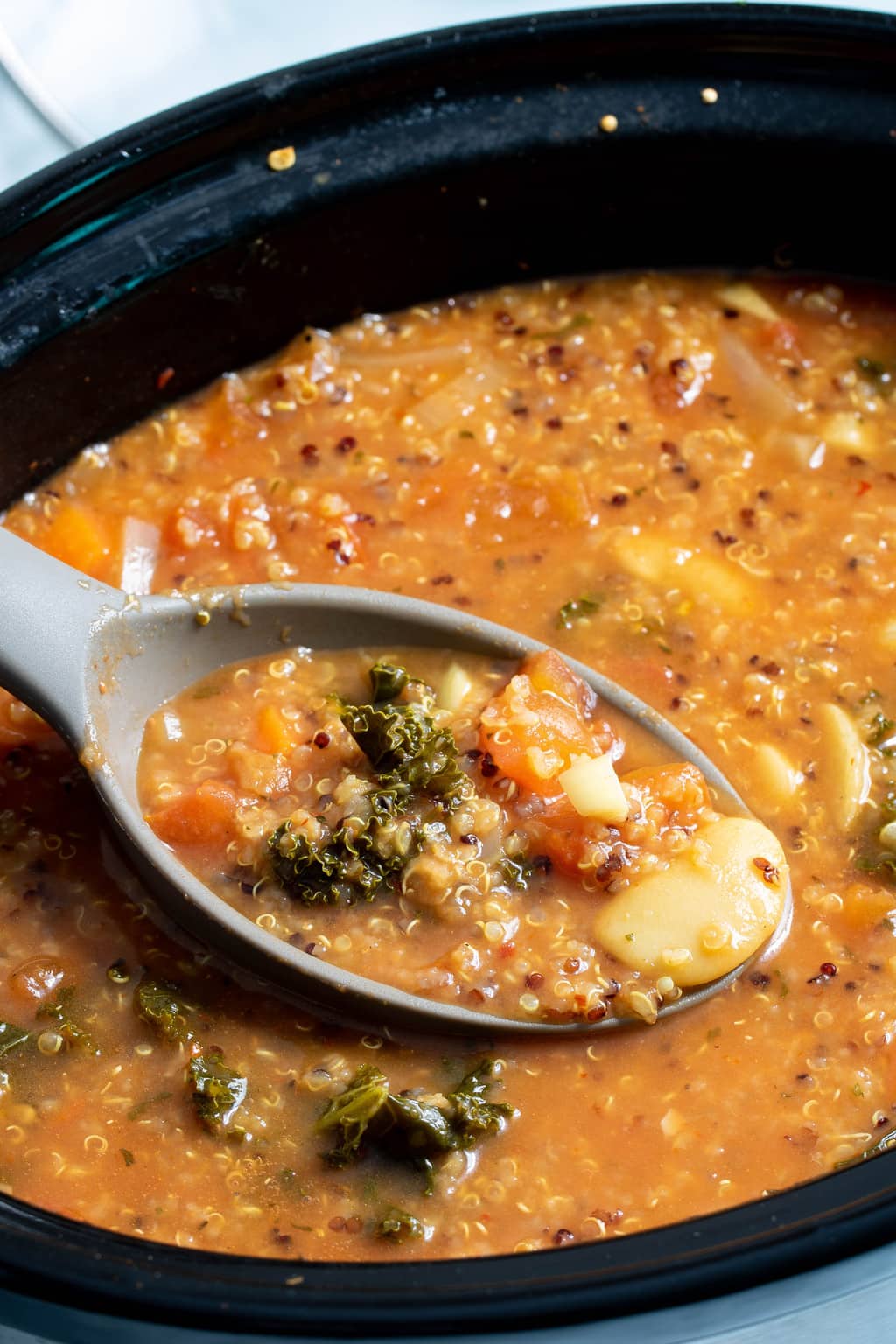 Ingredients for Slow Cooker Quinoa Veggie Soup
Here's what you'll need to make this Slow Cooker Quinoa Veggie Soup recipe:
Onion, bell peppers, and carrot. These vegetables create the delicious, flavorful, aromatic base of the soup.
Olive oil. You can also use Grapeseed oil or coconut oil as well.
Garlic. I prefer fresh, but you could substitute with ½ teaspoon garlic powder in a pinch.
Tomatoes. Adds a tangy flavor. Can use canned tomatoes if you need, diced preferred.
Quinoa. Use as the original or multi-color version. Totally up to you!
Cannellini beans. I use one can of beans, drained, and rinsed them. You can also use Northern beans or other types of white beans.
Vegetable stock. Use store-bought low-sodium broth or make your own!
Herbs + Seasonings – A great addition of flavor. Adds such savoriness from the salt, black pepper, thyme, red pepper flakes, oregano, basil, and turmeric.
Fresh Greens. I use kale, but spinach also works well to add some greens and color in.
SHOP MY FAVORITE TOOLS FOR COOKING, ESPECIALLY FOR THIS SOUP!
Here, I've curated a list of cooking + baking essentials that I use to achieve my favorite baked goods or cooked meals, especially with this Slow Cooker Quinoa Veggie Soup. Everything from my fave high-powered blender, baking sheets, wooden spoons, mixing bowls, and more. SEE THEM HERE!
What You'll Love Most About This Veggie Soup.
It's super easy to make.
Simple set + forget it in the Crockpot aka Slow Cooker—-Simmer, Simmer, Simmer!
Is completely dairy-free, vegan and gluten-free.
Super flavorful.
Perfect Fall + Winter vibes!
Jam-packed with nutrients.
Comes loaded with other great tasting veggies—like carrots, kale (or spinach), onions, and tomatoes, etc.
Did I mention that it's just TOO GOOD TO NOT GRAB A BOWL + ENJOY?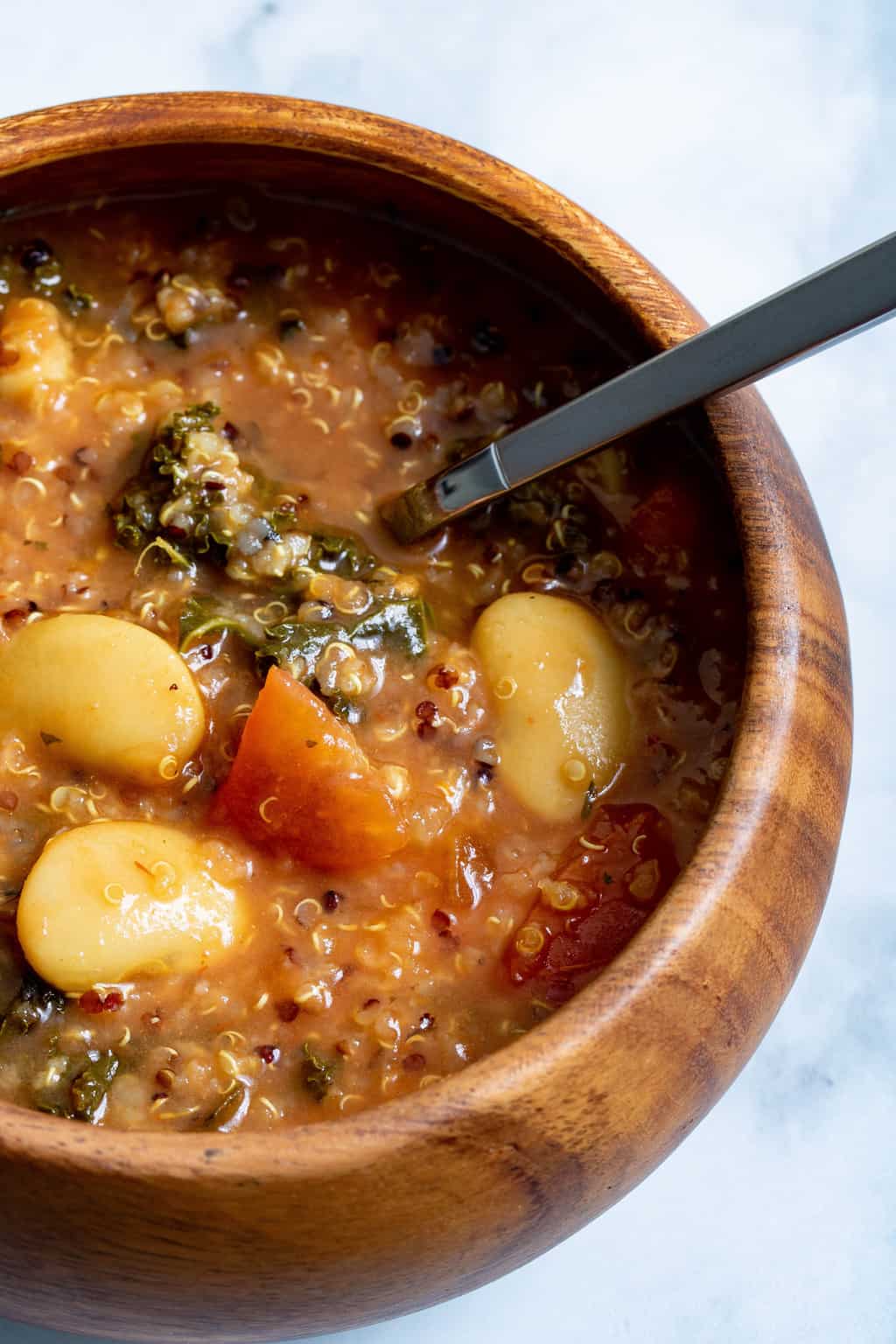 The Best White Beans to Use for this Veggie Soup
When it comes to this Slow Cooker Quinoa Veggie Soup recipe, I love using white beans like cannellini beans, however, there are actually 4 types of white beans that can be used:
Navy (Pea) Beans
Great Northern Beans
Cannellini Beans
Baby Lima Beans
Out of all of the beans, Navy (Pea) Beans are perfect for creamier dishes since they mash really well while cooked. While Northern Beans are bit bigger in size than Cannellini Beans, but they are neutral in that they take on any flavor of the dish they're added to.
Just know that any of these four types of beans are perfect for soups like this one.
Tips for Making Healthy Vegetable Soup
The nice thing about this Slow Cooker Quinoa Veggie Soup is that it's very easy to customize depending on what's in your fridge! Here are some easy swaps and additions to make this vegetable soup your own:
Add other veggies like radishes, fresh tomatoes, green beans, turnips, or leeks.
Change up the spices! Add more heat with cayenne, sriracha, or paprika.
Add more herbs, like basil, tarragon, marjoram or mint.
Swap the quinoa for other ingredients like orzo or a small-shaped pasta.
WHY I LOVE ADDING TUMERIC TO SOUPS!
Turmeric is an amazing ingredient to incorporate into your dishes, especially in this soup. The health benefits that derive from this simple ingredient is so awesome. But if you're wondering, what turmeric is and where you can find it—no worries. Let's talk!
Turmeric is the spice that gives curry its yellow hue. That's right—it creates that bright yellow color all on it's own. The main ingredient in turmeric—curcumin, is where all the incredible benefits lie.
Benefits include -
Improved heart health
Very strong antioxidant
Powerful inflammatory effects
Strong antibacterial effects
Aids digestion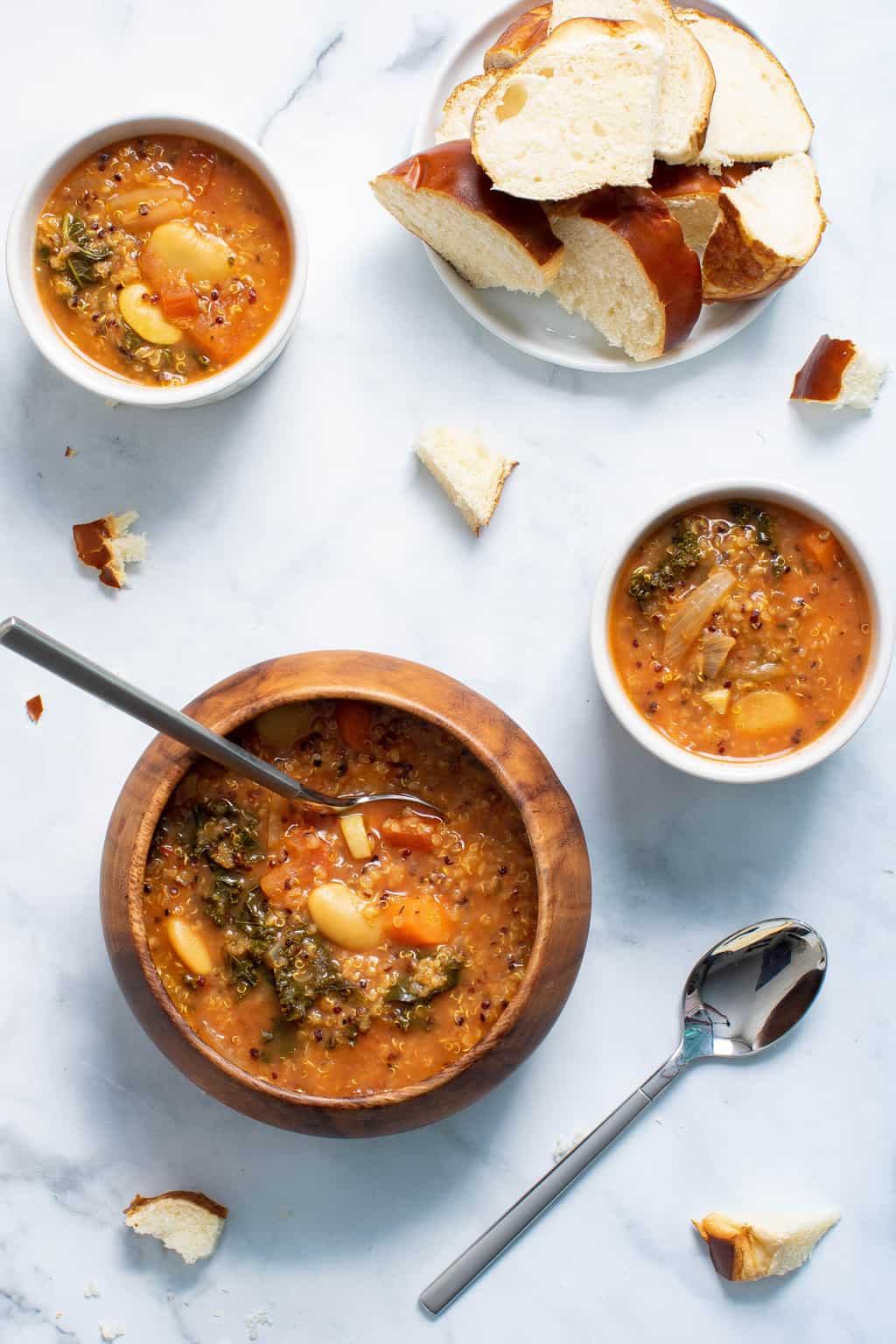 Storing Leftover Slow Cooker Quinoa Veggie Soup
This Slow Cooker Quinoa Veggie Soup recipe is great for meal prep! Pack fully cooled leftover vegetable soup into an airtight container. Store it in the fridge for 2-3 days. Reheat servings on the stove or in the microwave to serve.
You can also freeze leftover soup for up to six months. To defrost, let the soup defrost in the fridge. Then reheat on the stove or in the microwave.
Best Sides To Enjoy with This Soup
MADE OUR RECIPE(S)?
If you make this Slow Cooker Quinoa Veggie Soup, tag @orchidsnsweettea_ on Instagram and hashtag it #orchidsandsweettea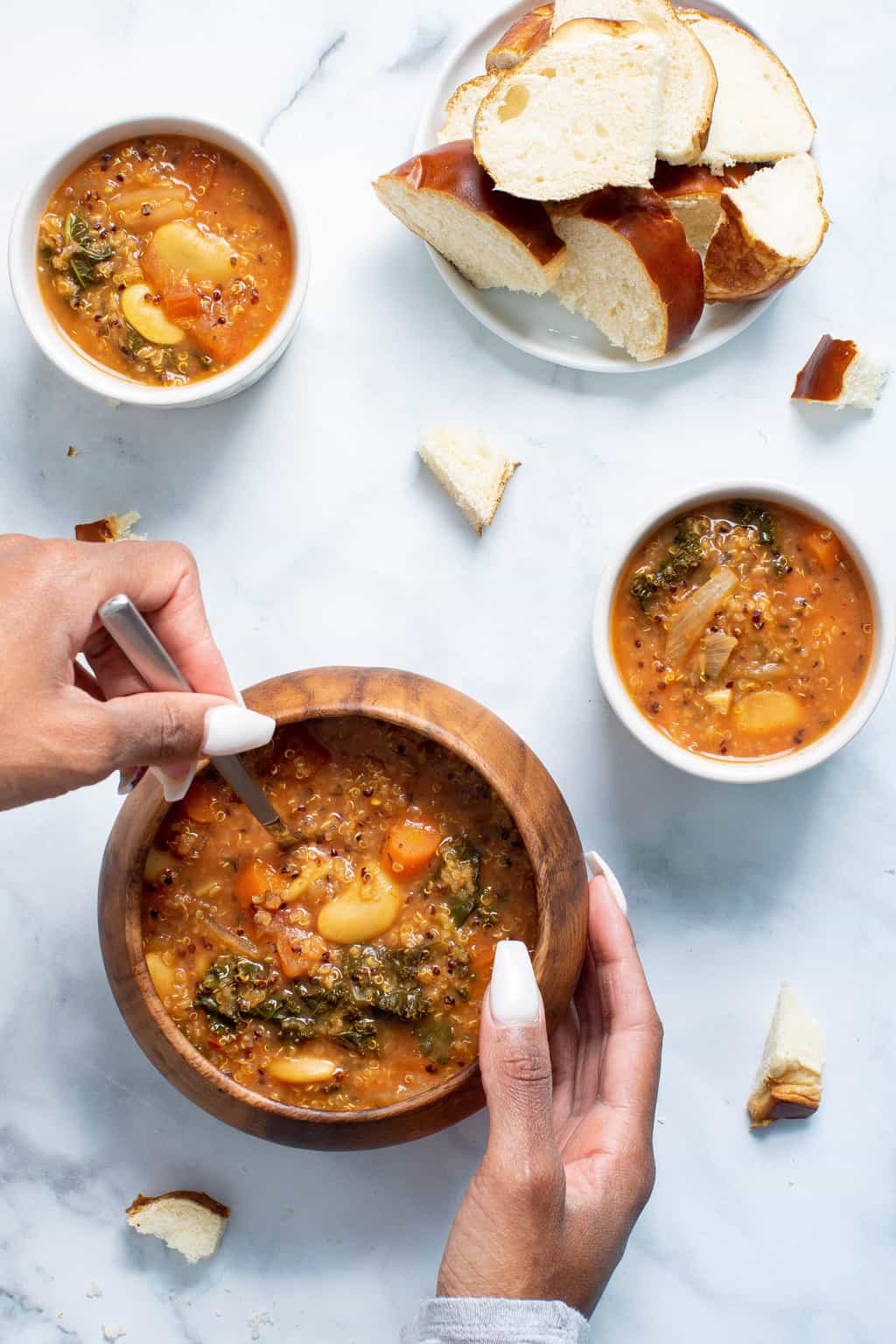 Total Time:
3

hours
10

minutes
SOUP:
1

tablespoon

Extra virgin olive oil

1

cup

multi-color quinoa, uncooked 

(You can also use white or red)

½

red onion, chopped

(You can also use yellow onion)

2

medium

carrots, peeled + chopped

4

garlic cloves, minced

1

bell pepper, chopped

2-3

cups

diced tomatoes

(You can also use a large 28 oz. can of diced tomatoes, if preferred)

1

(15 oz.) can

cannellini beans, drained + rinsed

(You can also use Northern Beans or another white bean)

1

cup

fresh kale, chopped

(See Notes!)

5

cups

organic vegetable stock/broth

(You can add more if needed since the quinoa will swell)

1

teaspoon

freshly-squeezed lemon juice

1

teaspoon

sea salt

1

teaspoon

black pepper

1

teaspoon

dried thyme

1

teaspoon

dried basil

1

teaspoon

dried oregano

1

teaspoon

red pepper flakes

½

teaspoon

turmeric powder

(See Notes!)
TO MAKE THE SOUP:
To begin, preheat the Slow Cooker (I prefer the medium setting). Once heated, add the extra virgin olive oil followed by the chopped onions, minced garlic, and sauté for 1-2 minutes. Add the chopped bell peppers, tomatoes, and carrots, and seasonings and sauté until veggies are a bit tender and translucent, about 2-3 minutes.

Next, add the remaining ingredients, stirring everything together until combined.

Cover and let everything slow cook + simmer for about 2-3 hours, stirring occasionally to ensure that desired thickness is kept. Toward the last 30 minutes, add additional vegetable stock if needed and do the same for any spices that you feel need to be added as well for taste.

Once timer has ended and veggies are cooked through and tender, turn off slow cooker or keep it on the "keep warm" setting and serve soup in prepared bowl(s) with a side of your favorite bread or crackers, if desired.

Bon Appetit!
STORAGE:Leftovers can be stored in a tightly sealed container in the refrigerator for 2-3 days, for optimal freshness. Can also be frozen for 4-6 months. To defrost, simply place soup in the refrigerator overnight or at room temperature before re-heating on the stove top to serve.
KALE: If preferred, you can always substitute Kale with Spinach or Collard Greens.
TURMERIC: While adding turmeric is optional, it definitely has benefits: powerful medicinal properties, natural anti-inflammatory ingredient, increases antioxidant activity in the body, and more.
Calories:
110
kcal
|
Carbohydrates:
18
g
|
Protein:
3
g
|
Fat:
4
g
|
Saturated Fat:
1
g
|
Polyunsaturated Fat:
1
g
|
Monounsaturated Fat:
3
g
|
Sodium:
1810
mg
|
Potassium:
531
mg
|
Fiber:
5
g
|
Sugar:
9
g
|
Vitamin A:
8646
IU
|
Vitamin C:
70
mg
|
Calcium:
126
mg
|
Iron:
3
mg
Slow Cooker Quinoa Veggie Soup.