Since modern-day farming was invented, the fall harvest has been a time of celebration in cultures around the world. From American Thanksgiving to the Mid-Autumn Festival in China, autumn is a time to nourish our bodies. But the fall isn't just about the quantity of food, it's also about the quality. There are so many nutrient-rich and anti-inflammatory fall ingredients that everybody should be taking advantage of.
Besides the nutritional benefits, there are also a lot of benefits to eating seasonally in general. One of the main positives to eating in season is that your food will be a lot more flavorful. When farmers harvest fruits and vegetables when they are ripe rather than letting them ripen off the vine, they will have much more flavor.
And this freshness also means higher nutritional values. Certain nutrients like antioxidants diminish over time, which means that the ginger that came from halfway across the world might not be providing as many benefits as it would if it came from your backyard.
Since it's not always easy to tell which vegetables and fruits are in season and which aren't, I thought it would be nice to share some of the most nutritious, in-season ingredients for fall. This list of ingredients is chock full of important vitamins, minerals, and antioxidants that will help you craft delicious and nutritious meals.
Nutrient-Rich + Anti-Inflammatory Fall Ingredients

Brussel Sprouts
You either love them or you hate them. While Brussel sprouts look like mini cabbages and are indeed a part of the cabbage family, they are actually the buds of the Brussel sprout plant. If you haven't seen how Brussel sprouts grow, now might be the time to see how this interesting plant sprouts (no pun intended). 
Nutrients wise, Brussel sprouts are extremely rich in Vitamin K. One half-cup serving of these little guys contains 137% of your daily recommended intake. Vitamin K is important for bone health and blood clotting, which helps our bodies heal after injury. Besides Vitamin K, Brussel sprouts also contain high levels of Vitamin C and kaempferol. Kaempferol is an antioxidant that has been studied extensively for its many health-promoting properties.
I personally love adding Brussel sprouts to any pan of roasted veggies. This Sheet Pan Apple Maple Chicken + Veggies is an easy weeknight recipe that I love pairing with roasted Brussel sprouts. It makes a really delicious autumn meal. 
Butternut squash
Butternut squash is particularly rich in key vitamins, minerals, and anti-inflammatory antioxidants. In fact, butternut squash is one of the best vegetables to eat for vitamin A intake. Just one cup of Butternut squash contains 450% of your daily recommended intake. While impressive, it's important to know that vegan sources of vitamin A aren't as easily absorbed into the body as non-vegan sources. 
Vegan sources of vitamin A have to be converted from beta-carotene into retinal and depending on your genetics, only about 1/12th of the beta-carotene you eat will be converted in the type vitamin A our body needs. Despite this, butternut squash is still one of the best vegan sources of vitamin A. 
But, its vitamin A content isn't the only reason why you should try whipping up some Roasted Butternut Squash Soup sometime soon. Butternut squash is also an excellent source of vitamin C, B vitamins, potassium, magnesium, and manganese. It provides about 50% of your RDI of vitamin C and about 15% of your daily requirement of magnesium.
Pomegranate
While pomegranates contain a good amount of certain vitamins and minerals like vitamin K and potassium, the true nutritional value of pomegranates lies in their plant compounds. These plant compounds have powerful medicinal properties called punicalagin and punic acid. Punicalagin is such a powerful antioxidant that pomegranate juice has been found to have three times as many antioxidants as red wine or green tea. 
Punic acid on the other hand is the main fatty acid in pomegranate seeds and is found in pomegranate seed oil. It is naturally anti-inflammatory and can help protect collagen when applied topically. Personally, I like to enjoy the antioxidant benefits of pomegranates in a delicious mocktail. You never have to feel guilty about drinking this yummy Strawberry Pomegranate Mocktail.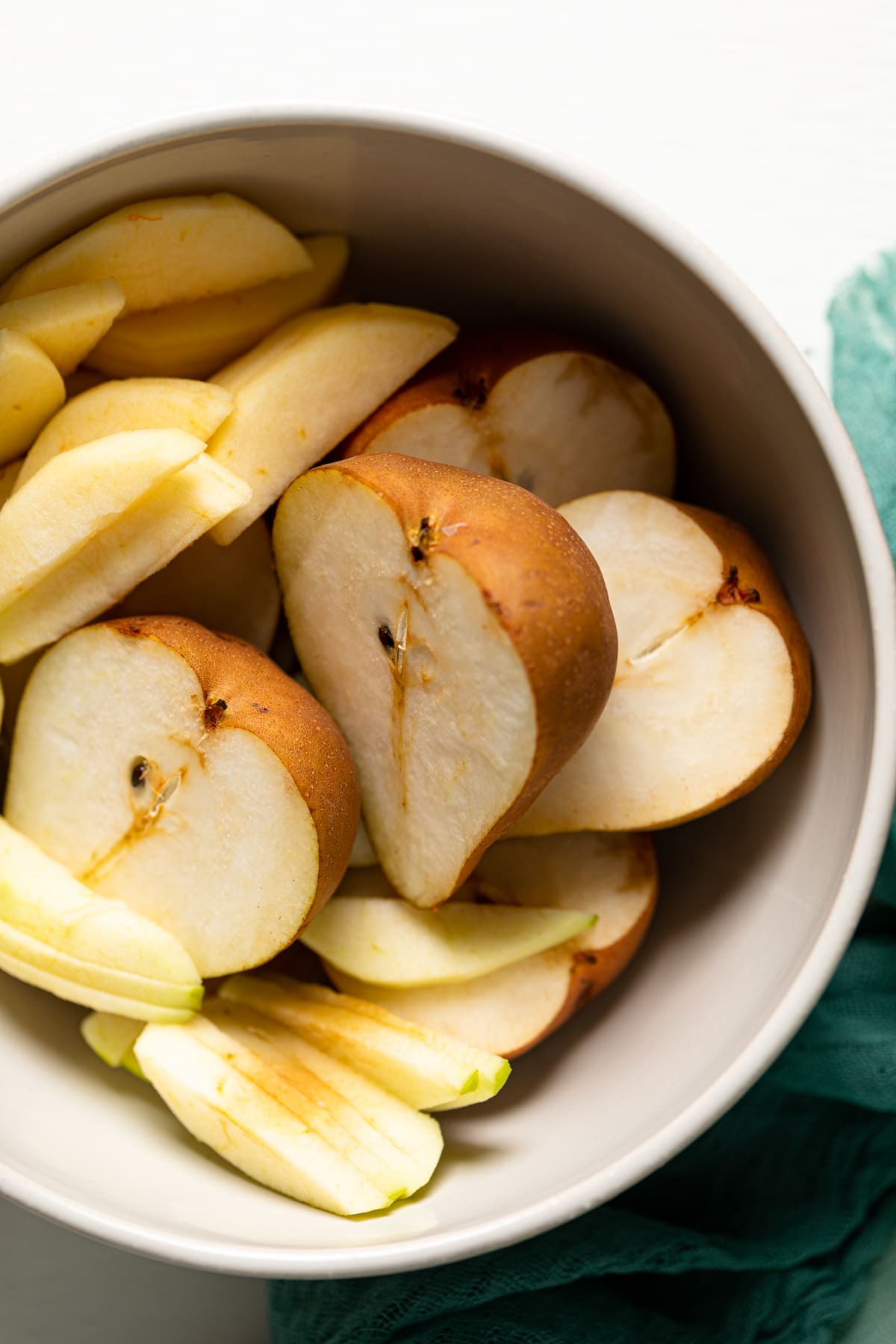 Pear
Pears are a juicy and delicious treat that also comes with some health benefits. Notably, pears contain 16% of our daily recommended intake of copper. Copper can be a harder mineral to come by so enjoying pears can be a good way to get more copper in your diet. 
Besides that, pears are also a rich source of a certain type of antioxidants called flavonoids. Flavonoids are anti-inflammatory and may decrease your risk of disease. Plus, studies show that high levels of flavonoids are linked to a reduced risk of heart disease and diabetes.
These Vegan Spiced Pear Turnovers are a great way to add in not only some fall flavors to your week but also some nutrient-rich and anti-inflammatory fall ingredients. 
Carrots
You might already be aware of the connection between carrots and eye health, but you might not know why. These sweet, yet crunchy veggies are packed with vitamin A, which plays a crucial role in vision by maintaining a clear cornea. But vitamin A isn't the only vitamin that carrots contain. They also have good levels of biotin, vitamin K1, and vitamin B6.
Carrots also contain some pretty powerful plant compounds that have intense antioxidant activity. One of these plant compounds is lutein, which, like vitamin A, is great for eye health. The other great thing about these nutritional powerhouses is that they can either go sweet or savory. These Carrot Cake Cinnamon Rolls are a favorite in my house for their variety of fall flavors including brown sugar, cinnamon, and just the perfect amount of carrot flavor.
If carrot cake isn't totally your thing, these Extra Crispy Carrot Spinach Quinoa Veggie Burgers are also a good way to add carrots into your menu this week. This recipe makes about 5-6 patties so it's great for meal prep or for any sort of get-together. 
Chamomile
Chamomile has a long history as a top-notch healing ingredient. This makes it one of the most interesting additions to our list of nutrient-rich and anti-inflammatory fall ingredients. One benefit of chamomile is its ability to work as a digestive relaxant. It can treat things like indigestion, diarrhea, motion sickness, and nausea. 
But besides that, chamomile contains an antioxidant called apigenin, which has been shown to fight cancer cells. In addition, chamomile has also been shown to improve sleep, help balance blood sugar levels, and improve heart health. Most people enjoy the benefits in tea form, but chamomile can also be added to different recipes as well. 
I personally love adding a little bit of chamomile to certain cake recipes like this Honey Lavender Cake.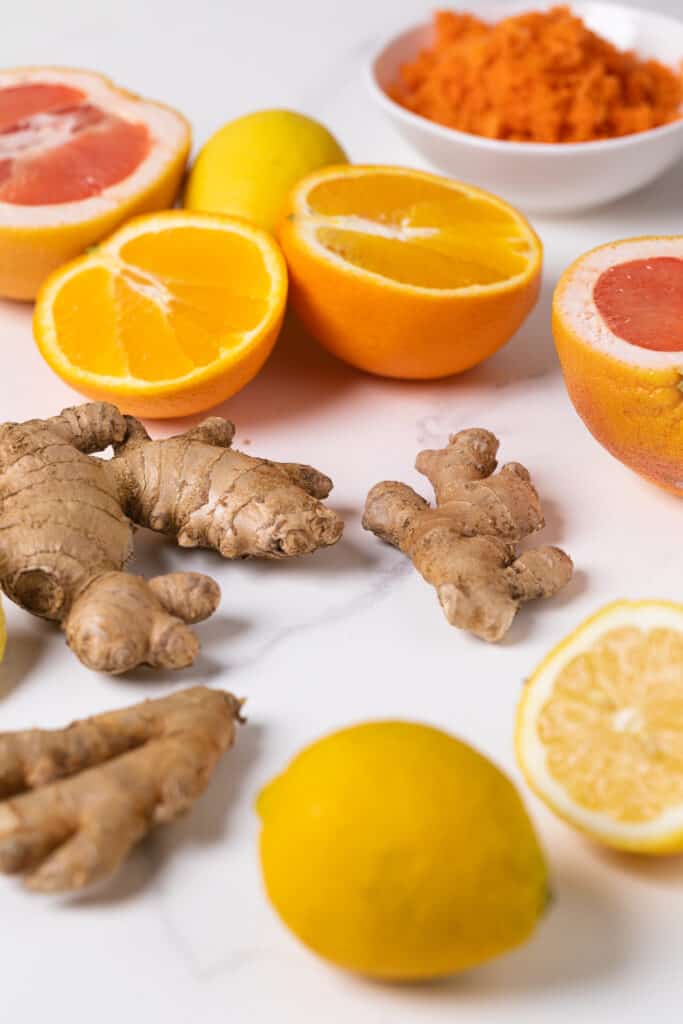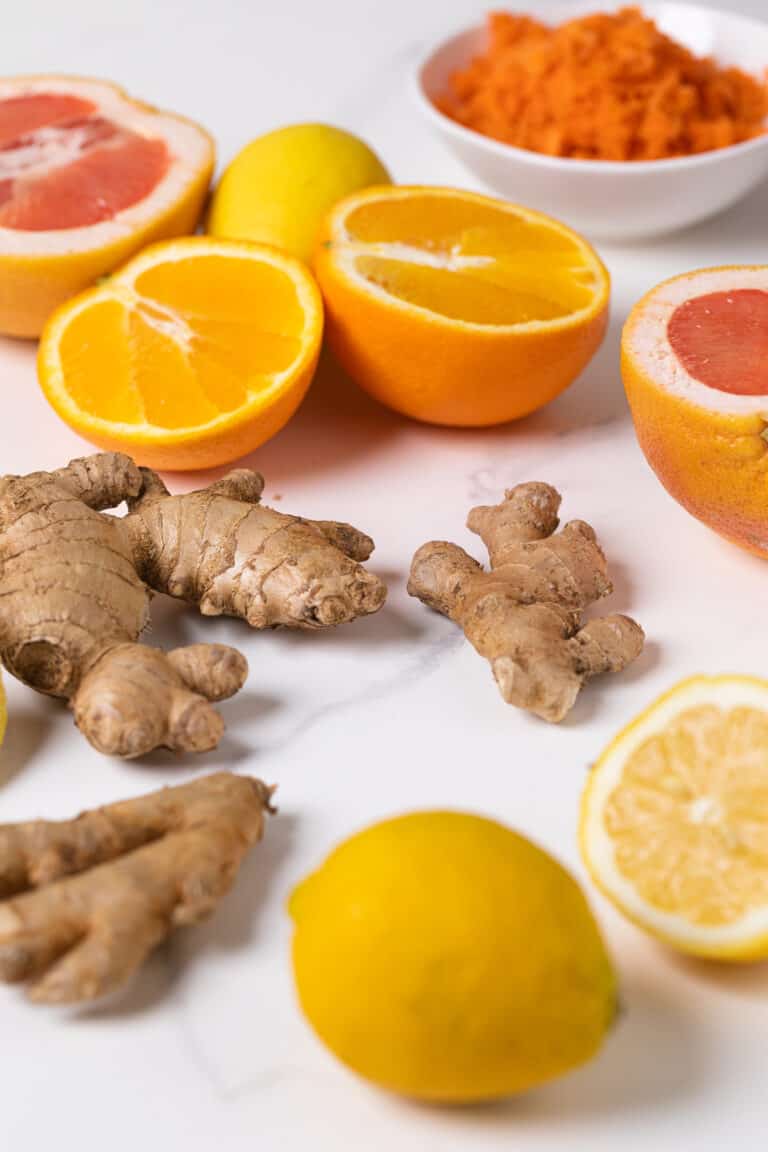 Ginger
You've probably seen ginger touted as a superfood around the internet—and for good reason. Ginger contains chemicals that are not only anti-inflammatory but also that are antioxidants and antibacterial. One of these anti-inflammatory and antioxidant substances is gingerol. Multiple studies show that gingerol can reduce oxidative stress in the body, help fight the flu and common cold, and aid with digestion. 
Ginger is also great for pain relief—particularly for anyone who gets cramps. One study showed that four doses of ginger powder were as effective in pain relief and anti-inflammatory benefits as ibuprofen! I personally love getting my dose of ginger in drink form. This Healthy Citrus Pear Ginger Detox Tea is a delicious way to get a dose of antioxidants from ginger.
Kale
I don't know about you all, but I remember when kale was the hottest vegetable of the year. Based on some search trend data kale started becoming popular in 2007, but kale's popularity is far from over. From kale chips to kale juice to kale soup, there are so many ways to enjoy this superfood and its nutritious benefits. 
Health-wise, kale is one of the most nutrient-dense vegetables of them all. Just one serving of kale contains 134% of your daily recommended intake of vitamin C. But it also has 206% of your DRI of vitamin A and a whopping 684% of your DRI of vitamin K. Kale also contains minerals that are not always easy to get in a typical American diet like manganese and magnesium. 
A nice kale salad can be one of the best ways to enjoy the nutritional and anti-inflammatory benefits of kale. This Healthy Loaded Kale Salad with Spicy Chickpeas is made with homemade dressing and tons of plant-based protein. 
Sweet Potato
You might not think of potatoes as something as healthy as kale, but they're actually an extremely nutrient-rich and anti-inflammatory fall ingredient. Sweet potatoes specifically are high in vitamin A, vitamin C, manganese, Vitamin B6, and potassium. Also, sweet potatoes are high in antioxidants, which means they'll help protect your body against any free radicals. 
Potatoes can get somewhat of a bad rep in the health world because they're more calorie and carb-dense than other vegetables. But, truly potatoes are a great way to get a lot of vitamins, minerals, and antioxidants. They're also one of the most affordable ways to add more nutrients to your diet! If you're looking for an interesting way to add more potatoes to your diet, this Vegan Sweet Potato Pasta is a great option.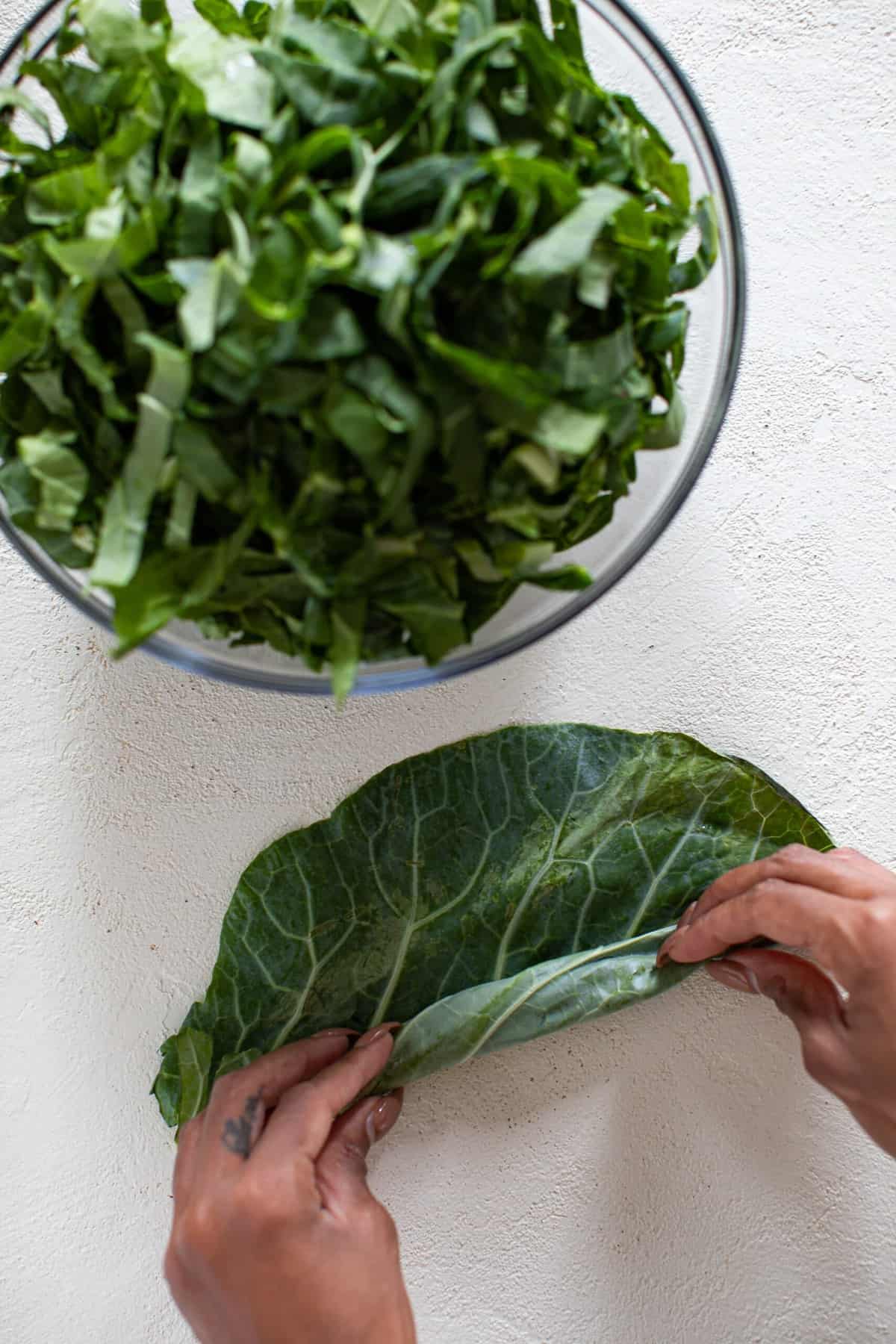 Collard Greens
Like other leafy greens, collard greens are another fall ingredient that is rich in nutrients and anti-inflammatory benefits. Collard greens are in the same family as kale, broccoli, Brussel sprouts, and cabbage, which means they offer some of the same nutrients. When you enjoy a serving of collard greens you'll also be getting a heaping serving of vitamin A, K, B-6, and C, calcium, iron, and magnesium.
You might find traditional collard greens cooked in bacon grease, which certainly makes them delicious, but definitely a little less nutritious as well. But hey everyone deserves to treat themselves every once in a while. For a long time, I never tried to make collard greens because I thought it might be too much of a challenge, but these Leftover Southern Collard Greens turned out just delicious, simple, and nutritious. 
Broccoli
And last, but certainly not least of our nutrient-rich and anti-inflammatory fall ingredients is broccoli! Feared by some, but adored by others, broccoli is a classic health food. And its label as a health food is for good reason. Even just eating broccoli for its vitamin C content alone would be worth it. Crazily enough, one cup of broccoli contains more vitamin C than an orange. 
Besides vitamin C broccoli also contains Vitamin K along with potent antioxidants and bioactives which may reduce inflammation. Broccoli makes a great addition to any meal, but I personally love it in these Vegan Chickpea Broccoli Mashed Potato Bowls. 
Overall, there are so many fall ingredients that are rich in nutrients and anti-inflammatory benefits, but this list is a great place to start. Eating locally and seasonally is great for our health and our community. So, this week I challenge you to add one seasonal ingredient to your menu!