Writing a cookbook is a unique journey for each author. The level of planning, creativity, workload, and everything in between varies from person to person and while you might not aspire to write a cookbook or book for that matter—-I hope that this post brings you inspiration to push towards your own goals. Welcome to, For the Love of Sweet Tea: My Cookbook Writing Journey!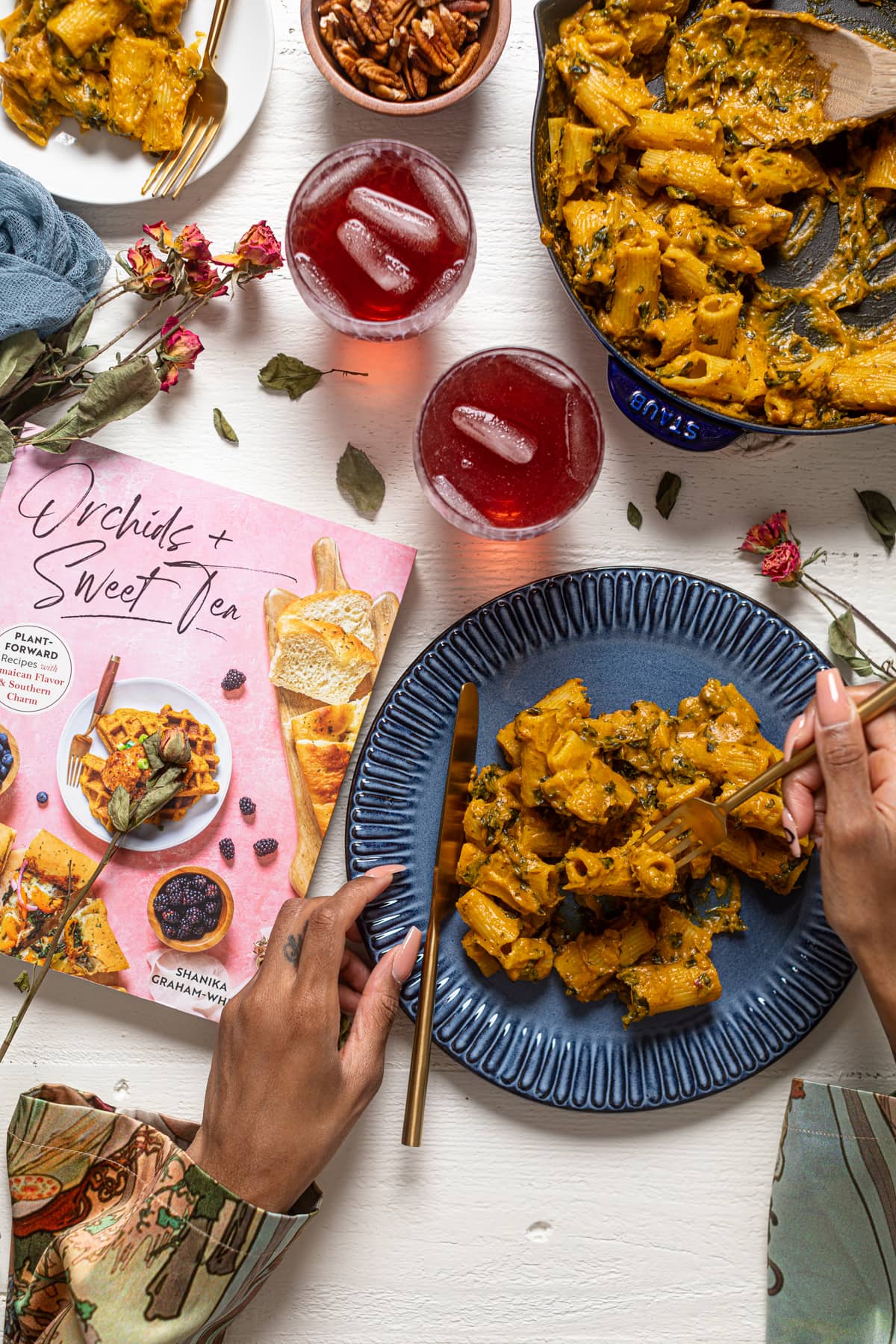 Why, hello. Thanks so much for choosing my little corner of the web to visit, sit on, and adventure through. Now that my cookbook, Orchids & Sweet Tea: Plant-forward Recipes with Jamaican Flavor & Southern Charm, is out and available to the world——-I'm so relieved to have survived such a task and experience. Haha.
Honestly, I want to THANK YOU SO MUCH for being apart of this amazing community of foodies through your simple ways of support such as engaging with my content on social media, clicking through and making my recipes, sharing, commenting, and of course—purchasing my very first cookbook!
It means the world to me. It's such a great feeling to know that you're making a difference somehow.
This entire cookbook writing process was engulfed in a whole lot tears (out of frustration), tiresome days + nights, hard adjustments and work/life balances, cheerful moments, proud moments, a great sense of accomplishment, and pressures—–that's the REAL.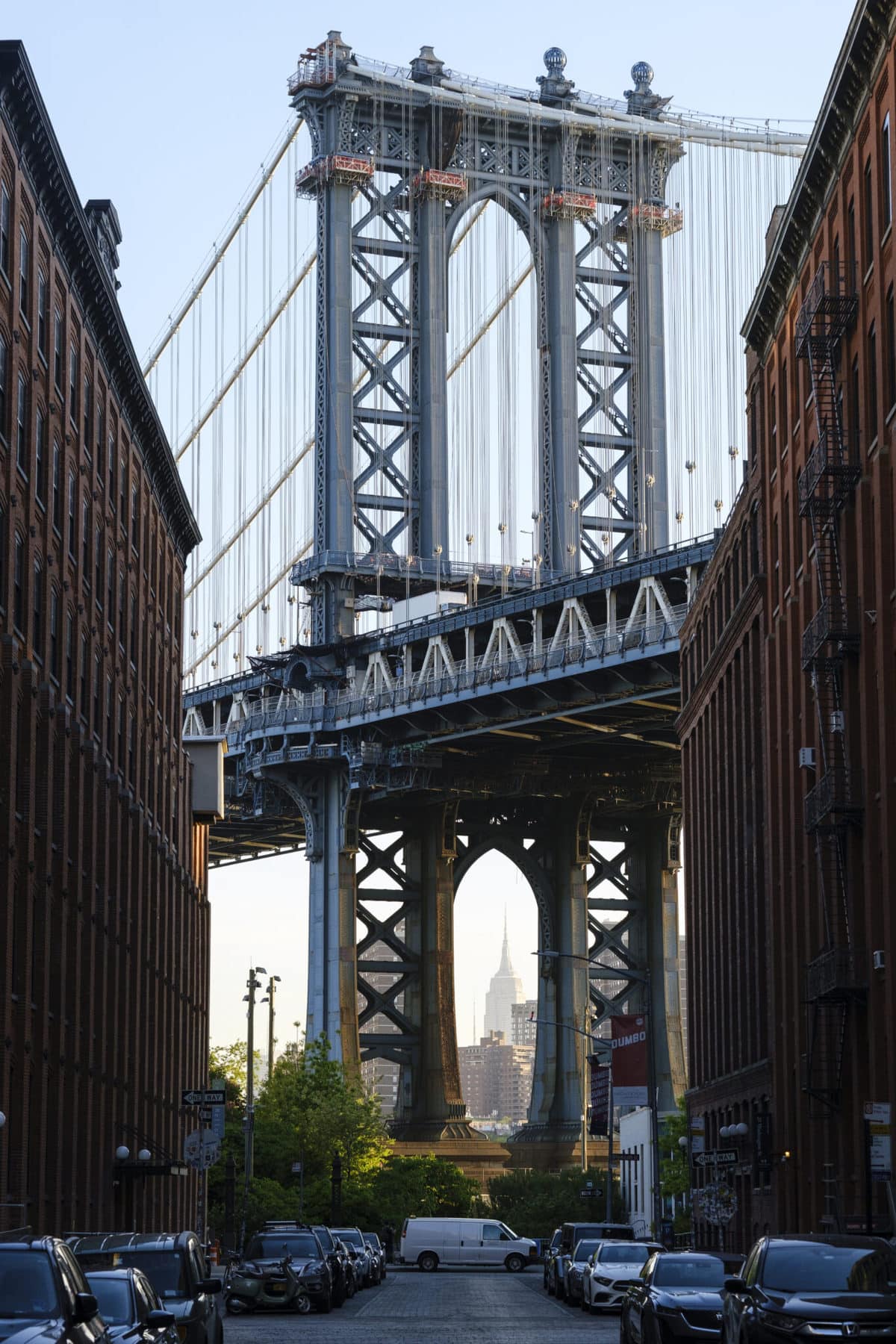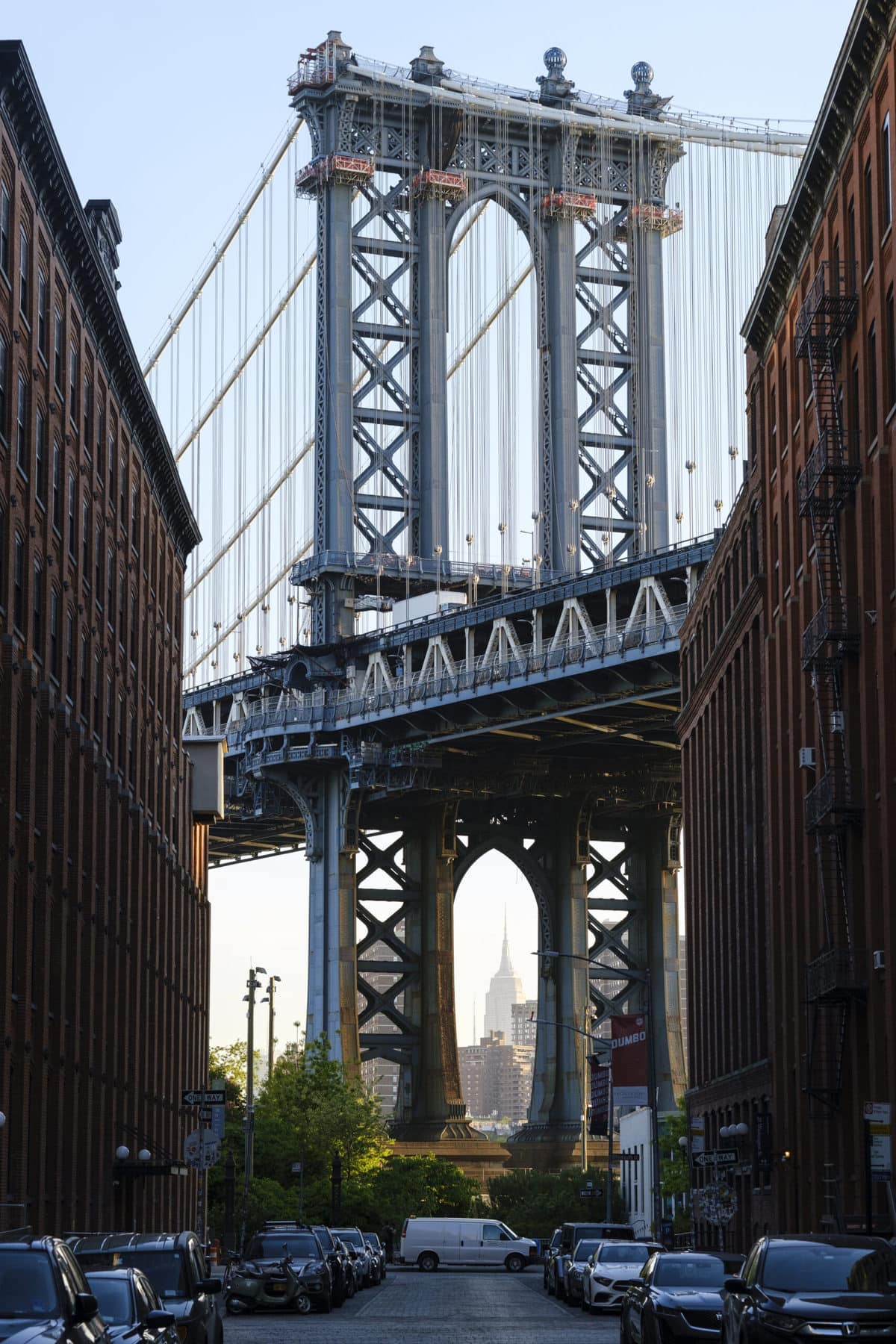 I spent my launch day low-key, engaging with all of the comments and congratulatory shout-outs, and taking it all in. While I didn't have any major press or media things to do (i.e. interviews, cook-alongs, etc.), I was able to rest a bit which was GREAT.
Why I Chose to Write a Cookbook
To be honest, I've always envisioned writing a cookbook ever since beginning my career in food blogging in 2016-17. Starting out, Orchids + Sweet Tea was merely a Lifestyle blog with subpar photos (mostly from my iPhone) and an array of content that mostly included "diary-entry type" or "inspirational" content that reflected my personal journey through life, purpose, and pain.
However, after posting consistently all self-taught meals via social media to my family and friends, I noticed that people gravitated towards my food creations and thus Orchids + Sweet Tea as a food blog was born. Of course, you can check out my About Page for a more in depth depiction of my journey.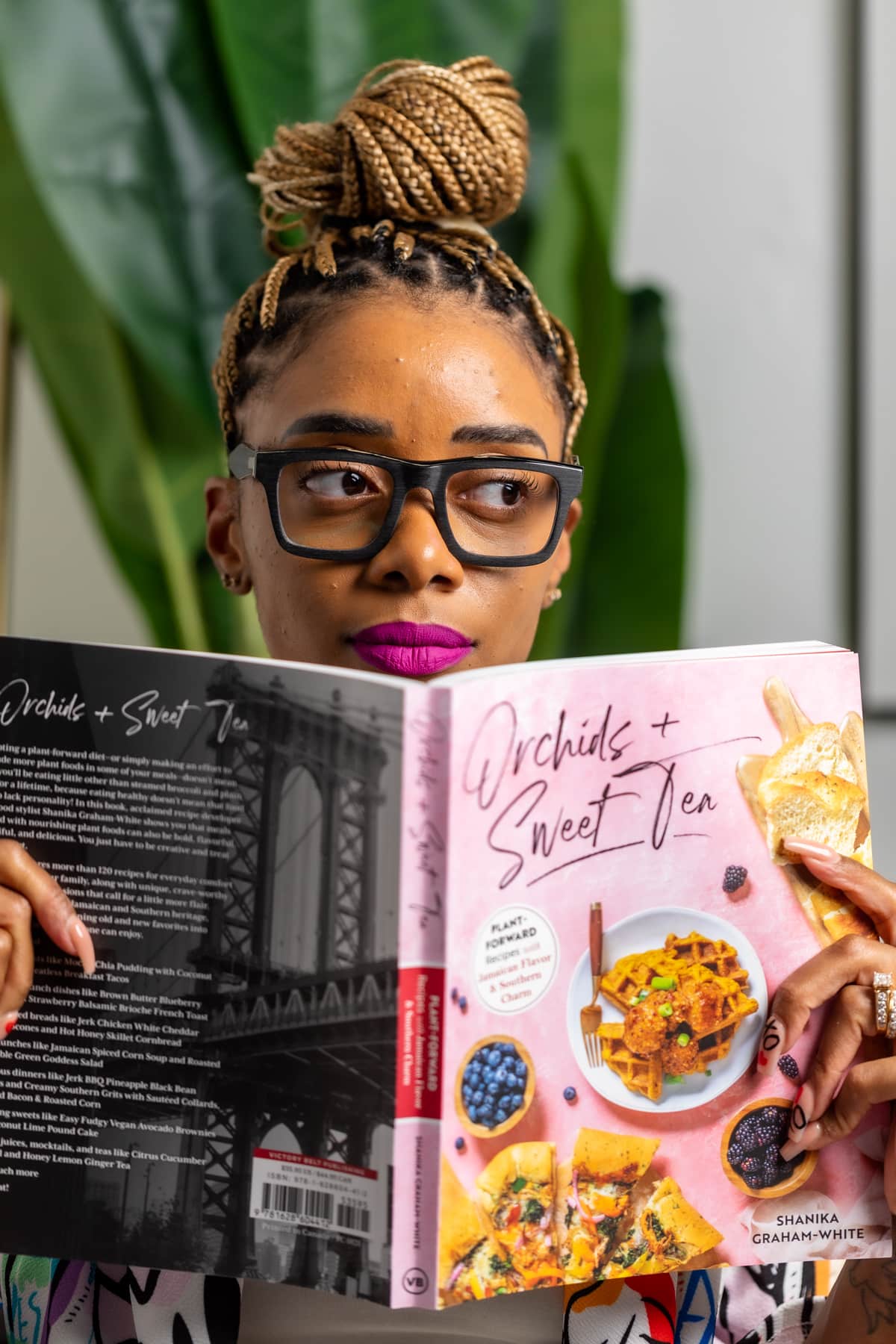 Fast forward to my first cookbook and the evolution of Orchids + Sweet Tea has been something serious. In the years since I first started this blog, I've gone through so many changes —–perfecting my crafts (especially photography + food styling), running my blog as an actual business, trademarking my business name, re-branding and paying attention to details when it comes to the things that I create—-which all has helped me when writing my cookbook.
So the big question is: why did I write this cookbook? Whelp, for one—I wanted this cookbook to be a form of transparency about my journey, food journey, and everything that has inspired my love for food as well as the things that has played a role in my difficult relationship with food.
Secondly, I wanted to share recipes with you that not only taste good, but also connect you to many of the things that I ate growing up which stemmed from both my Jamaican and Southern backgrounds—most with a much healthier twist.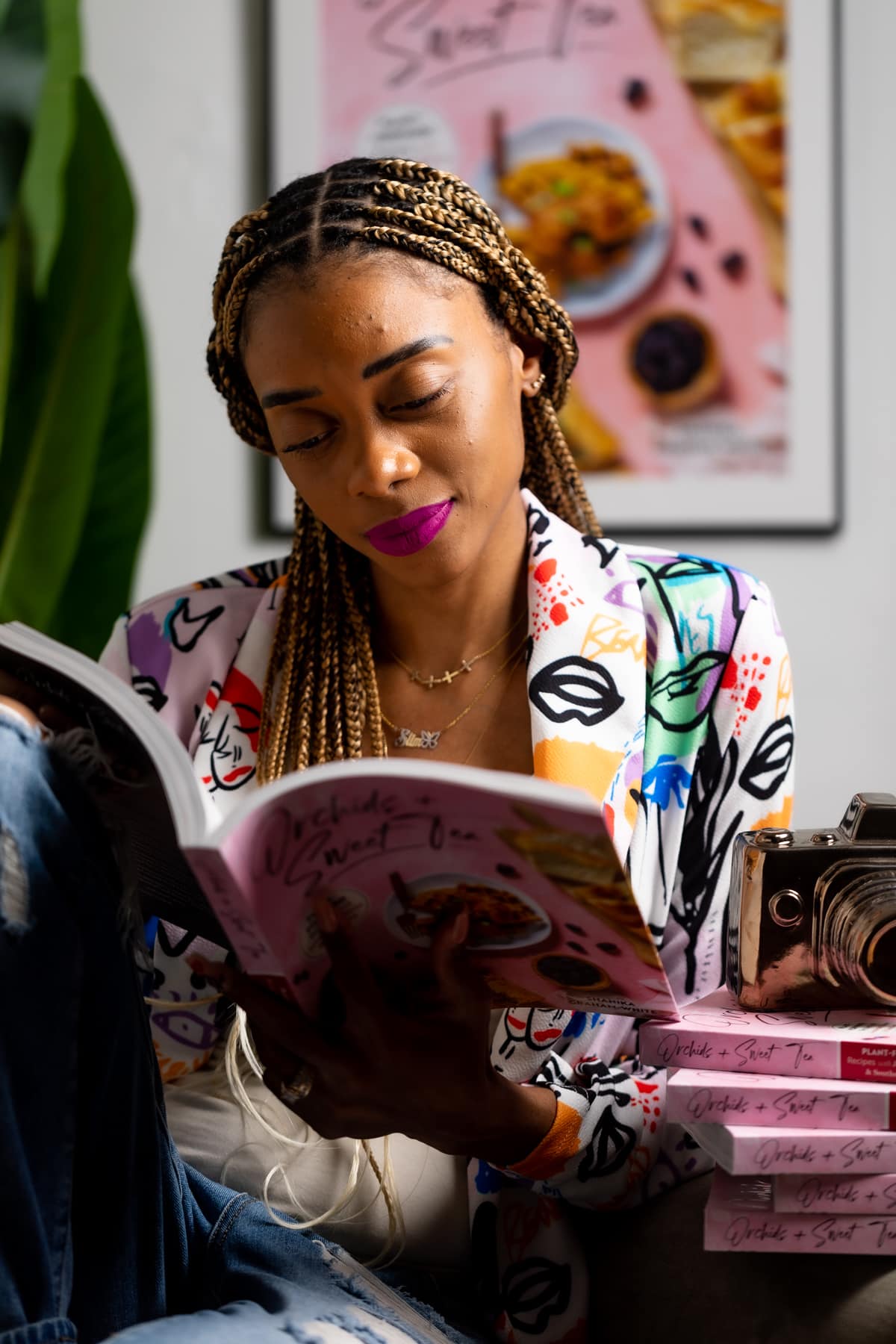 Creating the Cookbook Cover
When it came to creating the cover of my cookbook, I had to thoroughly think this one through. I actually took several different shots using different foods in the frame, changing up the background colors, playing around with the styling, and so on.
At first, I wrestled between making the cover photo more serious, neutral, and "evergreen"—which was a part of the initial bunch of photos. On the other hand—-I wanted the cover to be a lot more playful, eye-catching, and relatable, which is why I chose to use my favorite pink background board from Erickson Surfaces.
I know, I know—-pink was a huge leap of faith and risk when it comes to the cover of a cookbook, but I knew that I wanted this cookbook to look and feel different.
After taking the variety of different shots and styles as mentioned above, I sent the examples over to the editors at my publisher Victory Belt for approval and further creative direction as it related to aesthetics and the norm within the online market place.
After going through a few rounds of suggestions, tweaks, and a re-shoot or two, the publisher and I finally came to the conclusion that the current cover for the cookbook worked beautifully as a representation of the amazing recipes inside.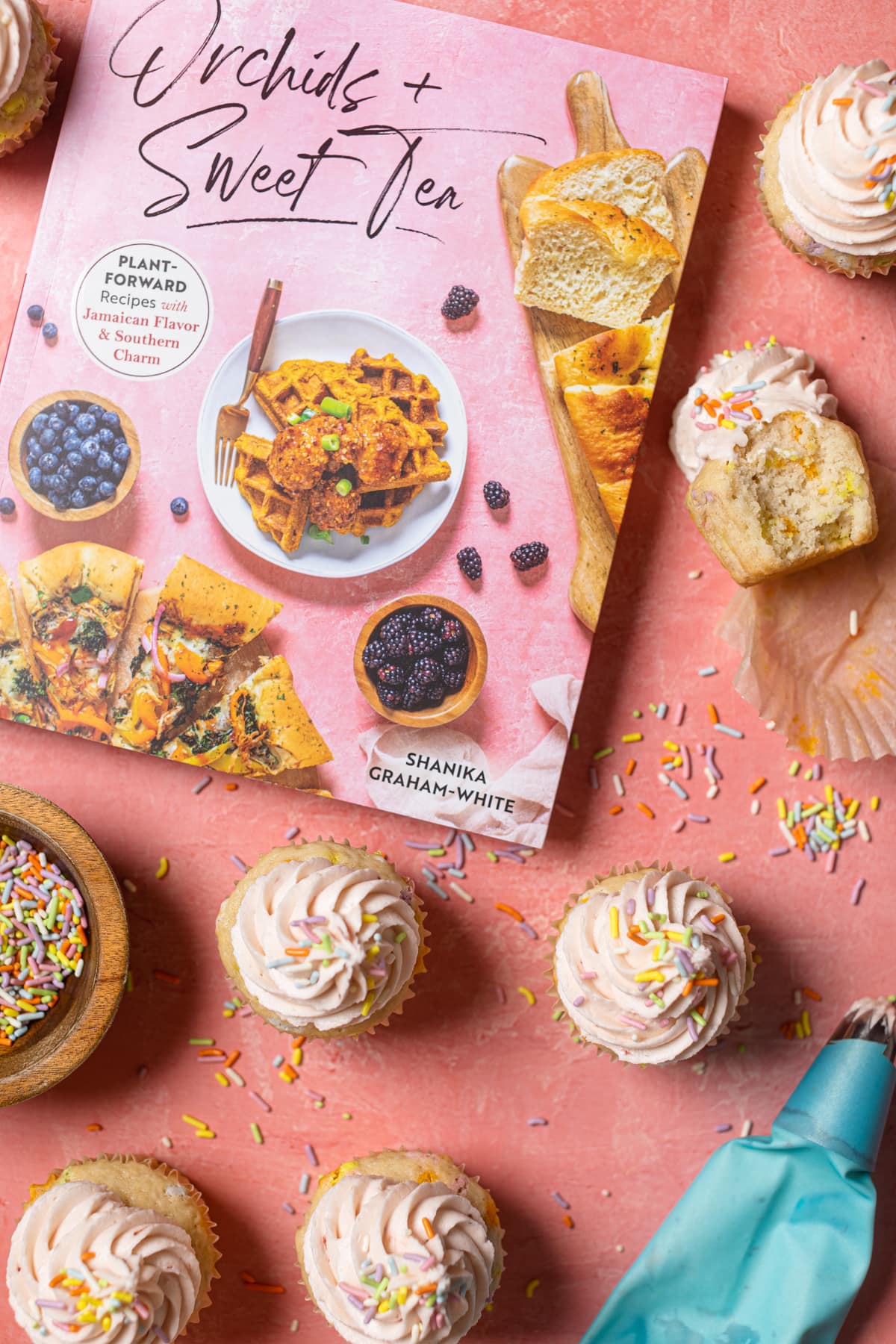 The Beginning Stages of Writing my Cookbook
When I first started my cookbook writing journey, I felt so overwhelmed out of fear because I never took on such an undertaking before. While I do run an entire blog, I quickly realized just how different writing a cookbook is.
Although the point is to make your cookbook standout and have a different feel than others on the market, there is still a standard that is required to make a cookbook a traditional cookbook, which I honestly wasn't as abreast to.
In full transparency, prior to writing my own, I wasn't a huge cookbook collector because there are just so many blogs that I enjoy supporting. However, after going through my own fete with writing my cookbook, I gained an appreciation for cookbooks and in the process purchased a lot of my fellow blogger friends' cookbooks in support.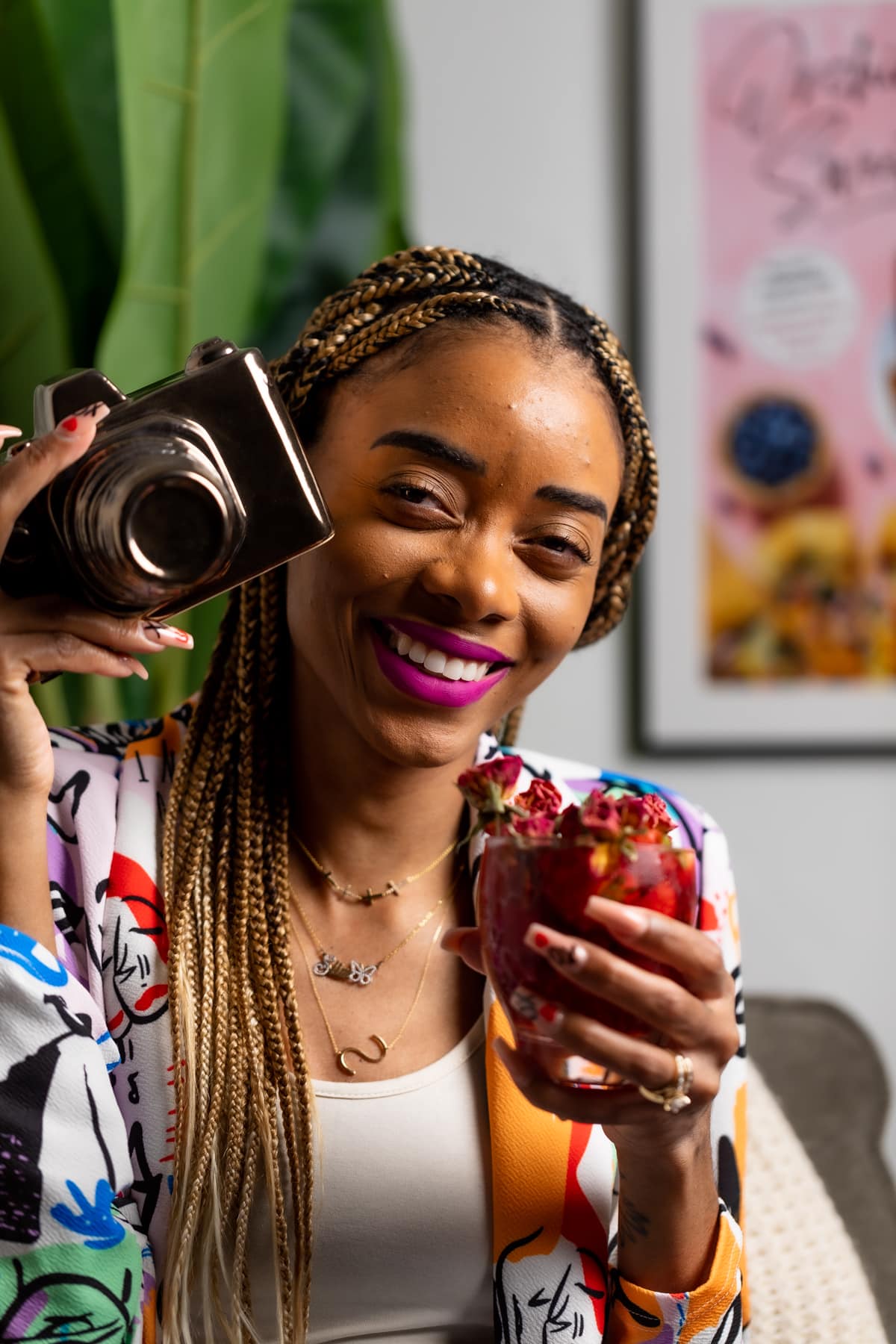 Creating a Recipe List + Table of Contents
The very first step to it all was creating my recipe list which would later become my table of contents. This first step allowed the publisher and I to map out the format of the book, identify which recipes I planned on testing and perfecting, and also understanding how to fit in the other sections that weren't necessarily recipes (i.e. Intro, Ingredient Highlights, etc.).
When I first started this entire process, I planned on creating over 175 recipes———–I KNOW—-CRAZY! Haha. However, as we worked our way through the process, my publisher later agreed that reducing the recipe count greatly was the best route—-so here we are at just a little over 120.
After the initial list of recipes, my publisher and I went through SEVERAL rounds of edits and tweaks to ensure that the recipes made sense with each other and then finally categorizing everything to make sure that it was easy for you to maneuver through the entire cookbook, from start to finish.
In addition, separating things like brunch, breads, and other recipes along those lines, allowed the chapters to remain at a decent length while perfectly grouping recipes together based on interests.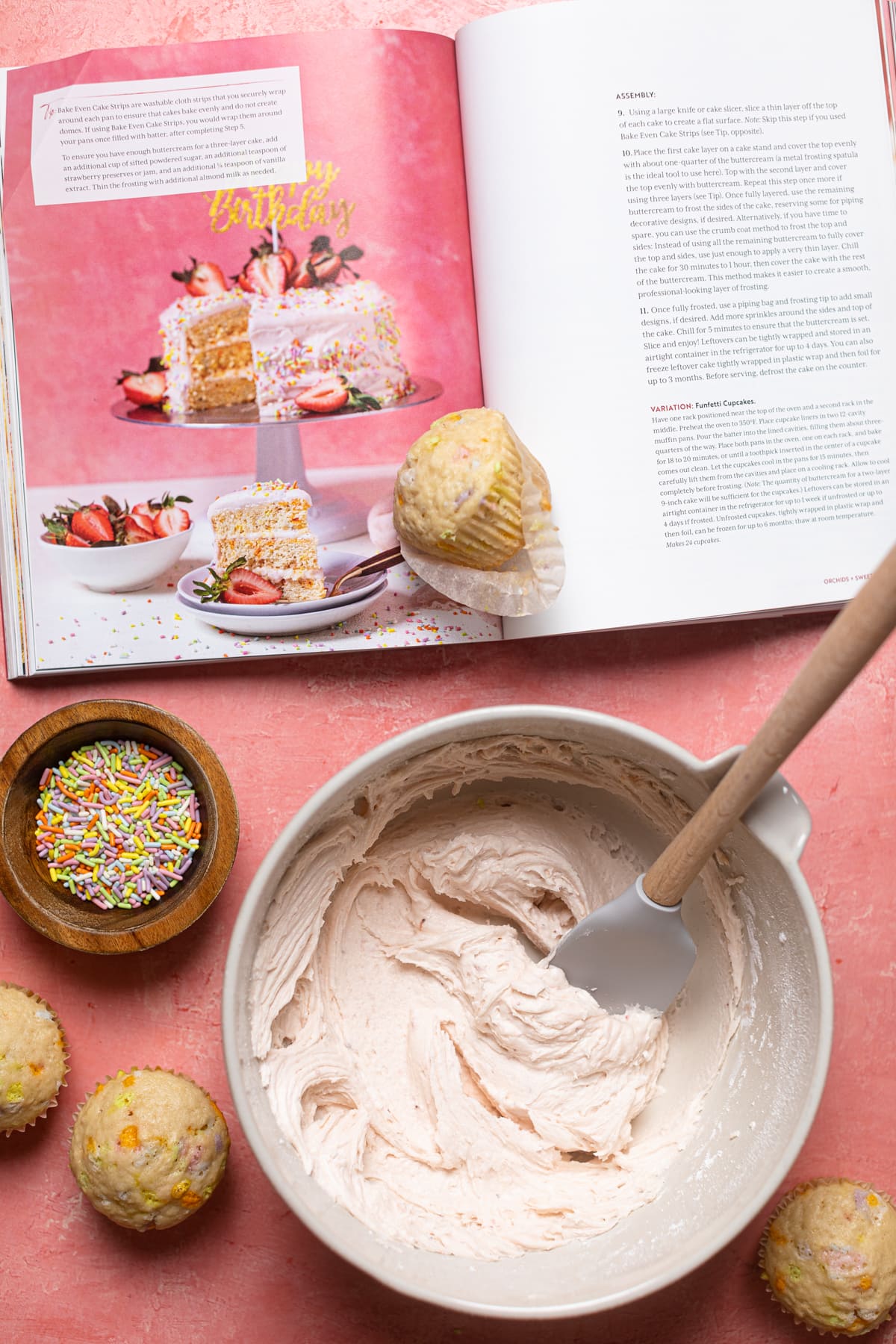 Research + Development
Now that the framework (recipe list + table of contents) was finalized (for the most part), I got right into the research phase. When it came to researching, I wrote down a list of recipe ideas and often started with foods that I remember eating during my childhood. Then, I would look for recipes that I already had my blog as another starting point, later branching off into other recipes that I thought would be a great fit for the theme of my book.
For recipes that I didn't have much experience with personally like the Coconut Lime Pound Cake or Baked cajun Carrot Chips, I scoured through various recipes, hand-picking common ingredients that fit the bill in my head for the perfect outcome and then creating my own rendition of what I've gathered.
However, when it came to other recipes where I felt stuck like the Hibiscus Drink, which I grew up drinking a ton, I would call my Mother-in-law and ask for tips and suggestions.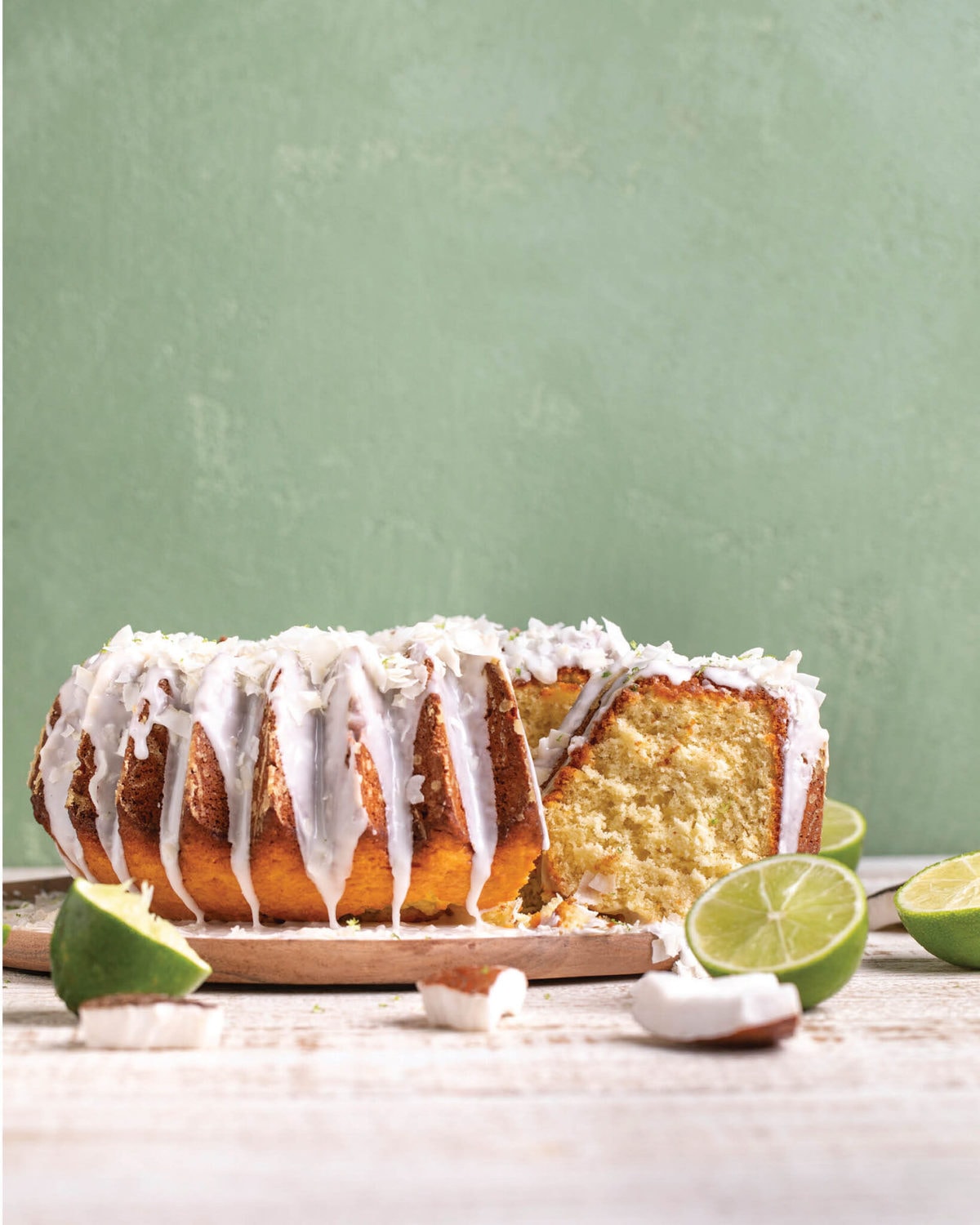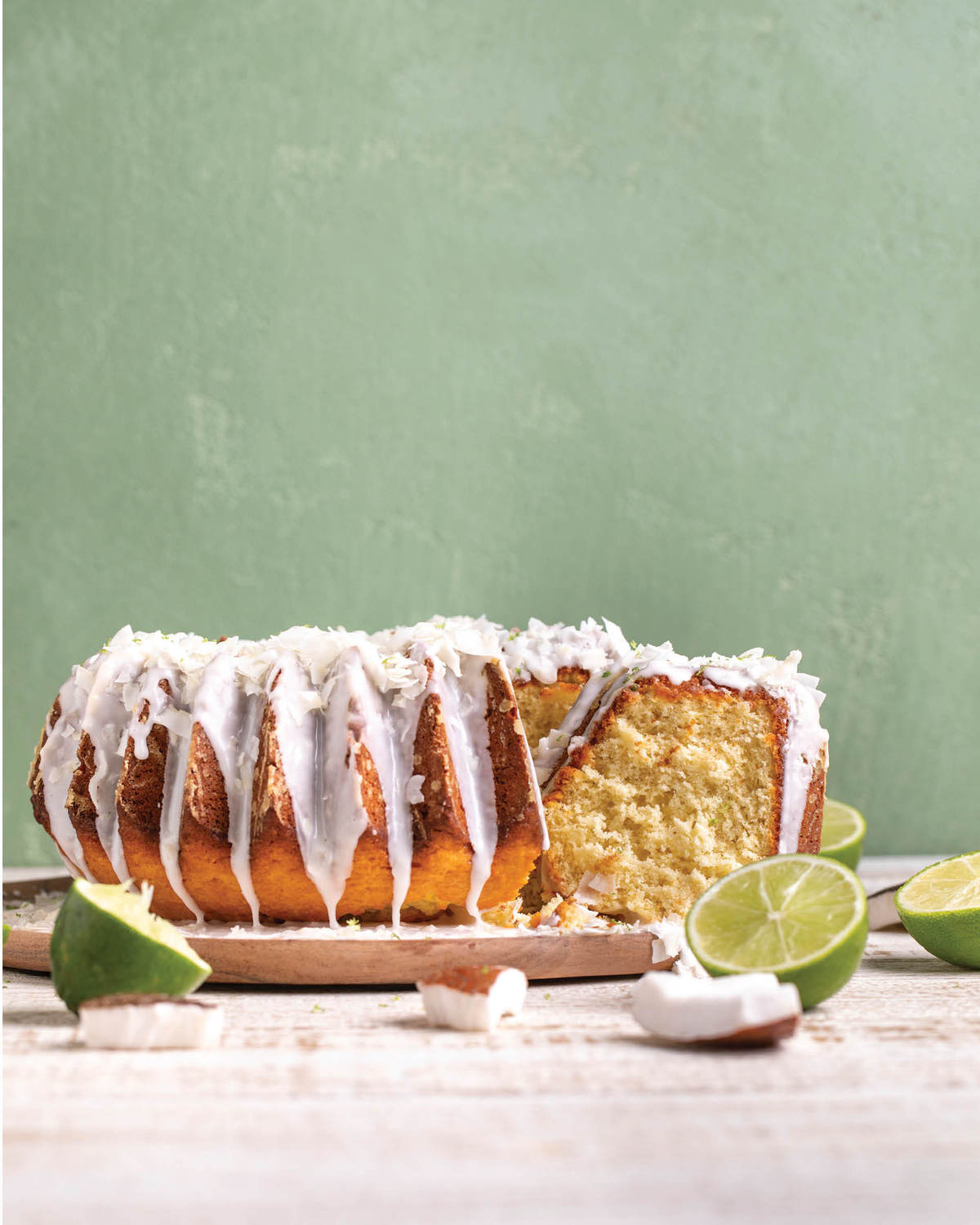 Of course, the research and rough drafts were insane——always missing an ingredient, incorrect serving size, confusing steps, etc. which had to be tweaked, re-tested, and re-edited. It was indeed a PROCESS, including with the naming of each recipe, which couldn't just make sense to me but also to the person reading and trying the recipe.
Thank goodness for Word doc and my IOS Notes, which had loads of notes for each recipe.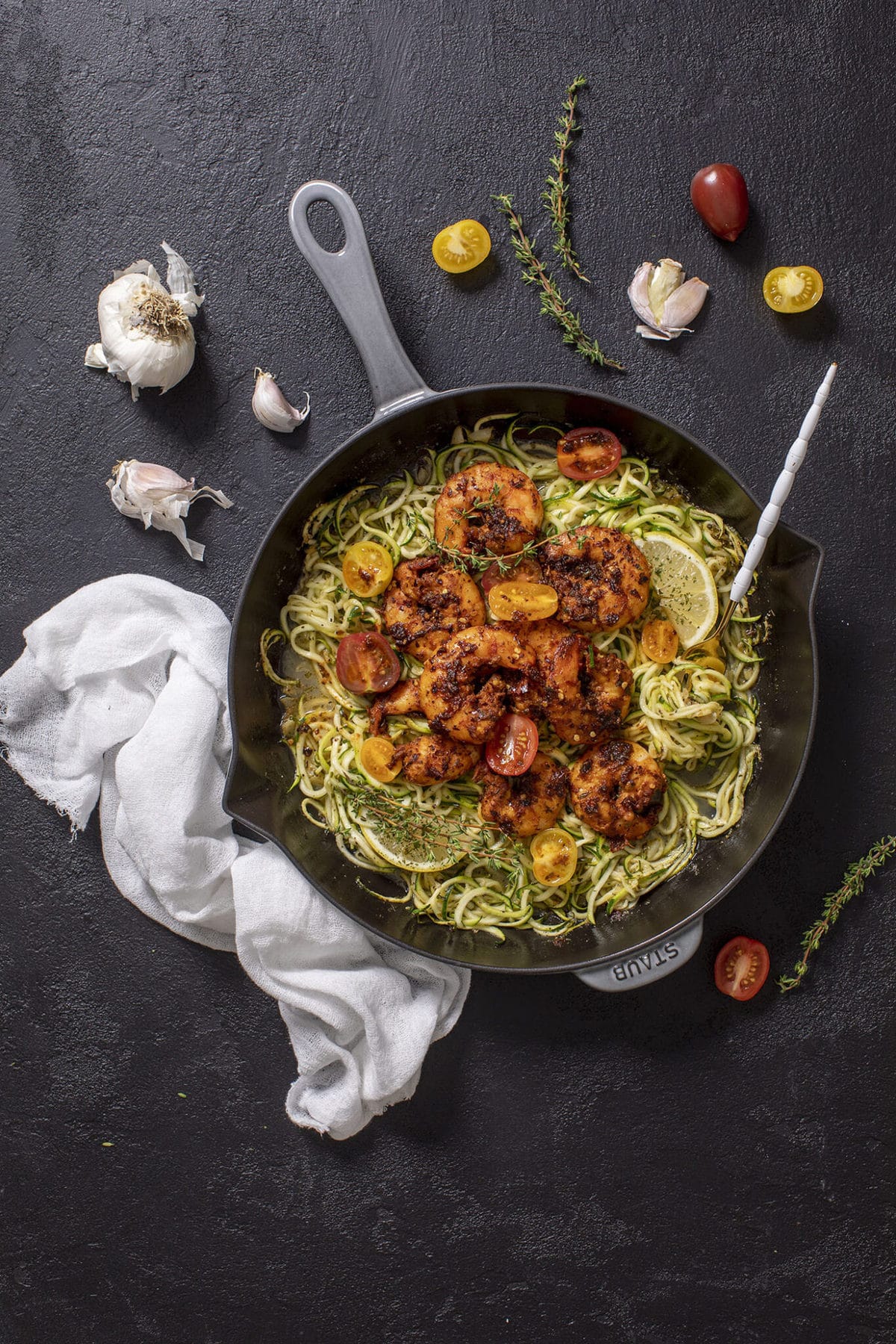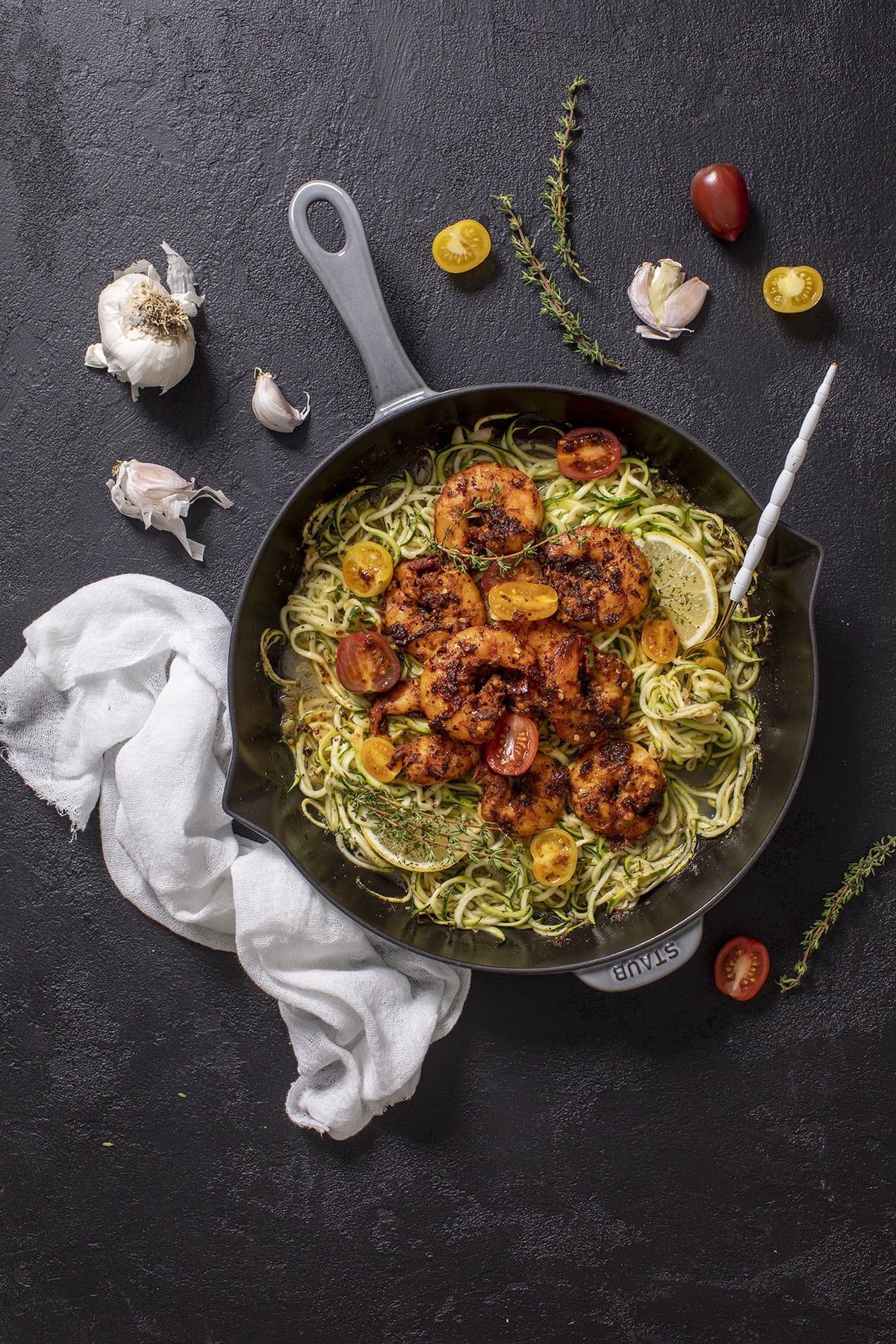 Cooking and Food Creation
OK, so let's talk about the actual testing of recipes a.k.a. recipe development. If you think that creating a cookbook is anything like running a blog or making one or two dishes, then YOU'RE WRONG. Sorry! Haha.
Development is messy, tiring, overwhelming at times, and just INSANE. Depending on your publisher, you'll have an allotted amount of time to develop, test, and shoot your recipes—-and for me, I completed my entire book in about 3-4 months, which wasn't a ton of time especially if you're continuing to run your blog with no time off.
I literally went into working "night shifts" (meaning working until 8am each day) during the entire process and banged out about 7-8 recipes each day to get everything done on time. I know—-crazy! Of course, everyone will have their own schedule and recipe count for their cookbook, so you have to take that into consideration.
Another factor that plays a role into the smoothness in the development process is whether you choose to hire out for photography, styling, cooking assistants, etc. Personally, I love to create ALL FOOD CONTENT for Orchids + Sweet Tea because I like to ensure that you get the best from me and my style remains consistent—–which is why I chose not to hire out for my cookbook either.
Thankfully, my husband and I have been awesome at being a team when it comes to content, so we made it work without extra help. Honestly—-I'm so glad that we did because I know that everything that you get to enjoy from this cookbook was created by my two hands and that's a feeling that can't be compared.
When it was all said and done, I probably created around 140 dishes and just a little over 120 made the cut.
Write Headnotes + Finalize All Recipes
As I mentioned before, creating the Table of Contents was one of the first steps in the entire process which acts as a great blueprint for everything going forward. As you work your way through the process—-cooking, testing, and developing each recipe, you mostly end up either keeping a recipe (because it was successful), removing recipes that just don't work, or adding new ideas that you think of along the way.
After a few round of edits with your publisher, you'll usually have the list of recipes finalized at this point and the birth of your recipe headnotes can begin! When it came to my recipe headnotes, I tried to keep things as personal as possible as it related to my inspo behind that recipe, a story that correlated with my memories drawn from it, or awesome tips+ tweaks that can be made to the recipe.
I definitely tried to keep things useful and valuable which was another task in and of itself, especially with new recipes that might not have been attached to a story or memory. Haha.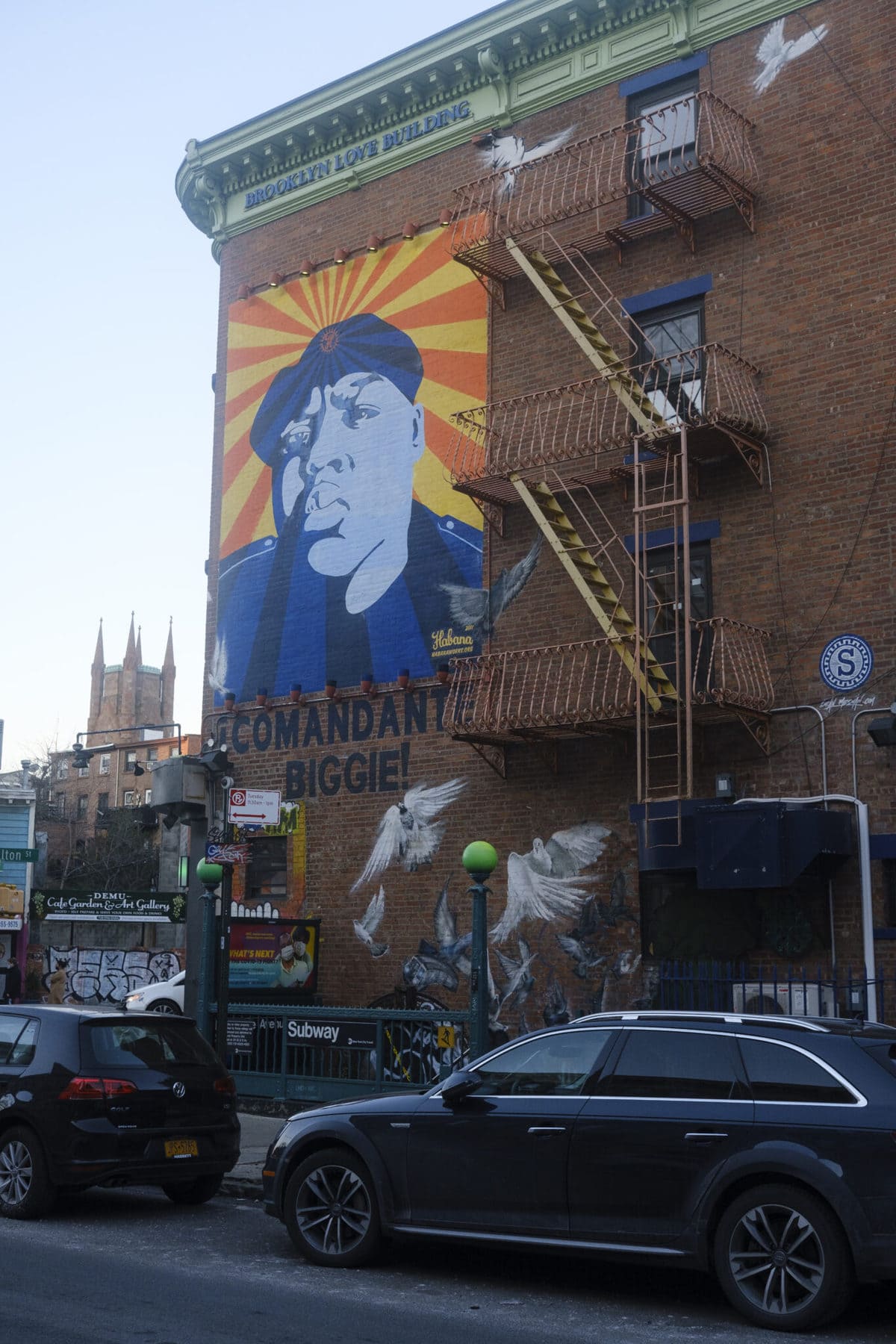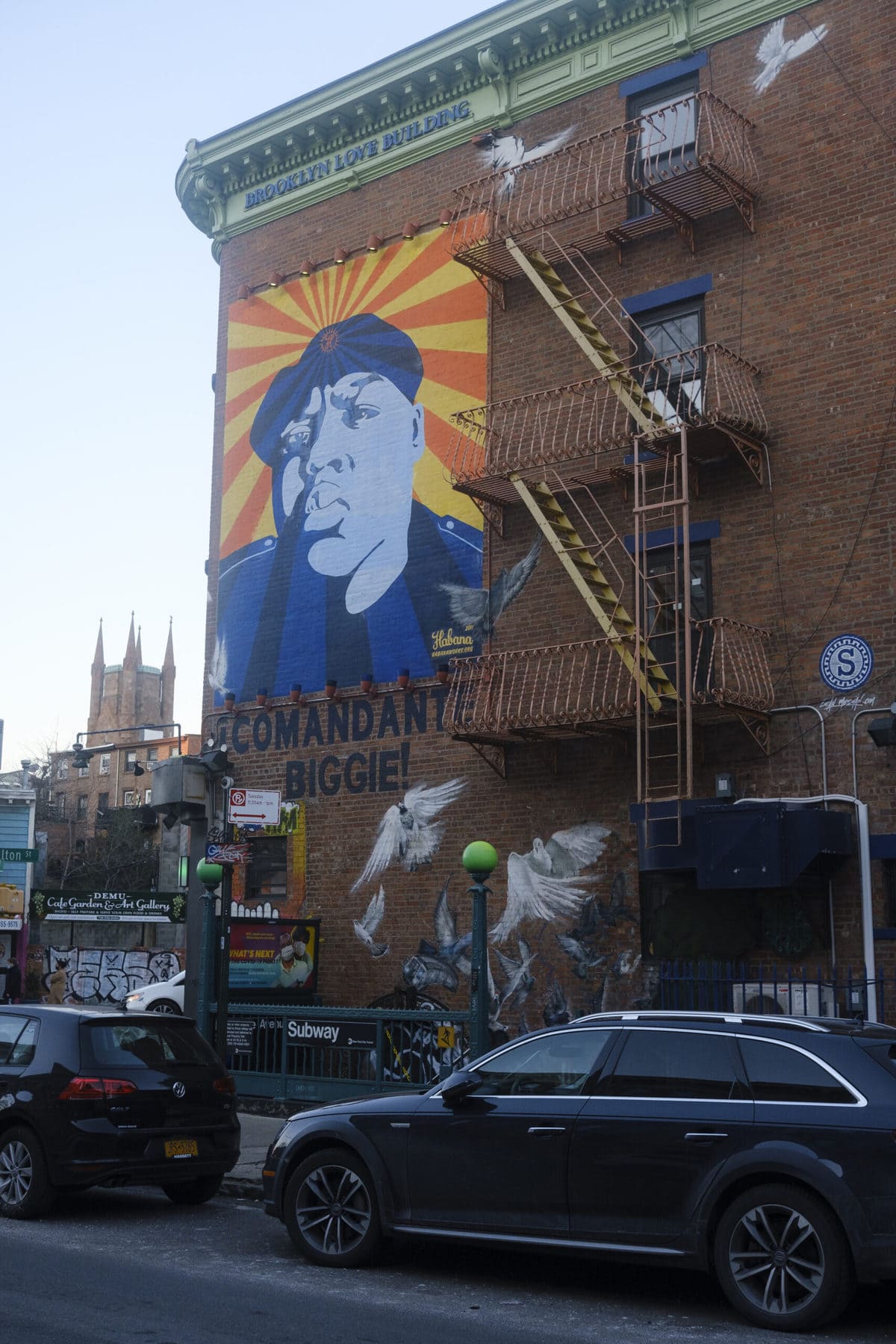 Making this cookbook Different + Unique
Photography + Personal Story
When it came to ensuring that this cookbook was different, I thought about the purpose that I intended for this cookbook to create. Yes—-it's a go-to for recipes and food creation, BUT I also wanted it to be a safe haven for people who grabbed a copy to connect to my personal food story, childhood struggles, and evolve as a mother myself—especially as it relates to my healthy food journey + lifestyle.
While every photo was taken by husband (my personal photographer) and all foods were made and styled by me, I did want to take you on a journey through my old (and new) stomping grounds throughout Brooklyn, NY to further connect the story. This is why I chose to include actual Street Photography shot by one of my favorite Brooklyn photographers—-Matt Ellis. You can check out his Instagram here if you'd like. So as you look through each page with street photography, just know that I've stood on those grounds and often went to several of those places regularly.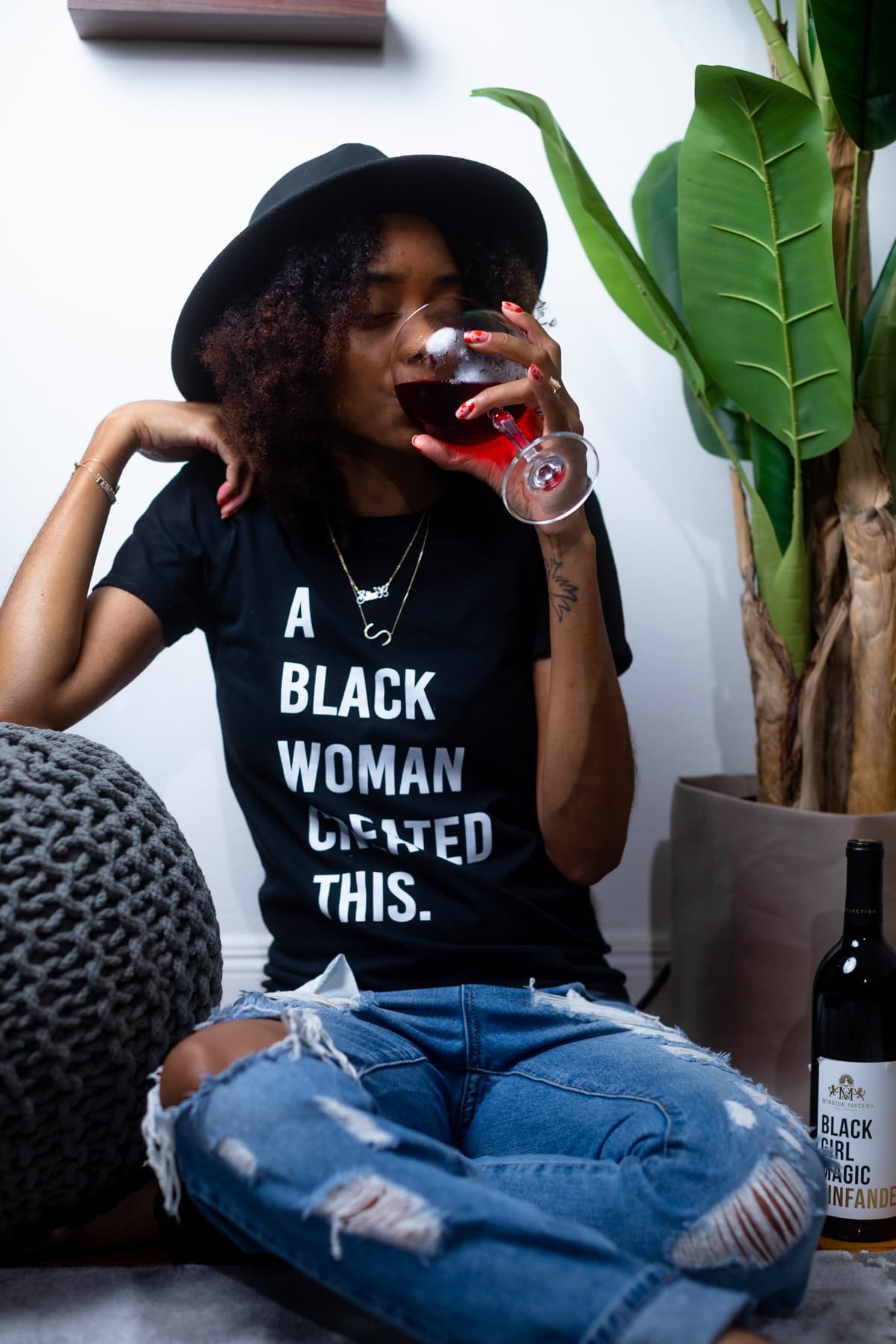 Overall, I want this cookbook to be a vibe for anyone who reads it and cooks their way through it! In addition, I want the reader to feel confident enough with the information given throughout the Intro and Chapters of my cookbook to get in the kitchen and KNOW that they can create ANYTHING that their heart desires, even with little to no experience.
I'm self-taught with no culinary experience, but my passion for creating delicious options for my family and I, drives me to continue to further stretch myself to make things that I had no exposure to growing up.
I hope that this cookbook gives you a piece of that passion.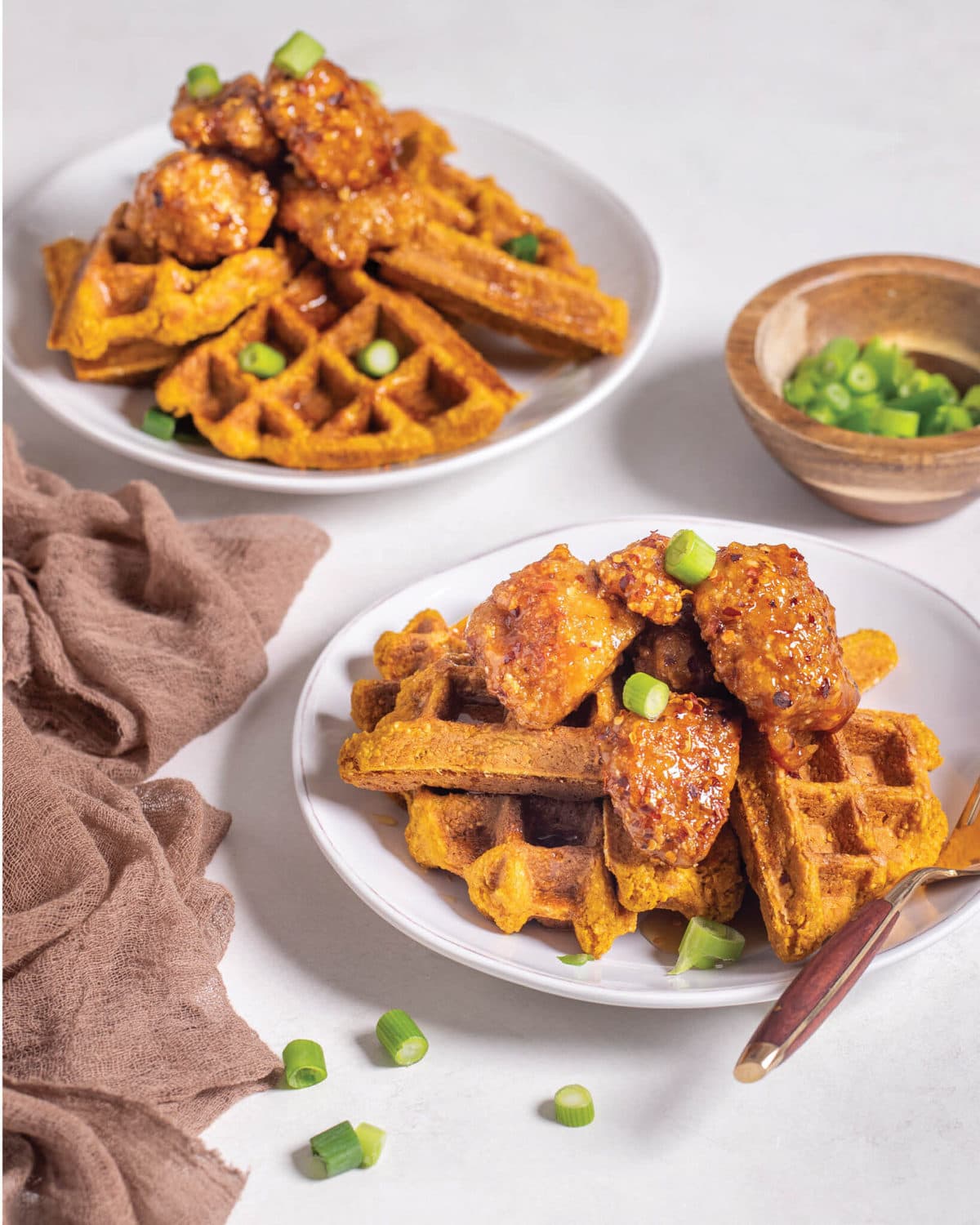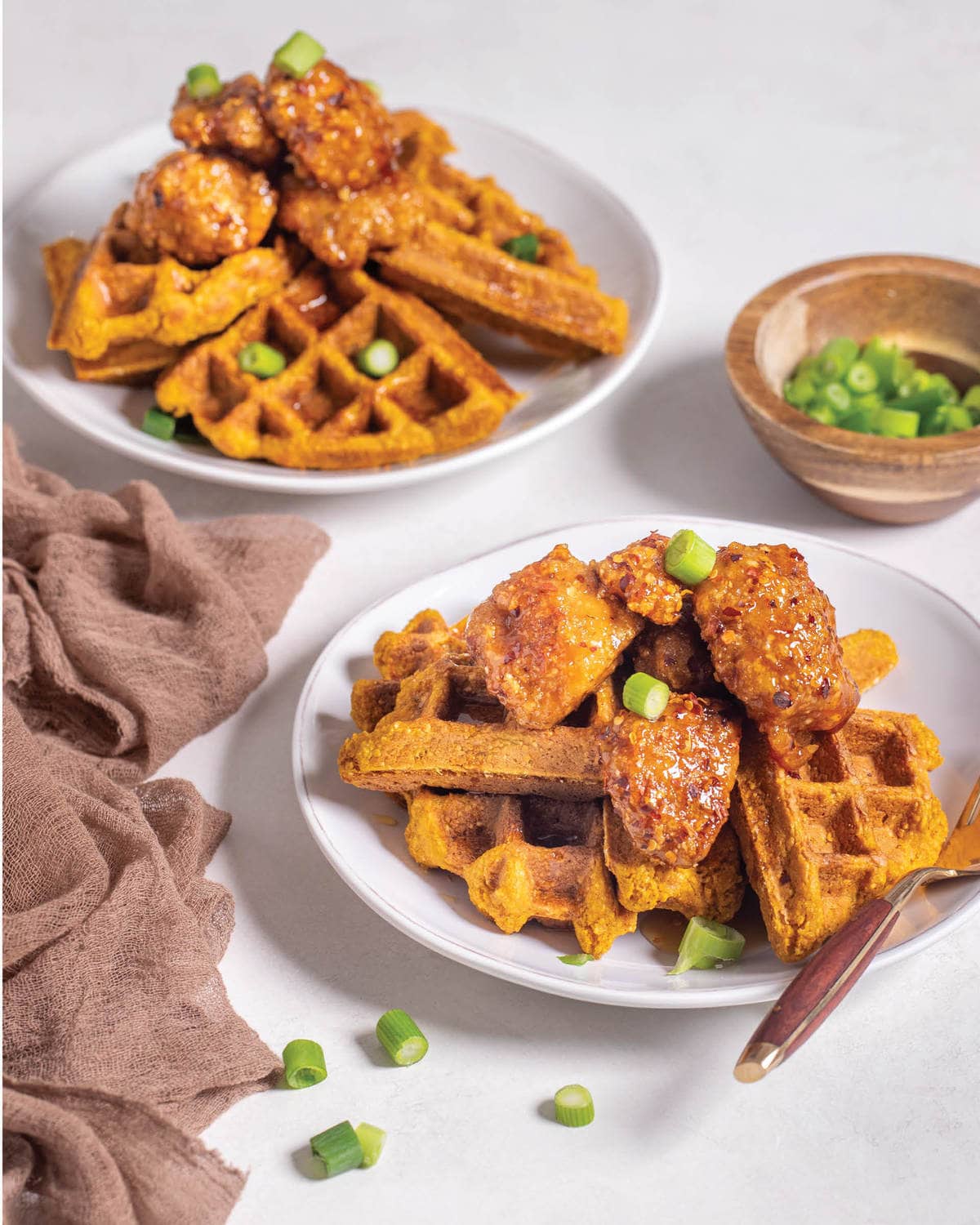 Scary Moment: Introducing my Jamaican + Southern Roots
One of the biggest risks of writing this cookbook was the introduction to both my Jamaican and Southern roots. At first, my publishers were a little concerned with this notion since this isn't something that is saturating the current Online Marketplace. However, after further ironing out the concept and tying it into the Plant-Forward way of cooking, we went ALL IN.
For the Southern piece of it, I had re-creating traditional Chicken + Waffles, Banana Pudding, French Toast Casseroles, Southern Grits, Cornbread, Deviled Eggs, + more—-most of which I grew up eating in some form, but now with a Plant-Forward twist!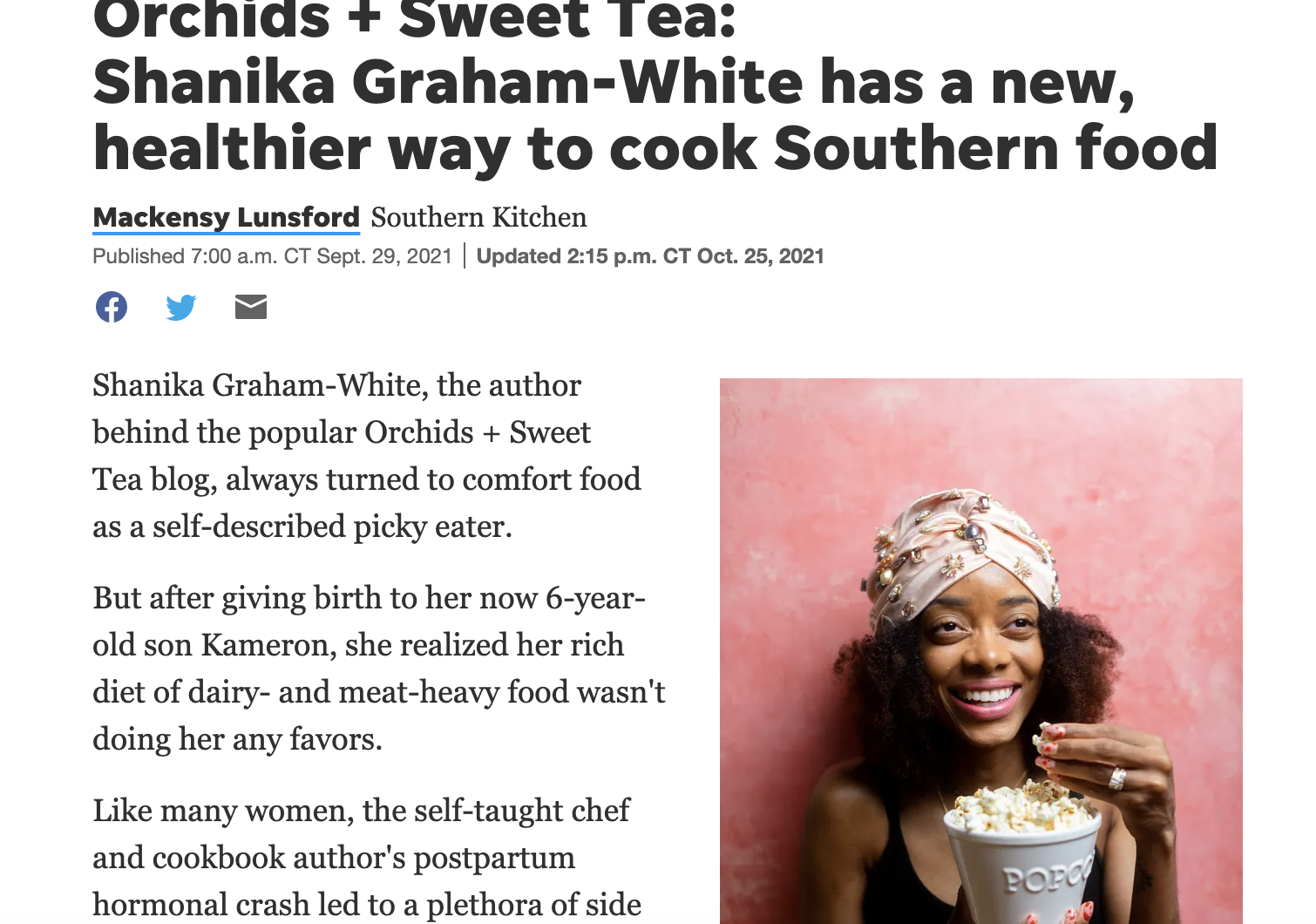 Although many people are familiar with Southern cuisine and often are receptive to it, the Jamaican element of things seemed to be a bit more tricky. However, because I am a first generation American in my family and am married to someone who shares the same sentiments—–I've been more exposed to outside foods that allow me to put a Jamaican twist on things that people are more accustomed to enjoying.
While traditional Jamaican food has been something that I often partook in (and still continue to), I find that sharing bits and pieces of my culture with outside foodies has been a fun and enlightening experience—–because most people are more receptive to it than I thought.
Besides, many traditional Jamaican recipes are very centered around health + wellness, especially the soups, drinks and teas that I include in my cookbook. Of course—-flavor will never be an issue either. Haha.
Extension of Orchids + Sweet Tea
Honestly, the biggest thing that I wanted this cookbook to be is an extension of what you already get on Orchids + Sweet Tea daily! I wanted to continue on with my transparency, healing conversations, good food with flavor, and everything in between—leading to a healthier lifestyle (whatever that looks like for you).
So, my advice to anyone wanting to write their own cookbook or if you're in the process of anything else that's major in your life—-just GO FOR IT + BE YOU ALL THE WAY THROUGH.
Yes, I know that there is major pressure when it comes to being accepted, winning awards, being recognized for our hard work, etc—–BUT the biggest accomplishment you'll ever have is making IMPACT. So go out in the world, be the best you that you can be, and create small pockets of impact that will change someone's life—no matter how small.
If you'd love to grab a copy of my cookbook, be sure to purchase Orchids & Sweet Tea: Plant-Forward Recipes with Jamaican Flavor & Southern Charm now available at Amazon, Barnes & Noble, Target, Walmart, Indiebound, and more.
Don't forget to leave those reviews so that others can better make a decision to grab it too. THANKS SO MUCH FOR ROCKING WITH ME—Always! Xx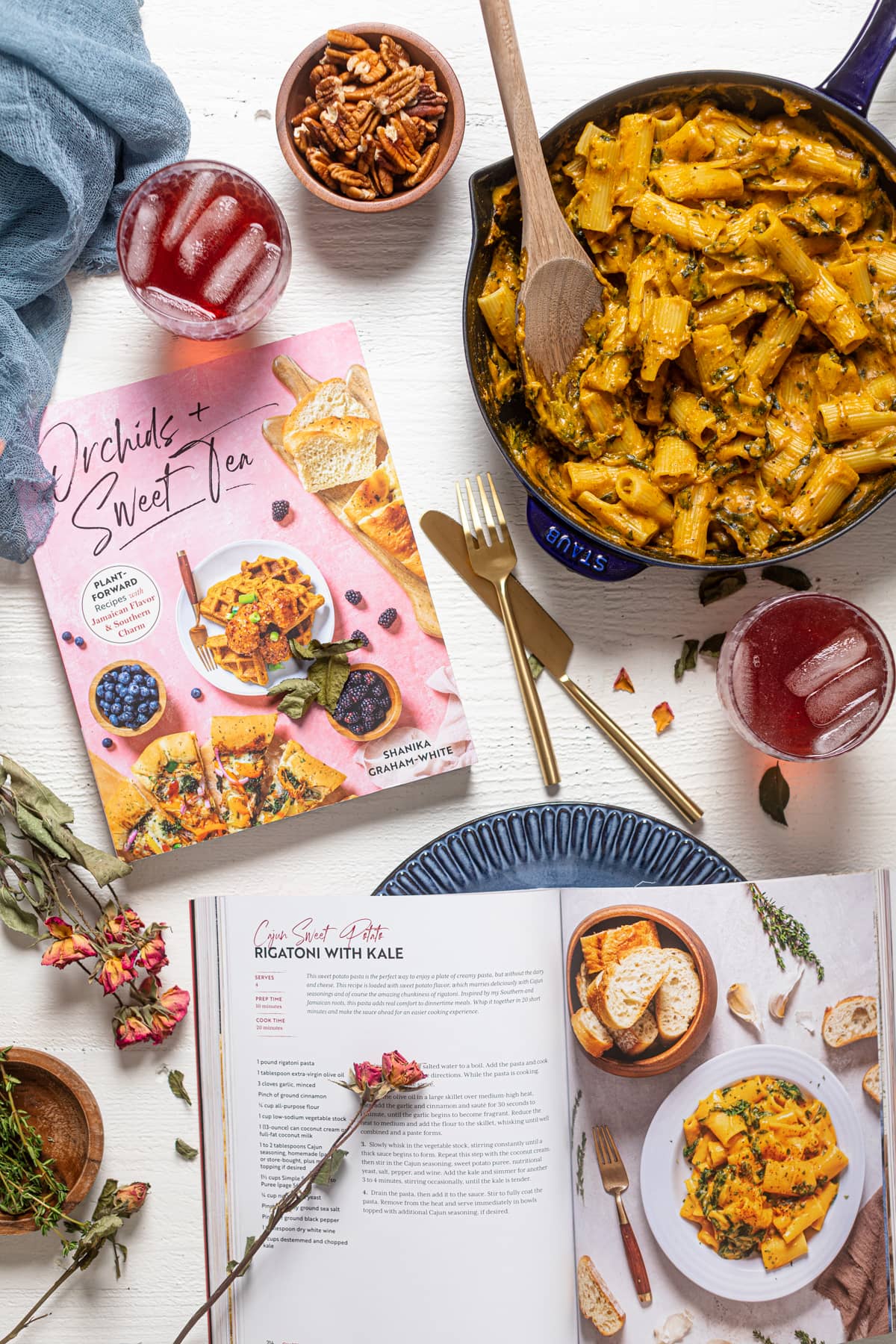 For the Love of Sweet Tea: My Cookbook Writing Journey.