These Easy Vegan Apricot Pop Tarts are nothing short of flaky, perfectly sweetened, bursting with the fresh summer flavor of apricots, and topped with a simple vanilla frosting. Complete homage to the classic childhood favorite, these pop tarts are a sure crowd-pleaser, even for picky eaters. The perfect bite for breakfast, brunch, or a nice in between snack. All Vegan ingredients. Gluten-Free option available.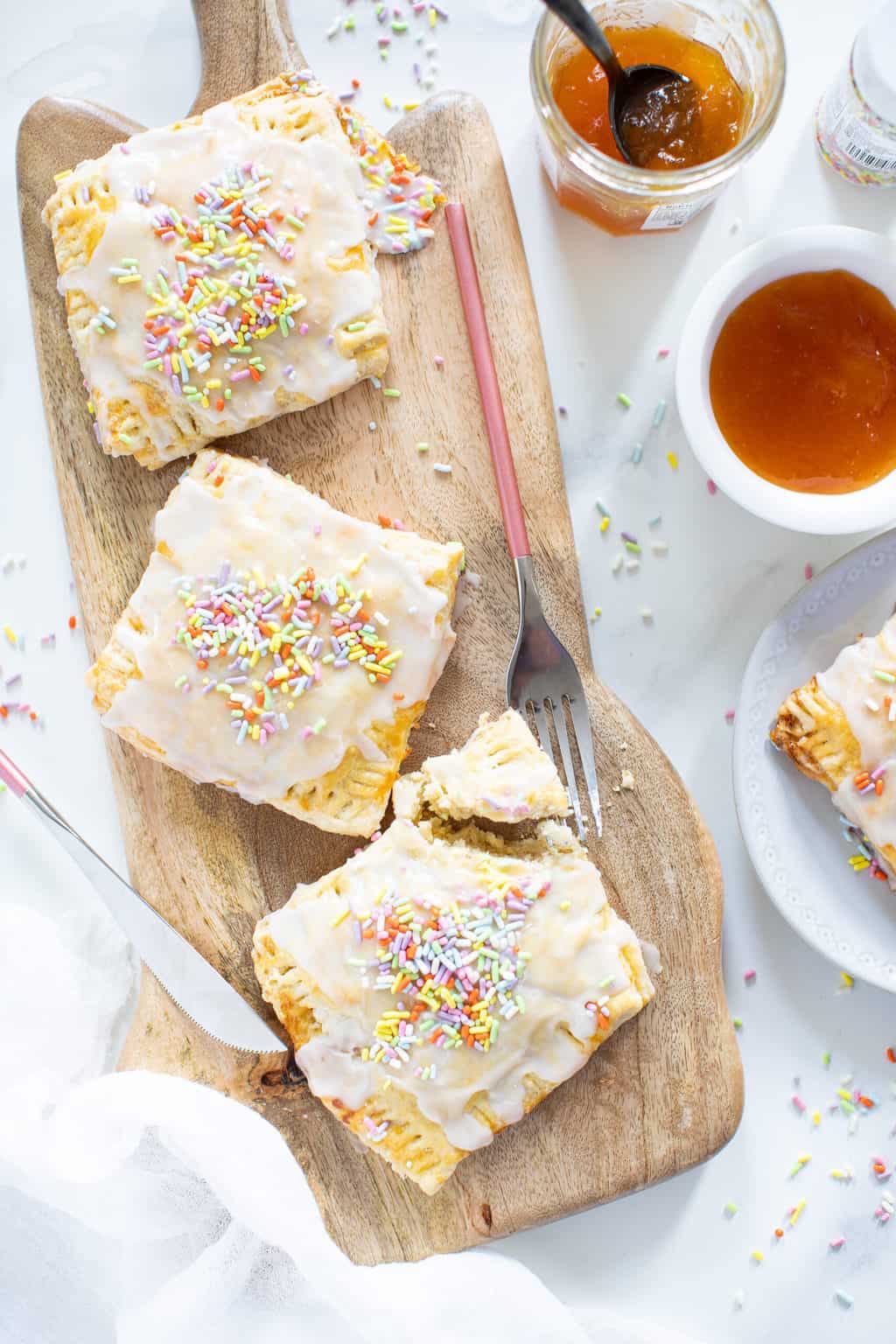 Pop Tarts. Easy Vegan Apricot Pop Tarts. Where do I begin? Honestly, these little flaky, squared sweet treats are MY LIFE! Haha.
If you've been an avid follower of Orchids + Sweet Tea, then you know that pop tarts were my absolute FAVE growing up!
The Kellogg's Strawberry w/ the Vanilla Frosting + Sprinkles were my ride or die for breakfast, lunch, and dinner. I seriously indulged in those things at least twice or more a day. Personally, I loved when they made them so perfectly thin. I'm obsessed.
Now, however, since I'm on a health-conscious journey, many of my old habits have been thrown out the window and although I no longer purchase that little blue box of pop tarts, I'm a huge pop tart maker at home.
Seriously, pop tarts are so easy to whip together. It's unbelievable that I didn't begin making my pop tarts a lot sooner.
Of course, that's why I'm so excited to share these with you.
If you love pop tarts like I do, then I'd suggest trying my Homemade Vegan Apple-Cinnamon Pop Tarts, Homemade Blueberry Vegan Pop Tarts, or these Strawberry Glazed Vegan Breakfast Pop Tarts.
Trust me, you won't be disappointed by the flavors above. They are SO GOOD!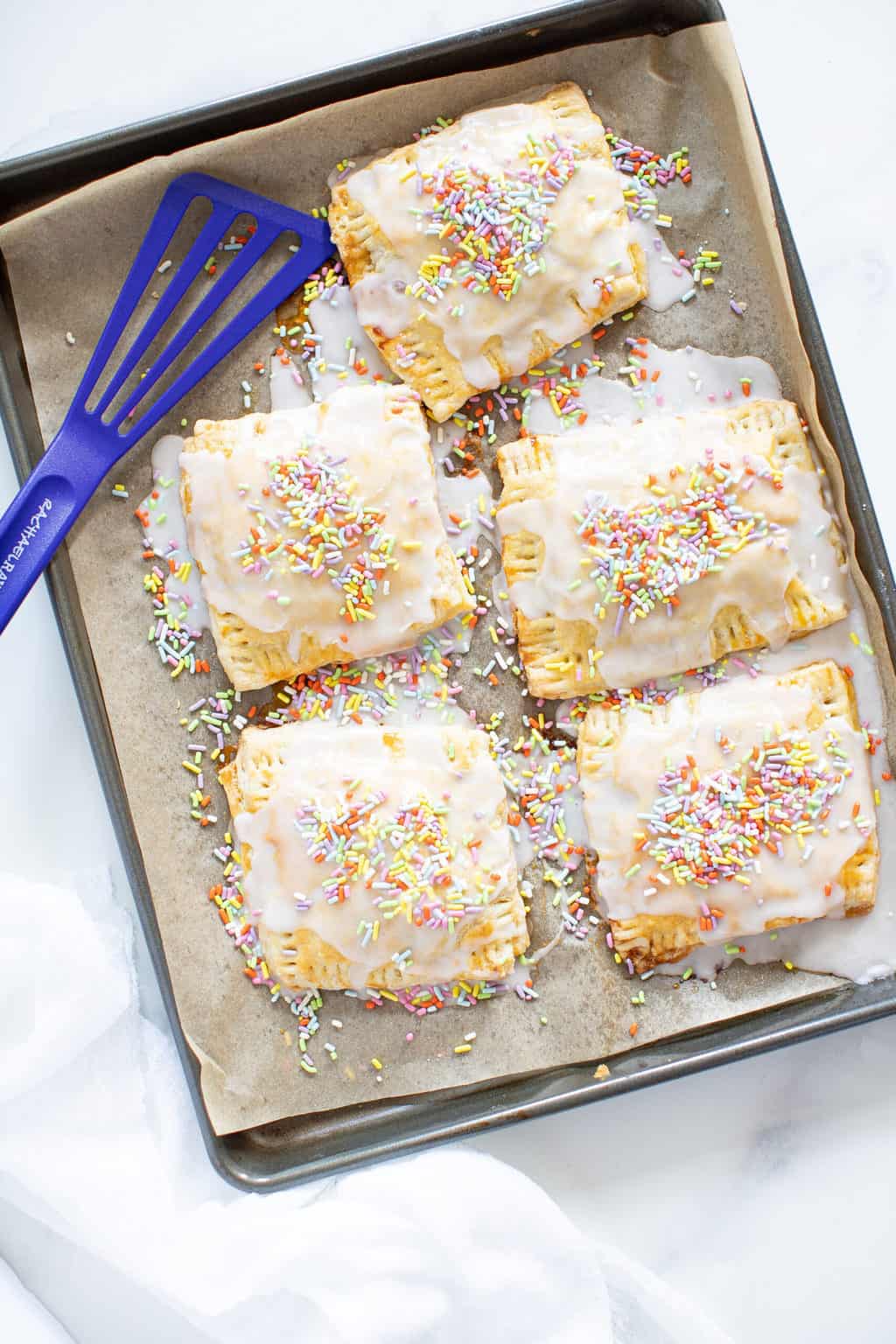 Ingredients for Vegan Apricot Pop Tarts
The components for these apricot filled Pop Tart are the crust, filling, and glaze. Start by making the flaky dairy-free crust. Then, prepare the apricot filling. Finally, while the Pop Tart is baking, make the simple white glaze. Then assemble, and cover your pastry with sprinkles to serve.
Here's what you need for the dairy-free crust:
Flour. I use organic all-purpose flour from Bob's Red Mill. You can also mix in pastry flour.
Cane sugar. Choose organic if you want a higher-quality or vegan sugar.
Cinnamon
Vegan butter. Make sure it's cold so your pastry bakes up nice and flaky!
Almond milk. This should also be cold. You can use a different kind of vegan milk if you prefer.
Apple cider vinegar. This adds a slight tang to your pastry dough. Similar to buttermilk.
To make the sweet + tangy apricot marmalade filling, find:
Marmalade preserves. I love Bonne Maman preserves.
Lemon juice
Agave. I recommend mixing Agave together with the almond milk for a great alternative to egg wash.
Almond milk. Another kind of dairy-free milk will work.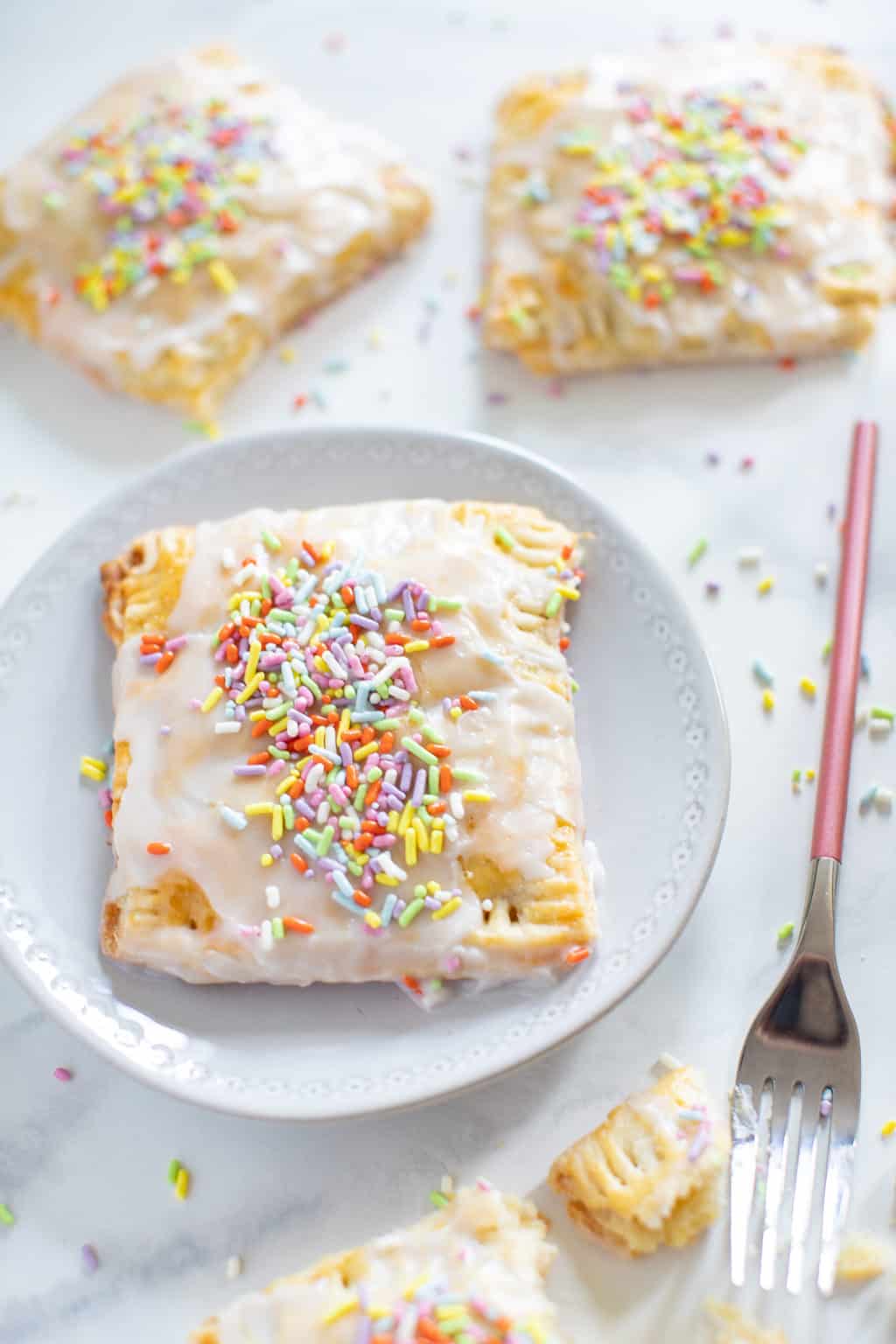 Decorating Vegan Apricot Pop Tarts
No Pop Tart would be complete without a glaze and sprinkles. To make the simple dairy-free glaze for your pastry, combine:
Powdered sugar. Granulated sugar will give your frosting a grainy texture you won't like.
Apricot marmalade for extra flavor
Almond milk. Or any other non-dairy milk.
I recently came across an article from Delish, where they mentioned the 15 Things You Need To Know Before You Eat Another Pop Tart, which was a very interesting article I might add.
In this article, they spoke about all of the interesting things about pop tarts that most of us might not have known. I KNOW!
A Few Interesting Pop Tart Facts:
They inspire bartenders to create shots names after pop tart flavors.
THREE flavors outsell the rest: Froster Strawberry (whoot, whoot!!), Brown Sugar Cinnamon, and S'Mores.
There use to be a Pop Tart-themed Restaurant here in NYC.
Some stores sell exclusive flavors that others don't.
People actually debate how to eat pop tarts (Yes, it's a thing!)
They can REALLY shoot flames out of your toaster (Yes, it's real!)
Pop Tarts had it's own cereal back in the early 90's.
And the list goes on!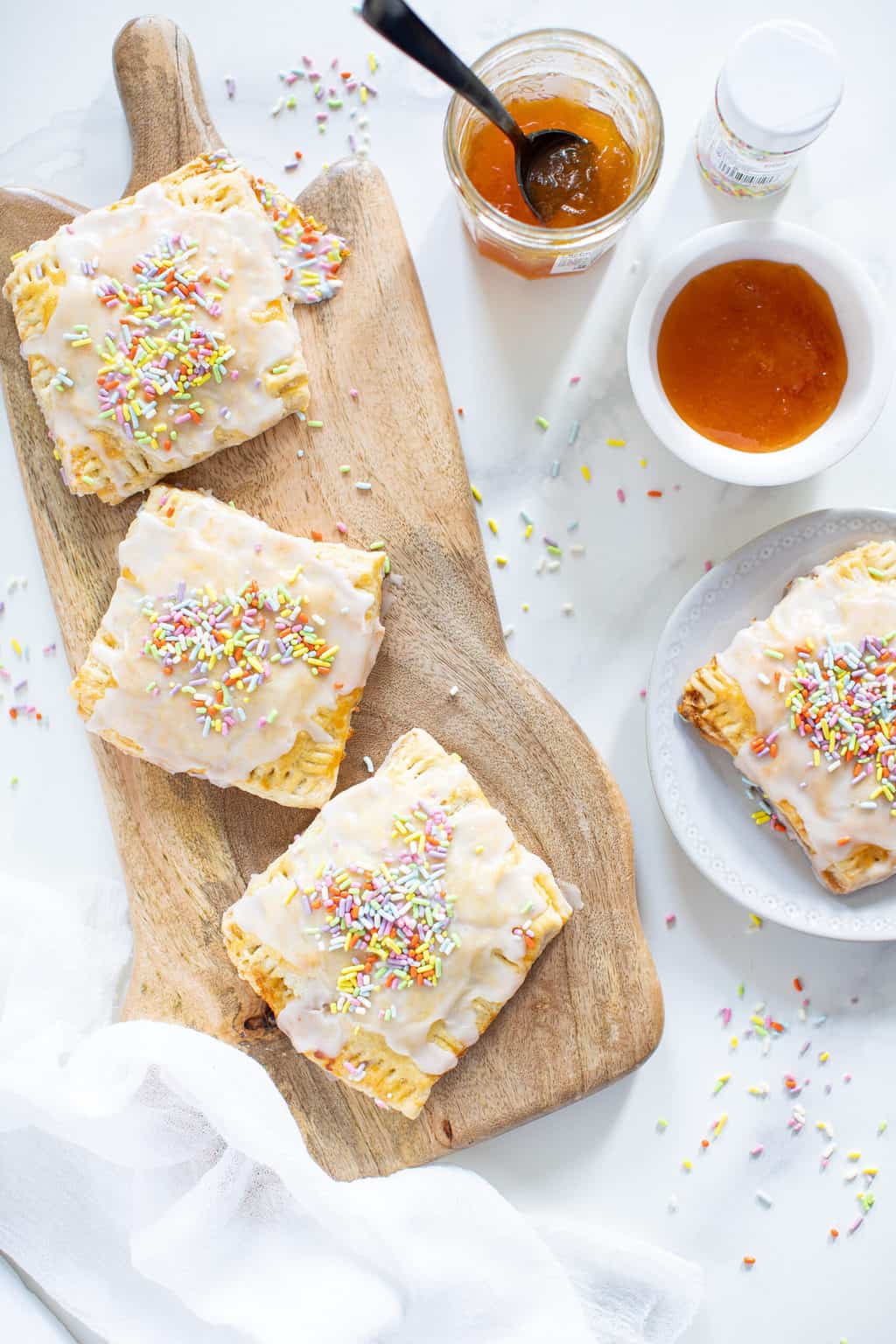 So to all of the pop tart fanatics, including myself----we're RIGHTFULLY OBSESSED for a reason! Haha.
Proven Ways To Ensure That Your Pop Tarts Are Perfect EVERY TIME:
TIP #1: MAKE YOUR FILLING FIRST!
Yes, I know. You're probably wondering why I said this, however, when making your filling from scratch, it definitely helps to make your filling ahead of time so that it cools completely.
Also, this gives you enough time to ensure that it comes out as perfect and thick as you'd like before having to use it in your recipe.
TIP #2: MORE PASTRY FLOUR = MORE FLAKINESS!
OK, so this one is a HUGE MUST, especially if you want to have an extremely flaky crust! Much like other pastries (i.e. Hand Pies, Pie Crusts, etc.), using pastry flour more heavily than All-Purpose Flour helps to create a nice outer-layer.
Granted, cold cubed butter does help with this as well, however, I've discovered that adding pastry flour to the mix creates a better situation!
TIP #3: DIMENSIONS MATTER!
I must admit that in my previous attempt to make Pop Tarts, I randomly cut the squares, which obviously came out super uneven.
However, with this recipe, I did a bit of research and found that cutting them 3" x 4" worked magic and made them so even and perfect!
Also, keep in mind that when rolling out your dough, making sure that it's at least ¼" thick is super important. This ensures that your filling stays inside and everything doesn't fall a part.
TIP #4: LET THEM COOL, COOL, COOL!
Now, if you're anything like me then you're probably just as impatient to try these goodies before they fully cool, so that means that you might also prematurely add the glaze and watch it melt off like a snowman in heat. Haha.
BUT you must let your Pop Tarts FULLY cool (place them in a cool room or open window to speed things up!) before glazing them. No exceptions!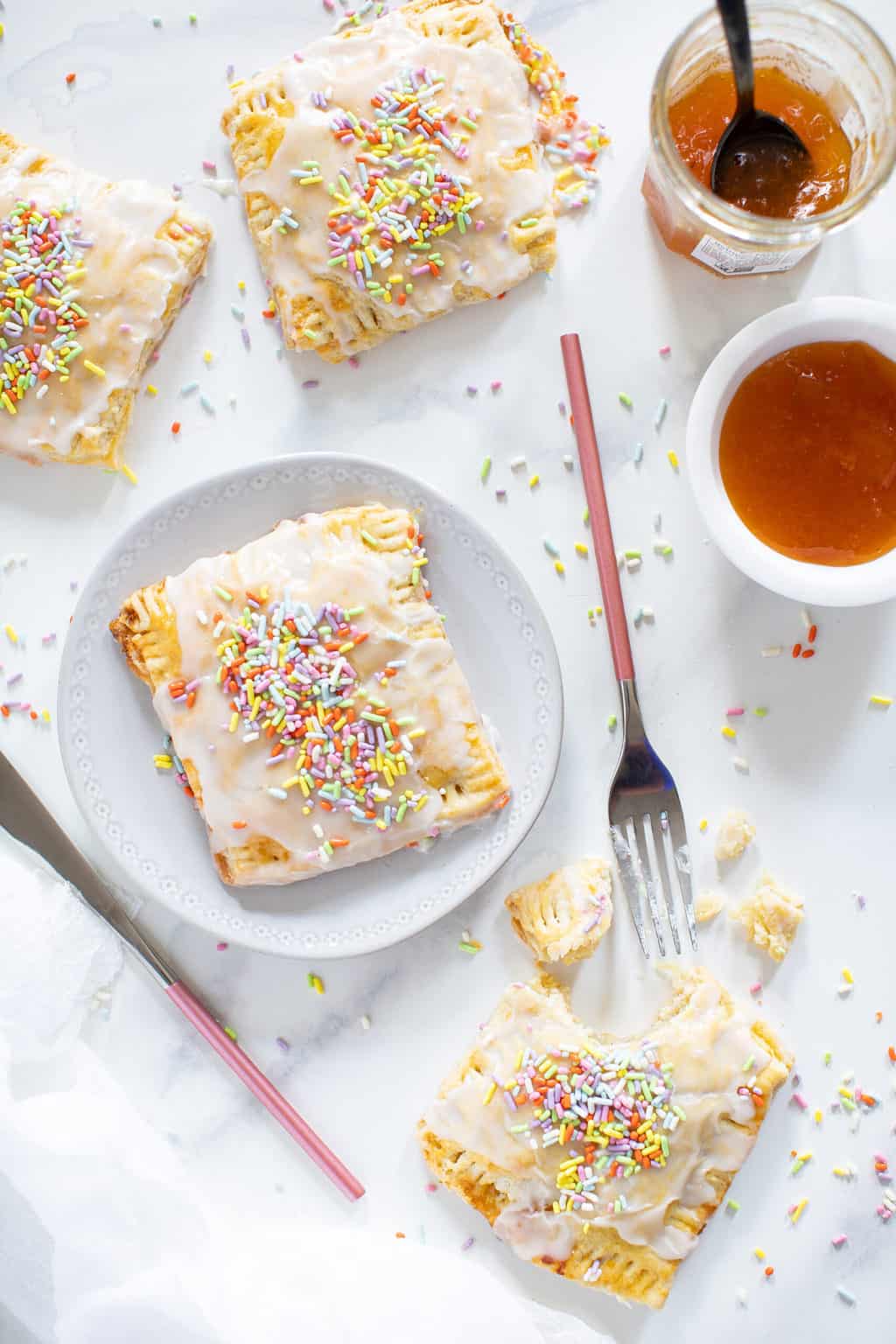 Pop Tart Filling: Real Fruits vs. Jam.
OK, so let's talk about the filling. Usually when making my homemade pop tarts, I create my filling using real fruit or frozen ones.
However, with this pop tart recipe, I chose to go with one of my go-to preserves by Bonne Maman. They are my favorite brand because their preserves are organic, have no GMOs, no high fructose syrup, no food colorings, or preservatives.
Plus, they have a ton of other flavors, therefore, you can mix and match as you please.
For that reason, I felt comfortable using this instead of making my own filling.
If choosing to make your own homemade filling, that can be done easily by heating your fruit (whether fresh or frozen) in a saucepan along with a healthy sweetener (Wholesome Sweet's pure cane sugar, Sugar in the Raw's organic brown sugar, Agave, etc.), followed by a touch of lemon juice (for acidity) and a little arrowroot starch or cornstarch as a thickener. That simple.
So it's truly based on your personal preference and the time that you have set aside to whip together your pop tarts.
Making Your Apricot Pop Tarts Gluten-Free.
To make these GF, simply substitute All-Purpose Flour with 2 cups Gluten-Free Flour (Bob's Red Mill has a great one!) and the Pastry Flour with ½ cup coconut flour. If your GF Flour doesn't have Xanthan Gum included, add 1tsp in recipe. Also, reduce vegan butter to 1 ¾ sticks instead of 2. Simply continue the recipe per usual after that.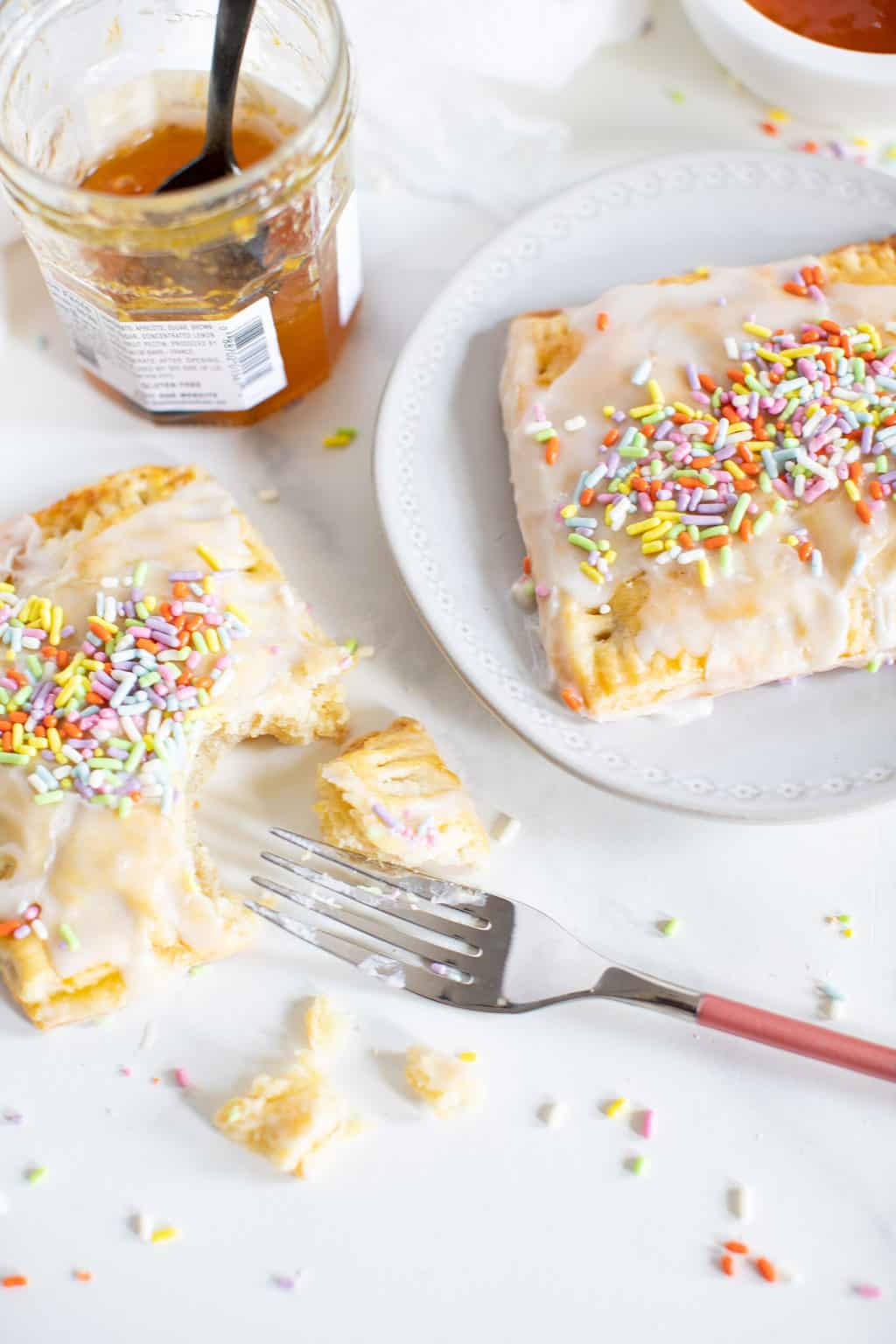 Storage Suggestions
Store leftover Pop Tarts in an airtight container at room temperature for up to 3 days. You can serve the pop tarts at room temperature or warm them in the microwave for 30 seconds to a minute.
You can also freeze leftover Pop Tarts for up to three months. When you want to serve them, defrost the pastry on the counter for a few hours to come to room temperature.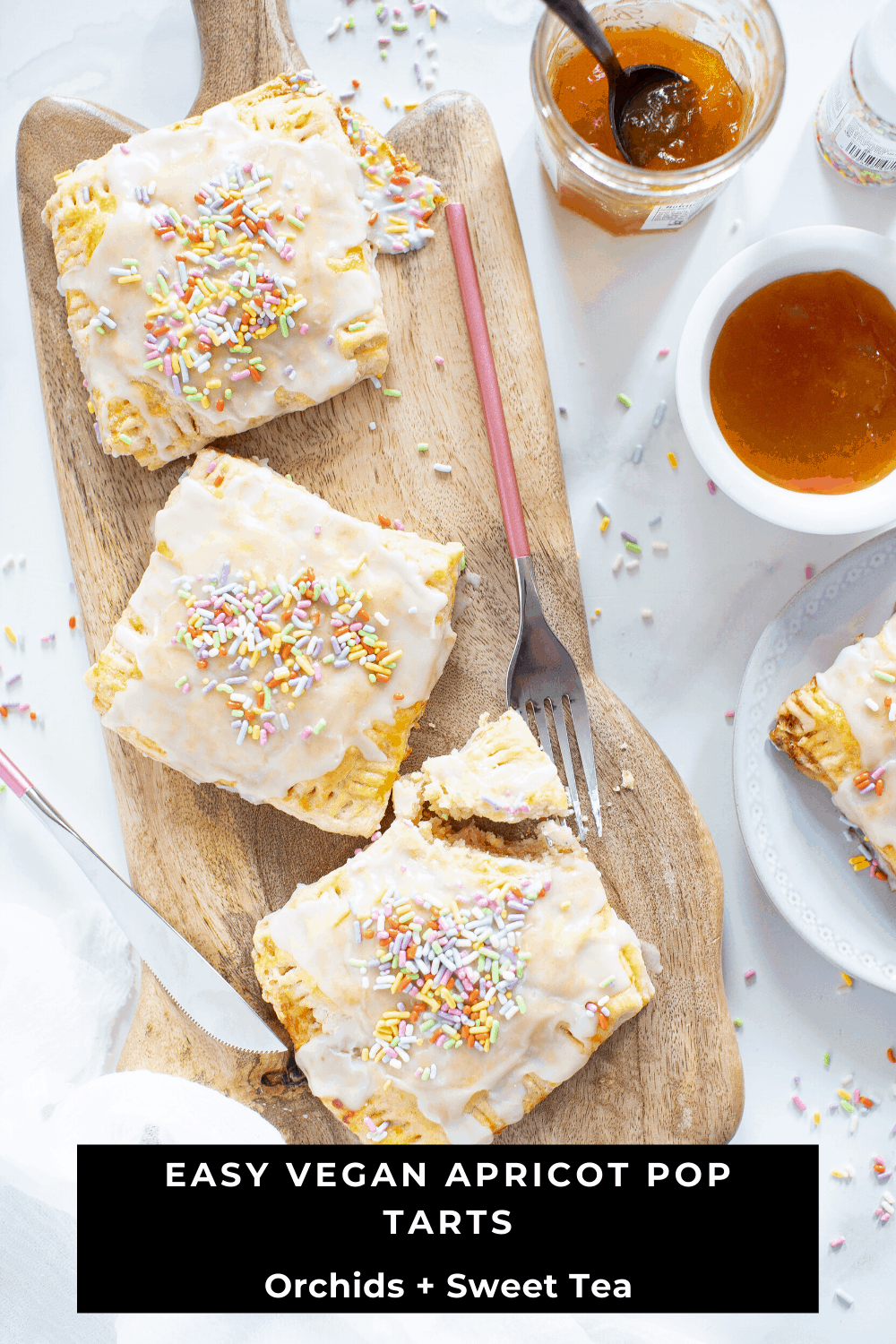 CRUST:
2 ½

cups

organic all-purpose flour

(See Notes for GF version!)

2

Tbsps

organic cane sugar 

1

teaspoon

ground cinnamon

Pinch of

sea salt

¾

cup

vegan butter, COLD + cut into pieces

1

cup

VERY COLD Almond milk

1

tablespoon

apple cider vinegar
FILLING:
1

cup

apricot preserves/jam

(I use Bonne Maman)

½

lemon, freshly-squeezed

2

Tbsps

Almond milk + 1 teaspoon Agave syrup

(Mix together to act as egg wash)
TO MAKE THE CRUST:
In a measuring cup, add the COLD milk and apple cider vinegar, stirring together until combined. Set aside to activate for 5 minutes.

In a large bowl, add the flour, sea salt, cinnamon, and sugar, whisking them all together until combined.

Add the vegan butter pieces and using a pastry blender, blend butter into dry ingredients until the mixture becomes "peas-like" and crumbly.

Pour the cold apple cider vinegar-milk mixture and stir (working it together with one hand) until the dry ingredients are moistened. NOTE: If the ingredients feels a little too dry, add 1 tablespoon of cold milk at a time, until it's moistened BUT not too wet!

Now, shape the dough into a ball and wrap it in plastic wrap and flatten it slightly and chill for at least 1 hour.

In the meantime, make the Filling.
FOR THE FILLING:
In a small bowl, add the apricot preserves and lightly-squeezed lemon juice together and stir until combined and easier to stir.
ASSEMBLY:
Preheat the oven to 350 degrees Fahrenheit and line a baking sheet with parchment paper.

Once chilled, remove the dough from the refrigerator and place on a lightly floured surface, cutting it in equal halves and roll each half out into a large rectangle (about 3 mm thick) and cut into 4″ wide and 5-6″ long.

In a small bowl, add the milk and Agave, mixing until combined to create an alternative to 'egg wash'.

Place one half of the large rectangular cut onto the prepared baking sheet and lightly brush 'egg wash' around edges of dough to ensure that both crust pieces close together best! Add apricot filling to the center and carefully cover it with the other half of the rectangular piece, gently pressing the edges down. Using a fork, carefully "crimp" around the edges.

Gently prick a set of holes on the top of crust using a fork. Repeat until all pop tarts are made.

Lightly brush the top with remaining 'egg wash' and bake in the oven for 20-25 minutes, until golden brown and the filling begins to become bubbly and begins to slightly seep out.

Once done, remove from the oven and let it cool completely.
FOR THE GLAZE:
In a medium bowl, whisk together the powdered sugar, apricot preserve and almond milk until smooth. For more thickness, add additional powdered sugar, 1 tablespoon at a time. If too thick, add almond milk, 1 tablespoon at a time.

Once pop tart has cooled completely, spoon a few Tbsps of glaze atop pop tart and sprinkle with festive sprinkles. Let pop tart sit for another 1-2 minutes so that frosting hardens and 'sets'. Enjoy.

Bon Appetit!
STORAGE: Leftover pop tarts can be stored in an airtight container for 1-3 days. To serve warm, heat in the microwave, or flat in a toaster oven. 
FREEZE: For longer storage–pop tarts can be stored in the freezer. After they have baked and are completely cooled, simply place your pop tarts onto a baking sheet (spaced apart) and freeze them for 2-3 hours. Once frozen, transfer them to a zip loc bag and reheat when ready to eat!
FOOD PROCESSOR FOR CRUST: If using a food processor to incorporate water to flour/butter mixture, ONLY ADD ¼ cup of water AT A TIME to your dough, keeping it on "pulse" to avoid the dough from breaking down too much and it becoming "watery". With this method, you may not need the entire 1 cup of water.
TIPS FOR PERFECT POP TARTS: Be sure to read tips within the post!
FLOUR: If you don't have Pastry Flour available, simply substitute for All-Purpose Flour.
GLUTEN-FREE VERSION: To make these GF, simply substitute All-Purpose Flour with 2 cups Gluten-Free Flour (Bob's Red Mill has a great one!) and the Pastry Flour with ½ cup coconut flour. If your GF Flour doesn't have Xanthan Gum included, add 1tsp in recipe. Also, reduce vegan butter to 1 ¾ sticks instead of 2. Continue all other steps!
Calories:
342
kcal
|
Carbohydrates:
89
g
|
Protein:
4
g
|
Fat:
17
g
|
Saturated Fat:
3
g
|
Polyunsaturated Fat:
5
g
|
Monounsaturated Fat:
8
g
|
Trans Fat:
3
g
|
Sodium:
179
mg
|
Potassium:
79
mg
|
Fiber:
2
g
|
Sugar:
15
g
|
Vitamin A:
3
IU
|
Vitamin C:
4
mg
|
Calcium:
58
mg
|
Iron:
2
mg
Easy Vegan Apricot Pop Tarts.