Vegan Sweet Potato Crumble Bread is the perfect recipe for fall baking! Full of warming spices, a dense and moist texture with a nutty and sweet crunchy topping.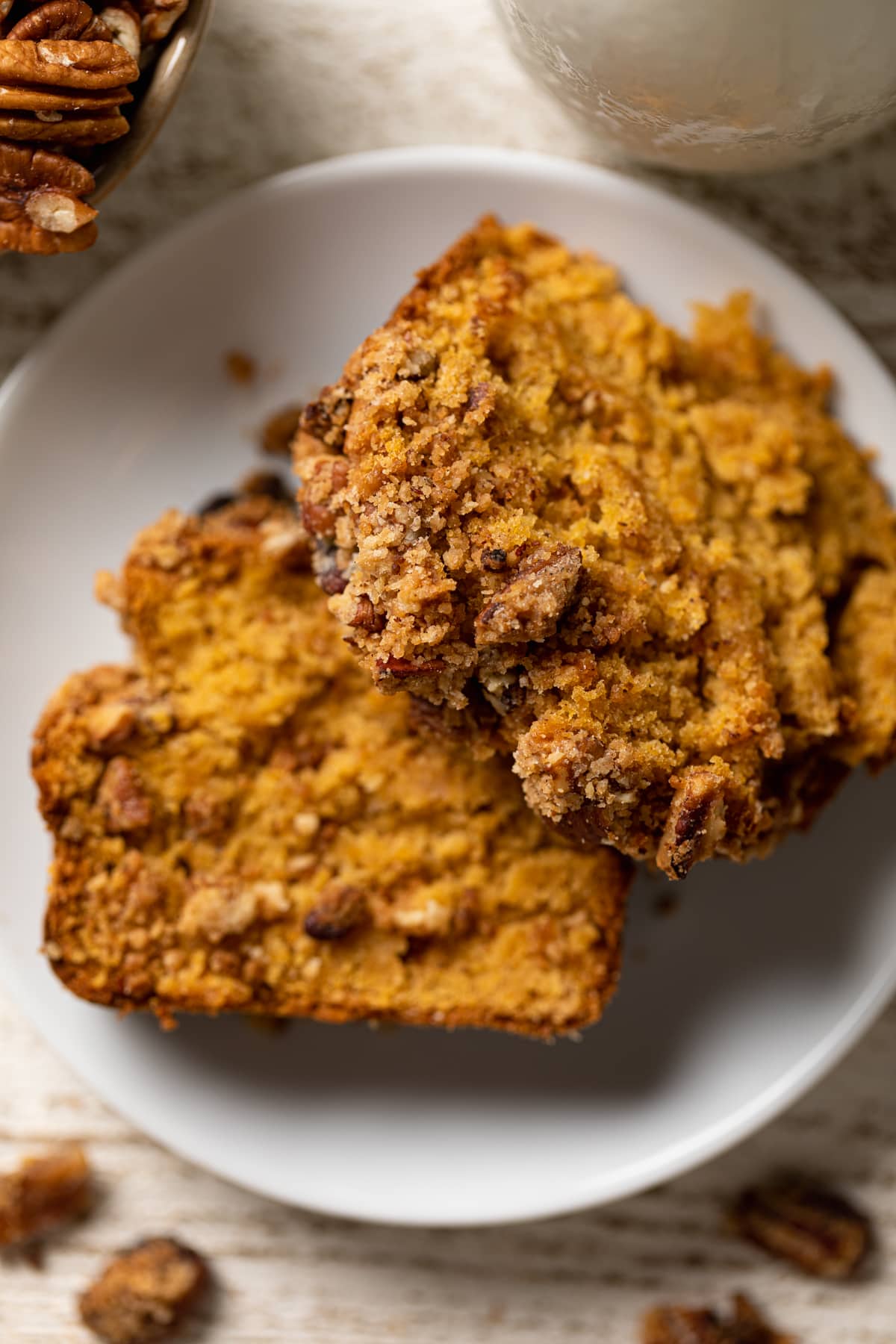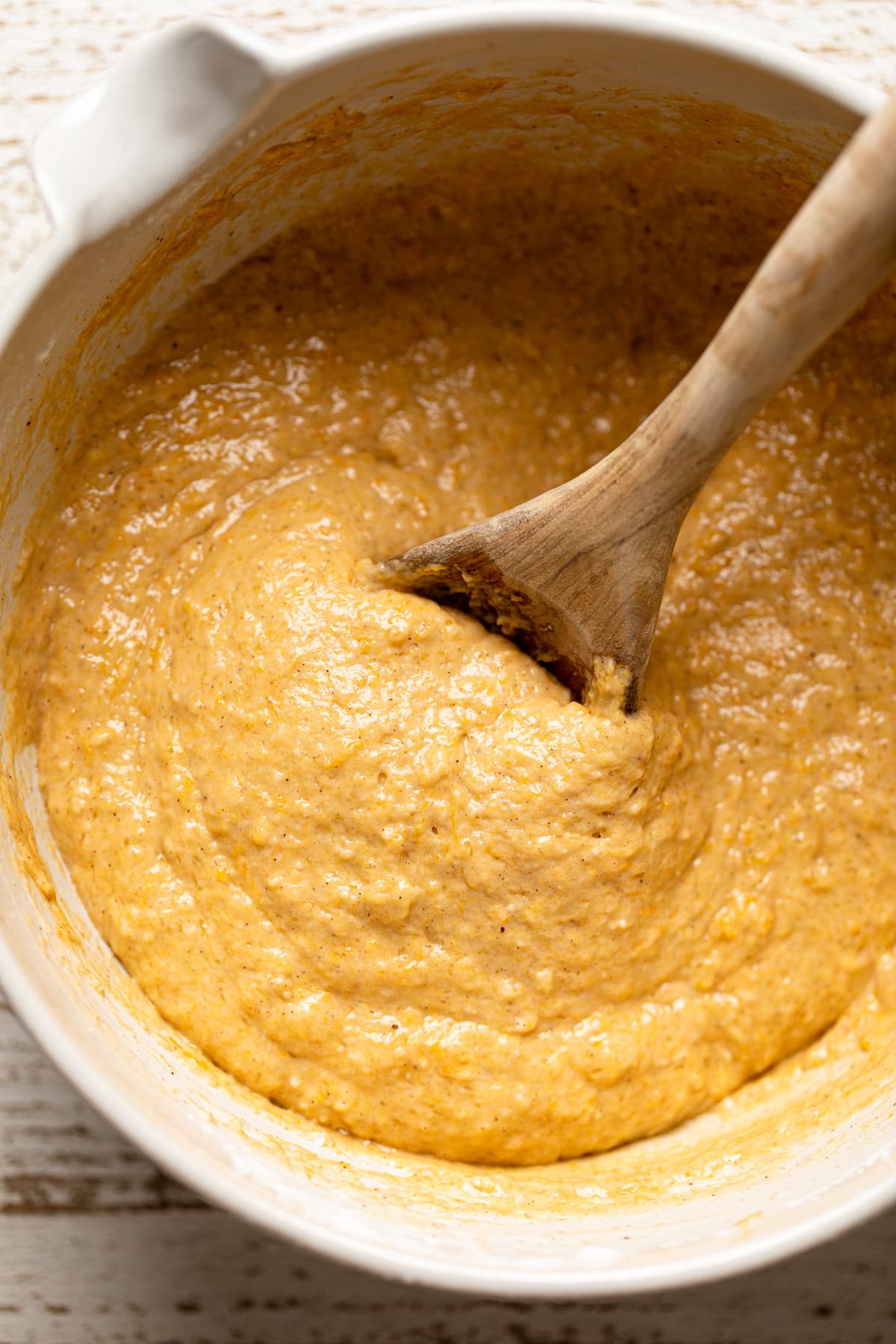 How to Make Vegan Sweet Potato Crumble Bread
there are two components to this baking recipe: the bread batter and the crumble topping.
All of the ingredients are easy to find, and you may already have them on hand! You can throw this bread together in about an hour, with just 10 minutes of hands-on time.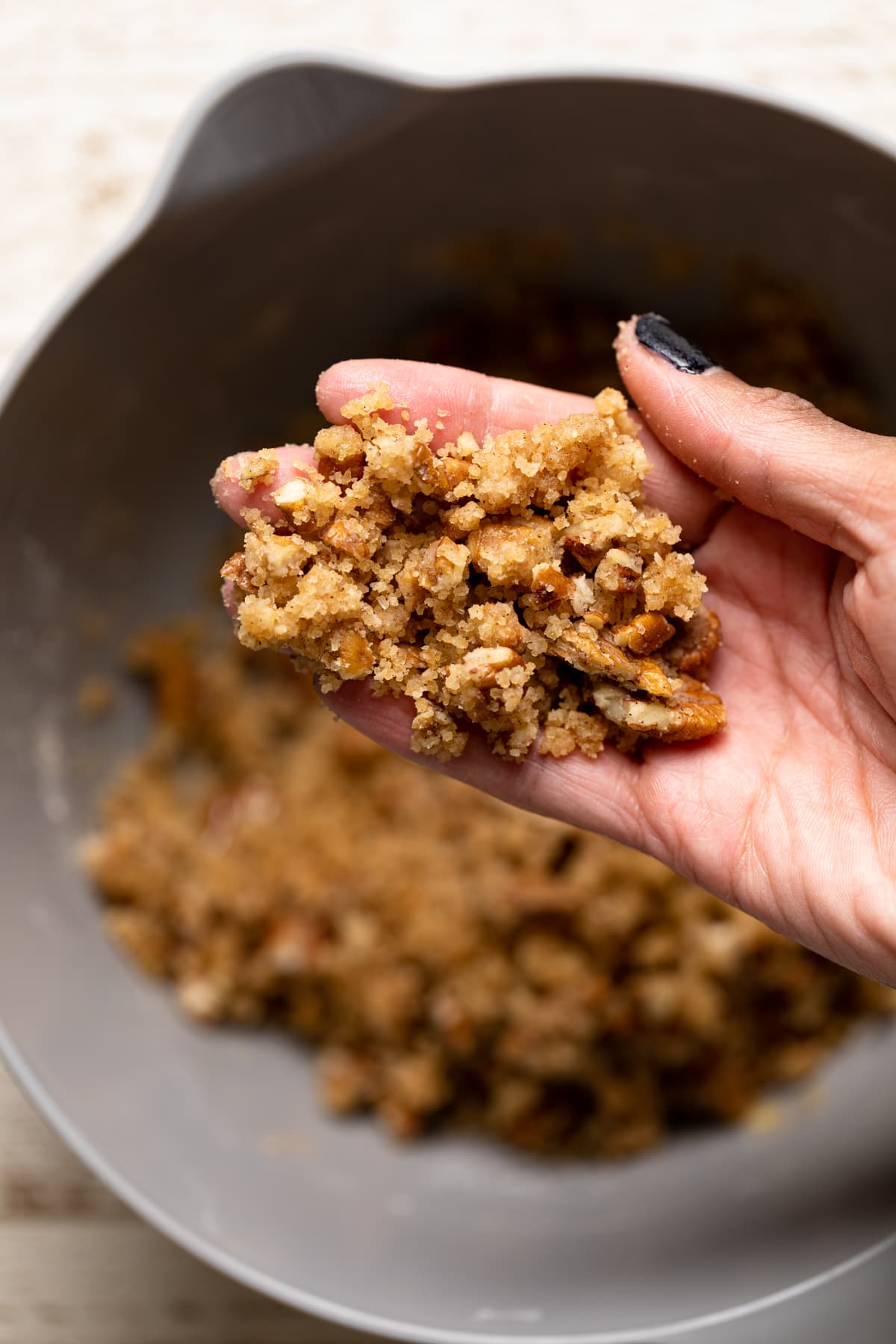 Ingredients
Here's what you need to make the dairy-free and egg-free bread dough:
Flour. I use organic all-purpose from Bob's Red Mill.
Bread flour. this gives more structure to your bread. If you can't find it, use regular all-purpose flour.
Mashed sweet potato. You can make this right at home with about 1 large potato.
Baking powder and baking soda
Brown sugar. Use organic if possible.
Cinnamon, nutmeg, allspice. The classic fall spices.
Almond milk. Any vegan milk will work.
Apple cider vinegar. To add some acid that will help the baking powder activate.
Coconut oil. This helps bind the egg-free bread together.
Agave. You could also suree maple syrup.
Vanilla. Make sure to use the pure stuff!
Sweet Crumble Topping
The crumble part of this bread comes from the sweet and nutty streusel topping. Don't leave it out! It adds incredible flavor and nutty flavor to every bite.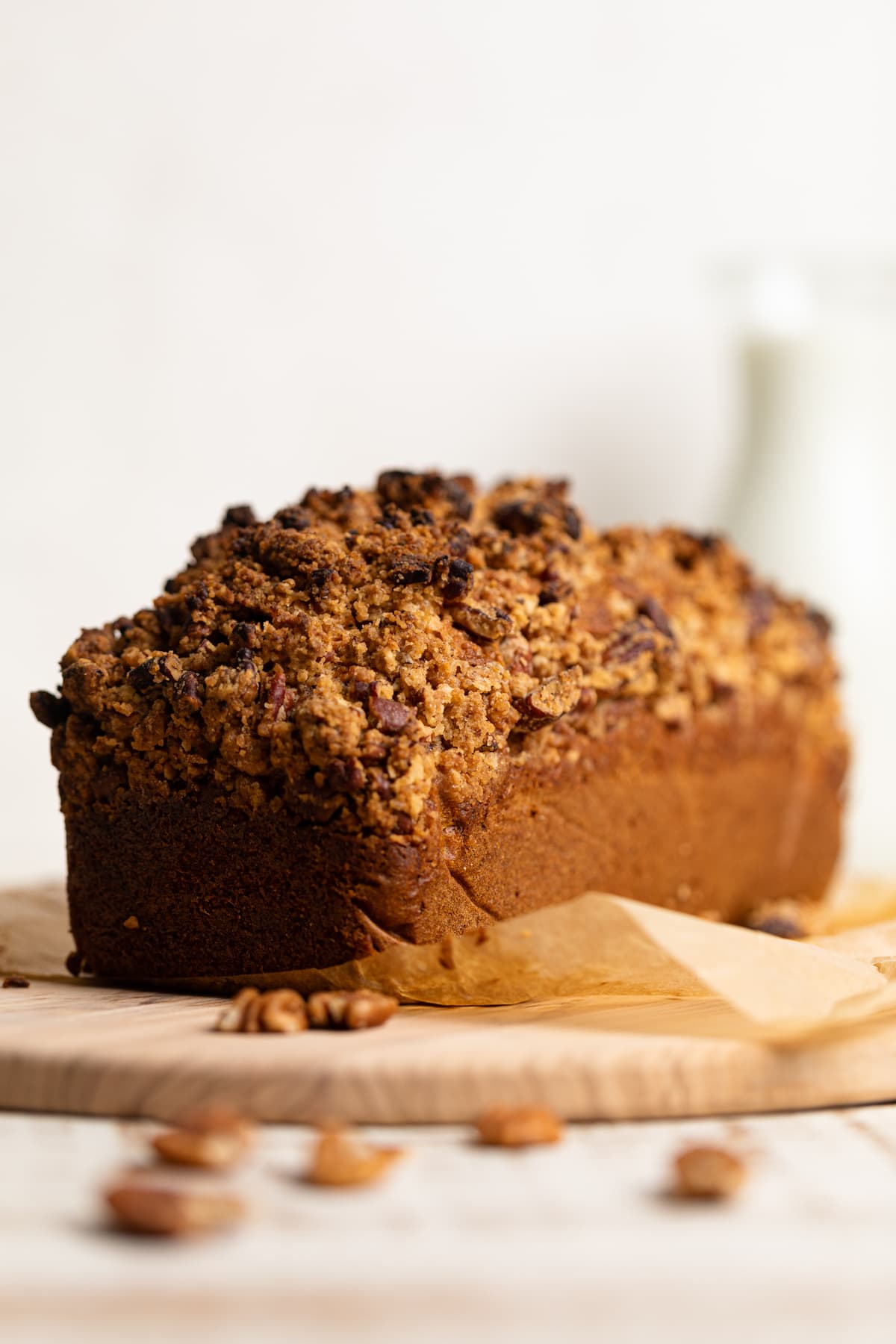 Here's what you need to make the crumble topping for your sweet potato bread:
Flour. This helps hold everything together.
Brown sugar. For a caramelized flavor.
Cinnamon
Butter. I use Earth Balance vegan butter.
Pecans. You could also use walnuts or hazelnuts.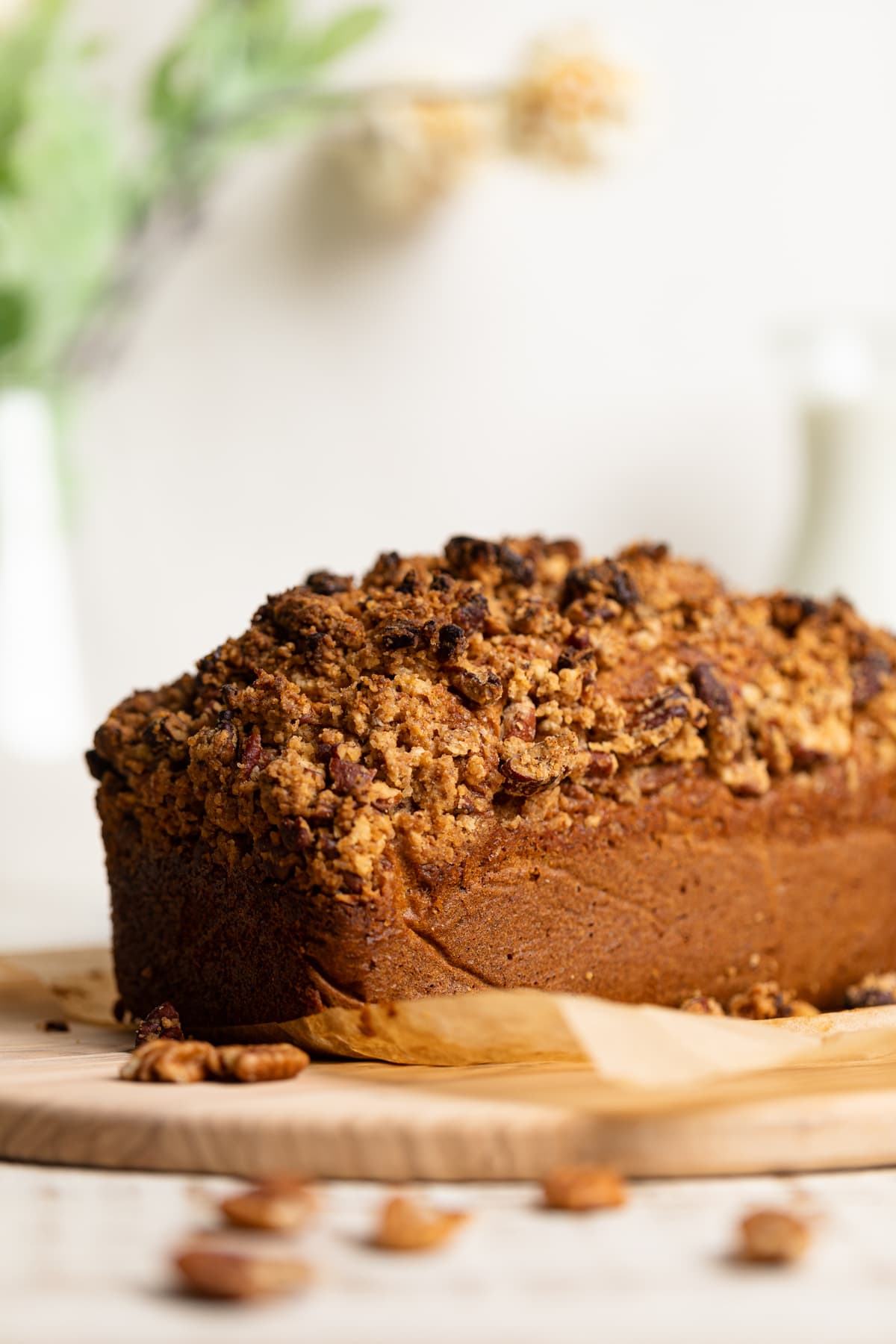 Serving Suggestions
You can serve this bread when it's still a bit warm. Add a pat of butter for extra flavor and moisture. If you're serving the bread for breakfast, add a side of Vegan Breakfast Parfait with Blueberries & Granola.
You could also serve this sweet potato bread for a snack with tea or coffee. It's also sweet enough for dessert treat!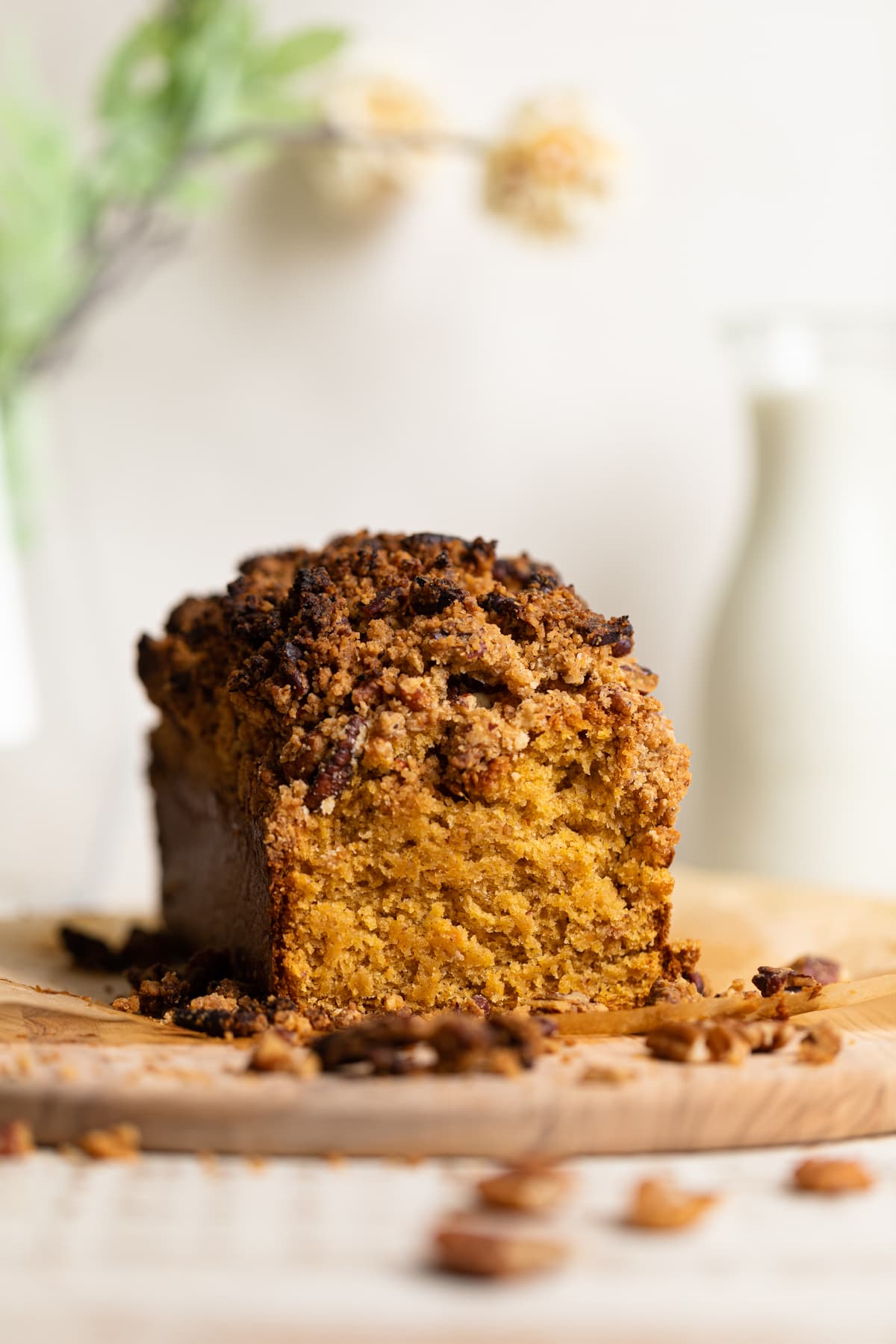 Storage
Store leftover sweet potato crumble bread in an airtight container or tightly wrapped in plastic wrap in the fridge for up to three days. You can free the bread for up to three months. To serve, defrost on the counter, then slice and serve at room temperature or heat in the microwave for 10 seconds.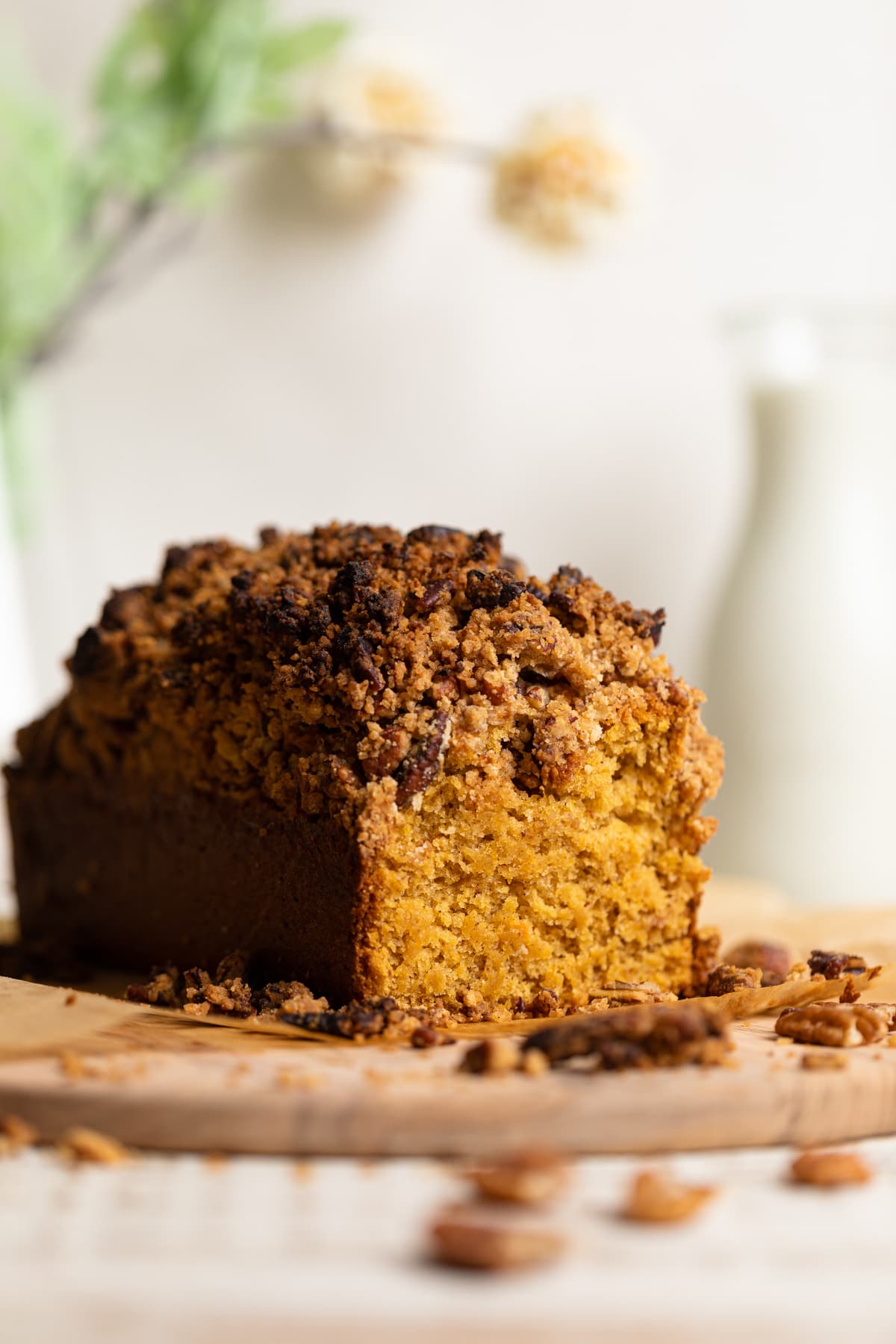 Gluten Free Sweet Potato Bread
This bread is already vegan, but it's easy to make gluten-free too! simply use Gluten-Free all-purpose flour (I like the blend from Bob's Red Mil) to replace the regular flour. If the batter is too thin, add more flour, 1/4 cup at a time, until it's thick.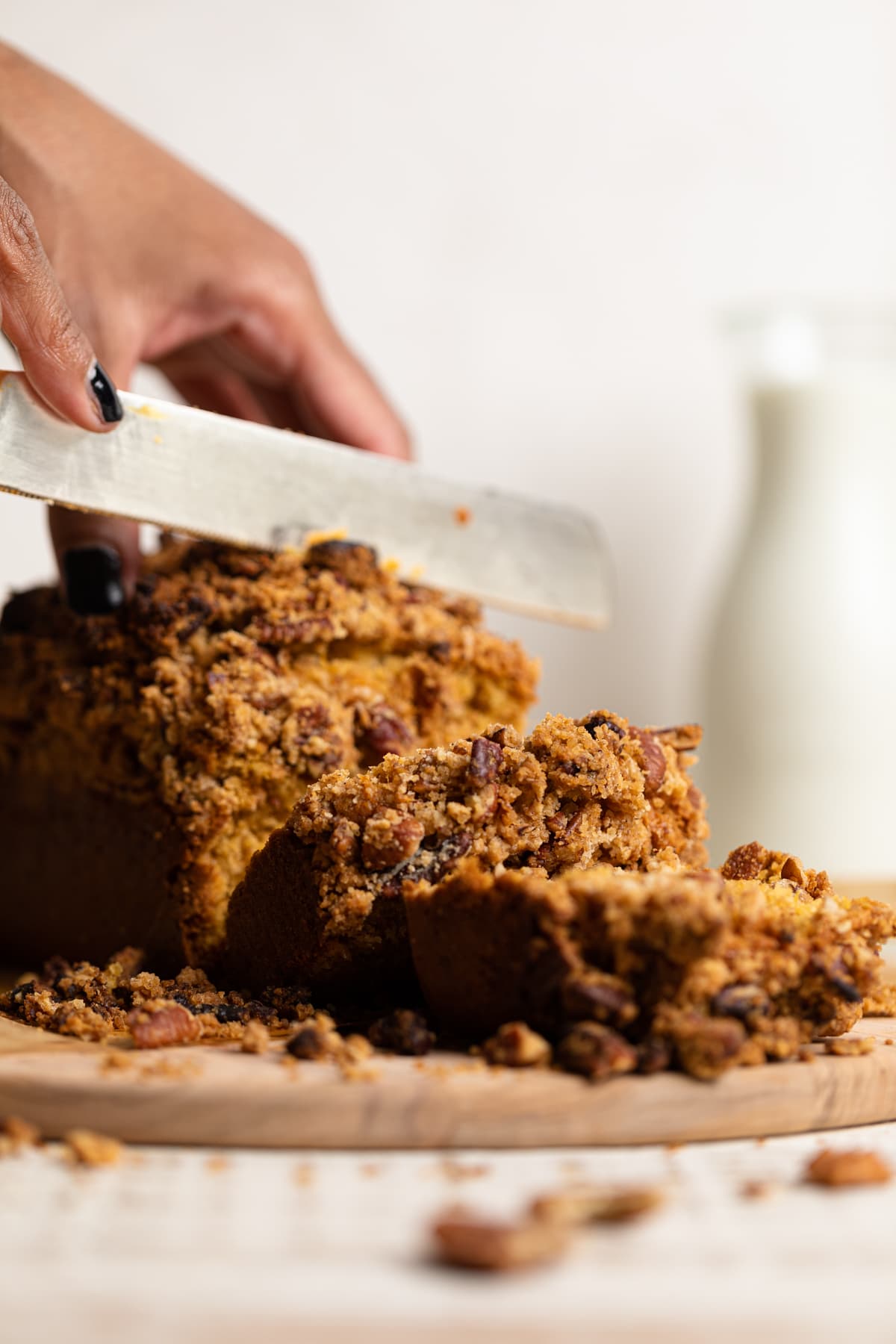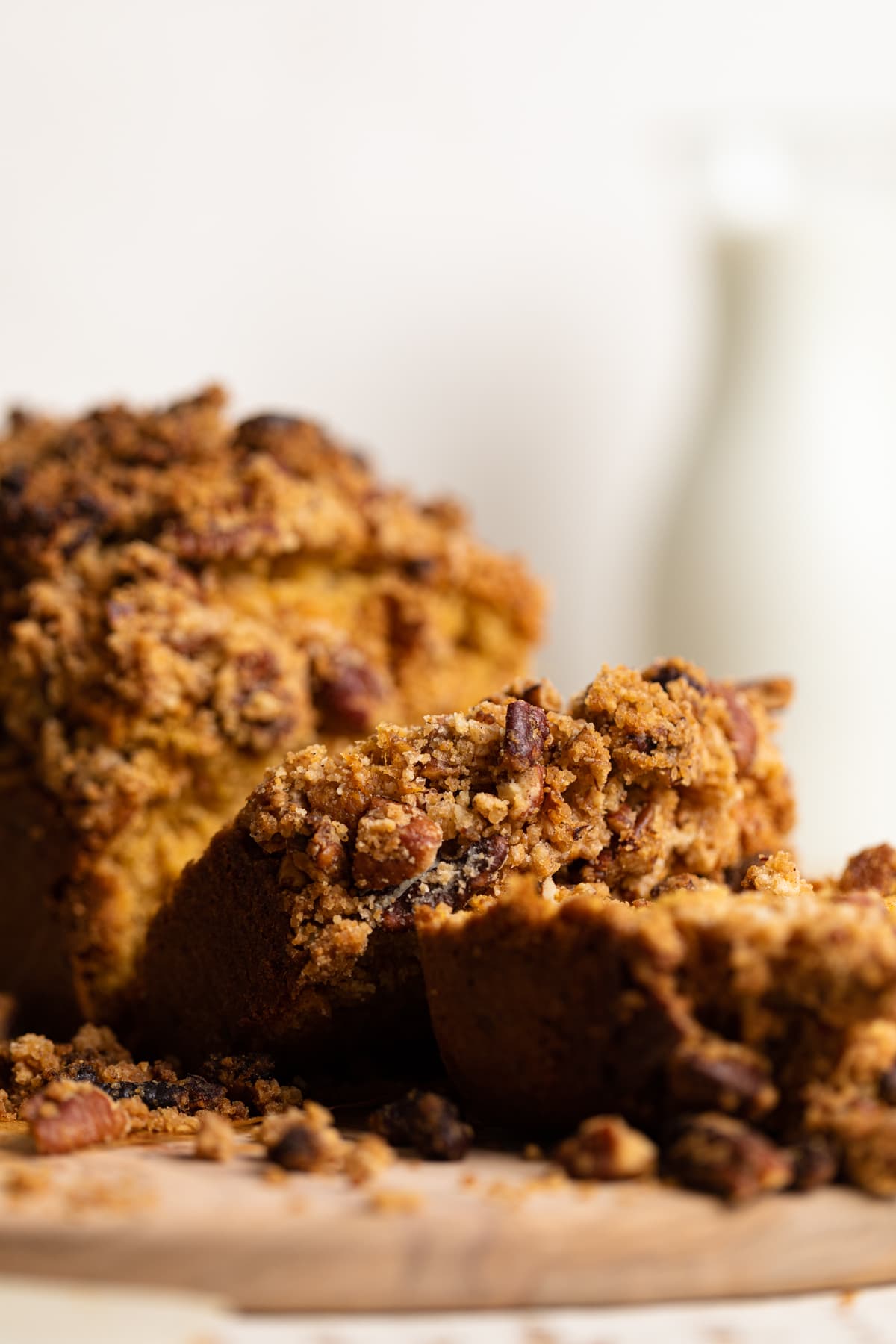 Other Sweeteners
I like to sweeten this bread with agave, which is a vegan-friendly liquid sweetener. However, you could also use maple syrup or date syrup. If you're not vegan, honey also works.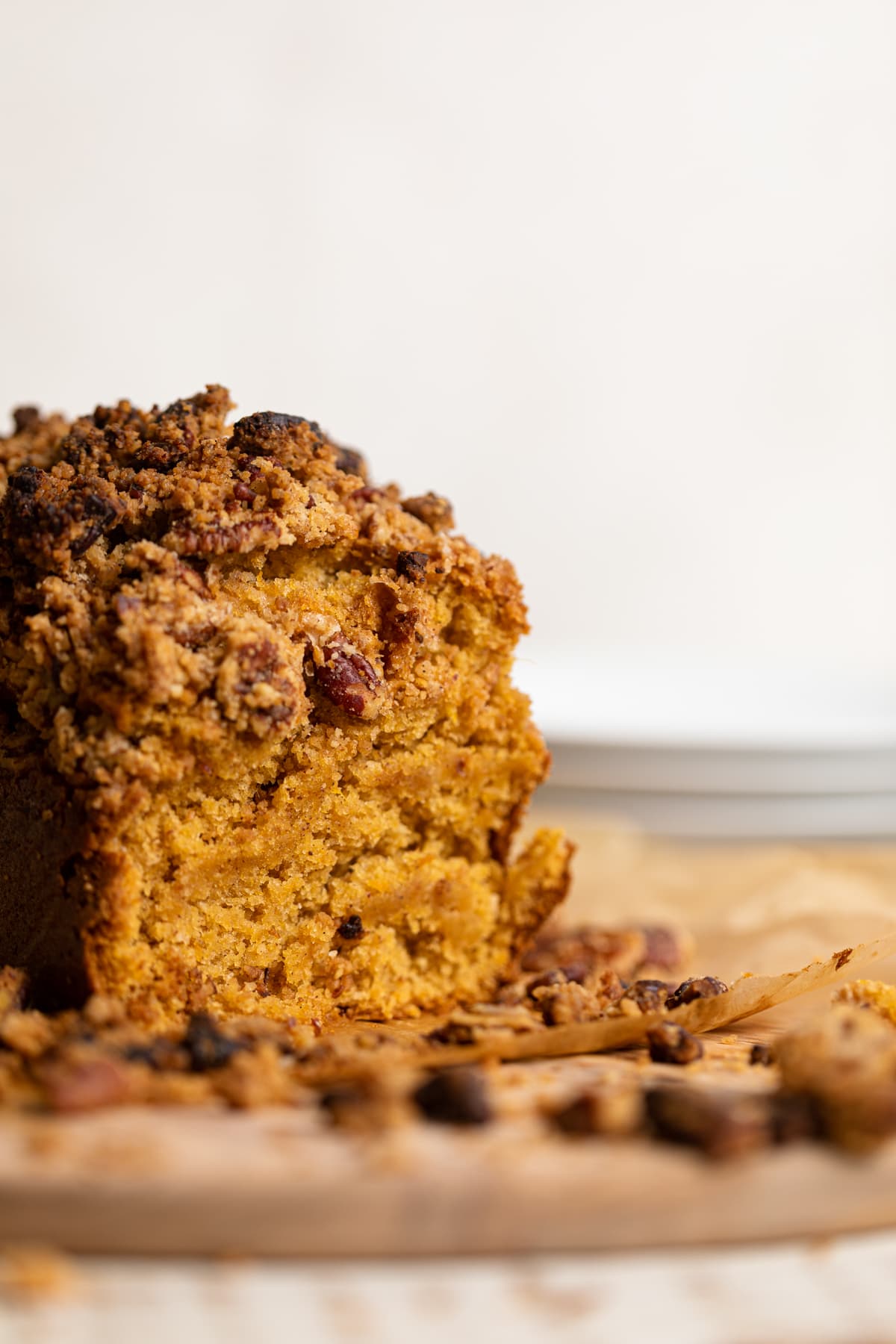 Other Flavor Options
It's easy to mix and match the flavors in this bread. Here are some easy ingredient swaps and additions to try:
Instead of the ground spices, use pumpkin pie spice
Add cardamom to the dry ingredients
Use almond extract instead of vanilla
Use hazelnuts or walnuts for the crumble topping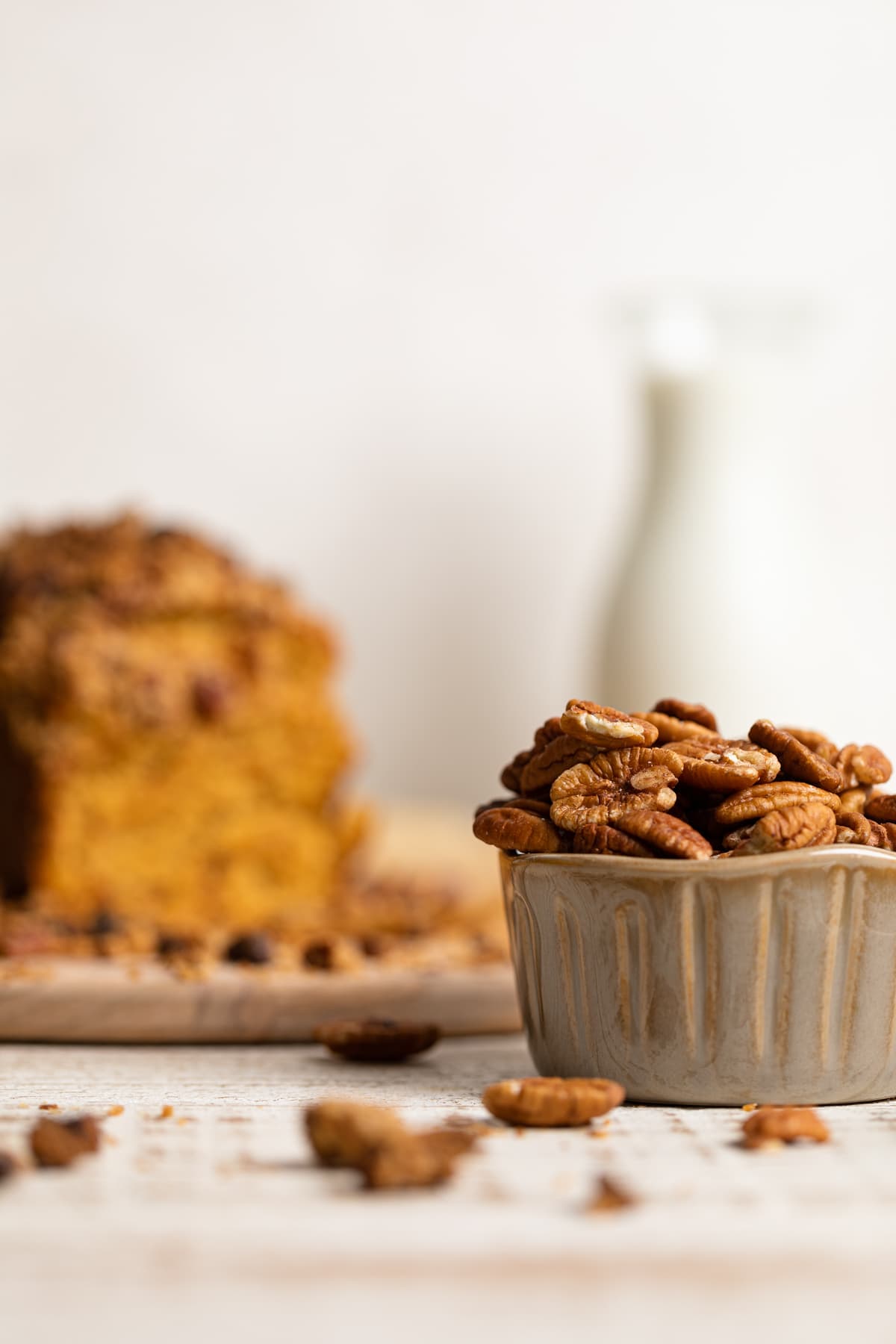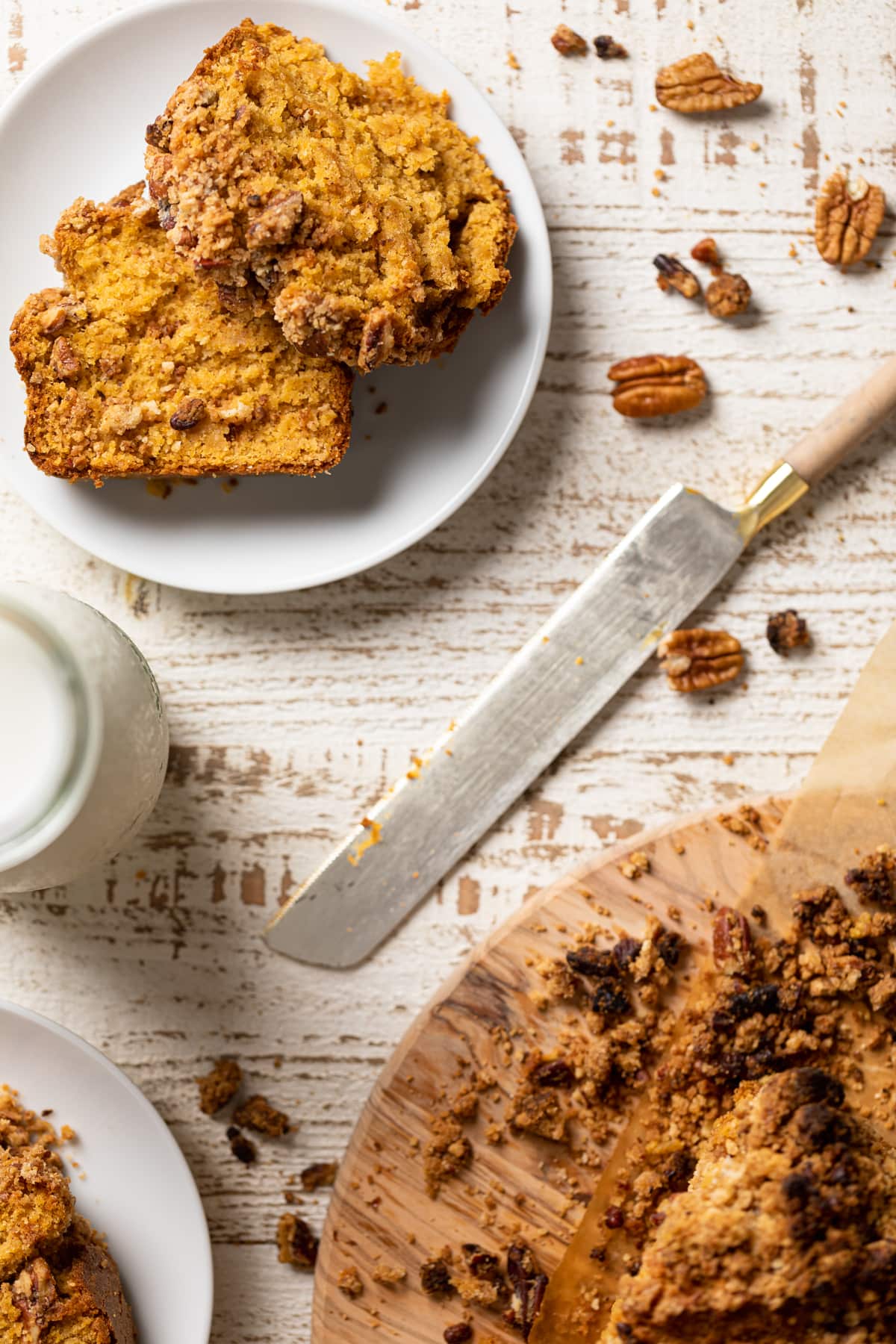 Can I Make Oil-Free Sweet Potato Breaad
Sure! To make an oil-free version of this recipe, swap the coconut oil for unsweetened applesauce. You can use store-bought or homemade.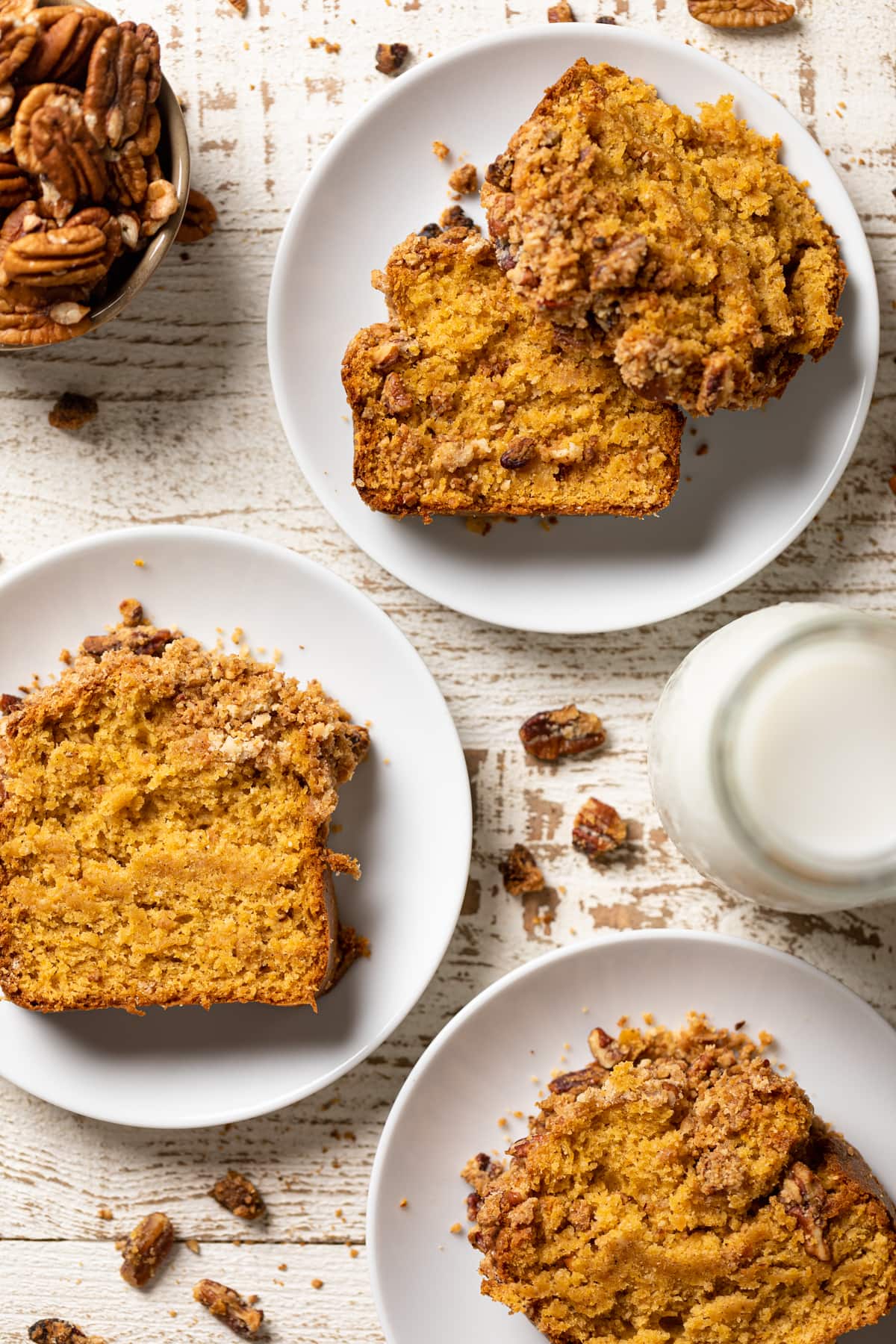 More Vegan Fall Baking Recipes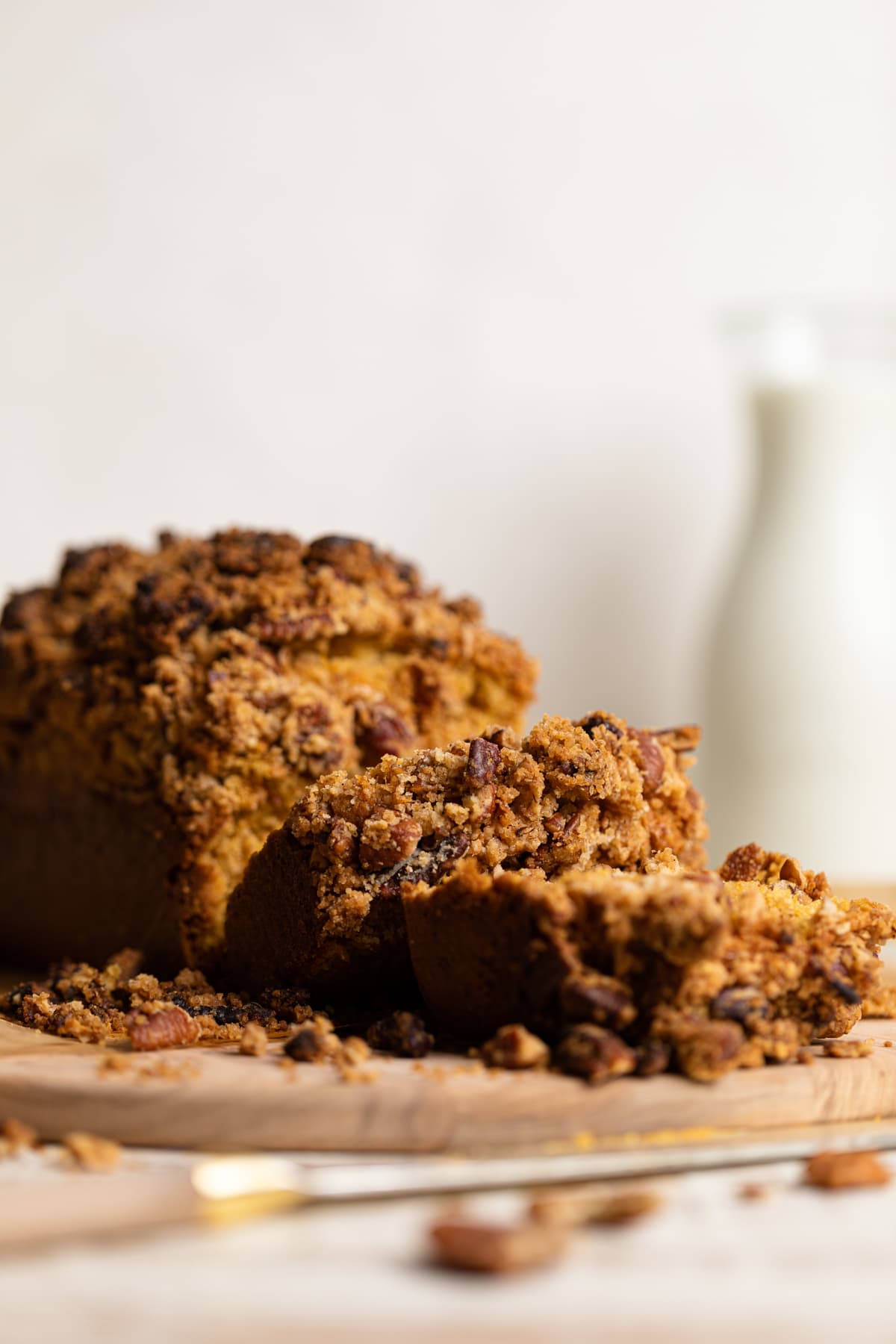 If you make this Vegan Sweet Potato Crunch Bread, let me know what you think! Tag @orchidsnsweettea_ on Instagram and hashtag it #orchidsandsweettea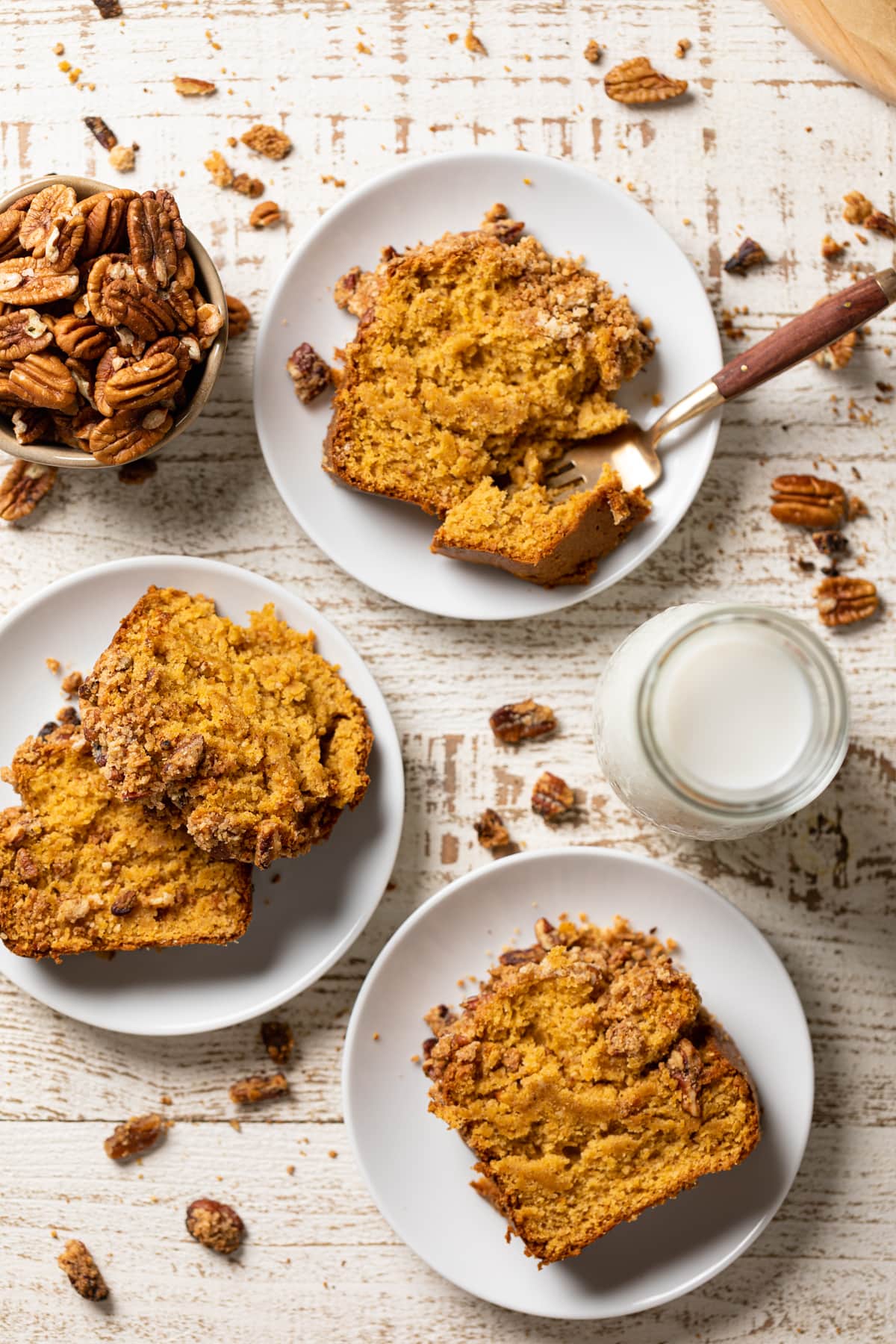 SWEET POTATO BREAD:
1

cup

organic all-purpose flour

1

cup

Artisan bread flour

1

cup

mashed sweet potato

(See Notes!)

2

tsps

baking powder

1/2

tsp

baking soda

1/2

cup

organic brown sugar

1

Tbsp

ground cinnamon

1

tsp

ground nutmeg

1/4

tsp

ground allspice

1

tsp

sea salt

1

cup

Almond milk

(You can use your fave plant-based milk)

1

Tbsp

apple cider vinegar

1/4

cup

coconut oil

1/4

cup

Agave

1

tsp

vanilla extract
CRUMBLE TOPPING:
1/2

cup

organic All-Purpose Flour 

1/2

cup

organic brown sugar

1

tsp

ground cinnamon

1/4

cup

vegan butter, partially melted 

1

cup

pecans, chopped
TO MAKE THE BREAD:
Preheat your oven to 375 degrees Fahrenheit and line a loaf pan with parchment paper and lightly grease it using vegan butter or coconut oil.

In a large bowl, combine the mashed sweet potatoes, oil, Agave, vanilla, and Almond milk-AVC mixture, whisking them together until well combined.

Next, stir in both flours, baking powder, baking soda, organic brown sugar, cinnamon, nutmeg, allspice, and sea salt and mix until well incorporated! **NOTE: DO NOT OVER-MIX!**

Pour batter in the prepared loaf pan (evenly spreading it out) and make the crumble topping!
TO MAKE THE CRUMBLE TOPPING:
Add the flour, organic brown sugar, chopped pecans, and cinnamon into a medium bowl, combining them together using a pastry blender. **NOTE: This helps to breakdown the nuts into smaller pieces as well, if preferred.** Add the partially melted vegan butter and using a spatula, mix until well combined and 'crumbly-like'.

Now, evenly sprinkle the crumble topping atop your batter until fully covered and place it in the oven. Bake for 55-60 minutes, or until a toothpick or knife that is inserted in the middle comes out clean. **NOTE: Midway, I like to poke VERY SMALL holes all over the bread to allow heat to penetrate through and to ensure it cooks through.**

Once done, remove bread from oven and let it cool for 10-15 minutes before gently removing it from loaf pan to cool completely.

Once cooled, slice and enjoy!

Bon Appetit!
STORAGE: Refrigerate leftover bread by tightly wrapping it in foil paper or keeping it fully covered in a cake stand—lasts up to a week. Can also be stored at room temperature for up to 2 days.
SWEETENER: If you choose to opt out of Agave, you can always substitute with pure maple syrup or Date syrup as well.
GLUTEN-FREE VERSION: To make this bread GF, I recommend using a GF Flour Blend (Bob's Red Mills has a great version!). **NOTE: If the bread mixture is too 'thin + runny', simply add additional GF flour, 1/4 cup at a time.**
OIL-FREE: Instead of using oil, you can substitute with apple sauce.
MILK: You can use any plant-based milk for this recipe. I love using Califia Farm's Almond Vanilla or Oats + Roasted Almonds Milk or So Delicious Dairy-Free's Almond Milk, however, you can use Soy, regular Almond, Macadamia, Coconut, etc.
SWEET POTATOES: Preheat oven to 425 degrees Fahrenheit and line a baking sheet with parchment paper or foil. Rinse sweet potatoes (about 2 medium-sized) and pat dry. Lightly coat potato with Extra Virgin Olive Oil and place in oven, baking for 45 minutes to 1 hour, until tender and juices begin to bubble outside of skin. Remove from oven, let cool for 10-15 minutes and slice in half. Remove sweet potato insides and place in a bowl, mashing it until "pureed". Continue recipe.
Vegan Sweet Potato Crumble Bread