These Vegan Peppermint Brownie Donuts are the epitome of Holiday cheer! Not only are these donuts completely moist + fluffy, but they remind you of the best fudge brownie in donut form! Plus, with a delicious vegan chocolate peppermint infused body and topped with an easy chocolate glaze, these donuts are gooey and melt-in-your-mouth goodness, worthy of a seat at the BEST OF HOLIDAY DESSERTS table! Completely dairy-free, vegan, + oil-free.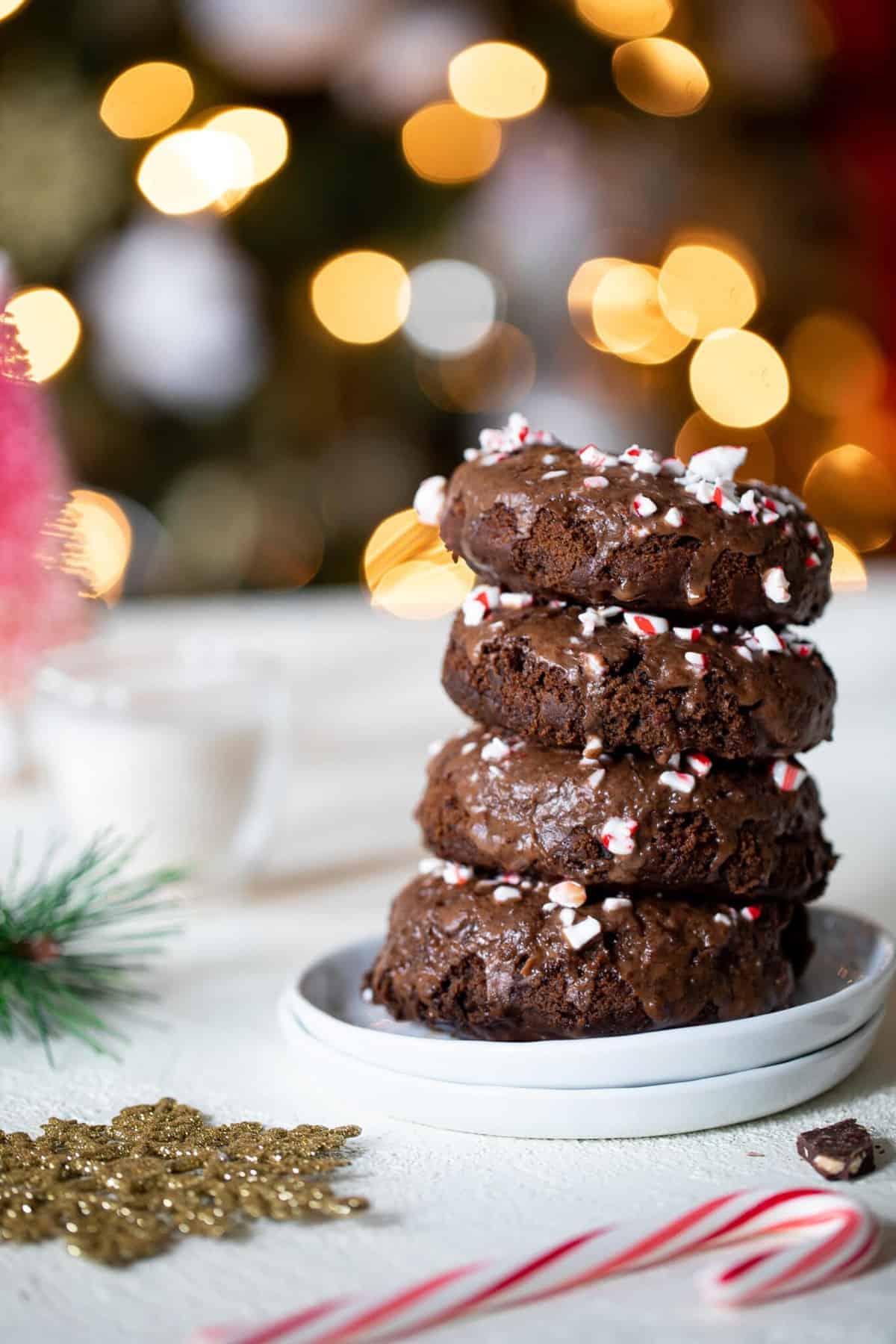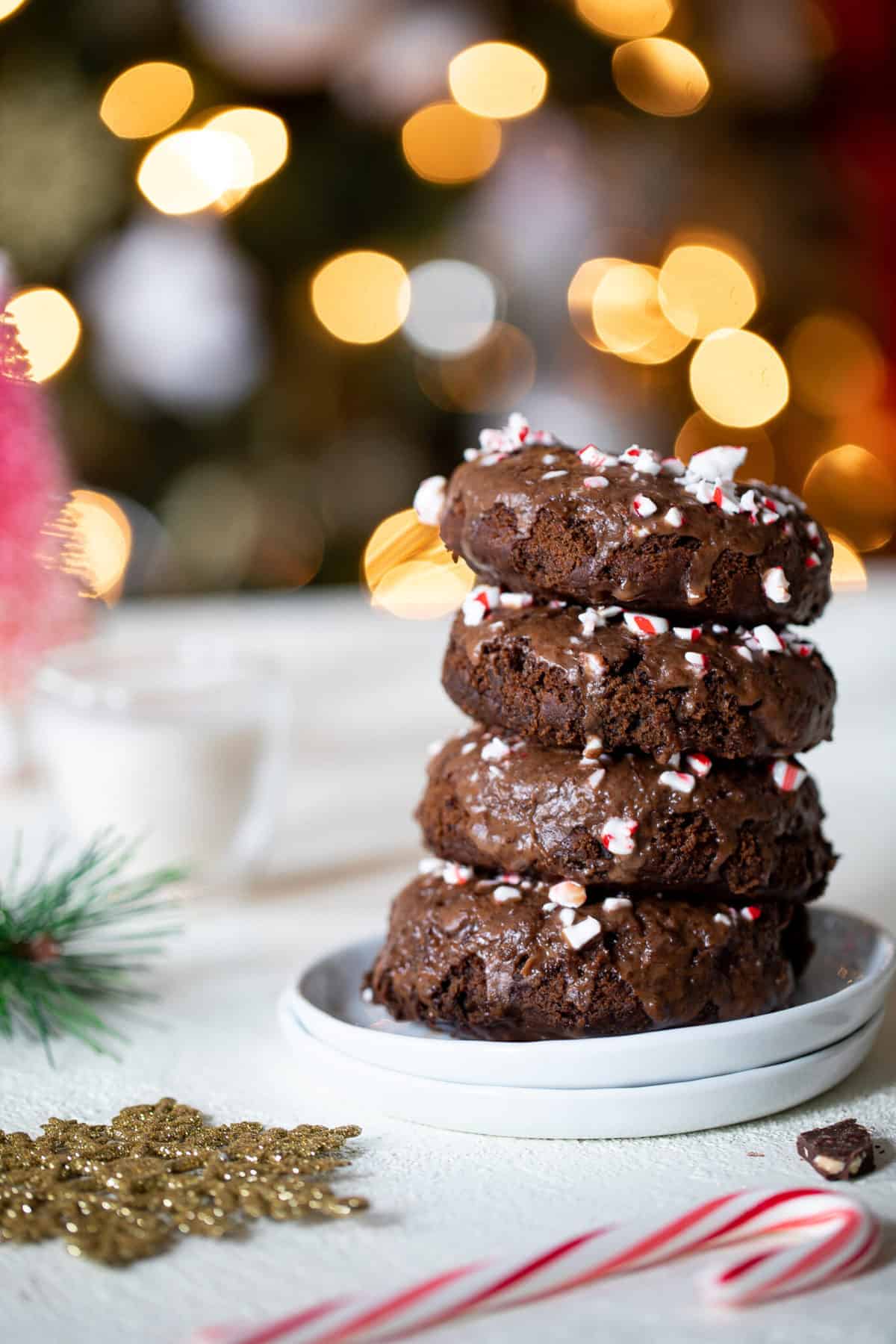 This post contains sponsored content by Country Crock.
These Vegan Peppermint Brownie Donuts are honestly the best chocolate donuts that I've ever tasted. Not to be modest, but I LOVE these donuts, ya'll!
Homemade Vegan Peppermint Chocolate Brownie Donuts.
While I'm not the biggest fan of chocolate, brownies for some reason have me hooked. So of course, it was only obvious that I would be hooked on these donuts too. Plus, they are baked and are really a healthy option for the entire family.
These brownie donuts are truly moist, cakey, decadent, rich, and with beautiful hints of peppermint, which puts you in the mood for the Holiday season.
I just think that brownies are a timeless piece. Don't you?
Good. Well, that's why I wanted you to enjoy them in donut form.
Watch the Video for these Vegan Peppermint Brownies Donuts Here!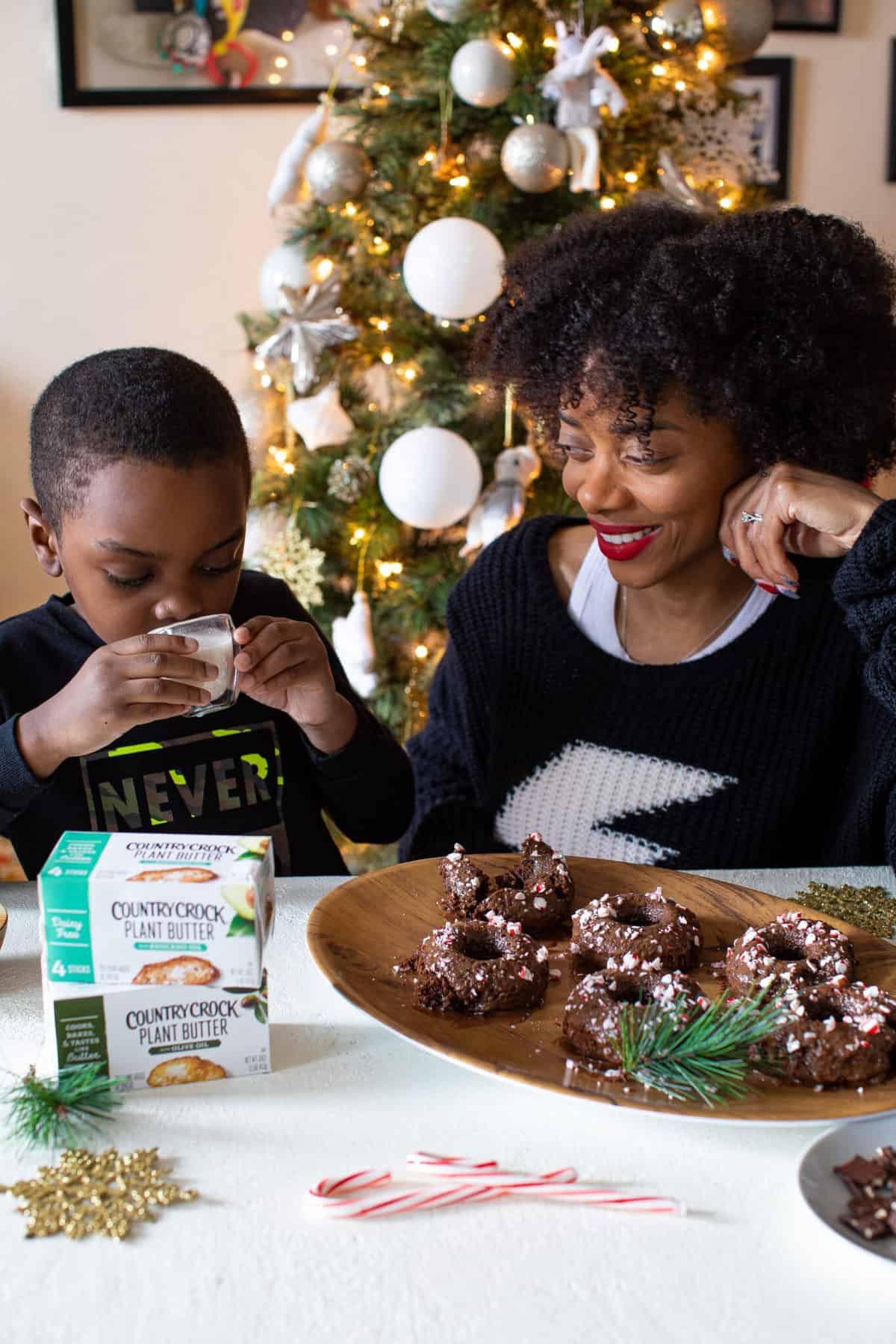 Can I Make These Gluten-Free?
Yup. The awesome part is that you won't lose the fudgy-ness or richness when these donuts are made GF. Simply, reduce the amount of milk and substitute all-purpose four with 1-to-1 baking flour blend.
What You'll Love Most About These Donuts:
Super moist + decadent.
Easy to whip together + requires only 1 bowl.
Full of chocolatey + peppermint flavor---the EPITOME of Holiday!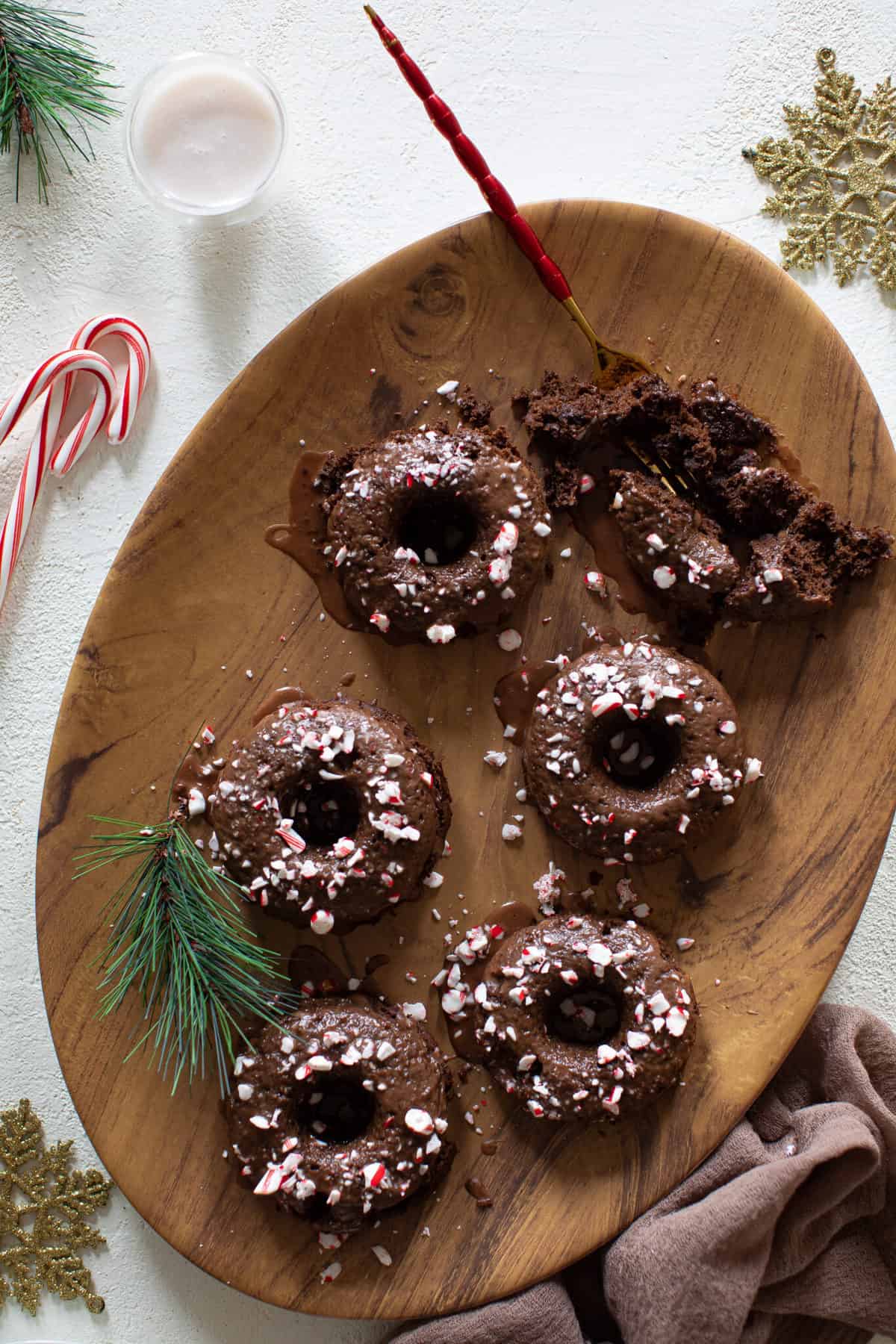 Fudgy + soft—-real melt-in-your-mouth!
All dairy-free + vegan ingredients used.
Gluten-free option available.
Perfect sweet treat for the entire family.
Did I mention—-DELICIOUS?
3 Tips To Making The Perfect baked Donuts EVERY TIME:
NEVER Over-mix!
When mixing together the wet and dry ingredients, do so just until everything is combined. DO NOT OVER-MIX! This will ensure that your doughnuts/donuts are soft and fluffy.
Pipe Your Batter Into The Donut Cavities.
For perfectly sized donuts, be sure to pipe them into the donut cavity, about ¾ way full. If you don't have a piping bag, simply use a zip loc bag and cut the edge as a handy alternative.
Always Create a Buttermilk, Even If It's Vegan or Dairy-Free.
This is so important because the acidy from the buttermilk makes the gluten in flour tender, which creates a softer texture and ensures that your donuts are nice and fluffy. If you don't want to use lemon juice, you can substitute it with apple cider vinegar.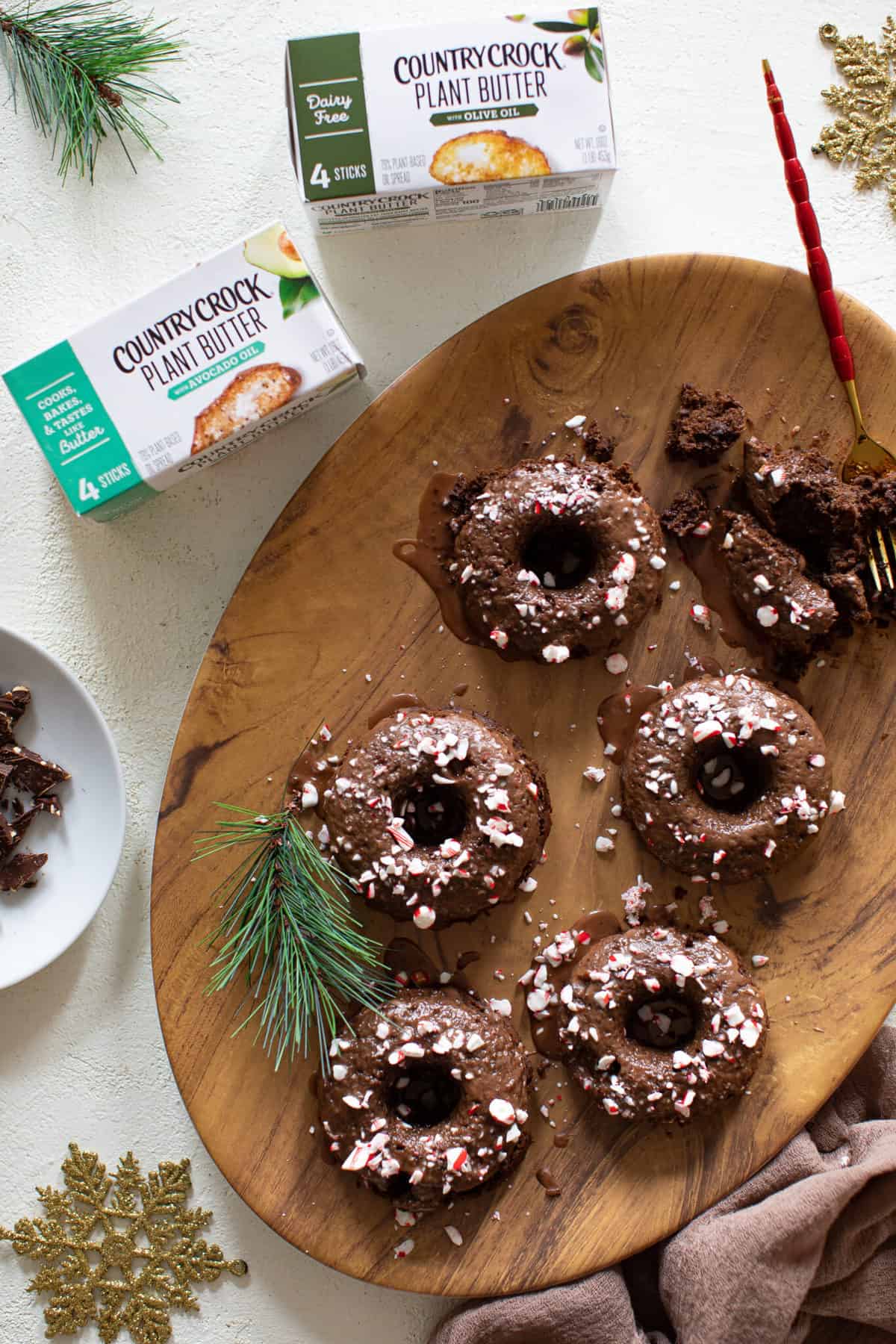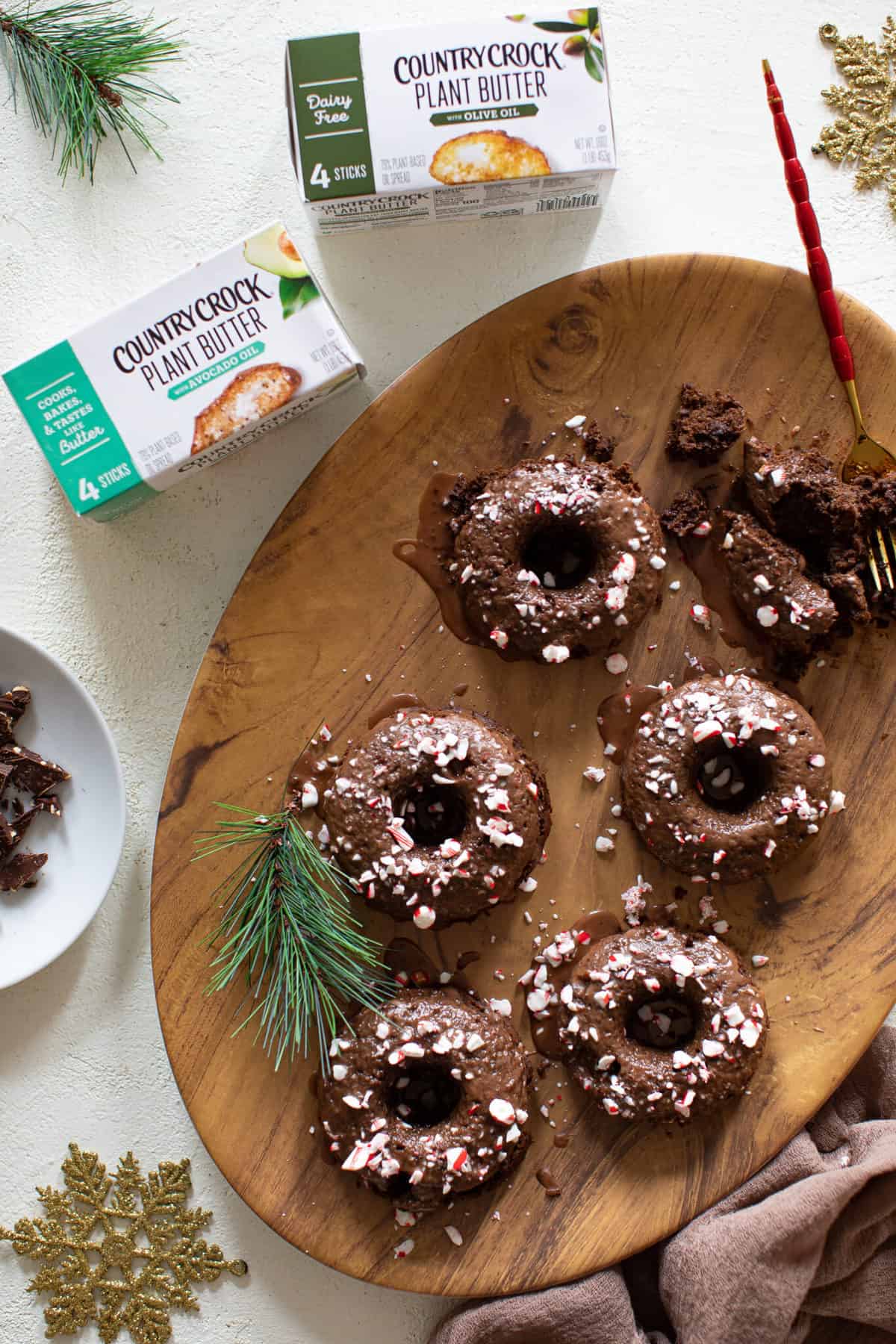 How Much Peppermint Do I Add to these Donuts?
When it comes to these vegan donuts, I chose to keep a nice balance between the chocolate and peppermint flavors. With that being said, I used 1-2 tsps of peppermint extract, however, if you're an extreme lover of peppermint, then feel free to add more (up to 2 Tbsps). In addition, I wanted to add another layer of peppermint flavor by crushing a few candy canes into small pieces and topping my donuts with them.
LOOKING FOR A HEALTHIER SWEETENER OPTION?
The Best Healthy Sugar Alternatives + Substitutes list is all about finding better ways to enjoy your favorite sweets without compromising your healthy lifestyle. For those who follow a vegetarian and/or vegan lifestyle, this lists offers a few great ideas to incorporate healthy sweeteners into your diet.
Oil vs. Melted Butter for these Donuts?
In the past, I've made plenty of vegan donuts recipes using oils such as coconut, vegetable, or canola. However, with this recipe, I wanted to make it entirely oil-free by using plant-based butter (melted) as my oil/fat source. It's absolutely incredible and definitely creates a moistness + softness that works perfectly and makes the substitution that much more worth it!
Country Crock® Plant Butter is a dairy-free, plant-based butter that tastes like dairy butter, therefore, you will be getting the same rich taste from these donuts. Plus, You can substitute Country Crock® Plant Butter one-for-one for dairy butter in your favorite recipes. Country Crock® Plant Butter sticks cook and bake like butter.
Country Crock® Plant Butter is gluten-free, kosher, and suitable for vegan diets
On a deeper note---Country Crock® Plant Butter production generates less than half the carbon footprint than the production of dairy butter.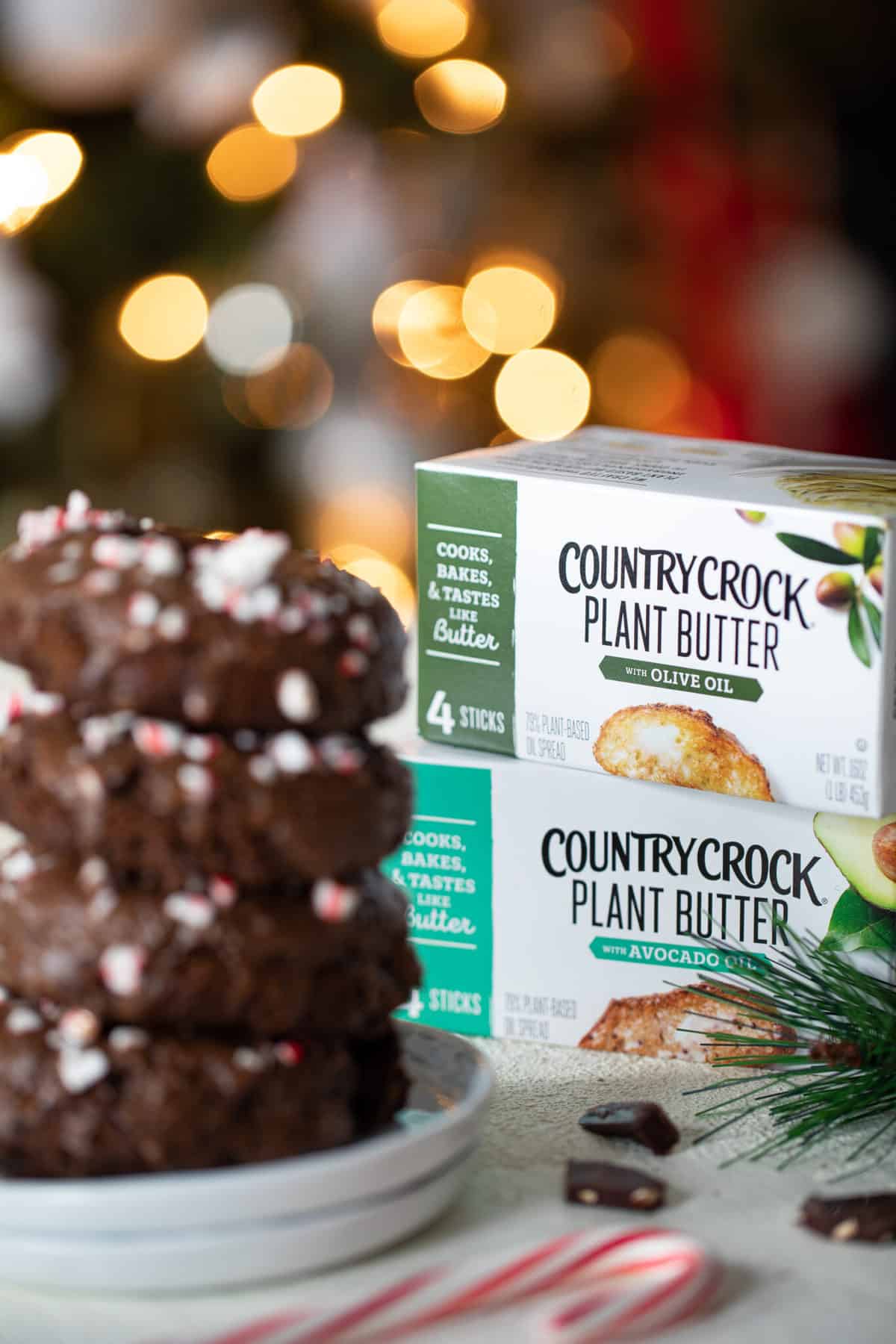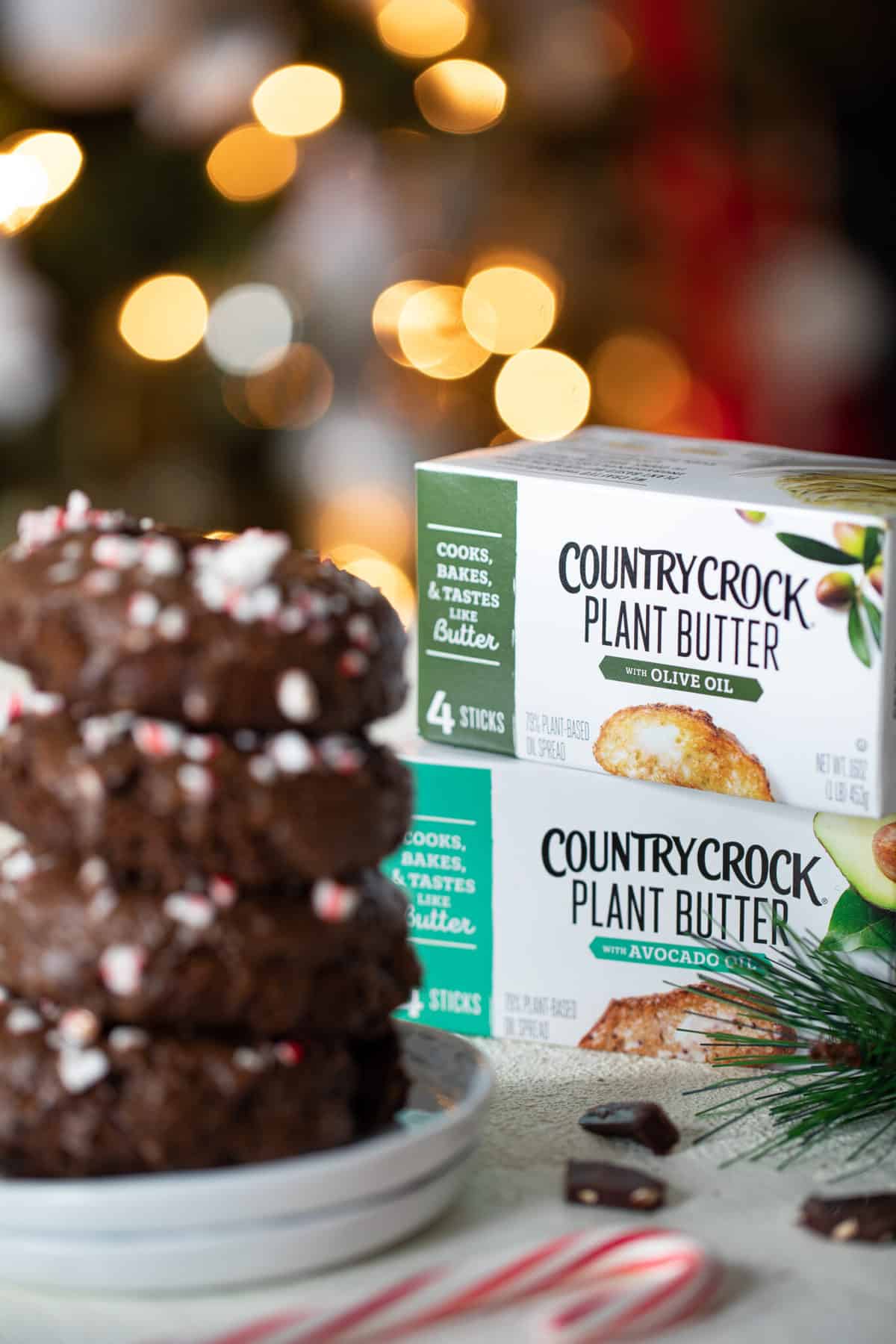 Common FAQs About these Brownie Peppermint Donuts.
Can I make these Donuts regular? Yup, definitely! While vegan donuts often use a plant-based milk-ACV combo, you can always substitute the plant-based milk with whole milk and use 1 large egg (at room temp.) instead of the ACV. Everything else stays the same, except the chocolate of course! You can also substitute your vegan chocolate chips or pieces for regular chocolate.
How Long Do Leftover Donuts Last? Honestly, all leftovers can be stored in an airtight container and refrigerated for up to 3 days.
What's the best sweetener to use for these Donuts? For these donuts, I chose to use organic brown sugar, however, you are free to use organic pure cane sugar, Agave, or maple syrup if you'd like. For liquid sweeteners, just reduce the amount of milk used slightly to keep the batter just enough moistness.
Need Other Delicious Holiday Chocolate Ideas? Try These!
This No-Churn Brownie Ice Cream is truly the most creamiest, brownie-induced ice cream that you'll ever taste!
Creamy Homemade Caramel Hot Chocolate—-the epitome of rich + comforting for the Fall + Winter seasons.
This One-Bowl Double Chocolate Sheet Cake is a whole lot of chocolate-y goodness that melts-in-your-mouth and satisfies every single sweet tooth.
Easy Extra Fudgy Vegan Brownies are soft, rich, and dangerously full of chocolate flavor. These beauties are sure to melt-in-your-mouth and are made entirely with all vegan ingredients.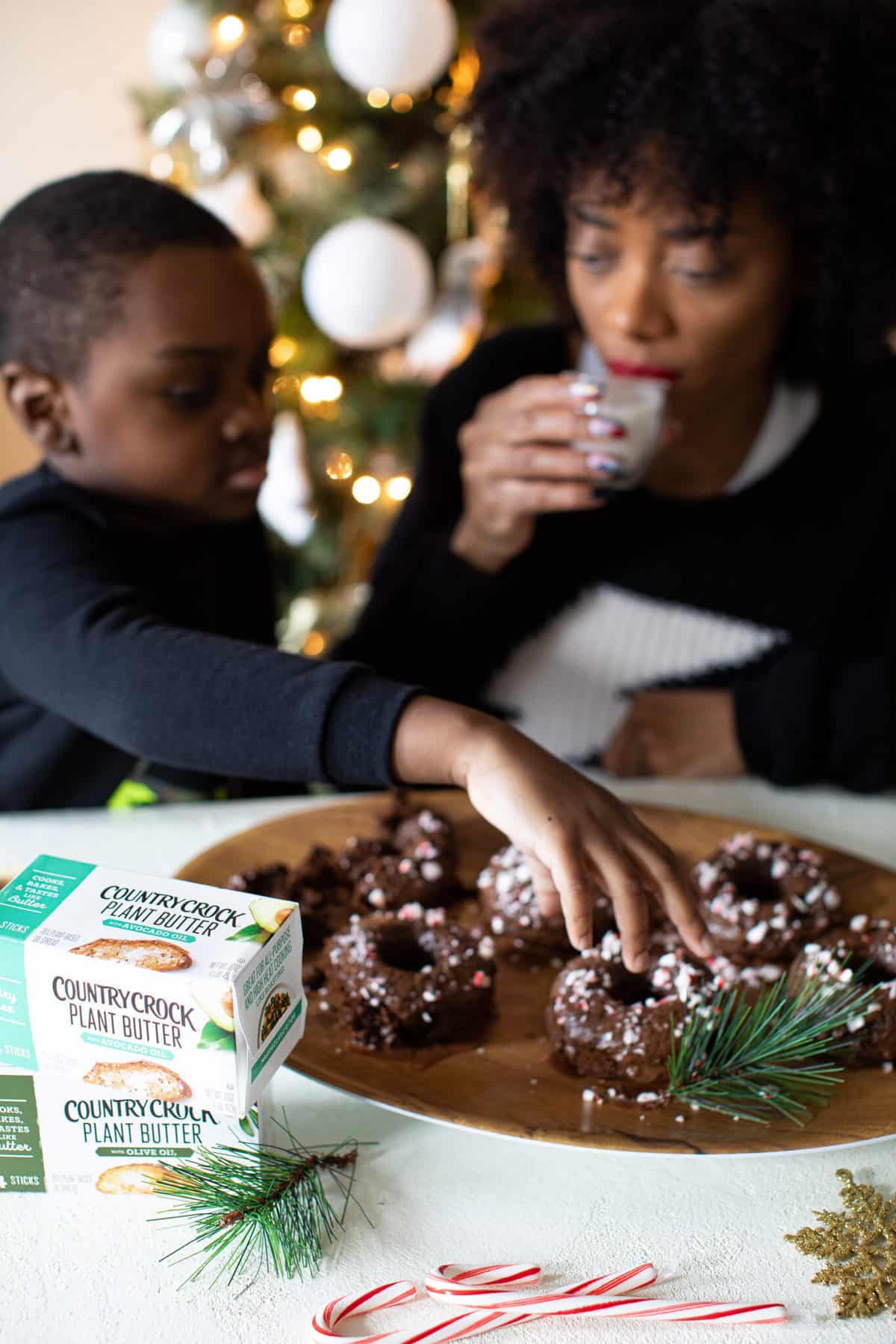 Vegan Brownie Donuts:
½

cup

Country Crock® Plant-butter

(See Notes!)

1 ½

cups

organic all-purpose flour + 2 Tbsp

(See Notes!)

¼

cup

cacao powder or cacao

2

tsps

baking powder

¼

teaspoon

baking soda

¼

teaspoon

sea salt

½

cup

organic brown sugar

2

tsps

dissolvable espresso powder

2

tsps

peppermint extract

1

cup

Almond milk + 2 tsps ACV

1

cup

vegan chocolate chips
Chocolate Glaze:
2

cups

organic powered sugar + more if needed!

2

Tbsps

cacao powder or cacao

1-2

Tbsps

Almond milk + more if needed!

1

teaspoon

vanilla extract
Preheat oven to 375 degrees Fahrenheit and spray your donut baking pans that has 6-wells.

In a bowl, add the milk + apple cider vinegar, whisking together well and letting it sit aside for 2-3 minutes. Then add the melted butter, peppermint extract, and whisk everything together.

Finally, stir in the dry ingredients until just well combined and batter is thick and smooth, about 2-3 minutes. Fold in chocolate chips.

Spoon the batter into a piping bag and pipe batter it into prepared donut pan wells, filling them about ¾ of the way.

Bake for 10-12 minutes or until toothpick inserted into donuts comes out clean.

Remove from oven and allow to cool for 5 minutes before releasing the donuts from their pan and unto a cooling rack to cool completely.
Chocolate Glaze:
Whisk together the powdered sugar, cocoa powder, Almond milk, and vanilla until smooth and consistency is met. NOTE: For a thicker glaze, add additional powered sugar (1 tablespoon at a time) until consistency is met. For a desired thinner glaze, add additional milk (1 tablespoon at a time) until consistency is met.

Once fully cooled, dip each donut into the prepared Chocolate Glaze and set them back onto cooling rack so that glaze hardens a bit. Repeat until all donuts are glazed.

Sprinkle tops with crush candy cane pieces and enjoy!

Bon Appetite!
STORAGE: Can be stored in a tightly sealed container and best if placed in the refrigerator for up to 3 days for ultimate freshness.
SWEETENER: If you choose to opt out of brown sugar, you can always substitute for organic pure cane sugar, coconut sugar, Agave, or pure maple syrup instead. 
GLUTEN-FREE VERSION: To make these donuts GF, I recommend using a GF Flour Blend. **NOTE: When using this GF flour, be sure to reduce the 'buttermilk' by ½ cup and add 1 tablespoon additional milk if needed.**
FLOUR: If you want your donuts to be more of a 'cakey' texture, substitute 1 cup of All-purpose flour with Super-Fine Cake Flour. 
PLANT-BASED BUTTER: If you're looking to purchase this specific Plant-Based Butter used, visit Country Crock's site for options!
Calories:
642
kcal
|
Carbohydrates:
104
g
|
Protein:
7
g
|
Fat:
26
g
|
Saturated Fat:
9
g
|
Polyunsaturated Fat:
5
g
|
Monounsaturated Fat:
7
g
|
Trans Fat:
3
g
|
Sodium:
465
mg
|
Potassium:
157
mg
|
Fiber:
5
g
|
Sugar:
71
g
|
Vitamin A:
1
IU
|
Calcium:
199
mg
|
Iron:
5
mg
[mv_video doNotAutoplayNorOptimizePlacement="false" doNotOptimizePlacement="false" jsonLd="true" key="ryh0s58fubcnadkt9r2m" ratio="16:9" thumbnail="https://mediavine-res.cloudinary.com/video/upload/ryh0s58fubcnadkt9r2m.jpg" title="VEGAN PEPPERMINT BROWNIE DONUTS" volume="70"]
Vegan Peppermint Brownie Donuts.