Vegan Loaded Sweet Potato topped with Guacamole is a vegan dish that bursting with great flavor. With sweet potato as the base, the quinoa, tomatoes, arugula, and spinach, and avocado marries together very well to create the best dinner option.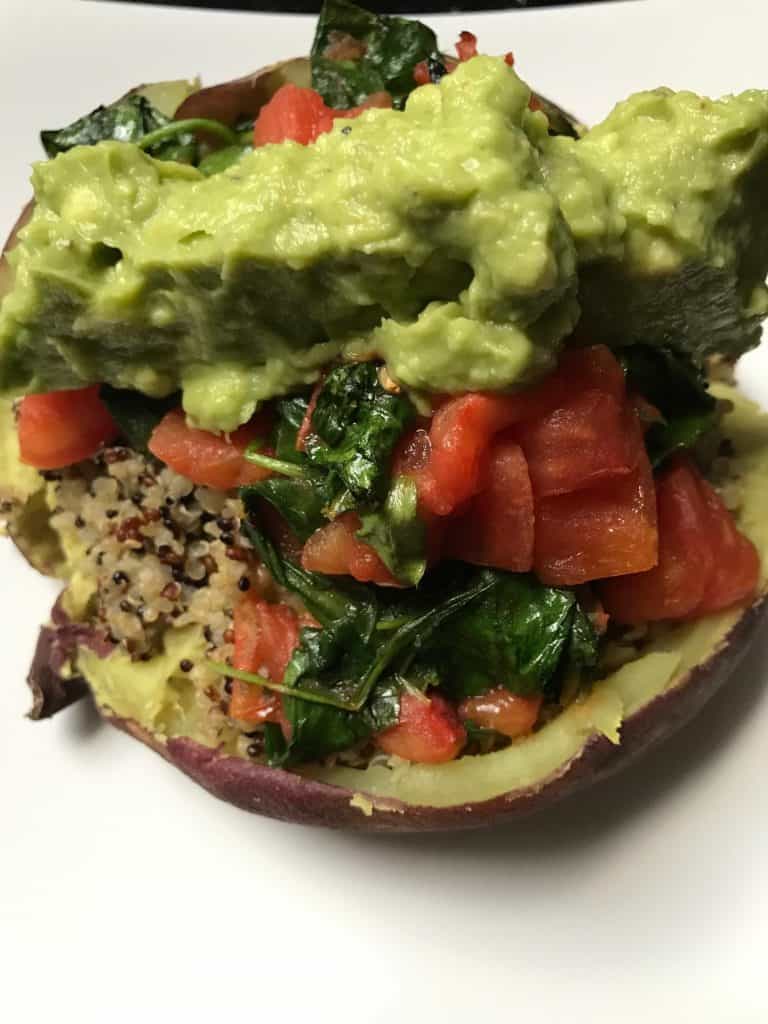 When it comes to eating clean in my house, I'm a big believer in bold flavor and a ton of unique ingredients that marry well together.
Eating a vegan diet for the past two weeks has opened up my eyes to a whole new world of ingredients that I couldn't even imagine would fit perfectly together in one dish.
And let's not forget the obvious fact that eating a vegan diet has opened up my taste buds as well. Haha!
Anyway, this particular dish was something that I decided to experiment with, especially when it came to using many different ingredients in which each has their own bold flavor.
Firstly, I should start by saying that I'm in complete love with sweet potatoes! I mean, who doesn't enjoy a bit of sweetness to their potatoes, right?
Well, in this dish, I used Japanese sweet potatoes, which personally taste a whole lot better than regular sweet yams. Granted, sweet yams taste mighty good when using them in a sweet potato pie, but these Japanese ones are so good that you could eat them by themselves, without the need for any other side.
I mean, they are that good guys! Plus, I usually take a shortcut when preparing them by wrapping each sweet potato (individually) in a wet paper towel and placing them in the microwave in increments of 5 minutes, until they are tender. Yes, they are that easy to prepare!
Other Great Vegan Recipes you won't want to miss:
Sticky Teriyaki + Maple Cauliflower
Fluffy Cinnamon Vegan Belgian Waffles
Going back to this dish—-so, I used sweet potatoes as my base and decided to stuff them with multi-colored quinoa, spinach, arugula, tomatoes, and topped it with a quick and easy guacamole.
It was delicious! It was super easy to make and did not require much time to cook. Once your sweet potatoes are cooked, you simply sauté your greens and assemble!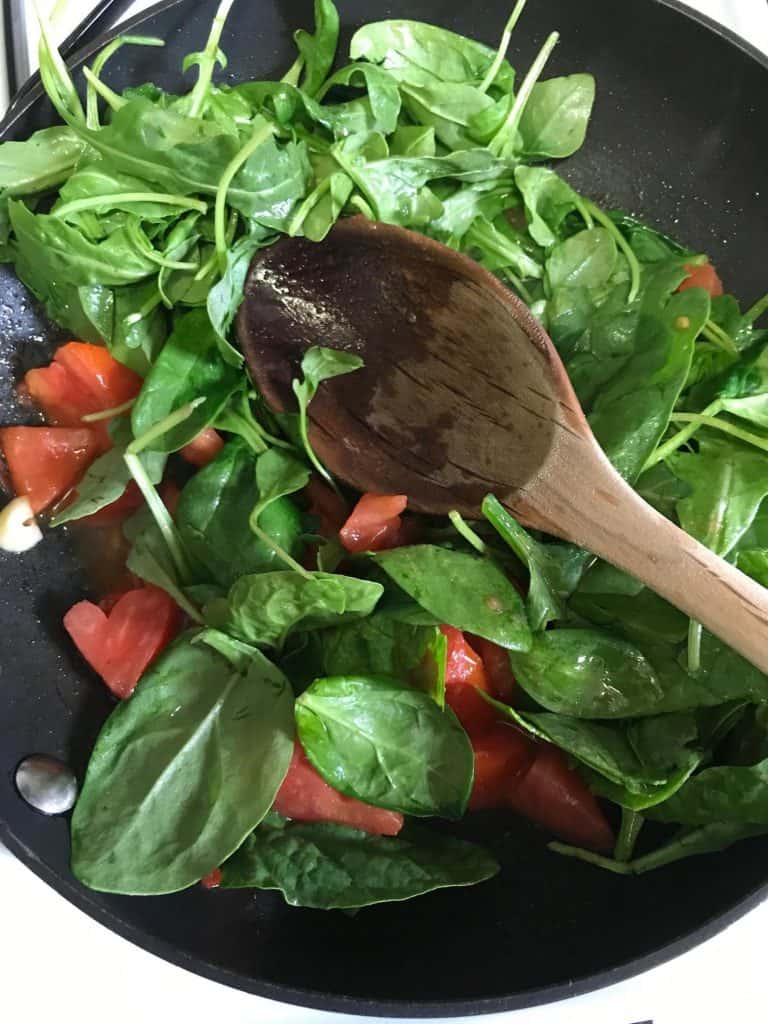 Then you simply pop them in the oven for about 10 minutes or so and wallah! You have a great meal that is so filling and healthy! Let's not forget the "extra" sweet potato and multi-colored quinoa that you'll have leftover.
I simply served them together on the side as a little grab and eat situation in between bites of the loaded sweet potato.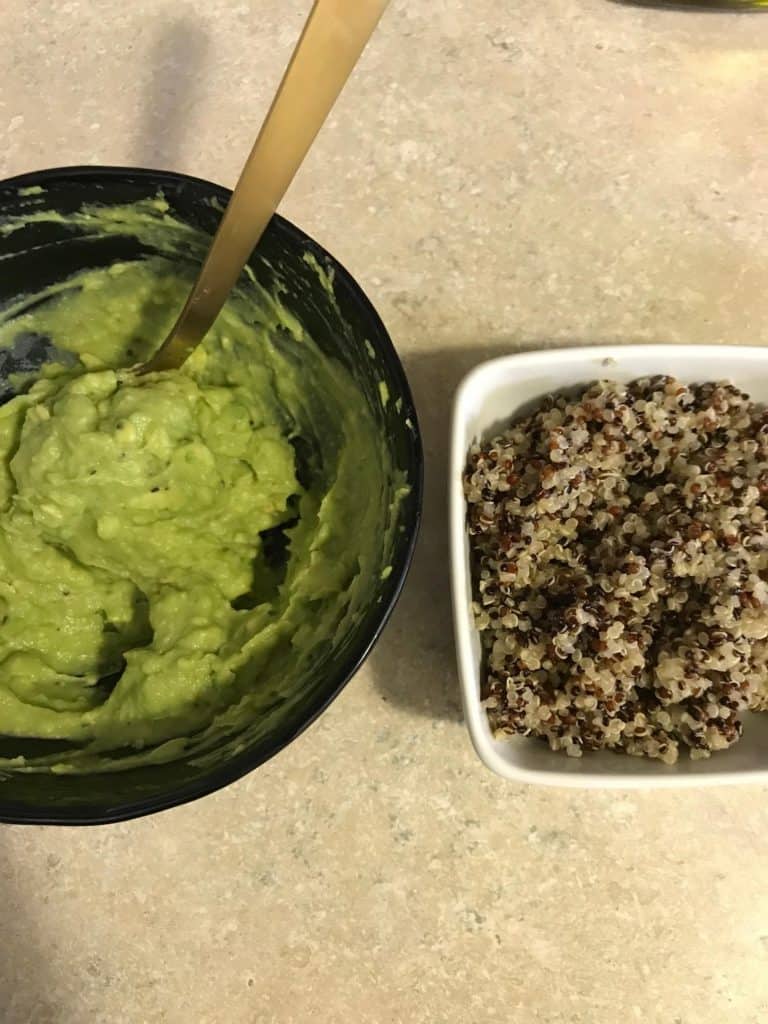 To be honest, I think that the star of this entire dish was not only the sweet potatoes, but in fact the guacamole that I made.
It was quick, very simple, and bursting with avocado taste, which I love too by the way! For this topping, I just sliced and mashed a ripe hass avocado, added a teaspoon of lemon juice, a pinch of sea salt, cayenne pepper, and garlic powder. BAM!
A light guacamole to add a bit of creaminess to everything! There you have it! Happy clean eating!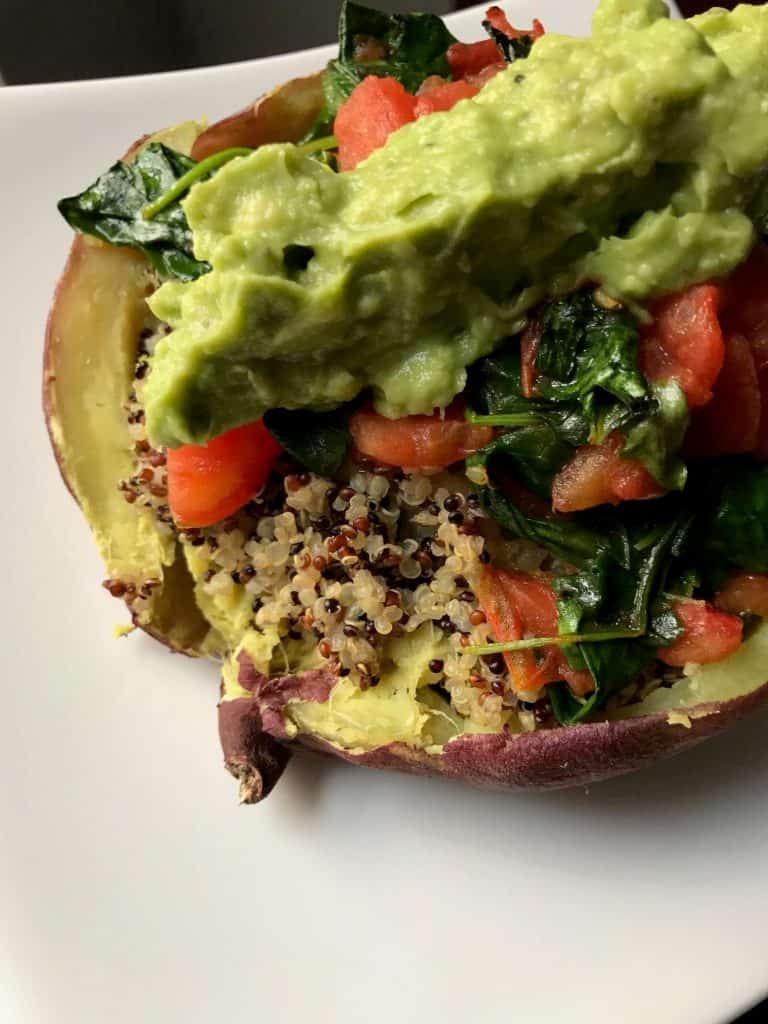 Loaded Sweet Potato topped with Guacamole
Vegan Loaded Sweet Potato topped with Guacamole is a vegan dish that bursting with great flavor. With sweet potato as the base, the quinoa, tomatoes, arugula, and spinach, and avocado marries together very well to create the best dinner option.
Must-Haves:
2

Medium

sweet potatoes, cooked

(See Notes!)

1

cup

organic spinach

1

cup

organic arugula

1

cup

multi-colored Quinoa, cooked

(Cook according to packaging!; See Notes!)

1

Tbsp

extra virgin olive oil

(See Notes!)

2

garlic cloves, minced

1

medium

organic tomato, diced

1/2

tsp

sea salt, to taste

1/2

tsp

black pepper, to taste

Guacamole, store-bought or homemade

(See Notes!)
Instructions:
Preheat oven to 375 degrees. Line baking sheet with parchment paper.

Heat olive oil over medium heat in medium saucepan. Add garlic and cook for a couple of minutes, until fragrant and slightly browned.

Add spinach and arugula and toss to coat. Add diced tomatoes and toss until greens become wilted. Season with salt and black pepper to taste and remove from heat. **NOTE: Add an additional Tbsp of oil if greens aren't wilting enough.**
Assembly:
Take halved sweet potatoes (scooping out insides and setting it aside in a small bowl), then fill the well of potatoes with: multi-colored quinoa, 2 Tbsps of mashed sweet potato (insides that were set aside previously), and then the greens + tomatoes. Repeat until all sweet potatoes are filled.

Place each stuffed sweet potato onto baking sheet and bake for 10 minutes. Remove from oven and top with guacamole and serve.
Tips | Notes:
SWEET POTATOES: Preheat oven to 425 degrees Fahrenheit and line a baking sheet with parchment paper or foil. Rinse sweet potatoes (about 2 medium-sized) and pat dry. Lightly coat potato with Extra Virgin Olive Oil and place in oven, baking for 45 minutes to 1 hour, until tender and juices begin to bubble outside of skin. Remove from oven, let cool for 10-15 minutes and slice each one in half. Continue recipe.
QUINOA: For added flavor, you can cook your quinoa in veggie stock. Use the same measurement as packaging suggests with water.
OIL: Instead of extra virgin oil, you can also use Coconut oil, avocado oil, or grapeseed oil, if preferred.
GUACAMOLE: Ingredients: 2 medium Haas avocados, 1 Tbsp juice of a lemon, pinch of sea salt, 1/2 tsp black pepper, pinch of cayenne pepper. Directions: Peel avocados and place them in a medium bowl. Mash avocados until it becomes smooth and lump-free. Add lemon juice, seal salt, black pepper, garlic powder, and pinch of cayenne pepper. Stir all ingredients together and set aside until ready to use. Refrigerate if necessary. 
STORAGE: Leftovers can be stored in an airtight container and refrigerated for 1-2 days. Reheat (preferably in the oven) when ready to consume again.