These Vegan + Gluten-Free Strawberry Banana Breakfast Muffins are the ultimate healthy punch to kickstart your morning! Packed with sweet flavor, super moist, and altogether lovely–these muffins are the perfect easy grab + go item on any day.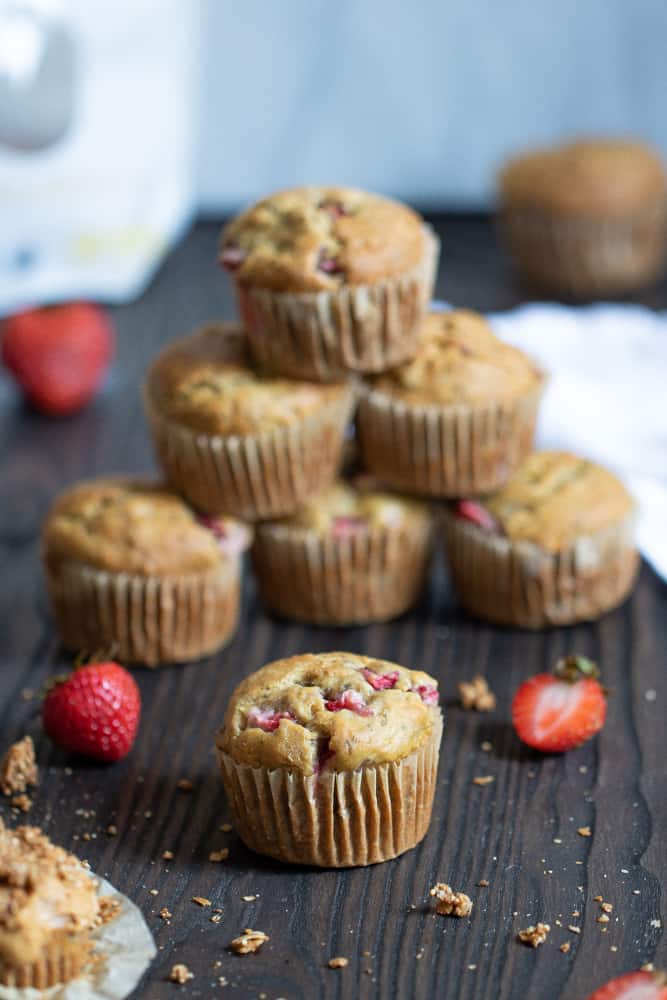 Whelp, it's Thursday, so why not debut my new favorite healthy muffins, right?
When it comes to baking, I usually enjoy making cookies, cakes, brownies, pies, and anything else tasty!
However, when you hear the word—MUFFIN–I don't know about you, but I think of bland, boring, and dry. Do you agree? BUT I no longer associate that with muffins, especially after making these delicious babies!
In need of a little breakfast inspiration? These Breakfast Peanut Butter Banana Chia Seeds Oats are the perfect bowl of goodness!
Packed with bold flavor, these oats are not only made with vegan ingredients, but they can be whipped together in just a few short minutes or made overnight for easy meal prep.
If you're more of a Pancake fanatic (like me!) then you'll thoroughly enjoy these Dairy-Free Almond Blueberry Pancakes. 
They are fluffy, thick, healthy, and completely dairy-free. The perfect way to begin your day. Fully stacked and bursting with almond flavor, these pancakes come covered with a lightly sweet blueberry compote that will have you going for a second round. Whipped together in just 25 minutes.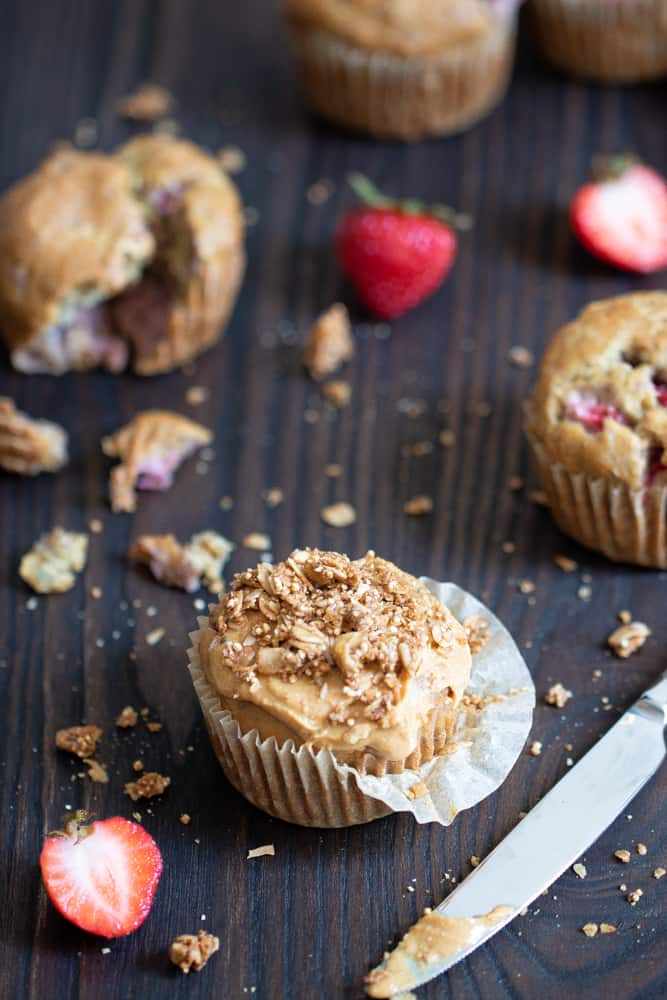 The amazing thing about this recipe is that it's completely vegan AND gluten-free, so many of you who have sensitivities like I do, can thoroughly enjoy. Yay!
Plus, this was an awesome way for me to keep things on the healthier side when it comes to my little guy, since he has such a huge sweet tooth. He loved these for sure!
As for me, I topped my muffins with a nice slather of almond butter (from my fave—Justin's) and 'I went to town'—Yum!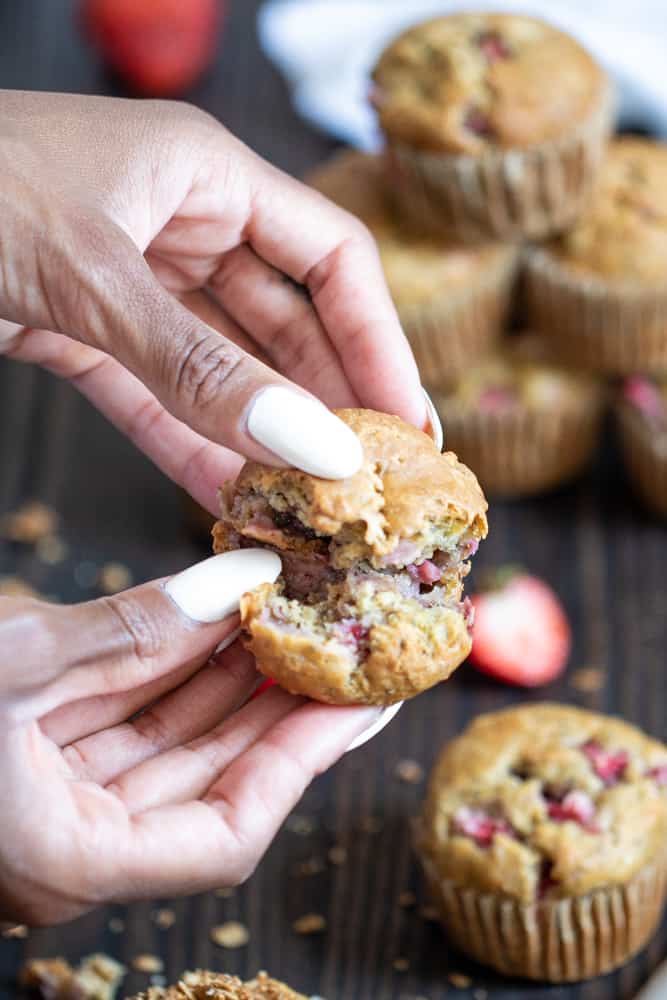 Lately, things have been super busy for me, especially with creating these recipes, working on my magazine, work, a toddler, and now, making/selling of baked goods!
Yup, you read right. I now sell my sweet treats locally and I'm so excited! Honestly, I've always wanted to sell baked goods, however, I contemplated doing so during the holidays.
However, the supporters/lovers of Orchids + Sweet Tea had other plans, so here we are.
Currently, I am selling these locally, but who knows what the future holds, right?
Speaking of sweet treats–here are a few reader favorites (Top 5) that are too good to miss: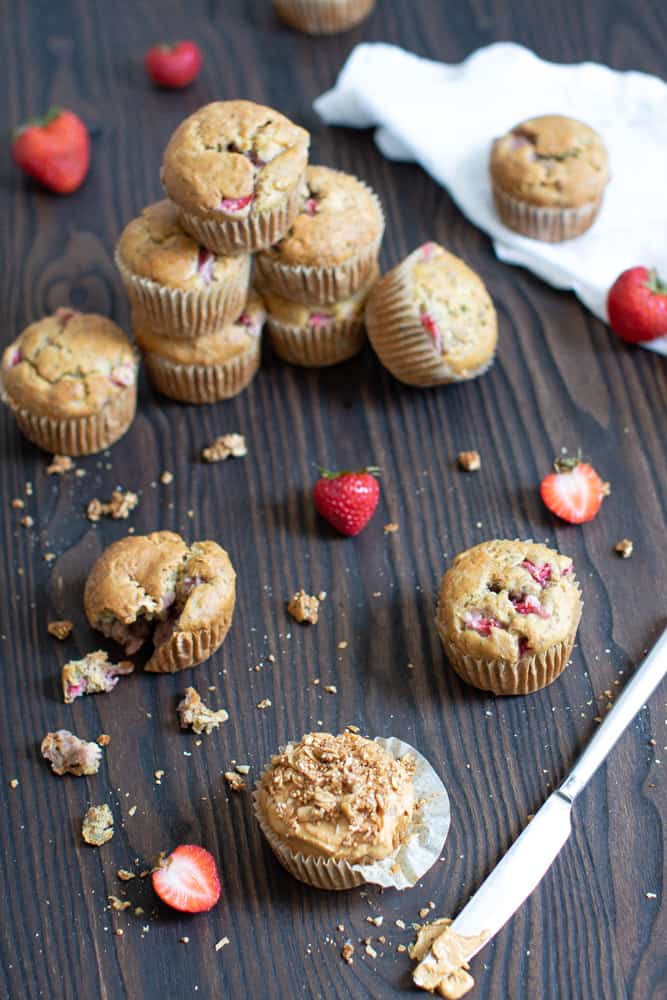 Now, let's dig into this recipe, shall we?
Preheat the oven to 375 degrees Fahrenheit and line a 12-cupcake pan with parchment muffin liners.
Add chia seeds and water to a small bowl, mixing until well combined and set aside (about 10 minutes), until mixture looks gel-like.
In separate bowl, add the coconut milk and lemon juice and stir. Set aside for 5 minutes or so to create a "buttermilk".
Now, in a medium bowl, add all dry ingredients–baking powder, baking soda, sea salt, rolled gluten-free oats, and almond flour, whisking until well combined.
In a separate large bowl, add the mashed bananas, coconut oil, vanilla extract, maple syrup, "chia eggs (mixture)", and buttermilk and stir until well incorporated. Now, add the dry ingredients and using a spatula, stir until well combine. Fold in diced strawberries and scoop batter into each cupcake pan cavity. Fill each liner to the 3/4 mark (about 2 Tbsps or so).
Bake in the oven for 18-22 minutes, or until center is fully cooked through. **NOTE: Test this by inserting a toothpick or butter knife and seeing if they come out "clean" or at least 90% clean.**
Remove from oven and let cool for 10 minutes before topping with your favorite Almond Butter and granola (vegan/gluten-free of course!).
Bon Appetite!
MADE OUR RECIPE(S)?
If you choose to make these Vegan + Gluten-Free Strawberry Banana Breakfast Muffins or any other recipe from us, be sure to tag us on Instagram at #Orchidsandsweettea so that we can share the love, rate, comment below, + share!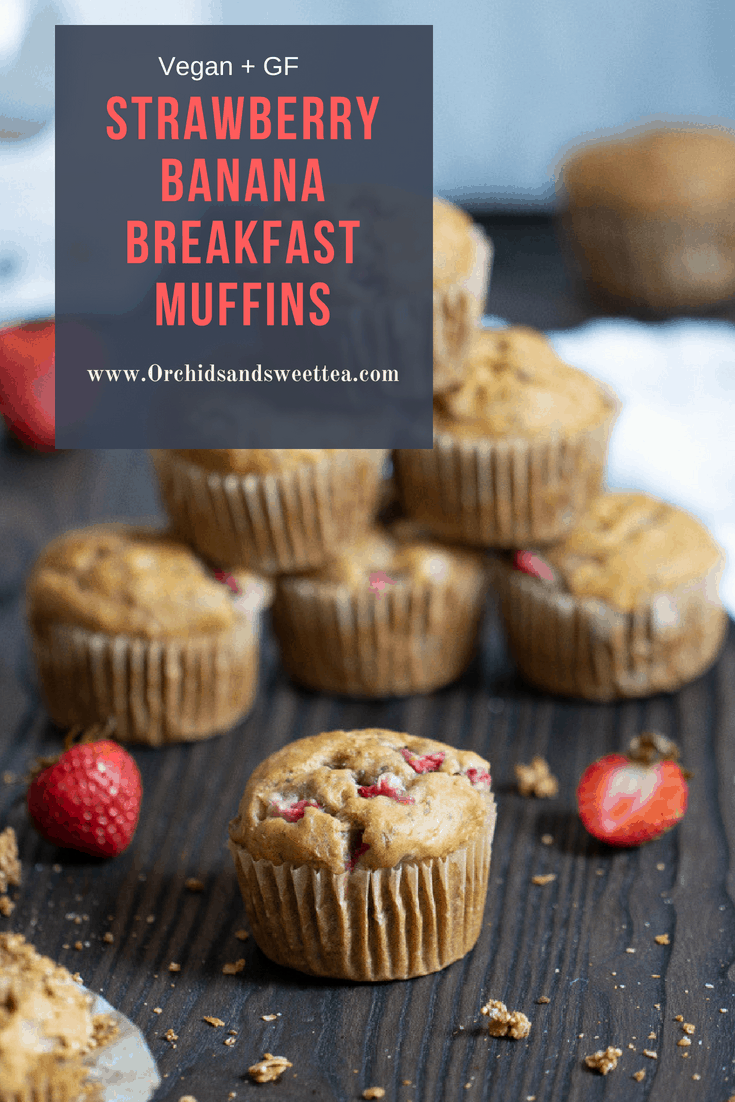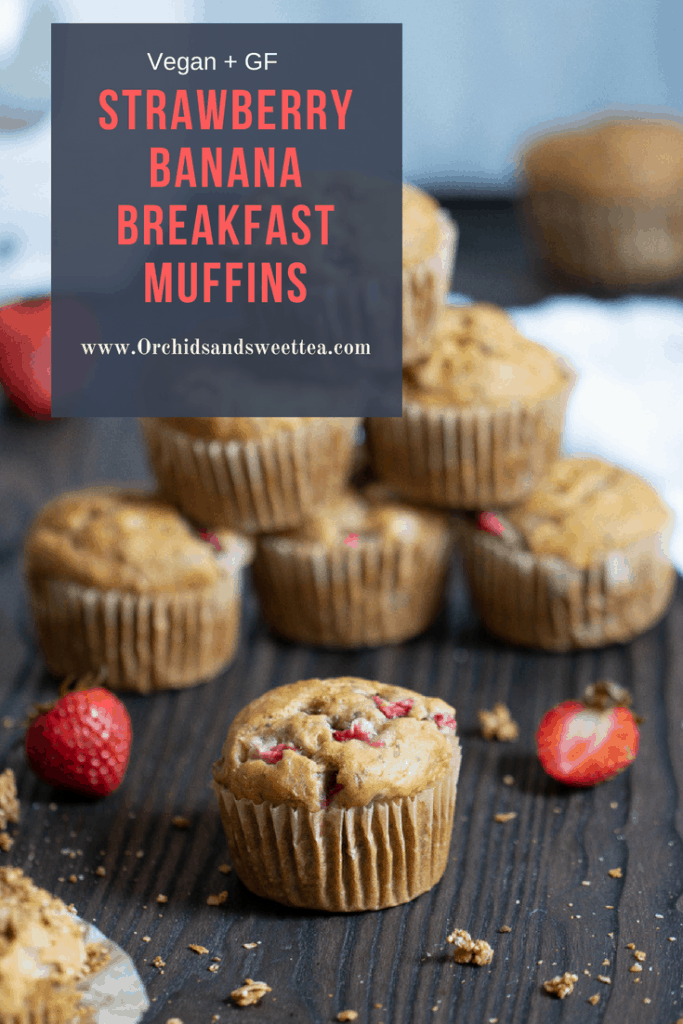 1 1/4

cup

Almond flour

(I use Bob's Red Mill)

1/2

cup

organic rolled oats, Gluten-Free

(I use Bob's Red Mill)

1

tsp

baking powder

1/2

tsp

baking soda

1/2

tsp

sea salt

2

ripe

bananas, mashed

2

Tbsps

coconut oil, melted

(See Notes!)

1

tsp

vanilla extract

1/3

cup

pure maple syrup

(See Notes!)

1/4

cup

Almond milk + more if needed!

(You can use your fave plant-based milk!)

1

tsp

juice of a lemon

2

Tbsps

chia seeds + 6 Tbsps fresh WARM water

(This makes 2 'Chia Eggs')

1/2

cup

fresh strawberries, diced

(See Notes!)
STORAGE: Can be tightly sealed without refrigeration for up to 5 days. However, best when refrigerated and slightly warmed before eating.
SWEETENER: If you choose to opt out of pure maple syrup, you can always substitute with Agave as well.
STRAWBERRIES: If using frozen strawberries, be sure to toss them in 1 Tbsp of flour before adding them to recipe.
OIL: Instead of coconut oil, you can substitute with vegetable oil.
Vegan + Gluten-Free Strawberry Banana Breakfast Muffins.