This Vegan Curry Chickpea Mashed Potato Bowl is the perfect easy weeknight meal! Ready in no time, this flavorful dish comes with a creamy coconut curry, chickpeas, potatoes, tomatoes, carrots, onions, and spices and herbs; all atop velvety buttery, garlicky mashed potatoes. A killer combo, indeed! No-boil and Slow Cooker option for potatoes.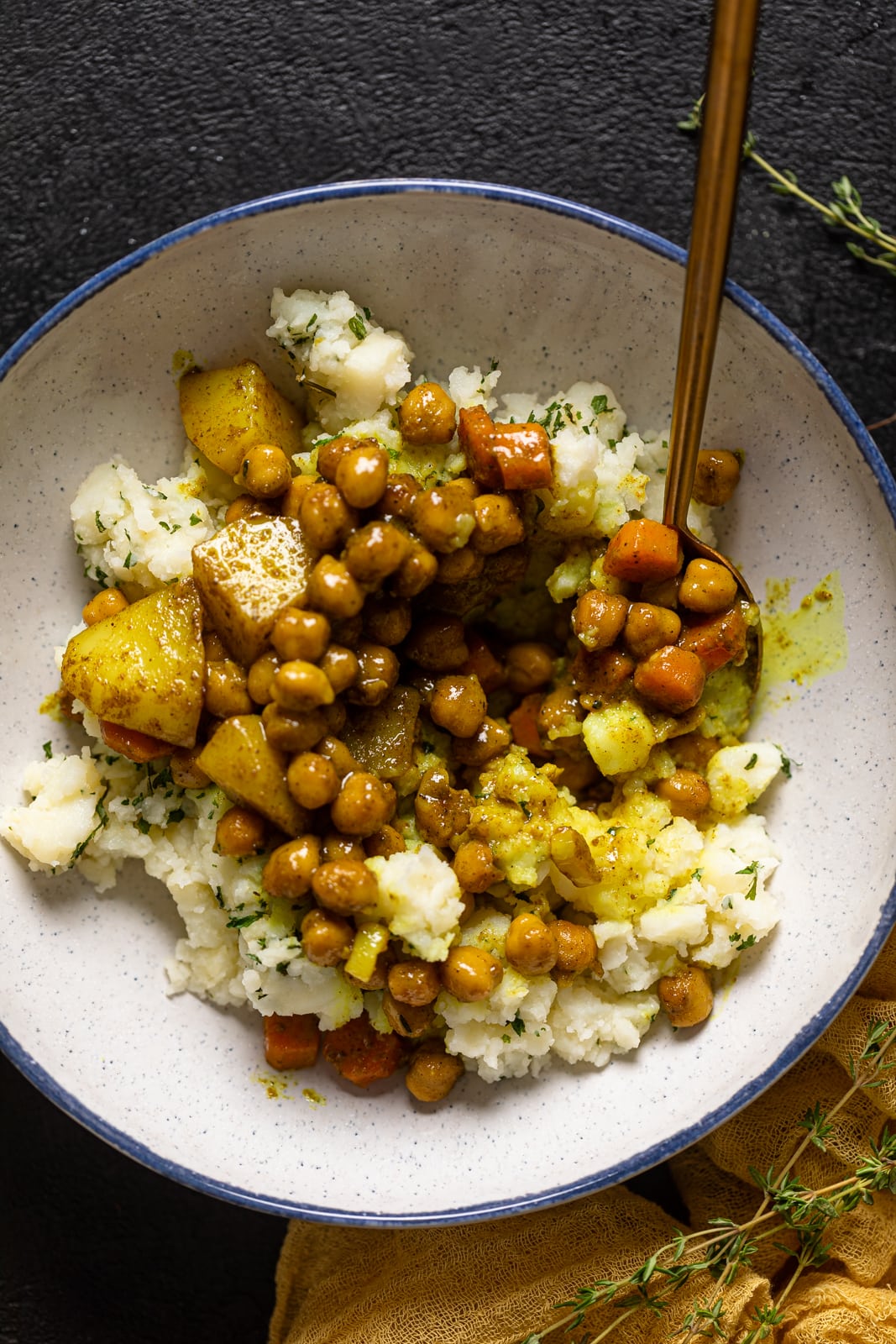 When it comes to vegan dishes, I've ensured that flavor has been my main focus. Too often, vegan dishes are seen as tasteless, uncreative foods that require a huge sense bravery to devour.
But, I beg to differ. In fact, I often find myself thoroughly enjoying my vegan dishes more than meat-filled ones at times. I know. Insane, but true and this Vegan Curry Chickpea Mashed Potato Bowl is one of the reasons why.
This actually isn't my first time making vegan curry chickpea. In fact, most of my recipes are tried more than once to ensure that you can make it just as perfect! Honestly, I've had a few that were perfected on the first try and I cherish those. Haha.
However, this recipe is a rendition of this Easy Spicy Curry Chickpea + Potatoes.
Why You'll Love This Vegan Curry Chickpea Mashed Potato Bowl
Bold flavors—Savory + Spicy marry so well together!
Easy to make. Easy weeknight meal option.
Chickpeas are just so delicious!
Uses simple ingredients.
Fully loaded and filling!!!
Completely meal-prep friendly!
Great vegan option for everyone!
Fun cooking activity for entire family.
And just absolutely wholesome and perfect for any kind of weather.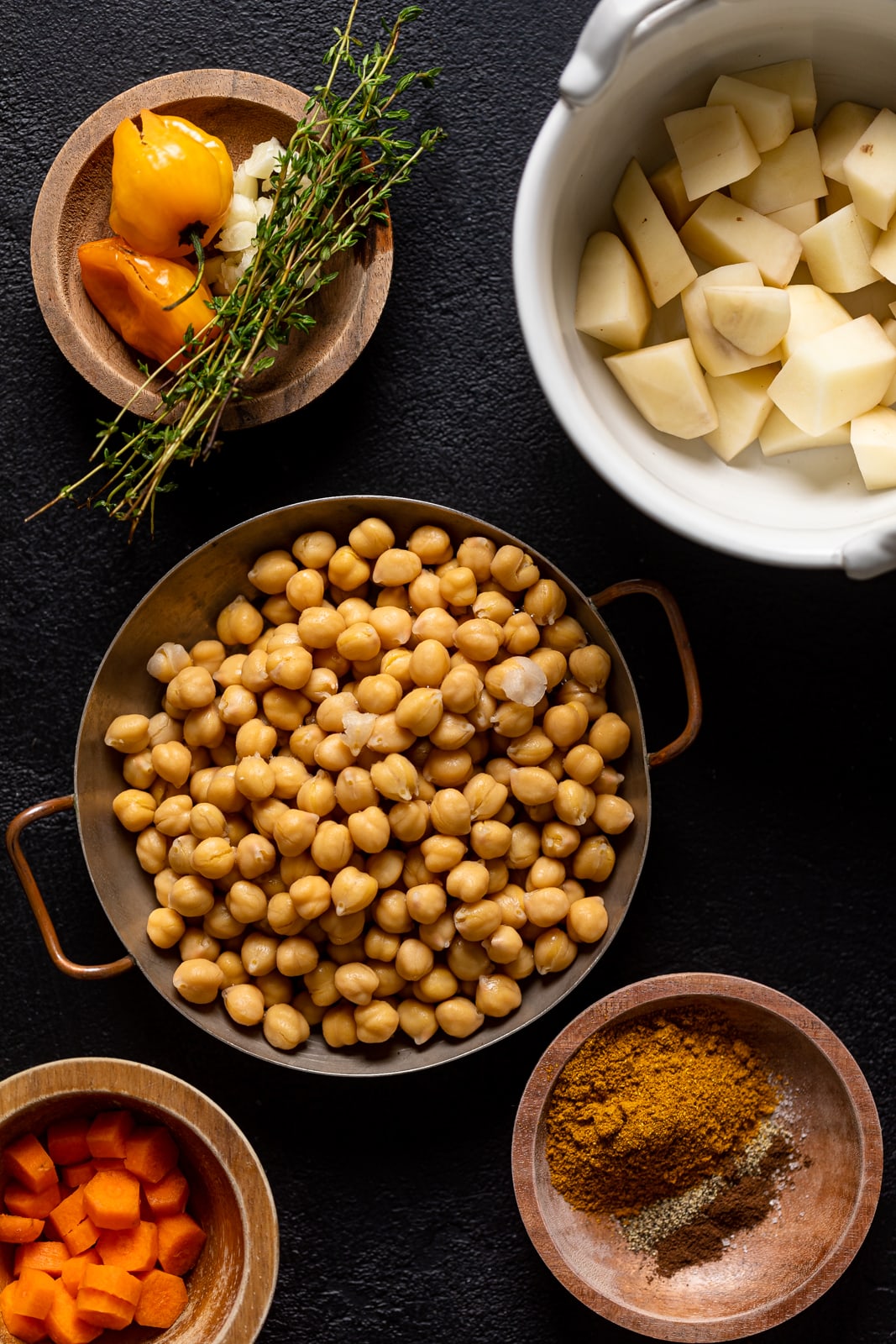 Ingredients in Vegan Curry Chickpea Mashed Potato Bowl
1 (15 oz.) can chickpeas, drained + rinsed
1 russet or Yukon potatoes, peeled + cubed
½ red onion, chopped
½ bell pepper, chopped
1 tablespoon Grapeseed oil
a (14 oz.) can full-fat coconut milk or cream
1 large carrot, peeled + chopped
3 garlic cloves, minced
1-3 scotch bonnet peppers, minced (you can also use habanero peppers)
1-ounce ginger root, minced
3-4 tablespoons organic vegetable stock
1 tablespoon vegan soy sauce
2 ½ tablespoons curry powder
1-2 fresh thyme sprigs
1 teaspoon ground allspice
1 teaspoon sea salt
a teaspoon black pepper
Roasted herb tomatoes, optional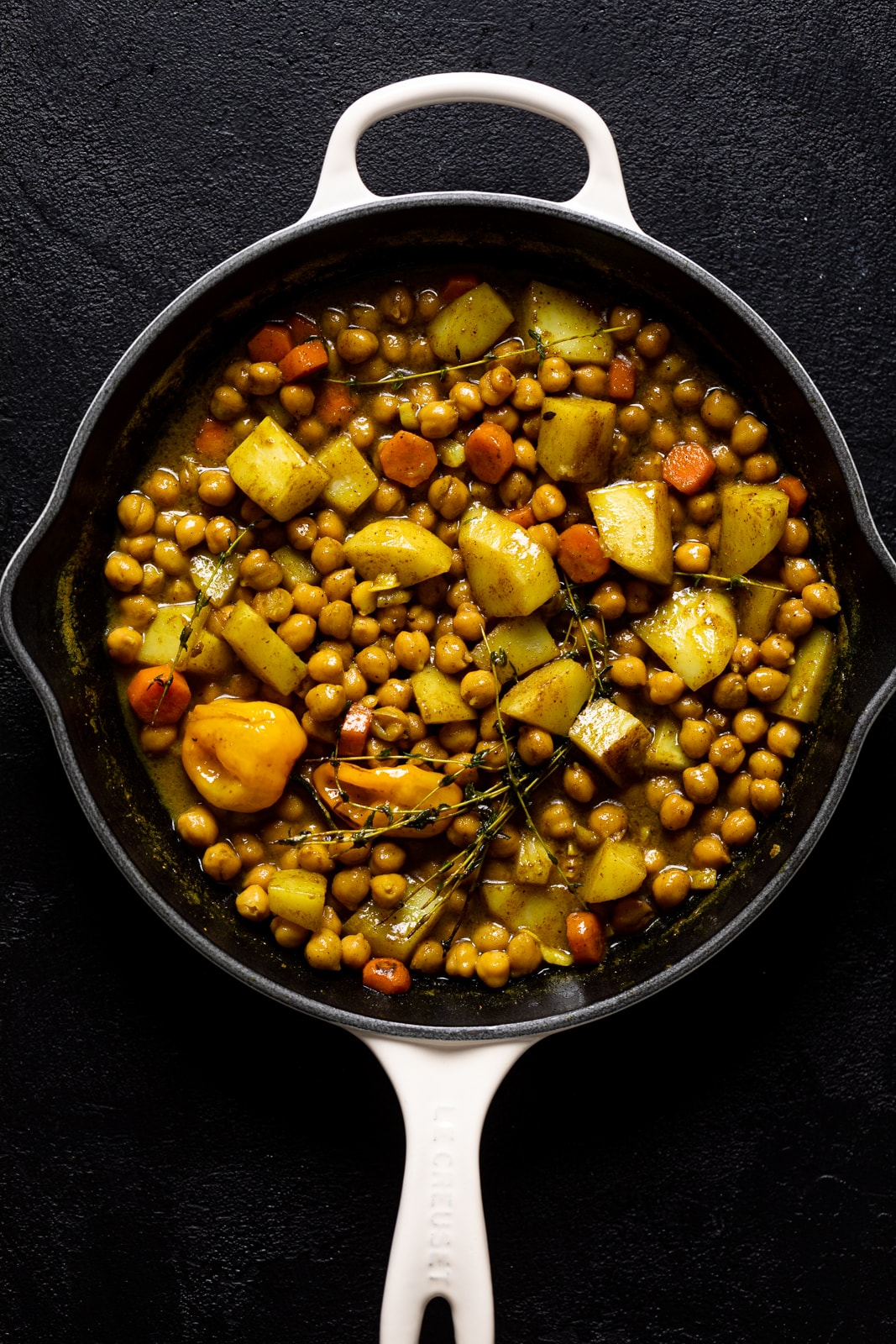 Does This Recipe Call for a Thickener?
While many curries are thickened for texture, it is not inherently necessary. My recipe is simmer for long enough to reduce slightly, but you may want a bit more thickness to the sauce.
All in all, it depends on how you like it! Thinner curries are great for dipping, so if you have roti or naan, you may opt for a thinner sauce. If you like a thick stew, you can add a thickening agent to the sauce. Use 1 tablespoon at a time mixed with 1 tablespoon of water to dilute. Then pour the mixture into the sauce, simmering for an additional few minutes to activate the thickener.
Some thickening agents you can use are:
Cornstarch (GF)
Arrowroot starch (GF)
Potato starch (GF)
All-purpose flour
Ingredients for Mashed Potatoes
First, gather the ingredients for your creamy vegan mashed potatoes. Here's what you need:
Potatoes. Use russet or Yukon gold potatoes for the best texture.
Butter. I recommend using softened vegan butter (at room temp.) so you can control the creaminess unless your potatoes are extremely hot.
Garlic powder.
Dried parsley. You could also use oregano, thyme, or basil if you prefer.
Almond milk. Feel free to use any plant-based milk for extra creaminess if needed.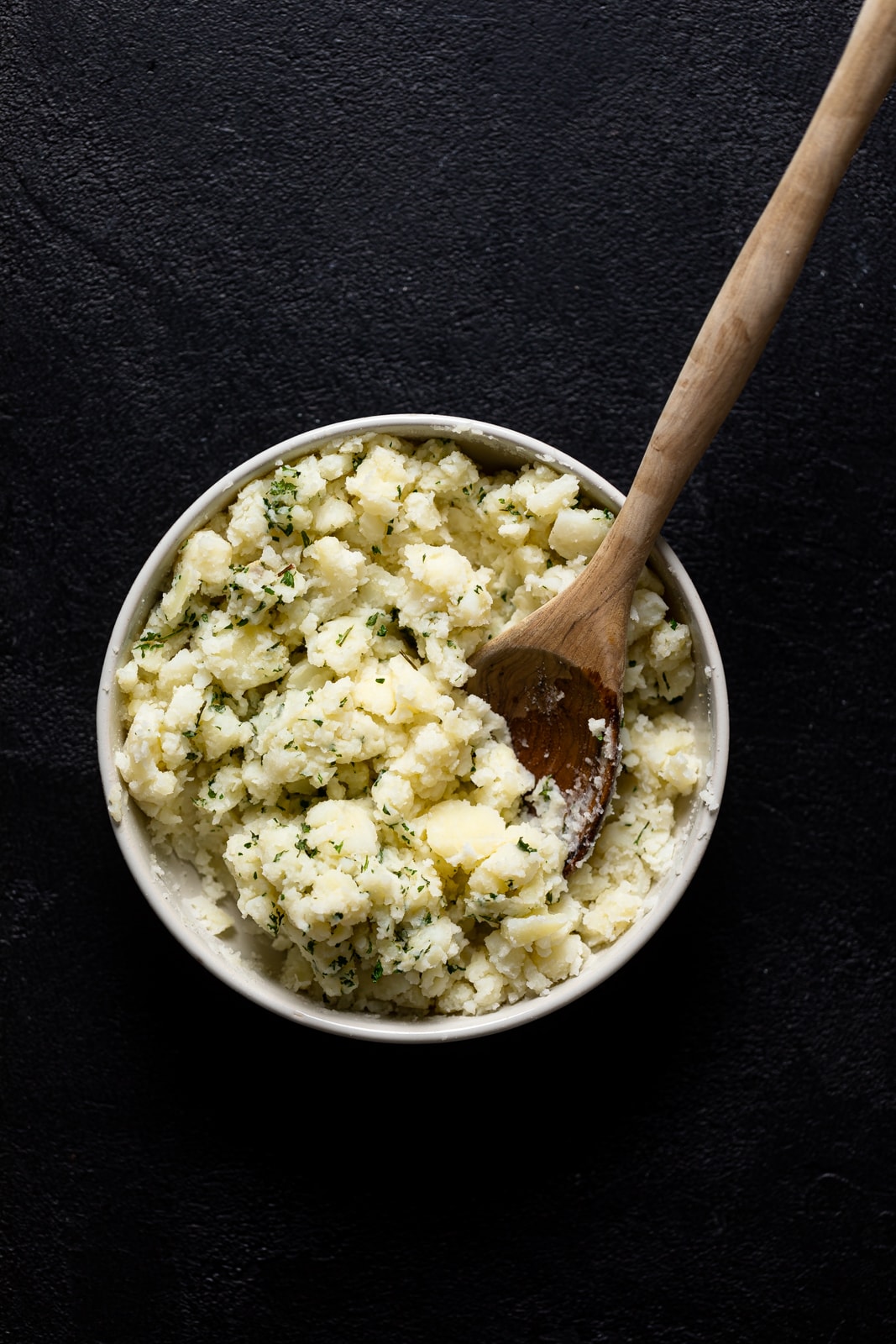 Vegan Curry Chickpea Mashed Potato Bowl--Can I Use Sweet Potatoes?
Absolutely use those potatoes in your curry. Two reasons why: it adds nice "body" or thickness to the sauce as they cook in with the chickpeas and sauce; two——it makes for a nice addition when eating the chickpeas with your mashed potatoes I'm always big on experimenting and so, I would definitely add sweet potatoes instead to change things up. No harm to me.
How to Make Herb Roasted Tomatoes
The key for this recipe is to start with great-quality tomatoes if you decide to add them in. Choose a mix of large and cherries, and several different colors if you can find them.
INGREDIENTS
Tomatoes. You can add as many tomatoes as will fit on your baking sheet.
Olive oil. Don't skimp on the oil! It helps concentrate the tomato flavor and makes a nice jammy texture. You can use these roasted tomatoes like a dressing or sauce.
Dried herbs. I like a mixture of Italian herbs like oregano, basil and parsley. But you can mix up the seasonings with other fresh or dried herbs. Thyme, rosemary, marjoram and tarragon are all delicious with tomatoes.
Spices. Likewise, feel free to play with different spices in your roasted tomatoes. I like paprika, garlic powder and a pinch of red pepper flakes for a slight kick.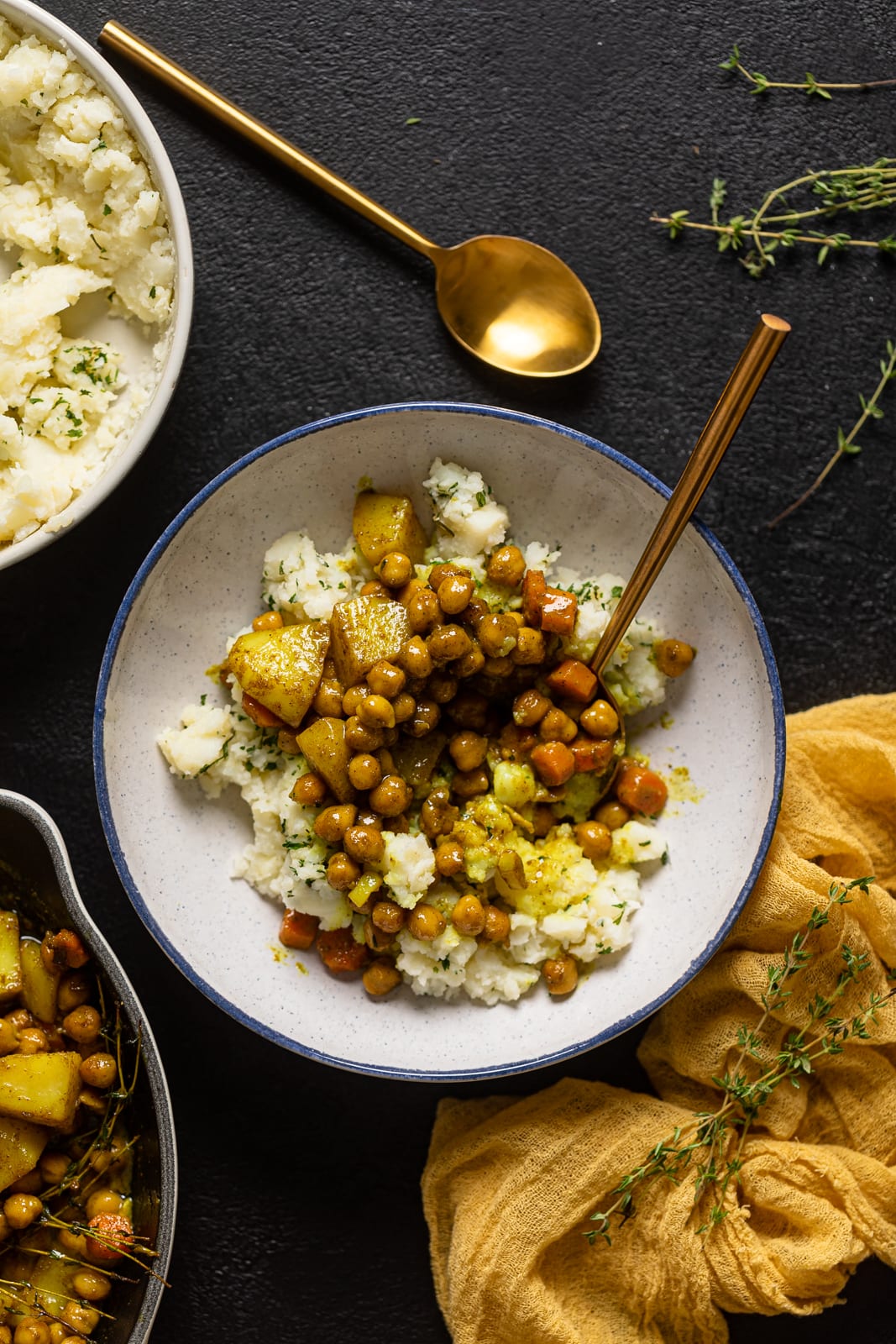 Why Chickpea? Any Health Benefits?
For those of you who aren't aware, another name for Chickpeas are Garbanzo Beans. Despite the most recent craze, chickpeas have been around for thousand of years and originate from the Middle East.
Chickpeas have such a great texture and nutty flavor, which allows them to successfully pair well with a lot of other ingredients, especially in vegan and/or vegetarian recipes.
When it comes to the health benefits of Chickpea, here a few awesome reasons why you should probably add this simple ingredient to your diet more often:
Packed with Nutrients + have a moderate amount of calories!
Rich in Plant-Based Proteins!
Support Blood Sugar Control.
Full of Fiber + might aide digestion.
May protect against Chronic Diseases (such as heart Disease, Cancer, Diabetes, etc.)
May Help keep your appetite under control (Think about how protein + fiber helps to slow down digestion, therefore keeping you full longer!).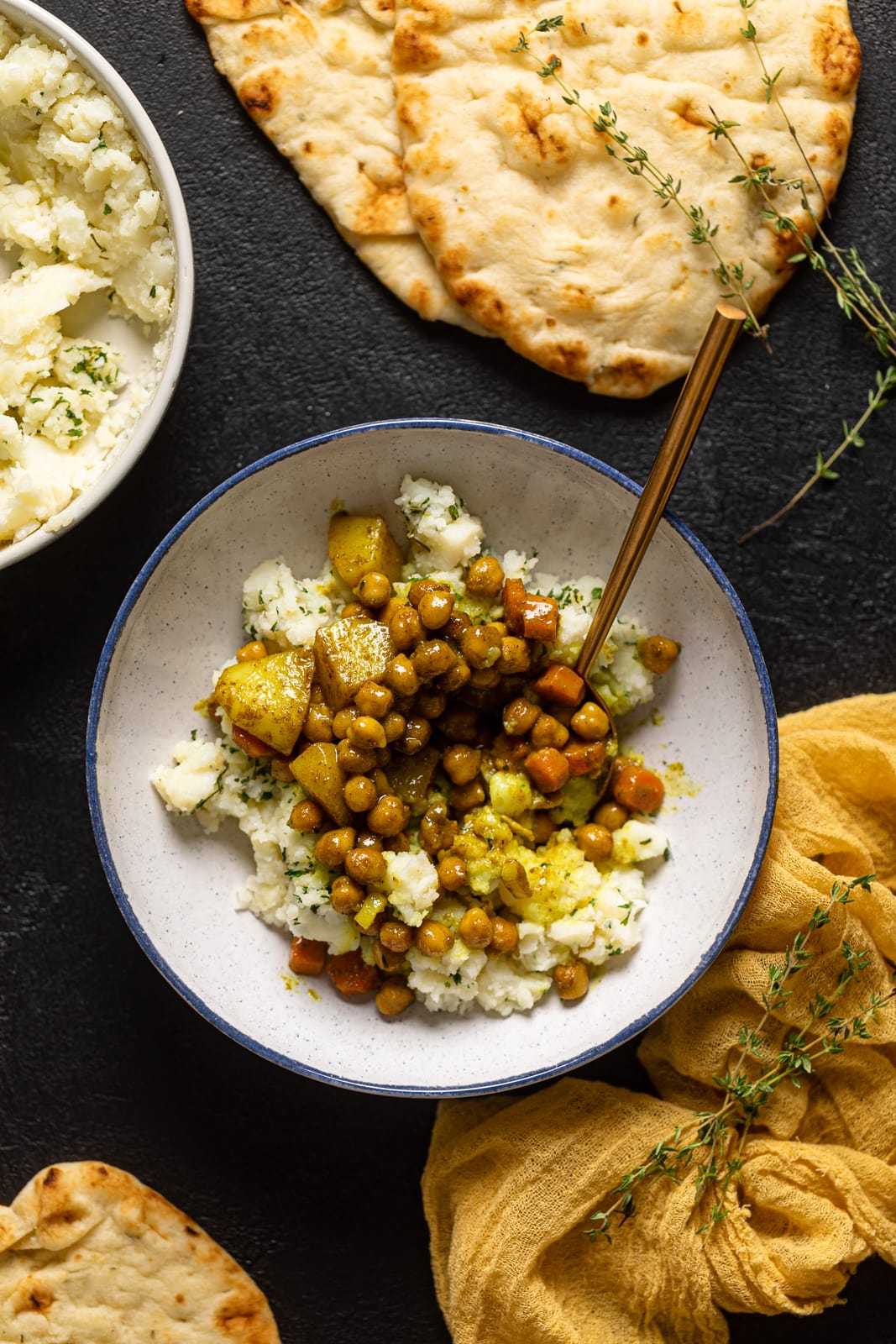 The Best Way to Cook Mashed Potatoes
You can either boil or roast your potatoes. If you already have the stove on, it's easy to toss them in and keep the stove clear for other dishes. To make them in the, bake your potatoes in the skin at 400°F for 25 to 30 minutes. The potatoes are done when you can easily insert a knife without any resistance. Then peel and mash the potatoes as directed.
You could even skip the stove and oven and cook your mashed potatoes in a slow cooker! To do this, peel and cube your potatoes. Cover them with water (or broth for extra flavor) and slow-cook on high for 3 to 4 hours or low for 6 to 7 hours. Then simply mash and follow the rest of the recipe as written.
Make-Ahead Vegan Curry Chickpea Mashed Potato Bowl
Get a head start on your cooking with this recipe. You can prepare the cooked potatoes and curry chickpeas ahead of time. Store the components in separate airtight containers in the fridge and assemble everything by reheating them when you're ready to eat.
Storage Suggestions
Any leftovers can be kept in a tightly sealed container and refrigerated for up to 3-4 days.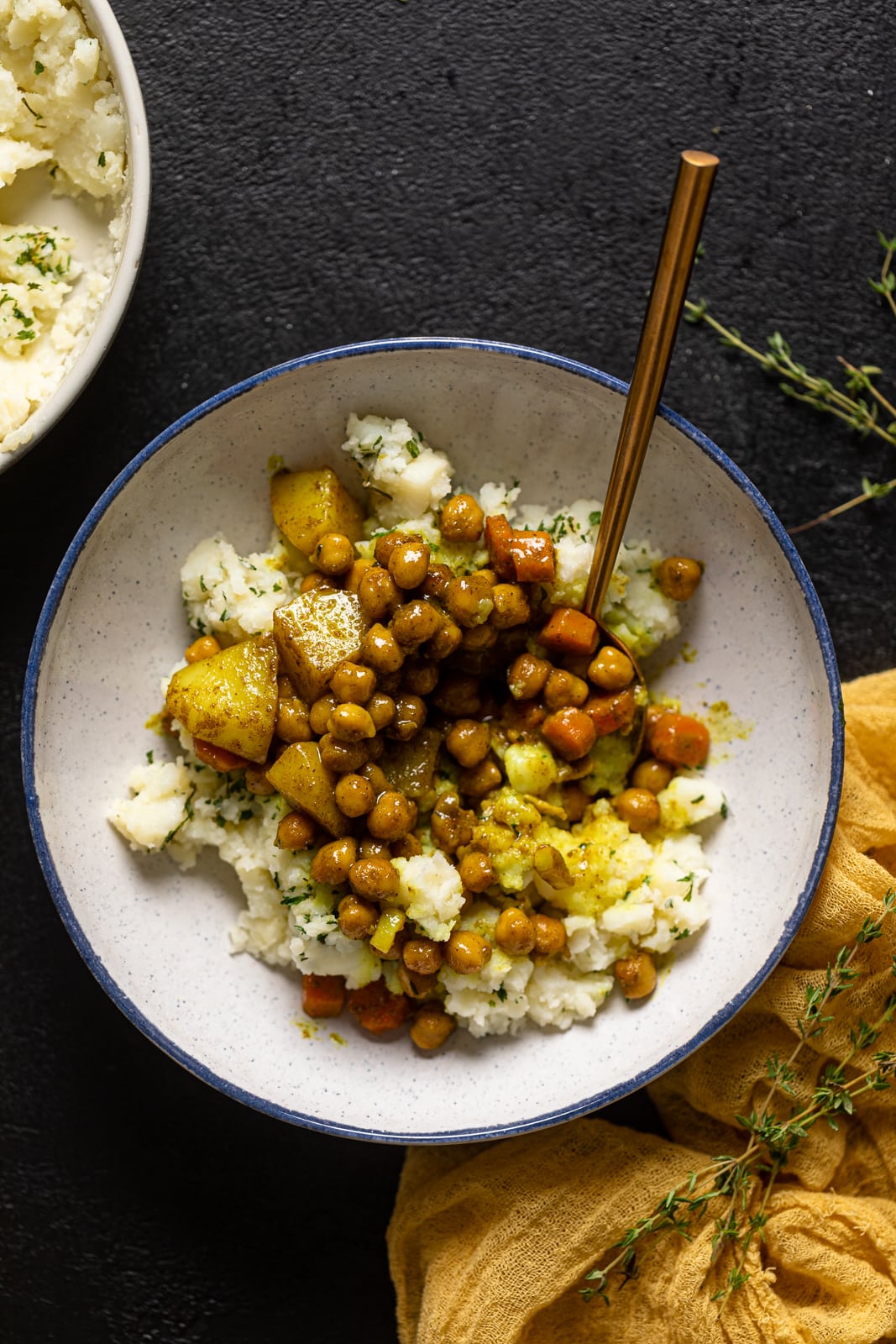 Other Recipes You'll Love
If you are a fan of my Vegan Curry Chickpea Mashed Potato Bowl, then you will love these recipes, too!
MADE OUR RECIPE(S)?
Made this Vegan Curry Chickpea Mashed Potato Bowl? Tag @orchidsnsweettea_ on Instagram and hashtag it #orchidsandsweettea!
MASHED POTATOES:
4

large

russet or Yukon potatoes, peeled + cubed

¼

cup

vegan butter

½

cup

dairy-free cheese shreds, optional

1

teaspoon

garlic powder

1

teaspoon

dried parsley

Pinch of

sea salt
CURRY CHICKPEAS:
1

(15 oz.) can

chickpeas, drained + rinsed

1

tablespoon

Grapeseed oil

(You can also use Olive oil)

3

garlic cloves, minced

½

red onion, chopped

½

bell pepper, chopped

(optional)

2

green onions stalks, crushed or chopped

1-2

fresh thyme sprigs

1

carrot, peeled + chopped

1

russet or Yukon potato, peeled + cubed

1

cup

grape tomatoes, halved

(Best if roasted; optional)

1

ounce

ginger root, peeled + minced

1-2

habanero peppers, whole

(optional)

1

(14 oz.) can

full-fat coconut cream or milk

3-4

Tbsps

vegetable stock, organic

2 ½

Tbsps

curry powder

1

tablespoon

vegan soy sauce

1

teaspoon

ground allspice

1

teaspoon

sea salt + black pepper
TO MAKE THE MASHED POTATOES:
Bring a large pot of water to a boil and add diced potatoes. Cook for about 30 minutes or so, until potatoes are soft + tender. NOTE: See Notes for Slow Cooker + No-Boil options.

Once fully cooked, drain potatoes and add them to a large bowl, mashing them with a stainless steel potato masher (or fork) until fully broken down. NOTE: I also find it easier to add potatoes to the bowl of an electric mixer, which does wonders!

Once mashed, add the vegan butter, garlic powder, parsley, and salt, stirring them together until potatoes become smooth and creamy. NOTE: I like to add 1-2 Tbsps of plant-based milk to help with the creaminess, if needed.
TO MAKE THE CURRY CHICKPEAS:
In large skillet (12-inch) over medium-high heat, add the Grapeseed oil until heated. Add the minced garlic, onions, and ginger, sautéing until fragrant and golden. Next, add in the chopped carrots, bell peppers (if using) and sauté a bit more. Add in the curry powder, allspice, salt, and black pepper, stirring until combined.

Pour in the coconut milk/cream, soy sauce, and veggie stock, stirring until combined. Let the mixture boil for a minute or so before adding the chickpeas, cubed potatoes and tomatoes (if using). Toss them in sauce, add in the thyme sprigs, green onions, and habanero peppers (slitting a hole in each with a knife), and reduce heat to simmer for about 15-20 minutes or until sauce thickens and the chickpeas + potatoes are cooked through and tender, stirring occasionally.

You can serve this curry chickpea + potatoes as is or substitute the mashed potatoes with your favorite sides: naan bread, cooked basmati rice, pita bread, etc.

Bon Appétit!
STORAGE: Any leftovers can be kept in a tightly sealed container and refrigerated for up to 3-4 days.
NO-BOIL MASHED POTATOES: To cook them alternatively without boiling---place potatoes on a baking sheet (lined with parchment paper) and lightly dress them with grapeseed oil. Bake in a 400 degree Fahrenheit oven for 25-30 minutes, until tender and knife goes through each potato smoothly. Once done, remove from oven and continue recipe.
SLOW COOKER MASHED POTATO OPTION: Just place the peeled + diced potatoes, veggie broth, and garlic powder (about 1 tsp; optional) into your slow cooker. Cook on high 3-4 hours or low 6-7 hours, stirring every hour or so or until tender. Then using a hand masher, mash potatoes until smooth and then stir in vegan butter and vegan mozzarella cheese.
POTATOES: For an extra kick, you can always substitute potatoes with baby red potatoes or sweet potatoes (sliced in rounds), etc.
COCONUT MILK FREE OPTION: If you'd prefer to make this curry recipe without coconut milk, you can substitute with Almond milk. NOTE: If you need the sauce to be a little thick, add 1 teaspoon of cornstarch, arrowroot starch, all-purpose flour, etc. if needed. Always mix thickeners with water to avoid lumps.
Calories:
560
kcal
|
Carbohydrates:
91
g
|
Protein:
12
g
|
Fat:
18
g
|
Saturated Fat:
4
g
|
Polyunsaturated Fat:
6
g
|
Monounsaturated Fat:
6
g
|
Trans Fat:
2
g
|
Sodium:
1144
mg
|
Potassium:
2100
mg
|
Fiber:
9
g
|
Sugar:
6
g
|
Vitamin A:
3488
IU
|
Vitamin C:
57
mg
|
Calcium:
113
mg
|
Iron:
6
mg
Vegan Curry Chickpea Mashed Potato Bowl.