This recipe is definitely something special to me. Growing up, I loved Oreos (who didn't, right?). I've shown my love for the cookies before with this recipe for Oreo Cheesecake Bites.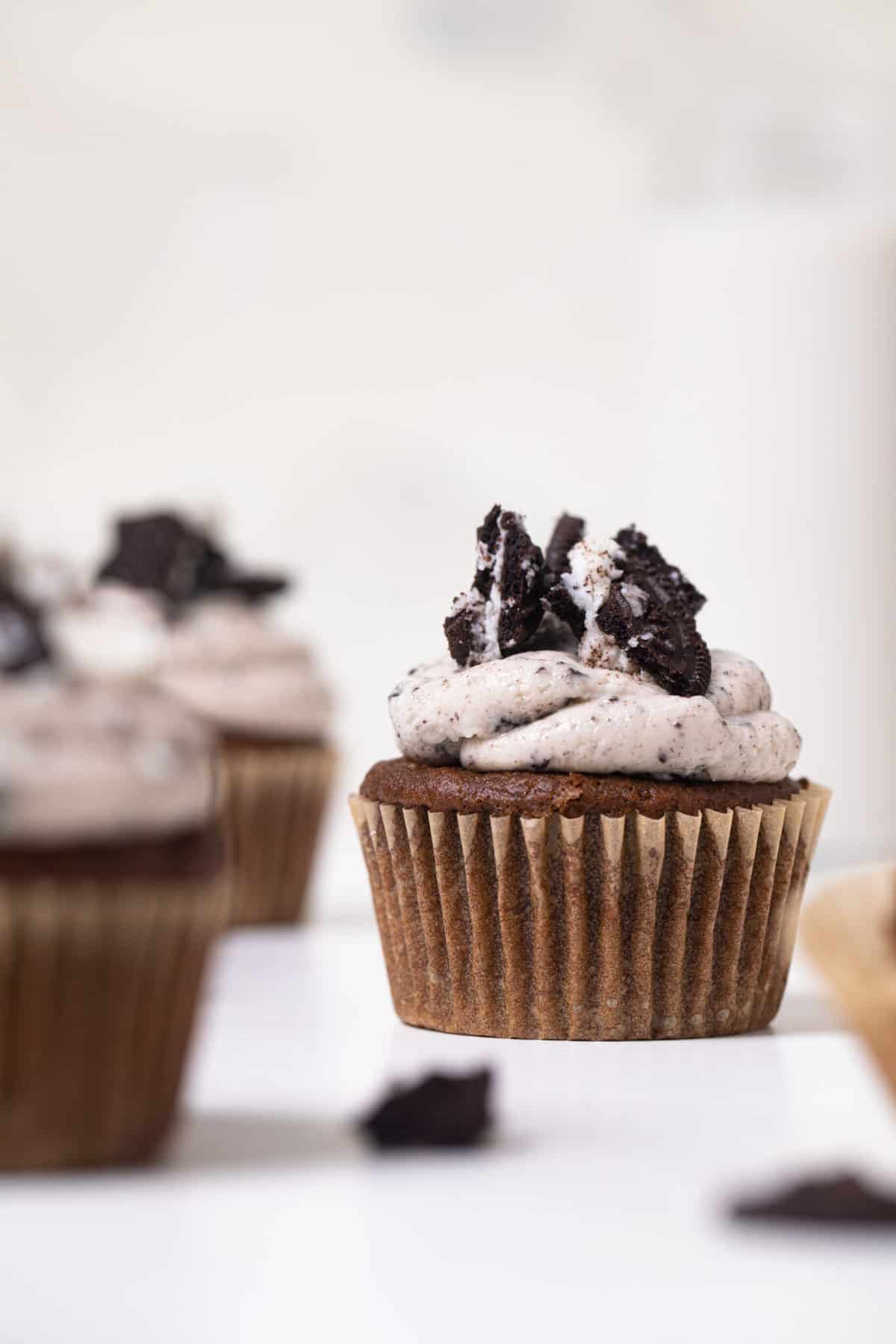 Now, I'm excited to share my new favorite way to eat more Oreos: moist vegan cupcakes topped with chocolaty oreo buttercream frosting!
Yes, you read that right. These cupcakes are completely dairy-free, egg-free, and can be made entirely organic. Even the homemade buttercream is made with vegan butter and plant-based milk. It has the same flight, fluffy and spreadable texture you expect from buttercream frosting, without any animal products. Plus, it's fast and easy to whip up.
If you love these cupcakes as much as I do, you may just have a new must-have birthday dessert.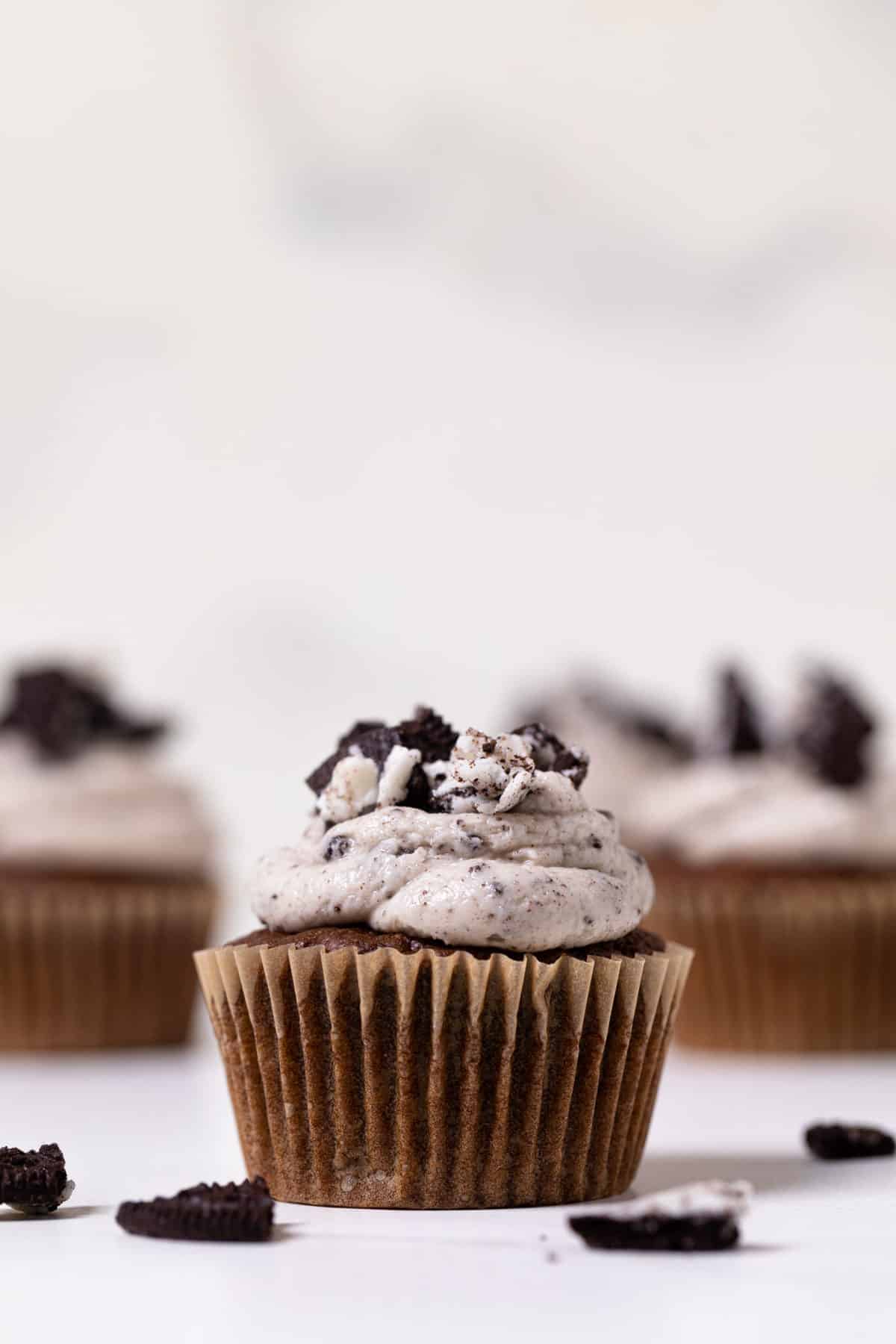 How To Make Vegan Oreo Cupcakes
To make this quick and easy vegan dessert recipe, you'll need a cupcake pan with liners and a mixing bowl. I make these using an electric mixer with a paddle attachment, but you can also get the job done by hand.
Ingredients
Start by assembling these plant-based ingredients to make healthier oreo cupcakes:
All-purpose flour. I recommend using organic flour t ensure it's vegan.
Cocoa powder. This ensures that every bite of your oreo cupcakes is full f rich chocolate flavor. I use this brand, which is full of antioxidants.
Cinnamon. I like just a dash of this warming spice to compliment the chocolate. If you're not a cinnamon fan, you can omit it with no changes to the recipe.
Baking powder and baking soda. These help the cupcakes rise and make their light, airy texture.
Cane sugar. Choose organic for the same reason! My list of the Best Healthy Sugar Alternatives + Substitutes is all about finding better ways to enjoy your favorite sweets without compromising your healthy lifestyle. For those who follow a vegetarian and/or vegan lifestyle, this lists offers a few great ideas to incorporate healthy sweeteners into your diet.
Almond milk. You can use any dairy-free milk that you have on hand.
Cider vinegar. This will turn the vegan milk into tangy buttermilk. It's a vegan baking hack that I love!
Vegetable oil. You can also use coconut oil or melted vegan butter if you like.
Vanilla extract. This brings out the natural richness of the chocolate too.
Oreo cookies. You'll only use the actual cookies, not the filling for the cupcake. Now, what could you do with all of that extra filling...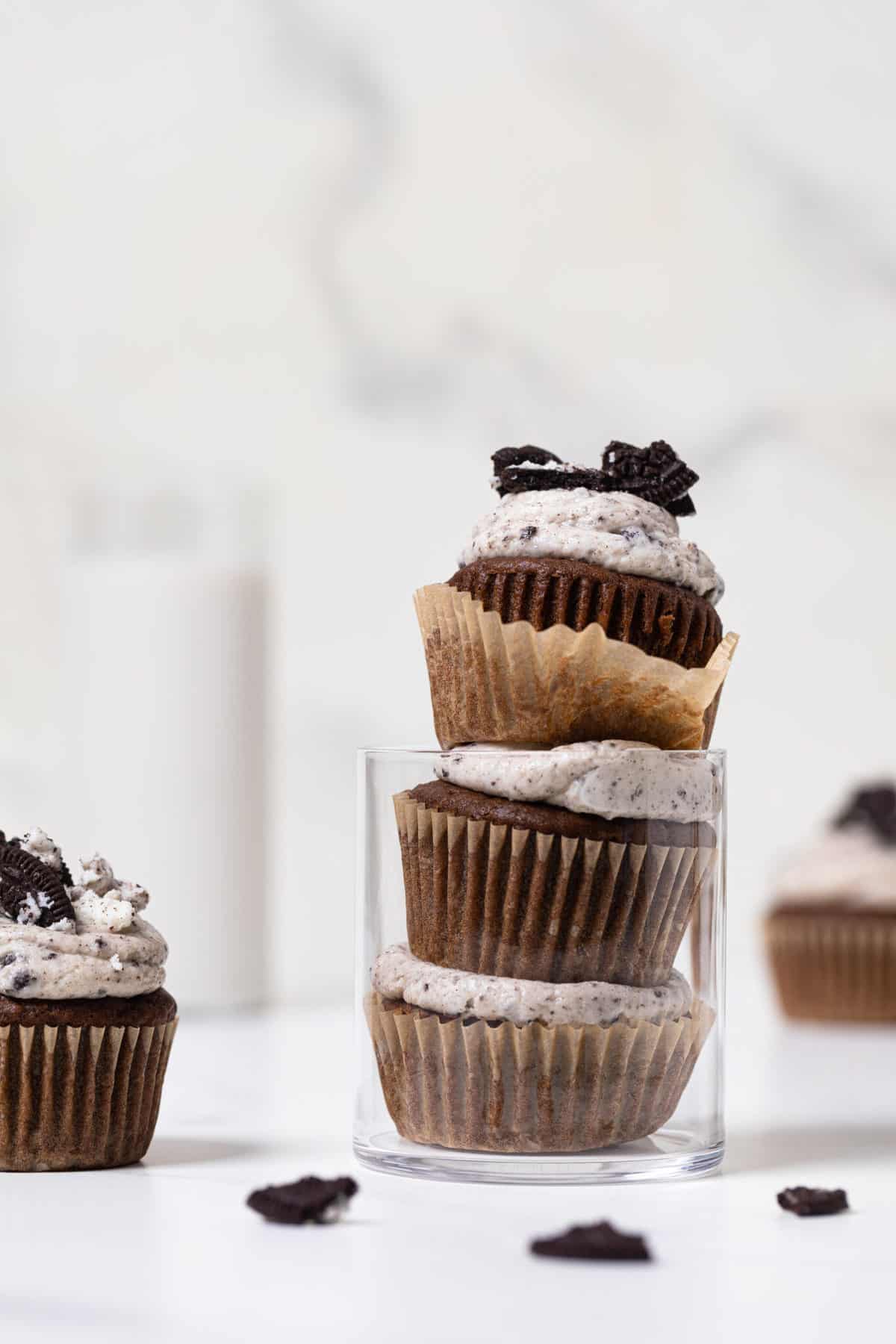 Easy Homemade Vegan Buttercream with Oreos
Are you ready to upgrade your buttercream frosting in a big way? This fluffy dairy-free cupcake frosting is full of Oreo flavor and crunch.
Ingredients
You only need five simple ingredients to make this decadent frosting for your vegan oreo cupcakes:
Powdered sugar. Also sometimes labeled confectioners sugar, this powder sweetener ensures that your frosting isn't grainy.
Vegan butter. Let the butter soften at room temperature before whipping up your frosting.
Vanilla. A must-have for warming vanilla flavors.
Almond milk. Again, feel free to use another plant-based milk.
Crushed Oreos. You want these to be very finely ground. You can do this in a food processor or by placing the Oreos in a Ziploc bag and smashing them with a heavy rolling pin or pan.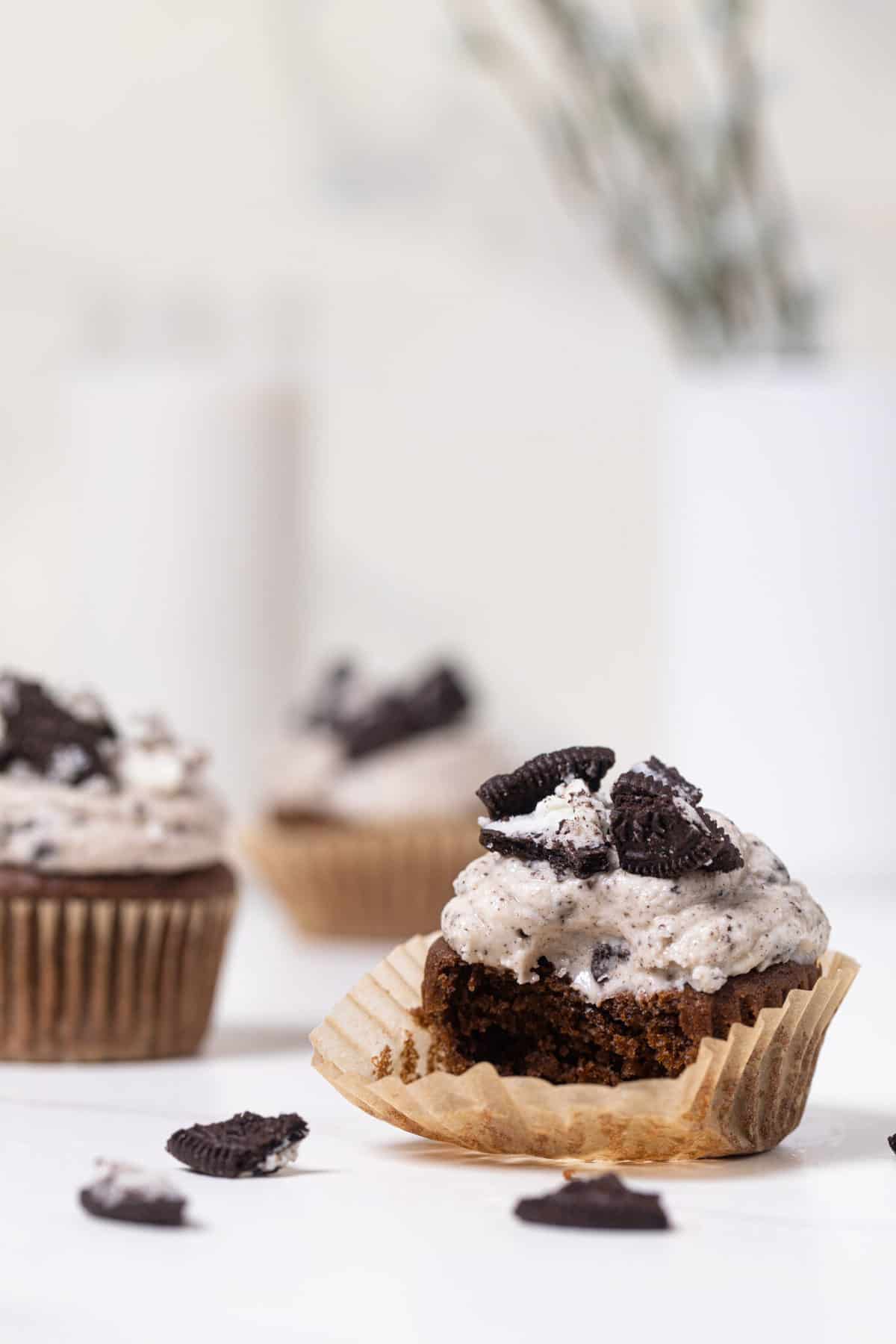 How to Decorate Oreo Cupcakes
Before you add the frosting to your oreo cupcakes, make sure they are fully cooled. Otherwise, you'll end up with a melty mess.
You can use a simple butterknife to cover your cupcakes in buttercream. Or, if you have one, use a piping bag for a little extra pizazz. I like to sprinkle crushed Oreos on top for extra crunch and because, well, there's never enough Oreos!
Make-Ahead Vegan Cupcakes
If you're planning ahead for a party, you can bake the cupcakes a day ahead of time. They'll cool overnight, then you can frost them before serving.
You can also make the buttercream frosting and store it for up to three days in the fridge. If it's very tight when you remove it from the fridge, let it sit for a few minutes on the counter until it's soft enough to decorate your cupcakes.
You can also store fully frosted cupcakes in an airtight container in the fridge for up to 4 days. For longer storage, keep them in the freezer (unfrosted) for up to 6 months.
More Chocolatey Dessert Recipes to Try
These No-Bake Vegan Superfood Chocolate Cheesecake Bites are something truly decadent for any occasion, but especially for the holidays. They are made with a delicious date-walnut-cacao combination crust, and layered with a cashew-chocolate base and covered with flavorful chocolate glaze with a strawberry on top. Naturally sweetened and completely Vegan, these cheesecake bites are such a treat for the entire family.
This Dairy-Free Chocolate Chip Cookie Milkshake recipe is completely decadent in flavor. It is the perfect Summer (or Year-round if you're the ultimate foodie) treat with a nice burst of chocolate chip flavor, creamy dairy-free base, and topped with a velvety coconut whip cream. Super easy and quick to make, with only a handful of ingredients.
These Mini Chocolate Brownie Bundt Cakes are the perfect sweet treat for Valentine's Day! They are incredibly moist, fluffy, and most certainly for the absolute chocolate lover. Packed and bursting with chocolate flavor, loaded with chocolate chips (for an extra dose of chocolate!), and fully covered with a delicious naturally flavored Rich Chocolate icing drizzle and cute heart sprinkles from Wilton, these mini cakes are truly delectable and a crowd-pleaser, indeed!
MADE OUR RECIPE(S)?
If you choose to make these Vegan Chocolate Cupcakes + Oreo Buttercream or any other recipe from us, be sure to tag us on Instagram at #Orchidsandsweettea so that we can share the love!
CHOCOLATE OREO CUPCAKES:
1 ½

cups

organic All-purpose flour

¼

cup

cocoa powder

½

teaspoon

ground cinnamon

1 ½

tsps

baking powder

½

teaspoon

baking soda

¼

teaspoon

sea salt

½

cup

organic cane sugar

½

cup

Almond milk + 1 Tbsp! 

(You can use your fave Plant-based Milk)

1

teaspoon

apple cider vinegar

2

Tbsps

vegetable oil

(See Notes!)

1

teaspoon

vanilla extract

⅓

cup

crushed Oreo cookies

(Only the outside cookie, not the filling!)
OREO BUTTERCREAM:
4-5

cups

 organic powered sugar

½

cup

vegan butter spread, softened at room temp.

1

teaspoon

vanilla extract

pinch of

sea salt

1-2

Tbsps

Almond milk

(You can use your fave Plant-based Milk)

⅓

cup

crushed Oreo cookies

(Make sure that they are finely ground)
FOR CHOCOLATE OREO CUPCAKES:
Preheat your oven to 400 degrees Fahrenheit and prep your cupcake pan with liners + spray.

In a measuring cup, add the Almond Milk and Apple Cider Vinegar, mixing until well combined and let it sit for 10 minutes.

In a large bowl, whisk together the flour, baking soda, baking powder, cocoa powder, cinnamon, and sea salt. Set aside.

In the bowl of an electric mixer (using a paddle attachment), add the Milk-ACV mixture, sugar, oil and vanilla, mixing for 1-2 minutes until mixture is light in color and well combined. Add in dry ingredients and continue mixing until smooth, about 2-3 minutes. DO NOT OVER-MIX!

Scoop the batter into each cupcake liner (¾ full) and bake at 400 degrees Fahrenheit for the FIRST 5 minutes. Then reduce temperature to 350 degrees Fahrenheit and continue baking for another 14-17 minutes or until a toothpick comes out clean in the center.

Once done, turn off oven and keep cupcakes inside with the oven door slightly open for about 2 minutes before taking them out.

Let them cool COMPLETELY before frosting.
FOR OREO BUTTERCREAM:
In a large bowl, add the unsalted butter together, beating it until smooth. Add in powdered sugar, beating them together until it looks 'peas-like'. Add in the vanilla, sea salt, + milk. Buttercream should be creamy, silky, and thick enough to scoop. Fold finely ground Oreos.

Add buttercream to a piping bag and pie onto cooled cupcakes. Sprinkle with additional crushed Oreos, if desired. 

Bon Appetit!
STORAGE: Best kept if stored in an air-tight container in the refrigerator for up to 7 days (unfrosted) and 3-4 days when frosted. Also, can be frozen for up to 6 months when unfrosted and thawed.
FLOUR: If you don't have cake flour, you can always just use all-purpose flour entirely instead. 
MAKE AHEAD:You can always bake these cupcakes the night or day before and let them cool, tightly wrap, and refrigerate until ready to use. The buttercream frosting can also be made prior and tightly wrapped and stored in the fridge as well. When ready to serve, let cake sit at room temperature for 30 minutes to an hour, frost, and enjoy!
PLANT-BASED BUTTERMILK:Add 1 cup of Almond milk (or your fave plant-based milk) + 1 tablespoon lemon juice (instead of ACV) and let sit for 10 minutes, until it slightly thickens.
OIL: Instead of vegetable oil, you can also use Coconut oil or melted vegan butter, if preferred.

OREO COOKIE: I simply separate grind the cookies in a food processor (whole) for about 30 seconds or so. You'll need approximately 1 row of Oreo cookies or so to achieve the bold taste, about 8-10 cookies. Add more for a bolder Oreo taste.

 
Calories:
379
kcal
|
Carbohydrates:
69
g
|
Protein:
2
g
|
Fat:
12
g
|
Saturated Fat:
2
g
|
Polyunsaturated Fat:
4
g
|
Monounsaturated Fat:
5
g
|
Trans Fat:
1
g
|
Sodium:
277
mg
|
Potassium:
44
mg
|
Fiber:
1
g
|
Sugar:
53
g
|
Vitamin A:
1
IU
|
Vitamin C:
0.003
mg
|
Calcium:
52
mg
|
Iron:
2
mg
Vegan Chocolate Oreo Cupcakes.