This Vegan Chickpea 'Tuna' Melt Sandwich is a healthy and hearty plant-based meal! Think vegans can't enjoy a tuna melt? Think again! Your heart will melt into a puddle of happiness at the thought of this Vegan ' Tuna' Melt that is 100% plant-based, creamy, cheesy, and PERFECTLY toasted. This sandwich has all the makings of a great meal (both lunch and dinner) because it's tasty, healthy, and will fill you and give you loads of energy. The best part? This is Kid-friendly, Dairy-free, and completely Plant-based +Vegan!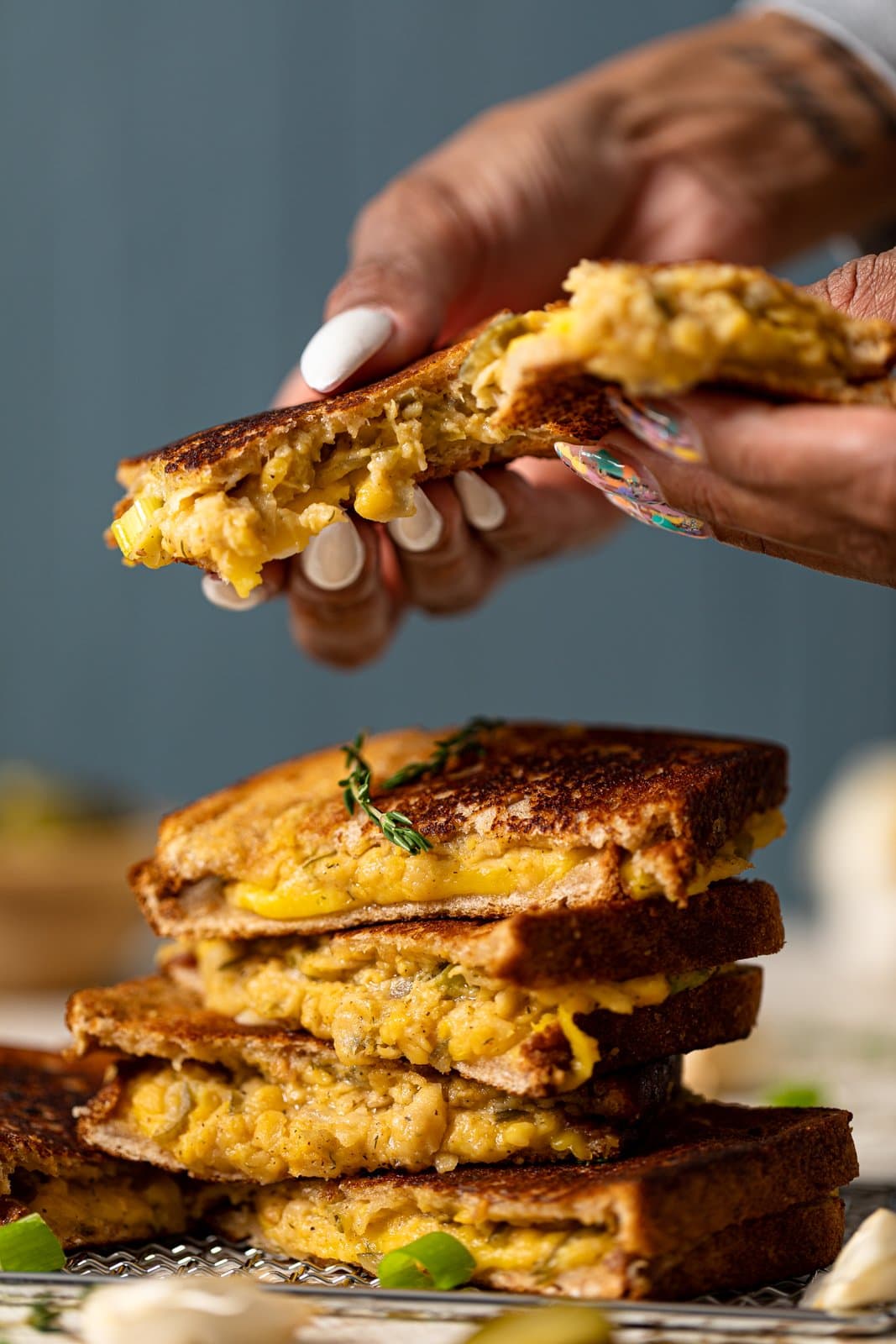 It's no secret that I love to make a plant-based and dairy-free spin on classic recipes to get everyone involved and enjoying themselves like my Vegan Nashville Hot Chicken Sandwich. And let's be honest --a tuna melt is a total classic. Crisp, pressed sandwich bread with melty cheese and light tuna salad: it just checks all of the boxes. But if you're not eating meat or want to try a plant-based version, this recipe is for you. Chickpeas make a delicious vegan substitute for tuna fish, and vegan cheese melts wonderfully to hold everything together. YUM.
Here are some of my favorite plant-based spins on classicly-not vegan-friendly recipes that are GAME CHANGERS -
Ultimate Vegan Mac + Cheese - When it comes to this recipe, it is by far more than a fork full of goodness! Super creamy, 'cheesy', and loaded with flavor, this 'Mac + Cheese" is made from organic shells, savory seasonings, nutritional yeast, and cashews soaked overnight (which makes the cream cheese base). A beautiful twist on a classic dish that it sure to be a staple in your household. Completely vegan. Gluten-Free + Nut-Free options.
Best Vegan Chickpea Meatball Subs  -This recipe is truly something special and is the perfect rendition of the traditional New York Marinara Sub. Loaded with savory, spicy, and sweet flavors, these 'meatball subs' made from only veggies are flavorful and tender; based with a brioche hot dog bun and topped with vegan meatballs, dairy-free cheese shreds, and roasted herb tomatoes. Gluten-Free option.
The Best Vegan Chocolate Cake -  Who doesn't love chocolate cake? Especially when it's totally mouthwatering with ultra-rich chocolate. This recipe is Dairy-free, Egg-free, and has a Gluten-free option- Trust me, even 'non-vegans' are totally fooled, licking their fingers and asking for seconds after they taste this vegan cake!
Crispy Buffalo Cauliflower Wings - If you love buffalo wings and want a lighter version for game day or any season, you will love my tender florets of cauliflower are coated in a breadcrumb-cornflakes coating before being baked until crispy. The best part is the homemade tangy buffalo/BBQ glaze that caramelizes in the oven before serving with ranch dressing! Vegan + Gluten-Free options available!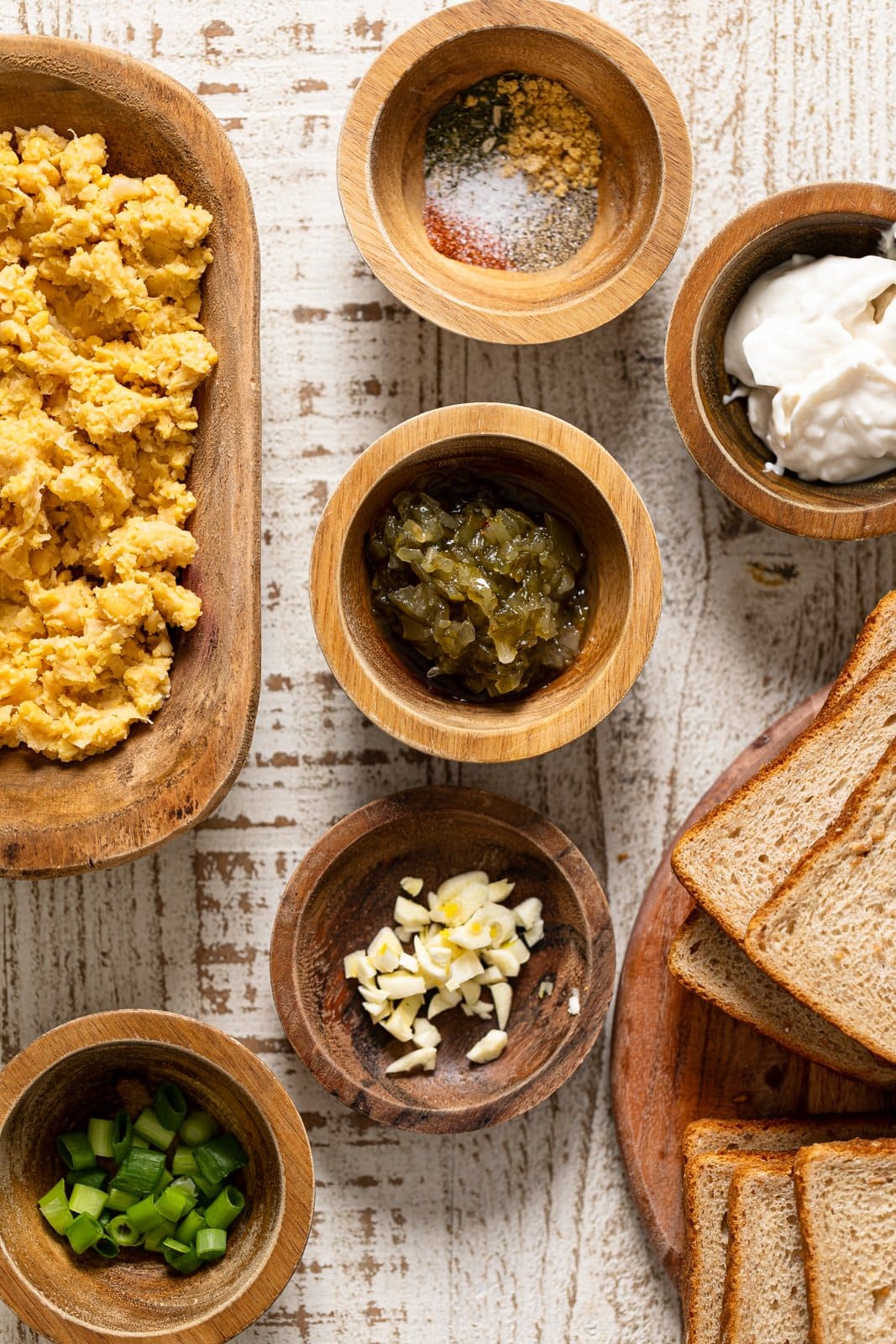 Ingredients for Vegan "Tuna" Salad
Here's what you need for vegan tuna salad made with chickpeas:
Chickpeas. You can use canned or cooked chickpeas.
Mayo. Use your favorite vegan mayo
Seasonings. I like to season my chickpea tuna salad with smoked paprika, dill, garlic powder, and yellow mustard powder.
Green onions. These add a nice refreshing bite to your tuna.
Relish. You can also use minced dill pickles for the classic tuna salad flavor.
Bread. I love using Dave's Killer Done Right White Bread.
Vegan cheese. Use your favorite dairy-free cheese. I like a sliced version, as it's easier to use in a sandwich.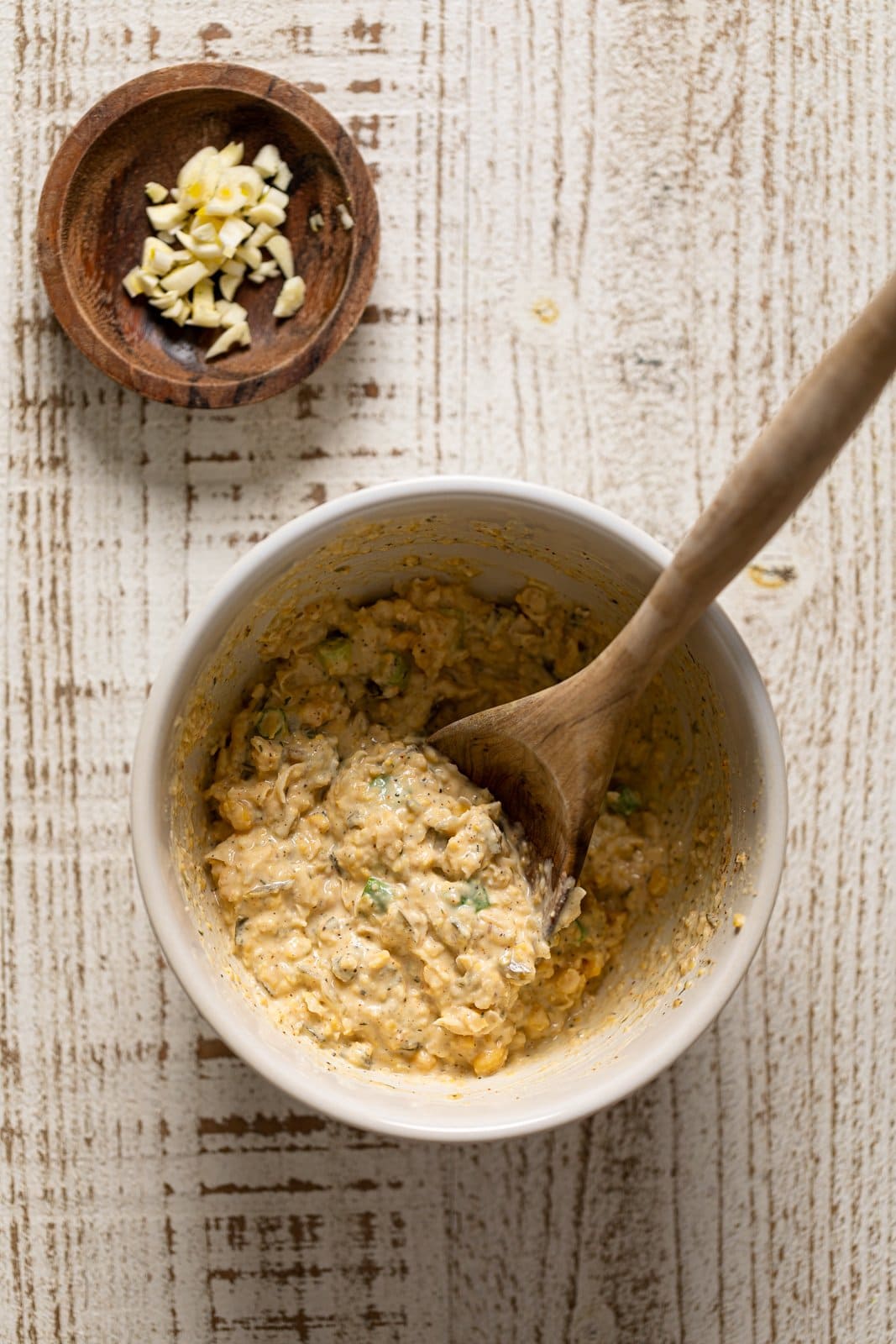 Tips for Making Chickpea Salad Melts
You can make these sandwiches on the stove like a regular grilled cheese or in the oven.
Using the oven is a great option if you're making sandwiches for a crowd. You can arrange them all on a baking sheet and let them crisp up and melt so they're done at the same time and no one has to stand over the stove.
If you're using the stove, use medium-low to low heat. Vegan cheese can take a bit longer to melt than regular cheese, so you don't want to burn the bread while you wait for the cheese to melt.
Why You Will LOVE This Vegan 'Tuna' Melt!
Creamy & gooey in all the right places
The PERFECT comfort food
A dreamy combo of chickpea and cheesy goodness
Plant-based + Vegan
Dairy-free!!!!
Crunchy perfectly golden toasted bread (Need I say more?)
An ideal easy-to-throw-together meal
Kid-friendly
It's totally delicious and yummy all by itself but also pairs beautifully alongside a soup like my Creamy Roasted Garlic Cauliflower Chickpea Soup or my Vegan Cheesy Carrot Soup for a protein-packed meal!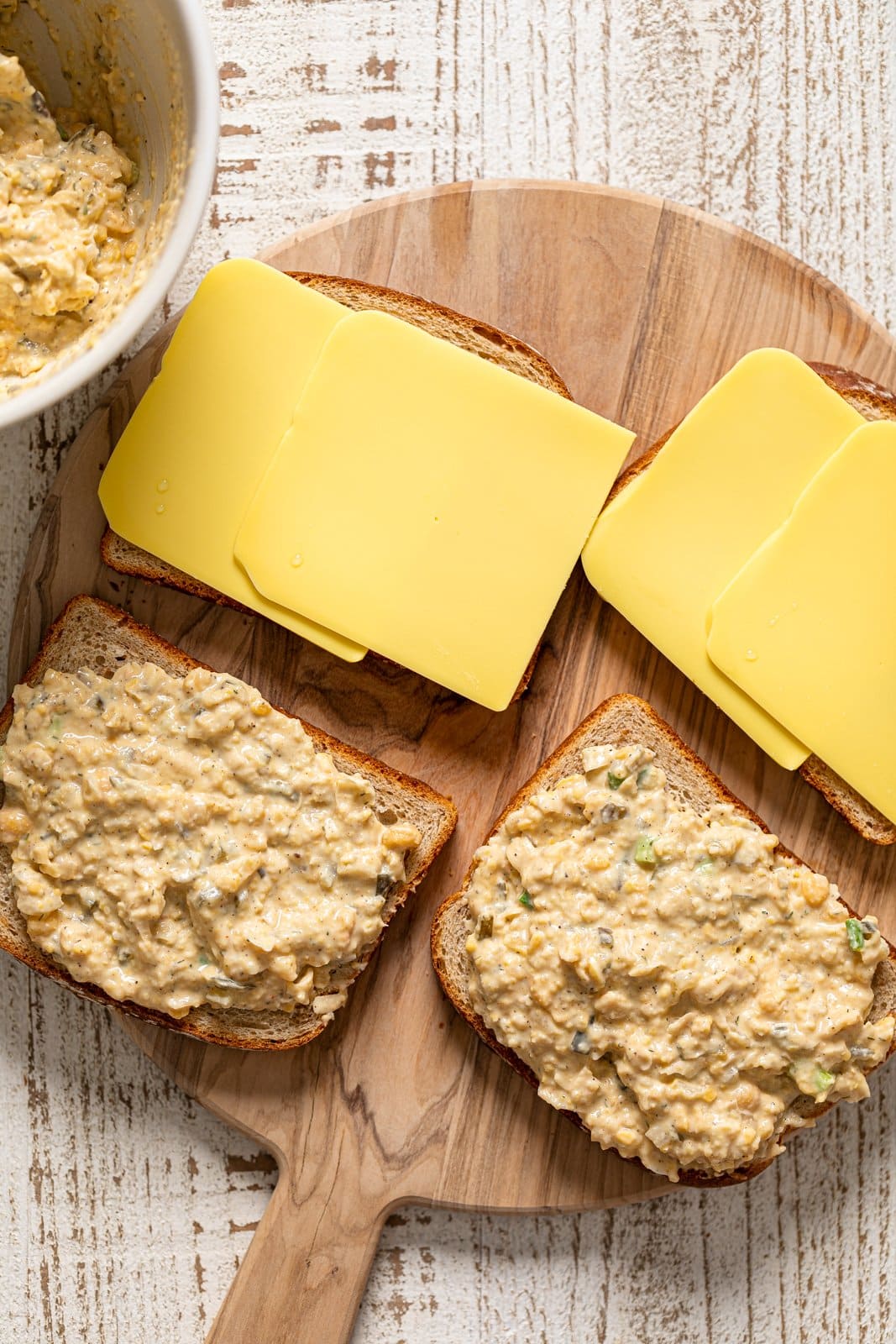 Make-Ahead Vegan Tuna Salad
You can make the vegan chickpea salad ahead of time. Store it in an airtight container in the fridge for up to four days. I don't recommend assembling the sandwiches until you're ready to cook and eat them, as they'll get soggy.
If you like, you can also serve the chickpea salad on a salad for a lower-carb option.
Benefits Of The Humble Chickpea
In case you didn't know, we sort of LOVE chickpea recipes around here at Orchards + Sweet Tea. Seriously. They're my favorite, and not just because they're delicious. Chickpeas are so healthy and nutrient-dense!
They're a fantastic source of protein for those who follow a plant-based diet and are packed with fiber, healthy carbohydrates, phosphorus, manganese, and iron. Plus they are known for enhancing digestion and blood sugar levels, chickpeas' combination of carbohydrates and protein helps to keep you feeling satiated.
Basically what I'm trying to say is…this Vegan 'Tuna' Melt Sandwich is delicious and nutritious!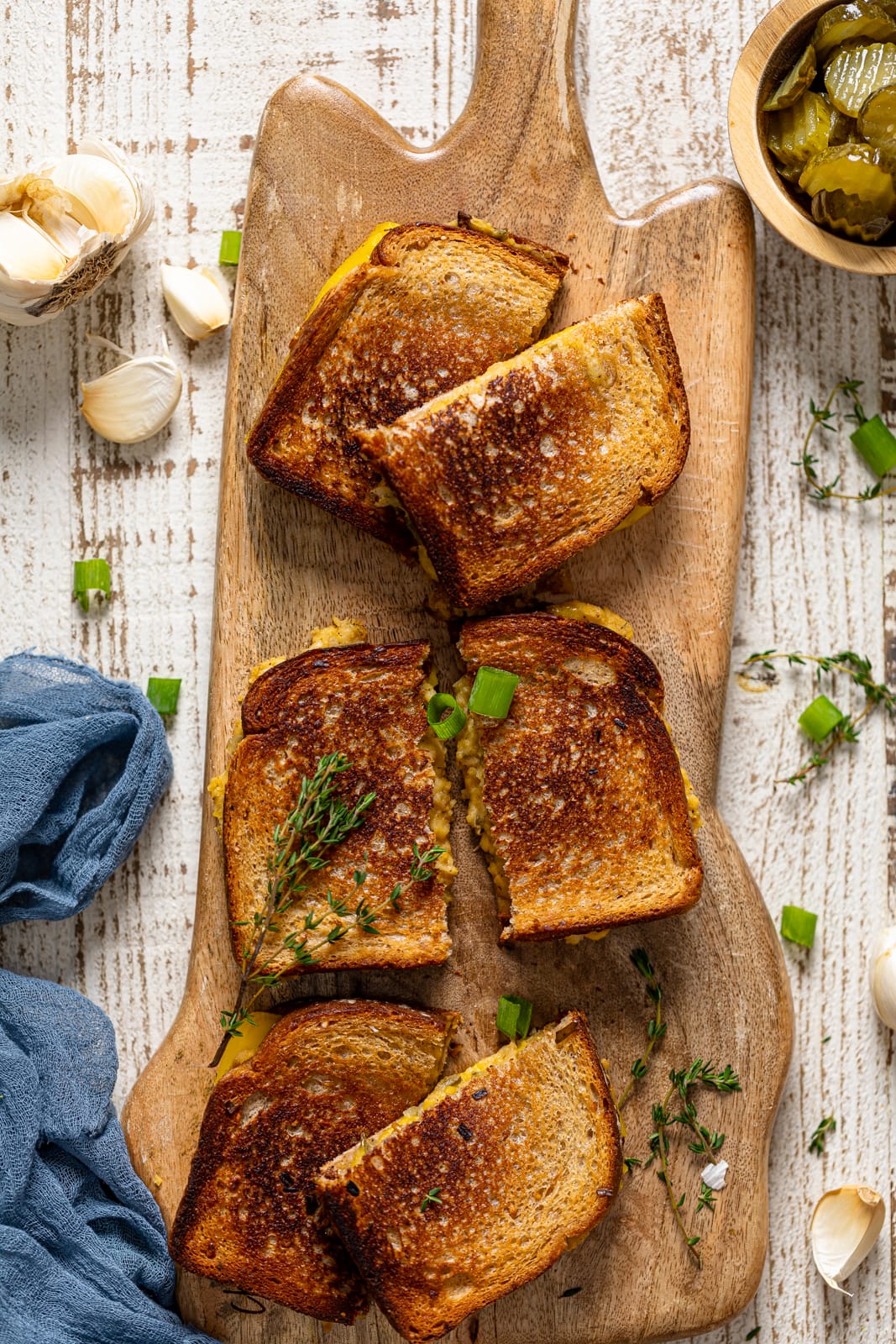 'TUNA' MELT TIPS
Try to keep the edges of the sandwiches neat as you assemble them. It will burn and make a mess in the pan AND on the outside of your sandwiches if cheese and tuna salad are spilling out all over the place.
Use low to medium heat at first. The bread will brown before the filling is warm and melty if the skillet is too hot.
If the tuna salad was made ahead of time and is now cold from being in the fridge, warm it up for a few minutes before putting the sandwiches together. This helps the cheese melt as well.
The more cheese the merrier. No judgments here.
Take your time and let that bread get perfectly GOLDEN.
To make an open-faced tuna melt, heat up the broiler in the oven. Use a pan that can go in the oven and heat it up on the stove. Put the sandwich or sandwiches in the pan, and then put the pan in the oven. Cook until the cheese melts under the broiler.
How To Store + Meal Prep
Refrigerator - Leftovers of the "tuna salad' can be stored in the refrigerator for up to 5 days, in a sealed container. Stir well before using!
Meal prep- For meal prep, make the 'tuna salad' as directed and store it in the refrigerator ready to pop into your sandwich in a pinch!
Other Ways To Use Your 'Tuna Salad'
This 'vegan tuna salad' is super versatile and doesn't have to live on bread all the time, it can be served as is or used as a delicious filler.
Salad- Serve alongside some leafy greens as a 'fishy' tuna salad.
Wraps-  It's amazing for making wraps with your fav fillings or made into lettuce cups!
Sandwiches- DUH. Okay, we have already went through this but feel free to add some other goodies to your tuna melt. It's perfect as a sandwich filler after all.
Crackers- Get scooping with your favorite crackers.
Veggie sticks- This 'tuna' salad is so good with fresh veggie sticks!
More Chickpea Recipes To Try
Now that I've persuaded you to eat chickpeas more regularly, here are some tasty chickpea recipes for you to try!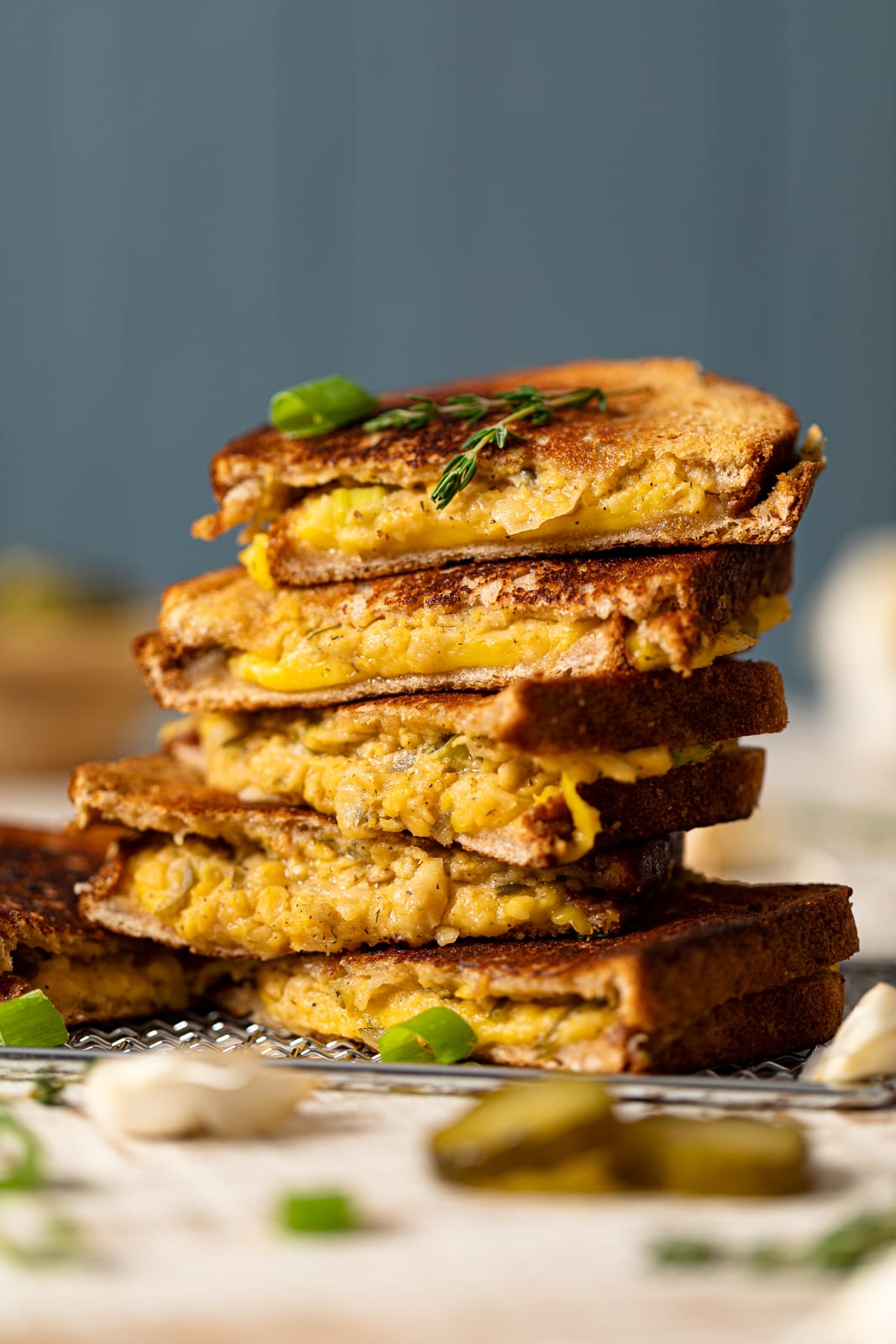 MADE OUR RECIPE(S)?
If you make these Vegan Chickpea Tuna Melt Sandwiches, be sure to tag me on Instagram @orchidsandsweettea!
1

(15 oz.) can

chickpeas, drained + rinsed

2

Tbsps

vegan mayo

1

teaspoon

smoked paprika

1

teaspoon

dill weed

½

teaspoon

garlic powder

½

teaspoon

sea salt

½

teaspoon

black pepper

½

teaspoon

yellow mustard powder

4

Tbsps

vegan butter, for cooking

2

garlic cloves, minced (for cooking)

2

Tbsps

chopped green onions

2

Tbsps

sweet relish or minced dill pickles

8

slices

bread

(I love using Dave's Killer Done Right White Bread)

8

slices

vegan Cheddar cheese

(I love Violife's cheese slice line)
Preheat the oven to 400 degrees Fahrenheit and line a baking sheet with parchment paper.
TO MAKE THE "TUNA" FILLING:
In a bowl, add the chickpeas and mash until completely broken down and looks "paste-like". Add in the vegan mayo, salt, black pepper, garlic powder, dill, yellow mustard, chopped green onions, and relish, mixing until combined.
ASSEMBLY:
On one side of 4 slices of bread, add a few spoonfuls of "tuna" mixture, spreading evenly until covered. On the other half of each sandwich (atop remaining 4 slices), add 2 slices of cheese. Place together one side of bread that has cheese with the other side that has the "tuna" mixture, pressing them gently together to make a sandwich. Repeat until all sandwiches were made.

In a large skillet (12-inch) over medium-high heat, add 1 tablespoon of butter followed by minced garlic. Let garlic sauté a bit before removing it from the pan and adding two sandwiches (one side down), cooking until golden brown, about 3-4 minutes. Flip sandwich unto opposite side and cook from another 3-4 minutes.
BAKE IN THE OVEN:
Add each cooked sandwich unto the prepared baking sheet and once all have been assembled, at the oven to bake for 30 minutes or until fully crispy and everything is cooked through.

Remove sandwiches from pan and repeat steps for remaining sandwiches.

Once done, plate the sandwiches and enjoy.

Bon Appetit!
VEGETARIAN: If you don't mind this including dairy, feel free to substitute with your favorite cheese slice as well as unsalted butter.
Calories:
445
kcal
|
Carbohydrates:
41
g
|
Protein:
8
g
|
Fat:
27
g
|
Saturated Fat:
6
g
|
Polyunsaturated Fat:
4
g
|
Monounsaturated Fat:
6
g
|
Trans Fat:
2
g
|
Sodium:
1149
mg
|
Potassium:
120
mg
|
Fiber:
4
g
|
Sugar:
6
g
|
Vitamin A:
372
IU
|
Vitamin C:
1
mg
|
Calcium:
108
mg
|
Iron:
3
mg