Valentine's Day Breakfast Sweets is a great way to make this day a special one for your loved one(s). Whether you're an absolute chocolate lover or a little more health-conscious, these featured recipes happily fulfill your tastebuds on both ends of the spectrum. One thing's for sure—your loved one(s ) will definitely start their day with a smile. These fluffy Red Velvet waffles (filled with bacon pieces by the way!) are a nice kick of bold flavor, paired beautifully with a light cream cheese glaze, which completes a nice 'home run' for this dish. On the other hand, this vegan "Love Smoothie" is full of fruitful love and loaded with beets and berry flavor, leaving you feeling energized and completely nourished, all at the same time.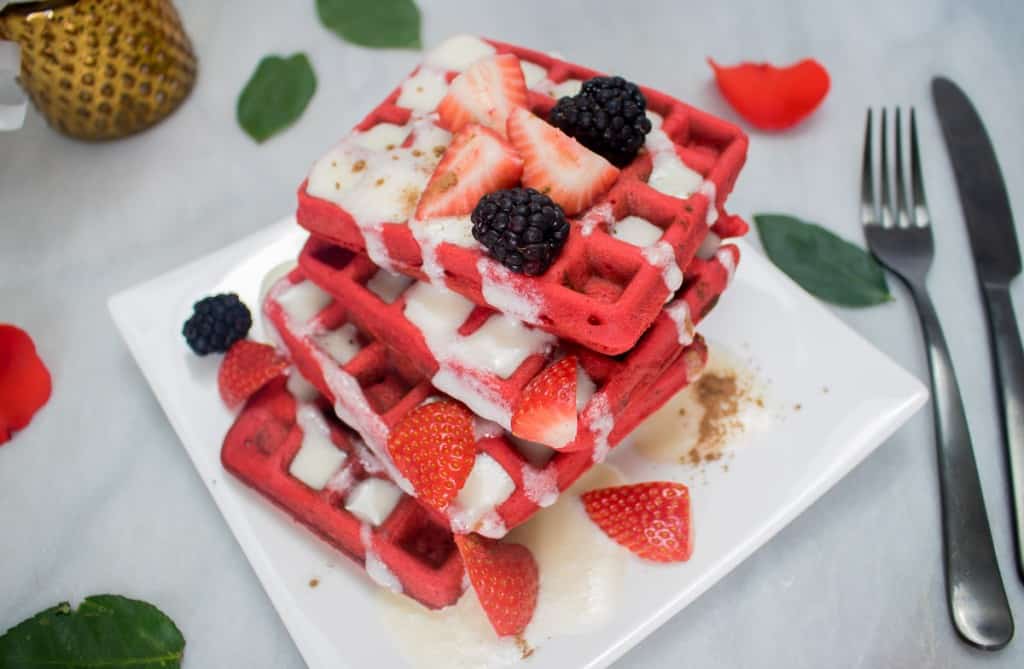 With Valentine's Day on the horizon, I've been thinking about great ways to make this Day of Love even more lovely. As you know, food is that universal thing that brings everyone together! So….why not whip together something nice for your loved one(s), which makes it that much more extra special, right? Of course, if you aren't that fancy in the kitchen, take-out or going to a restaurant works too! Haha. No judgments here, Ya'll.
Usually, around this time, Red Velvet is a staple in the food world. While, I originally did not want to go down the route of Red Velvet (for that reason alone), I chose to make these Red Velvet waffles, BUT with a twist! A BACON TWIST! Instead of eating a side of bacon (per usual), I chose to infuse my Red Velvet waffles with bacon pieces so that each bite creates a nice salty-sweet balance. Boy, was it AMAZING! Plus, the cream cheese glaze atop the waffles was way better than your standard syrup. It's definitely a WIN, WIN situation! Personally, I love to garnish with fresh berries, so I did just that and it came together VERY very well. However, this is optional and you don't have to follow in my footsteps if you're not a fan of berries on your waffles. This is one that you must try for yourself, so that you can be the judge of how good it is on a scale of 1-10.
Other great breakfast ideas before you leave:
On the other hand, I chose to make a LOVE SMOOTHIE BOWL, which was a nice play on healthy fruits and veggies and a slight sweet touch of "indulging your sweet tooth" from the chocolate covered strawberries atop. The great thing—this smoothie bowl is entirely vegan and was made from beets, strawberries, raspberries, blackberries, cranberries, coconut milk, and topped with kiwi, pomegranate seeds, and a light cranberry-nuts/seeds mix. Very lovely. To add a bit of sweetness to everything (since the beets have a strong taste), I added 1-2 Tbsps of maple syrup. That certainly did the trick without taking away from the refreshing taste and other healthy options.
LOVE SMOOTHIE BOWL Ingredients:
1 cup beets (raw or steamed works!), 1 cup strawberries, 1/2 cup cranberries, 1/2 cup raspberries and blackberries (mixed), 4 ice cubes, 1 cup vanilla coconut milk, 1 tsp ground ginger, and 1-2 Tbsps organic maple syrup.
Toppings (optional): 1/4 cup pomegranate seeds, 1 kiwi (sliced), 3 chocolate covered strawberries (vegan approved chocolate of course!), 1/4 cup cranberries/nuts mix, 2 Tbsps blackberries.
Directions:
Place all ingredients together in a high-speed blender and blend on medium speed until thick and smooth.
Pour smoothie into a bowl and sprinkle with desired toppings. Wallah!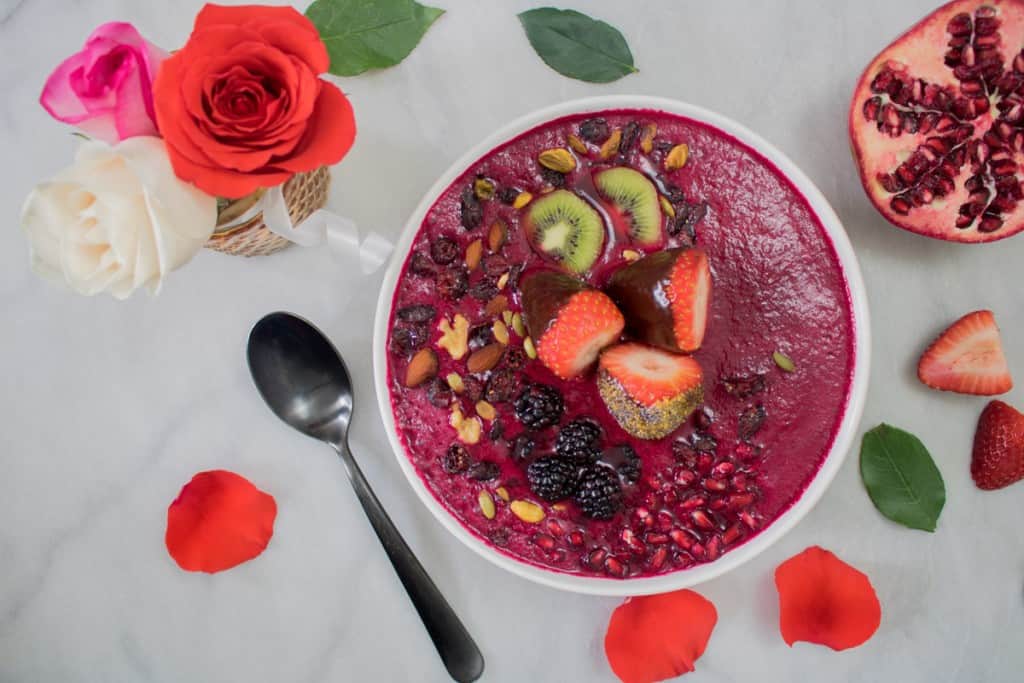 Looking for something savory for dinner on the 'Day of Love'?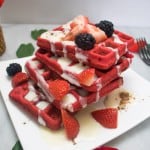 Bacon Red Velvet Waffles w/ Cream Cheese Glaze
These fluffy Red Velvet pancakes (filled with bacon pieces by the way!) are a nice kick of bold flavor, paired beautifully with a light cream cheese glaze, which completes a nice 'home run' for this dish.
Must-Haves:
Red Velvet Waffles:
2

cups

all-purpose flour

1/4

cup

pure cane sugar

1

Tbsp

baking powder; plus 1 tsp

1

Tbsp

cocoa powder

1/2

tsp

sea salt

1 3/4

cups

buttermilk

(See Notes for Substitute)

1/3

cup

unsalted butter, melted + cooled

2

large

eggs

2

tsps

vanilla extract

1/2

tsp

apple cider vinegar

2

Tbsps

red food coloring

(I used McCormick's)

5-6

strips of

bacon; cooked + chopped in medium chunks
Cream Cheese Glaze:
4

oz

cream cheese

(softened at room temp)

4

Tbsps

unsalted butter

(softened at room temp)

2

cups

powdered sugar

1

tsp

vanilla extract

1/2

cup

coconut milk

(I used So Delicious Vanilla Coconut Milk)
Instructions:
Cream Cheese Glaze:
In an electric mixer, whip together the cream cheese and butter until smooth. Then carefully add in the powdered sugar (while mixer is on low speed to avoid a mess!) and add the vanilla extract and coconut milk. Whisk everything together (gradually increasing the speed) until the glaze is smooth (adding more powdered sugar as needed to ensure consistency is as desired). Set aside int he refrigerator until ready to use.
Red Velvet Waffles:
In a large bowl, whisk together the flour, pure cane sugar, baking powder, cocoa and sea salt.

Beat together the buttermilk, melted butter, eggs, vanilla extract and apple cider vinegar in a separate medium bowl until smooth; then stir in the red food coloring. Add the buttermilk mixture to the dry ingredients and whisk together in an electric mixer until smooth. Turn off mixer and fold in chopped bacon pieces until well incorporated.

In the meantime, heat your waffle iron according to the manufacturers' instructions and spray with nonstick cooking spray (OR wipe with a lightly oiled paper towel) and then pour about 1 cup of the waffle batter onto the waffle grid. Close the lid and cook until your waffle iron indicates that it's done. Your waffles should be deep red and crisp on the outside, about 3 -4 minutes.

Repeat with the remaining waffle batter until complete and serve immediately. Drizzle with the Cream Cheese glaze and top with fresh berries and/or nuts (such as pecans, walnuts, etc).
Tips | Notes:
**To Make Buttermilk: simply add 1 3/4 cups of milk (I used coconut milk of course) and 1 Tbsp of lemon juice and mix well. Set aside for 5 minutes for the acids to activate.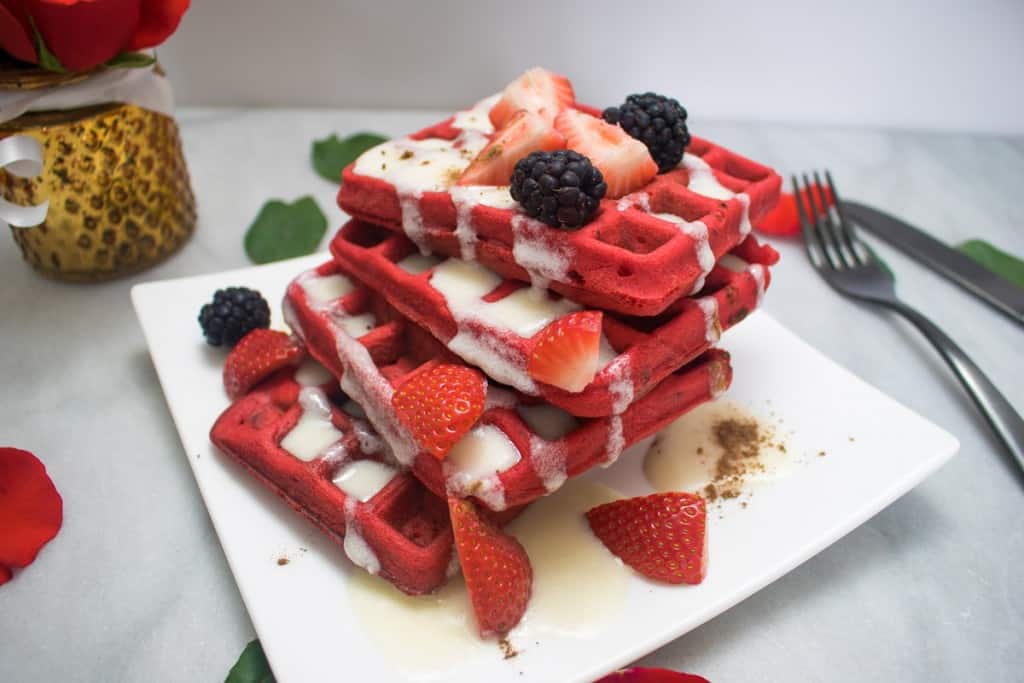 Fun Facts about Valentine's Day:
In addition to the U.S., Valentine's Day is celebrated in Canada, Mexico, United Kingdom, France, Australia, Denmark and Italy.
Every Valentine's Day, the Italian city of Verona, where Shakespeare's lovers Romeo and Juliet lived, receives about 1,000 letters addressed to Juliet.
In the 1800s doctors commonly advised their heartbroken patients to eat chocolate, claiming it would sooth their pain. To this day, many women find comfort in a box of chocolates when dealing with heartbreak.
220,000 is the average number of wedding proposals on Valentine's Day each year.
About 3 percent of pet owners will give Valentine's Day gifts to their pets.
In the U.S., 64 percent of men do not make plans in advance for a romantic Valentine's Day with their sweethearts.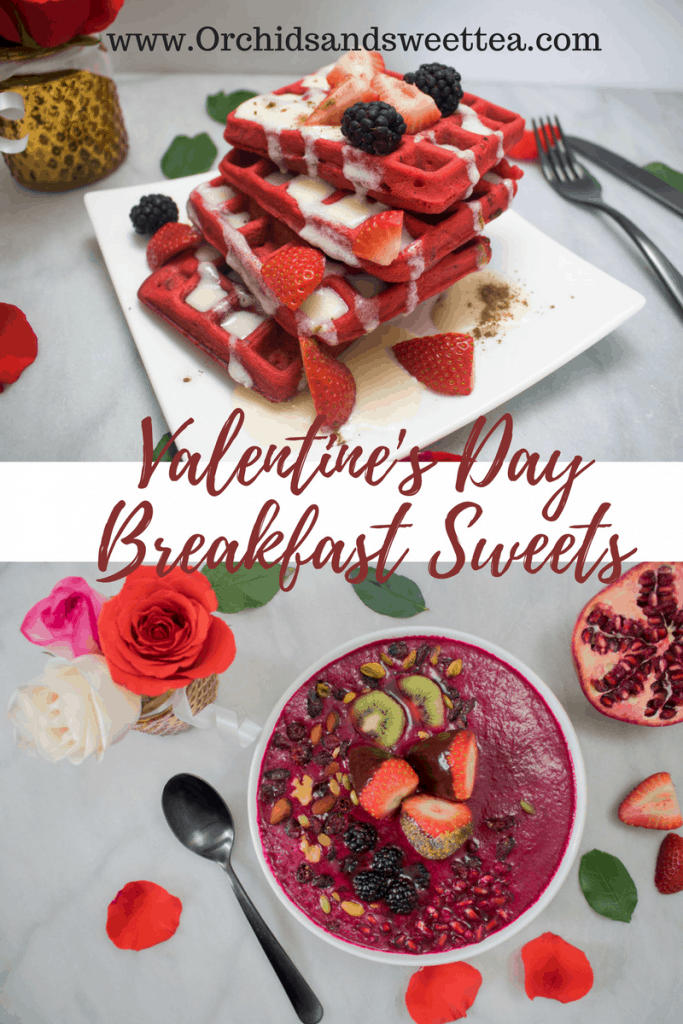 What are your plans for Valentine's Day? Any Valentine's Day Breakfast Sweets in mind?