These Thick + Fluffy Sweet Potato Pancakes are whole-wheat, dairy-free, and made with warming fall spices like cinnamon and nutmeg. They're a satisfying and kid-friendly breakfast in 25 minutes.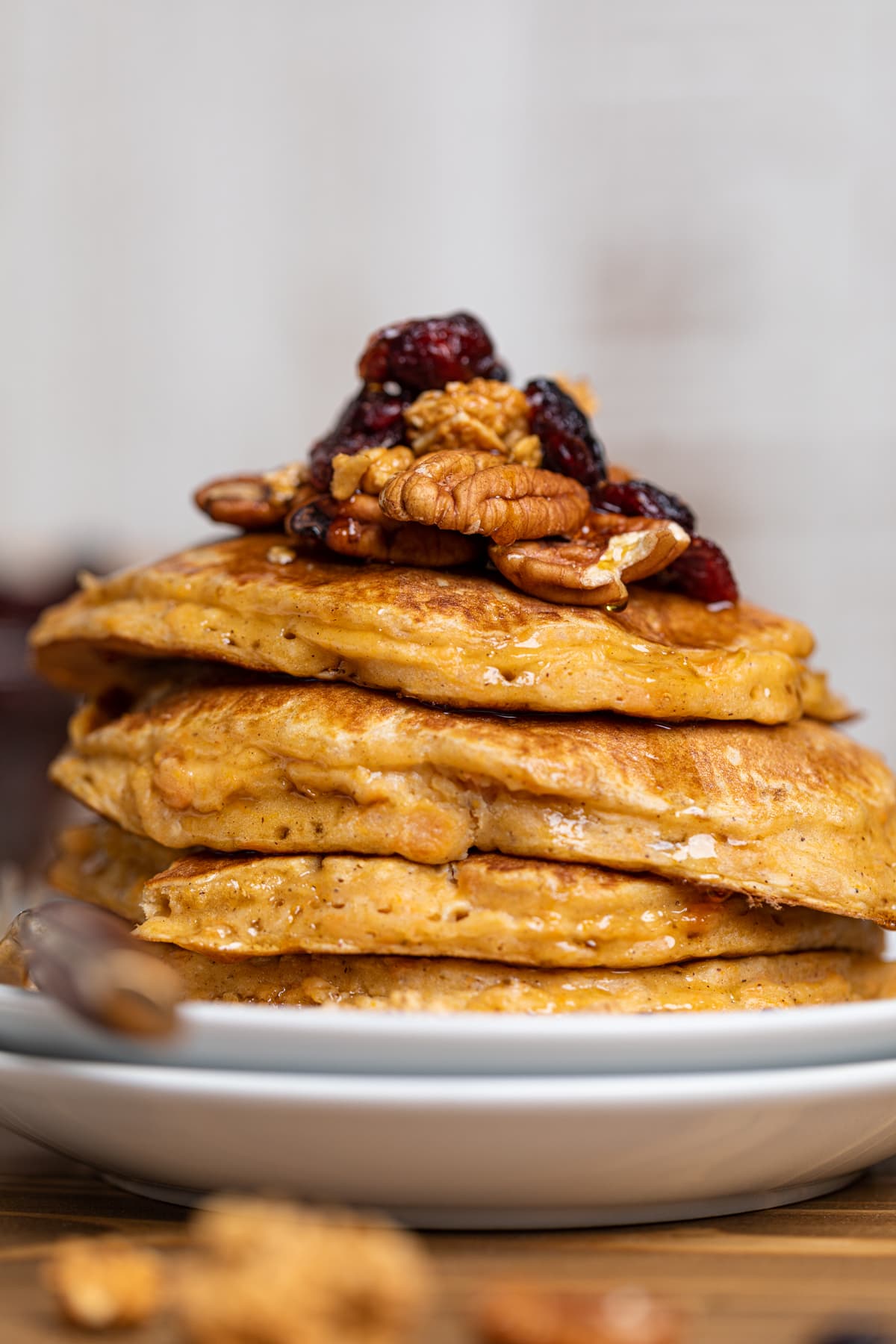 Pancakes always feel like a treat, but they don't have to be loaded with sugar and fat to taste delicious and satisfy your cravings. These fluffy sweet potato pancakes are extra thick and cakey for that decadent breakfast experience, with plenty of good-for-you ingredients. Despite being made with whole wheat flour and sweetened with maple syrup, these are a fully kid-approved breakfast. 
Along with my Sweet Potato Pie Overnight Oats, this is one of my all-time favorite breakfast recipes for fall.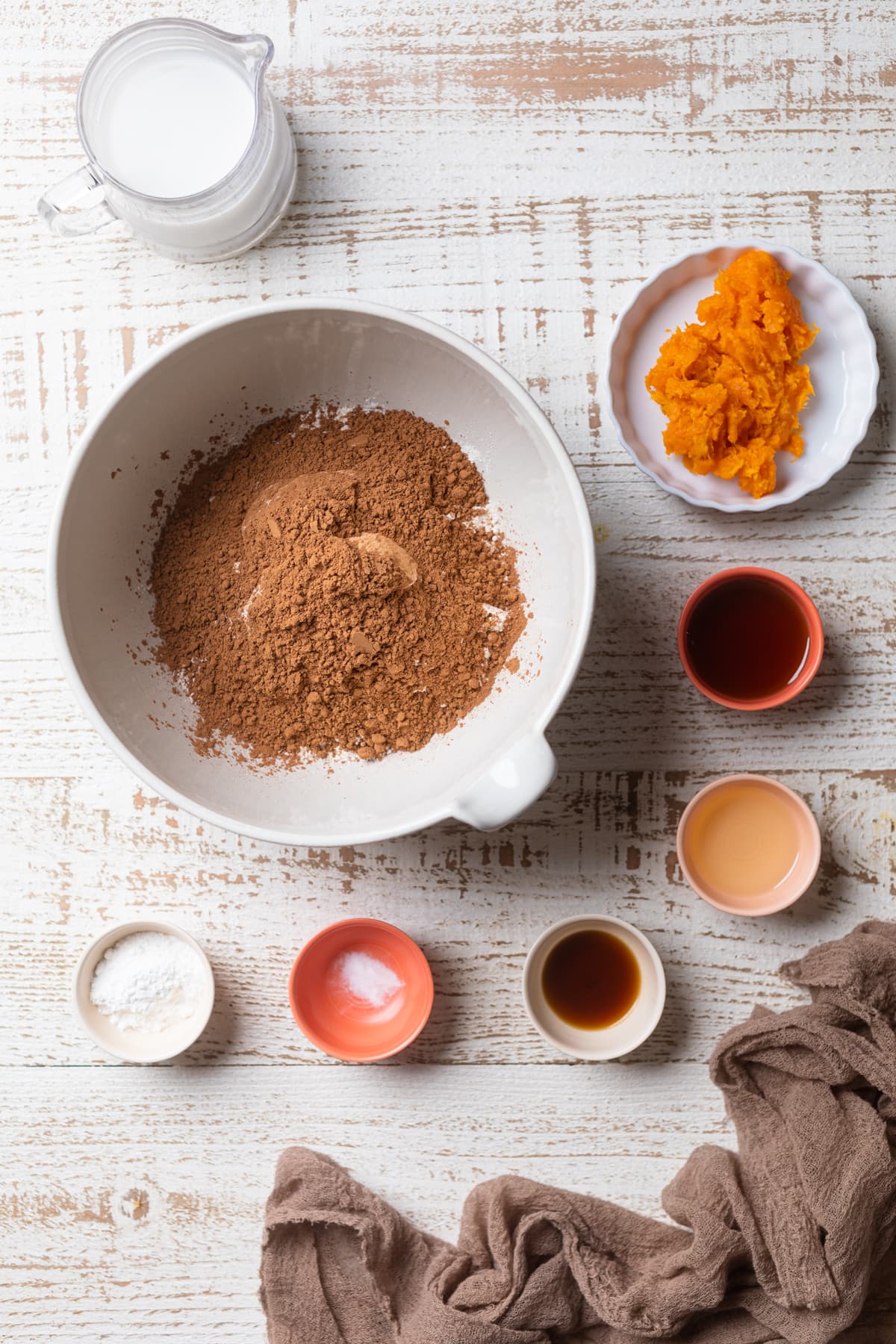 How to Make Extra-Fluffy Sweet Potato Pancakes
To me, the thicker the pancake, the better. And these have the perfect pillowy texture and maple-sweetened texture. 
Here are the ingredients for this easy pancake recipe:
All-purpose flour. I use King Arthur Flour organic. 
Whole wheat flour. This gives a wonderfully nutty and warming flavor to the pancakes. If you're not a fan, you can use 100% all-purpose flour. 
Baking powder. To help make these as thick and airy as possible. 
Cinnamon and nutmeg. To complement the rich sweet potato flavor. 
Sweet potato puree. You can make your own or use store-bought. 
Vegetable oil. You can also use avocado or coconut oil. 
Coconut milk. Feel free to use a different milk if you prefer. Coconut adds a wonderful richness to the pancakes. 
Maple syrup. You can also use honey (if you're not vegan).
Eggs. This acts as a binder.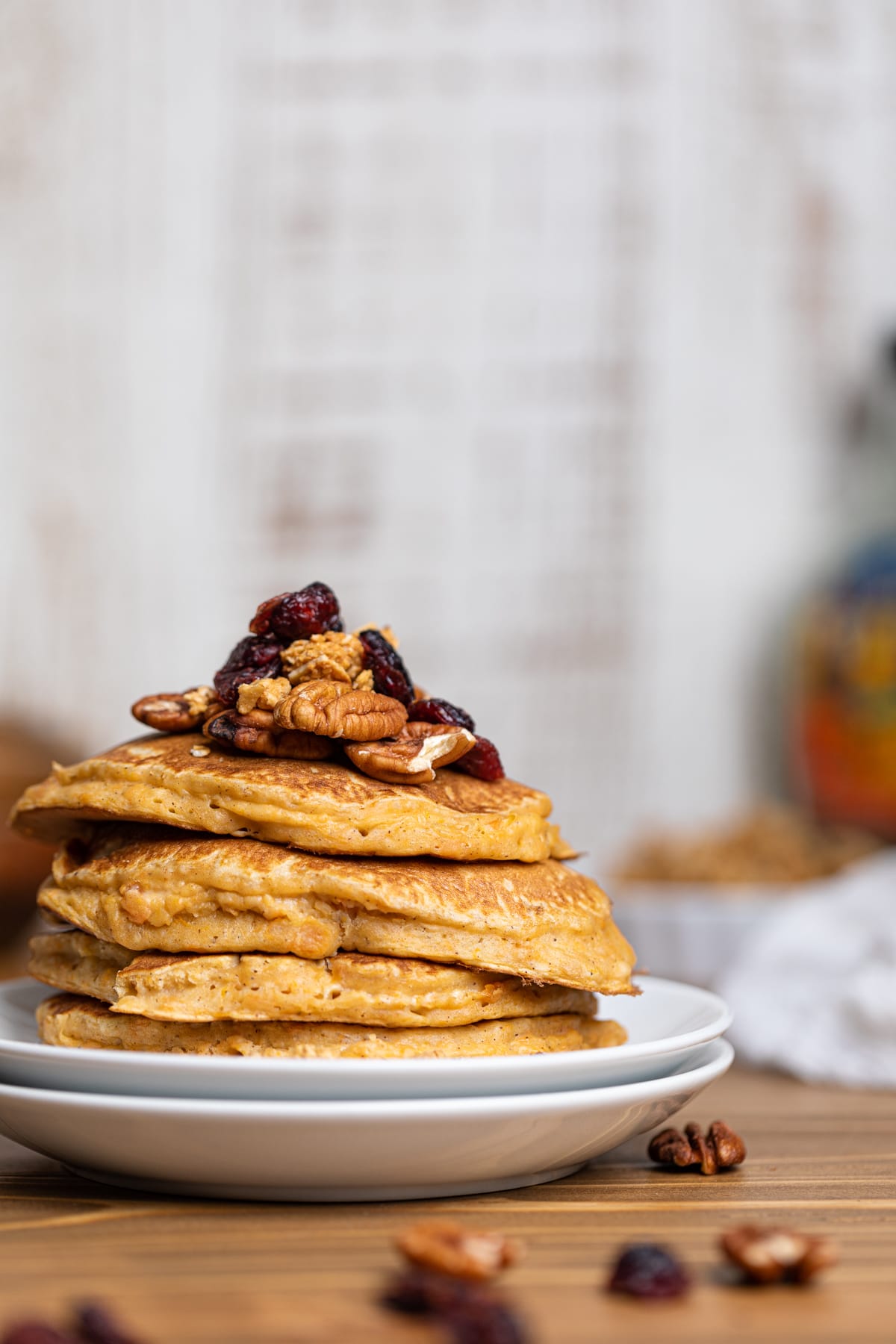 Health Benefits of Sweet Potatoes
Starting your day with a serving of sweet potatoes is more than just delicious. These root veggies are also great for your health. Some important health benefits of sweet potatoes include:
Improved digestion. They actually contain more fiber than regular potatoes! Sweet potatoes are also a great source of magnesium, which helps aid digestion.
Boost Your Immune System. Sweet potatoes are rich in beta-carotene (a major antioxidant). This fuels your immune system to help protect your body against illness and foreign invaders. You'll also find plenty of vitamin C and B-complex, iron, and phosphorus in these tubers. 
Treat Stomach Ulcers. Sweet Potatoes can help soothe and repair the stomach and intestines. The immune-boosting vitamins also help cure stomach ulcers. In addition, the dietary fiber helps prevent constipation and acid formation. This can reduce the risk of ulcers.
Other Benefits: Sweet potatoes are also naturally anti-inflammatory and can reduce arthritis, pain.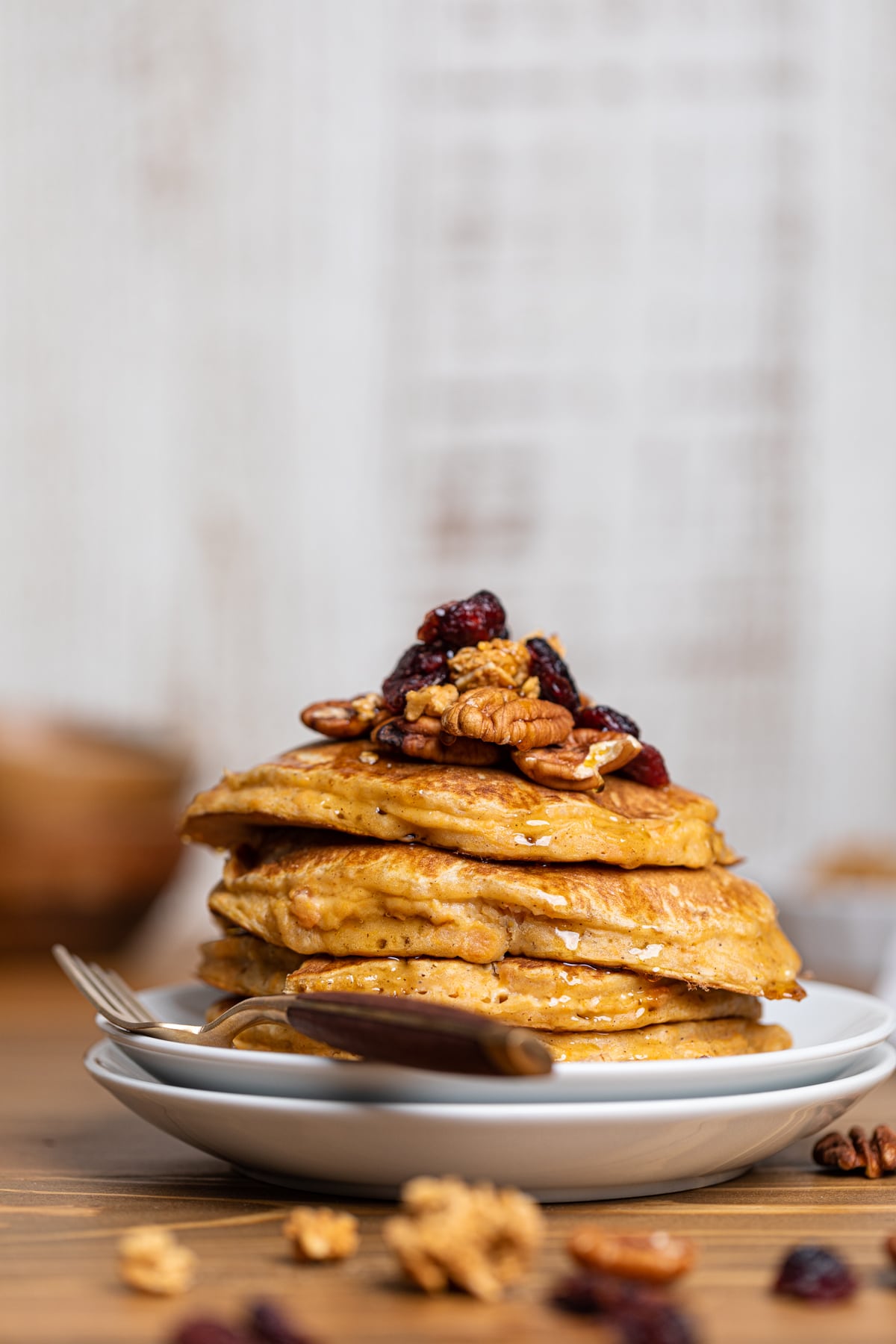 Pancake Topping Ideas
You can top these sweet and fluffy pancakes however you like! some of my favorite topping ideas include:
Dairy-free yogurt
Coconut whipped cream
Almond or cashew butter
Toasted nuts (see the notes below for how to toast pecans)
Sliced bananas or other fruit
Butter
Maple syrup or honey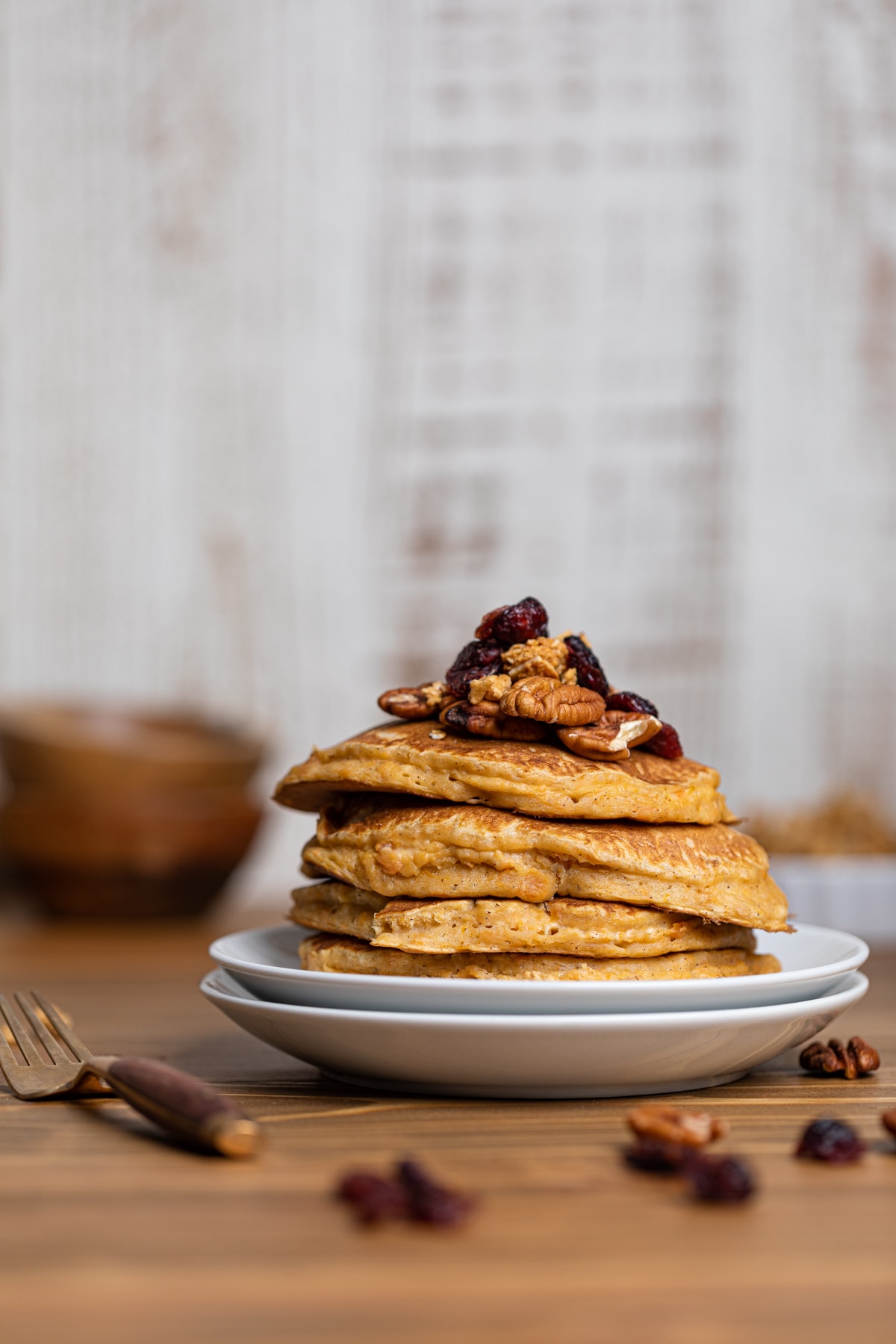 More Pancake Recipes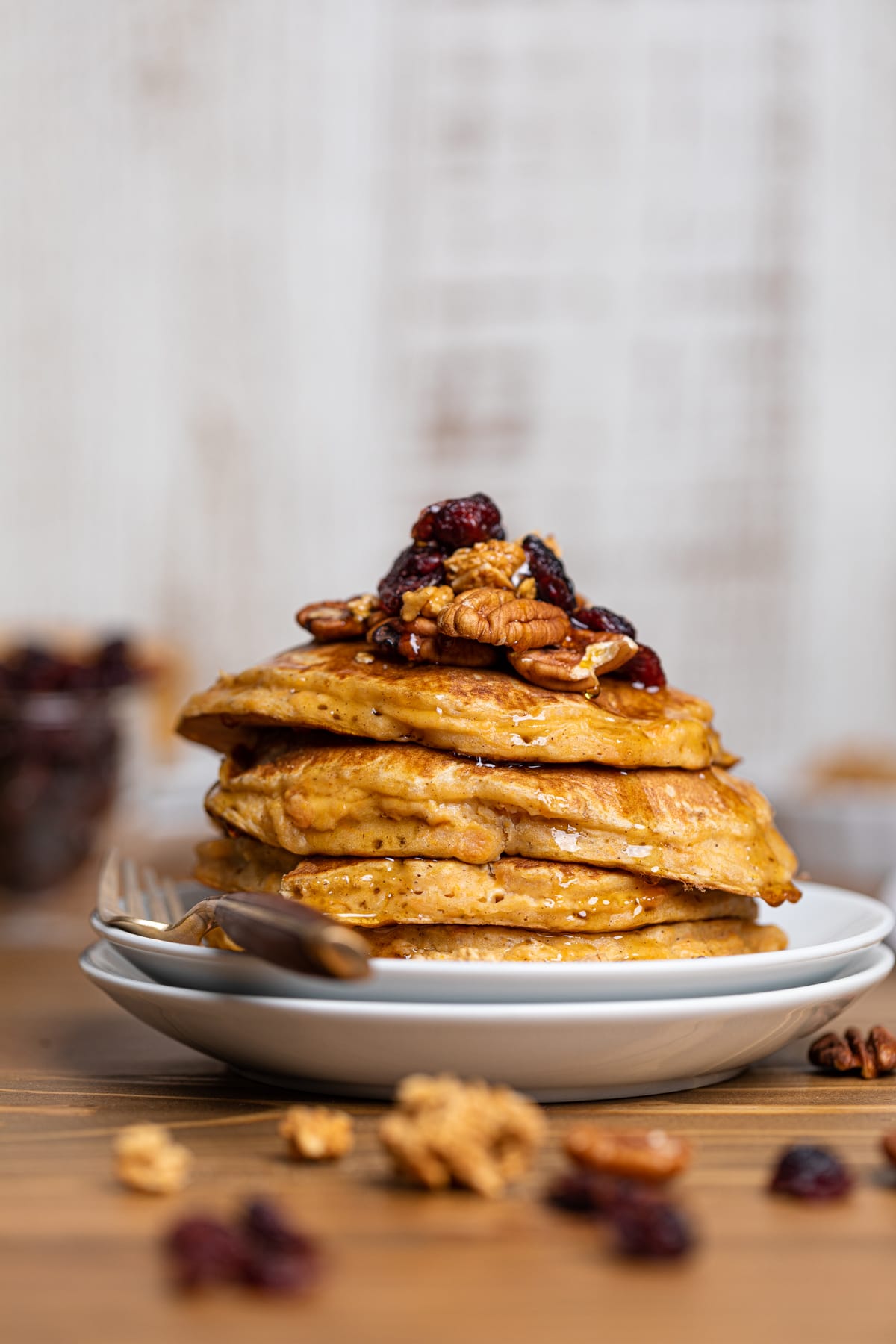 MADE OUR RECIPE(S)?
If you make these Thick + Fluffy Sweet Potato Pancakes or any other recipe from us, be sure to tag us on Instagram at #Orchidsandsweettea so that we can share the love!
1 ½

cups

organic whole wheat flour

1

cup

sweet potato puree

(See Notes!)

1

tablespoon

baking powder

1

tablespoon

ground cinnamon

½

teaspoon

ground nutmeg

¼

teaspoon

allspice

pinch of

finely-ground sea salt

2

large

organic eggs, at room temp. 

1

cup

Almond milk + 1 Tbsp!

(You can use your fave plant-based milk!)

1

teaspoon

vanilla extract

2

Tbsps

pure maple syrup

2

Tbsps

unsalted butter, melted

(See Notes!)
Begin by adding the flour, baking powder, cinnamon, nutmeg, allspice, and salt together in a large bowl and whisk until well combined. Set aside.

In a separate bowl, whisk together the milk, sweet potato puree, eggs, maple syrup, melted butter, and vanilla, until combined.

Make a small well in the middle of the dry ingredients and pour in the wet ingredients, stirring gently (using a spatula) until just combined. NOTE: DO NOT OVERMIX.

Add 1 tablespoon vegan butter to a heated skillet over medium-high heat and wait until fully melted. Pour ⅓ cup of pancake batter unto the surface of the skillet and cook for about 1-2 minutes (until batter begins to bubble) and gently flip pancake to it's opposite side, cooking another 1-2 minutes. NOTE: Be sure to gently press down on pancake to ensure that center cooks through.

Once cooked and lightly brown on both sides, remove pancake from heat and repeat steps until all batter is used.

To serve, stack pancakes onto one another and top with sliced bananas, your favorite toasted nuts (I used pecans), and lightly drizzle with maple syrup, if desired.

Bon Appetit!
SWEET POTATOES: Preheat oven to 425 degrees Fahrenheit and line a baking sheet with parchment paper or foil. Rinse sweet potatoes (about 2 medium-sized) and pat dry. Lightly coat potato with Extra Virgin Olive Oil and place in oven, baking for 45 minutes to 1 hour, until tender and juices begin to bubble outside of skin. Remove from oven, let cool for 10-15 minutes and slice in half. Remove sweet potato insides and place in a bowl, mashing it until "pureed". Continue recipe.
TOASTED NUTS: Add chopped nuts to a baking sheet and toasting them in the oven (400 degrees Fahrenheit) for 5-10 minutes, tossing them halfway to avoid browning on one side.
OIL/BUTTER: Instead of using melted butter, you can always use coconut oil or vegetable oil.

FLOUR: If you don't have Whole Wheat or Whole Wheat Pastry Flour, then you can substitute with All-Purpose flour.  SWEETENER: If you choose to opt out of pure maple syrup, you can always substitute with Agave, date syrup, coconut sugar, brown sugar, or pure cane sugar.
Calories:
232
kcal
|
Carbohydrates:
38
g
|
Protein:
7
g
|
Fat:
7
g
|
Saturated Fat:
3
g
|
Polyunsaturated Fat:
1
g
|
Monounsaturated Fat:
2
g
|
Trans Fat:
0.2
g
|
Cholesterol:
72
mg
|
Sodium:
309
mg
|
Potassium:
378
mg
|
Fiber:
6
g
|
Sugar:
7
g
|
Vitamin A:
9182
IU
|
Vitamin C:
9
mg
|
Calcium:
227
mg
|
Iron:
2
mg
Thick + Fluffy Sweet Potato Pancakes.