This Superfood Overnight Oats: Maca, Cacao, + Chia Seeds recipe is a healthy satisfying and energizing option for the perfect grab-n-go breakfast. These Oats boasts their creaminess, thickness from the thickly cut oatmeal used, jam-packed nutrients from the superfoods, chocolatey-ness, and generous nutty flavor from the delicious Maca powder + Peanut butter; which all create quite the experience in just one jar. All vegan and Gluten-Free.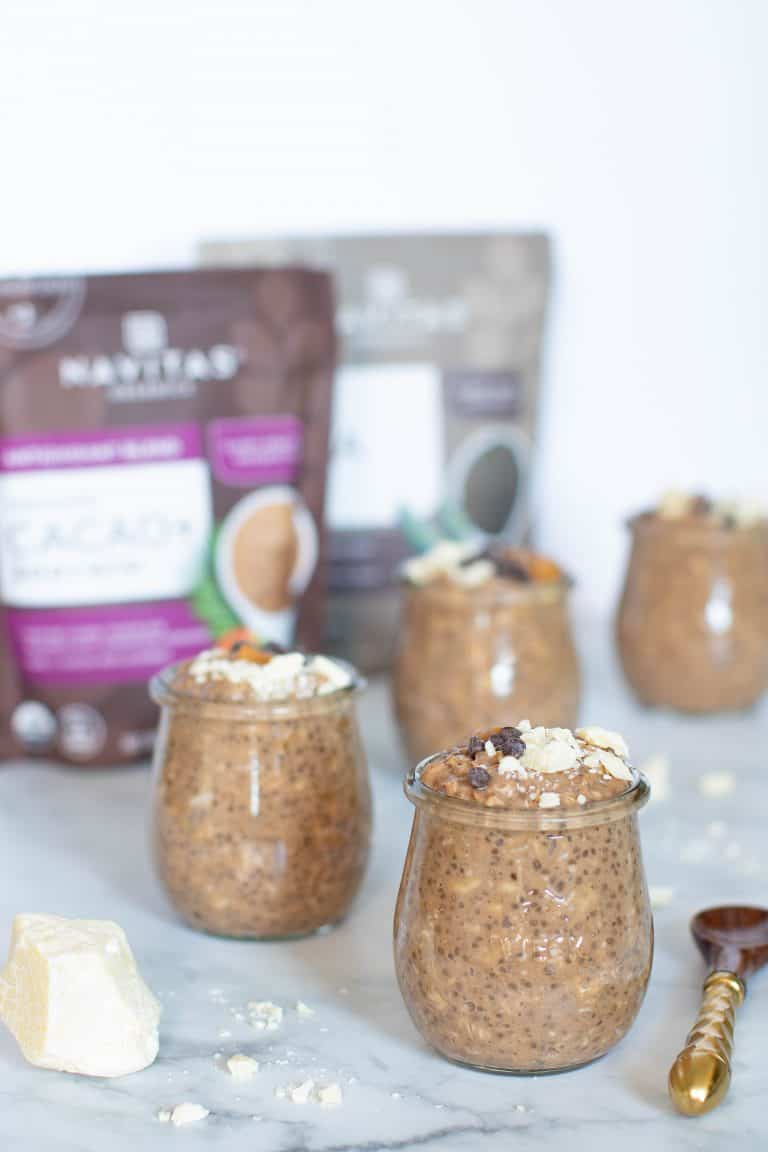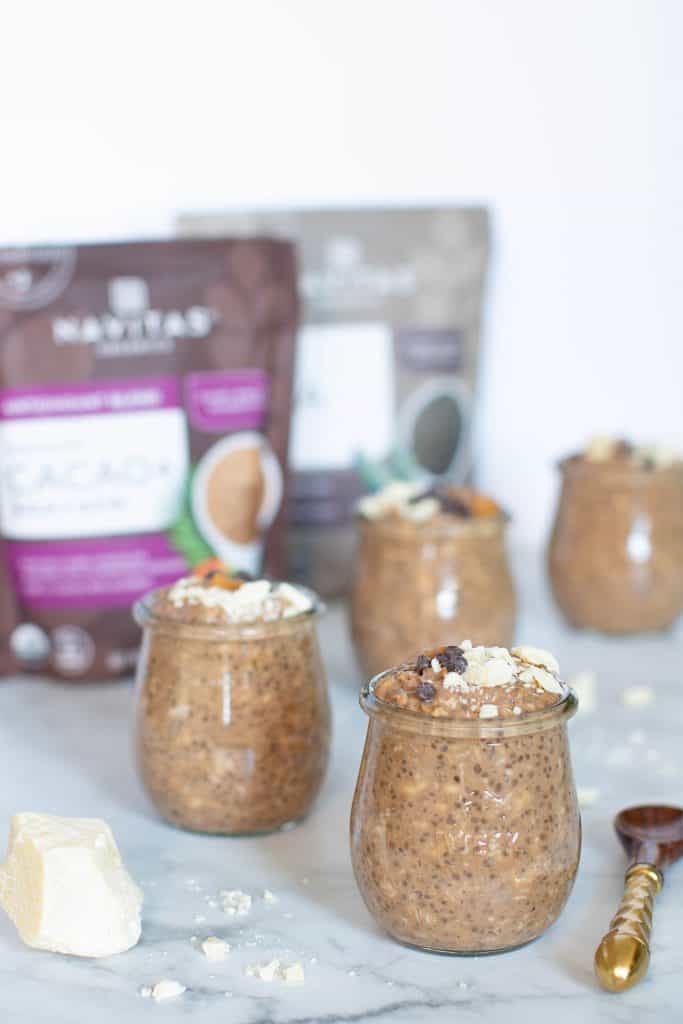 Sponsored Post: This post is sponsored by Navitas Organics, but the content and opinions expressed are all based on my genuine love for this brand and are my own. Thanks so much for supporting the brands I love.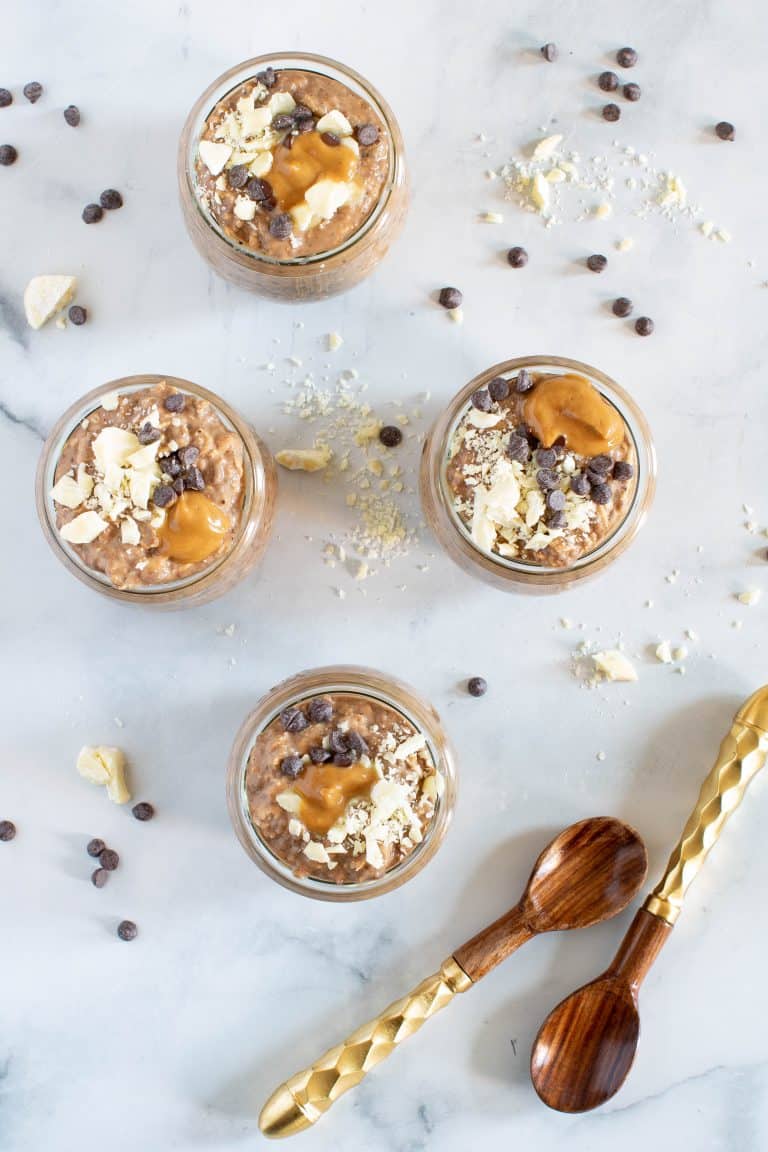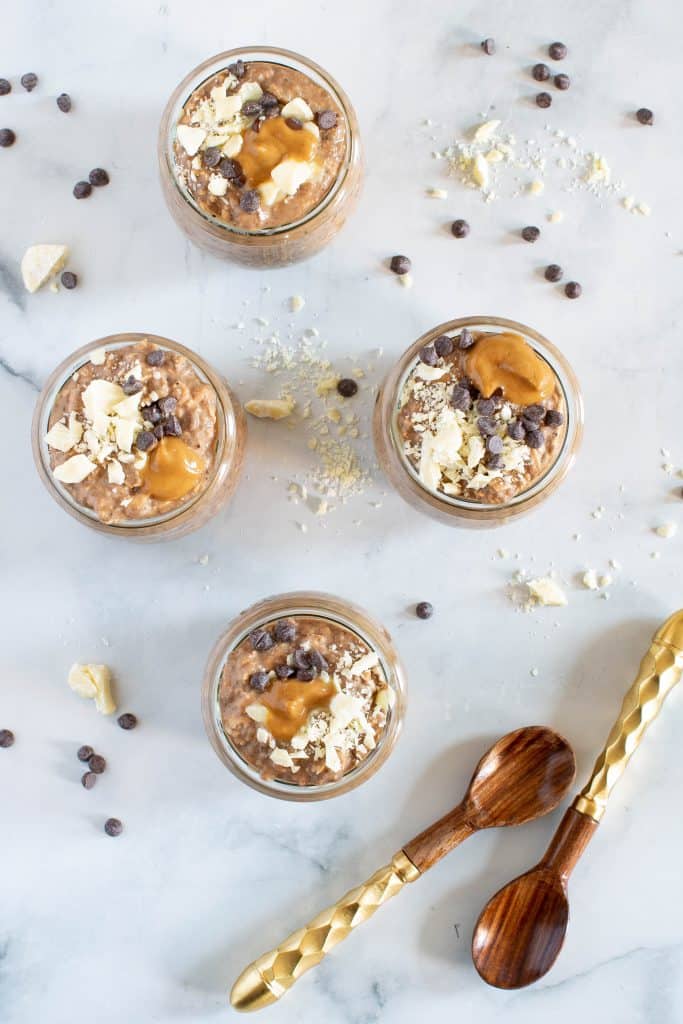 So we're kicking off the start of the new week with such a delicious recipe! I couldn't be more excited to share another recipe in collaboration with Navitas Organics.
If you've been an avid follower of Orchids + Sweet Tea, then you're aware that I chose my collaborations with brands VERY carefully, because I want to ensure that they represent this blog's mission in every way possible.
Honestly, I'd rather turn down a company that doesn't coincide with what I stand for and of course I often already use that company's product so that I can ensure that you'll love it too.
With that being said, I'm a huge fan of Navitas Organics and often use so much of their products. Navitas Organics has so many great options when it comes to eating healthy and this powder is just ONE of the amazing flavors available.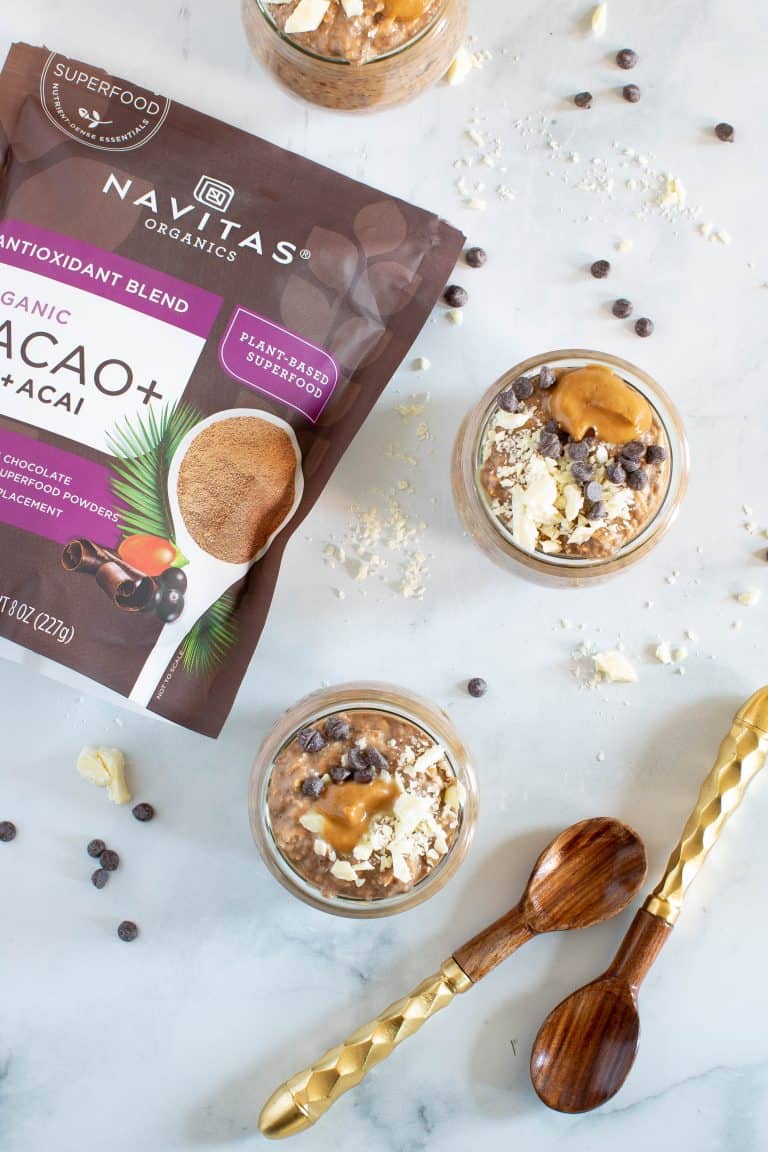 In case you aren't too familiar, Navitas Organics has an array of options which include Cacao, Goji Berries, Maca Powder, Superfood blends, Turmeric, Chia Seeds, Mulberry Berries, and so much!
In addition, they have Latte mixes, Powder Boosts, Power Snacks, and more.
I actually featured one of their Latte mixes (Cacao Latte) in this Chocolate Chip + Coconut No-Bake Energy Bites recipe.
The Navitas Organics' Cacao Latte is super easy to make. Simply add one of their convenient packets to boiling water (or milk for a nice creaminess) and wallah! 
For additional flavor and creaminess as well, you can add a non-dairy creamer; Just perfect and packed with a ton of nutrients!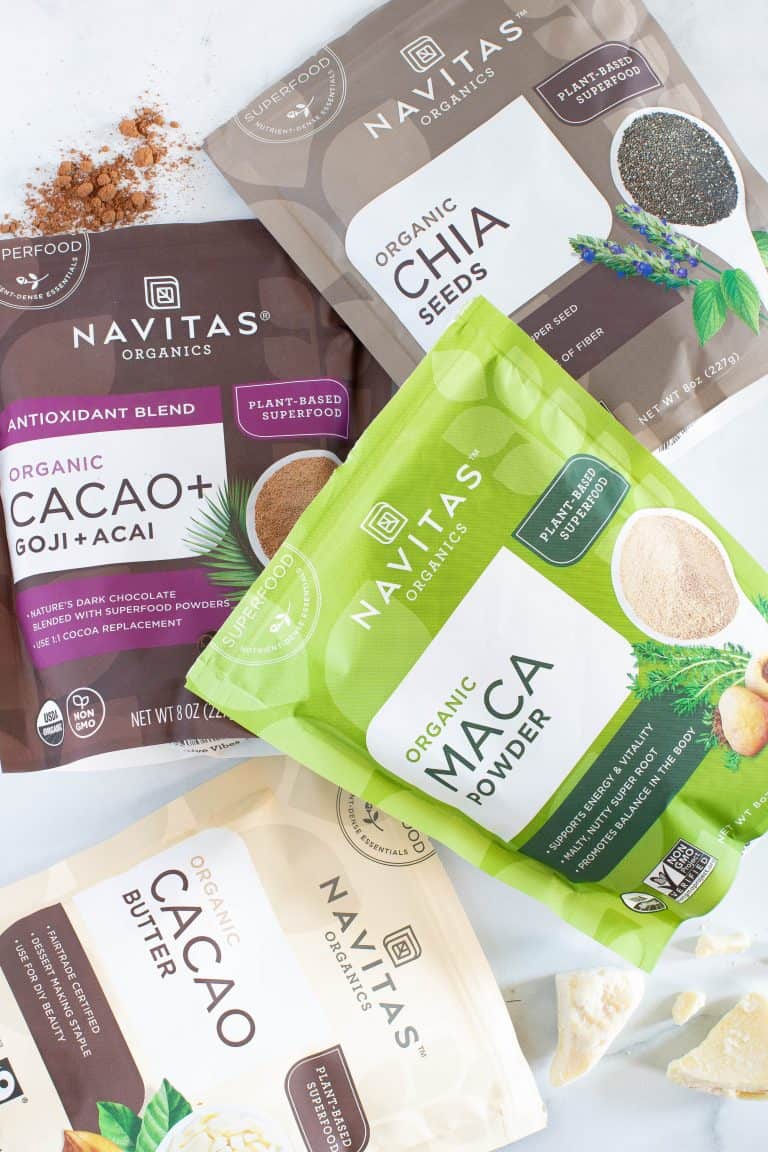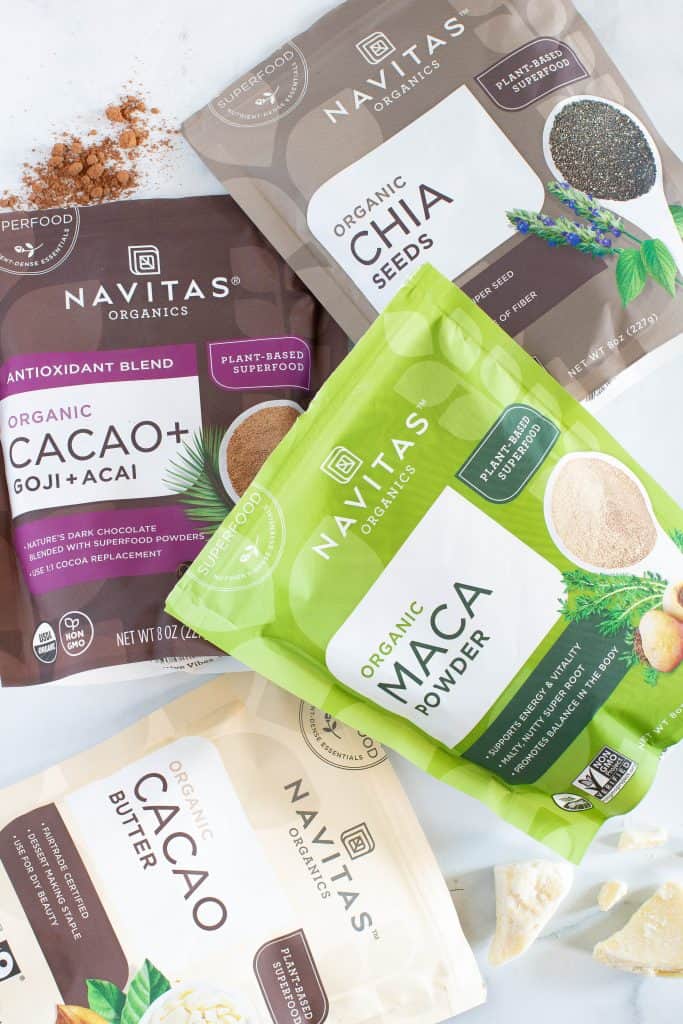 OK, so back to this overnight oats recipe. If you've seen our previous Banana Peanut Butter Overnight Oats and loved it, then you'll definitely love this one.
While the flavors in this version is much different than our previous version, the bursting of chocolatey flavor will leave all the chocolate lovers grasping for another jar. Haha.
Plus, the nutrients in this recipe is insane. So many Superfoods in one meal. Definitely a great way to kick start your day while keeping you fully energized for the rest of the day!
Personally, I'm not a HUGE breakfast fanatic! My best breakfast days are on the weekend when I can thoroughly enjoy a big breakfast with my family. However, during the week—these quick, easy breakfast ideas are my BFF, especially since weekdays are so hectic with work, homeschooling, and business stuff!
What Did I use in These Overnight Oats Exactly?
Maca Powder
Cacao Antioxidant Blend (includes Goji + Acai)
Cacao Butter
Chia Seeds
Peanut Butter
Thick Cut Oats
Almond Milk
Chocolate Chips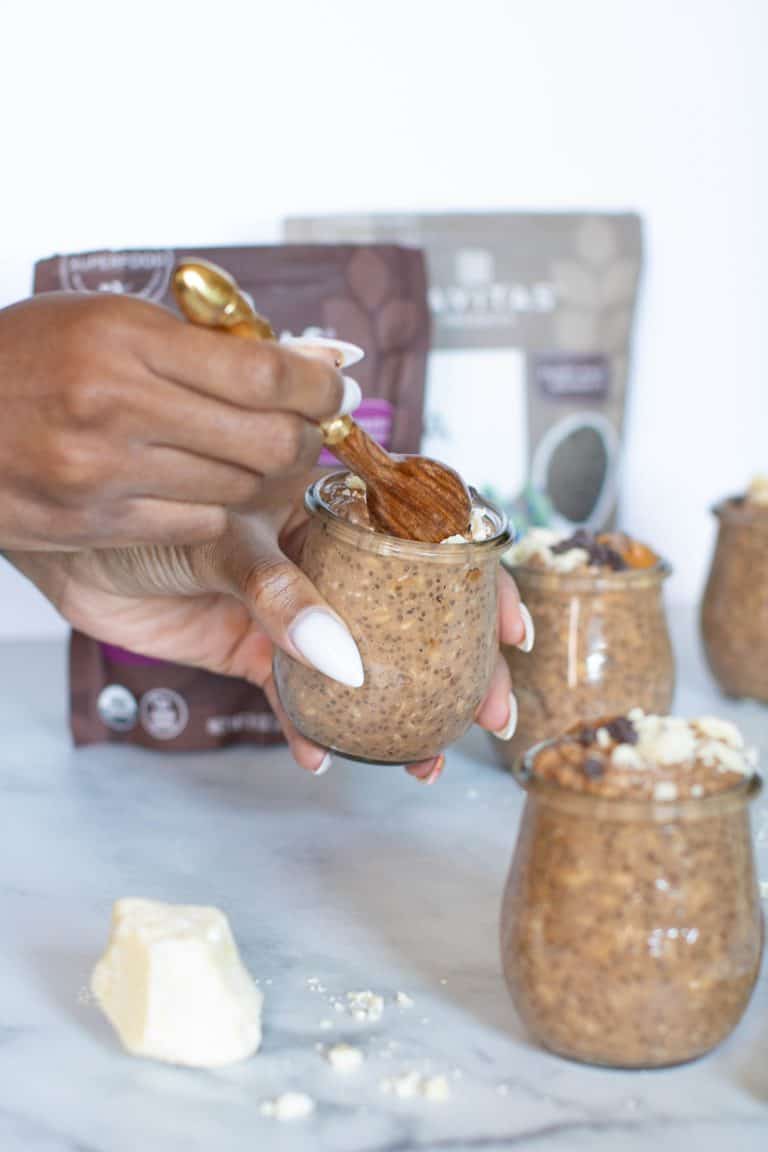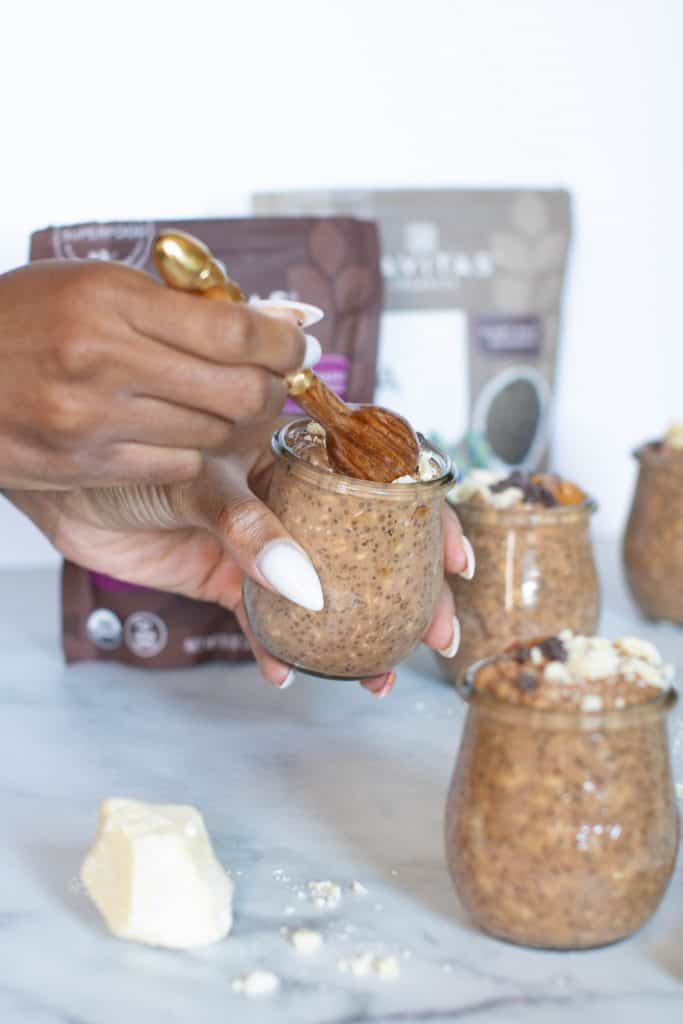 What is Cacao really? Cacao vs. Cocoa.
OK, so can we talk about Cacao for a sec? Did you know that Cacao AND Cocoa are the same thing?
I know. Insane. I was totally confused about this for a long time and honestly assumed that once was healthier than the other. However, it's come to be determined that they are just used interchangeably.
Chocolate is actually made from Cacao beans (or seeds). It's said that companies who use the term 'Cacao' are referring to the beans, pods, or ground up version of the beans. However, the term Cocoa is often referred to as the powdered version of it all (which is formed after the fat is pressed out of the bean).
Of course there's a whole process that happens and you can find out more about that here.
However, be mindful that since Cocoa has the fat removed for it to be powder-like, it does make Cacao a greater option in terms of health benefits.
Cacao has a host of health benefits which include: antioxidant properties, heart-protective and anti-cancer properties, contains iron and tryptophan (which is an amino acid that helps the body make serotonin—a relaxing chemical).
So of course, it's always best to go with a brand of Cacao that contains those nutrients and are premium to ensure that your body actually receives all of those boosters. Navitas Organics' version of their Cacao or Cacao Latte not only does that, but they are so delicious as well! You can always purchase it on their site or through a large retailer like Amazon.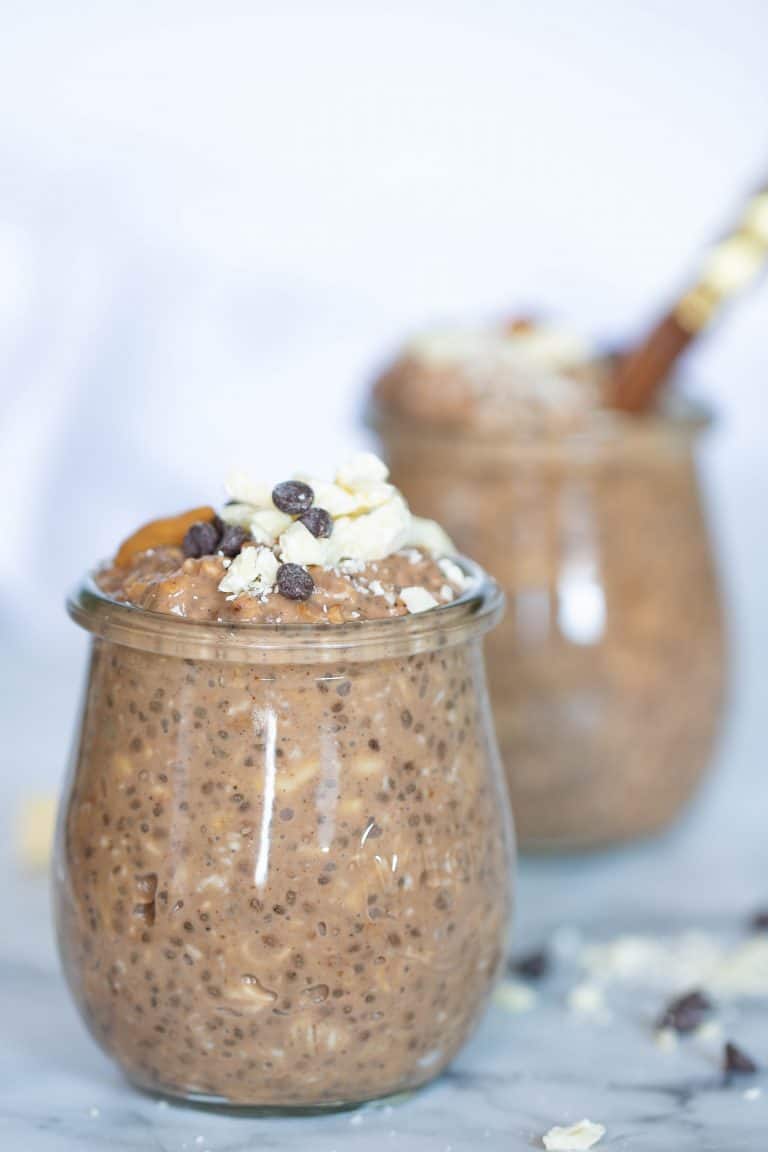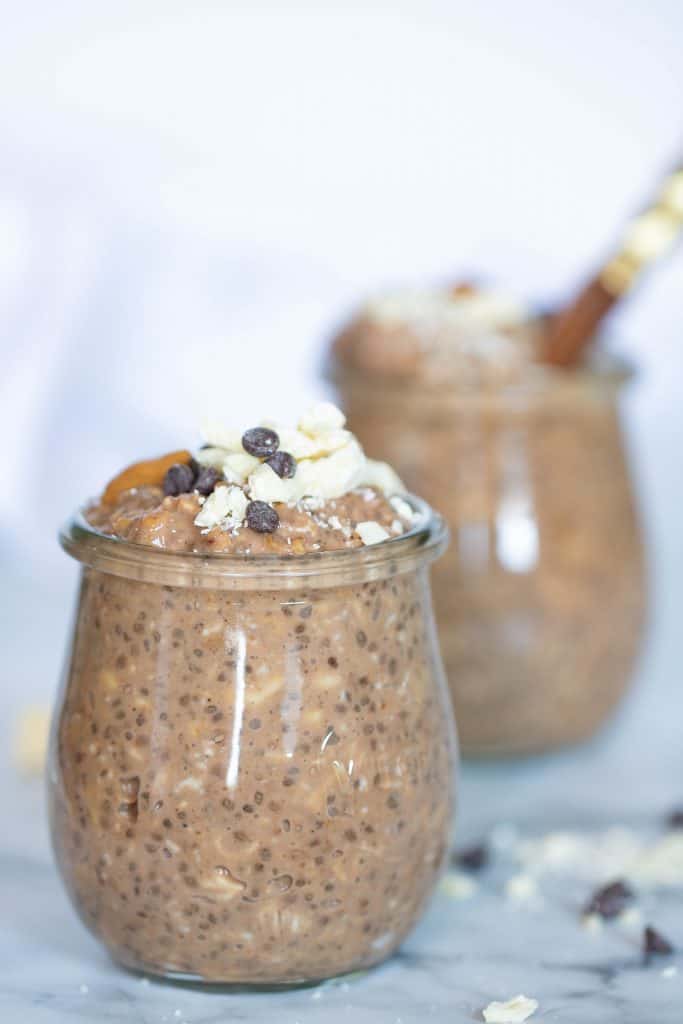 Looking for a Healthier Sweetener Option?
The Best Healthy Sugar Alternatives + Substitutes list is all about finding better ways to enjoy your favorite sweets without compromising your healthy lifestyle. For those who follow a vegetarian and/or vegan lifestyle, this lists offers a few great ideas to incorporate healthy sweeteners into your diet.
So Why Chia Seeds Anyway?
OK, so did you know that Chia Seeds are considered a superfood? Yup. It is. For those of you who are wondering what a superfood is anyway—-whelp, it's pretty simple. Superfoods are nutrient-rich foods that are considered to be especially beneficial to one's health and well-being.
While there isn't just one type of food that can fight away any one disease, etc.; having an array of good foods (including superfoods) and a well-balanced diet is the key to overall good health.
When it comes to Chia Seeds, this type of food falls under the 'Nuts and Seeds' category of superfoods. They are generally rich in fiber, vegetarian protein, and heart-healthy fats.
Research has indicated that eating nuts and seeds helps to protect us against heart disease.
While some nuts and seeds are dense in calories, Chia Seeds have very few calories which often makes it a great option when adding it to meals and drinks.
Chia Seeds from Navitas Organics!
Navitas Organics Chia Seeds are virtually tasteless, making them super versatile. You can use them as a thickening agent in soups or smoothies, add to baked goods for a poppy-seed like crunch, or make chia pudding for a nutritious breakfast or snack. They are organic, No-GMOs, Kosher, Gluten-Free, and Vegan.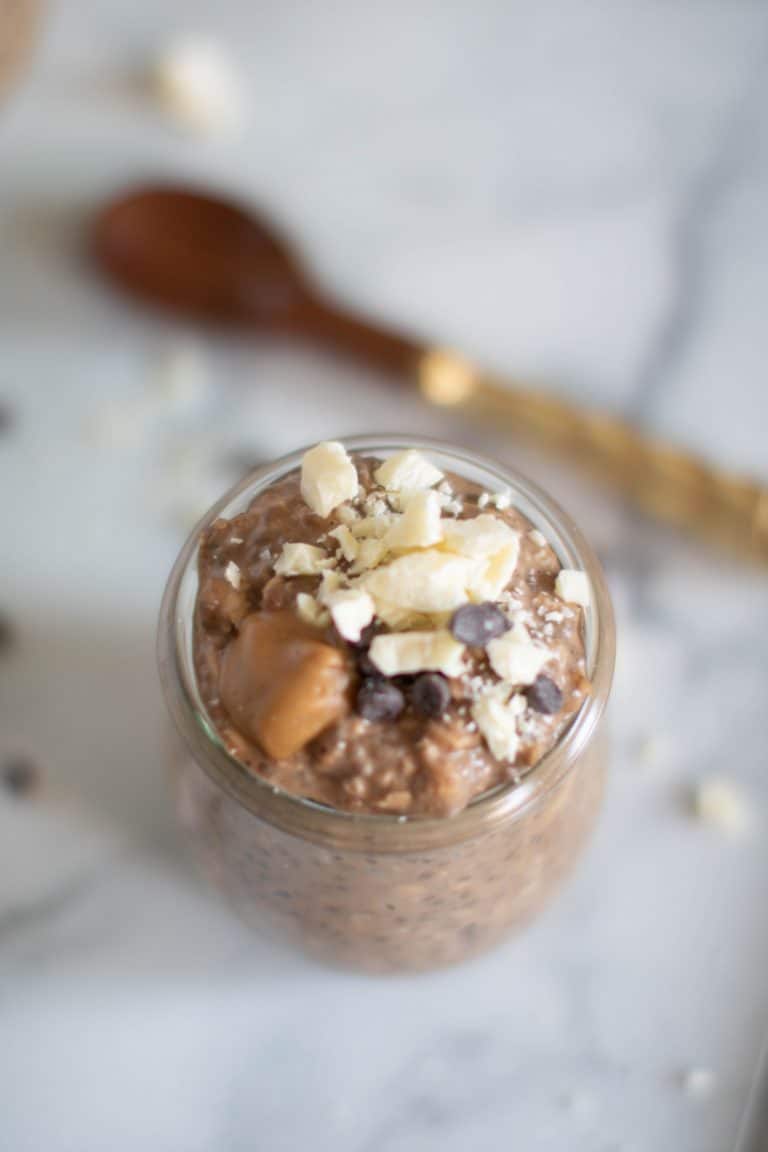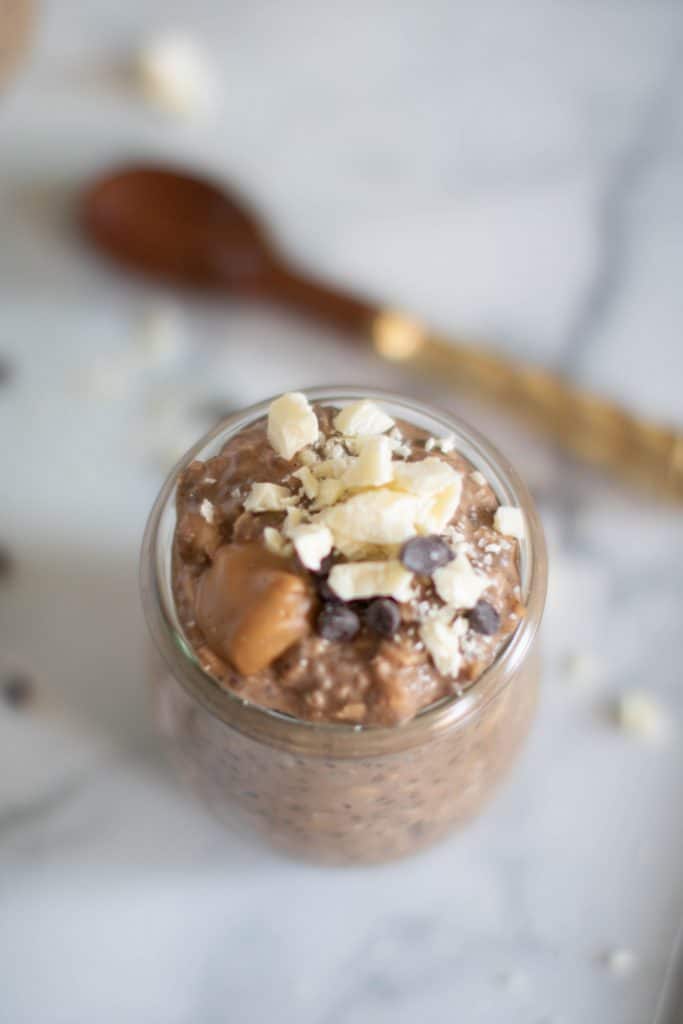 What is Maca Powder?
The Maca Root is actually derived from Peru and is often used as a powder or supplement.
It is traditionally used to enhance fertility and sex drive. In addition, it is said to improve energy and stamina.
Maca Root is actually related to broccoli, cauliflower, cabbage and kale. Be sure to check out our latest article on Our Top 12 Favorite Healthy Green Leafy Vegetables, which include some of Maca Root's relative veggies.
When it comes to the taste of Maca Root, it generally has a nutty and earthy flavor. However, it is HIGHLY nutritious, including nutrients such as Protein, Fiber, Vitamin C, Copper, Iron, Potassium, Vitamin B6, and Manganese.
In addition, Maca Root has the following Health Benefits:
Increases libido in Men + Women
May increase fertility in Men (Sperm quality + quantity)
May help to relive symptoms of Menopause
Can help to improve your mood
May improve sports performance + energy
May be a great sun protectant for skin
May improve learning + memory
May reduce prostate size
Of course, everything in moderation, especially when it comes to the use of Maca root. Always be sure to consult your doctor before trying this root, as there can be adverse health effects with certain conditions.
Looking For Great Ideas to Incorporate Navitas' Powders?
This Vegan Chocolate Cake + Chocolate Buttercream is a healthier option to the decadent classic—Chocolate Cake! Not only is it completely moist + fluffy, but it's also filled with an airy Cacao buttercream that when paired with this velvety vegan chocolate (cacao) buttercream, they all work amazingly together. A definite crowd-pleasing cake for any occasion, celebration, or 'treat yo' self day!
These No-Bake Cacao Date Loaded Energy Bars are loaded with nutrient-dense ingredients like Cacao, Cacao Butter, Dates, Chia Seeds, Cashew Nuts, Coconut Flakes, Pumpkin Seeds, and Maple Syrup. They make for an awesome packable snack, breakfast replacement, or even dessert if you're into something healthy as a sweet treat. Full of bold flavor, chewy, and super easy to make. Vegan and Gluten-Free.
This Vegan Chia Seed Maple Banana Bread is super moist, tasty, packed with healthy nutrients including superfoods like Chia Seeds, and 100% delicious! It takes less than 10 minutes to whip together and makes for a great healthy alternative for a little sweetness in the morning for breakfast or even for dessert after dinner. All vegan ingredients, entirely kid-friendly, and a gluten-free option available.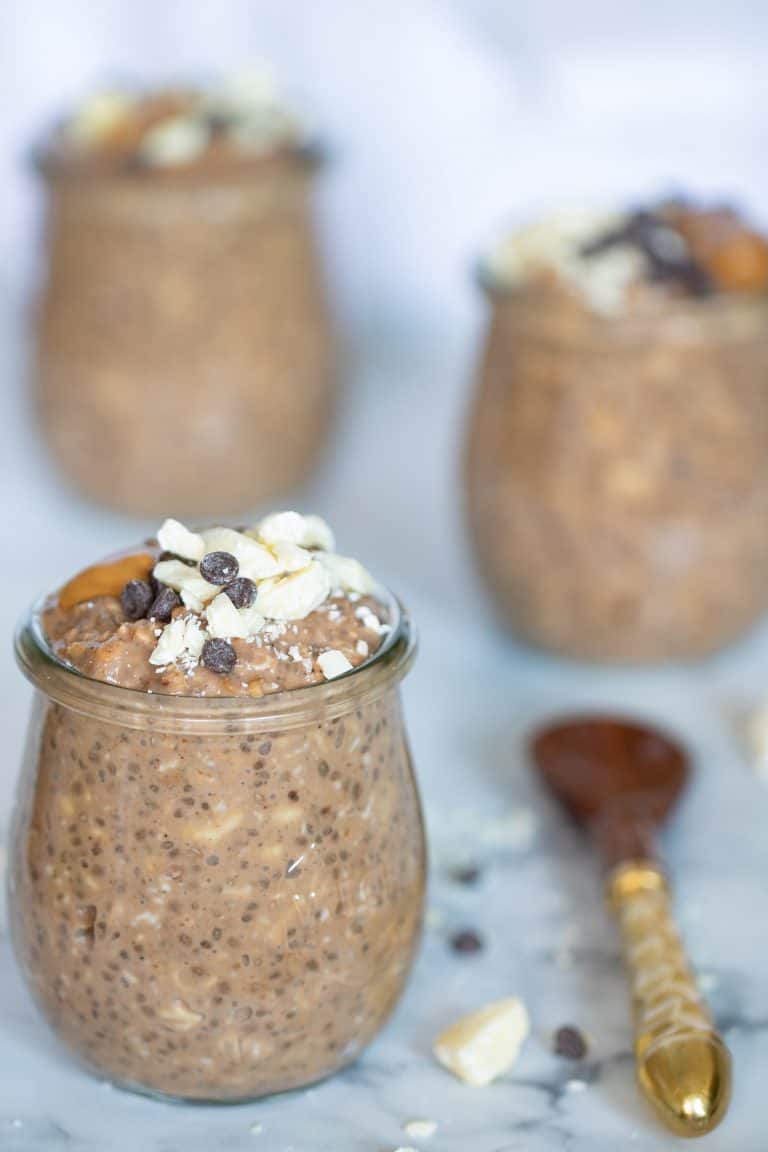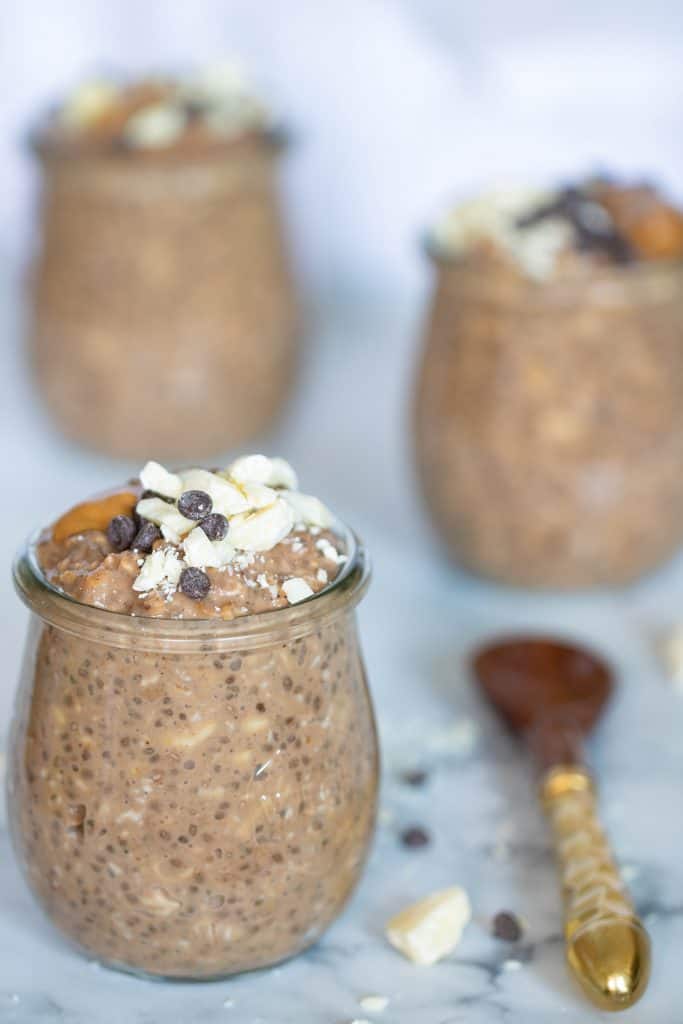 Now let's dig right into this recipe, shall we?
Add all ingredients to a medium bowl, stirring until well combined.
Tightly cover bowl with plastic wrap and refrigerate overnight (or at least 8 hours).
To serve (hot or cold), add oatmeal to individual bowls or jars and top with chopped Cacao Butter, Chocolate Chips, a few sprinkles of chia seeds, and a dollop of peanut butter, if desired.
Bon Appetite!
MADE OUR RECIPE(S)?
If you choose to make these Superfood Overnight Oats: Maca, Cacao, + Chia Seeds or any other recipe from us, be sure to tag us on Instagram at #Orchidsandsweettea so that we can share the love!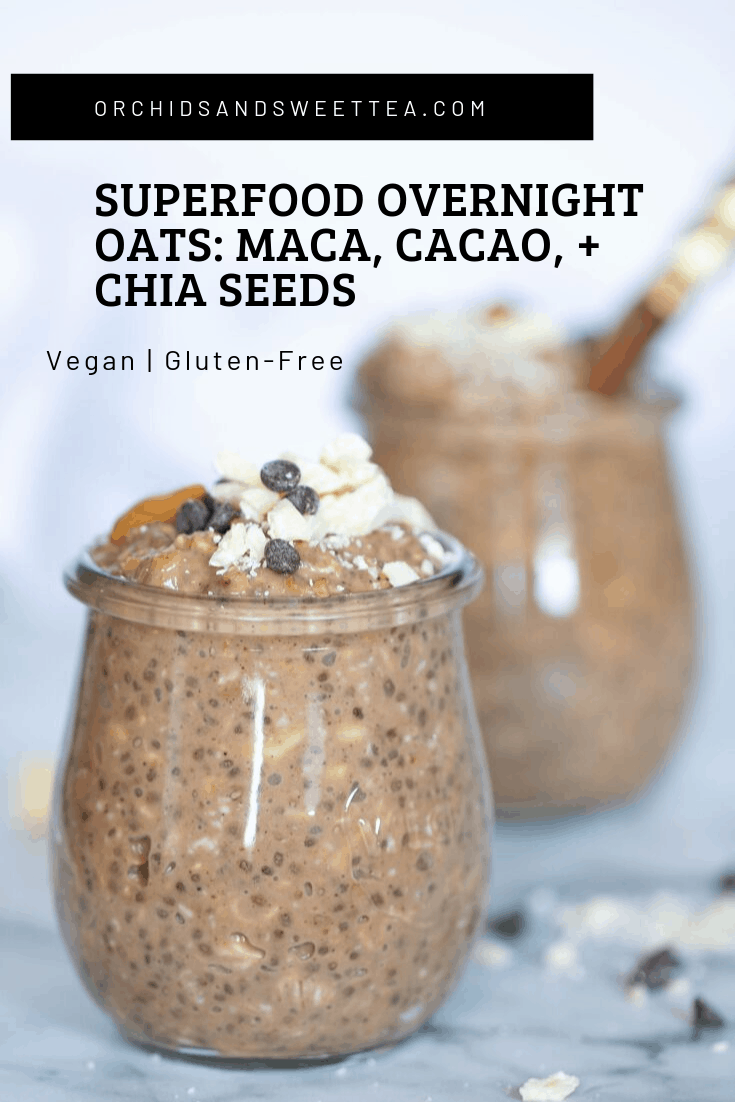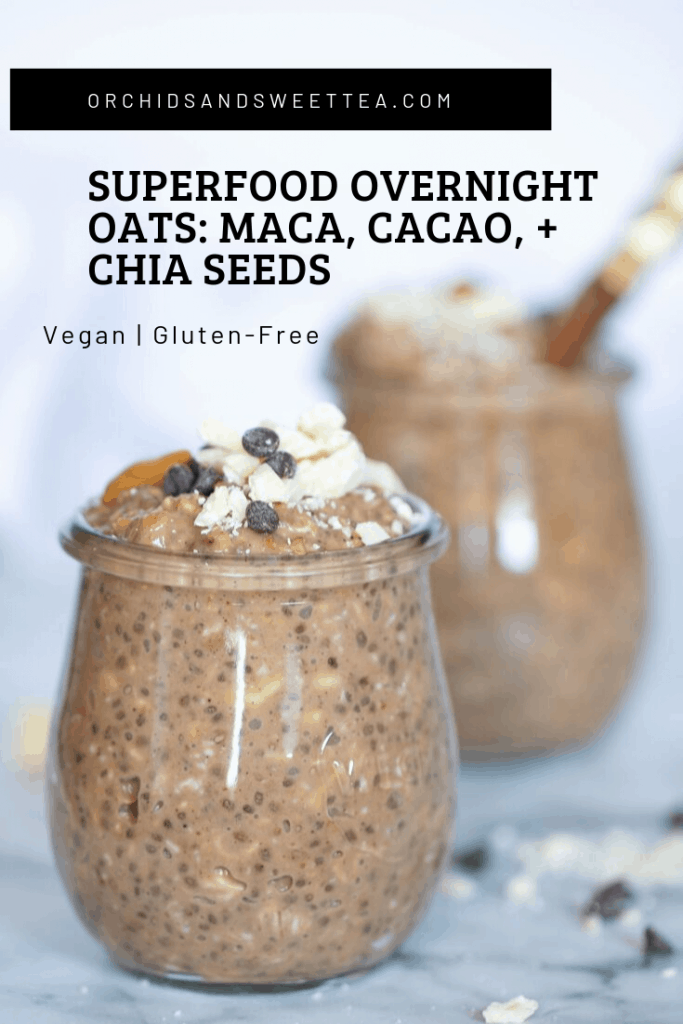 1

cup

Rolled oats, gluten-free

(I use Bob's Red Mill)

1

Tbsp

Navitas Organics' Cacao Antioxidant Blend powder

(See Notes!)

1

Tbsp

Navitas Organics' Maca powder

(See Notes!)

2

Tbsps

Navitas Organics' Chia Seeds

(See Notes!)

1

cup

Almond milk

(I use Califia Farms)

3-4

Tbsps

peanut butter, melted

(See Notes!)

2

Tbsps

pure maple syrup

(See Notes!)

2

tsps

vanilla extract

pinch of

sea salt
Toppings:
Navitas Organics' Cacao Butter, finely chopped

Navitas Organics' Chia Seeds

Vegan Chocolate Chips

peanut butter, melted
Add all ingredients to a medium bowl, stirring until well combined.

Tightly cover bowl with plastic wrap and refrigerate overnight (or at least 8 hours).

To serve (hot or cold), add oatmeal to individual bowls or jars and top with chopped Cacao Butter, Chocolate Chips, a few sprinkles of chia seeds, and a dollop of peanut butter, if desired.

Bon Appetite!
STORAGE: Can be stored in the refrigerator for up to 5 days. Perfect for meal prep for the week!
NUT BUTTER: If preferred, you can always substitute peanut butter with Almond butter, SunButter (perfect for allergy-free needs!), Tahini (Sesame Seed Butter), Hazelnut Butter, etc.
SWEETENER: Instead of maple syrup, you can simply use Agave or add an additional 1/2 cup mashed bananas to oats as a sweetener.
NAVITAS ORGANICS: To purchase the powders used in this recipe, visit the Navitas Organics' site.
SERVING SIZE: This recipe makes enough overnight oats to fit in 2 medium-sized mason jars OR 4 mini-sized mason jars. For twice the serving size—-double the ingredient amounts.
Superfood Overnight Oats: Maca, Cacao, + Chia Seeds.