This Sticky Teriyaki + Maple Cauliflower recipe is like no other. Truly a sweet tooth satisfies, while remaining true to being a healthier option. Completely vegan and dairy-free. The perfect dinner or lunch choice.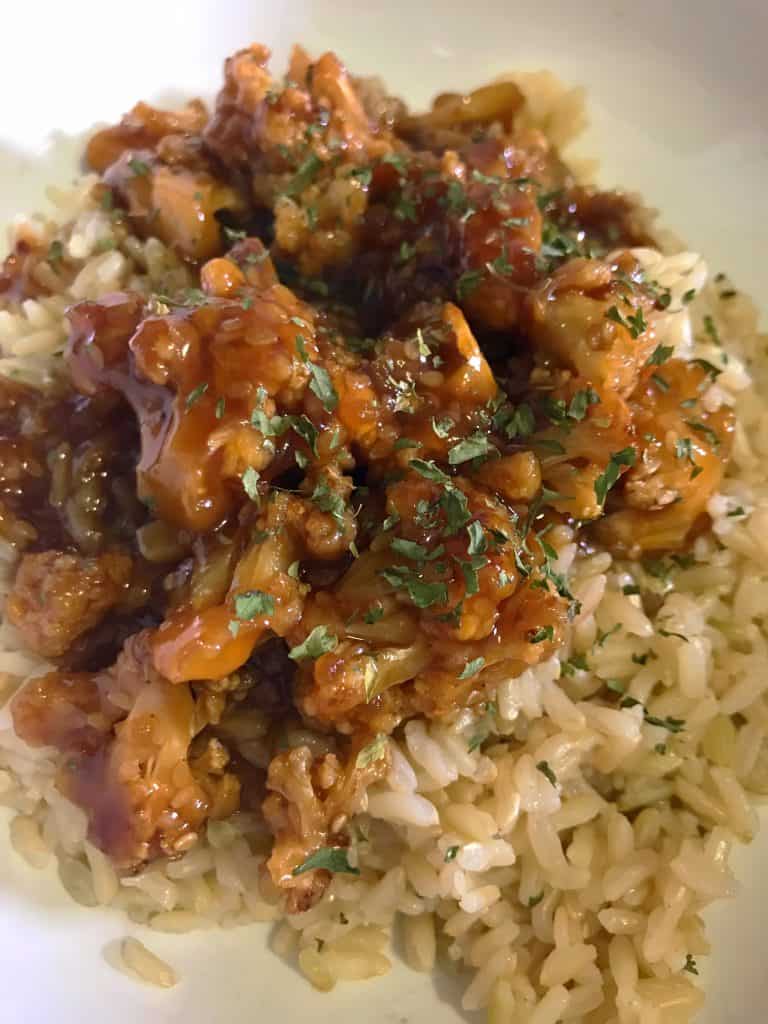 Eating a vegan diet has proven to be the best choice I've made (diet wise) in a really long time. I remember thinking to myself, "How in the heck am I going to really stick to this when I couldn't even stick to eating vegetarian?". But I must say, that this has been such an eye opening experience. The first thing that it has taught me is that you aren't truly able to do anything until it's the right time. Timing is definitely EVERYTHING! I've realized that because I am at a period in m life where I know that I am absolutely ready to go at this new diet (all the way), it's less of a struggle mentally. I'm actually more excited about every meal. I'm excited to see what I can make out of unexpected ingredients! The second thing that this experience has taught me is that things CAN be a lot better than they seem.
Honestly, I wasn't aware that I could make such great meals while being a vegan. I assumed that a vegan diet would make things less interesting and that I wouldn't be able to eat hardly anything since MOST things contain milk, eggs, honey, meat, and some other kind of dairy. BUT I was wrong. Being on my vegan diet has allowed me to eat most of the same things (if not more!), however, it's just using different ingredients. Trust me, it's so GOOD and your body feels good! So, I say this to say, that nothing is as impossible as it may seem at first, not even in a new diet. You'll go through periods of second guessing, fear, and maybe even the temptation of reverting back to your "familiar" but it'll get better. And by better, I mean a lot BETTER. In time, this new thing will be an old thing and will become your norm. So, if you're trying a new diet, perhaps exercising towards a certain weight goal, or just doing anything else, remember to keep at it. You go this!
Anyway, with this recipe, I chose to do a play on sesame chicken, but instead used teriyaki sauce (which included sesame seeds) and added a bit of maple syrup to create a stickiness. It was a super easy process, which only required that you first bake the cauliflower (for a crispy texture) and make your rice according to the packaging. I chose to use Basmati brown rice because it is much healthier and easier to cook than other rice grains (in my opinion). This recipe is a sure crowd pleaser and the sweetness and bold flavor along with with the "meatiness" of the cauliflower will leave you forgetting the absence of meat. Even my little one enjoyed this dish. So I think hat it's safe to say that it's a great dish for the entire family.
FYI: I used the Soy Vay Veri Veri Teriyaki Marinade and Sauce, which already has sesame seeds and it is a really great tasting sauce.
Speaking of family, this past weekend (Saturday to be exact), I enjoyed a nice outing with my In-Laws. My sister-in-law recently moved to New Jersey and she decided to drive up to get us for a family day. My husband, myself, my little one, Mother-in-law, Sister-in-law, and her boyfriend all had a nice time in New Jersey eating out, going to the mall, hanging out at her beautiful home, and even having a spa day. It was nice time spending time with loved ones! It definitely made me realize why people move out of NYC also. You get to see dears, rabbits, and all kinds of wild life that you wouldn't typically see in the city. The streets are super clean, the air is fresh, the food is AMAZING, and it's such a town-like feel. I loved it. So, coming back to the city life gave me the inspiration to do something sweet for dinner to counter the bittersweet feeling of being back, plus all the meat that my husband I had to sit through but refuse. Haha! Our black bean burgers were still great though!
Anyway, be sure to check out the recipe for this delicious dish down below. Enjoy!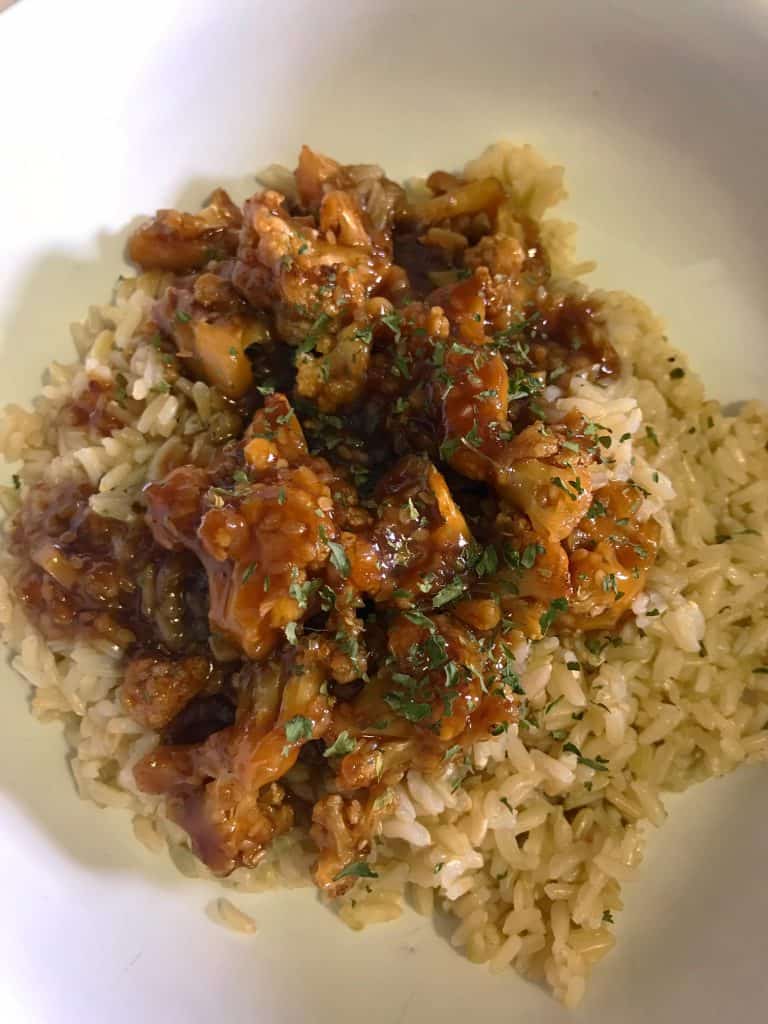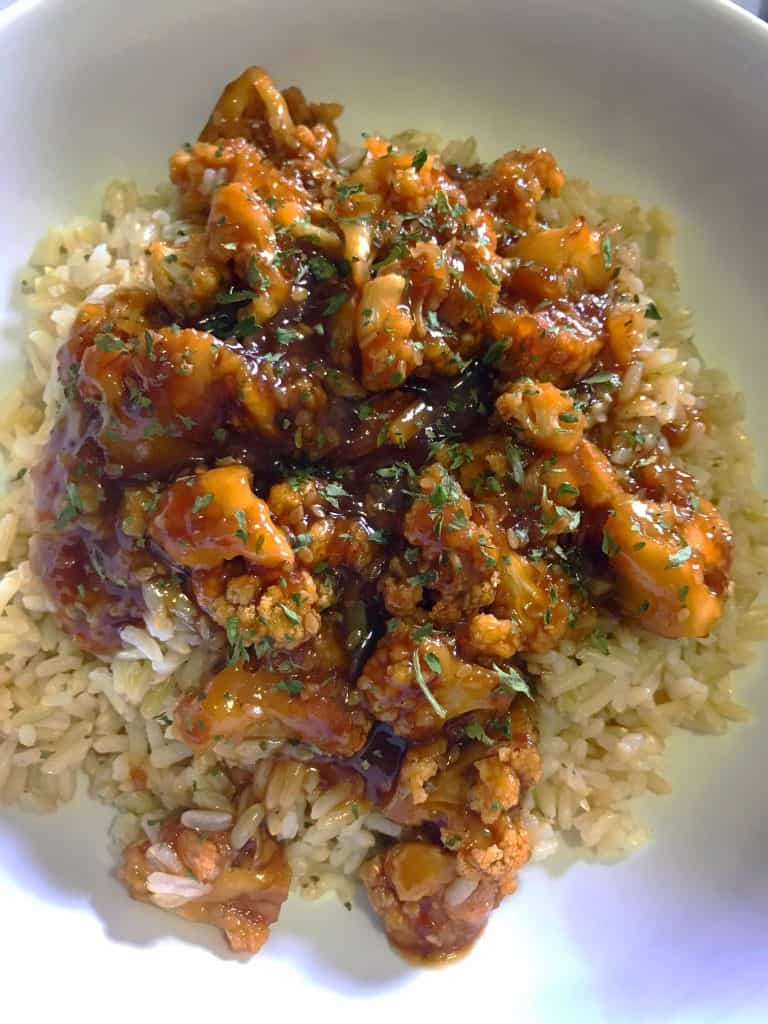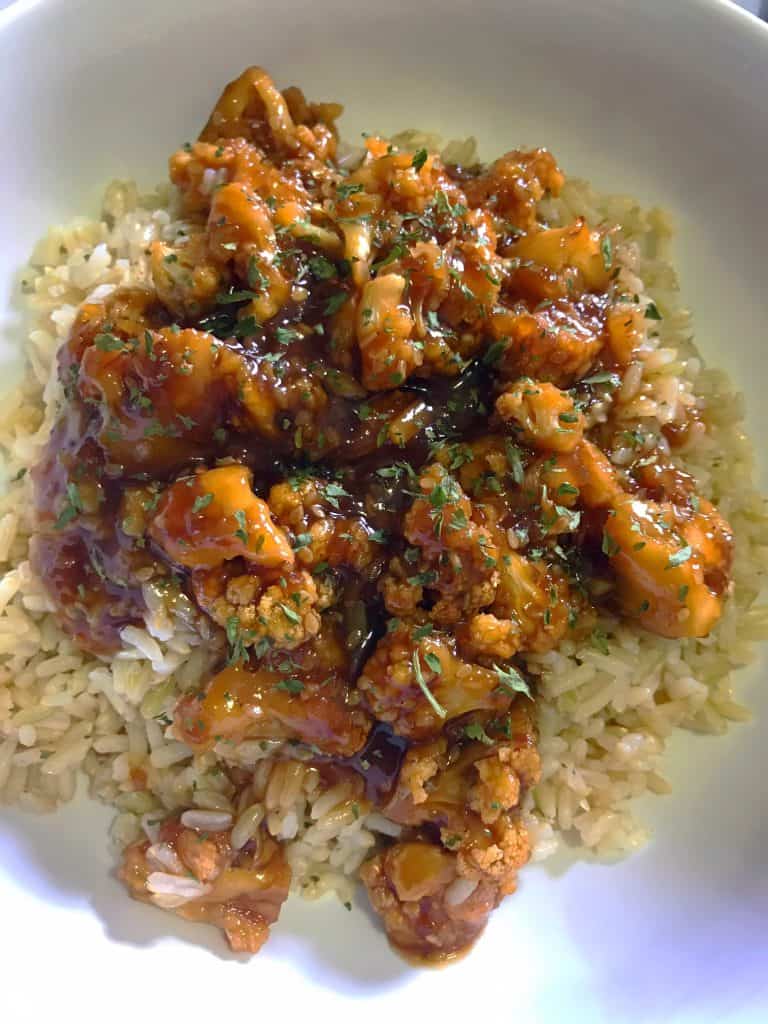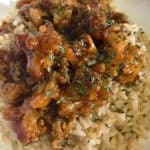 Sticky Teriyaki + Maple Cauliflower
This Sticky Teriyaki + Maple Cauliflower recipe is like no other. Truly a sweet tooth satisfies, while remaining true to being a healthier option. Completely vegan and dairy-free. The perfect dinner or lunch choice.
Must-Haves:
1

head of

cauliflower

1

cup

teriyaki sauce

1/4

cup

organic maple syrup

1

small clove

garlic

(minced)

1/2

tsp

powdered ginger

1 1/2

Tbsps

flour

sesame seeds

(for garnish)
Instructions:
Preheat oven to 450 degrees Fahrenheit. Grease a baking pan or line with parchment paper.

Cut cauliflower into florets, then slice so one side of each floret is flat.

Arrange in a single layer in the baking pan and bake for 10 minutes or so, until lightly brown and crisp.

Meanwhile, whisk together the teriyaki sauce, maple syrup, garlic and ginger in a saucepan. Bring to a boil. Then slowly whisk flour into the saucepan as soon as it boils.

Turn heat to medium and cook 2 minutes, stirring more frequently once it returns to a boil. Cook until thick.

Flip cauliflower florets on their opposite side and bake 10 additional minutes.

Pour sauce over florets. Sprinkle sesame seeds and serve. Bon Appetite!
There you have it, Sticky Teriyaki + Maple Cauliflower to the rescue!
Remember, to rate this Recipe + Share it with your Friends + Family!
What does your favorite weekend meal look like?
Be sure to let me know down below in the comments.