This Spicy Vegan Lentil + Veggie Soup has been long overdue! I remember making this a few weeks ago and thinking to myself, "oh my, how delicious". I'm such a big lover of soup (or at least I use to eat soup almost daily some years ago) and I was really excited to make this. This recipe is truly a hearty one and you will not miss meat whatsoever.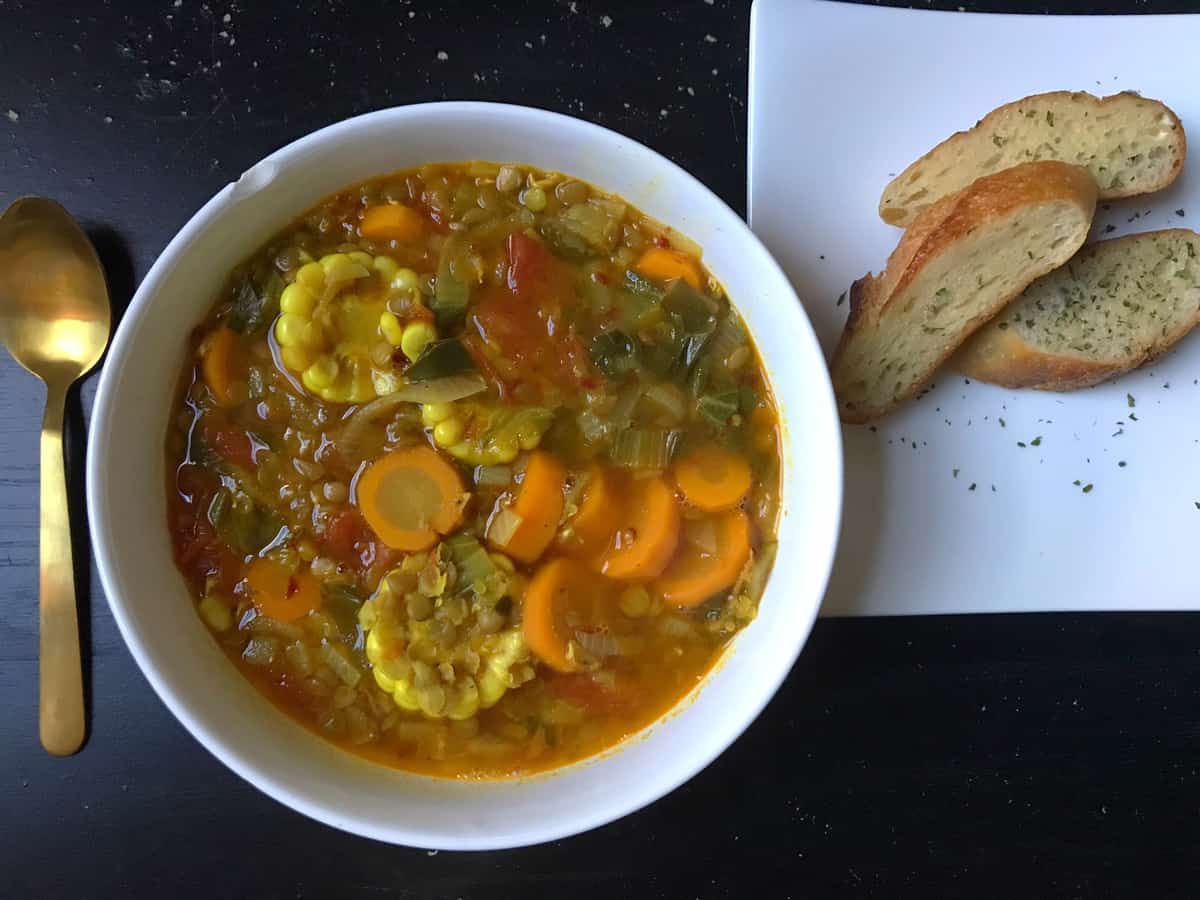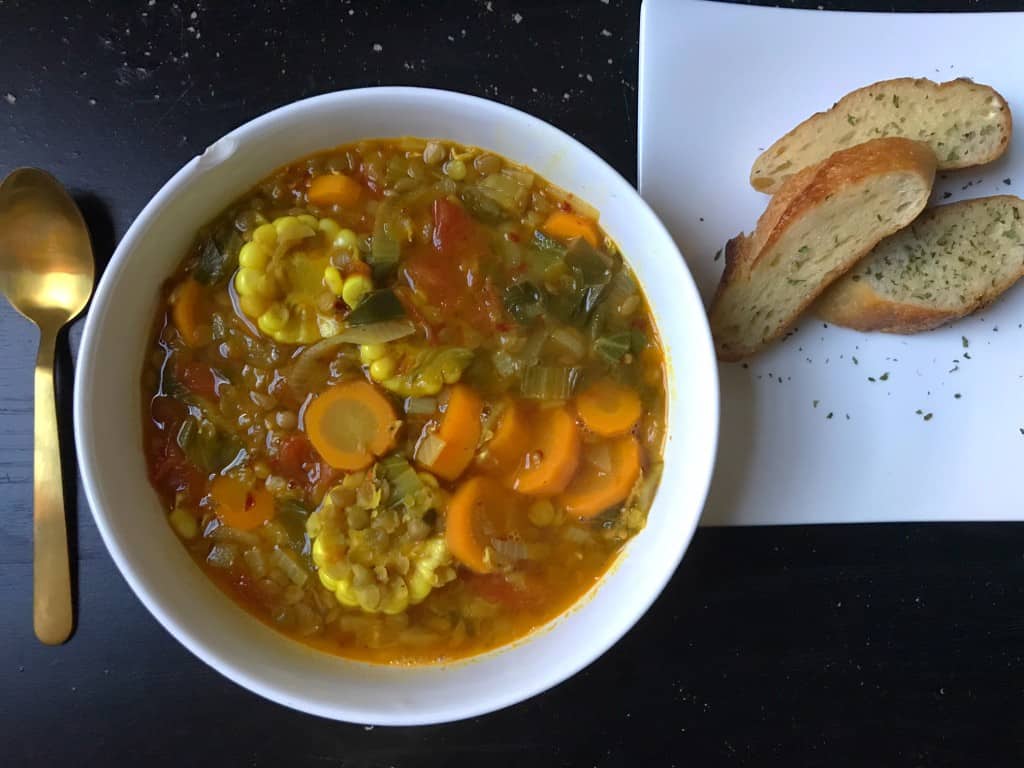 As you can see (at least slightly anyway), that I added an array of veggies to make it filling and full of flavor. The corn, carrots, and even kale + bok choy, were a great addition.
Plus, you know that I am a lover of spice, so this really hit a nice home run for me. But don't worry—it's not extremely spicy or unbearable.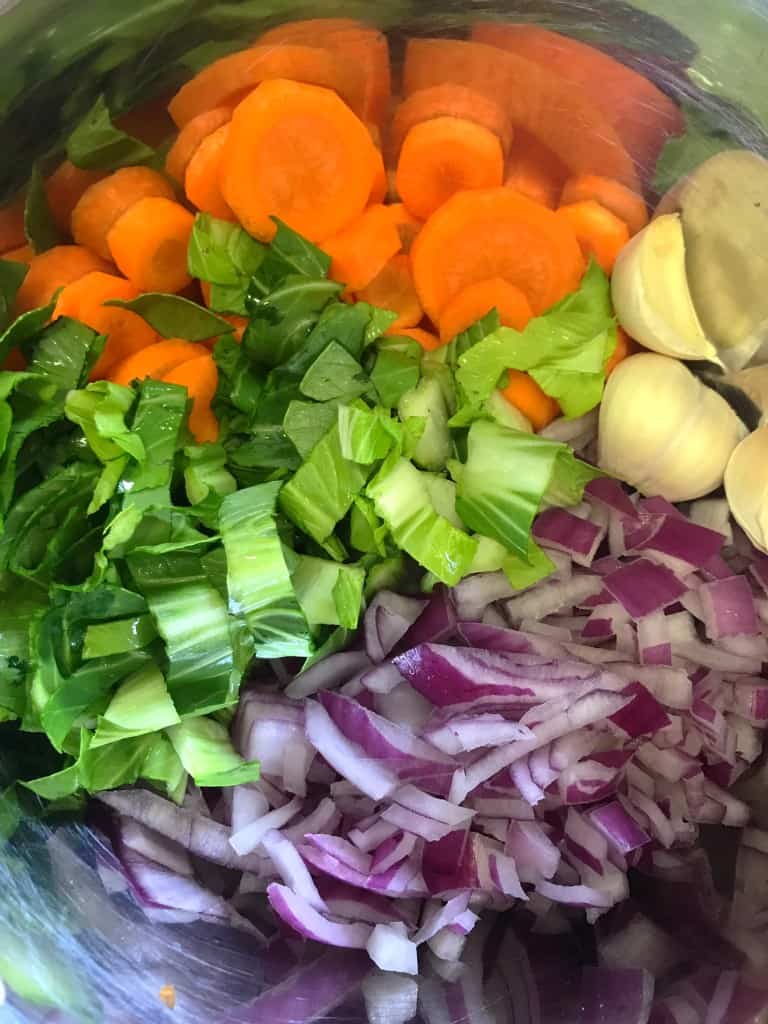 Just know that this may be in great competition to the classic favorite "chicken soup", so be prepared for the goodness of this dish.
Per usual, I soaked my lentils overnight (and sometimes 2 days in advance and then freezing it until I'm ready to use it).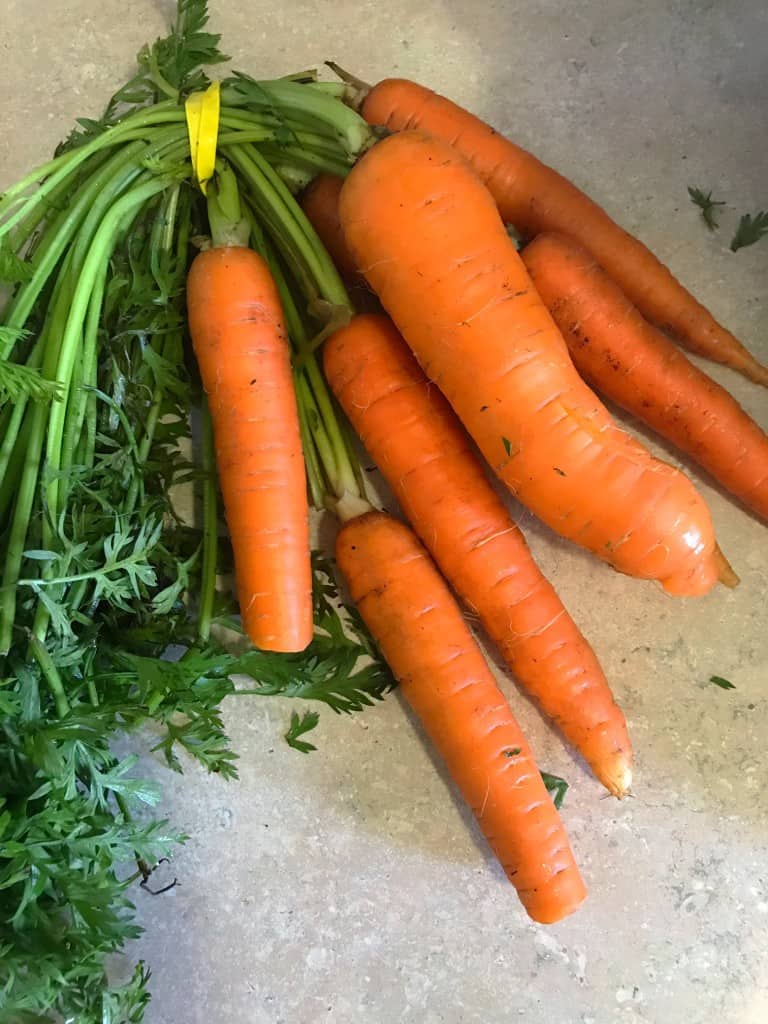 The great thing about lentils are that they cook so much faster than other beans. I would say that lentils cook in about 15-20 minutes and they are super soft once cooked, so try not to over cook them!
I must say that I did in fact over-indulge when I made this and I thoroughly enjoyed re-heating a nice bowl the next day.
Trust me, the taste was just as good in the second day as it was in the first. However, for me, a nice soup wouldn't exist without some sort of side of bread.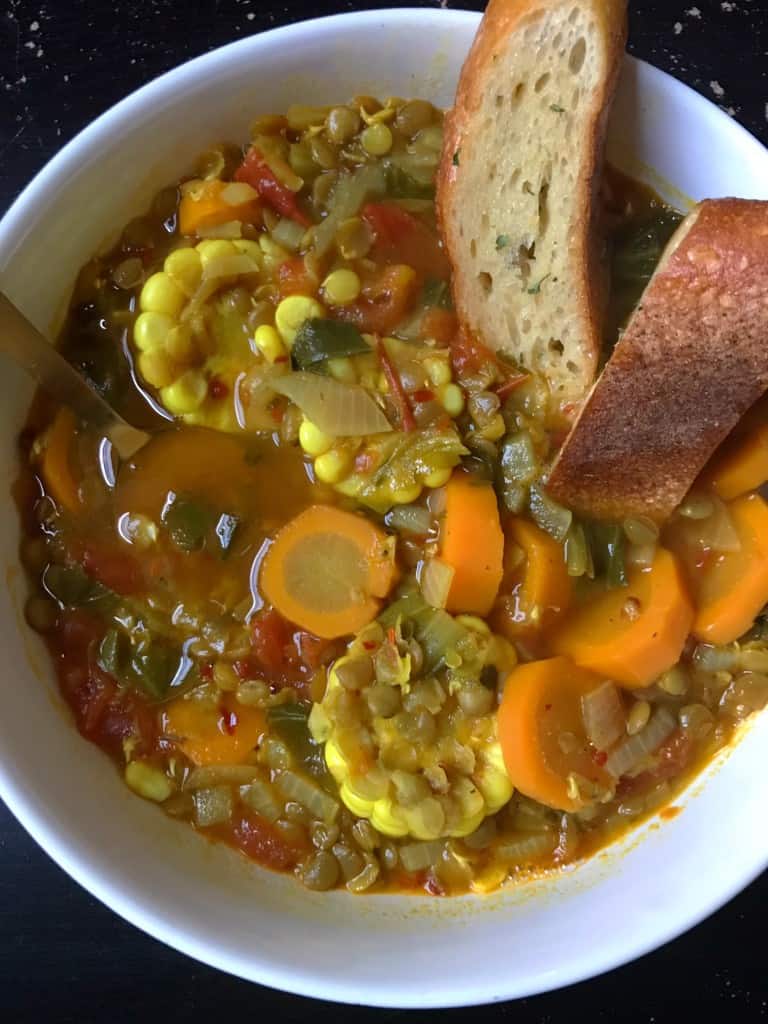 I'm not sure whether it's the Southern girl in me, but I do love a nice bowl of soup with a side of garlic bread or something! Don't you?
So, sure enough, I used a few slices of sourdough bread and and toasted them in the oven (on 400 degrees Fahrenheit for about 10 minutes or so) with a spread of vegan butter and a few sprinkles of dried parsley.
Wallah! A nice added bite to this veggie soup.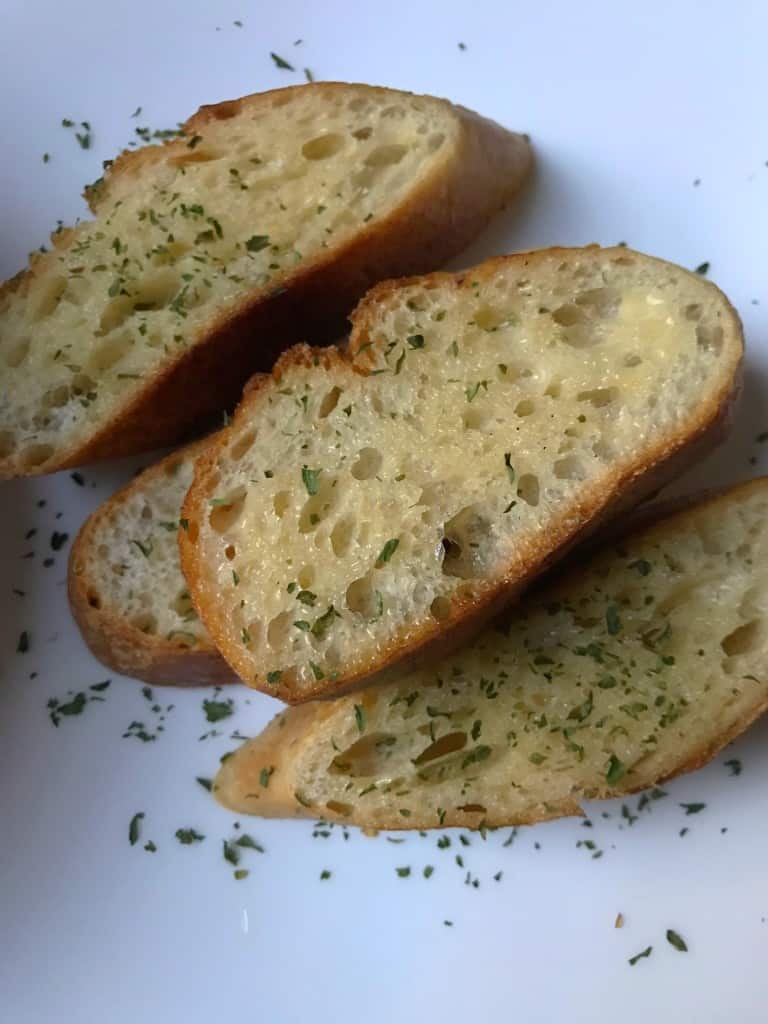 I definitely had to remind myself that it is in fact Summer weather, so eating soup daily wouldn't be such a great idea on a daily basis! Haha!
But having an AC indoors always throws that excuse out the window. Rest assured, this is a great recipe for the cooler months ahead, especially here in NYC. So, be sure to save this one on your list!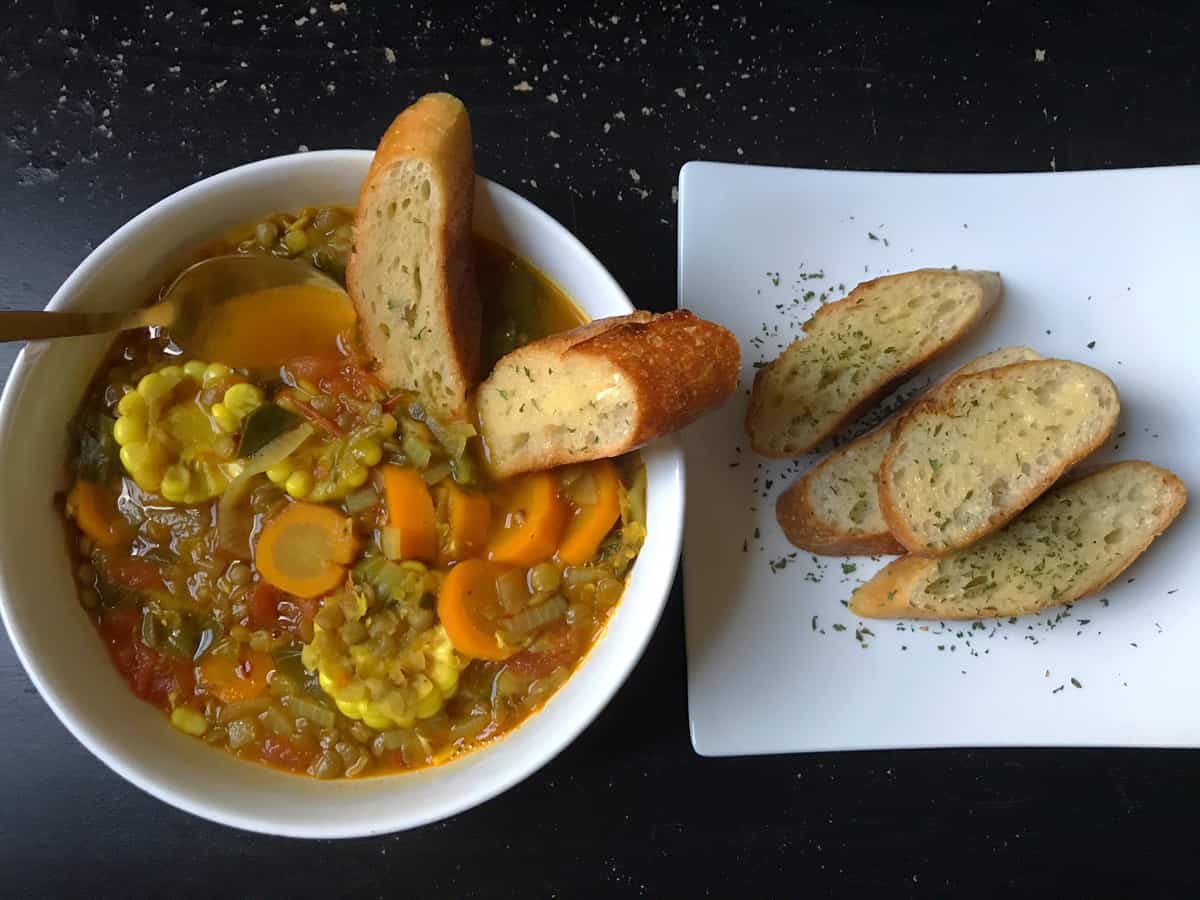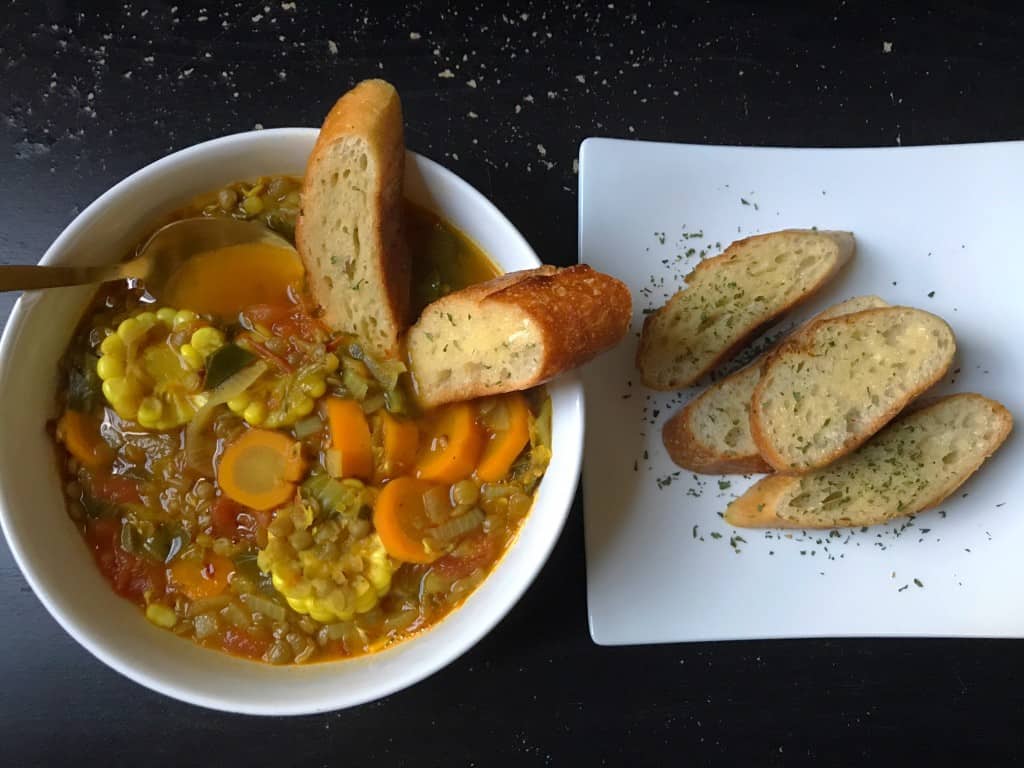 If you'd prefer to make a side of Garlic Bread instead, be sure to check out my recipe: Garlic Bread Recipe
And don't forget to add a nice sweet treat to your palette after this nice meal: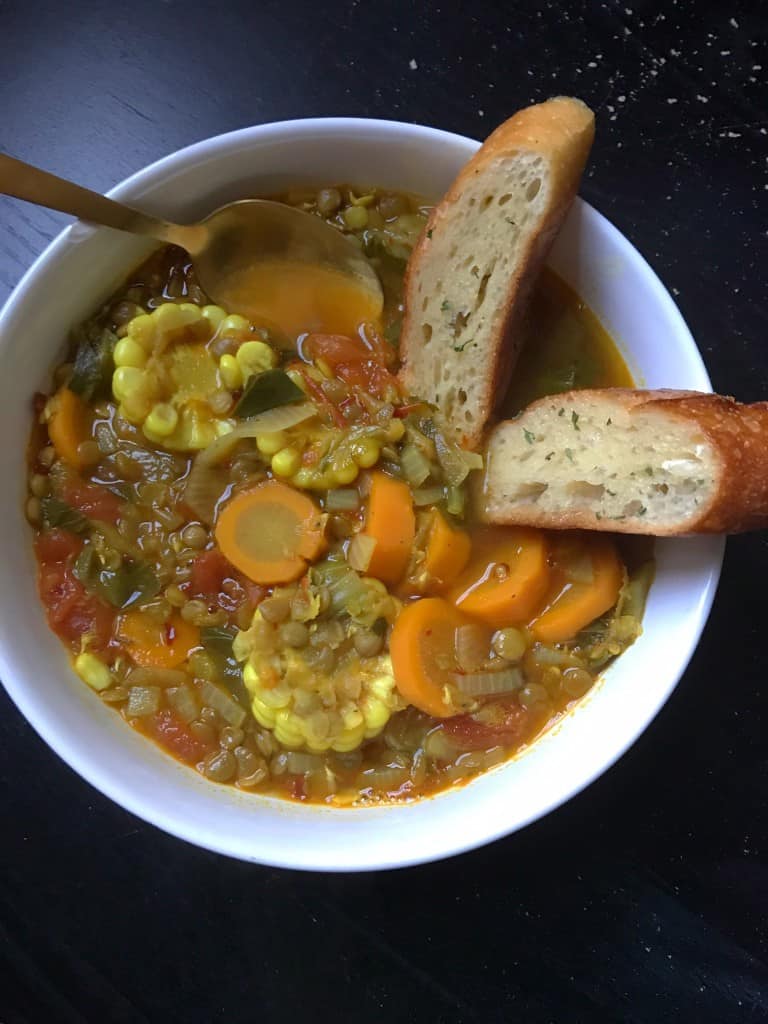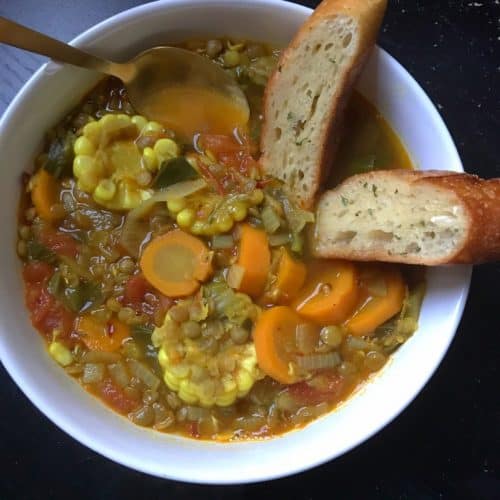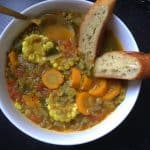 Spicy Vegan Lentil + Veggie Soup
Must-Haves:
1/4

cup

extra virgin olive oil

1

medium

onion

(I used the purple onion)

2

tsps

cumin

1

tsp

curry powder

2

large

tomatoes

(diced)

one

15 oz.

can of tomato sauce

1

cup

lentils

(soaked overnight + rinsed)

4

cups

vegetable broth

2

cups

water

1

tsp

sea salt

1

tsp

red pepper flakes

pinch of

black pepper

1

cup

chopped bok choy

(ribs removed + rinsed)

1

cup

chopped kale

(ribs removed + rinsed)

1

large

white corn

(chopped into small halves)

1

tsp

lemon juice
Instructions:
Warm the olive oil in a large Dutch pot over medium heat. One-fourth cup olive oil may seem like a lot, but it adds a nice richness to the soup!

Once the oil is heated, add the chopped onion and carrot and cook, stirring often, until the onion has softened, about 5 minutes. Add the garlic, cumin, curry powder and thyme.

Cook until fragrant while stirring constantly, about 30 seconds then pour in the diced tomatoes and cook for a few more minutes, stirring often, in order to enhance their flavor.

Pour in the lentils, vegetable broth, tomato sauce, and the water. Add sea salt and red pepper flakes. Season generously with freshly ground black pepper.

Next add the carrots and corn into soup mixture.

Raise the heat and bring the mixture to a boil and then partially cover the pot and reduce heat to maintain a gentle simmer (on the 2nd lowest setting is best!).

Cook for 30 minutes, or until the lentils are tender but still hold their shape.

Add the chopped greens and cook for 5 more minutes, or until the greens have softened to your liking.

Add extra spice to your soup with hot sauce (if desired) and WALLH! Bon Appetite!

Leftovers will keep well for about 4 days in the refrigerator, or can be frozen for several months (just defrost before serving).
Remember, to rate this Recipe + Share it with your Friends + Family!
Spicy Vegan Lentil + Veggie Soup.