This Spicy Tomato Chickpea Sauce + Baked Chicken recipe has loads of bold flavor and real spice that is sure to set your dinner table apart from the rest. Juicy chicken breast (thinly sliced), tomatoes, chickpea, all atop cooked brown rice and lathered in a beautiful chickpea sauce; this is surely the perfect dinner choice.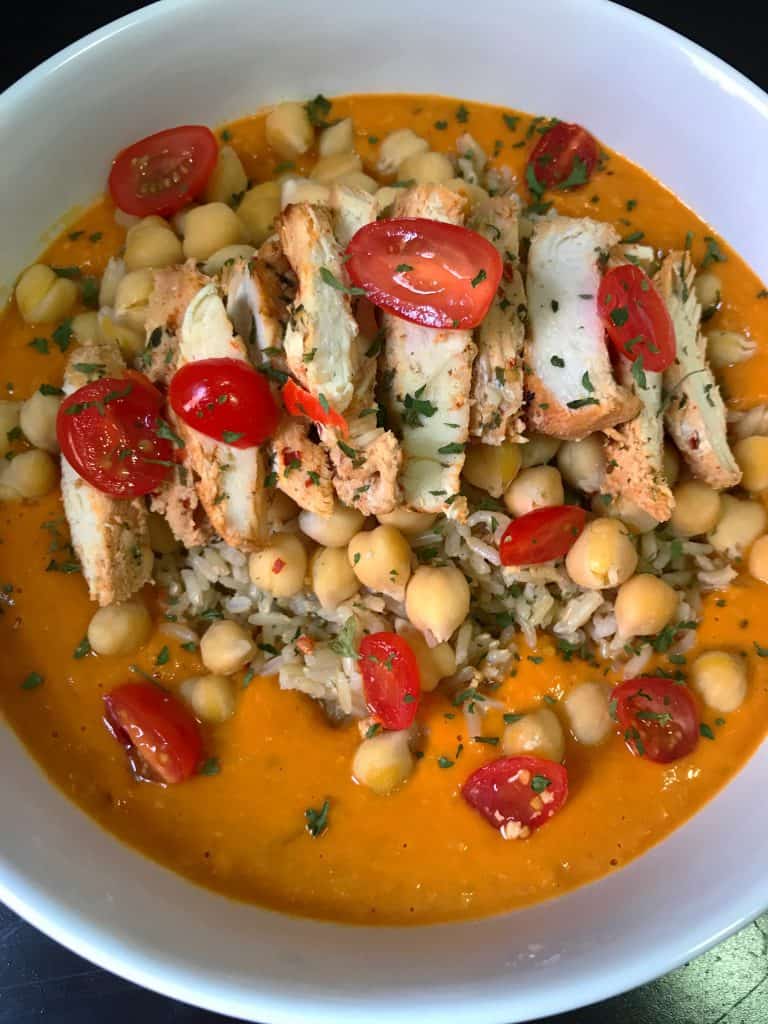 So it's been said that chickpea is a really great bean to eat and I must agree! Before being on my Vegetarian journey a few months ago (which was fairly short lived–Haha!),I never really ate chickpeas.
However, I've since realized that this type of bean is extremely popular and it's versatility is phenomenal! It's definitely become one of my favorites!
As for this dish, I chose to make my chickpeas two ways. One way was in the sauce that works lovely with the chicken and brown rice, while the other way was simply boiled chickpea atop the rice.
This made for a nice balance of flavor and great complexity in the dish's texture. Just as a funny side note—I didn't know that chickpeas were also called "garbanzo beans", and I kept looking at the packaging (I usually purchase the dry beans) when buying it at the grocery store trying to make sure that it was chickpeas.
And I kept thinking to myself, well this looks exactly like chickpea, so I googled it and realized that it in fact was and was like duh!!. Haha! Well, now I know. Am I the only one just learning this?
Anyway, here's a bit of healthy facts that I learned about chickpea in terms of health benefits:
1. Helps Control Blood Sugar Levels
2. Increases Satiety and Helps with Weight Loss
3. Improves Digestion Thanks to a High Fiber Content
4. Helps Protect Against Heart Disease and Cancer
5. Provides Essential Vitamins and Minerals ( iron, zinc, folate, phosphorus, and B vitamins to be exact!)
6. Great Source of Plant-Based Protein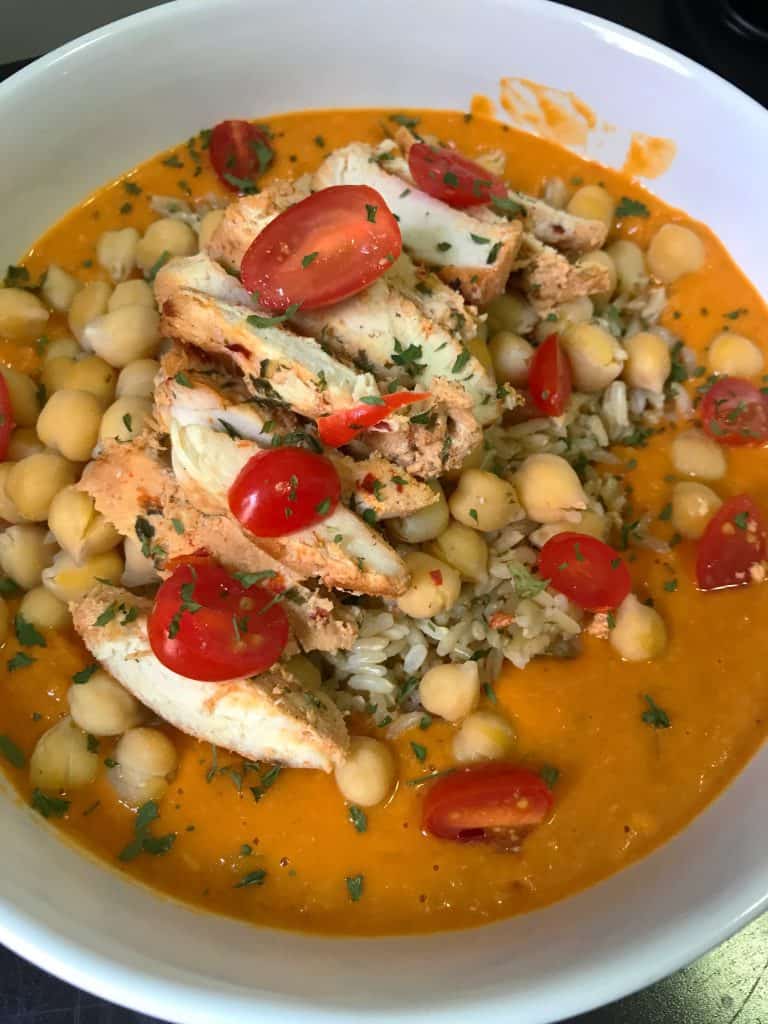 So they're not just awesome in taste, but they also do wonders for our health.
Plus, chickpeas are one of the many beans that work really well as a salad (I've done a buffalo chickpea salad recently—AMAZING!), as a burger, in tacos (you can find my recipe: Click Here!), curried (I also did this, for the recipe: Click Here! ), among many other things.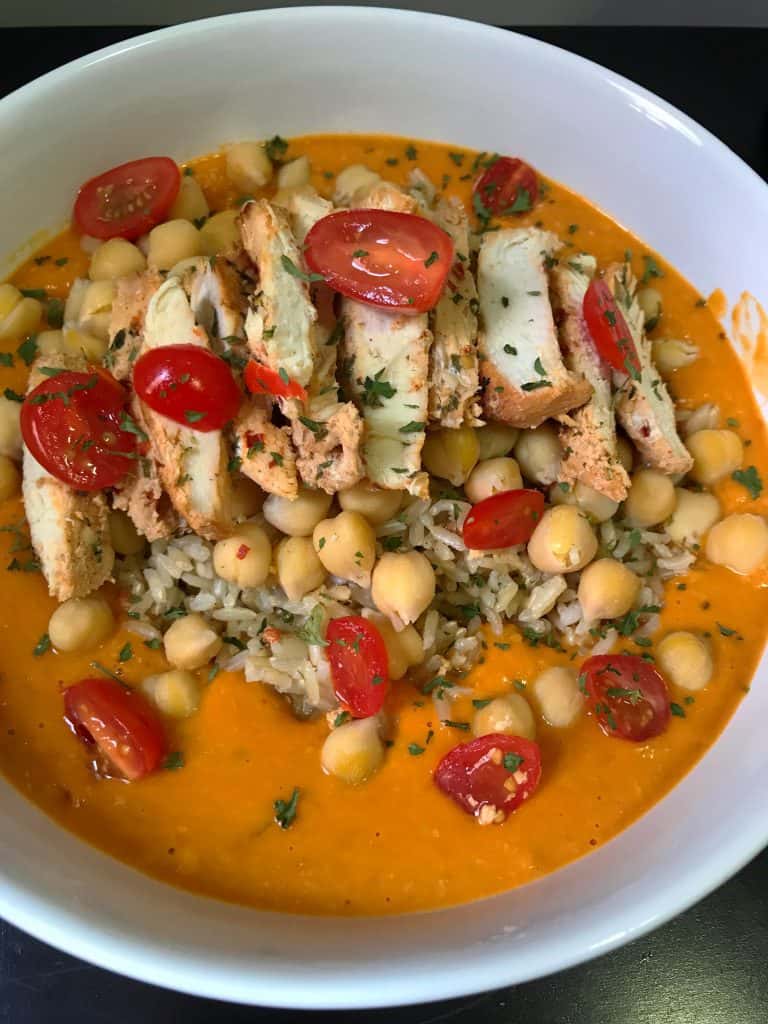 It's universal, Ya'll!
Anyway, in this dish, I chose to use brown rice (since it's healthier), and chicken breast (which I baked in the oven on 400 degrees Fahrenheit for about 35-40 minutes, but the key is seasoning it overnight!).
Everything was fairly easy to make, and per usual, the only thing that took the longest were the chickpeas, which I soaked overnight and boiled for an hour.
However, you can completely cut out a large portion of the time by using a can of chickpeas instead (you'll need 2 in this case— for the sauce and the other to top the rice).
The sauce is super creamy (especially because of the coconut milk used) and you can make it as thick or thin as you'd like. Simply adjust the time pureed in the blender. The longer you blend, the more thin the sauce becomes.
By the way, be sure to adjust your blender's speed to the lowest level possible to avoid splashing! Let's just say, I didn't know how strong my Vita-mix blender was and I has an extra task to do in between cooking, plus some burns! OUCH!
But I'm OK, no worries! All in all, this was a nice addition to our family meal over the weekend and my Hubby and I thoroughly enjoyed the creaminess and burst of flavor of the dish (from the sauce and chicken breasts).
Also, keep in mind that the sauce can be even spicier (if you love spice!) by adding more Jalapeños pepper or even a scotch bonnet pepper! It's all about the preference of your taste buds.
Be sure to check out the recipe below and let me know what you think in the comments below!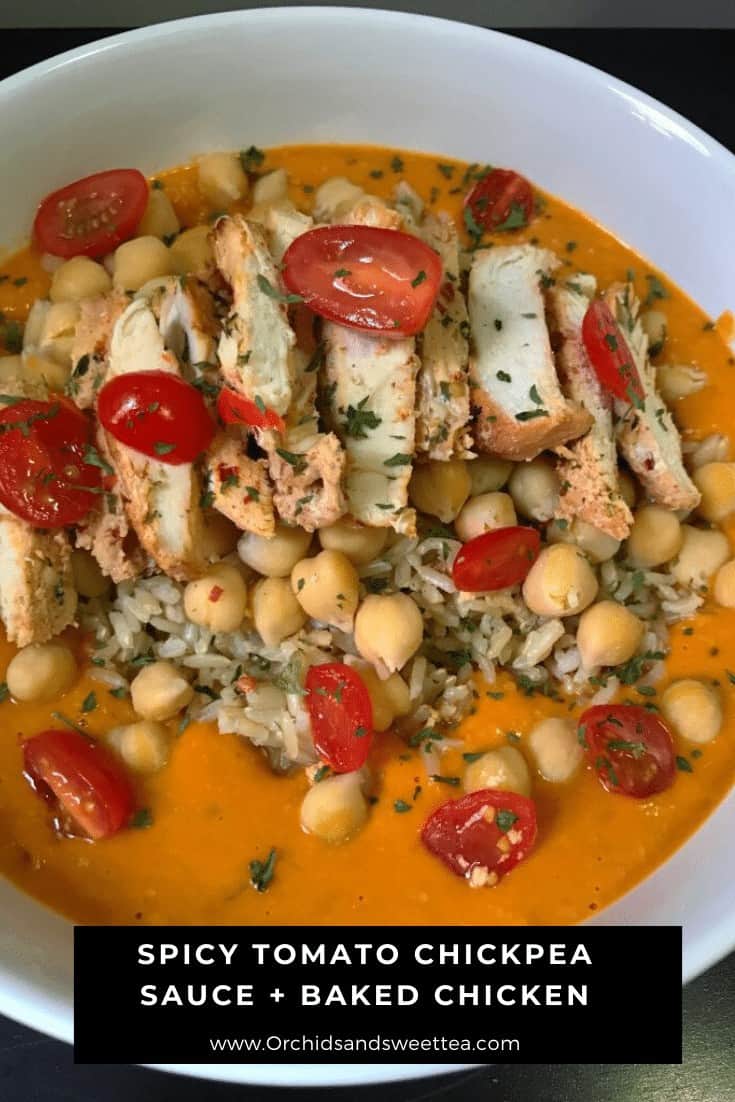 Spicy Tomato Chickpea Sauce:
Other:
2

lbs.

chicken breasts, sliced + cooked

2

cups

cooked rice, Basmati or other type

(Cooked according to packaging)

2

cups

chickpeas, roasted

(See Notes!)

handful

grape tomatoes, halved

dried parsley
Heat olive oil in a large sauce pan on medium heat and add the onion, garlic, and jalapeno pepper and cook for a few minutes until browned.

Add all the spices and lemon juice and cook for 2 minutes or so.

Add can of tomato sauce and let simmer for 10 minutes.

Add chickpeas, coconut milk, and cook for another 5 minutes.

Transfer sauce to a blender and blend on the lowest speed possible, until smooth (you may have to do this in two batches depending on your blender size). If the sauce is too thick for your liking, continue blending for a longer amount of time until you get the consistency you prefer.

To serve: Add sauce on top of rice, followed by roasted chickpeas, sliced chicken breast, dried parsley and fresh tomatoes (if preferred). Bon Appetite!
CAUTION: When blending sauce, please be sure to put the speed on the lowest possible to avoid splashing and possible burns!!
ROASTED CHICKPEAS: Preheat oven to 350 degrees Fahrenheit and line a baking sheet with parchment paper. In a medium bowl, add chickpea and seasonings (1 Tbsp smoked paprika, 1 Tbsps dried parsley, 1 tsp garlic powder, 1 tsp red pepper flakes, 1/2 tsp cumin, 1/2 tsp black pepper, + 1/2 tsp sea salt), stirring them together until well coated. Add chickpeas to baking sheet and bake for 15-20 minutes, tossing them mid-way until golden brown and crisp. Remove from oven and set aside.
TURMERIC: While adding turmeric is optional, it definitely has benefits: powerful medicinal properties, natural anti-inflammatory ingredient, increases antioxidant activity in the body, and more.
STORAGE: Leftovers can be stored in a tightly sealed container in the refrigerator for up to 3 days, for optimal freshness. 
Spicy Tomato Chickpea Sauce + Baked Chicken.