This Spicy BBQ Chickpea Lettuce Wraps recipe is the best light meal option as an appetizer (or lunch) ever invented. Super flavorful, meat-less, and bursting with a kick of heat! Completely dairy-free and a vegan option is available.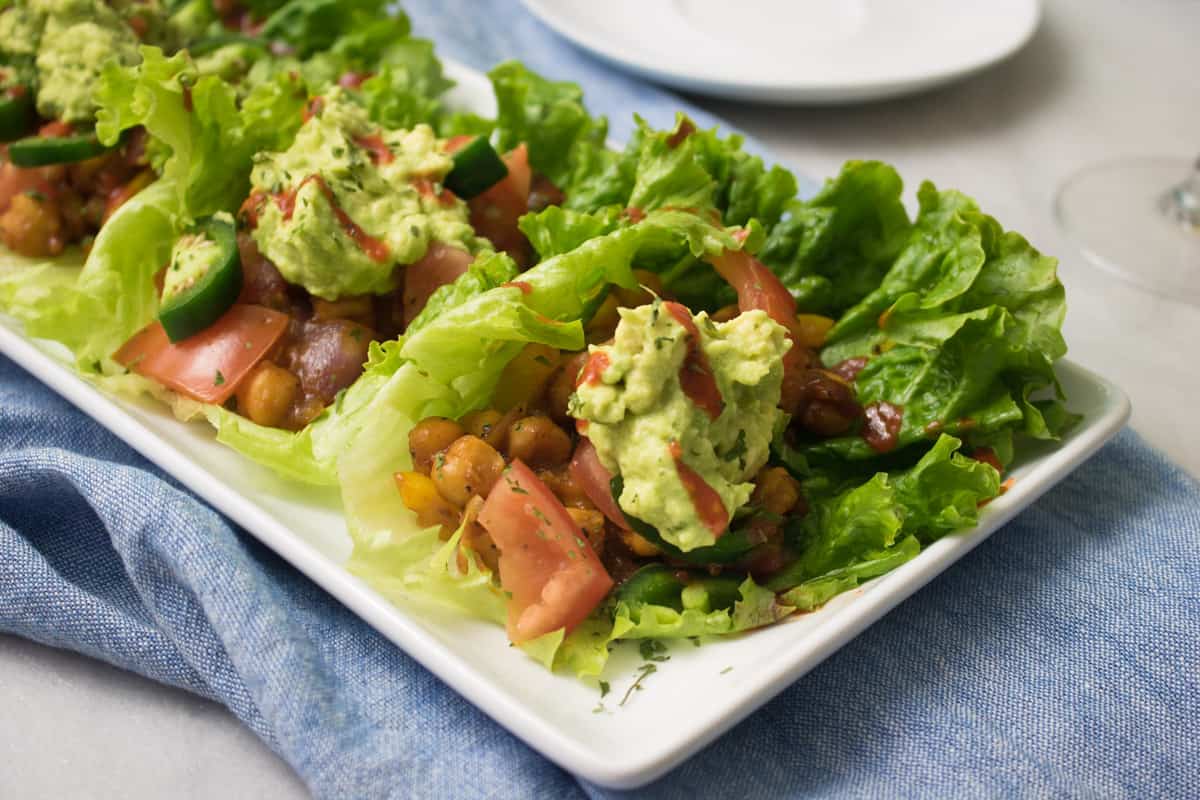 Yummy! These lettuce wraps are so delicious! I was so upset once I had my last bite and realized that it was finished! Haha. Seriously, it was that great.
I chose to go meat-less by choosing chickpea because as many of you may know, I enjoy eating vegan meals on occasion (maybe once or twice a week) so this falls within my usual schedule.
The great thing about this recipe is that it is super fast to make (under 30 minutes in total) and easy to make.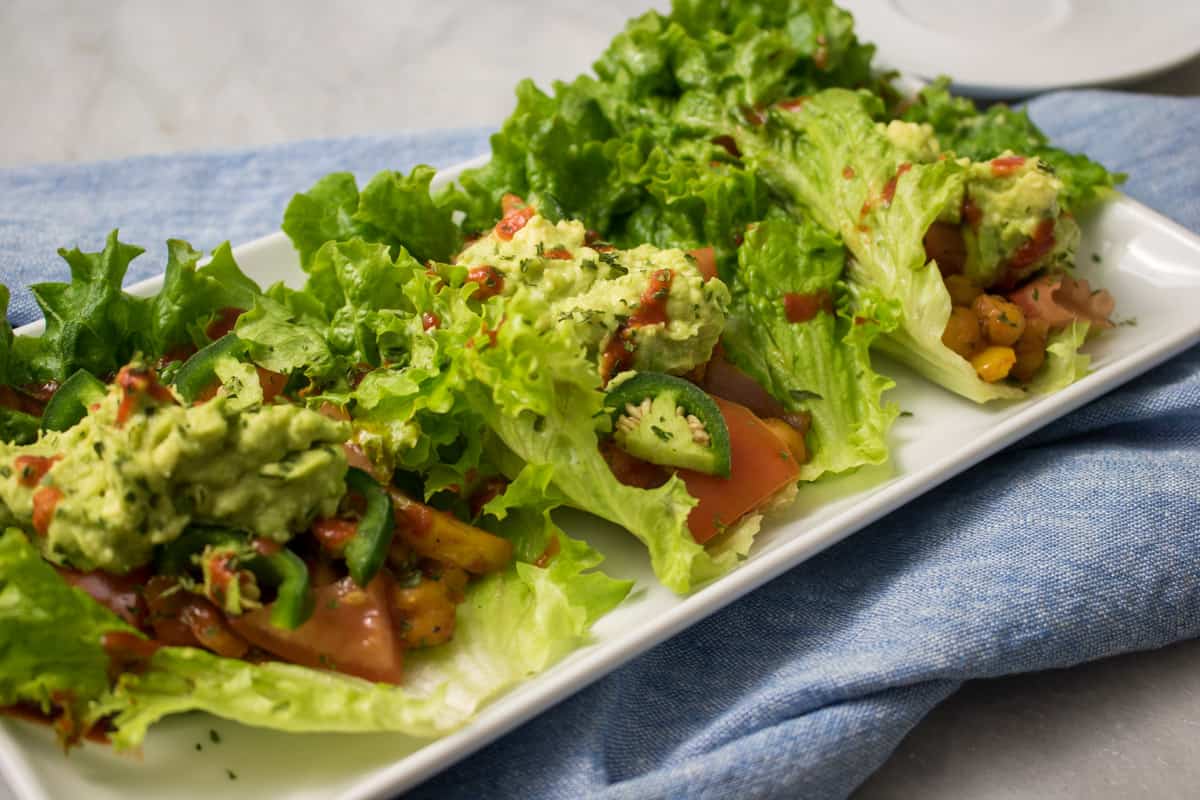 All you need are nicely cut romaine lettuce leaves, tomatoes, jalapeno, onion, bell pepper, can of chickpea, avocado, BBQ sauce, sriracha sauce, salt, pepper, and dried parsley.
You begin my prepping your lettuce leaves and keeping them flatly open to dry fully once rinsed. Next, you dice your onion and bell pepper before adding them to a heated skillet (or cast iron skillet) and sautéing for 1-2 minutes until fragrant.
Once you smell their sweet aroma, simply add your chickpea (drained + rinsed) to the skillet, seasoning with salt + pepper and tossing until heated.
Now, add the BBQ sauce + sriracha sauce over your chickpea + veggies, stirring frequently until well coated. Reduce the heat and let everything simmer and SIMMER some more for about 10 minutes or so.
In the meantime, prep your tomatoes, jalapeños and mash your avocado.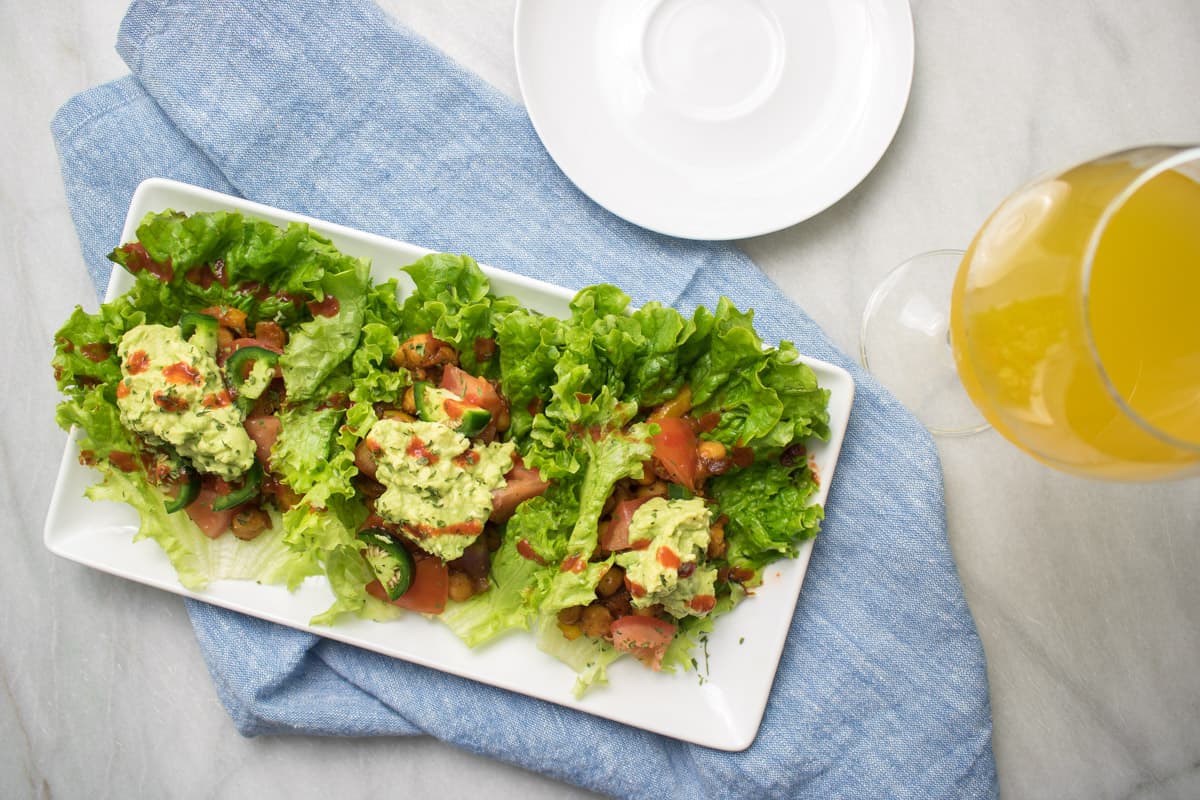 When chickpeas are tender, remove from heat and begin assembling your lettuce wraps: add your chickpea to your lettuce leaves, sprinkle the tomatoes and jalapeños, and follow suit with a generous dollop of your mashed avocado.
If desired, you can add additional sriracha sauce and dried parsley as garnish. Wallah!
MADE OUR RECIPE(S)?
If you choose to make this Spicy BBQ Chickpea Lettuce Wraps recipe or any other recipe from us, be sure to tag us on Instagram at #Orchidsandsweettea so that we can share the love!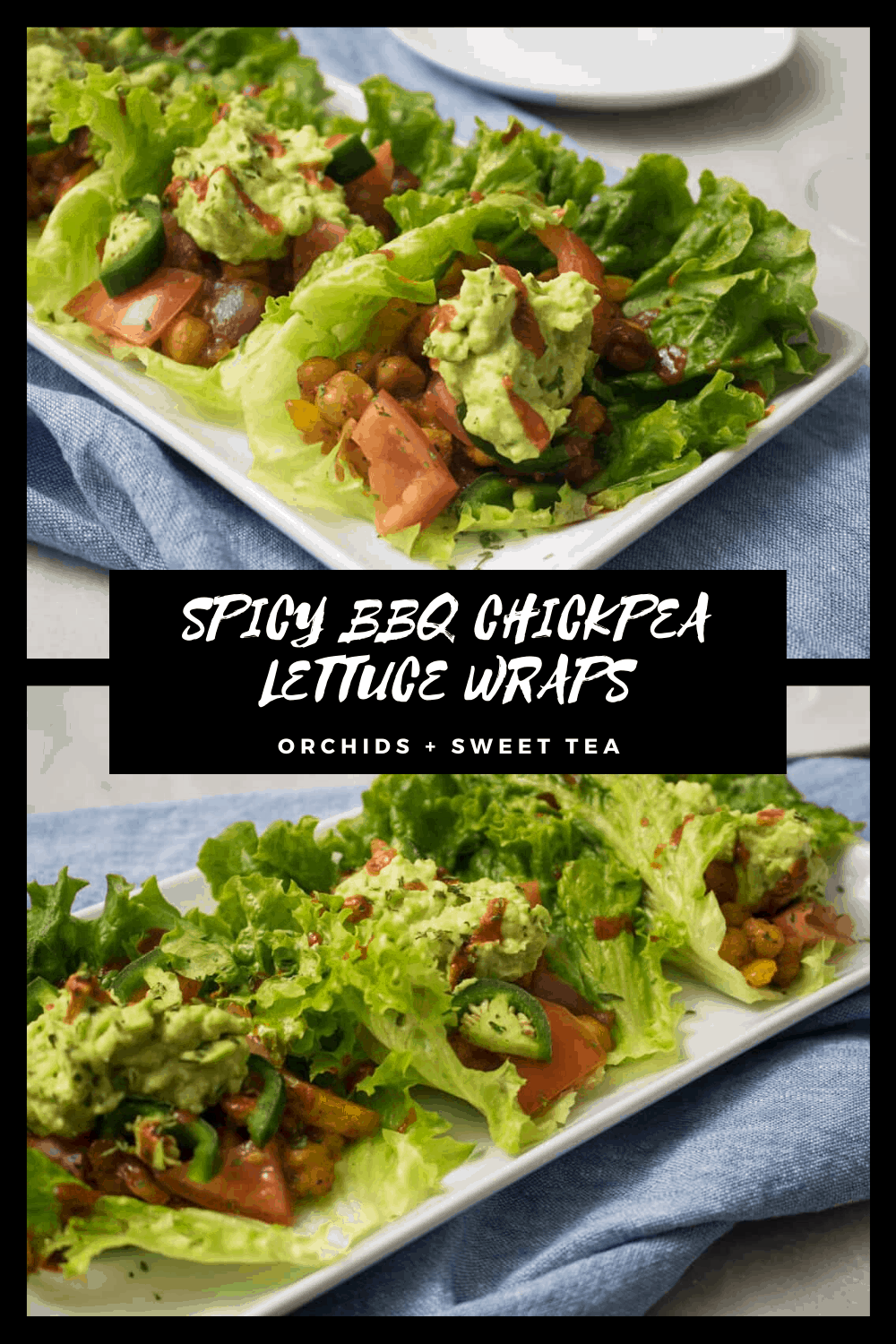 1

(15 oz. can)

chickpea, drained + rinsed

1/2

medium

onion, chopped

1/2

cup

organic bell pepper, diced

1/2

tsp

sea salt

1/2

tsp

black pepper

1/4

cup

BBQ sauce

(See Notes for Homemade!)

2

Tbsps

sriracha sauce

1

Tbsp

dried parsley

6-8

large

romaine lettuce leaves

2

Tbsps

Extra virgin olive oil

(See Notes!)

1

ripe

hass avocado, pitted + mashed

juice of

lemon
In a large skillet (or cast iron skillet), add olive oil and turn on heat to medium-high. Next, once heated--add onions, bell peppers, salt and pepper and sauté for 1-2 minutes, until fragrant. Sprinkle salt + black pepper.

Add chickpea and toss for another 2-3 minutes until heated, before adding BBQ sauce and sriracha sauce. Toss again until fully coated and reduce heat, letting everything simmer and SIMMER some more (about 10 minutes or so).

Once chickpeas are tender, remove from heat and assemble your lettuce wraps: place your lettuce leaf and make it semi-flat, then add your chickpea + veggies, tomatoes, jalapenos, and mashed avocado (with a splash of lemon juice). If desired, garnish with additional dried parsley and sriracha sauce. Repeat until all wraps are made.

Bon Appetite. 
OIL: Instead of extra virgin olive oil, you can also use grapeseed oil, if preferred.
HOMEMADE BBQ SAUCE: 15 oz. can of tomato sauce, 3/4 cups water, 1/4 cup balsamic vinegar, 2 Tbsps sriracha sauce, 2 tsps ground mustard, 1/3 cup agave syrup, 2 Tbsps pure maple syrup, 1 tsp sea salt, 1 tsp onion powder, 1 Tbsp red pepper flakes, and 1 tsp smoked paprika. **Whip together: Place all ingredients in a medium saucepan on medium-high heat and whisk together until it begins to boil. Reduce heat to low-medium and let everything simmer for about 15 minutes or so, stirring occasionally. Once thickened enough to desired consistency, remove from heat and let cool. Set aside until ready to use or store remainder in an airtight container and refrigerate for up to 2 weeks.**
Spicy BBQ Chickpea Lettuce Wraps.