This Savory Cajun Shrimp Breakfast Bowl is just that—-SAVORY + full of flavor! Unlike any typical breakfast bowl, this recipe highlights a bit of spice from the cajun seasoning, sweet from the candied bacon, cheesiness from the creamy polenta, and bursts of other great flavors from the fried egg and greens. Just a complete bowl of goodness!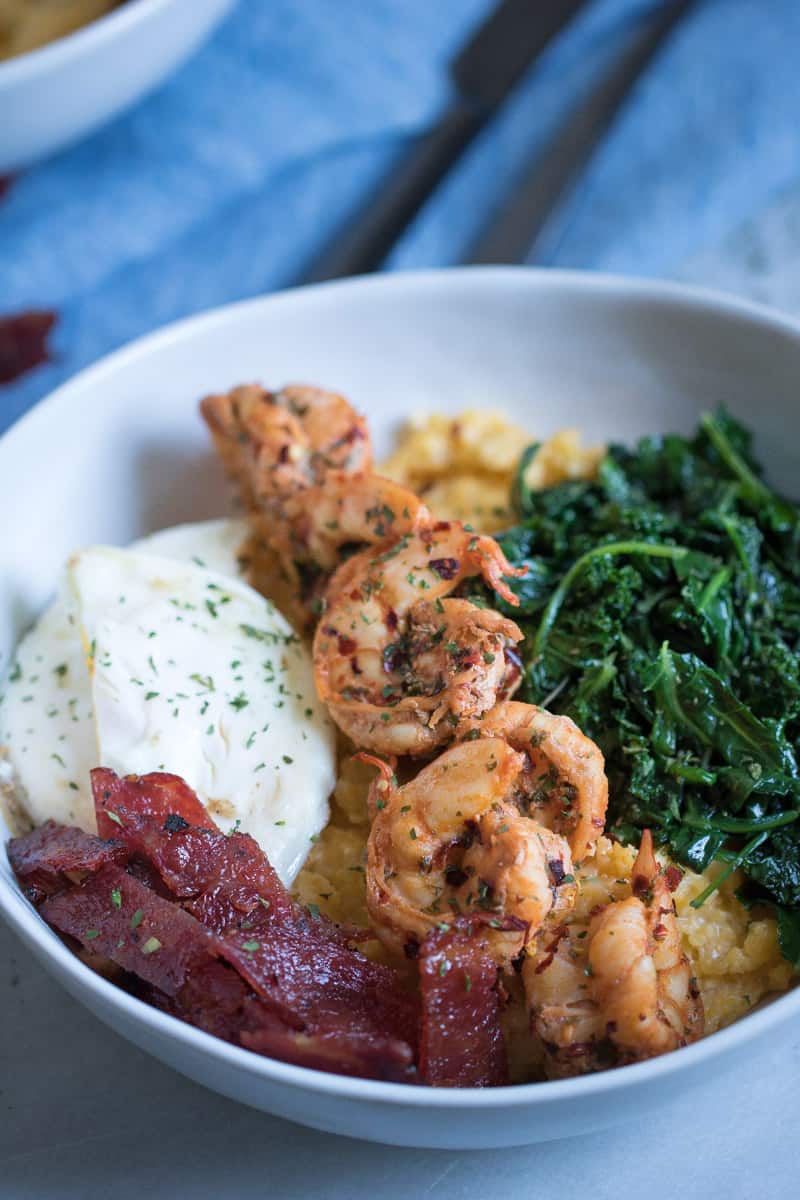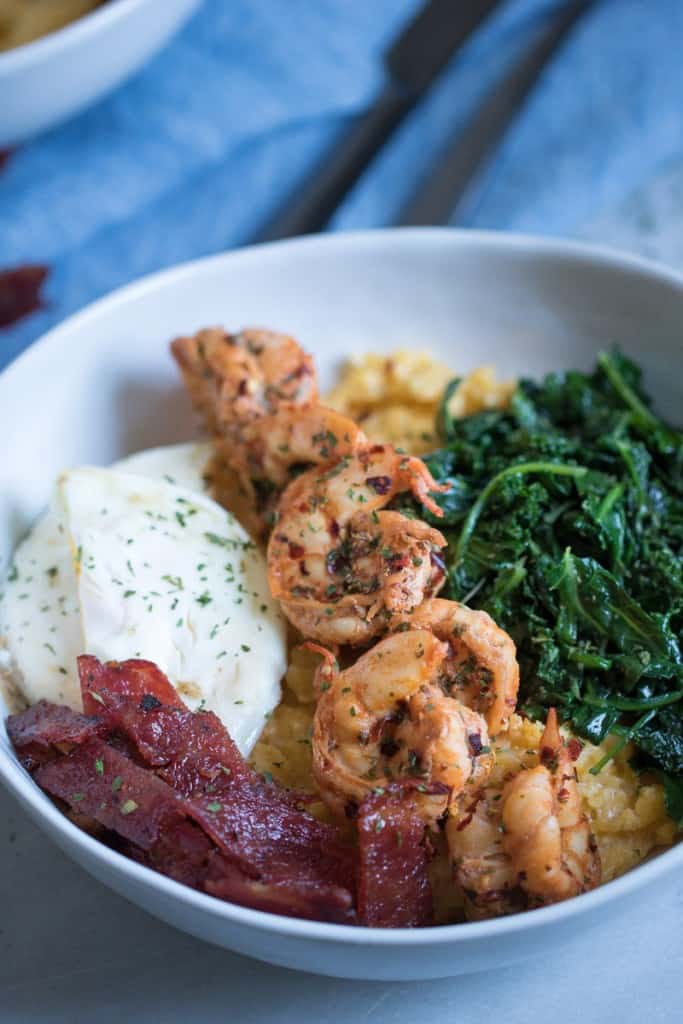 I'm so ready for Spring! Who's with me? With the weather in NYC being a complete mess, I'm ready for the days of sunshine and warmth at this point.
We've experienced so much snow and rain and the cold doesn't seem like it's prepared to leave any time soon. Boohoo!
More importantly, I'm so excited to begin a bit of Spring baking. It's coming close to the time of bright colors, lighter flavors, and airy textures.
Let's not forget the cute Spring baking essentials that are being stocked on store shelves right now as we speak. It's so tempting not to go overboard on everything! Haha.
For other great news, I'm so excited to be featured on a new Food App that I believe is revolutionary.
The UHungry? app is a new way for you to rethink your relationship with food by matching the ingredients that you currently have in your kitchen with awesome recipes that require those same ingredients. It's a great way to learn the dynamics of creating amazing foods in a matter of minutes!
It's currently available on iTunes and in the Android app store, however, the official launch is next week! It's so exciting to have Orchids + Sweet Tea's recipes showcased for the world to see!
Anyway, I'm so happy to be showcasing this recipe because I feel that it is a proud representation of my Southern roots. When it comes to meals, we go big or go home! Literally!
And this Savory Breakfast Bowl is no exception to the rule. Although each ingredient has it's own boldness, surprisingly everything JUST WORKS!
It's so amazing, Ya'll. You just have to try it.
Originally, I planned on making Grits as my base (since Grits are EVERYTHING in the South), however, I opted for Polenta instead (using my favorite–Bob's Red Mill brand), for a bit more thickness.
Familiar with Polenta?
If not, just so you know–Polenta is basically made from ground corn meal and has a similar texture to Grits. It's usually cooked on low-heat and slowly, requiring frequent stirring.
Unlike Grits, Polenta is made from a corn variety that originates from Italy and it tends to hold up more firmly than Grits.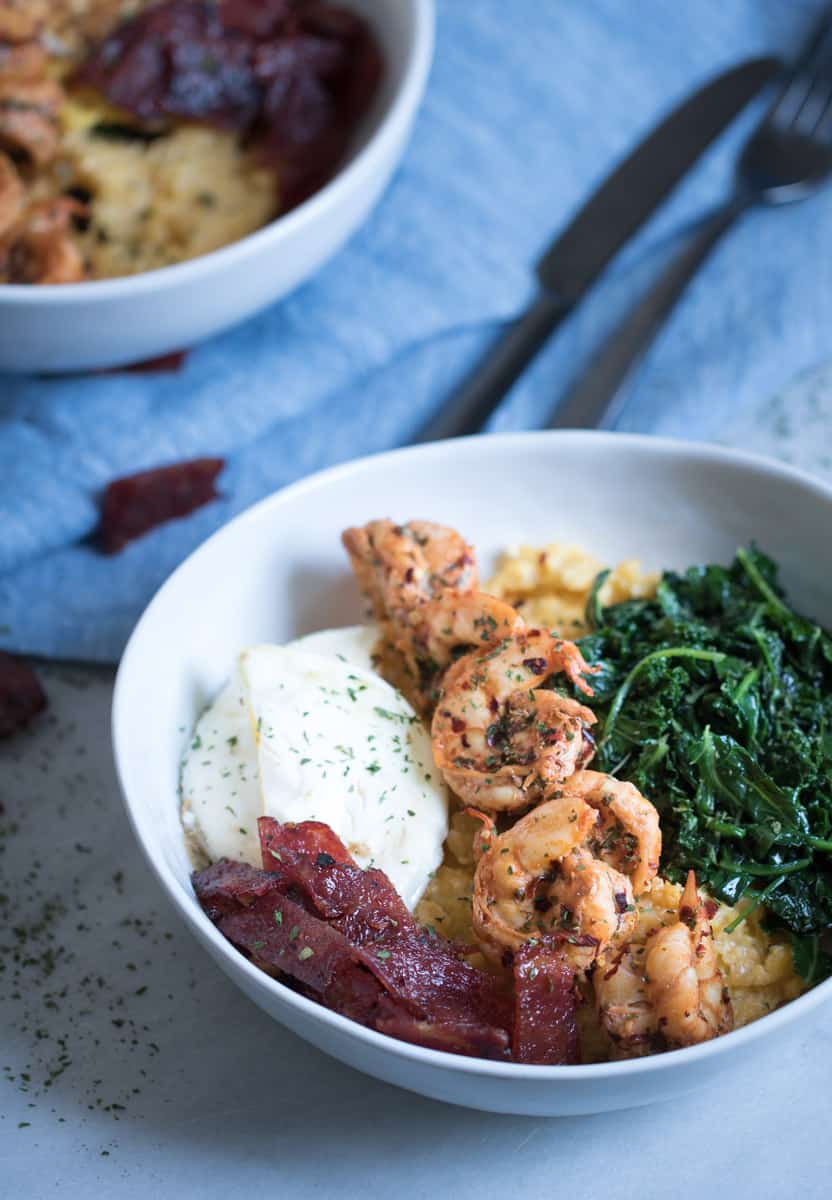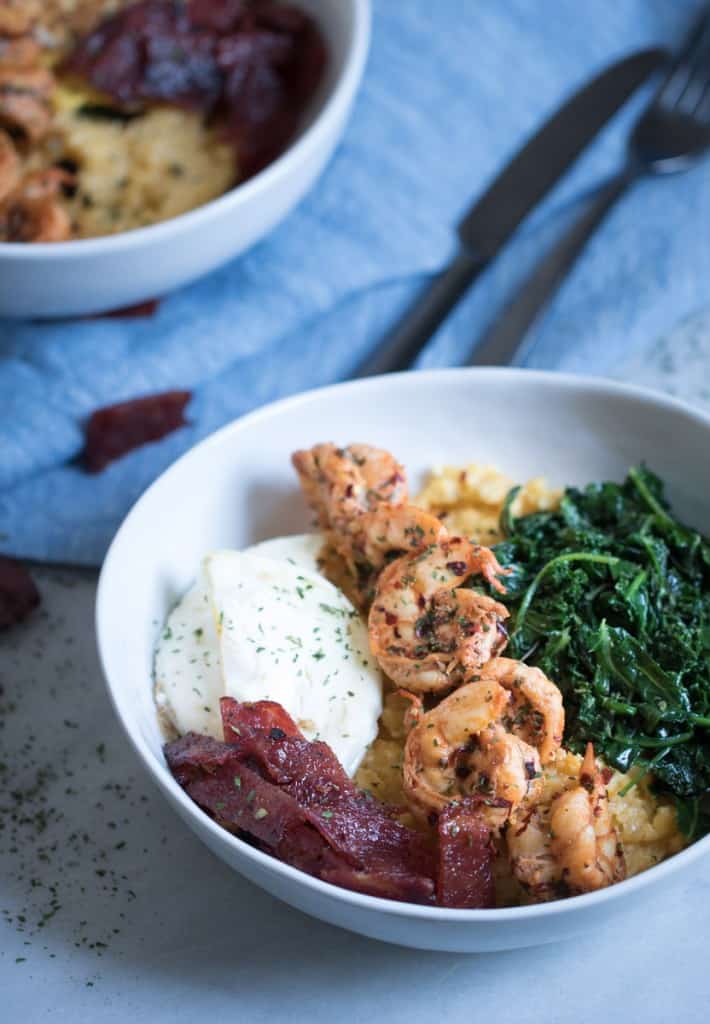 I chose to make the shrimp with a cajun seasoning, because of course–I love spice!
However, I chose to make brown sugar candied bacon for two reasons: Firstly, because I prefer my bacon that way AND secondly, because I knew that the spice and sweet would be a great balance and tug-a-war on the tastebuds.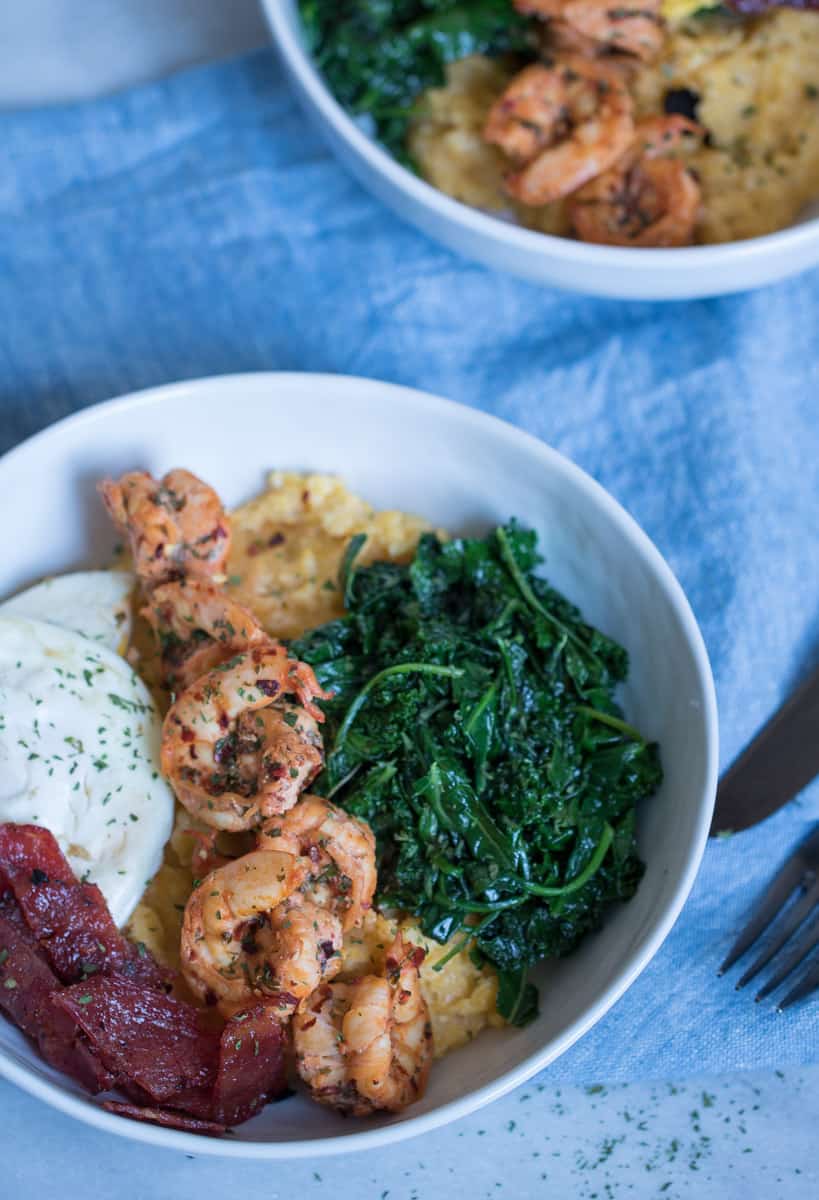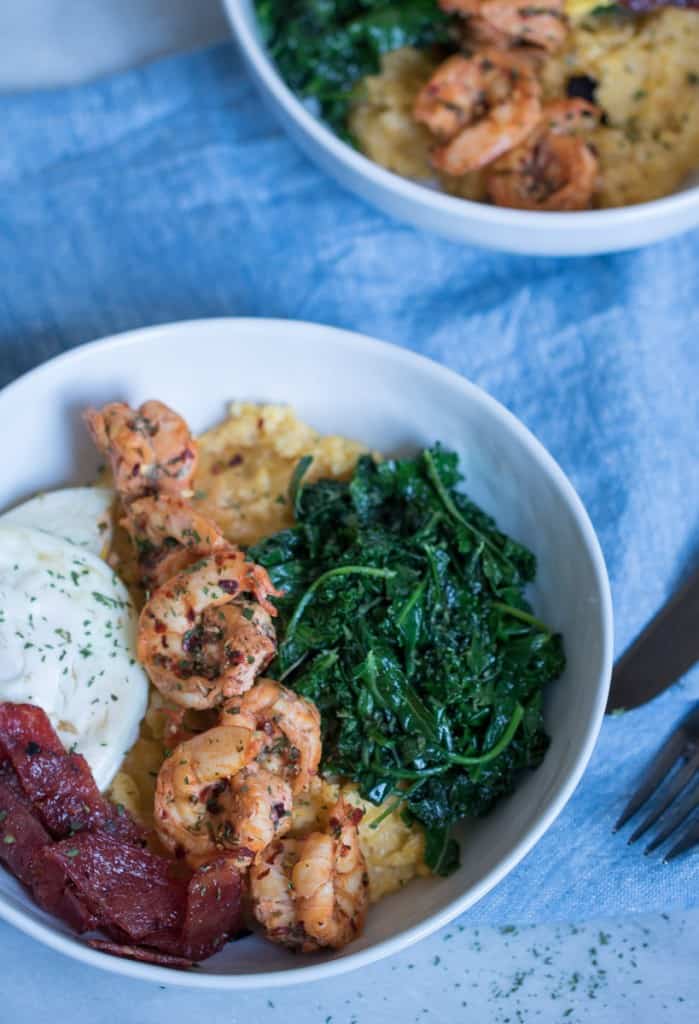 Just keep in mind that I use Turkey bacon and not pork bacon, because I don't generally eat a lot of pork or red meat. However, you can use whichever your heart desires!
As for the greens–I chose kale and spinach because they are my favorite.
However, you can always use mustard greens and bok choy as a nice substitute as well (my other Go-to's). A fried egg is just something that is a MUST for any breakfast dish, right? Enough said.
Speaking of breakfast dishes, have you tried these awesome recipes?:
Bacon + Veggie Sunrise Breakfast Omelet
Strawberry Cream Cheese Breakfast Scones
MADE OUR RECIPE(S)?
If you choose to make this Savory Cajun Shrimp Breakfast Bowl recipe or any other recipe from us, be sure to tag us on Instagram at #Orchidsandsweettea so that we can share the love!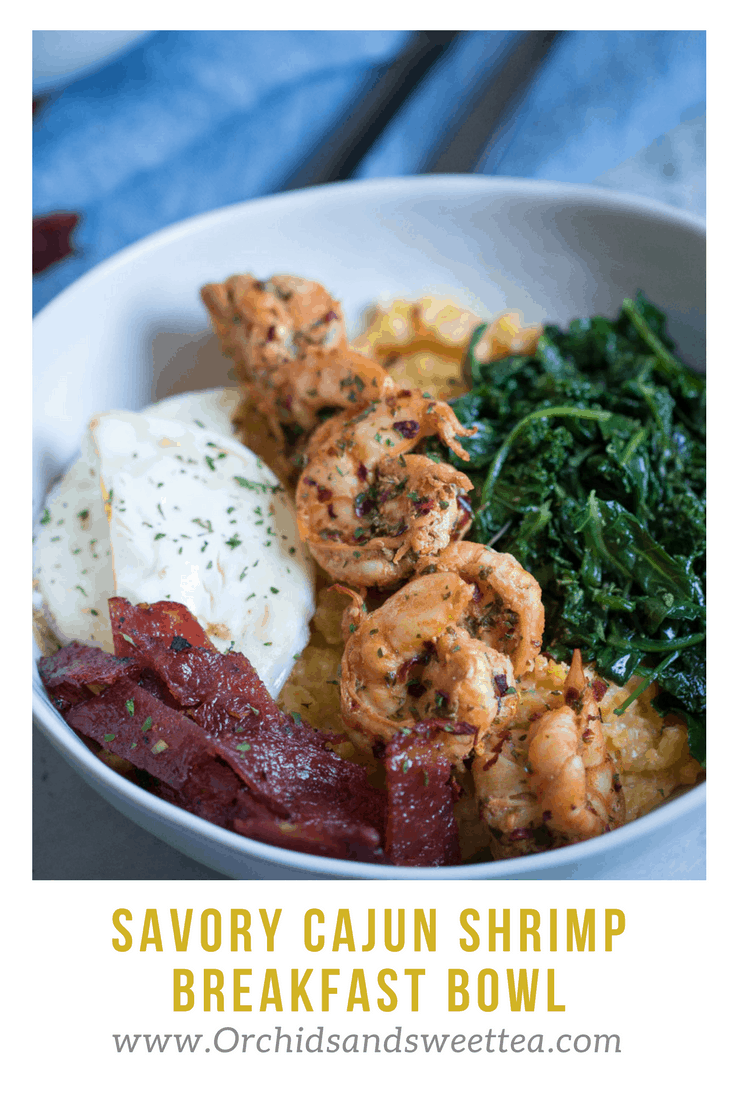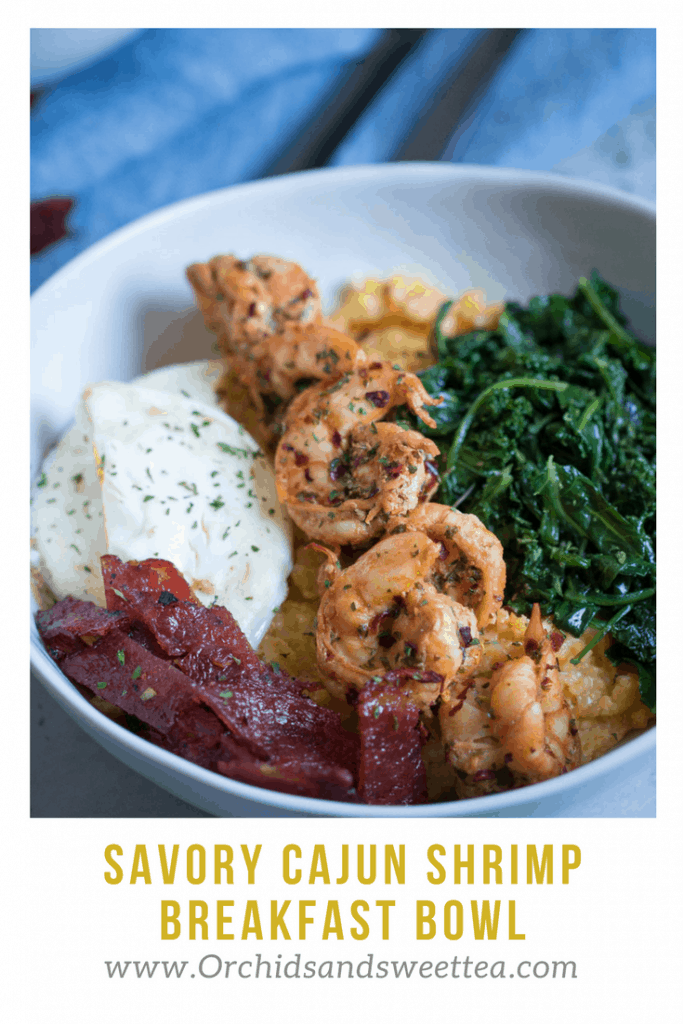 For the Polenta:
Boil 2 cups of water and 2 cups of chicken stock on the stove on medium-high heat. Then whisk in the polenta and add a pinch of sea salt to taste. Continuously stir polenta until it begins to thicken. Now, reduce the heat to low and let it simmer with a lid cover over the pot. Every few minutes, take off the lid and whisk continuously and then place the lid back on again. **NOTE: Cook for a total of 20-30 minutes, or until polenta has thickened enough to your liking. Turn the heat off and add in butter and cheese, stirring until completely melted and creamy.
Spicy Cajun Shrimp:
Add ALL ingredients (except for Butter) to a small bowl with shrimp and toss until well coated. Heat butter in a skillet over medium-high heat and add shrimp, cooking on each side for about 2-3 minutes (until pink). Add a bit more sriracha sauce if desired and toss shrimp for another minute or so and remove from heat.

To assemble: Add polenta in a medium sized serving bowl, then place shrimp, fried egg, candied bacon, and greens evenly atop polenta. Season with a pinch of salt + pepper, if desired. Wallah!

Bon Appetit!
To make Brown Sugar Candied Bacon:
Ingredients:
6-8 slices of thick cut bacon or turkey bacon
1/4 cup maple syrup
1/3 cup brown sugar
Directions: 
Place the bacon on a parchment paper lined baking sheet and brush the tops of the bacon with maple syrup and sprinkle on some brown sugar.
Bake in a pre-heated 400 degree Fahrenheit oven for 10-15 minutes or so, flipping the bacon and brushing the opposite side with maple syrup and sprinkling the brown sugar as well. Bake for another 10-15 minutes or until it is completely caramelized and crispy. 
Savory Cajun Shrimp Breakfast Bowl.