There's nothing more fun than mini cake pops that come homemade and ready for any celebration. However, Mini Dairy-Free Homemade Donut Pops are even more perfect and aren't traditional pops at all. Super fluffy, soft, moist, and completely dairy-free, these mini donuts are easily baked, lightly frosted, and topped with fun sprinkles, making them the best sweet treat for the entire family.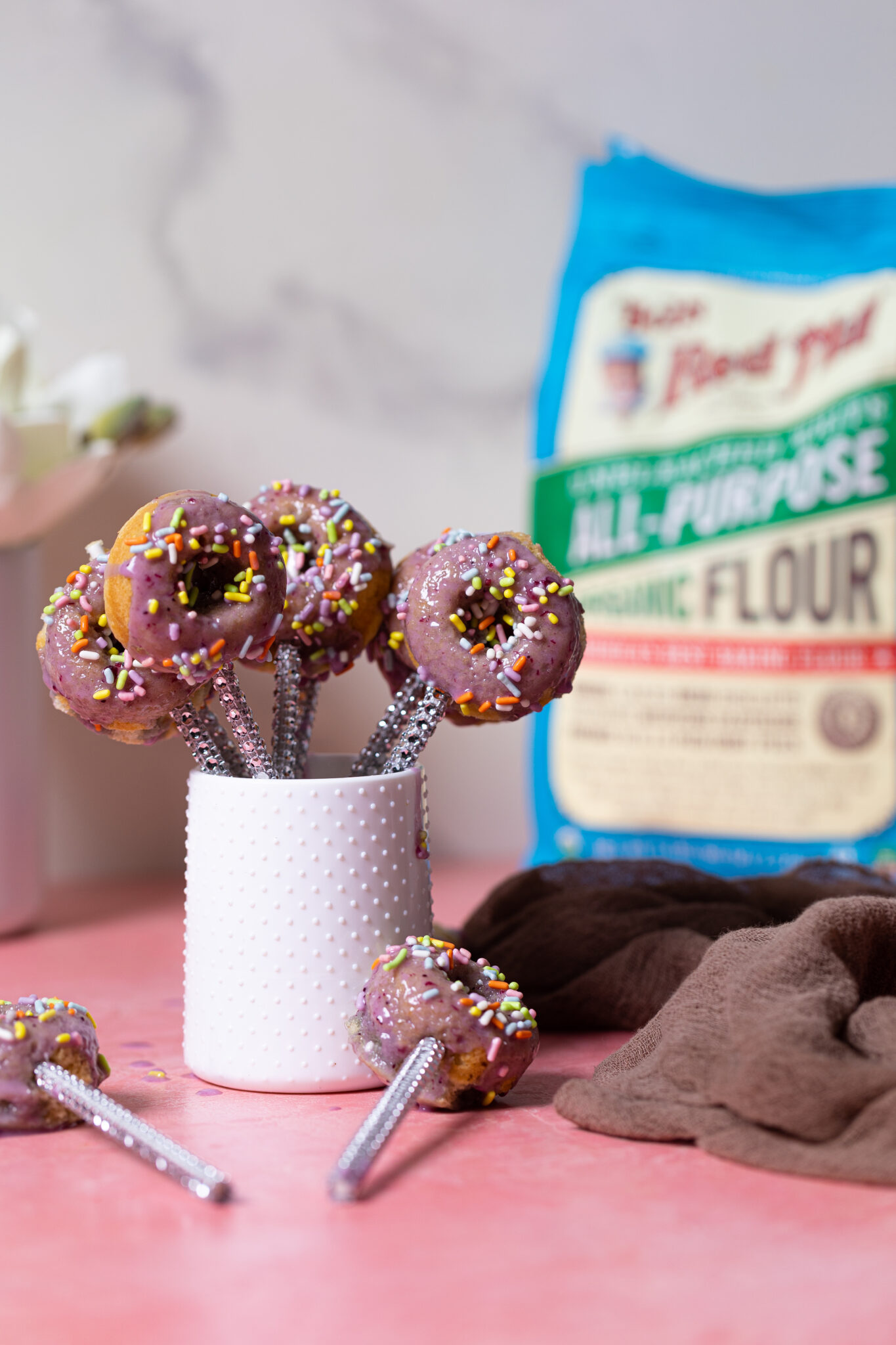 Sponsored Post: This post is sponsored by Bob's Red Mill but the content and opinions expressed are all based on my genuine love for this brand and are my own. Thanks so much for supporting the brands I love.
Plus, these little donuts are completely dairy-free, egg-free, and vegan from start to finish.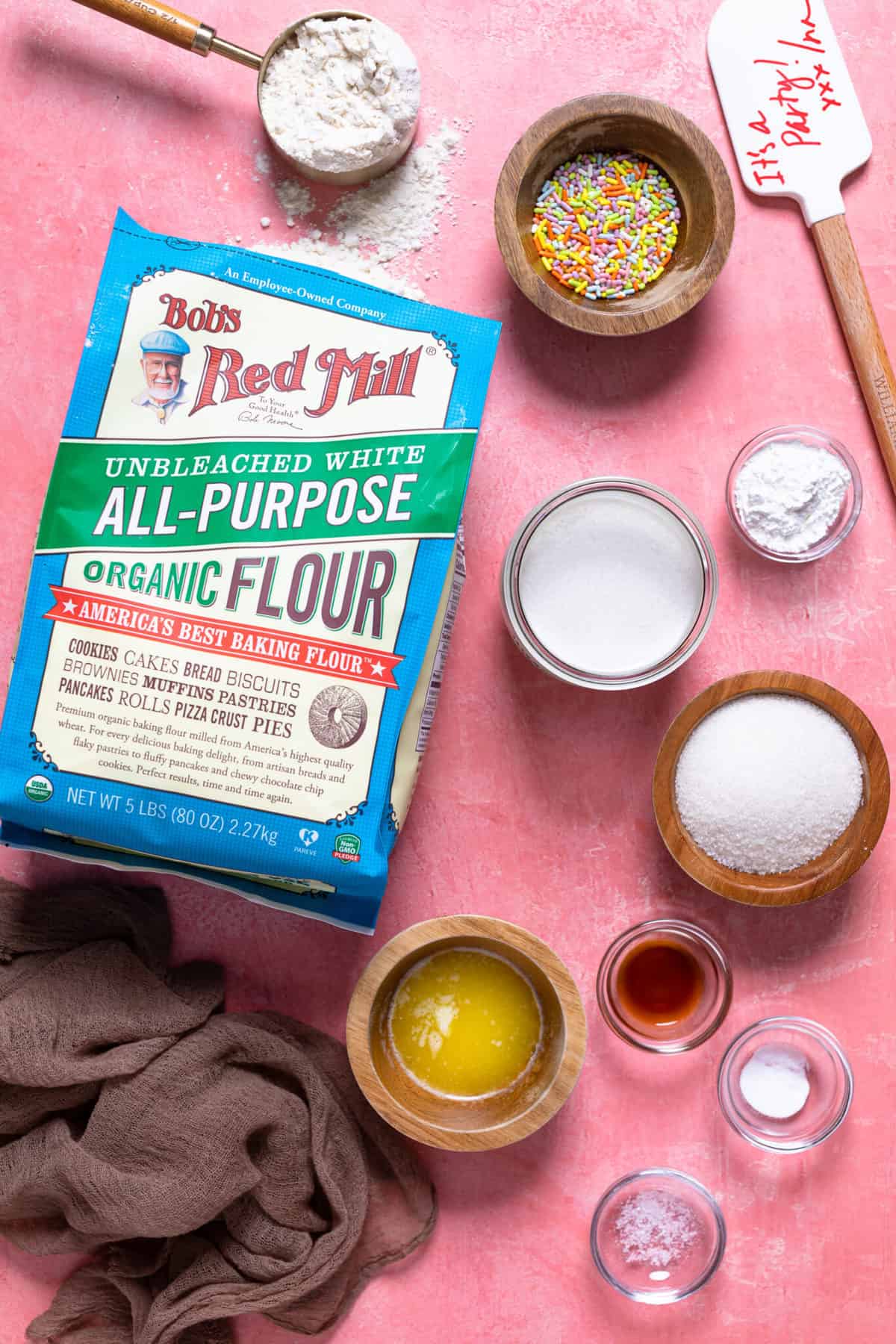 What Are Donut Pops? Different from Cake Pops?
In case you aren't too familiar, traditional donut pops are very similar to cake pops in that they have a cake-y body, are coated with a rich chocolatey layer, and finally covered with a colored frosting. However, for these mini donut pops, they are simpler and come naturally coated and sweetened without the need for two layers or chocolate or an extremely thick frosting. This makes them perfect for kid parties, family gatherings, or a fun family sweet treat project.
How to Make Mini Donut Pops.
These homemade mini donut pops are so easy to make, it's insane. Although we're leaving the cake box mix and canned frosting out of this recipe, you'll be happy to know that these donut pops are made in just a few short steps:
Make mini baked donuts.
Cool.
Make Homemade Blueberry Glaze.
Dip donuts into glaze.
Add Sprinkles.
Let glaze harden.
EAT!!!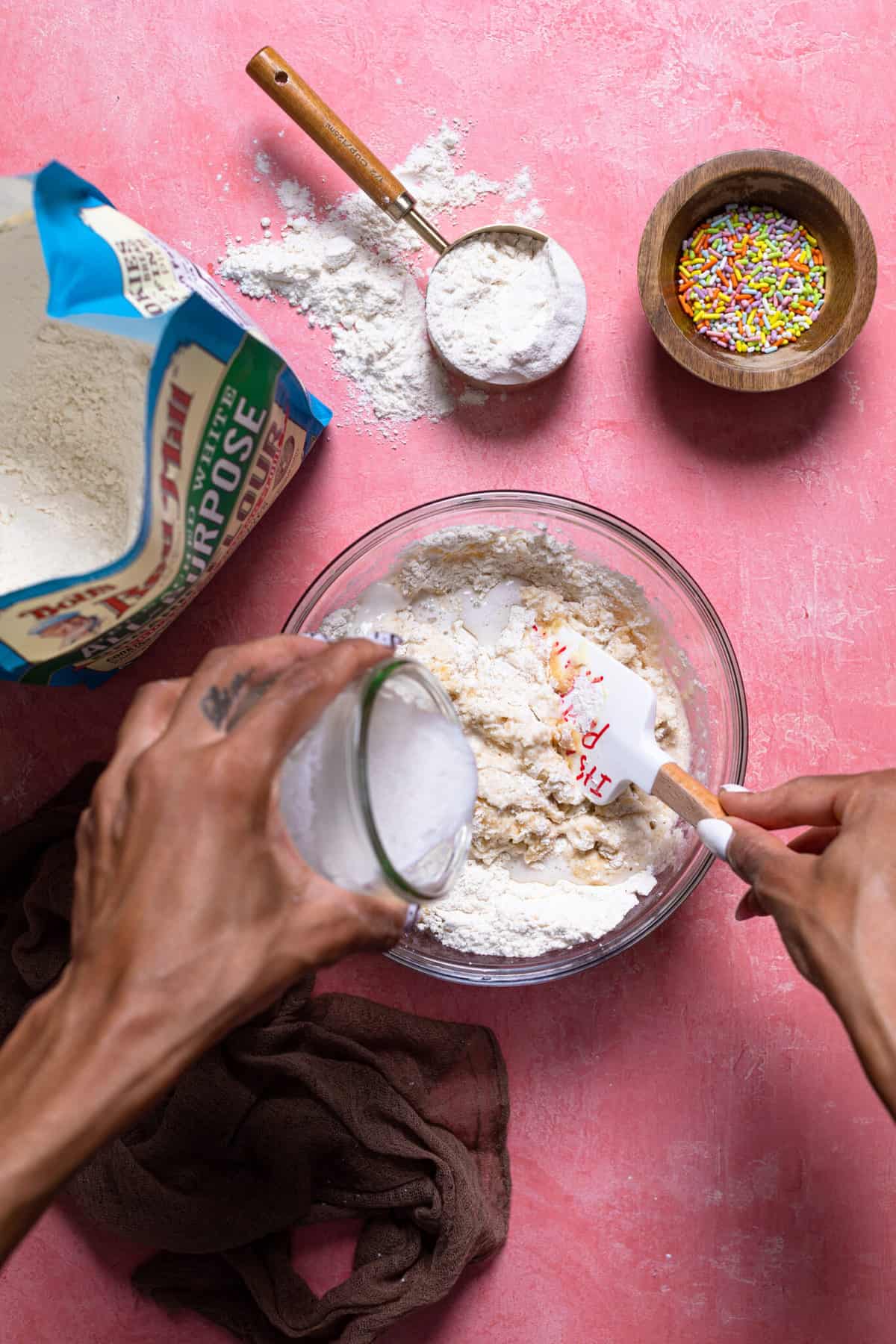 Believe it or not, these donut pops were inspired by my childhood love for vanilla sprinkle donuts. Years ago, I use to buy vanilla sprinkle donuts from Dunkin Donuts, but I must admit that homemade ones have been my main thing these days.
For regular sized sprinkle donuts, I recommend trying these Vegan Vanilla Donuts with Sprinkles, which are SO delicious.
And the best part is that this recipe is super easy, quick, and won't leave you feeling weighed down. However, the one drawback is you have to do the sprinkle clean up.
If you have little helpers at home, this homemade donut recipe is the perfect opportunity to get them in the kitchen. This recipe is perfect for kids to practice their measuring and mixing skills. Not to mention decorating! Ask my personal little helper---my son. He loves making donuts and these were no exception.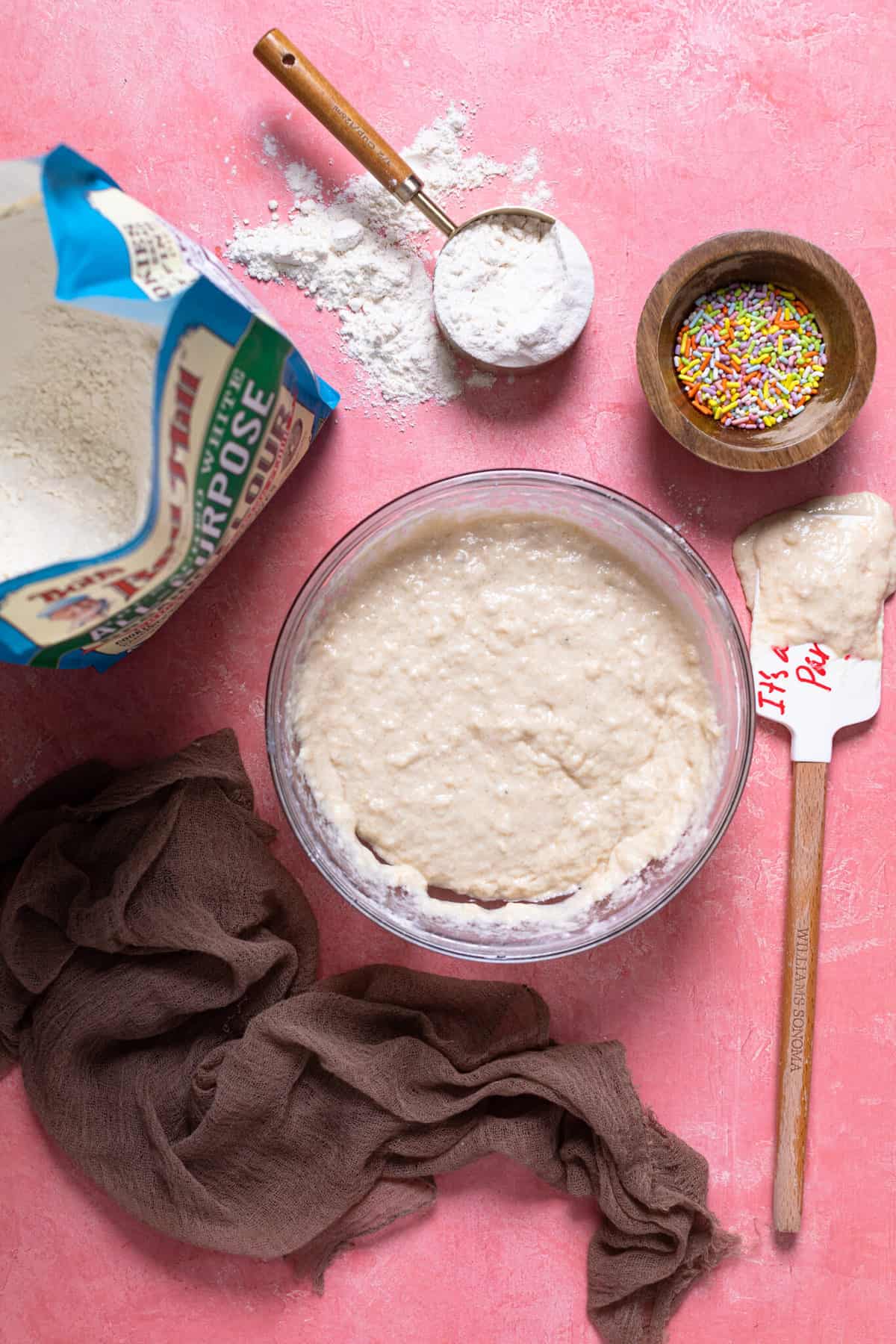 What You'll Need For These Donut Pops?
All-purpose flour. In case you weren't aware, organic ensures it's vegan. My go-to brand of flour is Bob's Red Mill.
Baking powder and baking soda. These lift and lighten your donut so they come out fluffy and airy, not dense or chewy.
Cane sugar. Again, choose organic for vegan!
Unsweetened almond milk. You can also use another non-dairy milk, such as coconut, oat, soy, or cashew. Choose unsweetened so you don't overdo the sugar in these healthier donuts.
Apple cider vinegar. This ingredient might surprise you, but a bit of acid heightens the other flavors in the donuts and helps activate the baking powder in the batter.
Vegan Butter (Melted). This tenderizes the donut batter and ensures they stay moist.
Vanilla extract. We are making vanilla donuts, after all!
Vegan sprinkles. Most sprinkles are naturally plan-tased, but read the label to make sure.
Blueberry preserve. This creates the blueberry flavor in the glaze. You can also keep your frosting vanilla flavored or add strawberry, apricot, raspberry, or food coloring for a bright, fun theme.
Powdered sugar. I love using organic powdered sugar and sifting it for a smooth glaze/frosting.
Cake pop sticks. You can use traditional cake pop sticks or choose to glam things up with custom versions like the rhinestone sticks.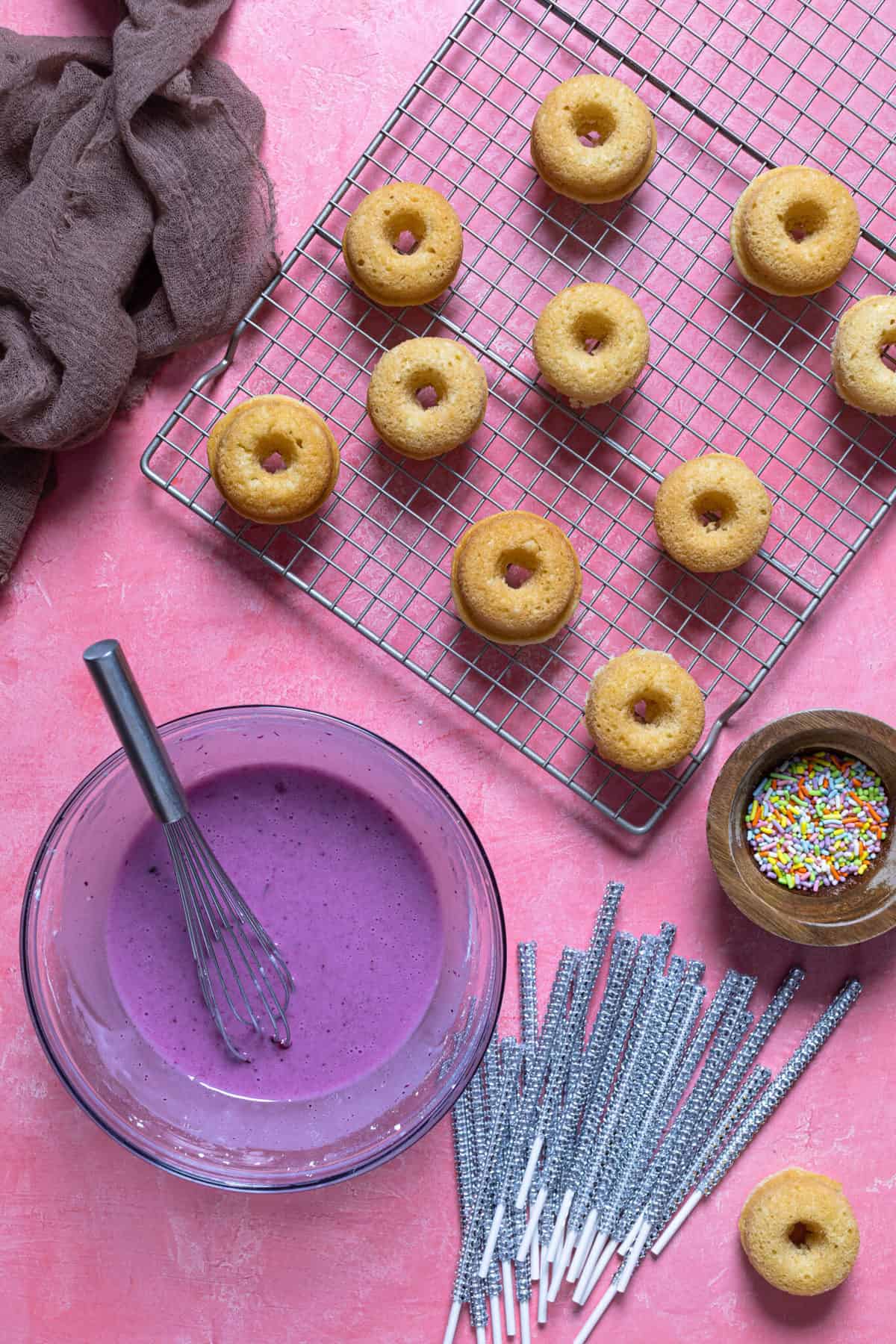 Cake Mix vs. Homemade. Can these Donut Pops be Gluten-Free?
OK, so as I mentioned, these homemade donut pops are better than cake mix versions, in my opinion. Not only because they are just as easy, but also due to the fact that you have control over the ingredients used.
Personally, I enjoy homemade foods + sweets for that reason alone, especially when feeding my family. When it comes to the main ingredient of this entire recipe----the flour, I enjoy using Bob's Red Mill Unbleached White All-Purpose Flour, which is ideal for all kinds of baking, including this one. In addition, their all-purpose flour includes a touch of malted barley to enhance the rise in yeast breads.
If you would love to make these donut pops gluten-free, then substituting all-purpose flour with Bob's Red Mill 1-to-1 Baking Flour is the easiest option. It's a special blend of gluten-free flours, starches, and xanthan gum, which makes these donuts just as soft, fluffy, and airy as the original!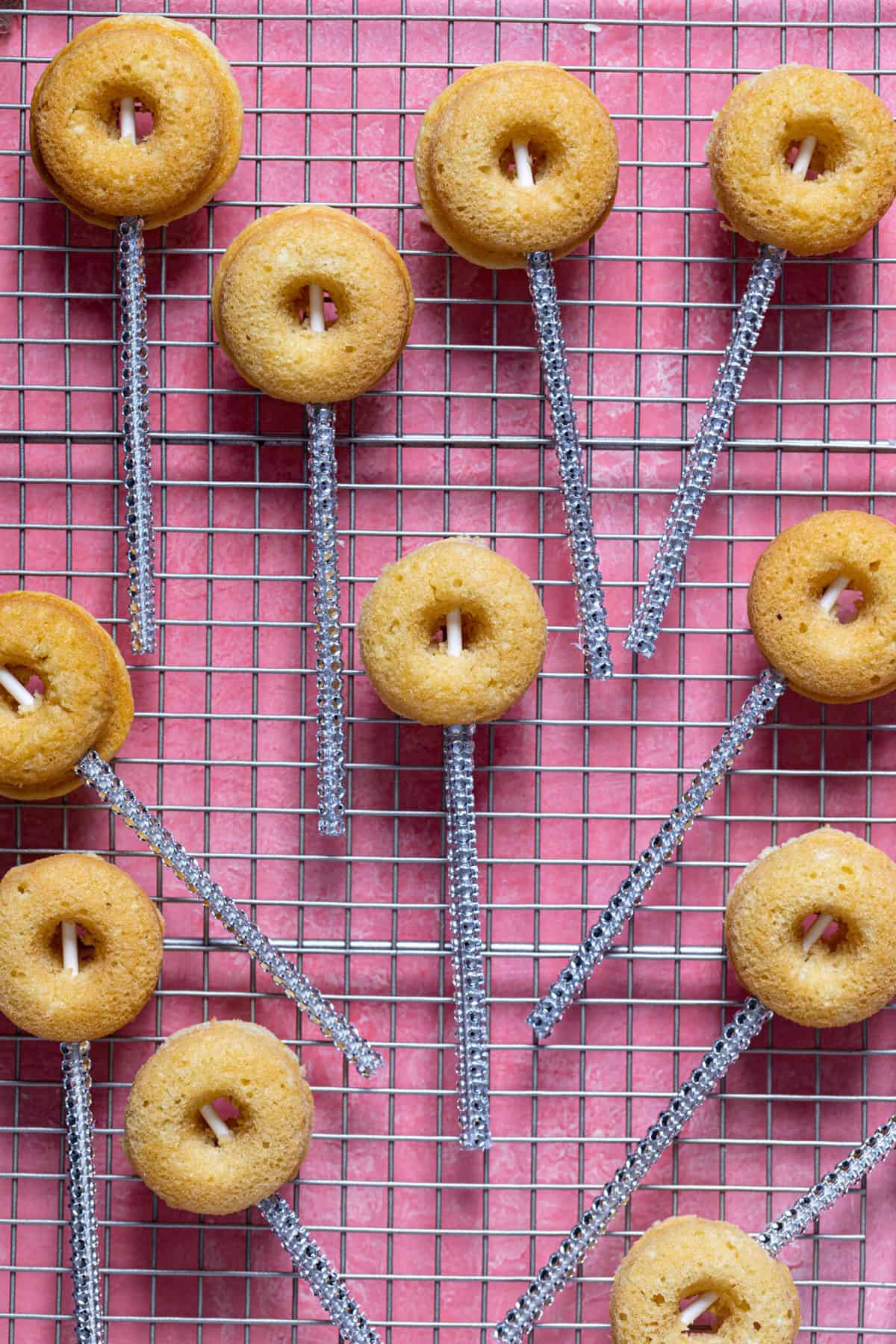 My Top 3 Fave Donut Recipes.
This Healthy Blueberry Vegan Donuts with Blueberry Glaze recipe is a real treat. Fluffy, moist, baked, and completely dairy-free; these donuts (or doughnuts if preferred) are the perfect sweet treat for the entire family. Easily whipped together in under 30 minutes.
These Vegan Peppermint Brownie Donuts are the epitome of Holiday cheer! Not only are these donuts completely moist + fluffy, but they remind you of the best fudge brownie in donut form! Plus, with a delicious vegan chocolate peppermint infused body and topped with an easy chocolate glaze, these donuts are gooey and melt-in-your-mouth goodness, worthy of a seat at the BEST OF HOLIDAY DESSERTS table! Completely dairy-free, vegan, + oil-free.
These Vegan Lemon Poppy Seed Donuts are anything but boring! They are super fluffy, soft, moist, and are a delicious sweet treat that comes loaded with lemony flavor married together with a slight nutty flavor from the poppy seeds and baked to perfection. These donuts are perfect on any given day and it's popping vibrant yellow color makes it especially awesome for Easter!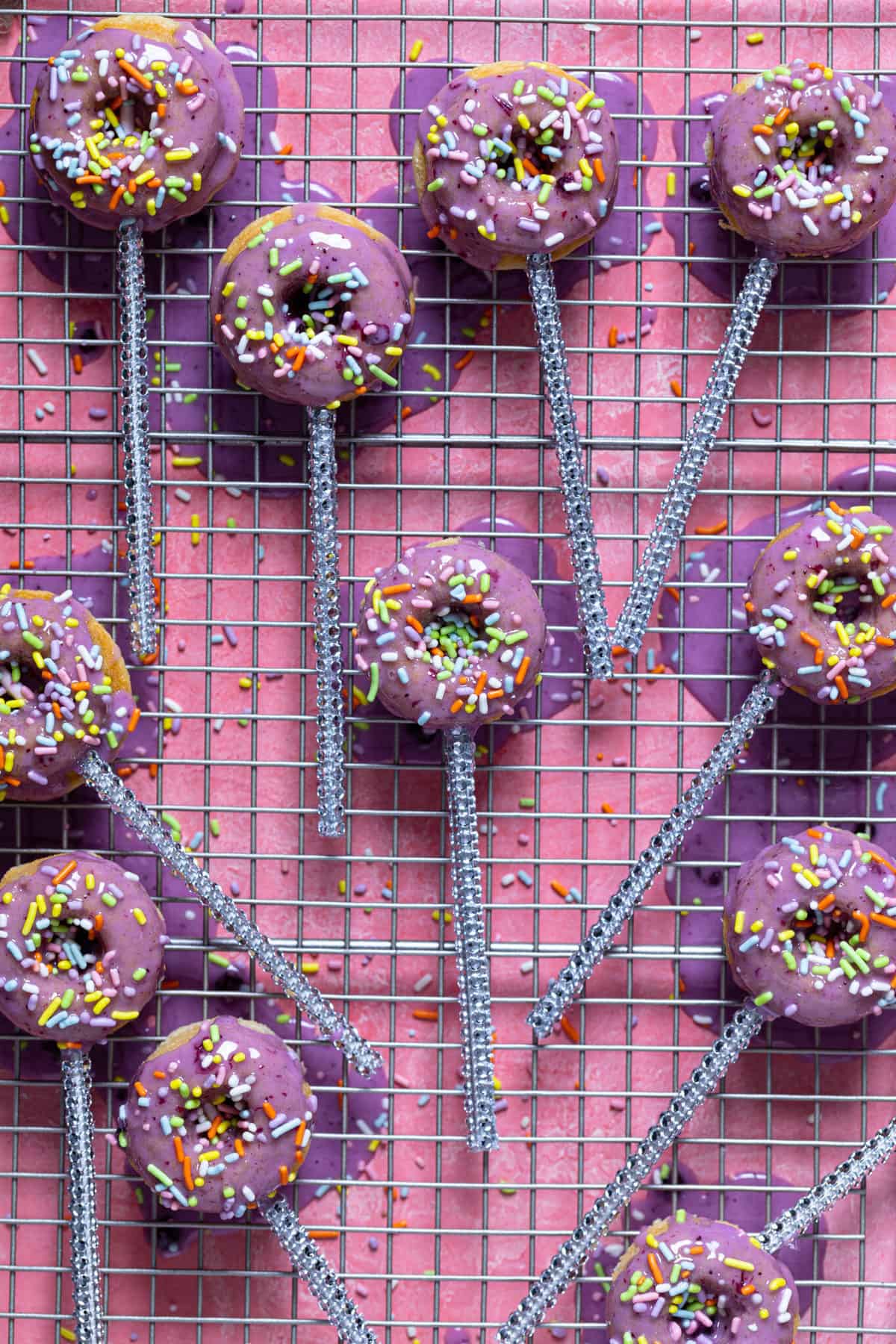 How to Decorate Mini Dairy-Free Homemade Donut Pops.
The quickest ways to glaze and decorate your mini donut pops is by dipping or spooning on the glaze. Using the dipping method, invert one donut at a time into the bowl of glaze, then place it back on the cooling rack. Immediately out of the glaze, while it's still wet and shiny, hit the donut with a handful of rainbow sprinkles and push your stick upwards directly into the middle of the donut. Yes, it can get messy, but that's part of the fun! For easier cleanup, place a piece of parchment paper under the wire rack to pick up and go.
Cake Pop Tips.
Don't over frost these donut pops. I made this recipe intentionally to avoid adding too much glaze/frosting on top of these donuts, especially since they are mini in size. Plus, adding too much glaze will make them extremely greasy and weighed down.
Ensure that donuts are COMPLETELY cool (and even cold) before adding the glaze and assembling everything. This keeps things in tact and prevents the donuts from falling apart since they are so fluffy. NOTE: I love adding my cooled donuts to a large baking sheet and adding them to the refrigerator or freezer for 30 minutes or so.
You can make a thicker glaze which is more frosting-like if you'd like something similar to traditional cake pops. In that case, using food coloring is best for adding pops of color, etc. If you love the more natural lighter glaze, then adding preserves/jam is safe for color.
You can also turn these into donut holes for a more sturdy donut pop. Simply, use a donut hole baking pan using this recipe and wallah!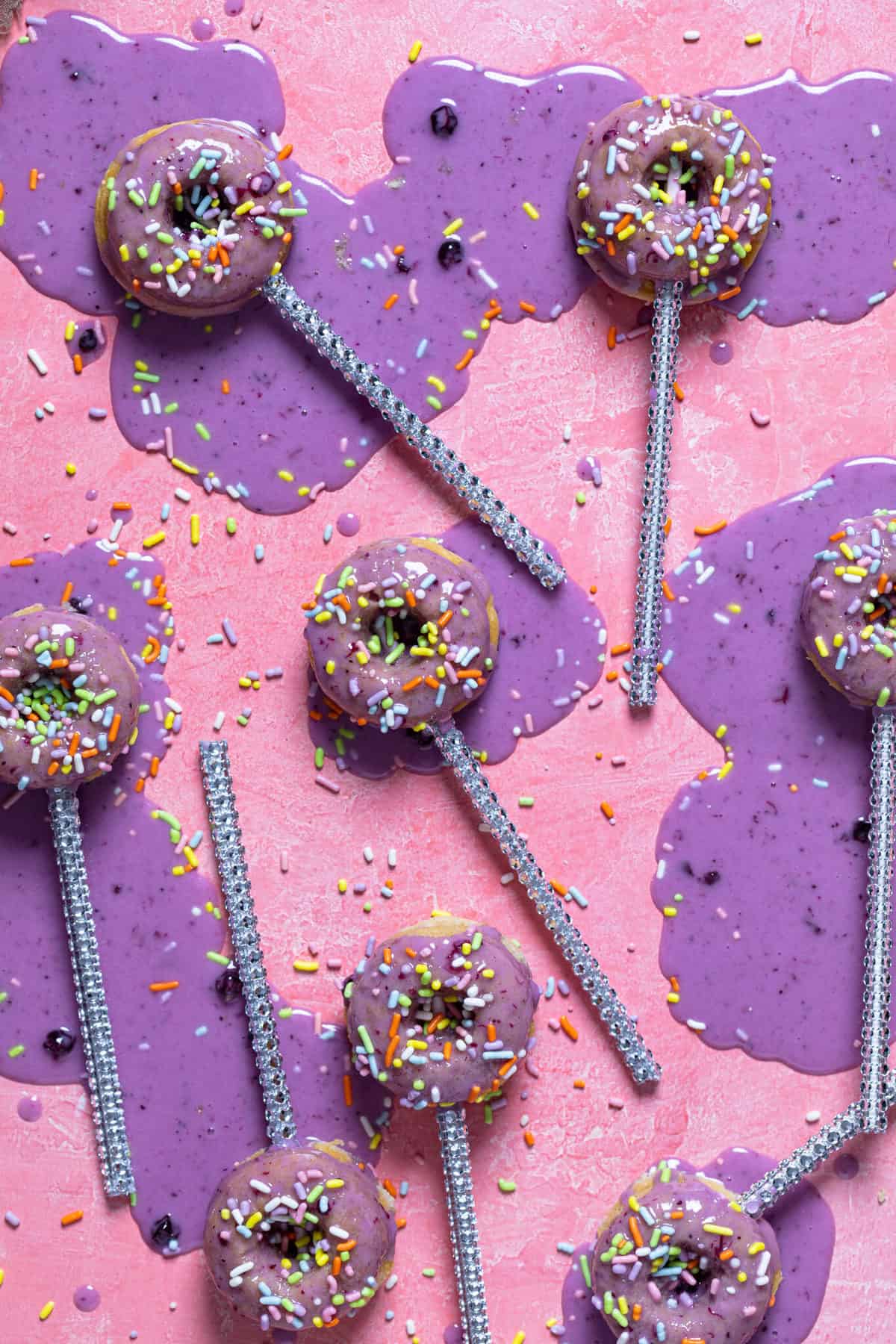 3 Tips To Making The Perfect Baked Donuts EVERY TIME:
NEVER Over-mix!
When mixing together the wet and dry ingredients, do so just until everything is combined. DO NOT OVER-MIX! This will ensure that your doughnuts/donuts are soft and fluffy.
Pipe Your Batter Into The Donut Cavities.
For perfectly sized donuts, be sure to pipe them into the donut cavity, about ¾ way full. If you don't have a piping bag, simply use a zip loc bag and cut the edge as a handy alternative.
Always Create a Buttermilk, Even If It's Vegan or Dairy-Free.
This is so important because the acidy from the buttermilk makes the gluten in flour tender, which creates a softer texture and ensures that donuts are nice and fluffy. If you don't want to use lemon juice, you can substitute it with apple cider vinegar.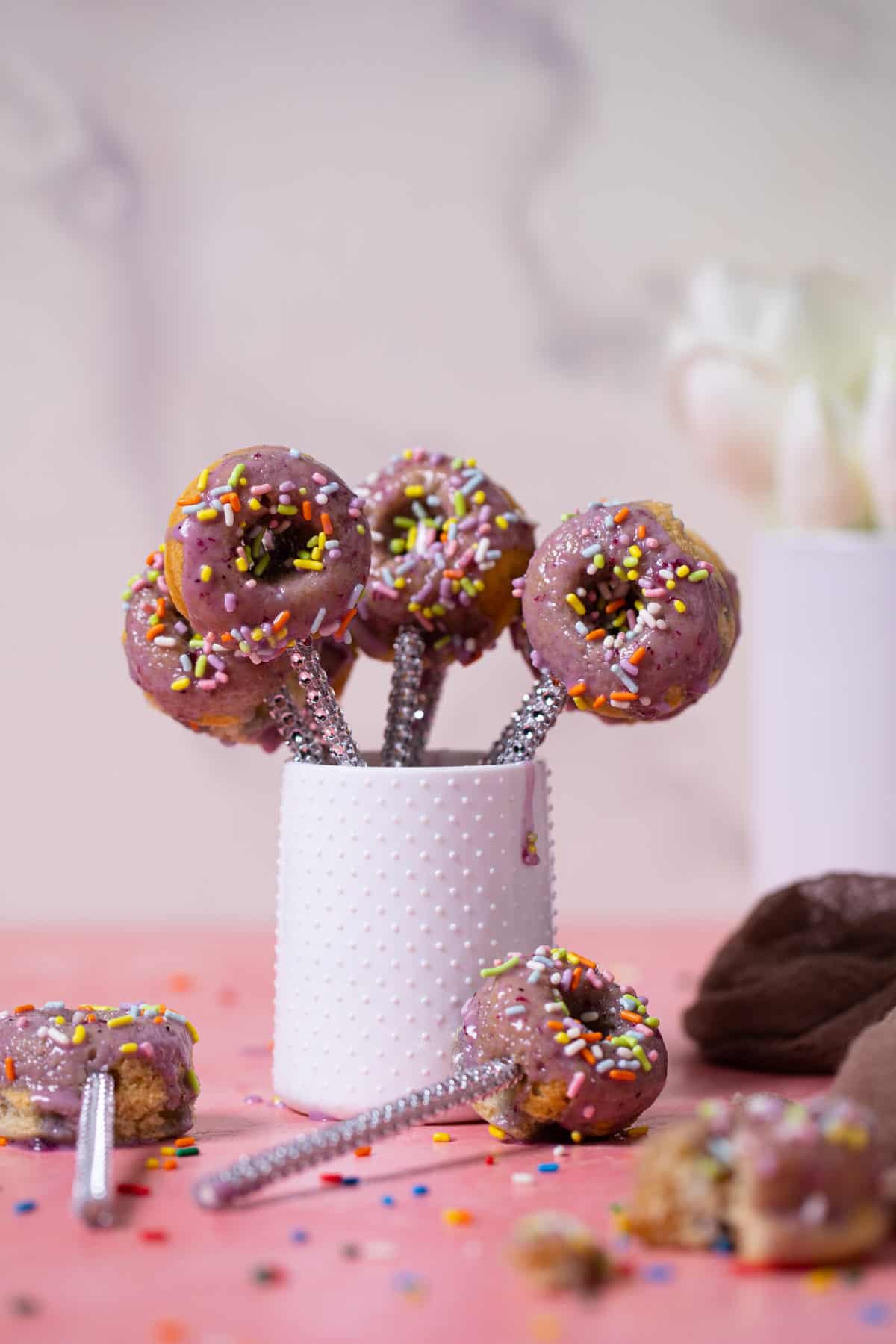 Oil vs. Melted Butter for these Donuts?
In the past, I've made plenty of vegan donuts recipes using oils such as coconut, vegetable, or canola. However, with this recipe, I wanted to make it entirely oil-free by using plant-based butter (melted) as my oil/fat source. It's absolutely incredible and definitely creates a moistness + softness that works perfectly and makes the substitution that much more worth it!
Serving & Storing Suggestions.
The donuts are best enjoyed the day they're made. If you have leftovers, however, you can store them in an airtight cake stand (with cover) at room temperature for up to four days. For longer storage, freeze the donuts in an airtight container (without sticks) for up to three months. To serve, defrost the donuts on the counter for several hours. You can also freeze the baked, undecorated donuts and add the glaze and sprinkles just before serving.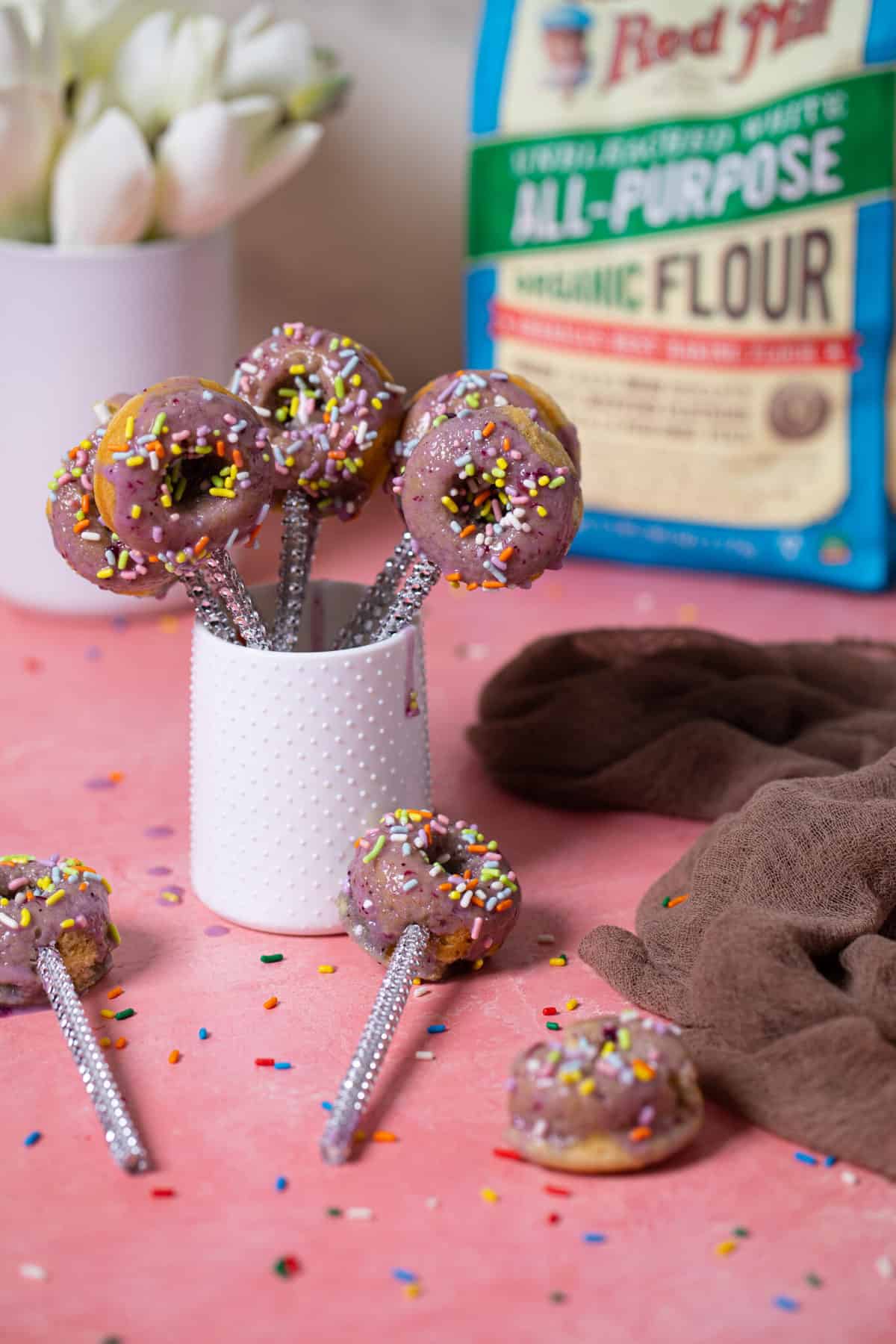 Vegan Donuts:
1 ½

cups

Bob's Red Mill Unbleached White All Purpose Flour

(See Notes!)

2

tsps

baking powder

¼

teaspoon

baking soda

¼

teaspoon

sea salt, finely ground

½

cup

pure cane sugar

(See Notes!)

1

cup

Almond milk, unsweetened

(You can use your fave plant-based milk!)

1

teaspoon

apple cider vinegar

3

Tbsps

vegan butter, melted 

(See Notes!)

1

teaspoon

vanilla extract
Blueberry Glaze:
2

cups

organic powdered sugar

1

tablespoon

arrowroot strach

1

tablespoon

blueberry preserve, organic

1-2

Tbsps

Almond milk, unsweetened

(You can use your fave plant-based milk!)
Other:
Cake pop sticks

Vegan rainbow sprinkles
Vegan Donuts:
Preheat oven to 375 degrees Fahrenheit and lightly grease your 12-cavity donut baking pan. Set aside.

In a bowl, add the milk + apple cider vinegar, whisking together well and letting it sit aside for 2-3 minutes. Then add the melted butter, vanilla, and whisk everything together.

In a separate bowl, sift together the flour, baking powder, baking soda, sugar and sea salt. Finally, stir in the dry ingredients until just well combined and batter is thick and smooth, about 2-3 minutes.

Spoon the batter into a piping bag and pipe batter it into prepared donut pan wells, filling them about ¾ of the way.

Bake for 10-12 minutes or until toothpick inserted into donuts comes out clean. NOTE: since these donuts are smaller, they might bake even quicker, so be sure to check them at around the 8 minute mark!

Remove from oven and allow to cool for 5 minutes before releasing the donuts from their pan and unto a cooling rack to cool COMPLETELY. NOTE: After they are cooled completely, place donuts onto a large baking sheet and add them to the refrigerator or freezer for at least 30 minutes to an hour.
Blueberry Glaze:
Whisk together the powdered sugar, arrowroot, milk, and vanilla until smooth and consistency is met. Whisk in blueberry preserve until well incorporated until glaze changes color. NOTE: For a thicker glaze, add additional powered sugar (1 tablespoon at a time) until consistency is met. For a desired thinner glaze, add additional milk (1 tablespoon at a time) until consistency is met.

Once fully cooled, add donut back onto cooling rack with cake pop sticks placed in the middles of donuts, dip each donut into the prepared blueberry glaze (or spoon glaze unto donuts) and set them back onto cooling rack so that glaze hardens a bit. Gently Top with rainbow sprinkles onto all donuts. Repeat until all donuts are glazed and sprinkled.

Bon Appetite!
STORAGE: Can be stored in a tightly sealed container and best if placed in the refrigerator for up to 3 days for ultimate freshness.
SWEETENER: If you choose to opt out of brown sugar, you can always substitute for organic pure cane sugar, coconut sugar, Agave, or pure maple syrup instead. 
FLOUR: If you want your donuts to be more of a 'cakey' texture, substitute 1 cup of All-purpose flour with Fine Pastry Flour. To make these donuts GF, simply substitute with 1-to-1 Baking Flour. All flours can be found by Bob's Red Mill. 
OIL: If you want to substitute the melted vegan butter, you can always use vegetable, coconut, or canola oil.
Calories:
126
kcal
|
Carbohydrates:
43
g
|
Protein:
2
g
|
Fat:
3
g
|
Saturated Fat:
1
g
|
Polyunsaturated Fat:
1
g
|
Monounsaturated Fat:
2
g
|
Trans Fat:
1
g
|
Sodium:
195
mg
|
Potassium:
20
mg
|
Fiber:
1
g
|
Sugar:
9
g
|
Vitamin A:
0.3
IU
|
Vitamin C:
0.1
mg
|
Calcium:
69
mg
|
Iron:
1
mg
Mini Dairy-Free Homemade Donut Pops.