These Jumbo-sized Maple Brown Butter Breakfast Muffins are the perfect grab-n-go breakfast or snack for the entire family. Packed with rich maple and brown butter flavors, comforting spices, and glazed with an easy maple glaze, these muffins are the perfect naturally sweetened indulge. Literally whipped together in under 30 minutes.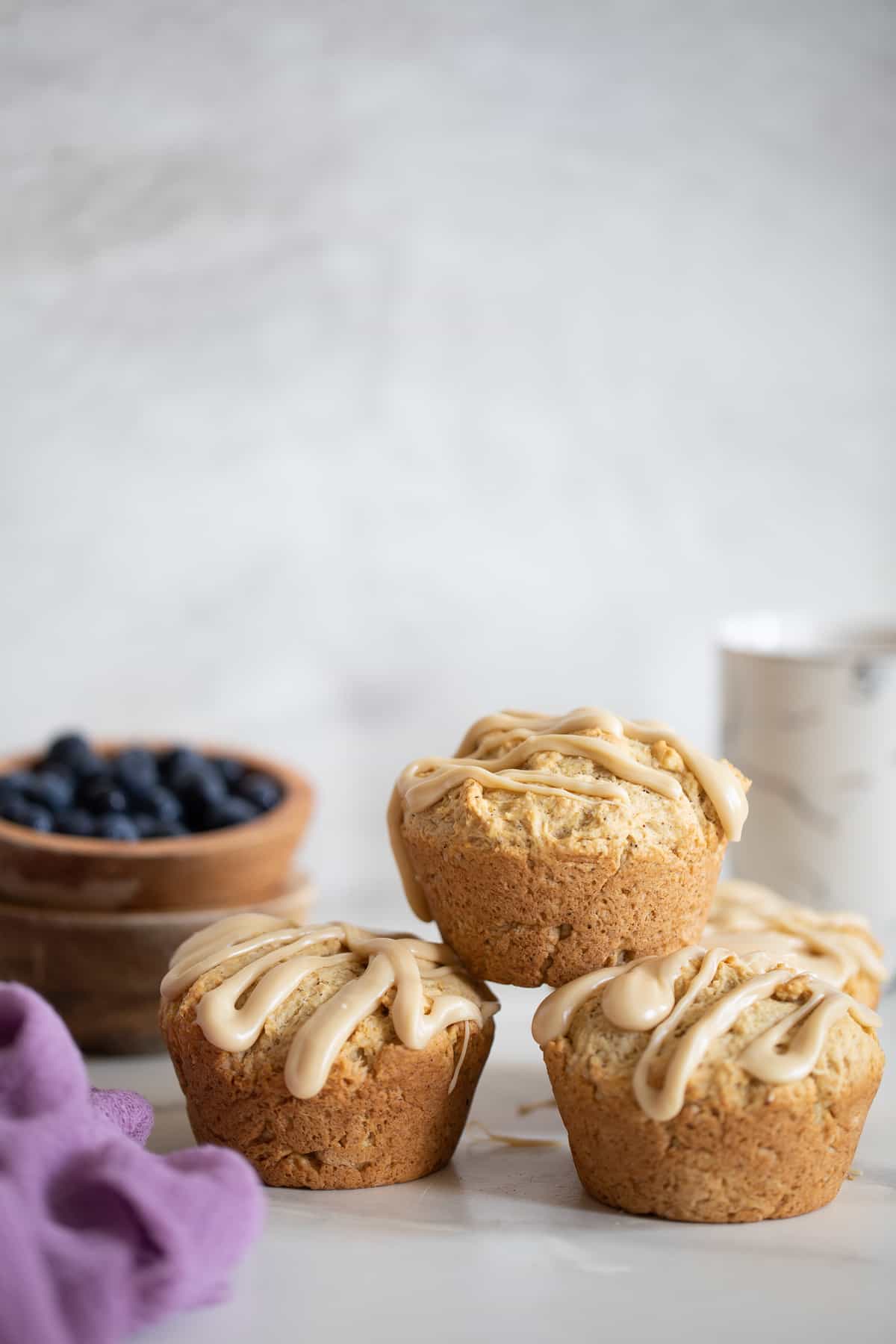 These Maple Brown Butter Breakfast Muffins are so good, ya'll. Muffins have been my thing lately. They are just so perfect as a quick grab-n-go breakfast!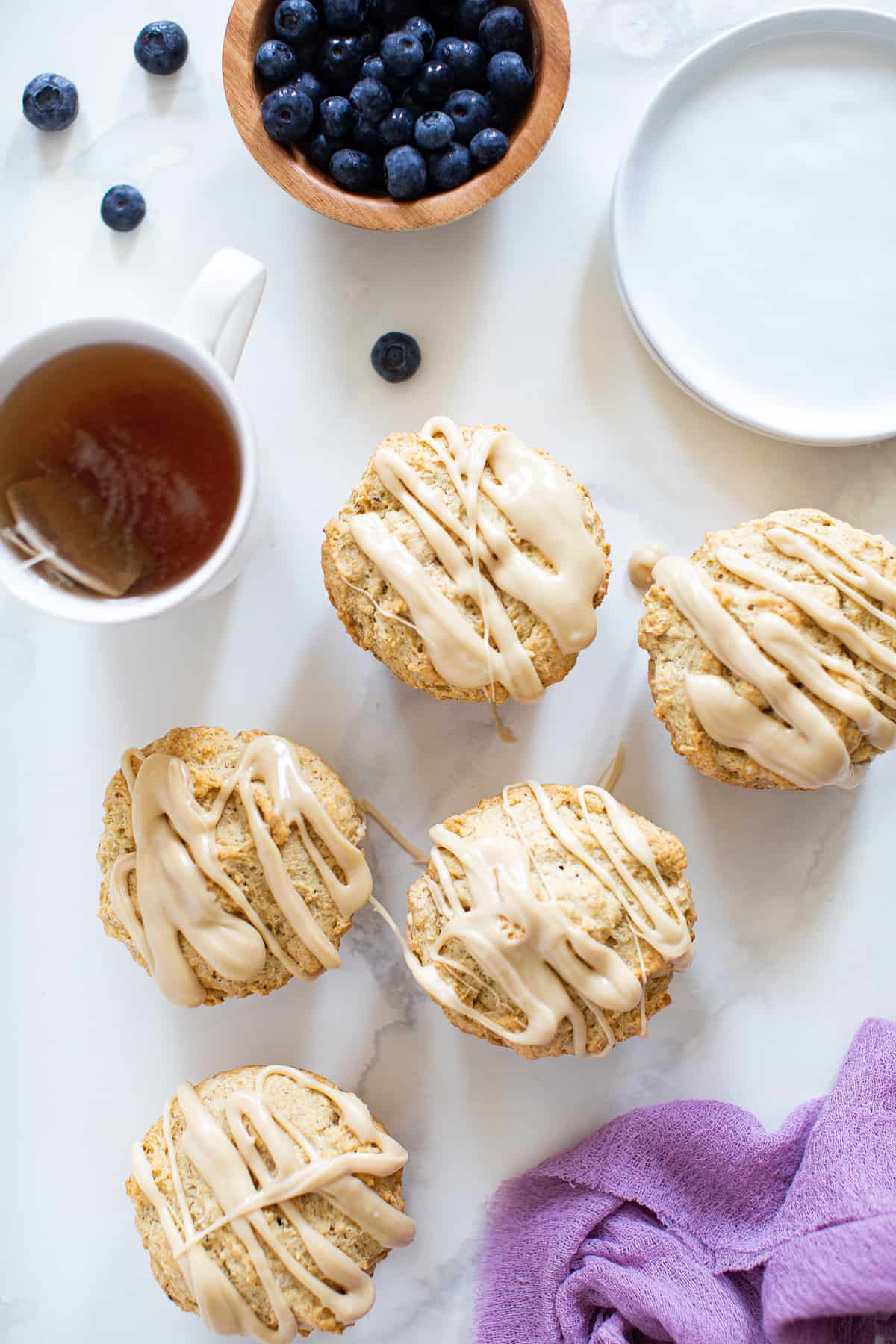 Personally, I enjoy bold flavors when it comes to muffins because unlike cupcakes, there isn't a topping of whipped buttercream to add additional flavor, therefore, I love muffins with jam-packed flavor.
Previously, I made these Healthy Blueberry Oatmeal White Chocolate Muffins and they were SO GOOD! But have you tried Oatmeal + Blueberry + White Chocolate? If not, you're definitely missing out! Such a killer combo!
LOOKING FOR A HEALTHIER SWEETENER OPTION?
The Best Healthy Sugar Alternatives + Substitutes list is all about finding better ways to enjoy your favorite sweets without compromising your healthy lifestyle. For those who follow a vegetarian and/or vegan lifestyle, this lists offers a few great ideas to incorporate healthy sweeteners into your diet.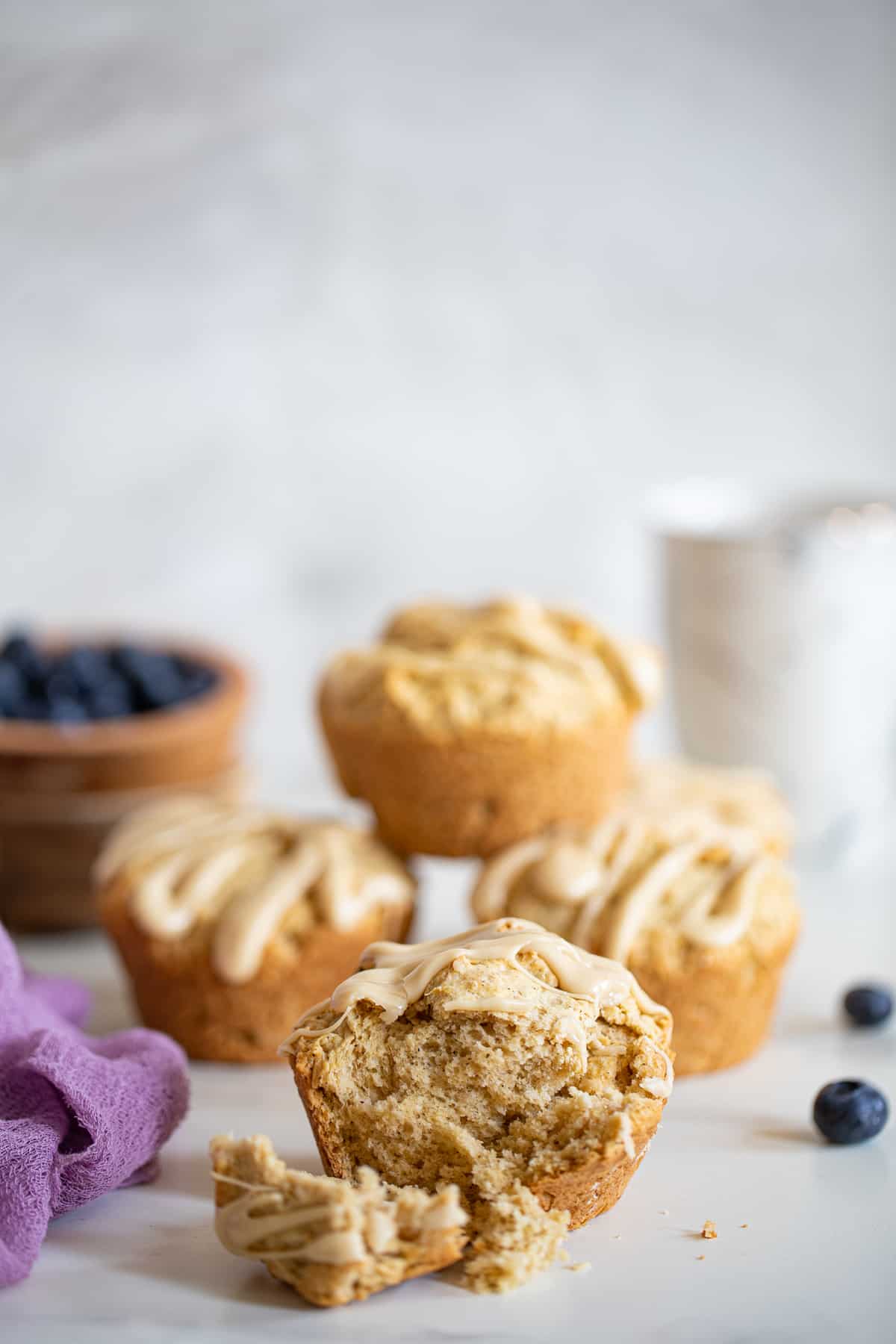 WHAT YOU'LL LOVE ABOUT THESE MUFFINS?!
They're super easy to make.
Perfect as a meal substitute for breakfast, dessert, or a healthy snack.
Not too sweet, but perfectly sweet!
NATURALLY sweetened!
Super fluffy and melt-in-your-mouth in every little bite.
Loaded with delicious Southern flavors---brown butter + maple!
Great hints of warm, comforting Fall spices.
Just too delicious to pass up.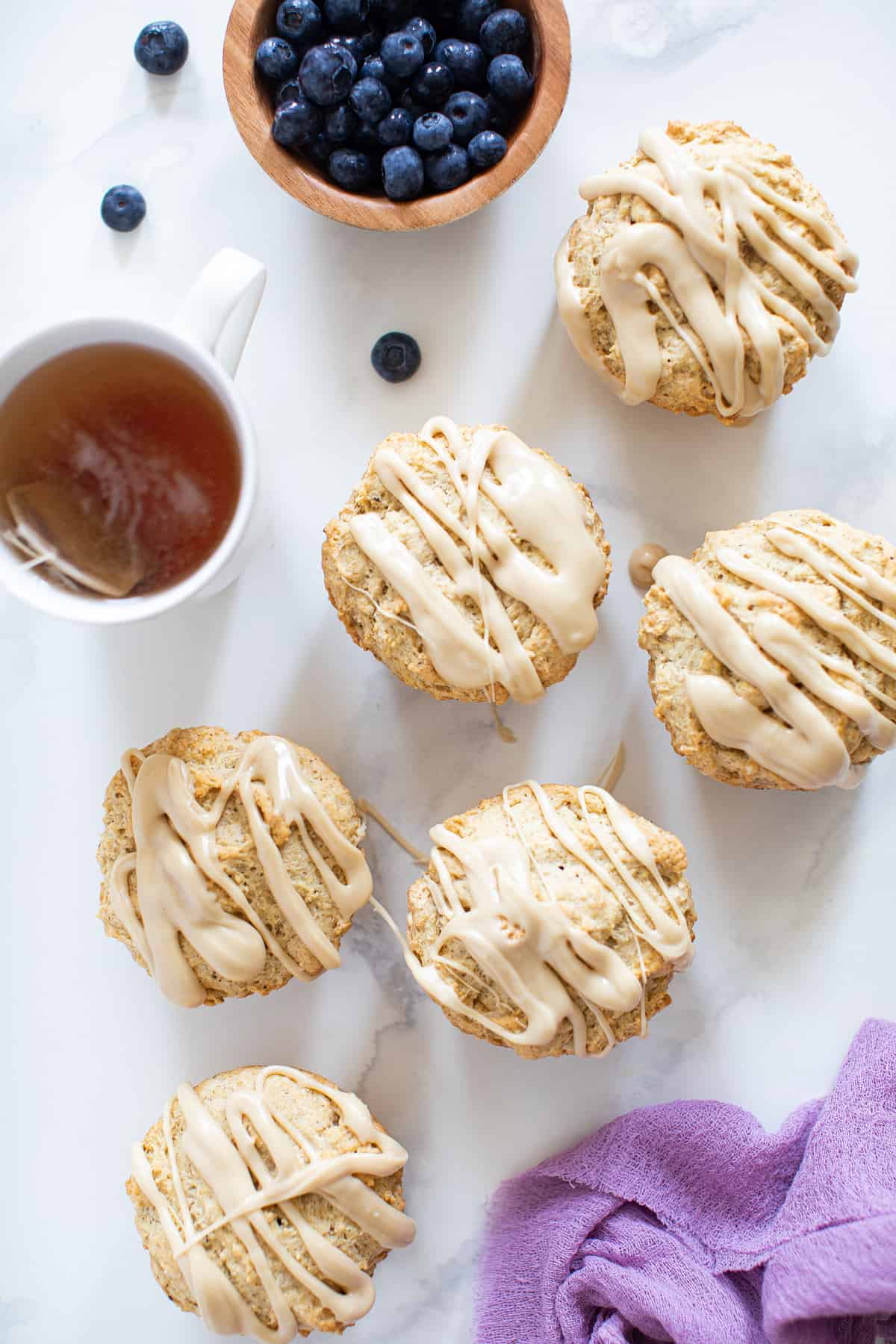 READER FAVORITE MUFFIN RECIPES.
These Mini Chocolate Chip + Chia Seed Energy Muffins are the perfect grab-n-go breakfast or snack for the entire family. Packed with delicious traditional chocolate chip flavor, these muffins also offer bursts of chia seeds and offers a good dose of nutrients (great for energy), are naturally sweetened, and super easy to make. All Vegan ingredients.
These Vegan Blueberry Acai Mini Muffins are a great healthy option for the entire family. Loaded with nutrient dense ingredients, these mini muffins are the perfect little bites for breakfast, brunch, a quick packable snack, or sweet treat after dinner. Moist, fluffy, made in just 1 bowl, and in 25 minutes.
Vegan Cinnamon Banana Crumble Muffins—perfectly sweet and moist, is a great balance between tender and crunchy, and 100% delicious! It takes less than 10 minutes to whip together the batter for these muffins, but it makes for a great healthy alternative for a little sweetness in the morning for breakfast, a midday snack or even for quick dessert.
These Vegan Banana Oatmeal SunButter Mini Muffins are a great healthy option for the entire family. Loaded with awesome levels of nutrition, including fiber, potassium, Vitamin C, Folate, and the list goes on; not to mention a hint of sunflower seed flavor from this creamy SunButter, these mini muffins are the perfect little bites for breakfast, brunch, snack, or dinner.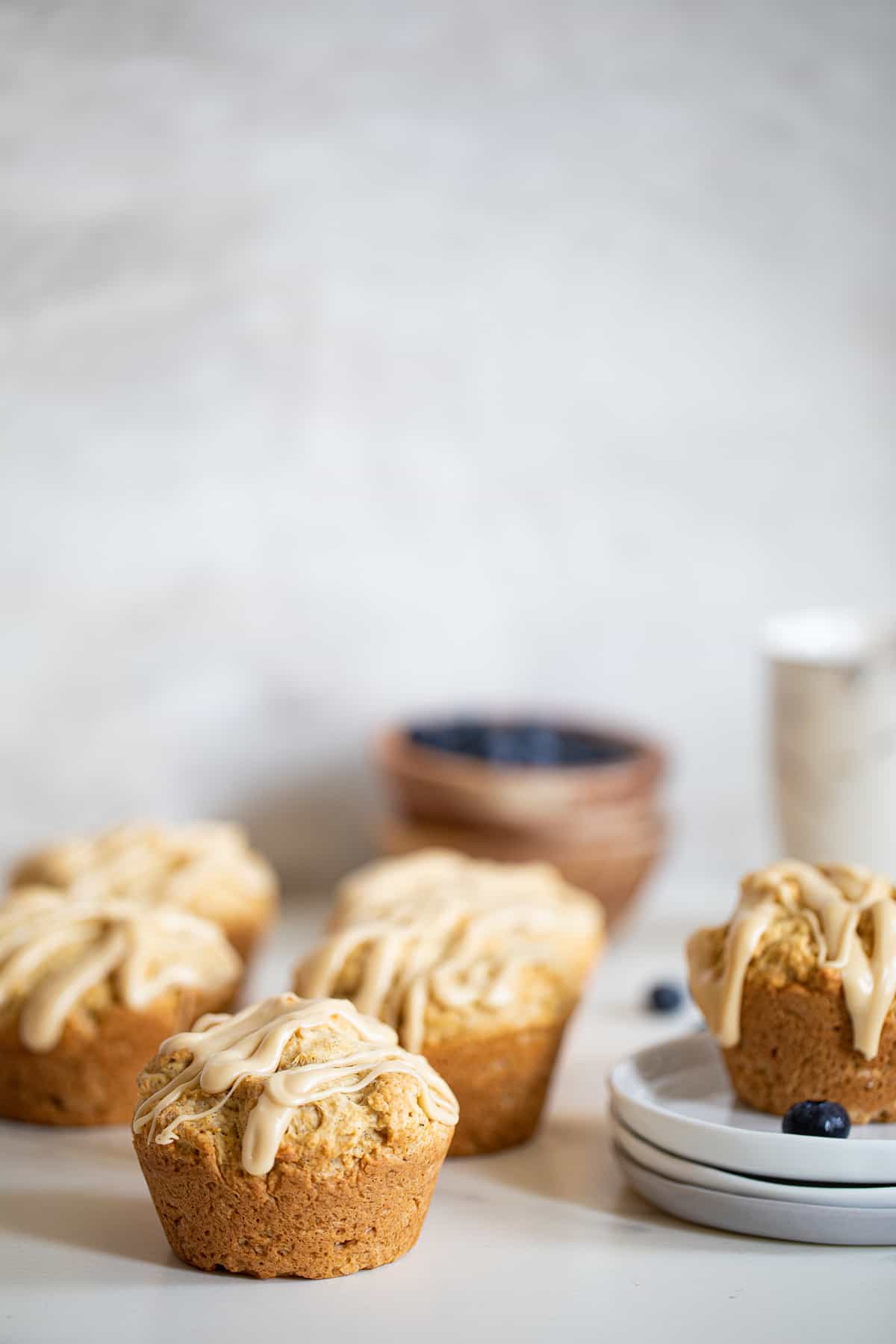 Why Maple + Brown Butter Together?
OK, so I know that you might be thinking that these muffins are super bold in flavor and YOU'RE SO RIGHT.
In all honesty, I haven't dabbled with brown butter much on Orchids + Sweet Tea, however, I'm such a fan because it's a Southern classic that is undeniably delish. Besides, it also brings on a lot of comfort and has such a bold flavor that brings forth other bold flavors in a genius way. So, why not add maple + brown butter together with the addition of warm spices to create the ultimate comfort food dish, right? Exactly.
Steps to Making these Maple Brown Butter Muffins.
While I've recently made these Maple Brown Butter Banana Waffles, whipping together muffins are just as simple as waffles. In just a few small simple steps, you can make such a great flavored muffin and store them for your daily breakfast fix.
Made with basic ingredients, these muffins are easily put together:
Mix the dry ingredients together
Whisk the wet ingredients together in another bowl
Combine both the wet + dry ingredients together
Fill the muffin cavities with batter
Bake
Cool muffins for a few minutes
Make glaze in less than 5 minutes
Add glaze to cooled muffins
Enjoy!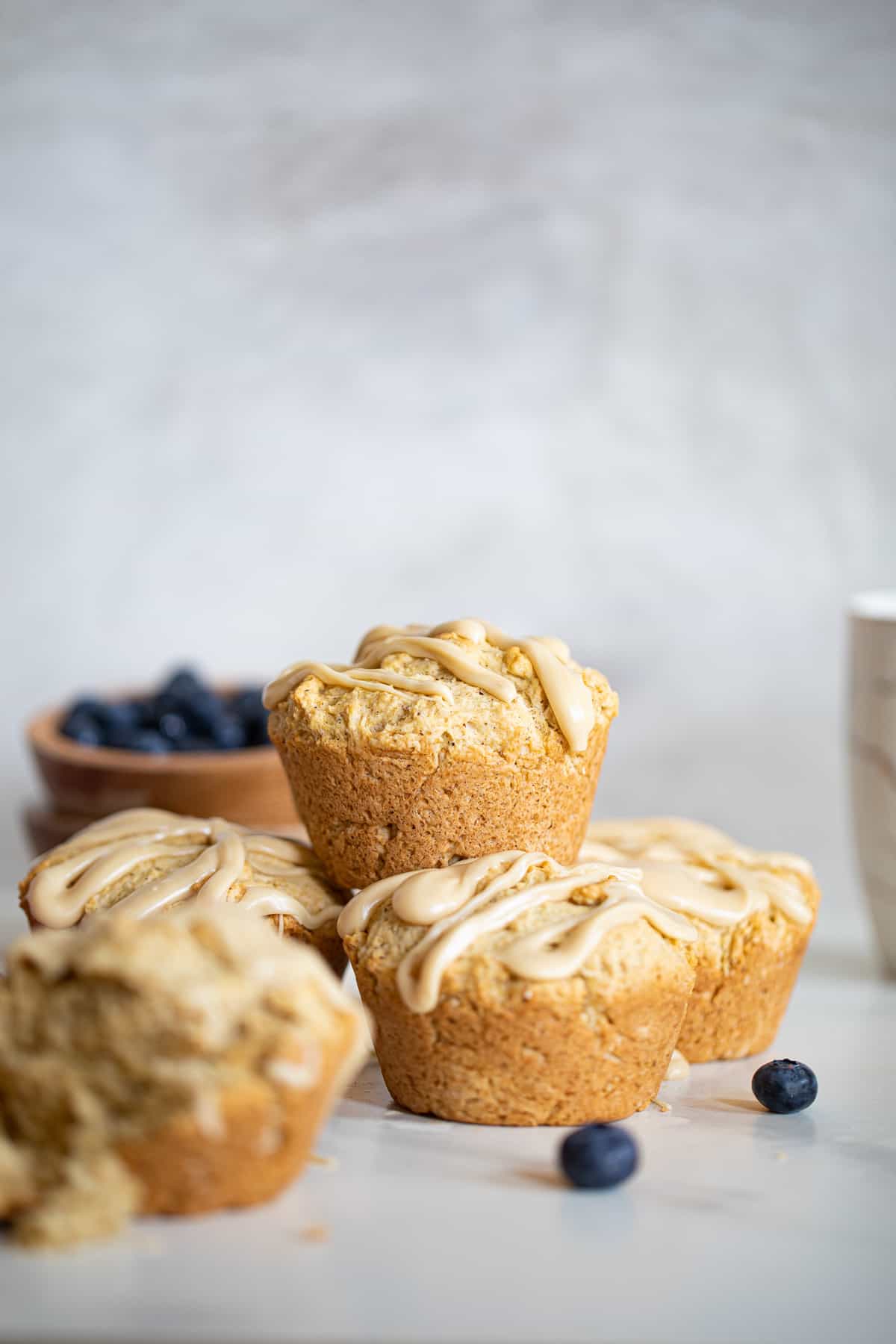 What You'll Need For These Muffins?
Flour – Creates a nice airy, fluffiness to muffins, BUT can be substituted with GF flour if needed
Baking Soda — Very important leavener
Almond Milk – Makes things nice + soft; Sub with your fave plant-based milk
Unsalted Butter — The important element for the browned flavor. The full fat in unsalted butter creates a nice smoky flavor when melted and simmered
Vanilla – A great addition of flavor and marries everything together
Maple – A natural sweetener with bold sweet flavor
Spices: Cinnamon, Nutmeg, All spice – the best combo of Fall flavors that also brings a lot of comfort
Eggs — Works as a great binder for muffins
Powdered Sugar — Makes the glaze; always ensuring that it's sifted minimizes lumps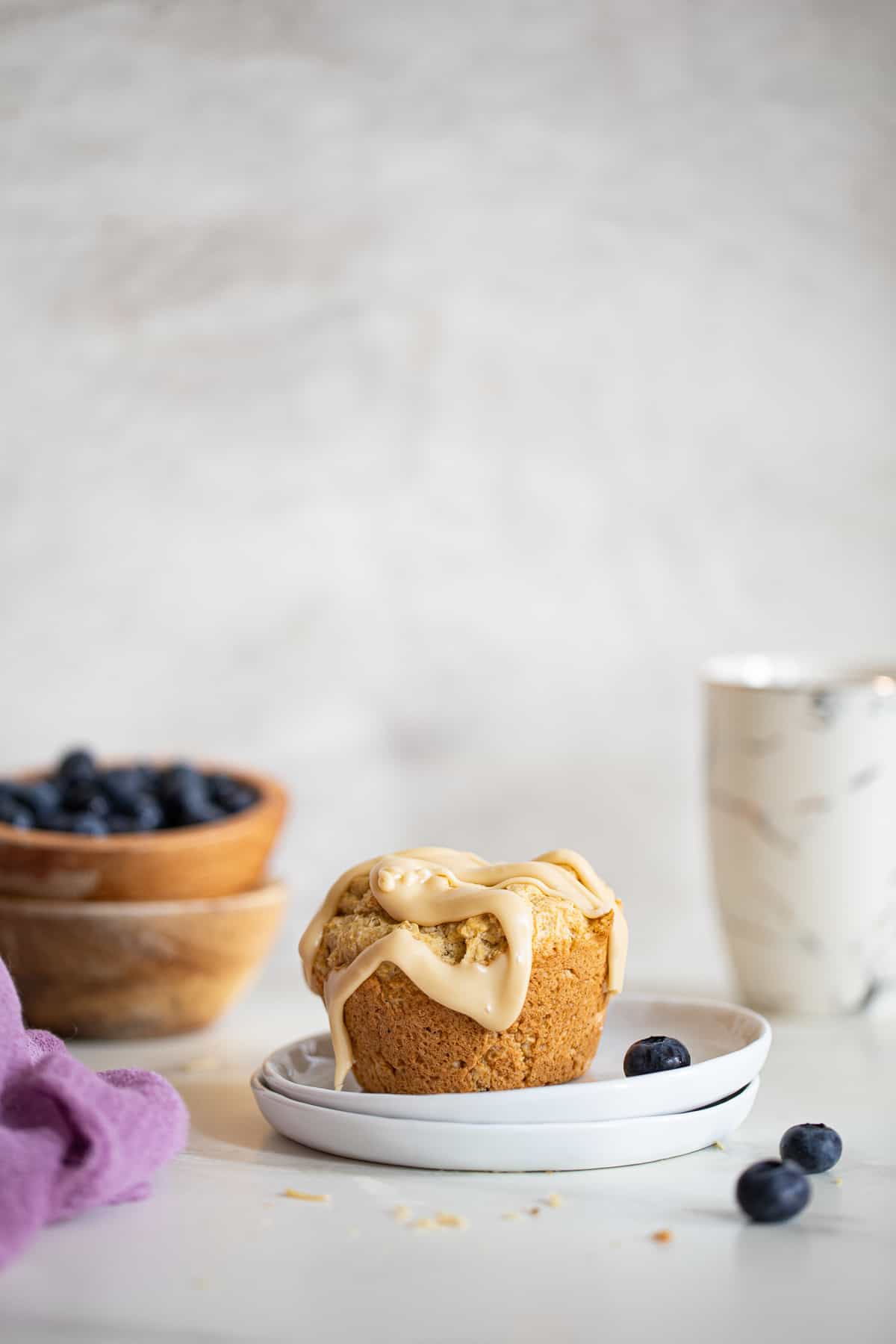 Muffins:
1 ¾

cups

organic all-purpose flour

(I use Bob's Red Mill)

1

teaspoon

baking soda

2

tsps

ground cinnamon

½

teaspoon

ground nutmeg

½

teaspoon

allspice

½

teaspoon

sea salt

2

large

eggs, room temp.

(I use Organic Valley)

½

cup

pure maple syrup

(I use Coombs Family Farm)

1

teaspoon

vanilla

½

cup

unsalted butter

(I use Land'O Lakes)

¼

cup

Almond milk

(I use Califia Farms; You can use your fave plant-based milk!)
Preheat your oven to 400 degrees Fahrenheit and line a jumbo muffin pan (6-cavity) or standard 12-cavity muffin pan with parchment liners (or grease it using butter).
To Make Brown Butter:
Using a saucepan on medium-high heat, melt the butter, stirring occasionally and letting it cook for 3-4 minutes, until dark bits begin to form and the entire butter becomes fragrant and darker.

Once done, remove from heat and let cool for a few minutes before refrigerating it so that it is MOSTLY cooled, about 10 minutes.
Muffins:
In a large bowl, combine the flour, baking soda, spices, and salt, whisking them together.

In a separate bowl, combine the cooled brown butter, vanilla, eggs, milk, and maple syrup, whisking together until well combined.

Combine the wet ingredients into the dry ingredients and using a spatula, stir everything together until well combined. **NOTE: Batter will be THICK. It's OK!**

Scoop batter into the prepared muffin pan until everything is filled.

Bake for 18-20 minutes, or until a toothpick or knife that is inserted in the middles comes out clean.

Once done, remove muffins from oven and let them cool for a bit (about 5 minutes) before removing them from the muffin pan to cool completely.
To Make Maple Glaze:
In a small pot on medium-high heat, add the maple syrup, vanilla extract, and cinnamon and stir frequently until mixture begins to bubble. Remove from heat and let cool sliggtly for 1-2 minutes.

Carefully pour into a small mixing bowl and slowly add powdered sugar, whisking consistently until fully smooth and lump-free. Add glaze to a piping bag and drizzle unto cooled muffins.

Serve with your favorite breakfast juice, tea, or coffee.

Bon Appetit!
STORAGE: Can be tightly sealed in the refrigerator for up to 5 days. When ready to serve, slightly warmed before eating. GLUTEN FREE: To make these muffins GF, simply substitute all-purpose flour with Bob's Red Mill 1-to-1 baking flour OR 1  cup Almond flour + ½ cup Oat flour. Just be sure to see whether more flour is needed + be sure to reduce the amount of liquids. MUFFIN SIZE: This recipe will make 6 Jumbo muffins OR 12 standard muffins, if desired.
Calories:
446
kcal
|
Carbohydrates:
107
g
|
Protein:
6
g
|
Fat:
18
g
|
Saturated Fat:
10
g
|
Polyunsaturated Fat:
1
g
|
Monounsaturated Fat:
5
g
|
Trans Fat:
1
g
|
Cholesterol:
103
mg
|
Sodium:
425
mg
|
Potassium:
194
mg
|
Fiber:
1
g
|
Sugar:
33
g
|
Vitamin A:
567
IU
|
Vitamin C:
0.1
mg
|
Calcium:
99
mg
|
Iron:
2
mg
Maple Brown Butter Breakfast Muffins.