When it comes to setting goals and meeting them full circle, I am a big believer that visualizing such goals makes a difference. What better way to visualize all of your goals than by making a vision board. Vision boards are like a sacred place where all of your ideas, hopes, and dreams come to life before your very eyes. They bring us more focus and aide us in our discovery of the little and big things that we want to achieve in every area of our lives.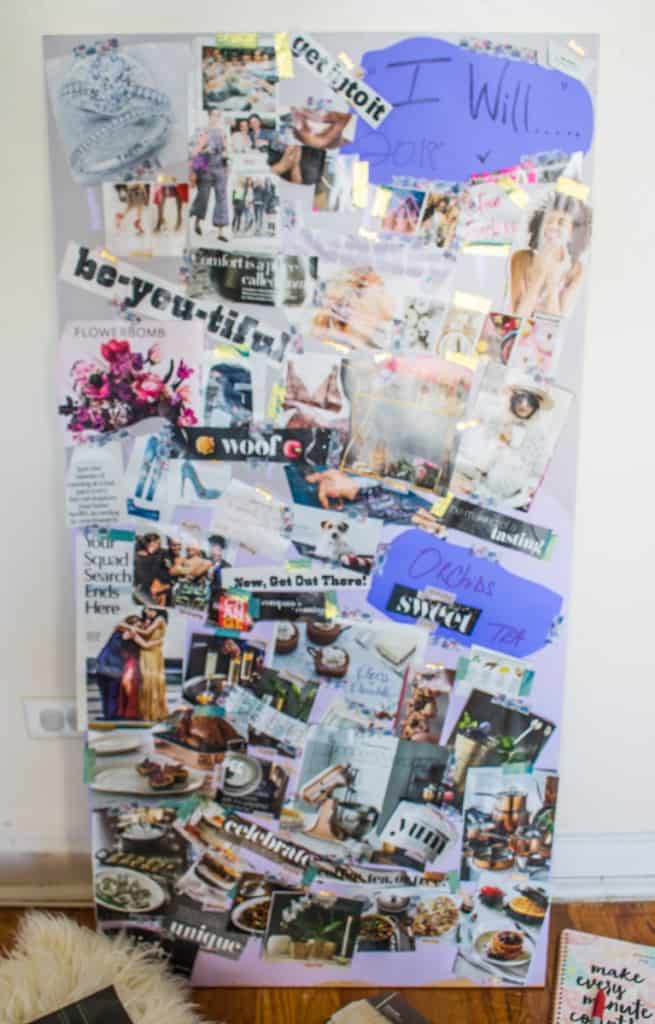 Honestly, I've never been devoted to vision boards in the past. I did a small vision board last year for the first time and it was fun, but I never thought of it with as much meaning as I did this time around.
Often times, we see a vision board as just a thing that is created by cutting out a ton of magazine articles/pictures and pasting them on a board and WALLAH. But no. A vision board should be well-thought, done through inspiration, and done with great intention.
So why create a Vision Board for 2018?
For one, you can read a better breakdown of how Vision Boards affect your success in a previous article I wrote on Why Creating A Vision Board Is The Best Thing For Your Success: click here to read.
Secondly, I believe that accessing your goals and organizing them in a way where they become not only visually appealing, but visually evident makes a heck of a difference when it's time to strategize! At least this is what my vision board does for me.
As you can see below (slightly anyway!), I've organized my personal goals to be my top half of my board and my blogging goals to be the bottom half. This way, I am able to decipher the two areas as well as connect the dots between goals as I go along. Catch my drift?
For me this year, my word of the year is "Intention". This means that I will do everything with intention and nothing (whether it be relationships, tasks, hobbies, etc.) will be done without first knowing it's "why/purpose". Doing this will ensure that I stay aligned to my goals this year and it will keep me accountable in every decision that I make going forward.
Speaking of Intention, be sure to check out an Oldie, but Goodie post about being intentional, even with relationships: IS NOT LETTING GO AFFECTING YOUR GROWTH?
This is why I chose to find a lot of quotes and or words within magazine articles that were bold and stood out to include on my vision board. Sometimes we don't have a ton of time each day to thoroughly look through anything, so having a bold word or phrase helps me to quickly see the inspiration and focus on keeping myself inspired, especially during moments where giving up feels like a slight option.
More importantly, I chose pictures and illustrations that automatically tells the story of that particular goal all too well. This definitely helps you to remember exactly what that goal correlates to as well as attaches an emotion to it so that the motivation kicks in. Ultimately, your vision board is a visualize of YOUR ideas and aspirations, therefore, you choose pictures, illustrations, words, etc. that showcase just that!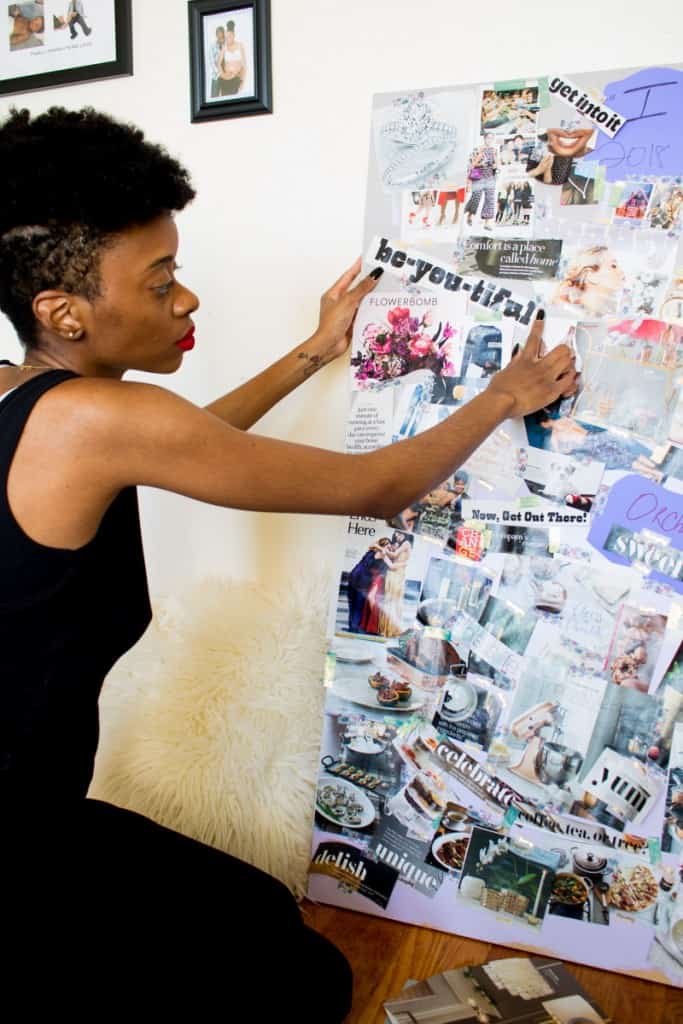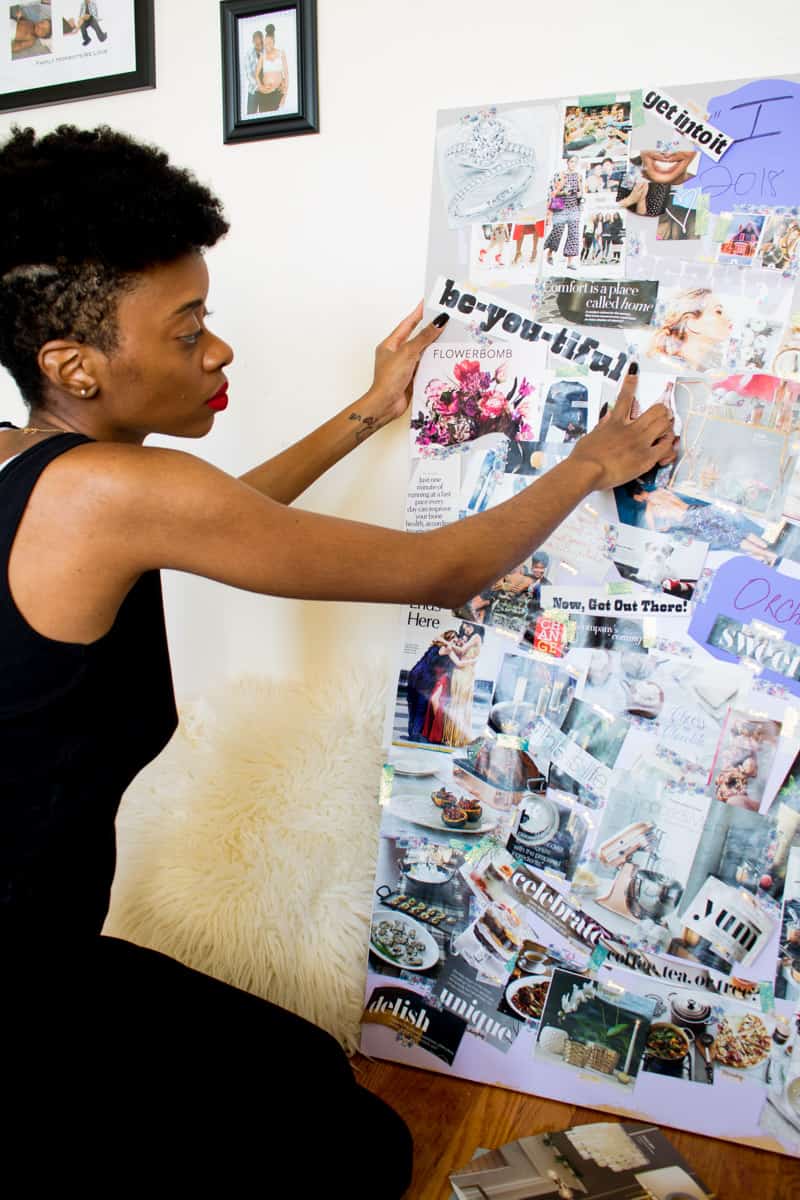 How did I create my vision board?
Materials:
Any kind of board works, however, I choose to use MDF (Medium Density Fibreboard) which can be easily purchased at your nearest hardware or home-improvement store. I purchased mine at Lowes.com for a mere $10 (which is fairly a small size compared to others). To see, click here.
A can of your favorite paint color.
Scissors.
Washi Tape (this is solely for decor purposes! I just love the unique designs and customization ability). I purchased my Washi tapes on Etsy.com, but you can find them at other retailers such as Target, Amazon, Michaels, etc.
A creative mind!***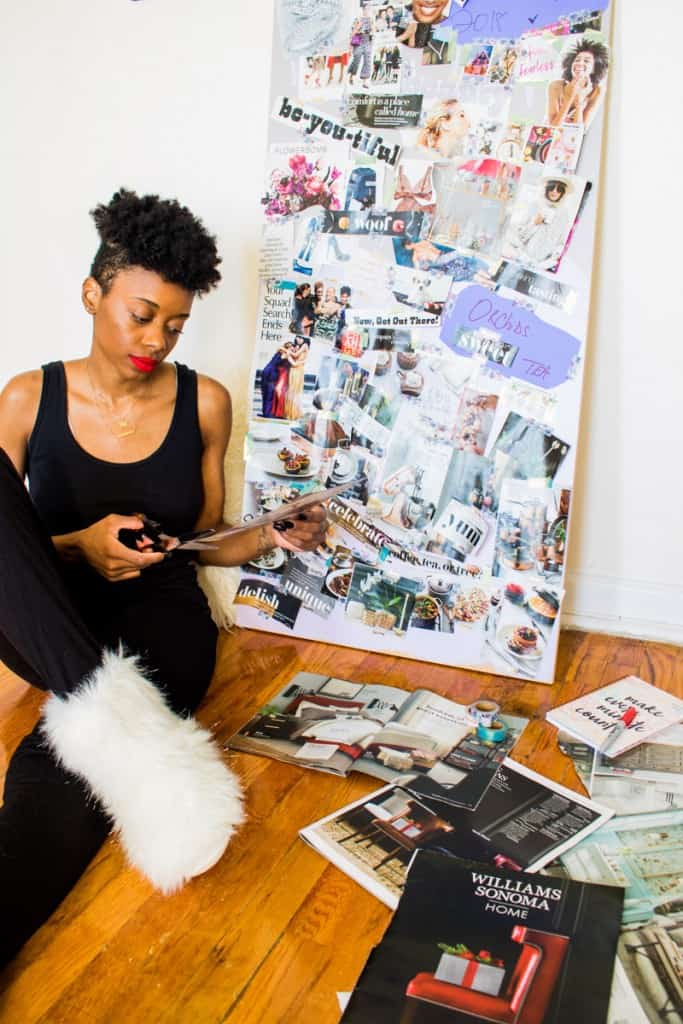 The How?
It's mostly all about having a creative mind and building on your ideas one step at a time. There's no real way to organizing your vision board, except in the way that YOU WANT IT. You simply go based on how you want to feel and what you want your main focus to be. More importantly, I think that it's always best to set the mood by turning off all electronics, creating a designated space to sit and enjoy this little arts + crafts project.
Perhaps have a glass of wine or your favorite drink. Play a little music if that gets you in your right Zen and clip and tape away. Once your done, simply take a step back and look at your board to ensure that it exudes the feeling you'd originally intended and if yes, then you've got a winner. If no, remove the pieces that are lacking an go at it again!
Overall, I did my vision board in two days, just to ensure that I was completely happy with what I created as well as to ensure that I throughly thought about my goals for the year. While I did not add my WORD OF THE YEAR to my vision board, now that I'm thinking about it while I type, I'll do just that! One more piece to add to my finished masterpiece.....
Whelp, that's a wrap, Ya'll.
If you've decided to tackle the idea of making your own vision board, best of luck! Remember that your Year is only what you make it, so make 2018 count.
Cheers to an awesome 2018!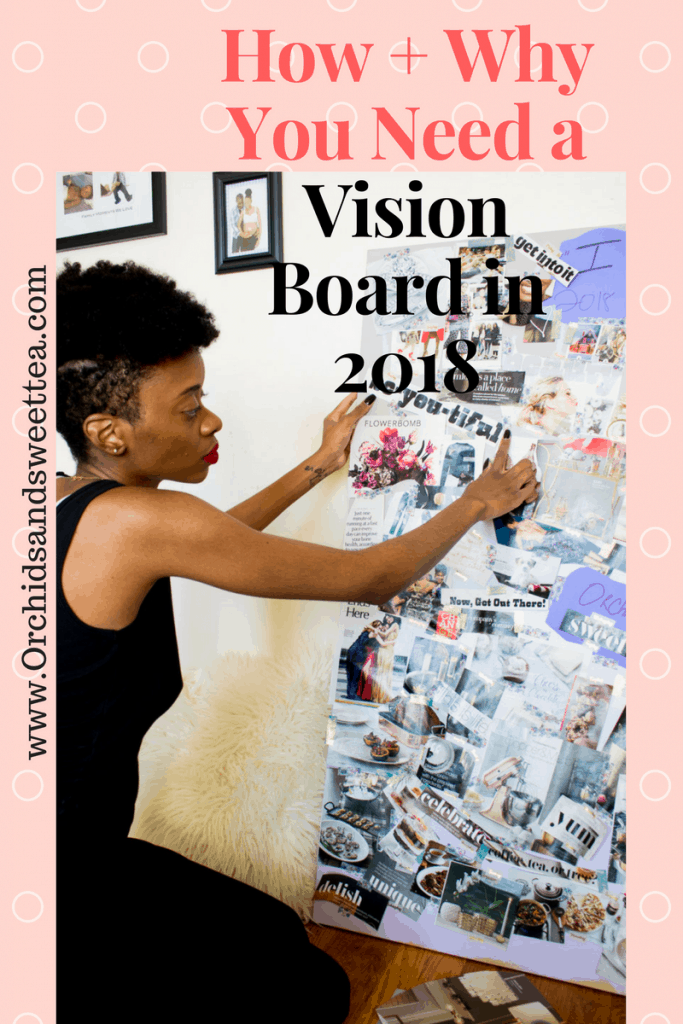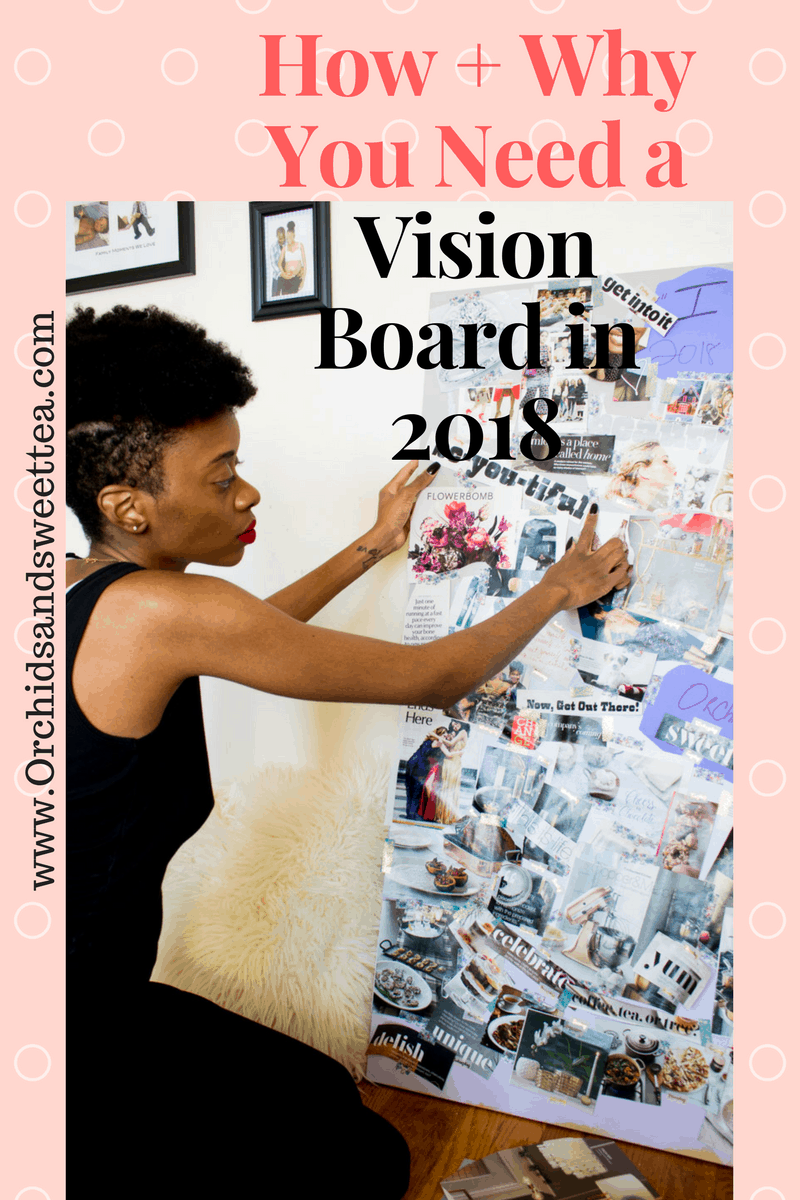 That's my How and Why You Should Make a Vision Board in 2018. Any thoughts? Have you made one?
DID THIS HELP IN ANY WAY?
If this post helped in any way or you just loved it, be sure to tag us on Instagram at #Orchidsandsweettea so that we can share the love. Don't forget to comment below, + share!