This Loaded Vegan Veggie Soup is a perfect addition to the recent cool weather here in NYC! I remember making a similar version of this soup just a few weeks ago–SPICY VEGAN LENTIL + VEGGIE SOUP and it was great, so I felt inspired to try it again with a small twist. Filled with an array of vegetables and gracefully paired with lentils + chickpea, this soup is quite the hearty meal and surely does warm things up nicely on a typical Fall day.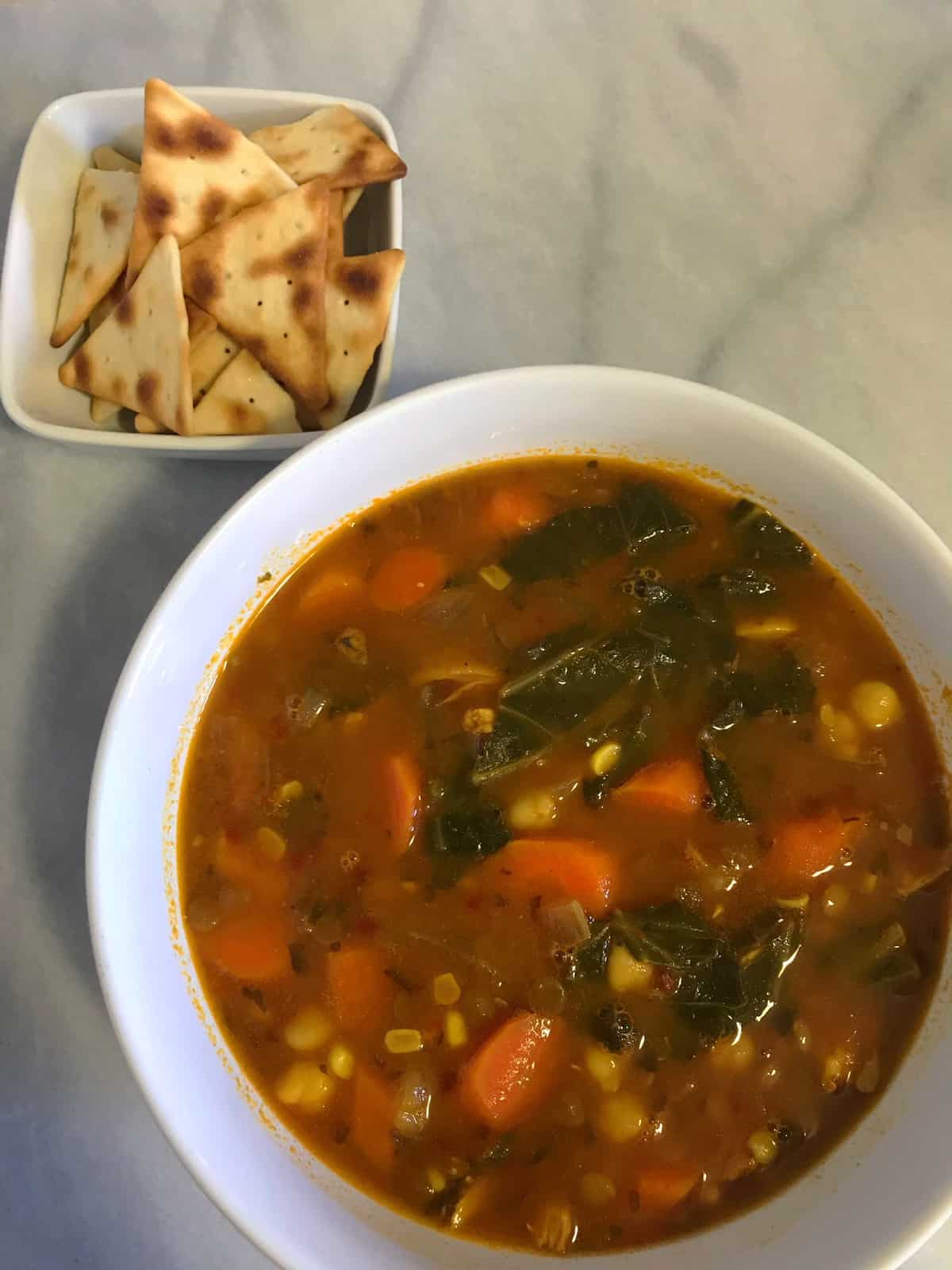 I'm such a big lover of soup (or at least I use to eat soup almost daily some years ago) and I was really excited to make this. The corn, carrots, lentils, chickpea, onions, + bok choy, were a great addition.
But the stars of this dish were the hint of curry and tomato sauce that were included. Both gave such awesome flavor!
Plus, you know that I am a lover of spice, so this really hit a nice home run for me. But don't worry—it's not extremely spicy or unbearable; or at least you are in great control of the amount of spice you'd like to taste, anyway.
Once again, eating clean has been a great new discovery for my family and I. While we don't eat vegan meals on a daily basis, I do thoroughly enjoy incorporating this type of diet in our lifestyle on a number of days per week.
It definitely makes for a great balance and it works for us, so hey! But in honor of #TastefulTuesdays and to kick things off, I've decided to share this recipe with you guys!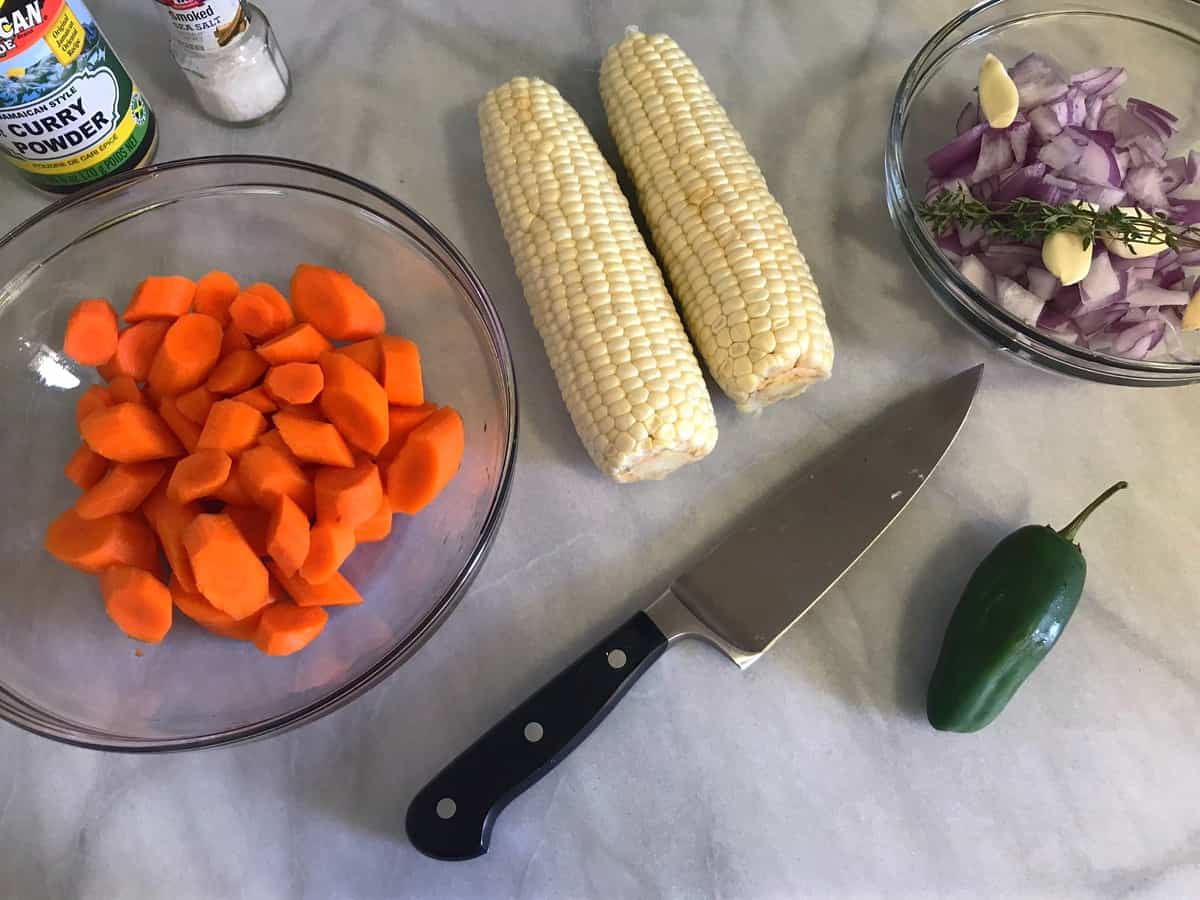 Oh and if you weren't aware, I'll be posting a recipe that is unrelated to #VeganDesserts every Tuesday as a part of my newly created hashtag #TastefulTuesdays, so be sure to stay tuned for some really great out of the box recipes that you won't want to miss.
Anyway, this recipe didn't take a long time to cook, opposed to most other soups (especially those that add meat).
Once you've prepped all of your veggies, it literally takes 30 minutes to simmer. When making any type of soup or chili, I love using my Martha Stewart cast iron pot, which I think cooks these types of food nicely.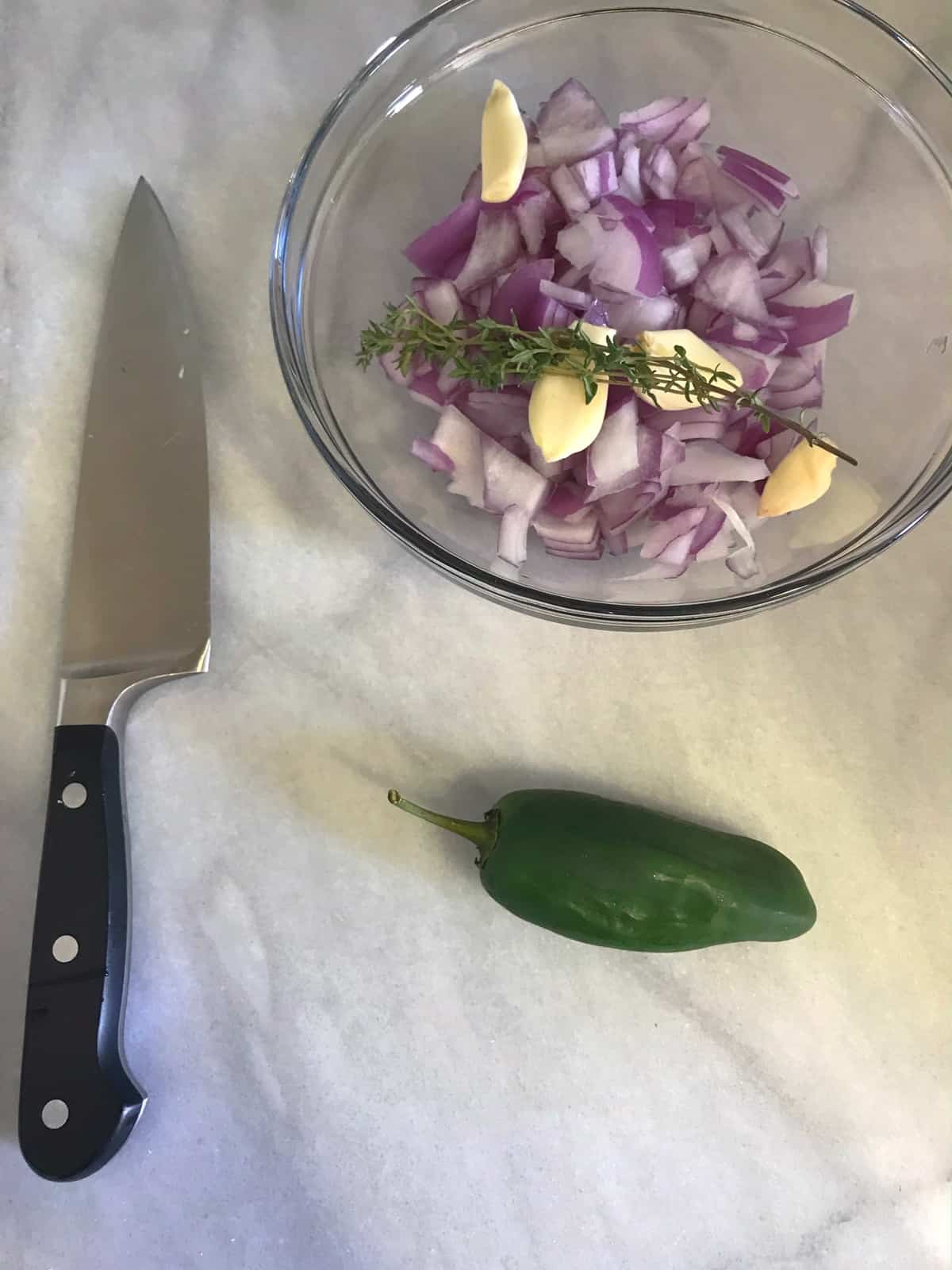 It rarely sticks to the bottom of the pot and the simmer is just pure perfection. I purchased 2 sizes of these pots about 3 years ago (they are super sturdy + last a long time), but you can still purchase them at Macy's today.
I've included the link in case you'd like to take a peek for yourself: Martha Stewart Collection Collector's Enameled Cast Iron pot!
Once cooked, I chose to add a small bowl filled with these new pita crackers, which are AMAZING Ya'll! I recently purchased them on Amazon Fresh to go with my Laughing Cow Cheese (I'm not a huge snacker, but when I do, I love a good snack! Haha!).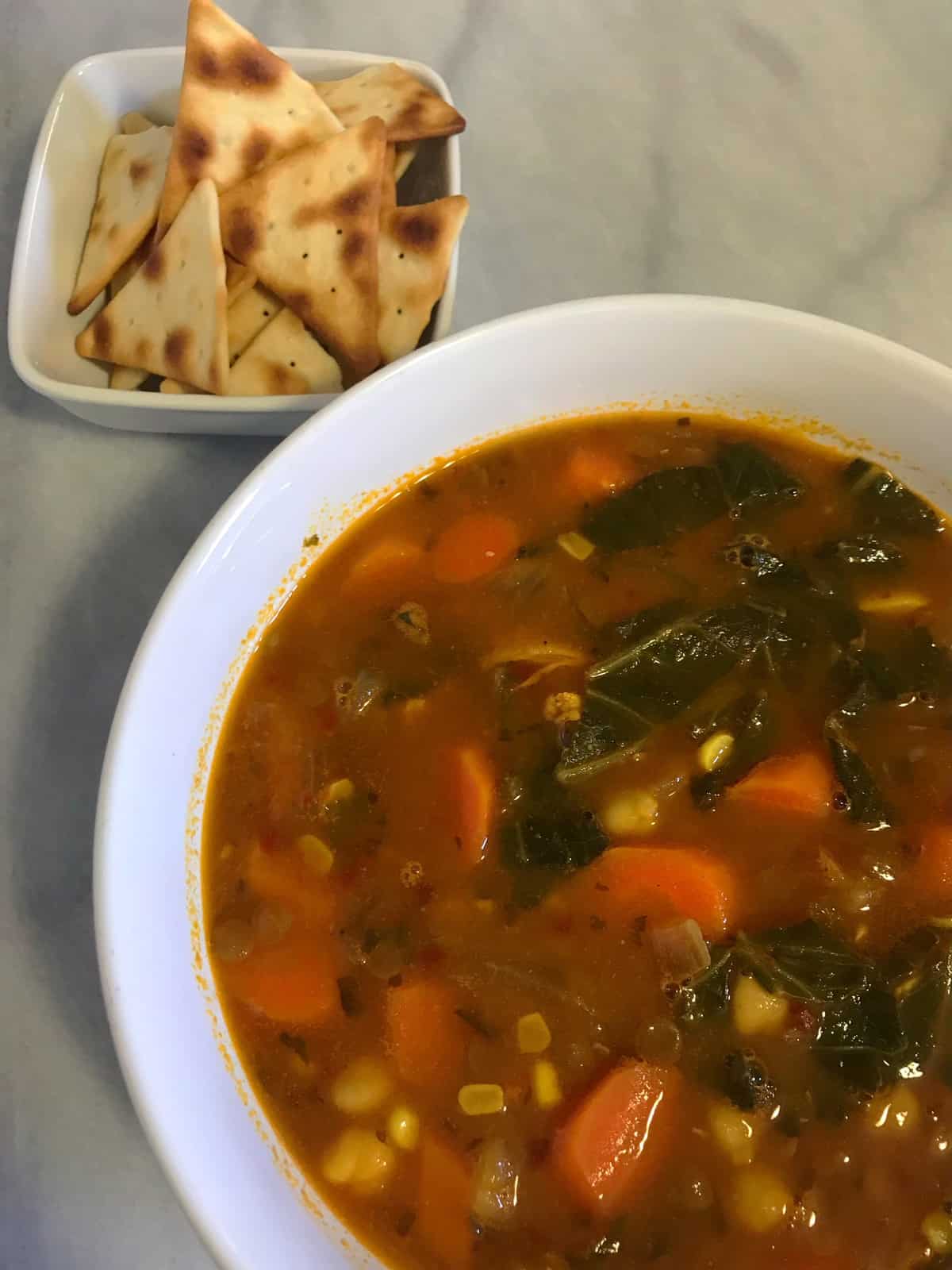 You can find the pita crackers here: Town House Sea Salt Pita Crackers! Luckily, you can find them at Target, Walmart, and a few other retailers as well.
Trust me, they are SO good and they paired very nicely with this soup as a "dipping item". I recommend completely.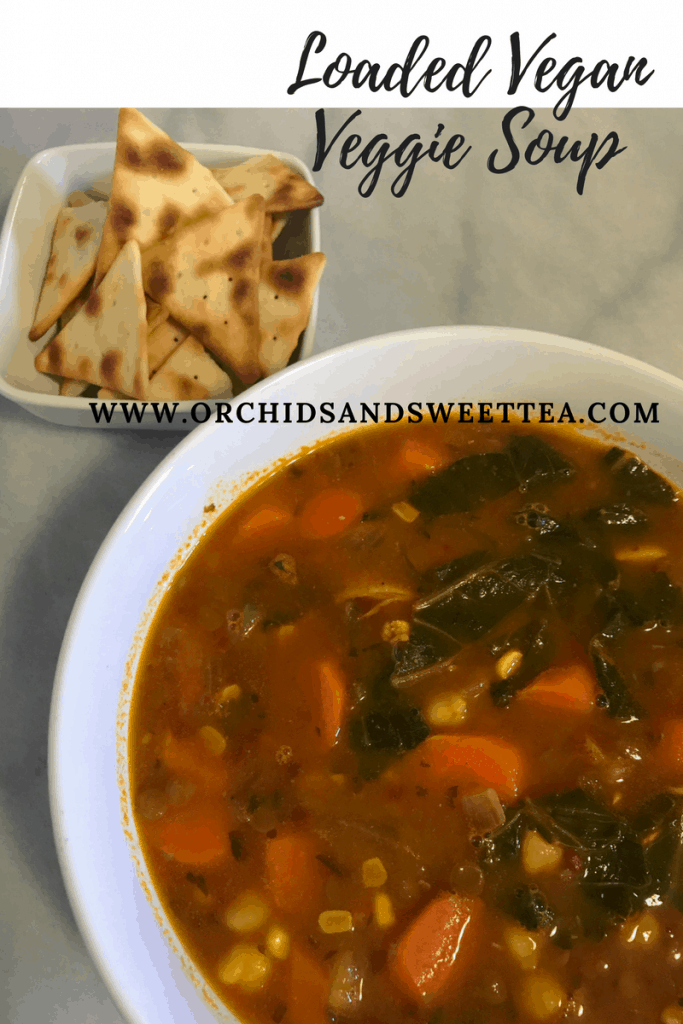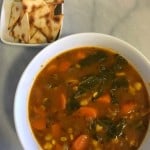 Loaded Vegan Veggie Soup
Must-Haves:
1/4

cup

extra virgin oil

1

medium

purple onion, chopped

2

large

carrots, peeled + chopped

4

garlic cloves, minced

2

tsps

curry powder

1

stem

dried thyme

1

(15 oz) can

organic tomato sauce

sea salt, for taste

1

Tbsp

red pepper flakes

optional if "spicy flavor" not preferred

2

tsps

cumin

5

cups

vegetable broth

2

cups

water

2

medium

white corns

cutting off only the kernels to use

2

cups

bok choy, chopped

1

jalapeno, copped

optional

1

(15 oz) can

chickpea, rinsed

1

Tbsp

dried parsley

1

cup

green or brown lentils

soaked overnight
Instructions:
Warm the olive oil in a large cast iron pot (OR your favorite soup pot!) over medium heat.

Once the oil is heated, add the chopped onion, garlic, and carrot and cook, stirring often, until the onion has softened, about 5 minutes.

Add the cumin, curry powder, dried parsley, and thyme. Cook until fragrant while stirring constantly, a little less than a minute.

Then pour in the drained tomato sauce and cook for a few more minutes, stirring often.

Pour in the lentils, chickpeas, vegetable broth and the water. Next, Add 1 teaspoon sea salt and the red pepper flakes and Jalapeños (if desired). Add any extra of each seasoning to fit taste!

Lastly, add the bok choy and corn.

Raise the heat and bring everything to a boil, then partially cover the pot and reduce heat to maintain a gentle simmer. Cook for 30 minutes, or until all veggies and beans are tender, but still hold their shape well.

Remove the pot from heat. Serve immediately. Bon Appetite!
Tips | Notes:
Leftovers will keep well for about 4 days in the refrigerator, or can be frozen for several months (just defrost before serving).
Loaded Vegan Veggie Soup.