These Hot Honey Chicken + Chocolate Waffles are the ultimate sweet + savory meal. Derived from a Classic Southern-style dish, these easy dairy-free + vegan chocolate waffles are naturally sweetened, fluffy, thick, and airy; coupled with these crispy hot honey chicken strips (all oven baked), this recipe is a real reminder that everything bold in flavor tastes better! Nothing short of goodness on a plate! The perfect comfort food with soul!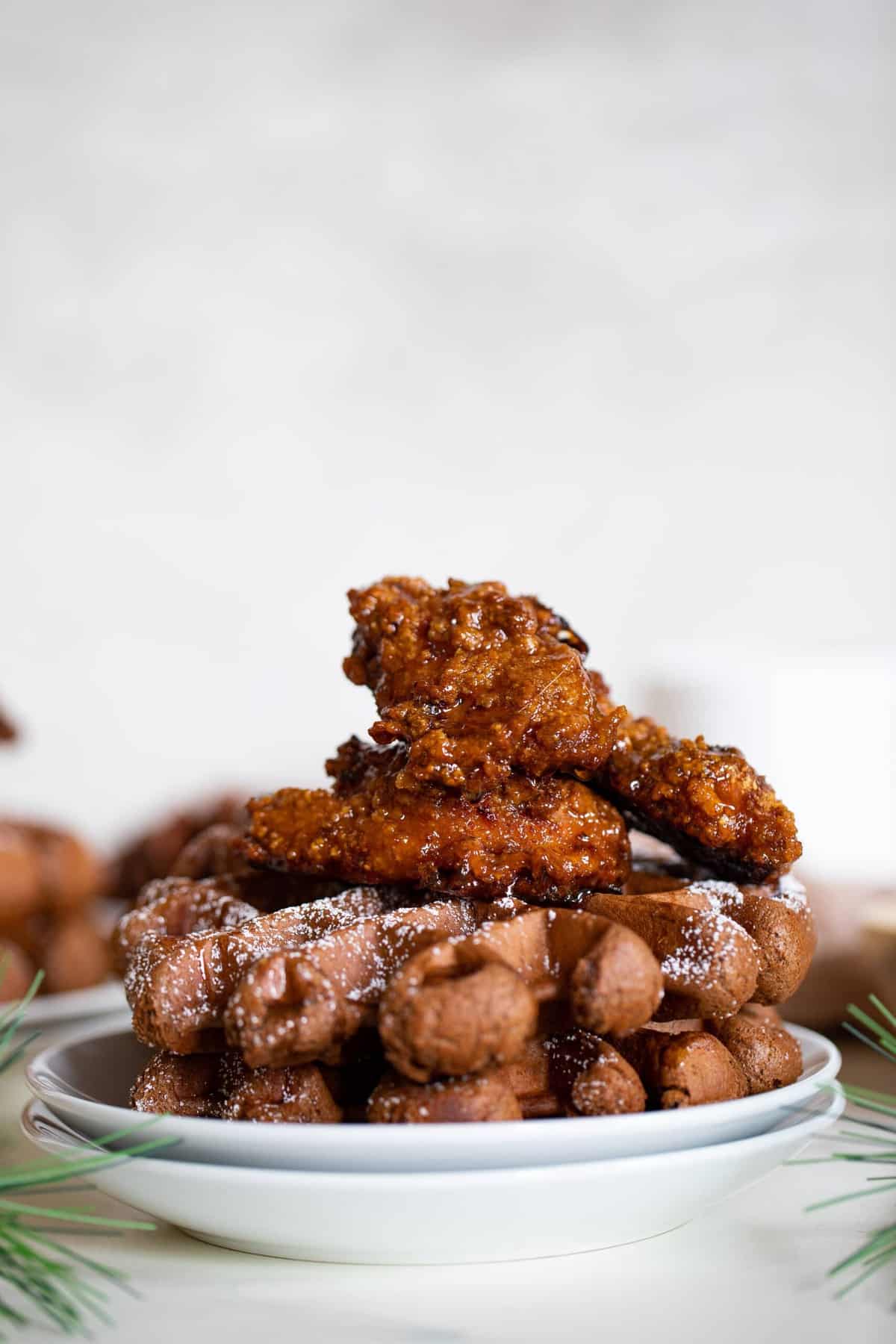 This post contains affiliate links.
Hot Honey Chicken + Chocolate Waffles. The epitome of flavor on a dish. What more can I say?
If you've been an avid follower of Orchids + Sweet Tea, then you know that I thoroughly enjoy sharing dishes that showcase and highlight my Southern roots.
After all, I'm a Southern girl, through and through! Haha.
If you aren't too familiar, my Southern peeps don't eat the traditional breakfast. What do you mean? Whelp, I grew up eating pancakes, waffles, eggs, oatmeal, grits, and even ribs for breakfast. Crazy, right?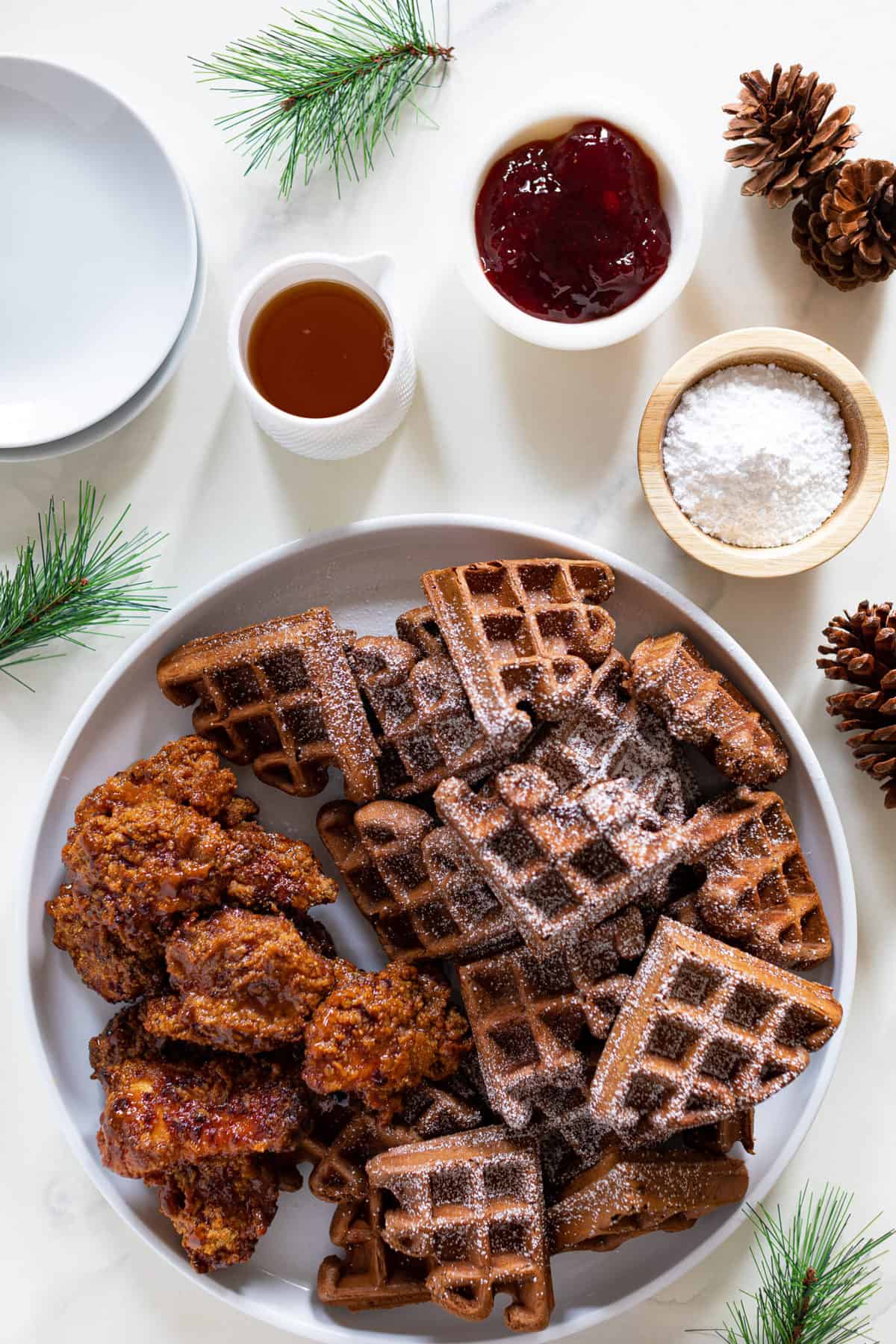 OK, so the original chicken + waffles dish comes with perfectly fried chicken and fluffy buttermilk waffles. While I do enjoy this dish in it's classic version, I definitely wanted to add a twist to everything, especially for the Fall season and Holidays coming closer.
These chocolate waffles are absolutely perfection! Super soft, fluffy, thick, and full of chocolate! Definitely decadent with every bite.
On the other hand, the chicken is beautifully crispy (all baked by the way) and tastes amazing from the hot honey glaze. I don't know about you, BUT I've been obsessing over hot honey lately.
My fave brand is Mike's Hot Honey and I literally purchase at least 2-3 bottle per month. My husband and I add this sauce to most things, especially fries! OMG. I so recommend!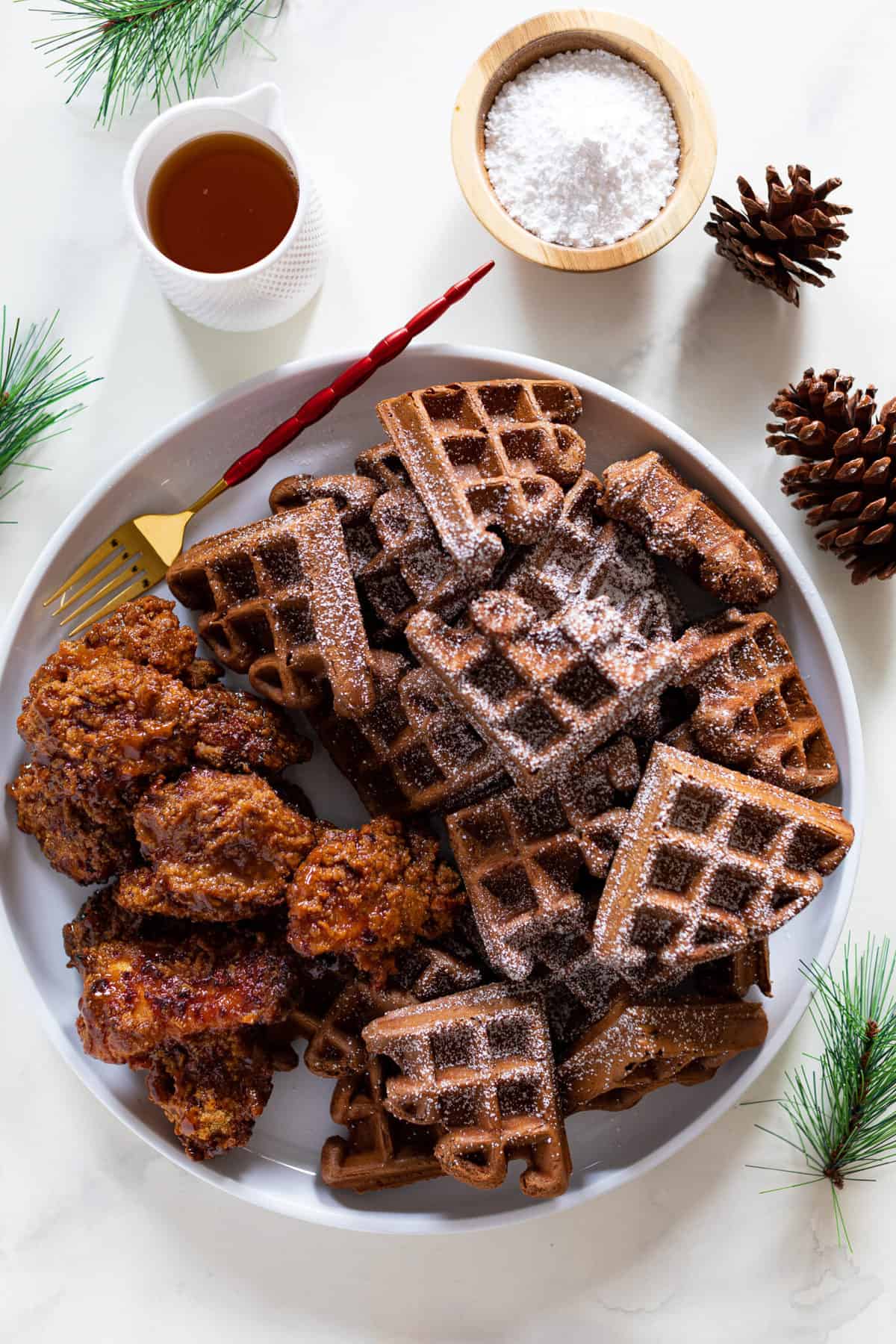 Rest assured, if you aren't able to get your hands on this stuff for whatever reason, making your own version of hot honey is SUPER easy + simple.
Homemade Hot Honey.
When it comes to making your own Hot Honey, you simply need a handful of ingredients: butter, honey, cayenne pepper, chili powder, smoked paprika, garlic powder, and salt.
Honestly, one of the best recipes for this sauce comes from Tieghan at Half Baked Harvest. You can find the sauce ingredients + measurements in her Oven Fried Southern Hot Honey Chicken recipe. SO good.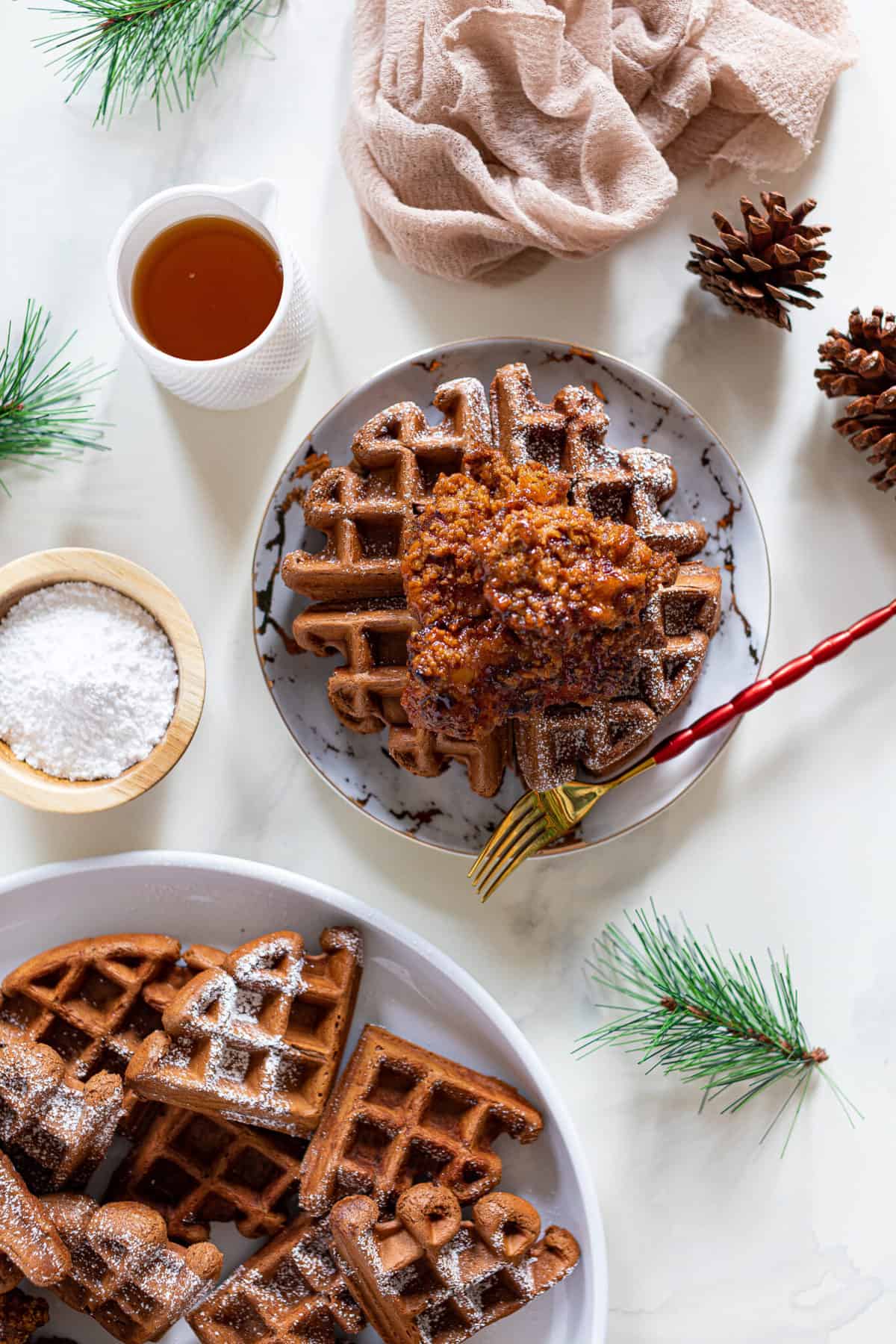 For a little back story into my obsession with chicken. Growing up, I was a super picky eater. Honestly, I don't even remember what my faves were because I really didn't eat a lot of variety. My go-to's definitely was McDonald's Happy meal (those Chicken Nuggets were my lifeline back then) and chicken!
Literally, my Grandfather would pick me up from school and bring me right to McDonald's before heading home or to a friend's house.
During outdoor cooking events or family + friends gatherings, I would be so elated whenever they had jerk chicken or some good ole' friend chicken wings. OMG! I was obsessed with chicken since then and nothing hasn't changed.
As I got a bit older, my taste buds began to evolve a bit and that's when my Grandfather would introduce me to Fried Gizzards, Fried Catfish + Wonder Bread, Chicken Sandwiches, Goat Soup, Curry Goat and the list goes on.
Can you tell that I had a plethora of food combos and flavors? Yup. Sure did. Haha.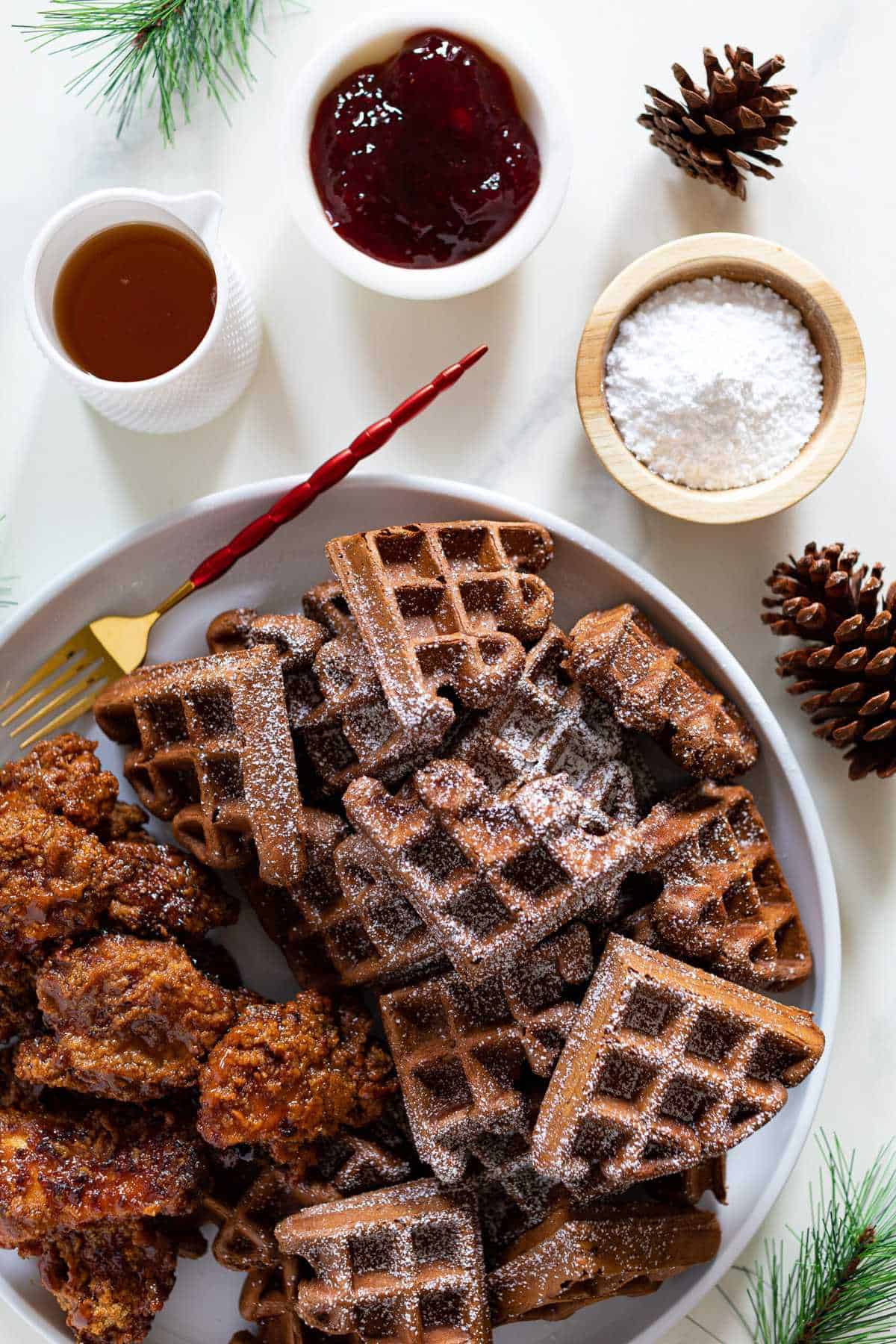 Then of course, you enter the 'unhealthy' kid phase of eating where Hot Sausages, Chips, Candy, and everything in between were my favorite things to eat with friends as we played outside. At one point I even enjoyed a good beef jerky, which was short lived but definitely a phase.
OK, so I mention all of this to say this: my food journey was one crazy ride growing up, but it definitely has shaped the way that I chose to eat today.
That's why you'll always find a little bit of everything on Orchids + Sweet Tea and it isn't ever subscribed to just one diet. While being on just one diet isn't a bad thing at all, I just enjoy the freedom to eat healthy without extreme restrictions.
Of course, here you'll find everything from Dairy-Free to Gluten-Free to Vegan, and Classics using Organic Ingredients.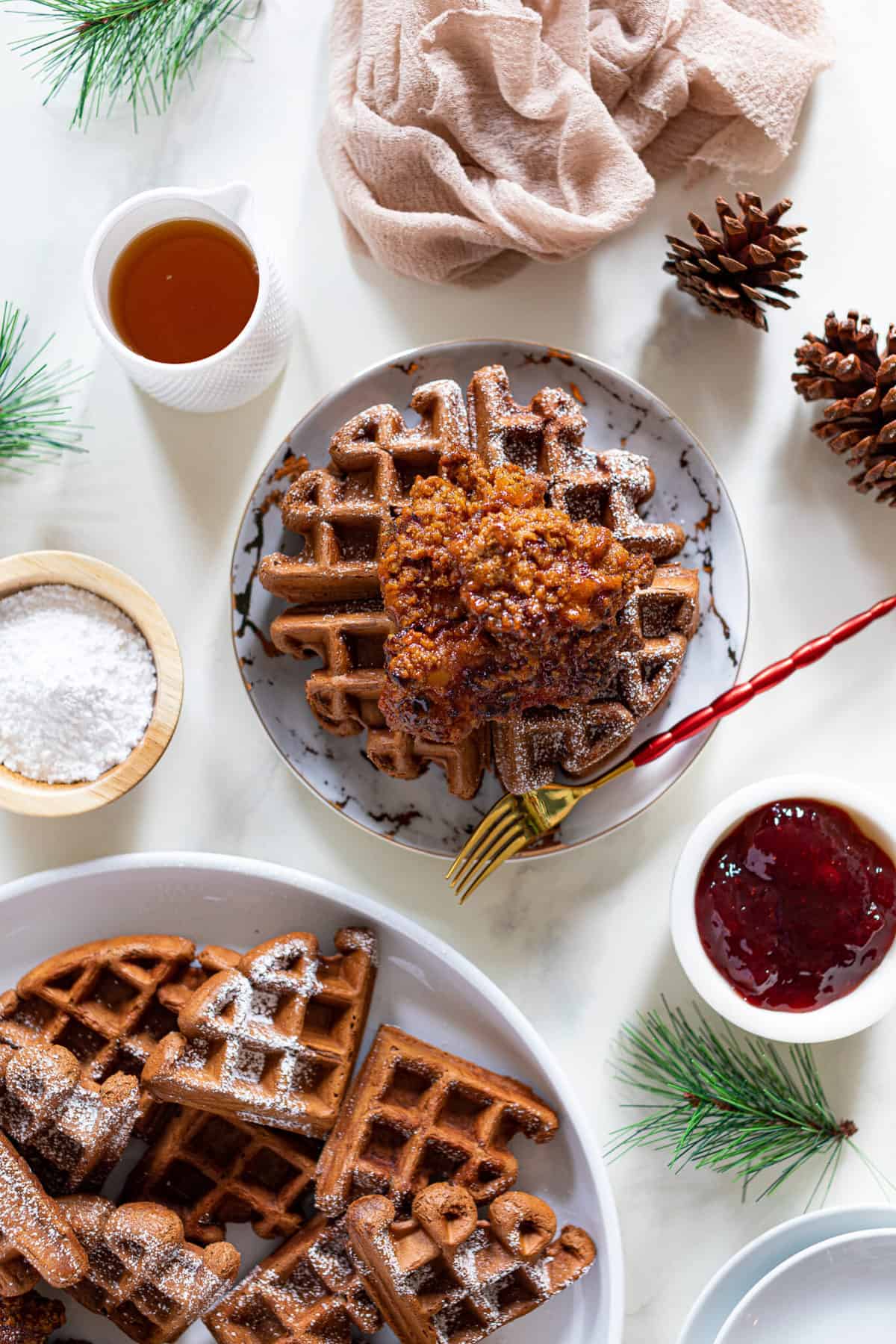 Common Chicken + Waffles Q+ A's.
Does the cut of chicken actually matter?
Honestly, I don't think that it does since some chicken + waffle recipes use drumstick, thighs, etc. However, I enjoy using boneless chicken breasts and cutting them into strips. It's definitely a matter of preference.
Is there a difference when pan-friend or oven baked?
Personally, I love frying my meats or anything for that matter in the oven. It's such a healthier option and they do turn out really crispy when you use the right breading and batter. However, if preferred, you can pan-fry your chicken.
How do you get your chicken to be so crispy?
It's all in the breadcrumb + batter combo! Much like with my cauliflower bites, I've found that by first dipping my chicken in a wet flour mixture and then rolling it in breadcrumbs, my chicken has been SO CRISPY and GOOD! Traditionally, an egg wash is used, however, I found that my way of doing it has produced better results for me.
When is it best to eat Chicken and Waffles?
ANYTIME! Haha. I literally enjoy eating this dish during any time of the day---breakfast, brunch, lunch, or dinner. It's honestly perfect for any meal.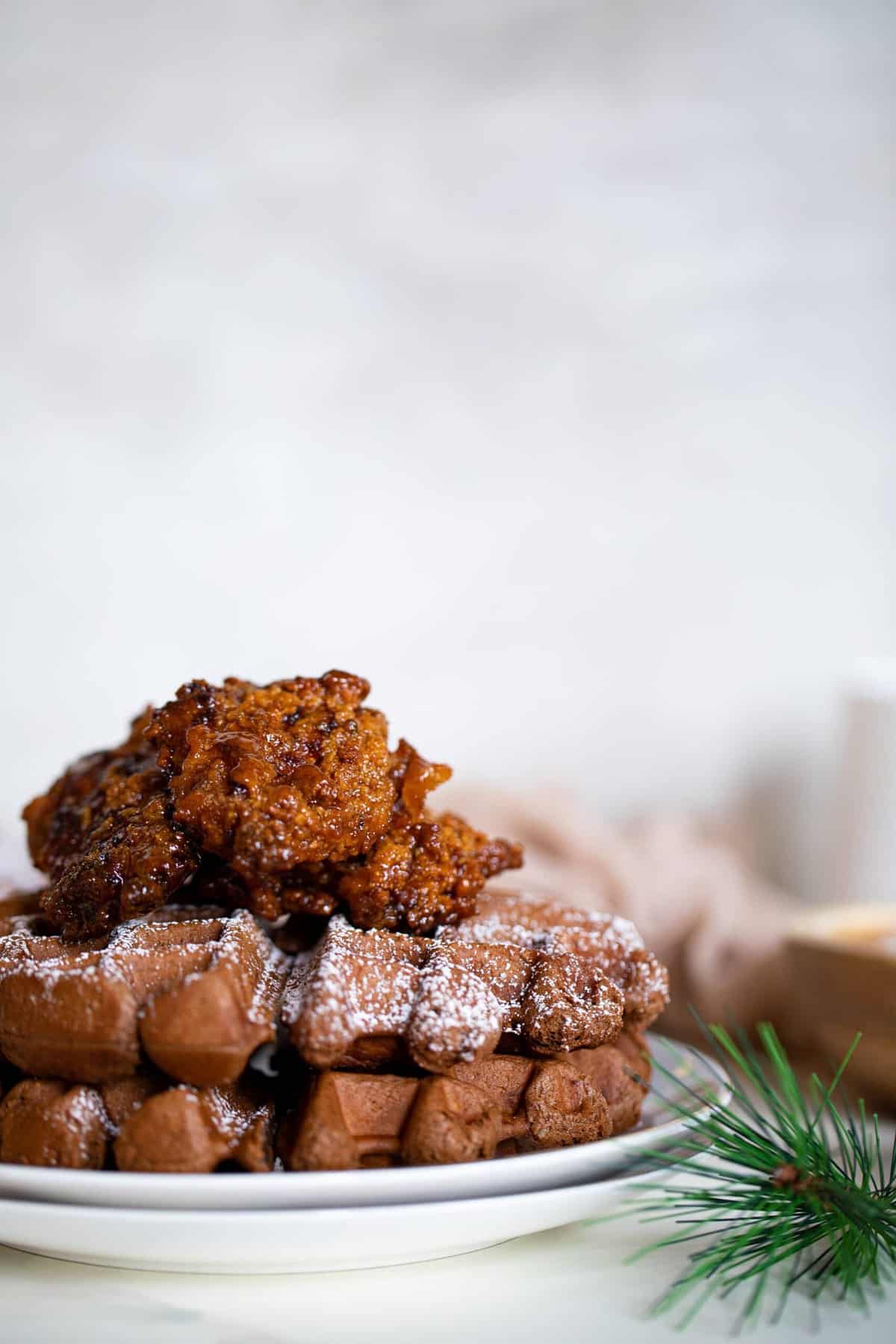 My Top Waffle Faves!
These Vegan Pumpkin Spice Waffles are THE BEST! They come fluffy, thick, airy, and is jam-packed with delicious Fall season warmth—–think pumpkin + pumpkin spices.
These Flourless Vegan Sweet Potato Oats Waffles are the best easiest gluten-free waffles for the entire family. Made right in a blender, these waffles are naturally sweetened, fluffy, thick, airy, and full of sweet potato + oat flavors.
These Flourless Vegan Banana Oats Waffles are everything that one's heart desires. Made right in a blender, these Gluten-Free waffles are naturally sweetened, fluffy, thick, airy, and full of flavor.
These Raspberry Pecan Vegan Waffles are light, fluffy, easy to make, and full of crunchiness from the roasted pecans that are tucked away inside. A great balance of salt, sweet, and tartness.
Previous Chicken + Waffles Inspired Recipes.
These Air Fryer Chicken Wings + Sweet Potato Waffles are everything that one's heart desires. Made right in a blender + WITHOUT ANY FLOUR (Flourless), these deliciously flavored, Gluten-Free waffles are naturally sweetened, fluffy, thick, and airy; coupled with these sticky (yet crisp) BBQ wings, this recipe is a real easy reminder of a true Southern-style breakfast.
There's really no comfort like this Chicken Tenders + Almond Waffles with Sweet + Spicy Sauce recipe. It's the perfect combination of sweet and spicy.
This Sweet + Spicy Cauliflower Bites + Maple Pecan Waffles recipe is EVERYTHING! This dish is anything but short of flavor, the waffles are fluffy, thick, and airy and the cauliflower bites comes bursting with sweet + spicy flavors from the honey-hot sauce mixture.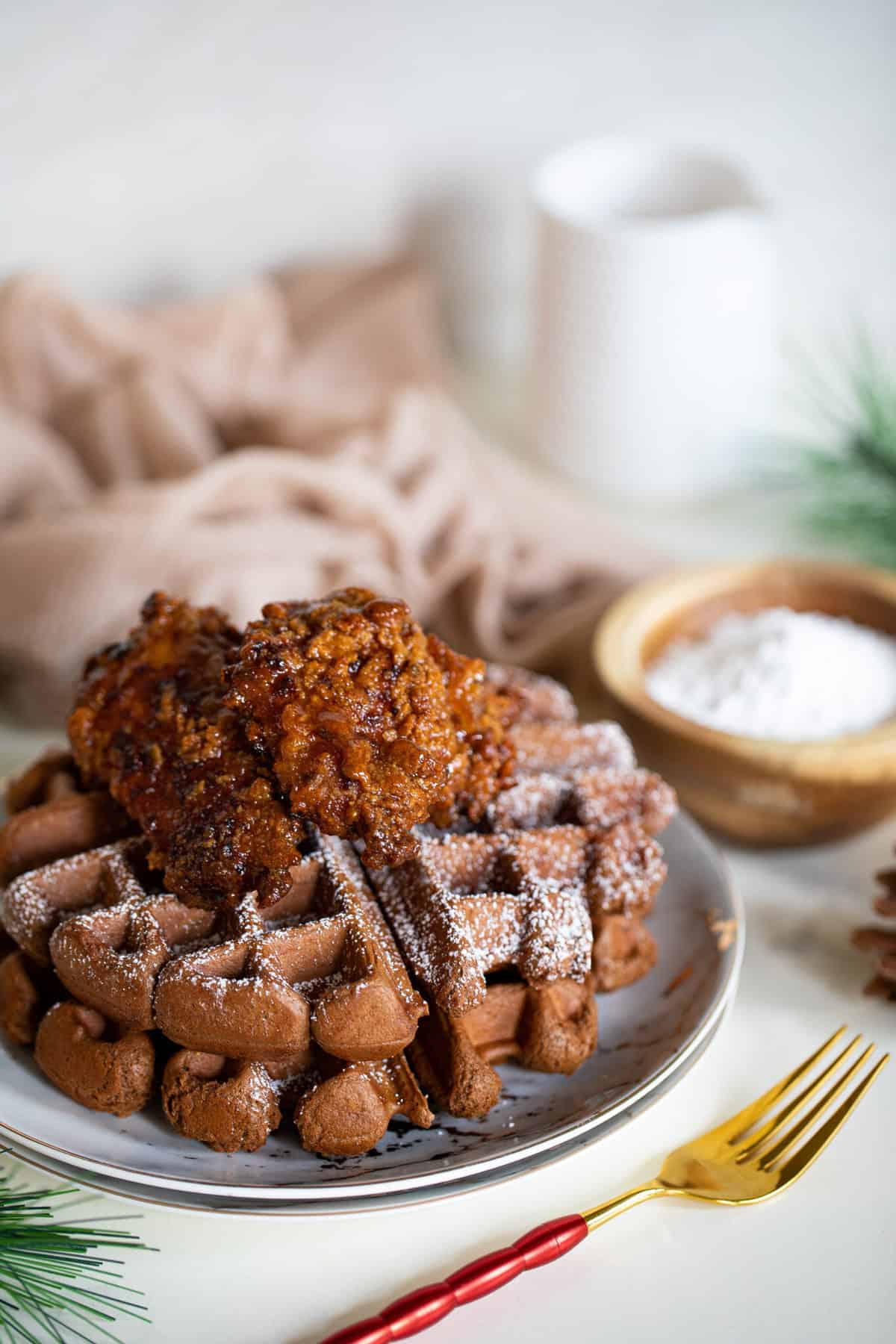 Oh and let's not end it without mentioning my previous Food Themed Weeks. Many of you have been living my #PumpkinWeek, #AppleWeek and #OrangeWeek. I'm so elated and have really enjoyed making dishes that best showcase each themed ingredient.
But since this recipe features chocolate waffles, I thought that it would be worth mentioning another Themed Week ahead-----#ChocolateWeek. There's going to be a lot of deliciousness happening so stay tuned!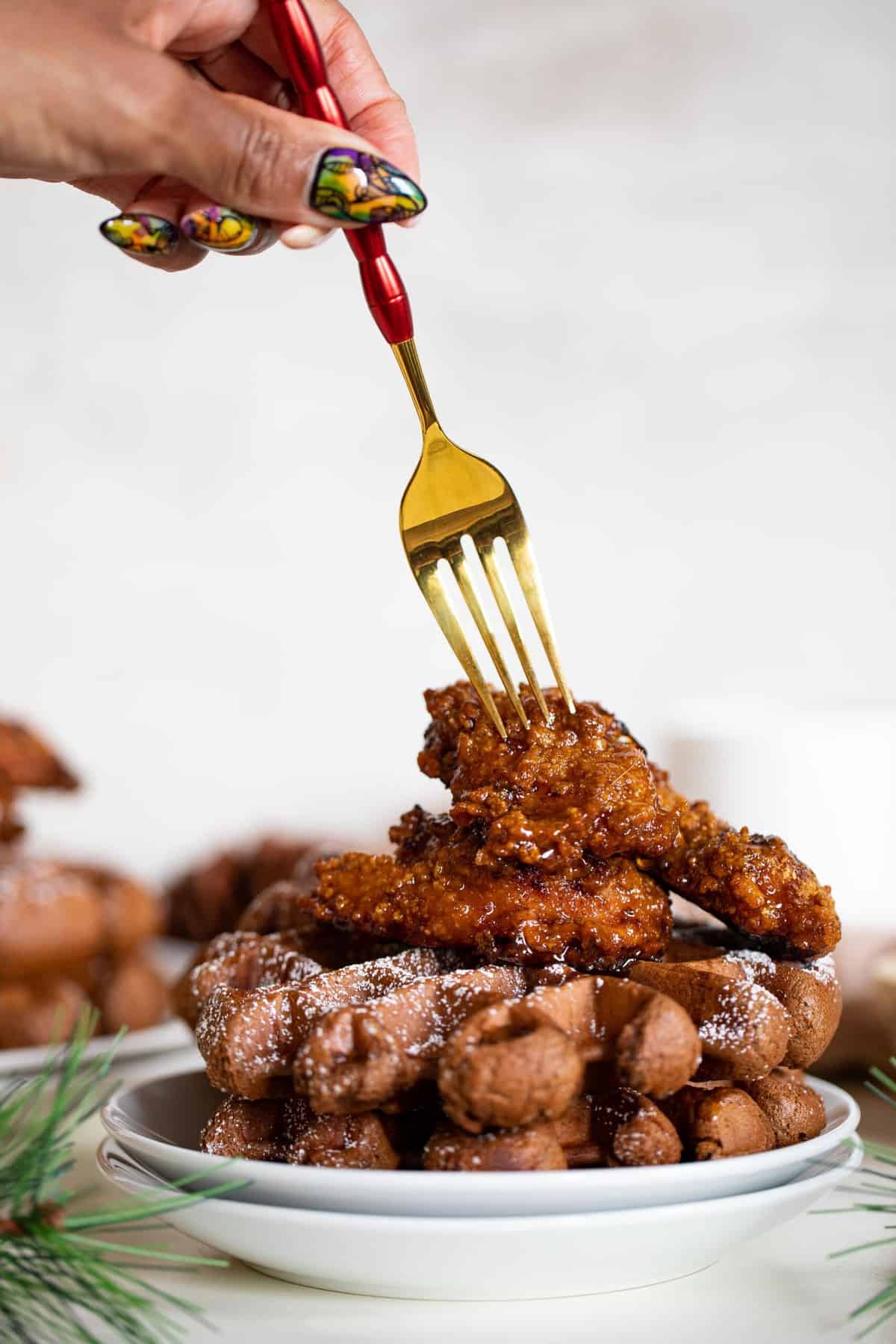 Baked Hot Honey Chicken:
2

lbs.

organic boneless chicken breasts, cut into strips

(See Notes!)

2

cups

bread crumbs, GF if needed!

(See Notes!)

1

cup

fresh water

¾

cup

organic all-purpose flour 

(I use Bob's Red Mill)

½

tsp (each)

sea salt + black pepper

1

teaspoon

garlic powder

1

teaspoon

smoked paprika

1

tablespoon

red pepper flakes

1

teaspoon

dried parsley

2

cups

Hot honey sauce, Homemade or Store-bought

(See Notes!)
Vegan Chocolate Waffles:
2 ½

cups

organic all-purpose flour

(I use Bob's Red Mill; See Notes for GF option!)

½

cup

cacao powder

2

Tbsps

baking powder

¼

teaspoon

baking soda

1

teaspoon

ground cinnamon

¼

teaspoon

sea salt

1

cup

Almond milk + 1 Tbsp

(You can use your fave plant-based milk)

1

tablespoon

apple cider vinegar

4

Tbsps

Agave

(See Notes!)

1

teaspoon

vanilla extract

2

Tbsps

coconut oil

(See Notes!)
Baked Hot Honey Chicken:
Preheat your oven to 450 degrees Fahrenheit and line your baking sheet with parchment paper. **NOTE: Doing this step is a MUST to prevent sticking.**

In a medium bowl, add water, flour, sea salt, black pepper, smoked paprika, dried parsley, red pepper flakes, and garlic powder and whisk together until fully combined. Set aside.

In a separate bowl, add bread crumbs and set aside also. 

Now, dip each chicken piece into batter (shaking off any excess) and then toss into bread crumbs. Then lay each piece of chicken onto the baking sheet (about an inch apart). Repeat until all chicken is coated.
Hot Honey Sauce:
Add butter to a small saucepan on medium-high heat until melted. Add hot honey sauce and stir until it begins to boil. Remove from heat.

Bake for 20-25 minutes or until golden brown and "crunchy" looking. At this point, top chicken with hot honey sauce and continue to bake for another 15-20 minutes or until sticky and baked through.

In the meantime, make your waffles.
Vegan Chocolate Waffles:
Preheat your waffle maker to desired setting––medium-high heat worked for me!

In a measuring cup, add the milk and ACV together, stirring to combine and letting them sit for 5 minutes.

In a large bowl, whisk together the flour, cinnamon, cacao powder, baking soda, baking powder, and sea salt. Create a well in the middle.

Add the milk-ACV mixture, oil, vanilla, and Agave in the well of the dry ingredients and stir together well (using a rubber spatula) until fully incorporated and batter looks smooth. Now, let the batter sit for 2-3 minutes while it slightly thickens and rises, which means that the ingredients have activated. **NOTE: the batter should be pourable but not 'runny' at all. It should slightly stick when whisk is lifted up, as a test.**

Next, spoon batter into your waffle maker (¼ cup approximately) and cook according to your waffle iron's instructions. 

Once each waffle completes, add to a baking sheet and place them in the oven on the lowest setting (to keep them warm). Repeat until all waffles are made.

To serve–stack waffles (whole or cut) and top with chicken, and drizzle with maple syrup, if desired.

Bon Appetit!
CHICKEN: To season chicken and refrigerate overnight—First: clean, wash, + pat dry wings. Add 1 teaspoon sea salt, 1 teaspoon black pepper, 2 Tbsps smoked paprika, 1 tablespoon dried parsley, pinch of cayenne pepper, 1 tablespoon dried thyme into a bowl with your chicken and massage until fully coated. Place everything in a zip loc bag and store in the refrigerator overnight or for at least 4-6 hours, until everything marinates.
HOMEMADE BREADCRUMBS: To make your own breadcrumbs, see my recipe in the notes.
HOT HONEY SAUCE: If purchasing the Honey Hot Sauce, I recommend getting Mike's Hot Honey sauce.  If you choose to make it from scratch, then I recommend seeing Half Baked Harvest's recipe for Hot Honey sauce.
STORAGE: Leftover waffles can be tightly sealed in a zip loc bag (once fully cooled) and either refrigerated for a few days or frozen for up to 2 months. To serve, reheat waffles in the oven on 400 degrees for a few minutes until warmed through; Leftover wings can be stored in an air-tight container and refrigerated for 3-5 days.
REGULAR WAFFLES: For standard waffles (Non-Belgian style), this recipe will make more than 6 waffles. 
OIL:You can substitute coconut oil with vegetable oil, if preferred.
SWEETENER: If you choose to opt out of Agave, you can always substitute with maple syrup or pure can sugar as well.
Calories:
686
kcal
|
Carbohydrates:
97
g
|
Protein:
46
g
|
Fat:
13
g
|
Saturated Fat:
6
g
|
Polyunsaturated Fat:
2
g
|
Monounsaturated Fat:
3
g
|
Trans Fat:
0.02
g
|
Cholesterol:
97
mg
|
Sodium:
3361
mg
|
Potassium:
972
mg
|
Fiber:
7
g
|
Sugar:
13
g
|
Vitamin A:
737
IU
|
Vitamin C:
64
mg
|
Calcium:
395
mg
|
Iron:
8
mg
Hot Honey Chicken + Chocolate Waffles.