These Homemade Sugar Free Vegan Caramel Brownies are truly irresistible during this season. They are soft, rich, and dangerously full of chocolate-caramel flavor, all with no added sugar. These beauties are sure to melt-in-your-mouth and are made entirely with all vegan ingredients and whipped together literally in minutes. The perfect baked treat for the entire family! Gluten-free option.
This post contains affiliate links via Amazon.
I'm truly excited to share these Homemade Sugar Free Vegan Caramel Brownies with you all! This is probably my 3rd or 4th type of brownies on Orchids + Sweet Tea, however, these are different because they have no sugar!
I know. It might seem crazy, but brownies can still be just as decadent, rich, and flavorful without sugar.
With the Holiday season in full effect and the fact that you're probably already consuming loads of sweets, these brownies are a nice addition to your baking list minus all of the sugar.
Honestly, brownies somehow work perfectly into the equation as well, although you can eat these year-round.
I just think that brownies are a timeless piece. Don't you?
Can I Make These Gluten-Free?
Yup. The awesome part is that you won't lose the fudgy-ness or richness when these brownies are made GF. Simply, reduce the amount of water and substitute all-purpose four with 1-to-1 baking flour blend. I love the Bob's Red Mill's version.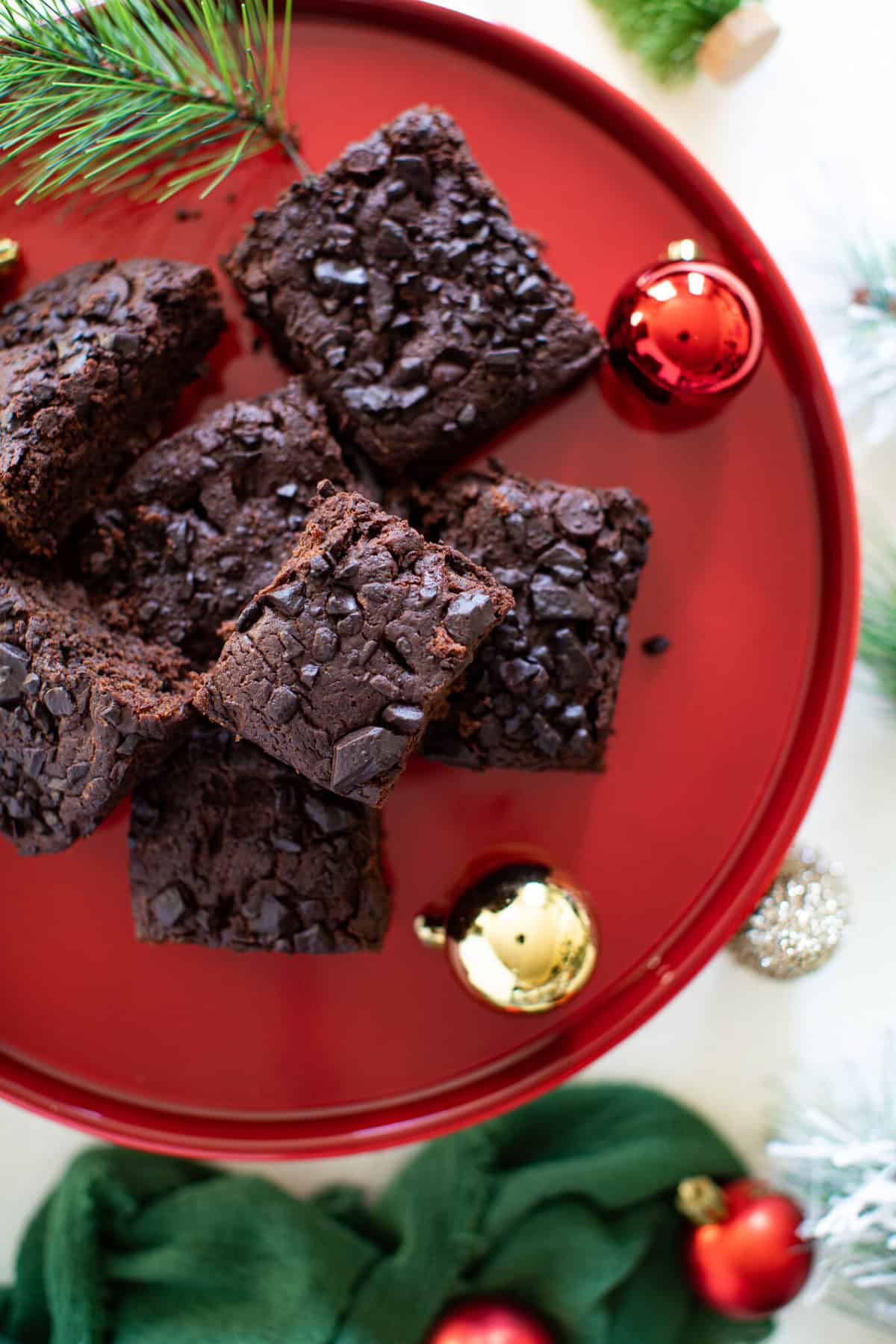 5 Tips to Making the Best Vegan Brownies.
TIP #1: Don't over-mix! Over-stirring will cause the gluten to overdevelop, which makes it too chewy and dense.
TIP #2: Ensuring that you have the best Egg Substitute matters. As an option, you can always use ground flaxseed meal, chia eggs, applesauce, or any other binder.
TIP #3: Use the right baking pan! THIS IS IMPERATIVE! Metal pans (which are the best ones to use–makes your brownies bake faster; Glass pans make them take longer.)
TIP #4: USE PARCHMENT PAPER! This helps your brownies to come out clean, well-structured, and just perfect!
TIP #5: Lastly, always wait for them to FULLY cool before cutting them. Brownies are best structured and textured when cooled entirely.
Homemade Vegan Brownies vs. Brownie Mix.
OK, so let me just say that I've seen some pretty good brownie box mixes that I would definitely try if I were pinched for time or just didn't feel like whipping it from scratch myself. Bob's Red Mill has a really great option.
However, when it comes to brownies, I truly enjoy the gooeyness that comes from making them homemade. Like most things homemade, you are able to adjust and personalize your brownies to how you like them. Whether that means adding veggies, nuts, extra chocolate, making them more chewy or more fudgy—whatever!
Therefore, I'll always be #TeamHomemade.
What You'll Love Most About These Brownies:
Super chewy.
Easy to whip together + requires only 1 bowl.
Full of chocolatey flavor.
Fudgy + soft----real melt-in-your-mouth!
All dairy-free + vegan ingredients used.
Entirely sugar-free yet perfectly sweet.
Gluten-free option available.
Perfect sweet treat for the entire family.
Did I mention—-DELICIOUS?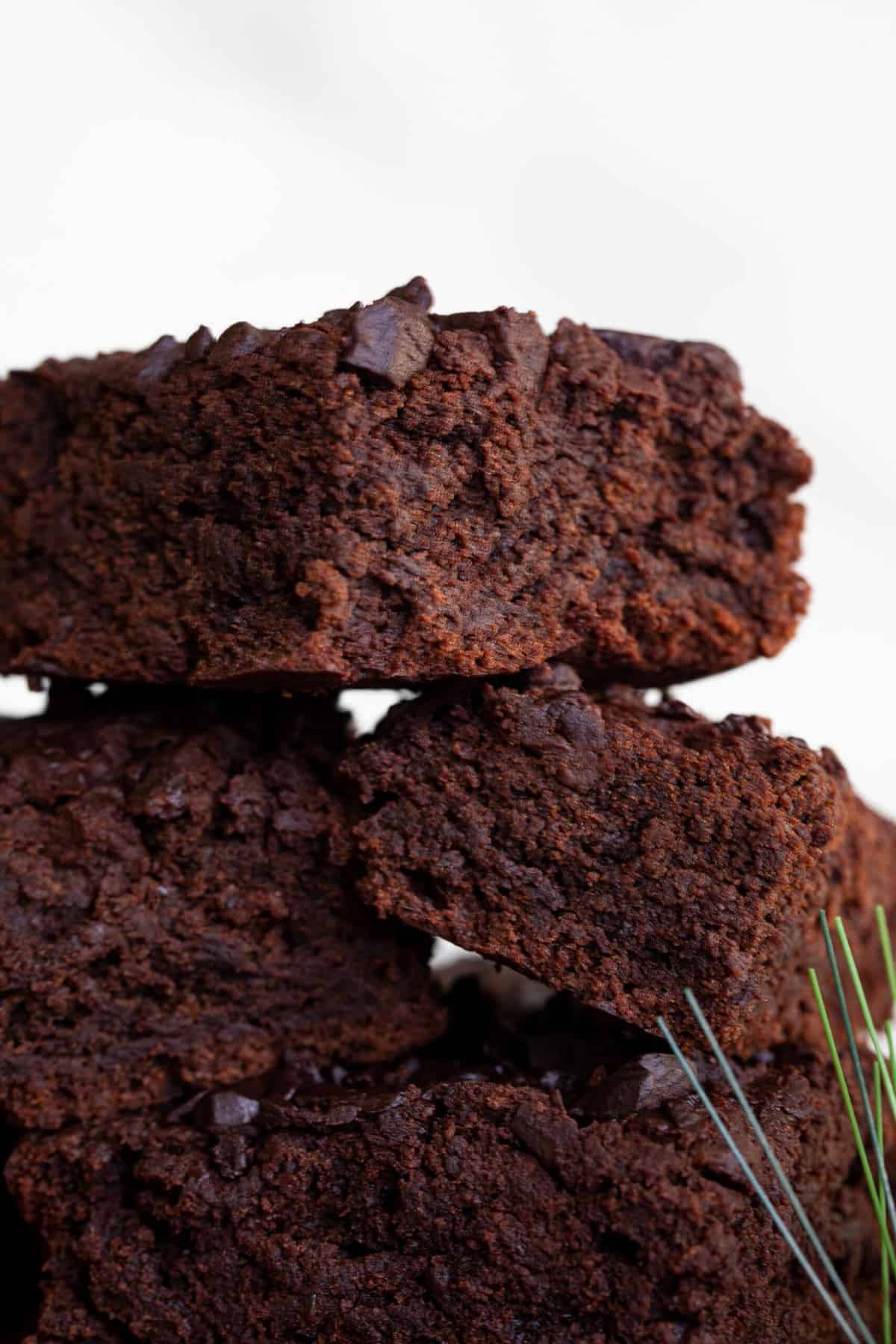 Which Pan Should I Use? Glass or Metal?
Honestly, when it comes to making my brownies, I love using a metal square baking pan. Not only is it easier to get perfectly clean cut brownies, but it also heats faster and cooks more evenly which in turn creates a nice chewy brownie.
How to Make Box Brownies Better?
OK, so here's the thing----if you really don't have the time to make your brownies from scratch, using a box brownie mix isn't the end of the world! Granted, as I've mentioned, making these from scratch is PERFECTION, however, if all you have is a box brownie mix, then the least thing that I could do is help you make it better!
For one, it's all about the brand of the mix. In my opinion, Ghirardelli has a delicious Triple Chocolate and Double Chocolate brownie mix. I enjoy using their chocolate in my regular recipes, so it's a no brainer that they would treat their brownie mixes with the same quality taste. However, there are plenty of mixes to choose from such as Annie's, Keto and Co., and a host of others.
More importantly, when making your brownies better, you can always add nuts or other ingredients to enhance the flavor snd texture. Perhaps peanut butter, big chunks of chocolate pieces, mint pieces, caramel bits, you name it.
In addition, if the box mix calls for only 2 eggs, you can always add 1-2 additional egg yolks which creates more fat and results in greater fudgy-ness.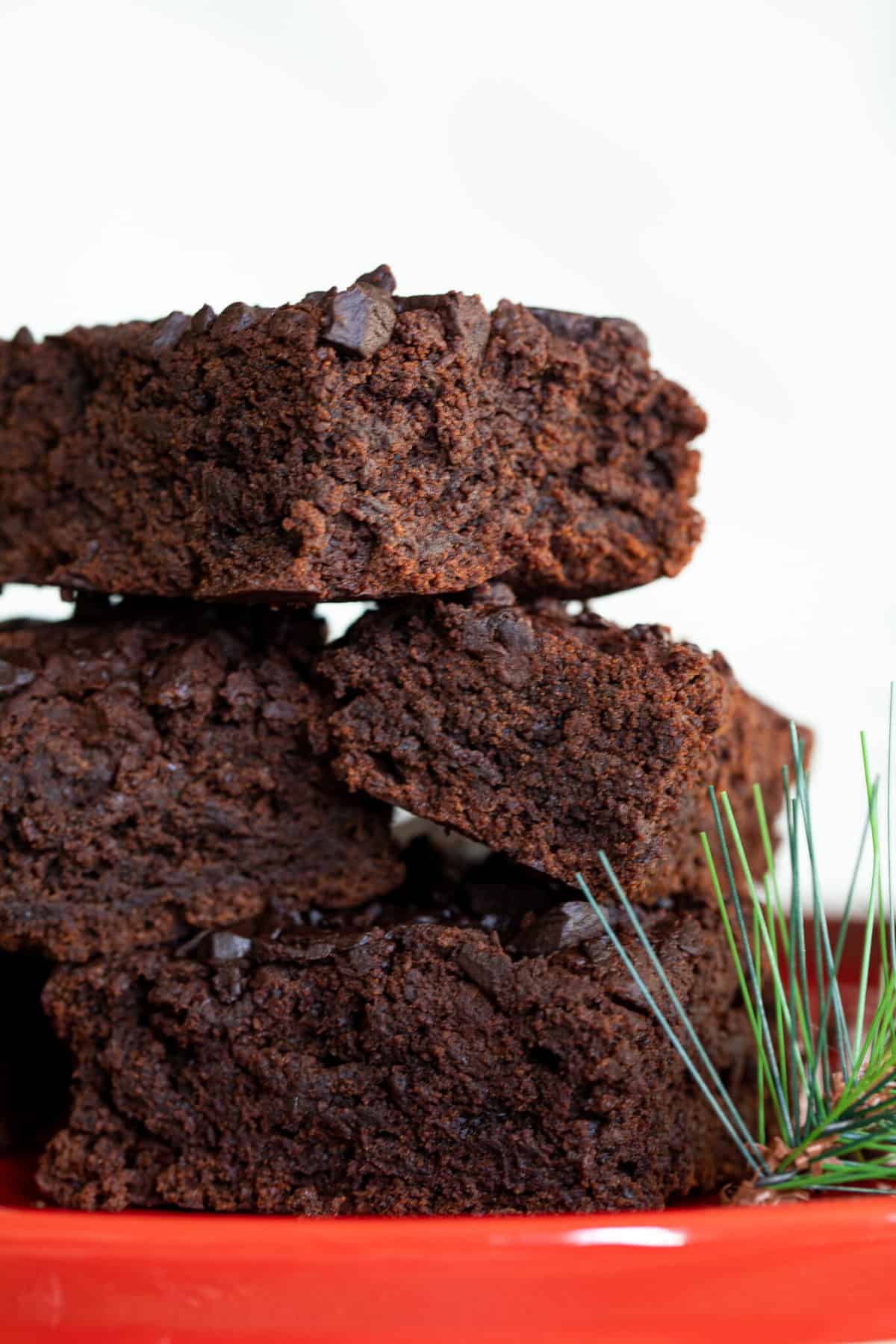 How Are these Sugar Free?
If you aren't familiar with making your sweet treats sugar-free, then I'm here to help! First things first----ensuring that you have a sugar alternative is key! Erythritol is one of my favorite replacers that I use. You can purchase it from many reputable brands such as Wholesome Sweets, Now Foods, Whole Earth, and more.
Secondly, you'll need to ensure that your chocolate chips and caramel chips are sugar free as well. When it comes to baking chocolate bars and chips that are with no added sugar, I love using Lily's brand of products. My favorite thing about their products are that they can easily be substituted and works great for gluten-free, keto + paleo, and vegan treats.
Need Other Delicious Brownie Ideas? Try These!
If you're into vegan brownies, I so recommend trying my Vegan Chewy, Fudge Avocado Walnut Brownies which are the perfect sweet treat that is full of chocolatey goodness!
Then there are these Vegan Fudge Zucchini Brownies with Pistachio which have the best taste and texture that will automatically keep you on your toes and thrilled after every gooey bite.
Easy Extra Fudgy Vegan Brownies are soft, rich, and dangerously full of chocolate flavor. These beauties are sure to melt-in-your-mouth and are made entirely with all vegan ingredients. You'll whip them up in no time and they are definitely a killer sweet treat to add to your list of must-bakes for the entire family!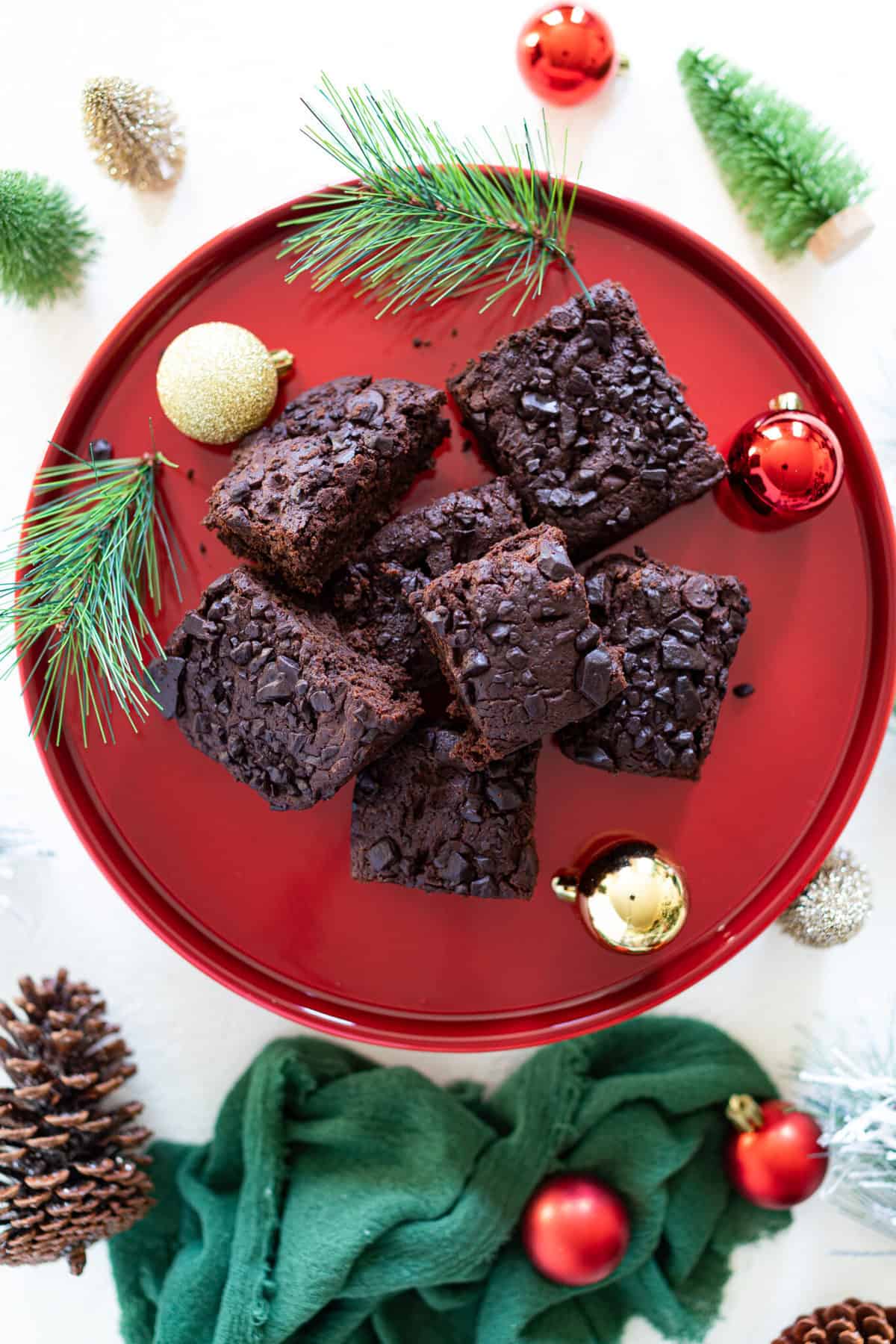 1

cup

organic All-purpose flour 

(See Notes!)

1

cup

organic erythritol

¾

cup

cocoa powder, unsweetened

2

tsps

espresso dissolving powder

1

teaspoon

baking powder

½

teaspoon

sea salt

pinch of

ground cinnamon

4

Tbsps

flaxseed meal + 8 Tbsps WARM water 

(This makes 4 'Flax Eggs')

½

cup

vegan butter, melted 

½

cup

Almond milk + 2 Tbsps!

1

teaspoon

vanilla extract

1

cup

ChocolateSalted Caramel Flavor Baking Chips, Sugar-Free

(I use Lily's)

½

Dark Chocolate Baking Bar, roughly chopped

(I use Lily's)
Heat oven to 350°F and grease a square 8 x 8 baking pan with vegan butter and line with parchment paper.

Begin by adding the flaxseed meal + water to a small bowl, stirring until combined and letting it sit for 5-10 minutes until it thickens and looks "paste-like".  Set aside.

In a large bowl, add the melted butter and erythritol together, whisking until combined and wet looking.

Add in the flaxseed meal mixture, milk, and vanilla, whisking to combine.

Add in flour, cocoa powder, espresso powder, salt, cinnamon, and baking powder, mixing everything together with a spatula or wooden spoon, until fully combined. **NOTE: Batter will be thick and pretty wet. That's PERFECT.**

Finally, add in the salted caramel chocolate chips and fold them in gently.

Pour the batter into the prepared baking pan and gently and evenly spread and press it into place. Add the chopped chocolate and slightly press them into the batter.

Bake for 35-40 minutes or until the center comes out "mostly clean".

Remove from oven and let cool for about 20 minutes or so before lifting brownies out from the pan.

Once fully removed, let the brownies cool for another 10-15minutes before slicing into squares.

Bon Appetit!
STORAGE: Keep leftover brownies in a tightly sealed container for up to 3 days at room temp. You can refrigerate them for up to 5 days.
GLUTEN-FREE: You can make these brownies GF by substituting the flour with 1-to-1 baking flour blend by Bob's Red Mill and reducing the Almond milk to ⅓ cup and the vegan butter to ⅓ cup.
BUTTER VS. OIL: If preferred, you can always substitute the vegan butter with coconut oil, canola oil, or vegetable oil. 
CHOCOLATE: You can substitute chocolate chips with chopped vegan chocolate, if desired as well.
Calories:
307
kcal
|
Carbohydrates:
57
g
|
Protein:
4
g
|
Fat:
21
g
|
Saturated Fat:
7
g
|
Polyunsaturated Fat:
5
g
|
Monounsaturated Fat:
6
g
|
Trans Fat:
2
g
|
Sodium:
309
mg
|
Potassium:
192
mg
|
Fiber:
6
g
|
Sugar:
0.3
g
|
Vitamin A:
0.3
IU
|
Vitamin C:
0.03
mg
|
Calcium:
74
mg
|
Iron:
3
mg
Homemade Sugar Free Vegan Caramel Brownies.