This No-Churn S'mores Ice Cream is truly the most creamiest, sweet indulge ice cream that you'll taste! Perfect for any season, this S'Mores flavor will have the entire family hooked and ready to make this a staple. The best part----it doesn't require an ice cream machine or churn and it's super easy to make. Loaded with marshmallows, graham crackers, pieces of chocolate, and a marshmallow-vanilla ice cream base.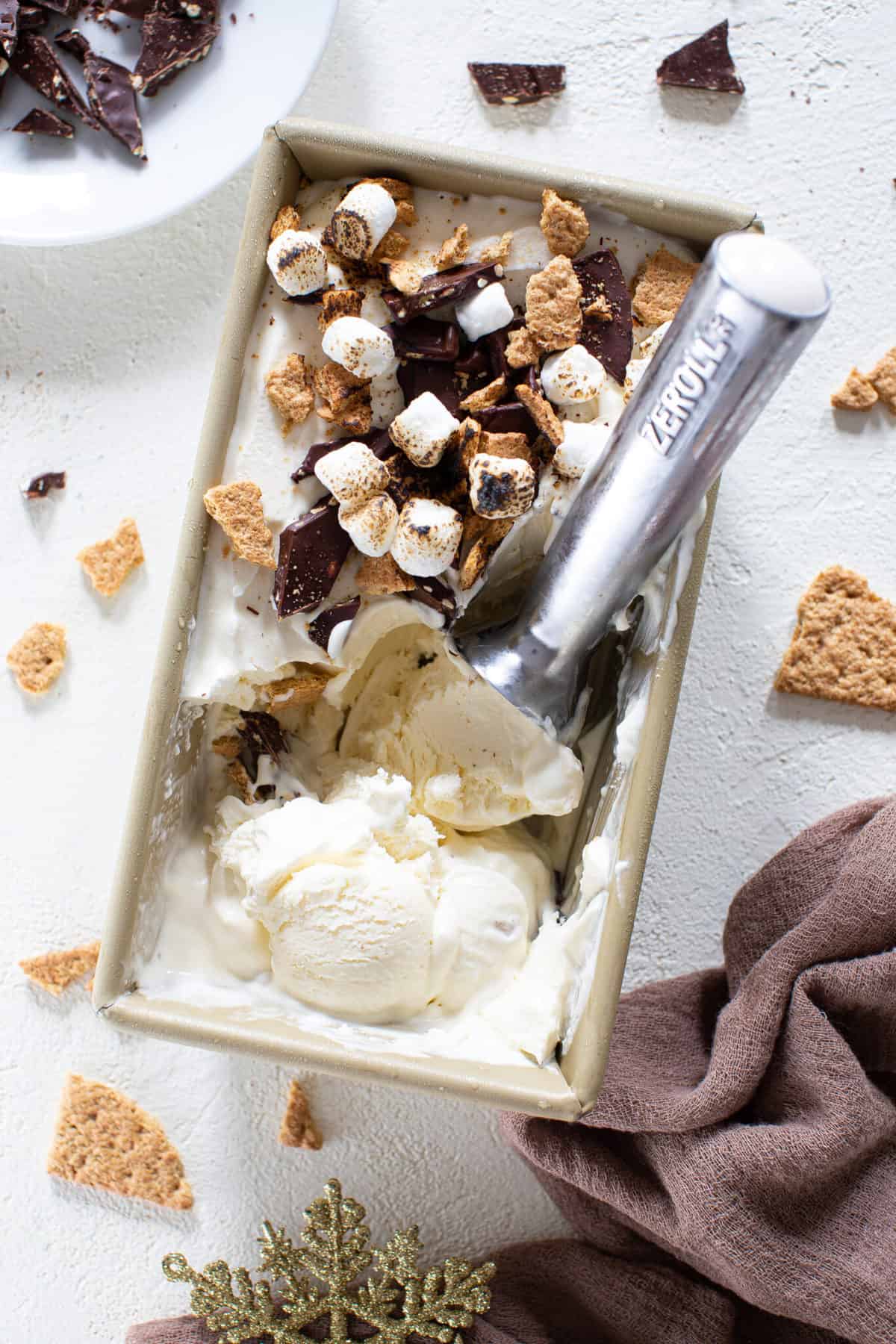 This post contains affiliate links.
When it comes to this Homemade S'mores Ice Cream, No-Churn is required at all, which is honestly one of the best parts. So, I'm definitely falling in the swing of things and the holiday season, which Christmas is fast approaching, I might add.
Thankfully, I've started my Christmas shopping already, however, I still have a few things left to purchase before my list is complete. I even plan on treating myself to a gift because this year's work game has been insane to say the least, but I'm grateful of course.
OK, so what's the deal with this ice cream? It's a REMAKE! Yup. I literally created this recipe a few years ago, but chose to recently remake the entire recipe, reshoot photos, and make little tweaks to ensure that everything is perfect! Trust me, I made this one SO MUCH BETTER! You're sure to be satisfied.
What Are the Main Parts of this S'Mores Ice Cream?
Much like the classic S'Mores flavor, this ice cream boasts of it's addition of marshmallows, graham crackers, and chocolate pieces. I definitely wanted to remind you of a good S'More sandwich treat.
With my latest tweak, however, I chose to add marshmallow flavor in the ice cream itself to give a greater burst of flavor by using Marshmallow Fluff. Of course this is optional, but I highly recommend this! Haha.
What Ingredients Do You Need? Just These 9!
The homemade ice cream ingredients for this recipe are simple:
Heavy Whipping Cream
Sweetened Condensed Milk
Vanilla
Sea Salt
Maple Syrup (Sweetener)
Marshmallows
Graham Crackers
Chocolate (Chopped)
Marshmallow Fluff (optional)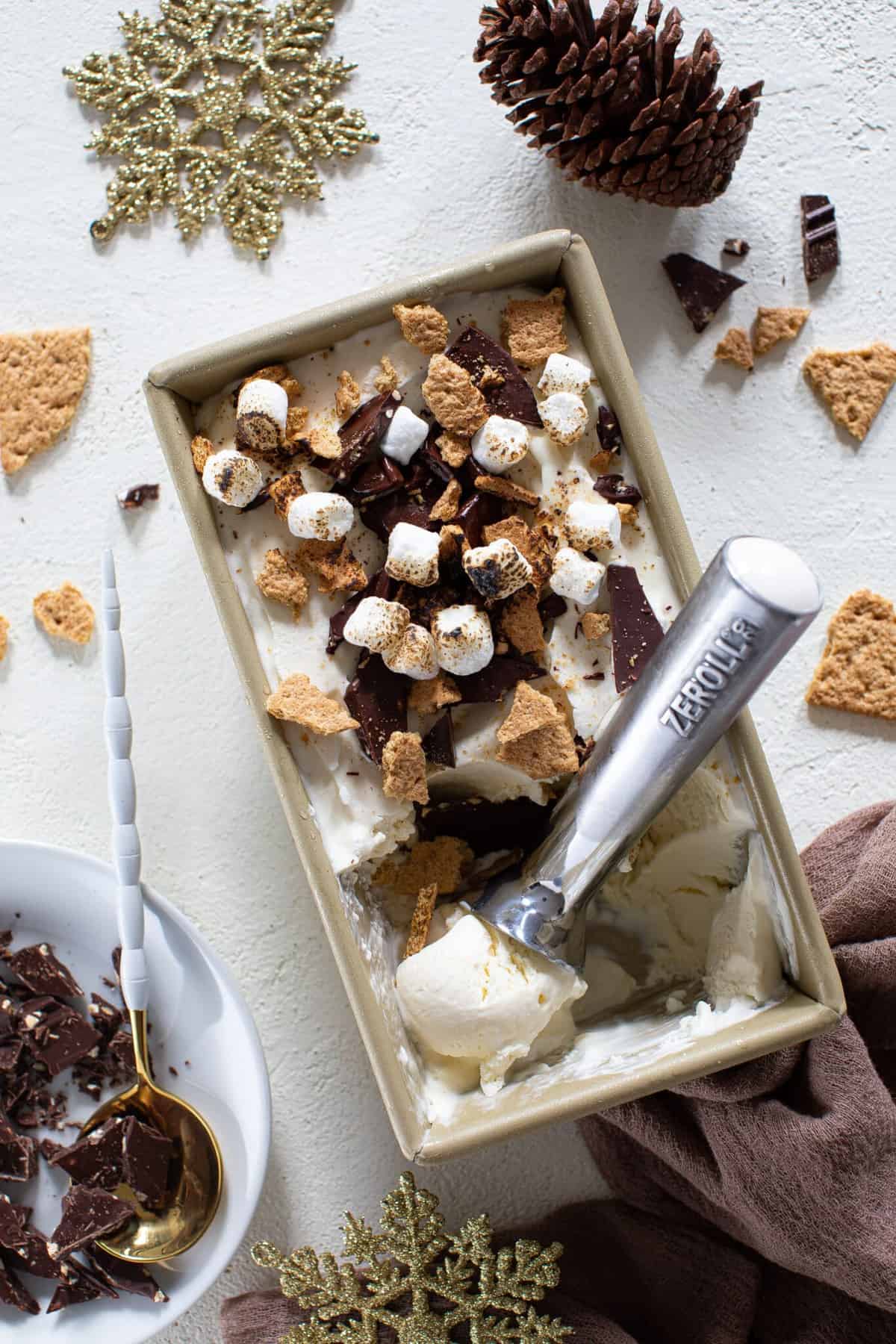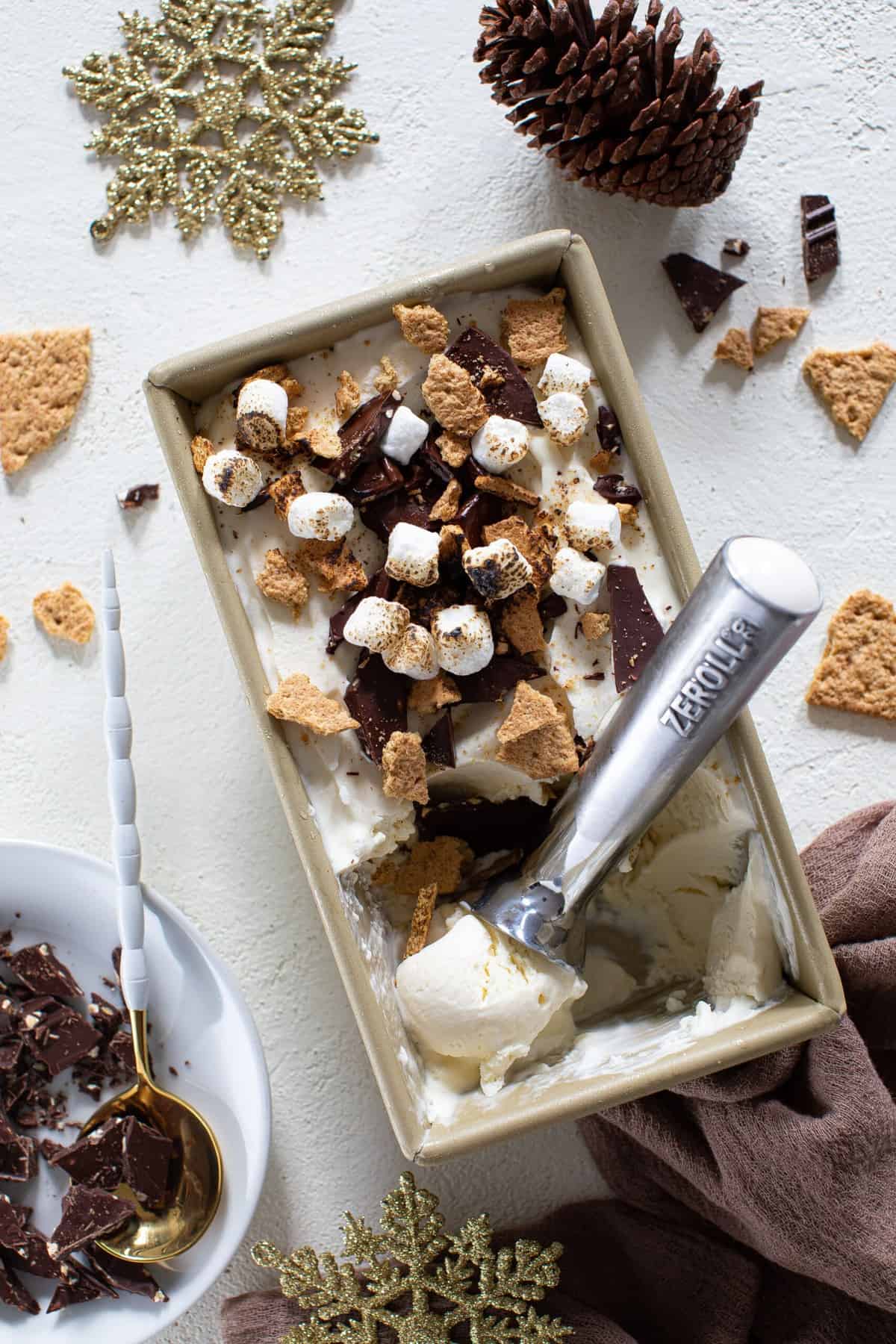 My Original Way of Creating a Marshmallow Base.
Originally, this Ice cream's base was marshmallow, which I achieved this by roasting 2 cups of marshmallows in the oven for a few minutes and then folding them into the batter.
The gooeyness of the roasted marshmallows gives this ice cream another level of creaminess that cannot be denied.
Then I chose to add a cup or so of chopped chocolate---Ghirardelli Semi-Sweet Chocolate Baking Bar, to be exact! But of course, you can choose to use their many other variations of chocolate, if preferred. Either way, the taste is so premium.
In addition, you can roast or torch your marshmallows for a nice fancy toasty look! Haha.
I SCREAM, YOU SCREAM, WE ALL SCREAM FOR ICE CREAM!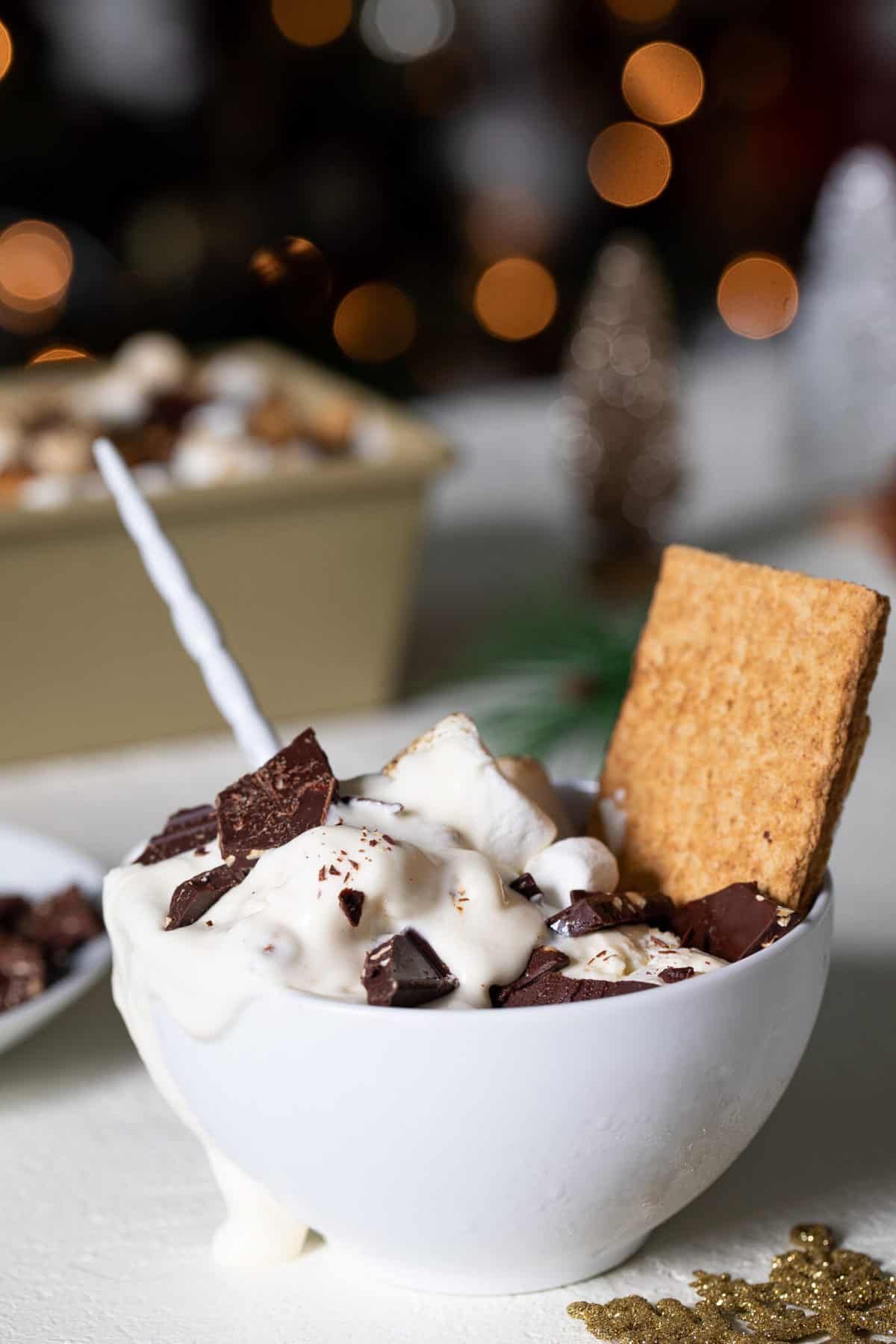 Making No-Churn Ice Cream.
When it comes to making ice cream without an actual churn machine, there are simple standard steps that create a nice creamy result. First things, first------ensure that you have a great metal loaf cake pan or ice cream container that you can store it in so that it freezes well. If not, you can also use a standard cake pan.
Once you have that solidified, then the next step would be to whip your heavy cream in an electric stand mixer until fluffy before folding in sweetened condensed milk and your marshmallow fluff (if desired). That's the basic parts of the ice cream while everything else is topped.
How Can I Add More Flavor + Goodness?
Granted, this ice cream recipe comes loaded with S'Mores flavor, however, you can always take things a bit further by adding brownie bits or different variations of chocolate together! Speaking of brownies, I definitely recommend checking out our Easy Extra Fudgy Vegan Brownies! They would be the perfect addition! Of course, you can always add other ingredients such as caramel, raspberries (which go great with chocolate), or a bit of rum flavoring in your ice cream.
Need Other No-Churn Ice Cream Ideas? Try These!
This No-Churn Cookies + Cream Ice Cream recipe is fully homemade, requires no ice cream making machine, and comes with a creamy vanilla base loaded with Oreo cookies. Made with just FIVE ingredients and takes less than 10 minutes to whip together, before letting the freezer do the rest. The perfect sweet treat for the entire family on any given day.
This No-Churn Butter Pecan Ice Cream recipe is fully homemade, requires no ice cream making machine, and offers a great taste of nutty flavor with each scoop. Made with just FIVE ingredients and in less than 10 minutes to whip together, before letting the freezer do the rest and loaded with toasted pecans, this recipe is perfect for the entire family.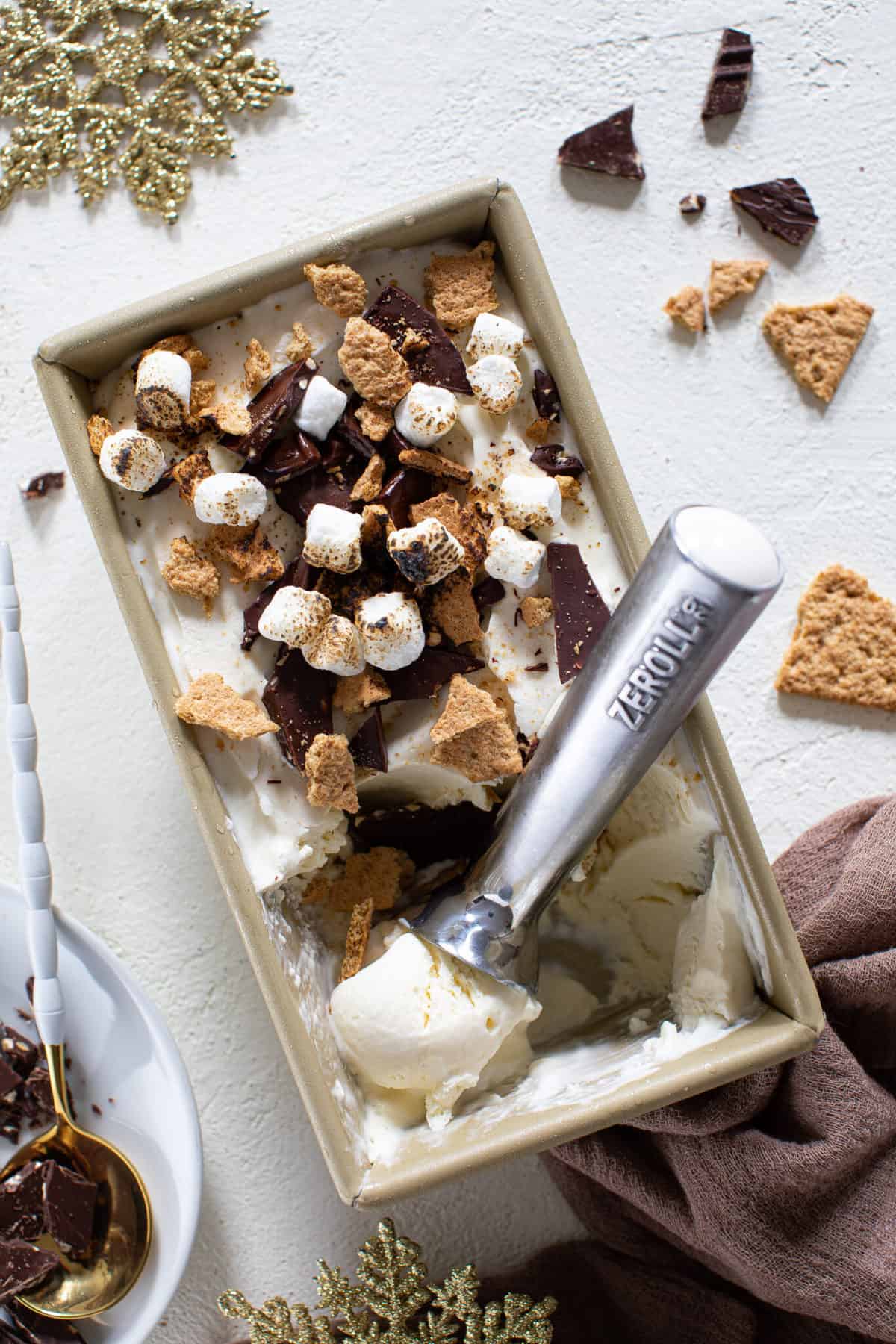 This No-Churn Vanilla Ice Cream + Rainbow Sprinkles recipe is a childhood favorite that never gets old. Like any highly coveted Mr. Softy treat, this ice cream is creamy, smooth, filled with vanilla flavor, and is made with just THREE ingredients and in less than 10 minutes, before letting the freezer do the rest! Topped with tasty rainbow sprinkles, this recipe is perfect for your family.
Common FAQs About No-Churn Ice Cream.
Can I make Dairy-Free No-Churn Ice Cream? Yup, definitely! I've heard that people have used avocados and coconut milk to make their creamy base. While I haven't personally tried it, I have seen some really great recipes!
How Long Does Homemade Ice Cream Last? Honestly, homemade ice cream can last for a little while, somewhere close to 2 weeks.
Are There Any Tips or Hacks for Making the Perfect No-Churn Ice Cream? Yup. It always starts with getting the right ingredients. Firstly, it's about getting quality ingredients for the best results and more importantly, it's about getting the EXACT ingredients listed and not substituting.
Also, if you're trying to make different flavors and decide on using other extracts, be sure to start by adding small amounts first. Lastly, always ensure that anything that will be folded in is chopped and prepped beforehand. That means any chocolate, nuts, etc. should be chopped and easy to fold in.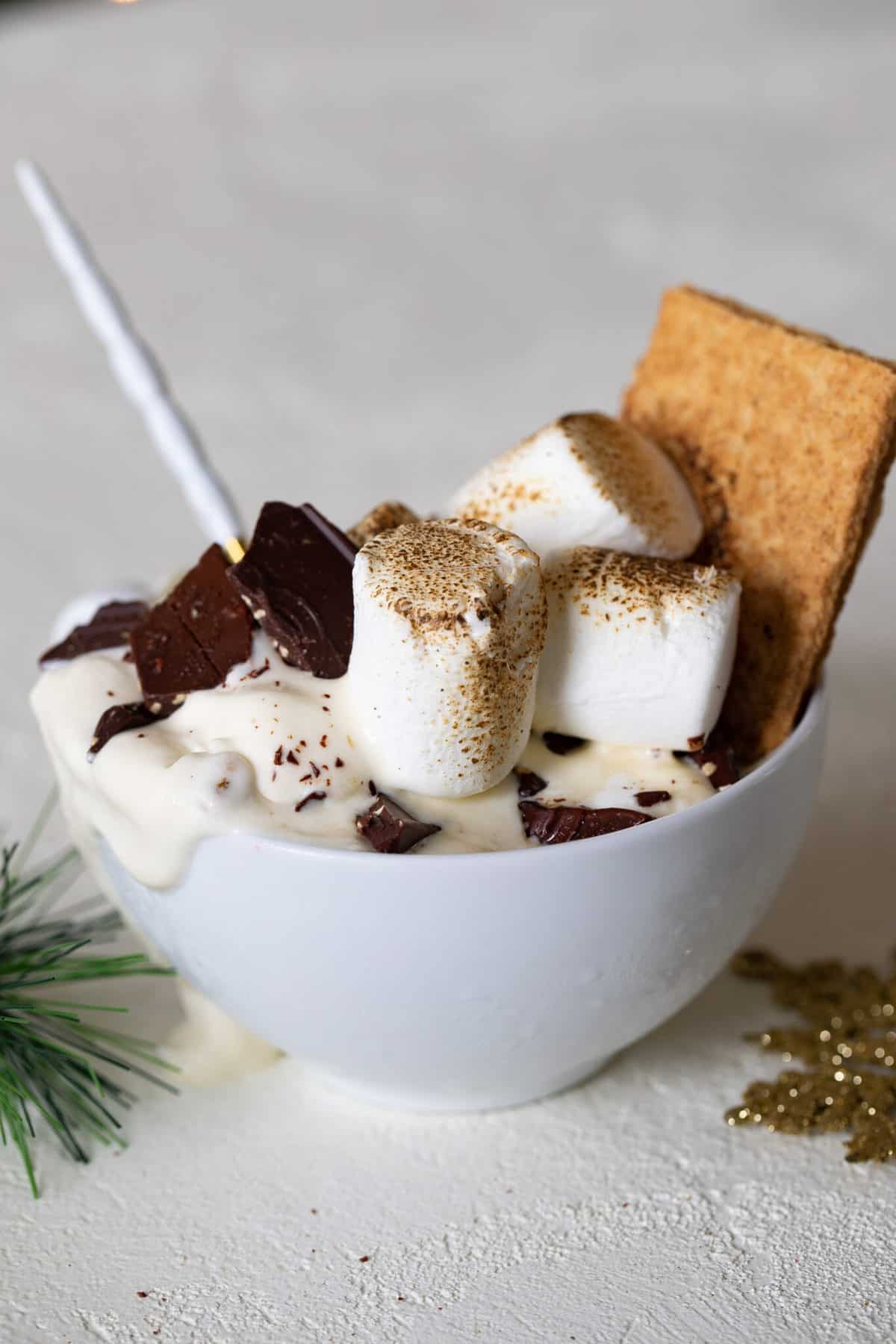 2

cups

organic heavy whipping cream

(I use Organic Valley)

1

(14 oz.) can

sweetened condensed milk, low-fat

(I use Eagle's Brand)

1

teaspoon

vanilla extract

1

tablespoon

pure maple syrup

(Optional sweetener)

pinch of

sea salt

5-6

sticks of

graham crackers, crushed small

1

(4 oz.)

Semi-Sweet Chocolate Bar, roughly chopped

3-4

Tbsps

Marshmallow fluff

2

cups

mini marshmallows

(You can toast them if preferred!; See Notes!)
In the bowl of an electric mixer on medium-high speed, whip together the heavy cream and vanilla until stiff peaks form.

Now, fold in the sweetened condensed milk, maple syrup, marshmallow fluff, and sea salt into the whipped cream.

If desired, you can fold in half of your chopped chocolate into the batter, otherwise save for garnish.

Immediately pour mixture into a 9×5 loaf pan (or small metal bowl) and top with marshmallows, chopped chocolate, and crushed graham crackers.

Freeze for 6-8 hours minimum. Best when frozen overnight.

To serve, remove from freezer and let sit for a couple of minutes (under 5 mins.) to soften slightly and enjoy on a cone or in a dessert bowl.

Bon Appetit!
Homemade S'mores Ice Cream: No-Churn Required.