Healthy Cranberry Orange Oatmeal — the epitome of goodness in a bowl. This oatmeal is creamy, loaded with warm spices + orange-infused flavor, and will surely keep you full all morning! Topped with a simple cranberry sauce atop gives a great sweet + tart addition, while the walnuts + pumpkin seeds add a nice crunch, which together creates a beautiful burst of flavor! Plus, it's made in no time (10-15 minutes to be exact!) and it's all vegan and gluten-free. Overnight option available.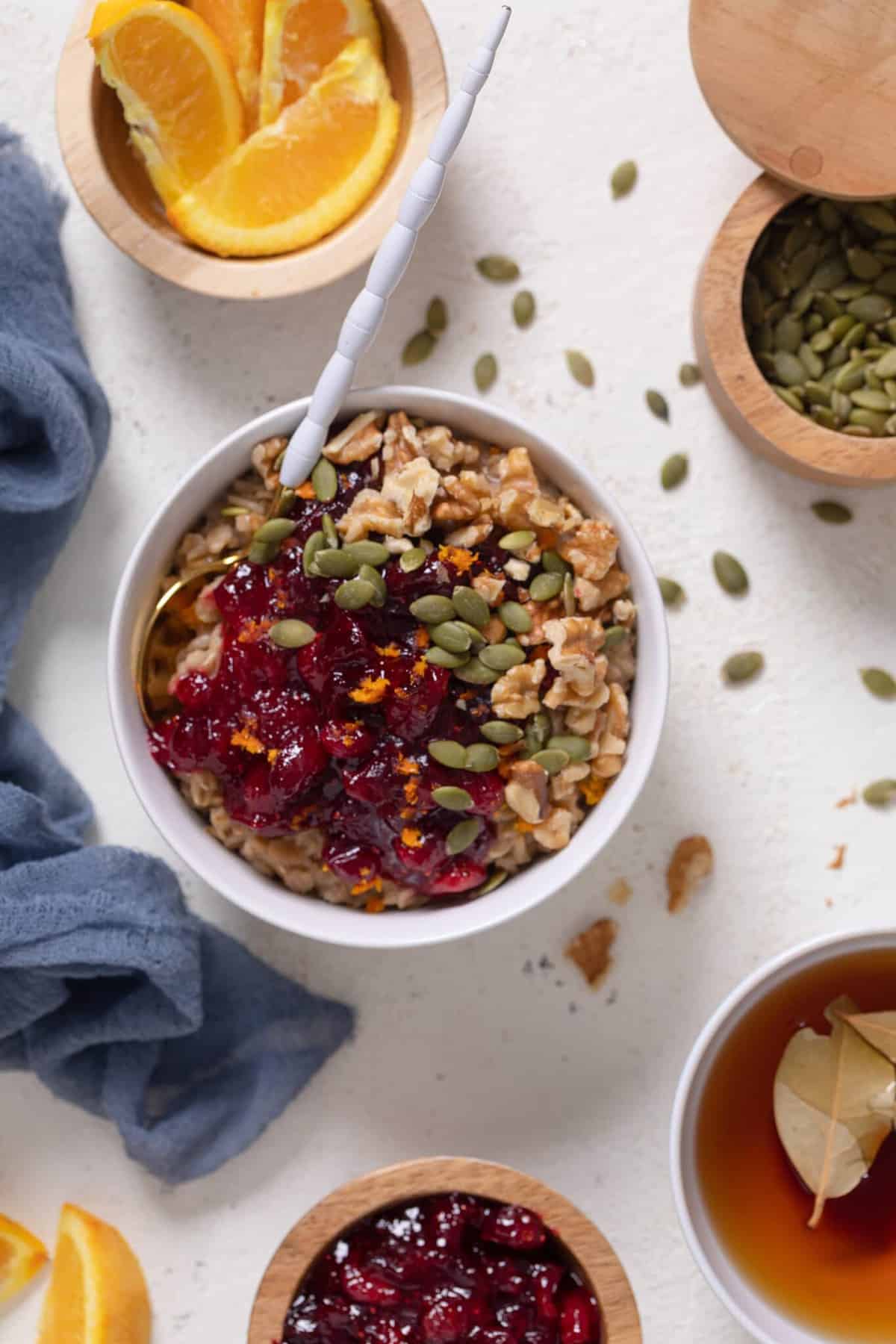 Sponsored Post: This post is sponsored by Bob's Red Mill but the content and opinions expressed are all based on my genuine love for this brand and are my own. Thanks so much for supporting the brands I love.
Healthy Cranberry Orange Oatmeal. This oatmeal is just SO good! Gosh! Usually, I'm not one who eats oatmeal on a regular. In fact, I'm more of a pancake, waffles, or something savory kind of gal. I do apologize---it's the Southern in me. Haha.
However, every now and again, I do enjoy a nice bowl of oatmeal and this one is one of my recent favorites.
Surprisingly, I remember oatmeal being something that the older folk ate (especially when it came to my household), but I've noticed that it has since become a real food trend for the health conscious (both young + old)---and rightfully so.
This Cranberry Orange Oatmeal is EVERYTHING.
I don't know about you, but oranges have been such an under-utilized ingredient for me. Granted, I tend to use oranges in a smoothie, as juice, or something of that realm. However, I haven't experimented much with this flavor UNTIL NOW.
If you weren't already aware, oatmeal is a great source of a ton of nutrients such as Iron, Magnesium, Phosphorous, Folate, Zinc, and so many others. In addition, it is a great food for providing good amounts of fiber and other antioxidants that are important to our body's functioning.
All in all, oatmeal just makes for an awesome quick and healthy meal that saves the day, right?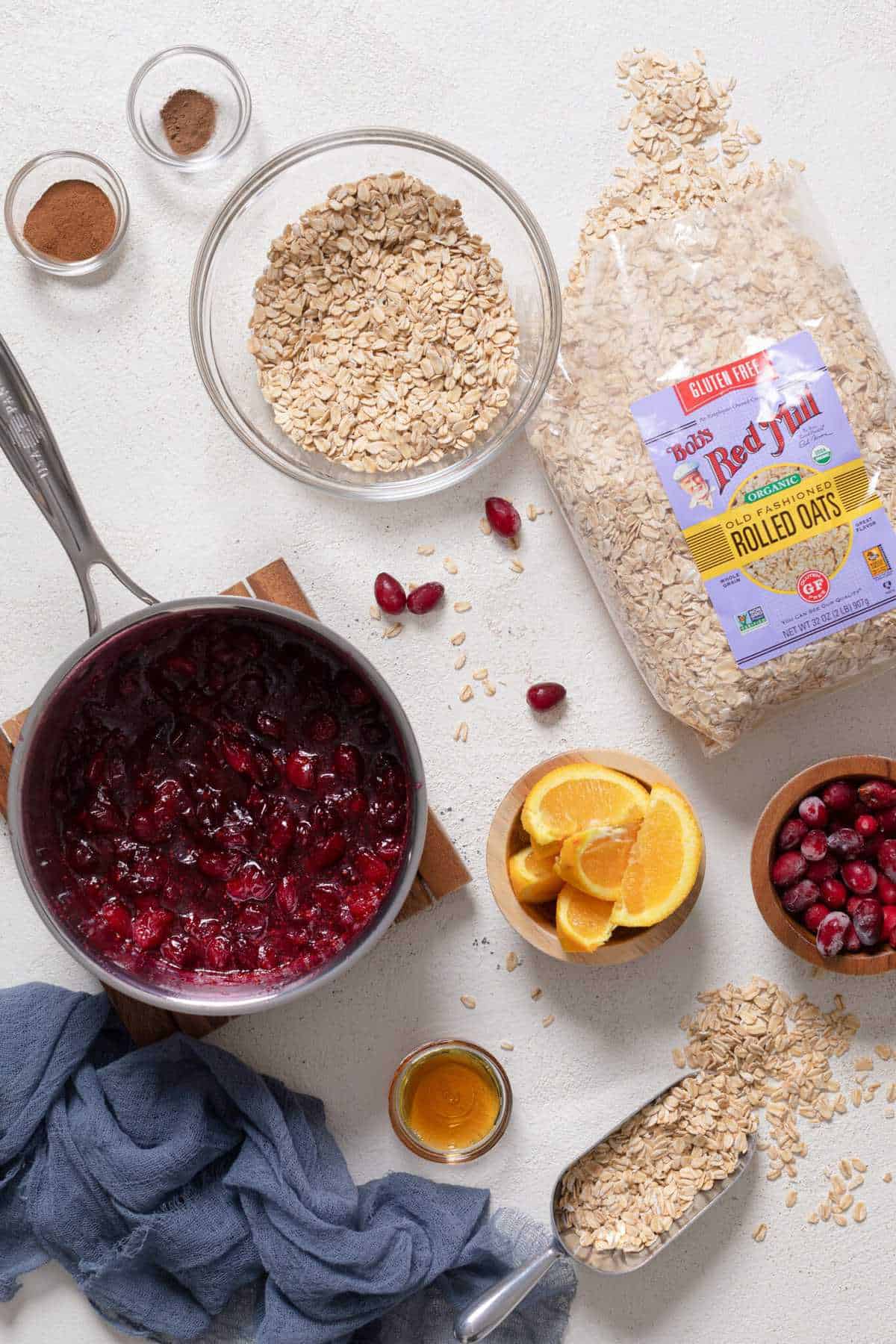 The best part about oatmeal is that you can create any flavor profile you'd like, much like with smoothies. Plus, oatmeal is super easy and quick to make, which is great for those "on the run" or those who aren't a big fan of cooking something complicate so early in the morning. Either way---it gets done in just a few minutes.
Best Tips to Making the Perfect Oatmeal + To Change Things Up.
To change things up, simply add other flavors such as juice of an orange, vanilla, zest, or other extracts.
You can use any sweetener option you please—-Agave, maple syrup, honey, apple sauce, or another natural sweetener.
For additional nutrients, feel free to add flaxseed meal, chia seeds, etc.
Top with other caramelized fruit, dried fruit, nuts, cranberries, chocolate chips, or whatever you choose.
For Make-ahead meals or on-the-go, simply make this and store in a mason jar.
For a nice creaminess, add your favorite butters: peanut butter, almond butter, pecan butter, sunbutter, etc.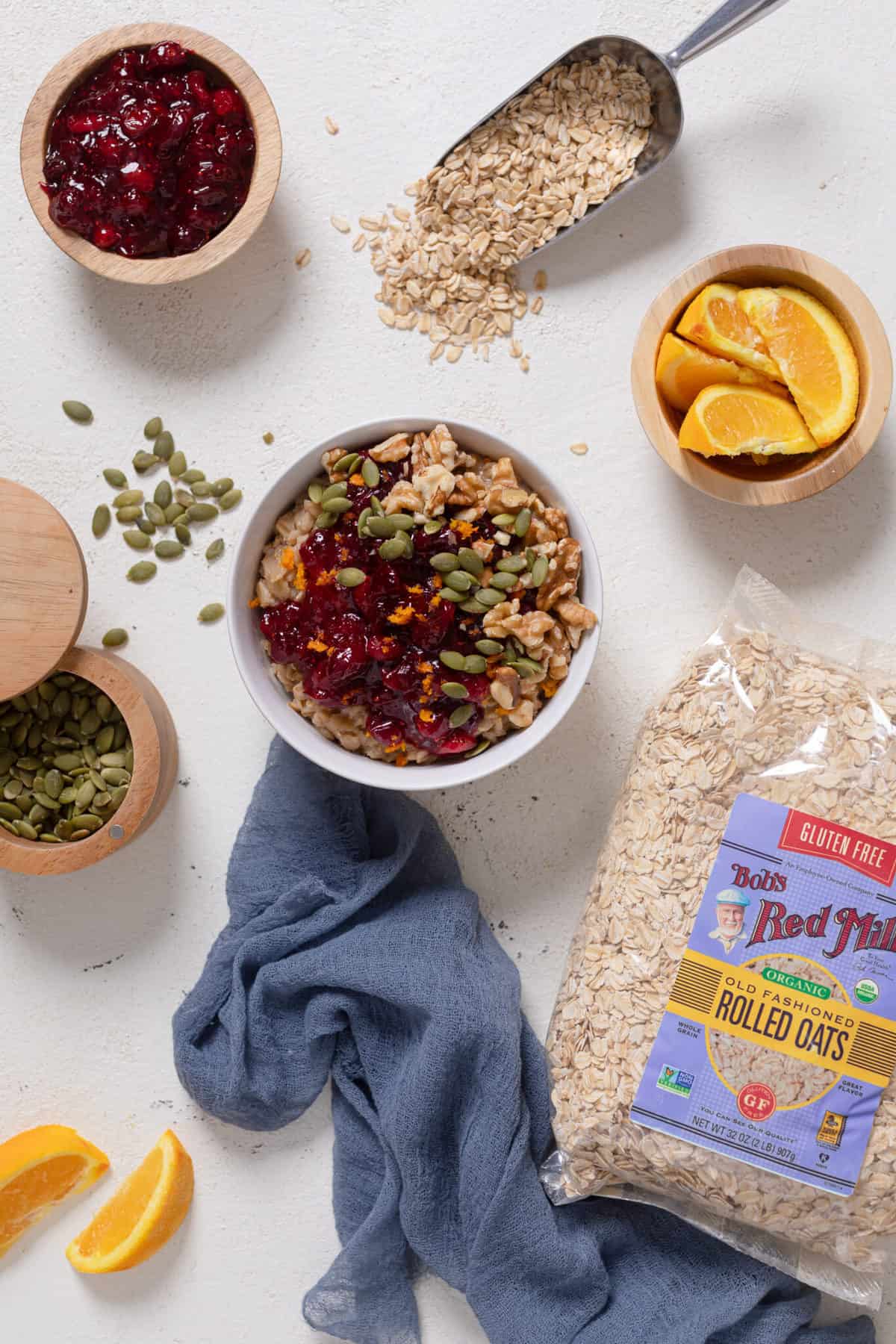 BENEFITS OF OATS!?
If you aren't familiar, oats are super nutritious! They include a great source of carbs, fiber (the soluble kind!), protein, and fat. In addition, they are loaded with important vitamins, minerals, and antioxidant.
Other great benefits:
They can help to lower cholesterol.
Improves Blood Sugar levels.
May help with losing weight.
Great alternative for skincare.
Helps to relieve constipation.
My Top 3 Fave Overnight Oats.
This Banana Peanut Butter Overnight Oats recipe is a healthy way to kick start your day and is beautifully textured.
This Peanut Butter Chia Seed Overnight Oats recipe is the perfect healthy meal to kick start your day or meal prep for the week ahead.
This Superfood Overnight Oats: Maca, Cacao, + Chia Seeds recipe is a healthy satisfying and energizing option for the perfect grab-n-go breakfast.
Looking for a Healthier Sweetener Option?
The Best Healthy Sugar Alternatives + Substitutes list is all about finding better ways to enjoy your favorite sweets without compromising your healthy lifestyle. For those who follow a vegetarian and/or vegan lifestyle, this lists offers a few great ideas to incorporate healthy sweeteners into your diet.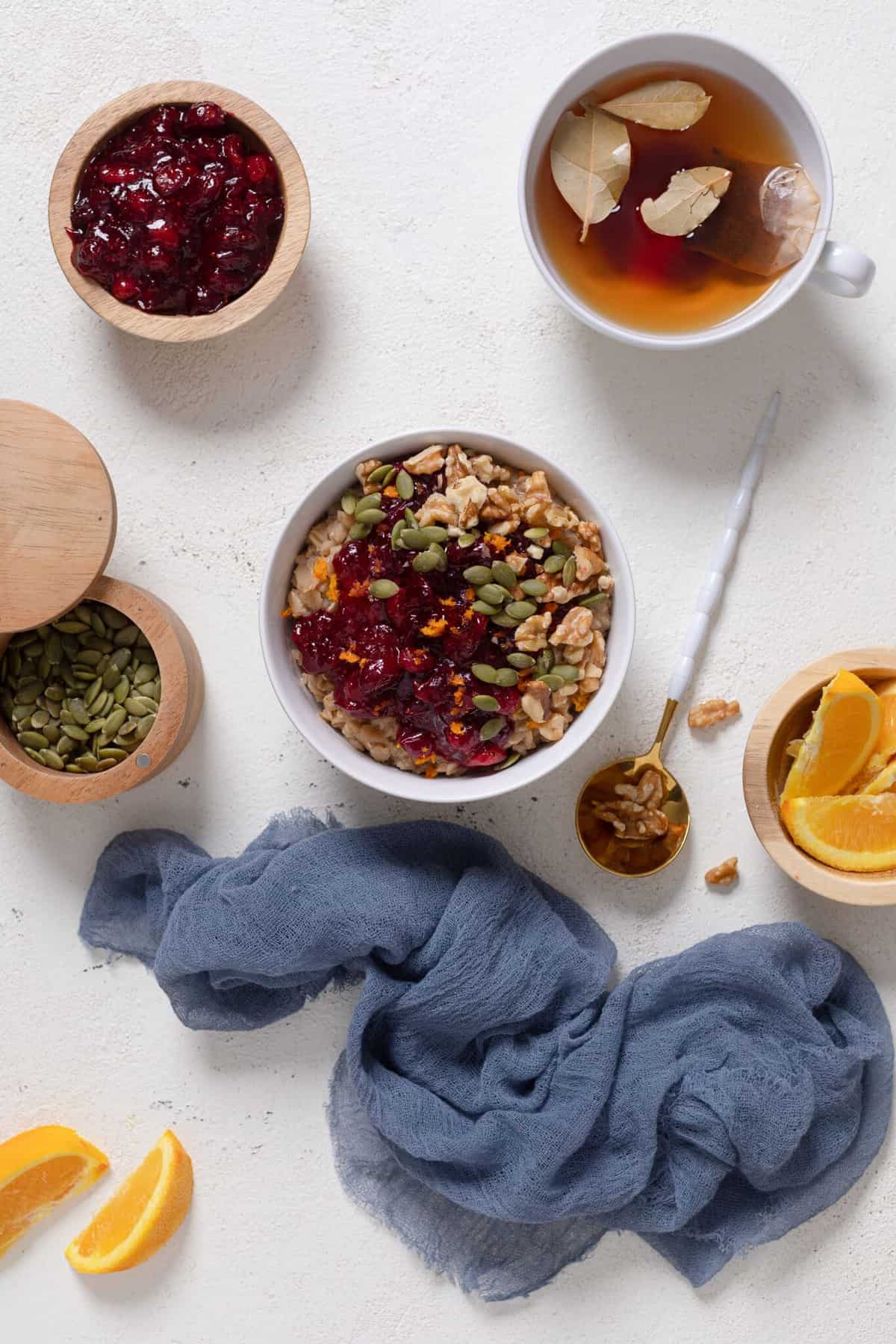 What You'll Need For These Oats?
Bob's Red Mill Thick Cut GF Oats – Healthy + full of fiber
Almond Milk – Makes things nice + creamy; Sub with your fave plant-based milk
Vanilla – Adds nice flavor
Agave – A light sweetener; sub w/ maple syrup
Orange – Beautiful touch of citrus
Walnuts – Always love adding nuts for delicious nuttiness
Spices: Cinnamon, Nutmeg, All spice – the best combo of Fall flavors
Cranberries – Adds a nice hint of tartness
Brown Sugar – Adds sweetness to cranberry topping
Lemon Juice – Acid for cranberry topping
How Long Does Oatmeal Last?
All leftover oatmeal can be stored in the refrigerator for up to 5 days. Perfect for meal prep for the week!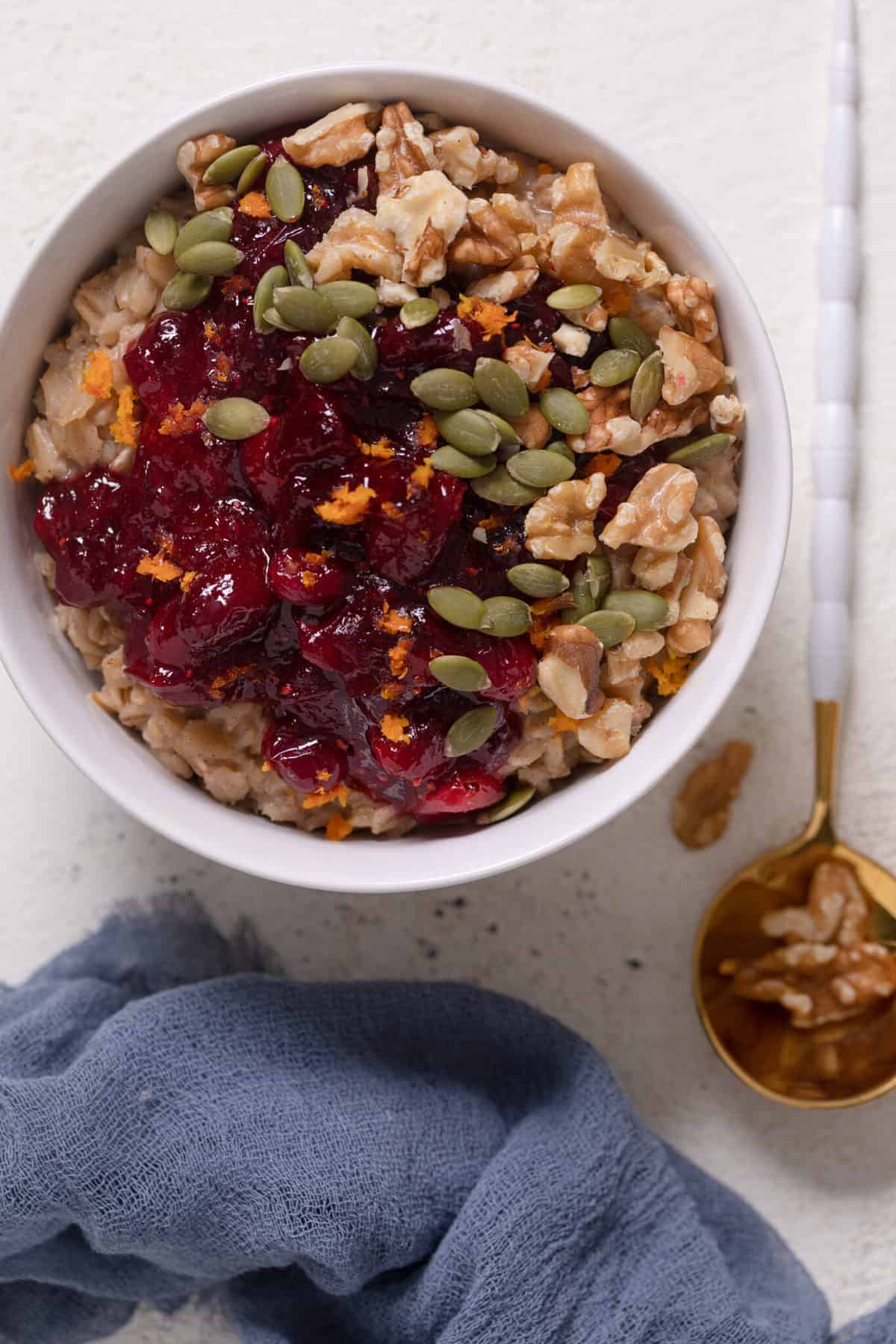 How to Ensure That This Oatmeal is Gluten-Free.
Personally, when it comes to Gluten-Free recipes that include oats, I love using Bob's Red Mill GF Rolled Oats because it makes for the perfect addition to cookies, cakes, brownies, muffins, pancakes, oatmeal—literally anything.
For this oatmeal recipe, I used these oats which is made from 100% whole grain oatmeal and adds a nice robust texture and nutty flavor. As I've mentioned above, oats are a great source of dietary fiber, which helps to keep you fuller longer and staves off spikes in blood sugar.
The fun part about this recipe is that I chose to create something that aligned with Bob's Red Mill Organic Cranberry Orange Oatmeal Cups, which is an awesome on-the-go and grab-n-go option to this homemade recipe. This oatmeal cup is made from a blend of their GF rolled oats, old fashioned oats, and creamy stone-ground Scottish oatmeal and topped with cranberries, almonds, flaxseeds, chia seeds, and oranges.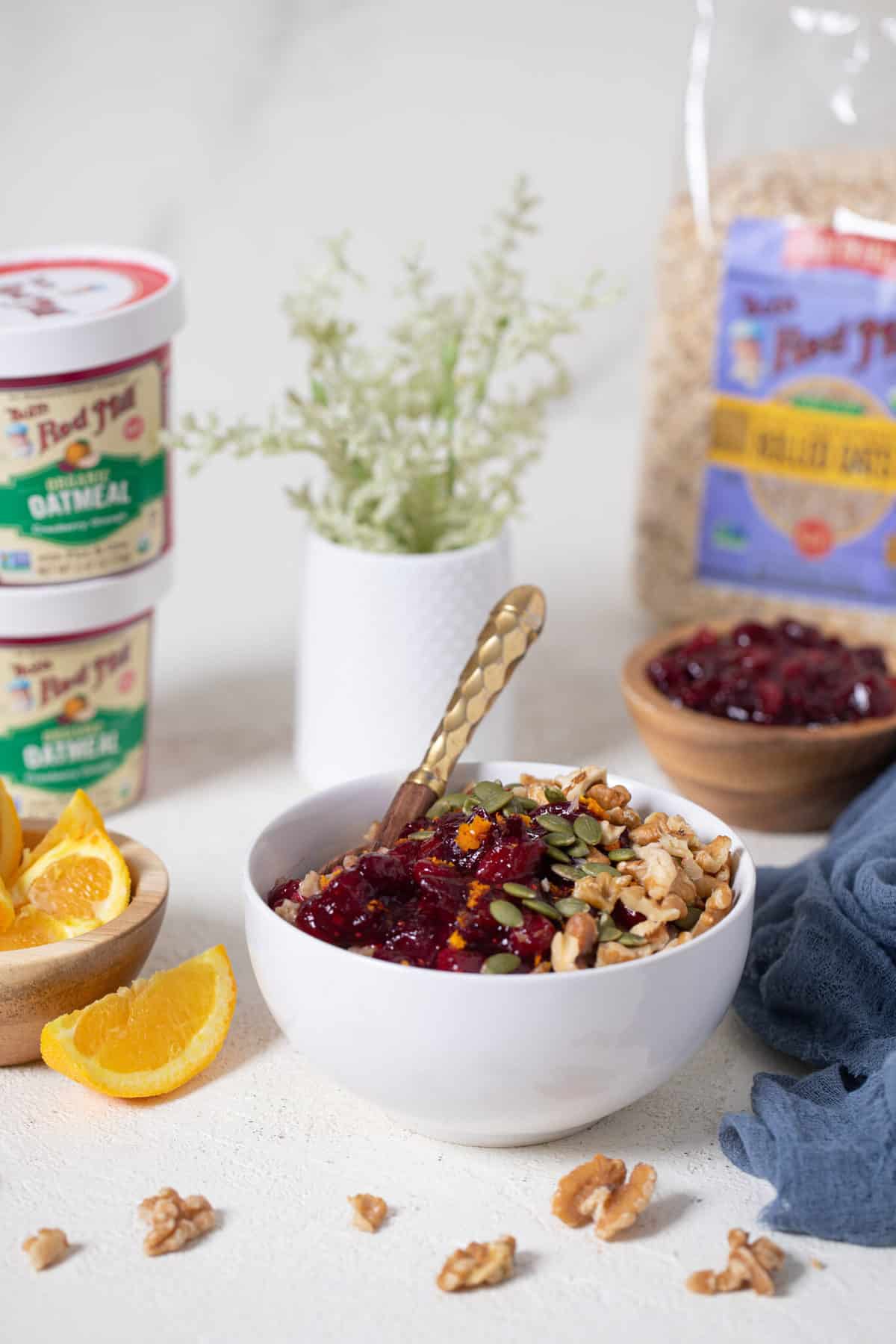 Orange-Cinnamon Oatmeal:
1

cup

Bob's Red Mill Thick-Cut Rolled oats, G

2 ½

cups

Almond milk 

⅓

cup

juice of an orange

(That's about 1 Medium orange!)

¼

cup

Agave

(See Notes!)

½

teaspoon

vanilla extract

1 ½

tsps

ground cinnamon

pinch of

sea salt
Other:
shelled walnuts

pumpkin seed

orange zest
Orange-Cinnamon Oatmeal:
Add oats, cinnamon, pinch of sea salt to a medium pot on medium-high heat. Next, add in Almond milk and Agave, stirring to combine until it begins to boil.

Reduce the heat to medium-low and cook for 10-15 minutes or until the oats thicken and become fluffy and all of the liquid has been absorbed. In the final 2-3 minutes, stir in orange juice and vanilla until well incorporated.
Cranberry Topping:
Combine all ingredients into a medium pot on medium-high heat, just until the sugar dissolves. Ensure that you stir all ingredients together well.

Once it begins to boil, reduce heat and let simmer until cranberries are softened and 'bursting'.

Once cranberries are fully cooked and 'sauce-like'/thickened, remove from heat and let cool for 5-10 minutes.
Assembly:
Once oatmeal has fully cooked, remove from heat and portion oats into serving bowl(s) and top with cranberries and chopped nuts (pecans, walnuts, almonds, etc.) as garnish.

Bon Appetit!
STORAGE: Can be stored in the refrigerator for up to 5 days. Perfect for meal prep for the week! OVERNIGHT OPTION: Simply add all oatmeal ingredients to a bowl and mix together until combined. Tightly cover bowl with plastic wrap and refrigerate overnight (or at least 8 hours). Once ready to serve, make Cranberry Topping and top overnight oats and enjoy. TOASTED NUTS: Add chopped walnuts to a baking sheet and toasting them in the oven (400 degrees Fahrenheit) for 5-10 minutes, tossing them halfway to avoid browning on one side. SWEETENER: Instead of Agave, you can simply use maple syrup to oats as a sweetener.
Calories:
521
kcal
|
Carbohydrates:
117
g
|
Protein:
8
g
|
Fat:
7
g
|
Saturated Fat:
0.5
g
|
Polyunsaturated Fat:
3
g
|
Monounsaturated Fat:
3
g
|
Sodium:
414
mg
|
Potassium:
337
mg
|
Fiber:
10
g
|
Sugar:
77
g
|
Vitamin A:
147
IU
|
Vitamin C:
40
mg
|
Calcium:
425
mg
|
Iron:
2
mg
Healthy Cranberry Orange Oatmeal.