This Healthy Chocolate Hazelnut Granola w/ Cranberries recipe is one of the most versatile quick fixes you'll ever make! Made with gluten-free oats, coco powder, hazelnut flavor, spices and sprinkled with cranberries; this recipe is a great way to add a handful of nutrients to your day–whether as a cereal in the morning, snack in between, or to top almost anything for a hint of extra flavor. Super easy, entirely oil-free, gluten-free and vegan.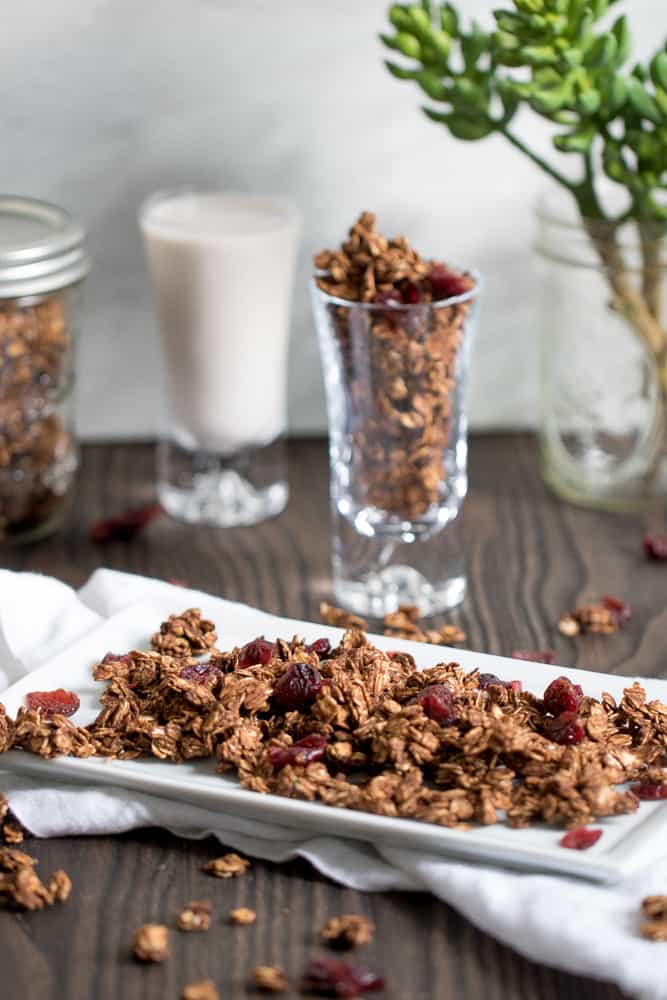 Whelp, it's National Chocolate Cupcake Day, but since I haven't made any lately, I'm presenting this chocolate granola recipe! Hopefully this counts! Haha.
Seriously, this granola recipe is such an awesome burst of flavor, especially in time for the Holidays. I always knew that chocolate and hazelnut went well together, but it was not until making this granola that I realized just how perfectly they do go together! Plus, you can't deny how beautiful the setting is right? To be honest, I purchased these bright faux plants from Target and I couldn't be happier. Granted, I am more of a lover of real plants and flowers, however, it's so much easier to have faux ones especially when you're super busy and barely have time to give them a little TLC.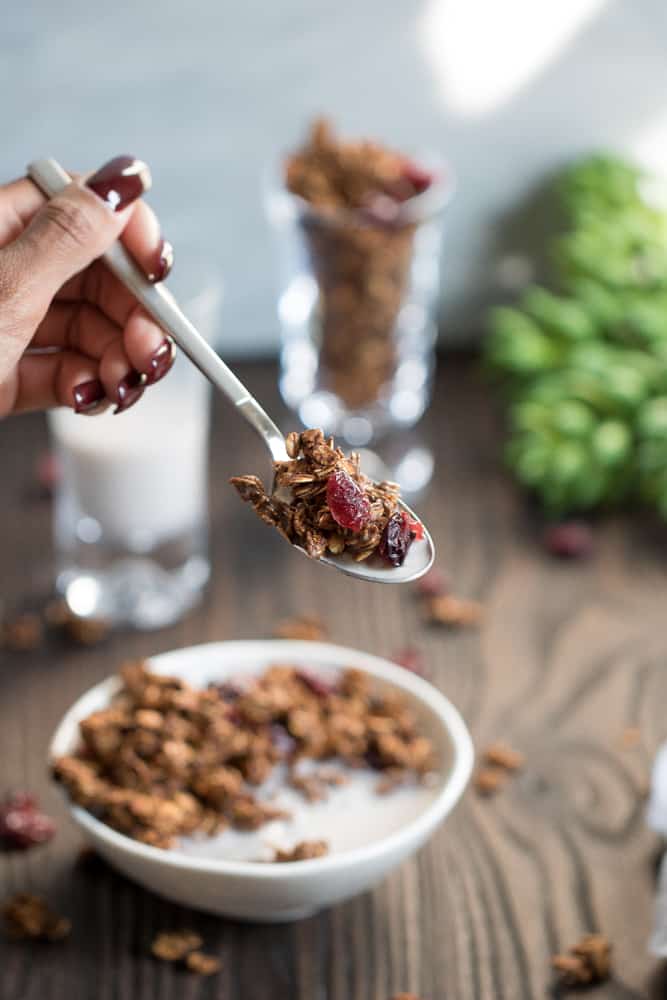 OK, so aback to Target. Trust me, that store is my forbidden place. I never come out with what I intended to go in for. As you browse, there's always something more that you figure that you need. Who else has the same struggle? Haha.
But I always end up browsing in the home section because that't my absolute favorite spot in the entire store. I get a chance to see nice, unique dinnerware, utensils, displays, or whatever else that work for the blog. Oh and let's not forget HomeGoods, which is by far my most favorite.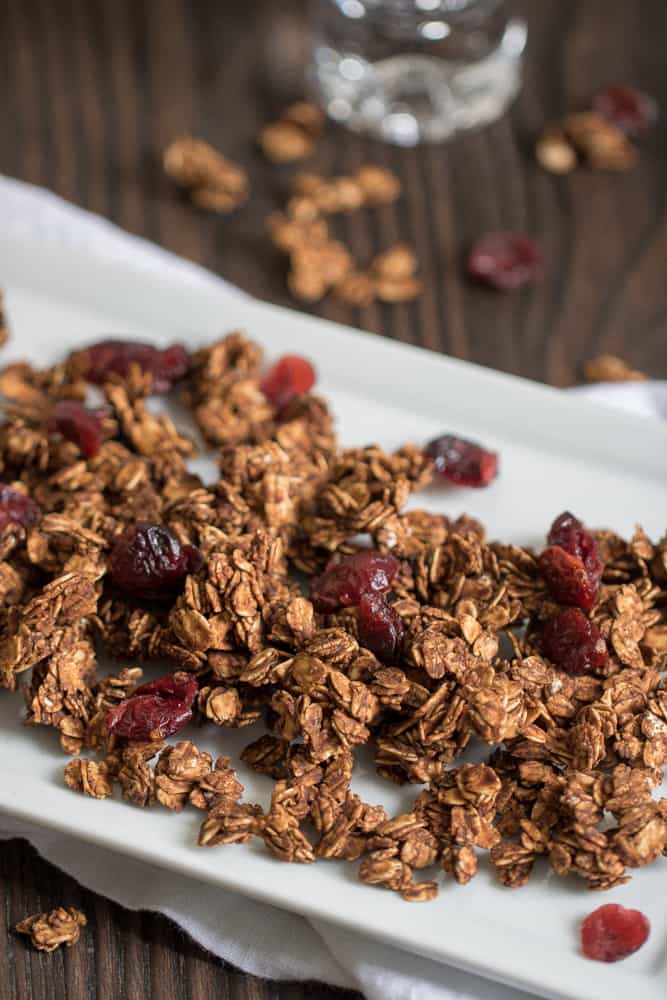 With the Holidays quickly approaching, I've definitely been getting into the spirit of things, especially when it comes to baking and putting together flavors that match the season. The flavors for this granola recipe is no different. Besides, if you aren't a huge chocolate fan, you can always try this Caramelized Peach Cinnamon Homemade Breakfast Granola recipe, which was bomb—-swoon! Either way, you're sure to love the flavors!
Of course, if you're looking for other healthy snack ideas, this Vegan Tomato Avocado 'Cream Cheese' Bruschetta recipe is a great, tasty option. Believe me, that cream cream is dynamite!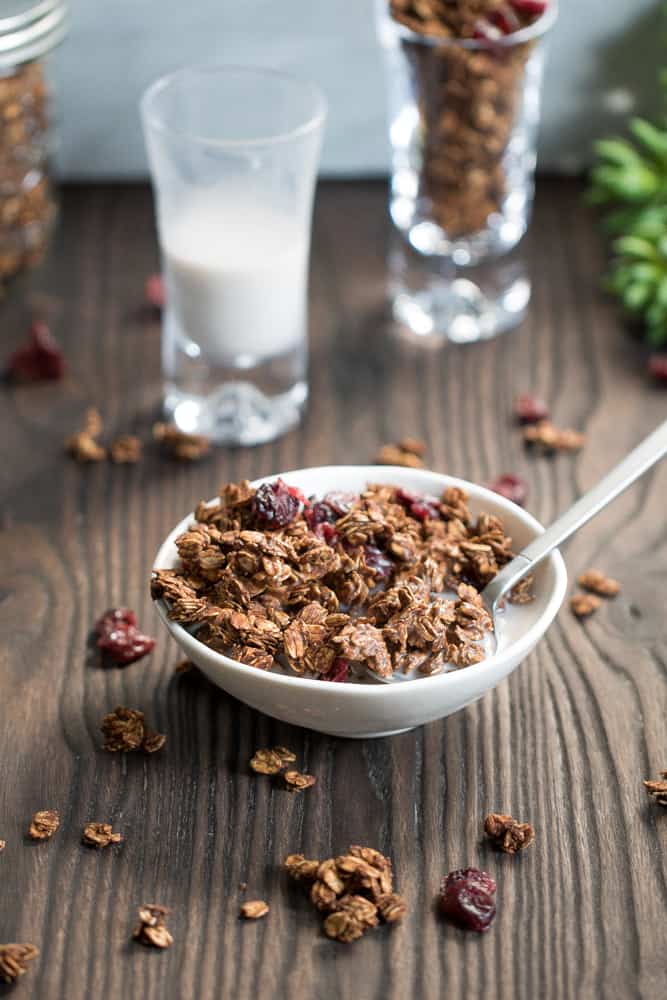 These Crunchy 'PB + Jelly' Energy Bites are similar to enjoying a nice bite of PB & J sandwich with the crunchy peanut butter–that is. These bites are so easy to make, packed with nutrients, completely non-dairy + vegan, and did I mention delicious with a nice hint of apricot flavor?
Don't worry—you can always check out our Healthy Snacks archives for more inspiration. In need of breakfast ideas? I've got you covered—our Breakfast archives has tons of different recipes (some of which are vegan) so that you can choose the one that best fits your taste buds.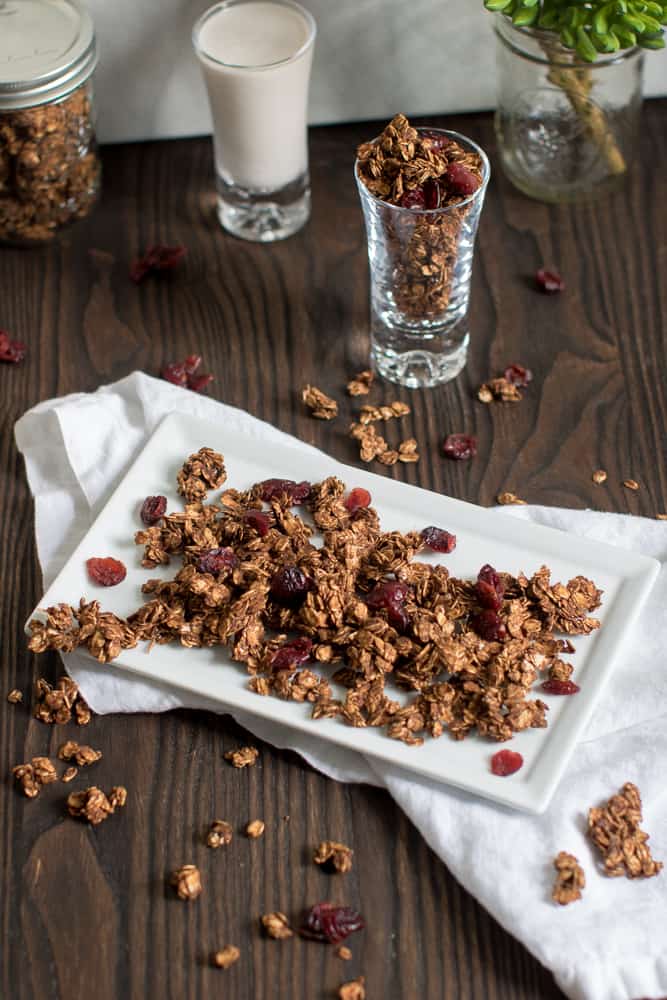 Let's dig right into this recipe, shall we?
Preheat your oven to 350 degrees Fahrenheit and line a baking sheet with parchment paper.
Add the hazelnut non-dairy beverage to a medium saucepan on medium-high heat, stirring occasionally until it begins to boil. Add maple syrup and vanilla and continue mixing for another 3-4 minutes. Once combined, remove from heat and let cool slightly.
In a large bowl, add the rolled oats, cocoa powder, sea salt, and cinnamon and stir together until well combined.
Carefully pour the hazelnut-maple mixture onto the dry ingredients and toss together using a spatula.
Once done, spread mixture onto the prepared baking sheet and bake for 15-20 minutes.
**NOTE: Please avoid stirring or tossing! In order to create clusters/chunks, you should bake it without touching!!
Remove from oven and let cool for 20-30 minutes. Once cooled, gently break granola apart into medium/large clusters and chunks. Add cranberries and gently toss.
To serve, add to a bowl of coconut milk (or your own non-dairy fave!) OR eat as a snack or atop yogurt, muffins, breakfast toast, pancakes, ice cream, etc.
Bon Appetite!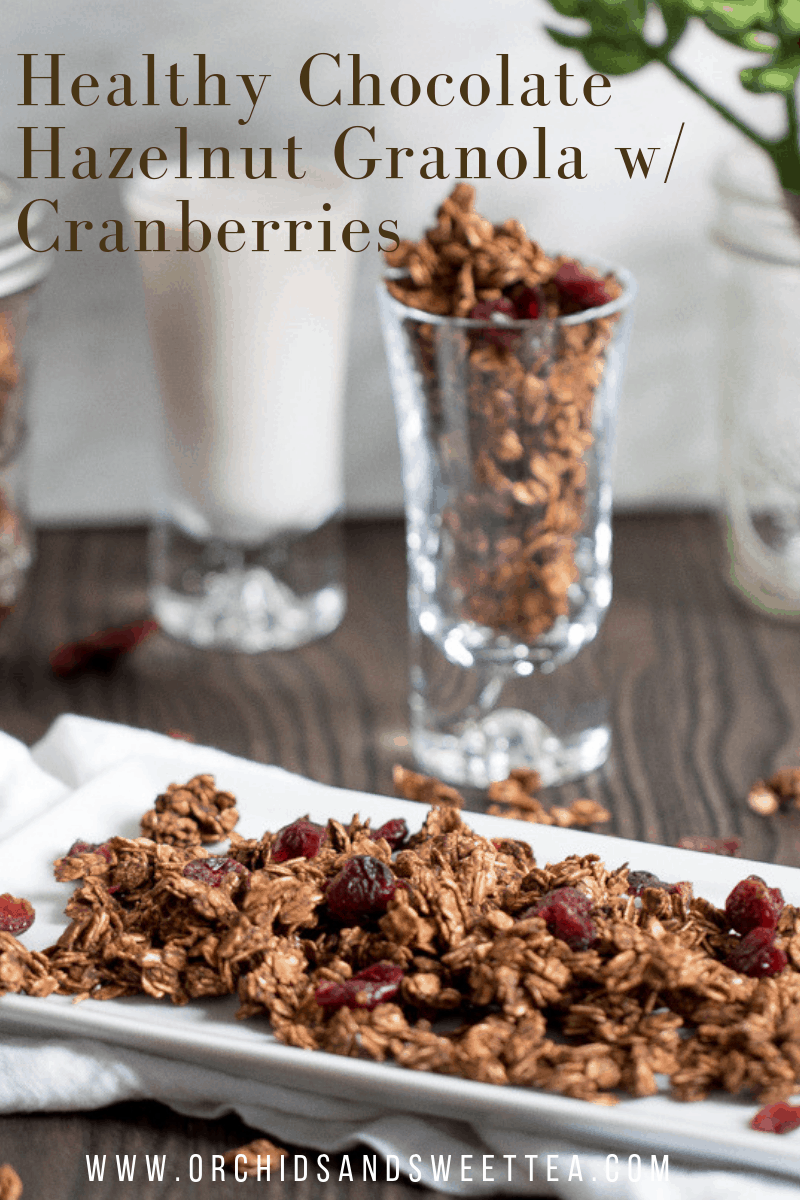 3

cups

gluten-free organic rolled oats

1/4

cup

cacao OR cocoa powder

(Vegan-approved!)

3/4

cup

Hazelnut Non-dairy Beverage

(I used Pacific Natural Foods)

1/2

cup

pure maple syrup

1

Tbsp

vanilla extract

1/2

tsp

sea salt

1

tsp

ground cinnamon

1/2

cup

dried cranberries
To Store: Add leftover granola to an airtight mason jars and/or container and/or zip loc bag. Keep at room temperature for up to 5 days.
Healthy Chocolate Hazelnut Granola w/ Cranberries.