When it comes to pizza, I'm a TRUE die hard fan and there is nothing like the family-oriented Mama + Papa pizza shops! I wanted to keep the same momentum going with flavor (while still incorporating gluten-free) and I came up with this delicious Chicken Spinach + Broccoli Gluten-Free pizza.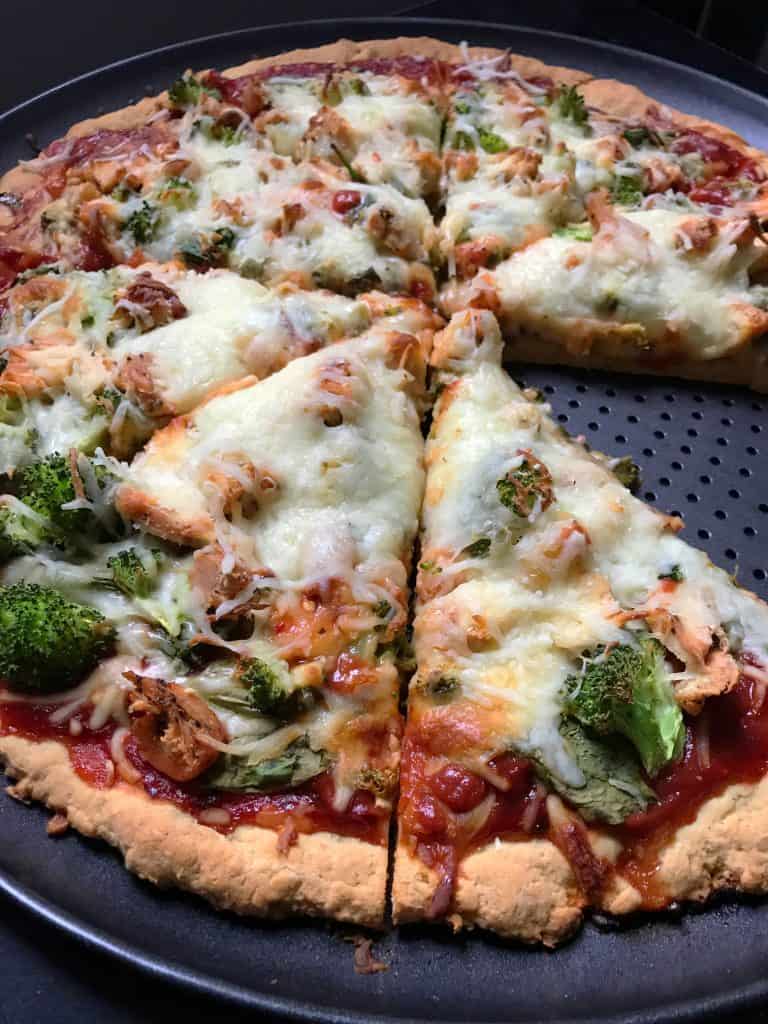 Pizza, Pizza, Read all about it!
When it comes to pizza, I'm a TRUE die hard fan! My husband prefers Dominos pizza (which is fine if it's made perfectly and that's not always the case), however, there is nothing like the family-oriented Mama + Papa pizza shops!
Personally, I believe that their pizzas are better (maybe because it's made with love). I don't know. But I just love a truly thin slice of Brooklyn Pizza.
Anyway, since I'm close to transitioning into my new Vegan/Gluten-Free food journey, I've been slowly incorporating elements of each to get my mind ready for this leap!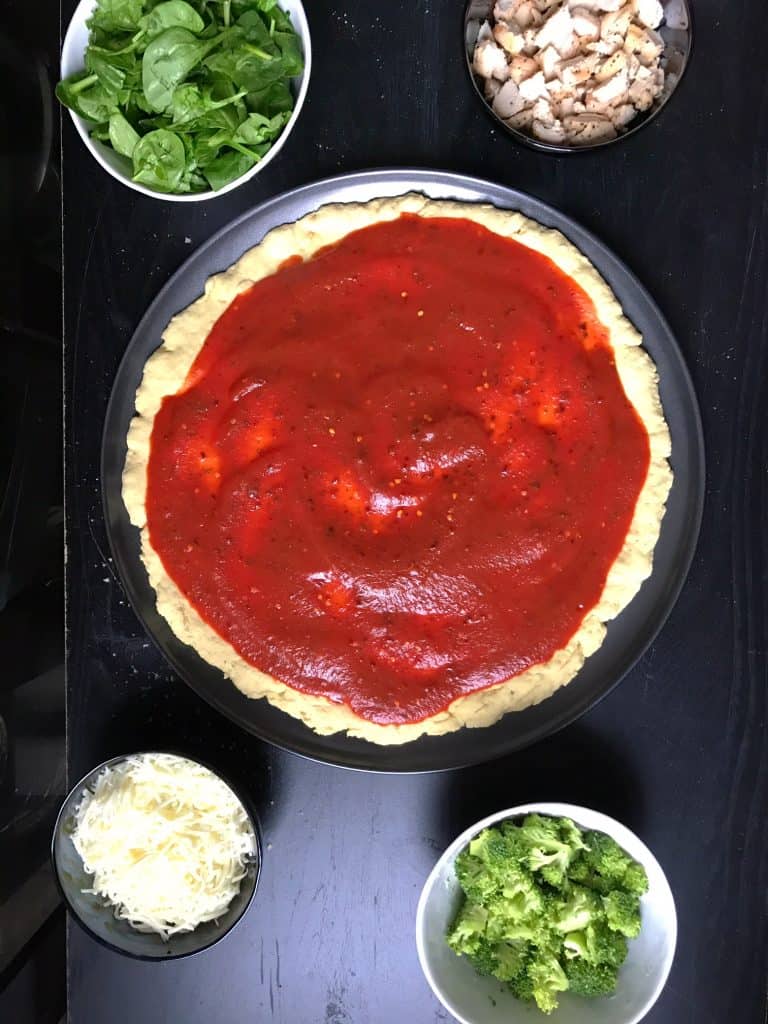 Previously, I did an amazing Vegan Gluten-Free Banana Belgium Waffle recipe (You can find it here: Click!) which was completely BOMB (or amazing in other words! Haha!).
Surprisingly, it was much better than I thought. So I'm excited to keep pushing the envelope with food recipes and discovering great flavors, even with a Vegan diet.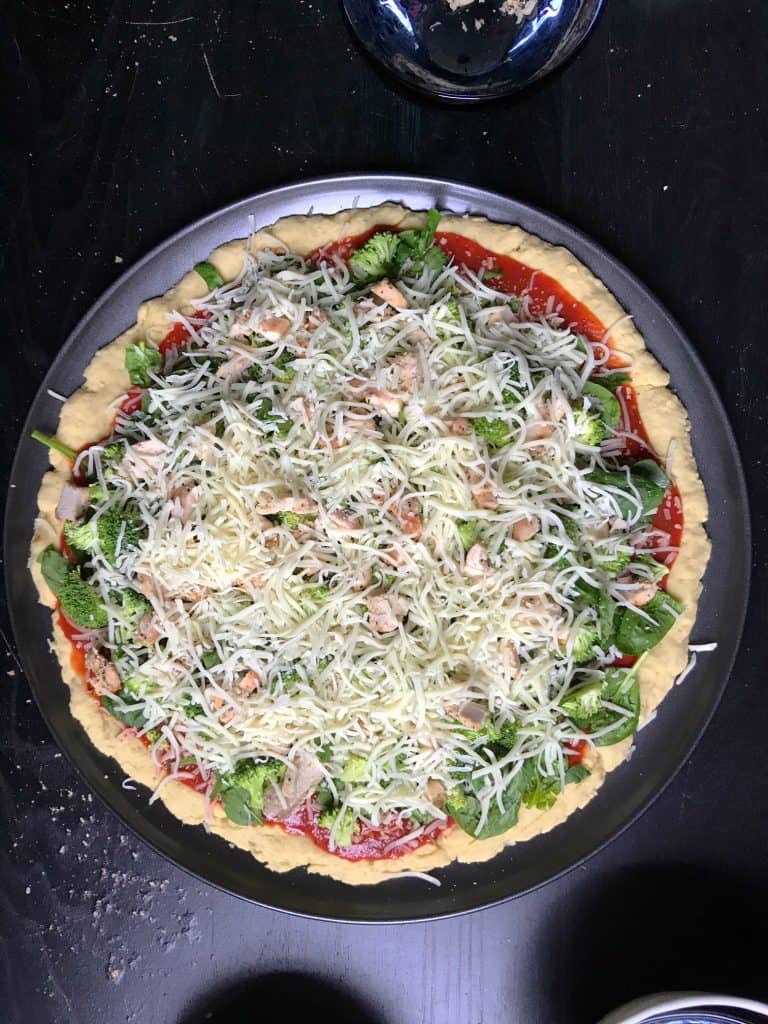 Well, as for this recipe, I wanted to keep the same momentum going with flavor (while still incorporating gluten-free) and I came up with this delicious Chicken Spinach + Broccoli Gluten-Free pizza.
This was my first time making pizza and while I was afraid that it would be hard, it was SUPER EASY, Ya'll. I literally prepped the gluten-free crust in about 20 minutes (Tops!) by following the packaging instructions, which was from Bob Red Mill's.
Once the crust was prepped, then you let it heat up in the oven for about 3-5 minutes before adding your sauce and ingredients.
Because it's Gluten-Free, the baking time is chopped in almost half the time (compared to regular pizza) at about 30 minutes or so, until it's golden brown. Super easy and quick! The taste was great and I thoroughly enjoyed my healthy dinner.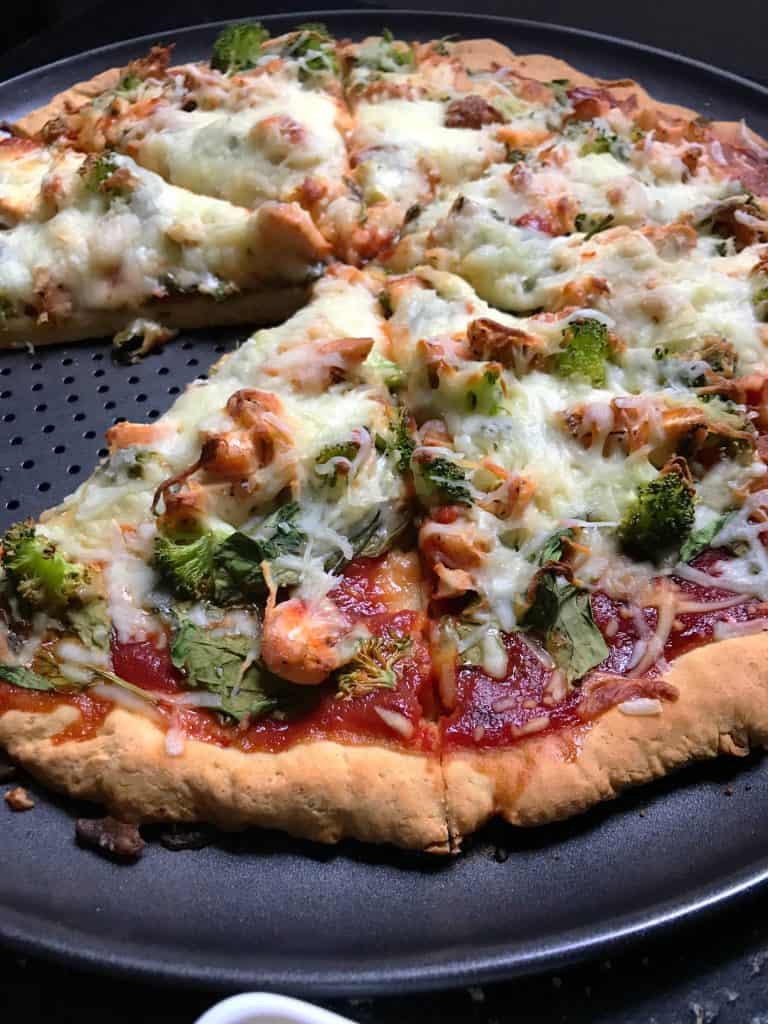 just as an FYI, this recipe is definitely "filling". You may only need 2-3 slices (unless you're a bigger eater of course!). No worries though!
It made for a great leftover the next day after reheating it in the oven so that it warmed evenly. My little guy loved this pizza and if you've been following my blog, you'll know that he's pretty picky when it comes to eating!
So I say that this is a WINNER!
By the way, in case you aren't familiar, I've included a bit of good to know information below about Gluten-Free and what it entails.
I'm currently learning more and more about Gluten-Free ingredients and am happy to share and educate you as I go along. To be honest, I didn't know that I was intolerable to Gluten until I started seeing patterns that indicated such.
I'm definitely going to ensure that it is in fact an allergy (or whether it's just hard for me to digest when paired with other stuff) through an Allergist this week, so I'll know for sure.
If you think that you may fall into this dilemma as well, I would recommend testing it out (medically) as well as eliminating it in your diet to see if you notice any positive changes.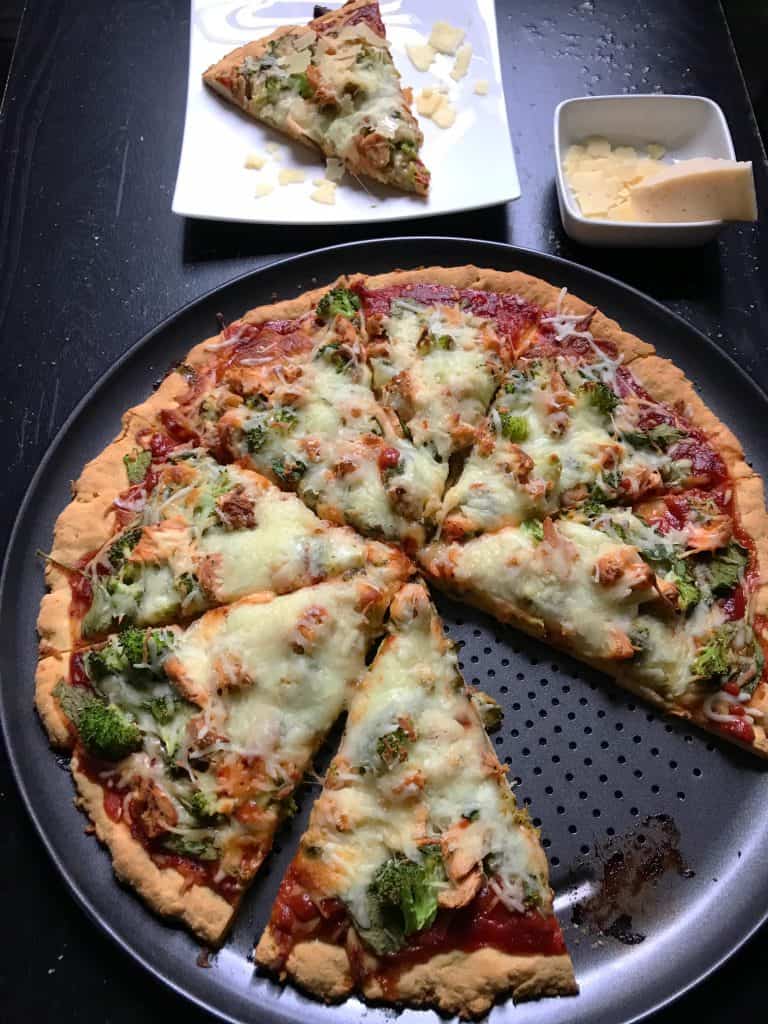 So, what is Gluten anyway?
In simple terms, gluten is a type of protein found in wheat, rye, and barley. You see it most often in cereals, breads, and grains.
Gluten is great for keeping the elasticity in food intact while it is fermenting. Some companies also use gluten because it allows food products top stick together and become more chewy.
The following grains and starches contain gluten:
Wheat
Wheat germ
Rye
Barley
Bulgur
Couscous
Farina
Graham flour
Kamut Matzo
Semolina
Spelt
Triticale
The following foods often contain gluten:
malt/malt flavoring
soups
commercial bullion and broths
cold cuts
French fries (often dusted with flour before freezing)
processed cheese (e.g., Velveeta)
mayonnaise
ketchup
malt vinegar
soy sauce and teriyaki sauces
salad dressings
imitation crab meat, bacon, etc
egg substitute
tabbouleh
sausage
non-dairy creamer
fried vegetables/tempura
gravy
marinades
canned baked beans
cereals
commercially prepared chocolate milk
breaded foods
fruit fillings and puddings
hot dogs
ice cream
root beer
energy bars
trail mix
syrups
seitan
wheatgrass
instant hot drinks
flavored coffees and teas blue cheeses
vodka
wine coolers
meatballs, meatloaf communion wafers
veggie burgers
roasted nuts
beer
oats (unless certified GF)
oat bran (unless certified GF)
The following are miscellaneous sources of gluten:
shampoos
cosmetics
lipsticks, lip balm
Play-Doh
medications
non self-adhesive stamps and envelopes
vitamins and supplements (check label)
Also, be sure to check out the recipe below in case you want to give it a try!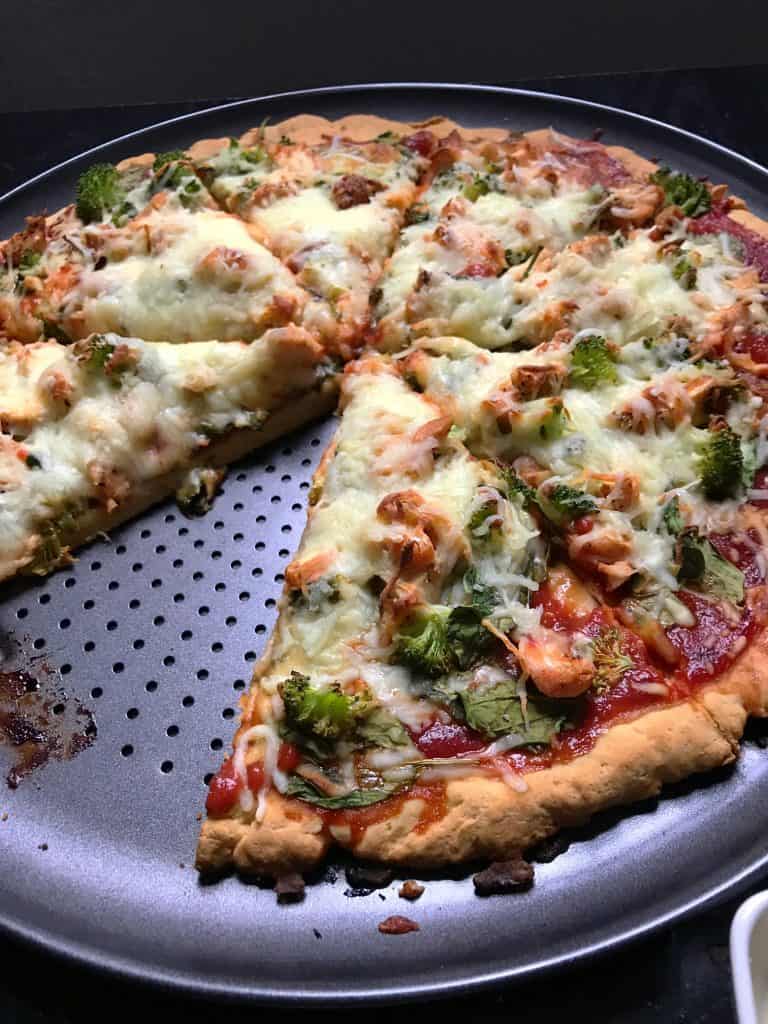 One 16 oz. package of Bob's Red Mill's Gluten-Free Pizza crust flour
2 cups baked chicken breast, chopped
4 cups shredded mozzarella cheese
1 cup baby broccoli, finely chopped
2 cups spinach, chopped
The Pizza Sauce
1 can tomato sauce
3 Tbsps BBQ sauce
1 Tbsp basil
1 Tbsp red pepper flakes
1 tsp brown sugar
dash of sea salt
1 Tbsp dried parsley
1/2 cup freshly grated Parmesan cheese (for garnish)
The Pizza Sauce
Add the tomato sauce, BBQ sauce, basil, red pepper flakes, brown sugar, sea salt, + dried parsley to a medium pot on low heat and whisk gently until heated and all ingredients are incorporated. Adjust seasonings to your taste and let it cool until ready to be used.
For the Pizza
Preheat your oven to 400 degrees Fahrenheit and be sure to use a great pizza pan to ensure that your crust is crispy.

Lightly grease your pizza pan with olive oil and place dough on one end of pan, evenly pressing it to fit the entire pan. Gently use your finger to stretch dough until pan is fully covered.

Bake the pizza pie for 3 minutes then remove it from the oven back to your counter top or stove top.

Spoon a generous layer of the pizza sauce over the top and Sprinkle the spinach, broccoli, and baked chicken on top.

Then add mozzarella cheese by generously sprinkling it over all the other ingredients.

Gently transfer the pizza pie back to the hot oven and bake an additional 15-20 minutes or so, until the cheese has melted and the crust is crispy and golden brown.

Once done, allow pizza to rest for a few minutes for the cheese to set before cutting into it. Sprinkle with the fresh grated Parmesan cheese (if desired).

Bon Appetite!
There you have it! An easy Gluten-Free Pizza with Chicken Spinach + Broccoli!!