These Gingerbread Cinnamon Rolls are not your typical, traditional rolls. The gingerbread spices add great flavor to every sweet bite and the maple cream cheese frosting is beyond amazing! You're sure to say, "Ho Ho Hoooo"! This recipe comes together in a little over an hour and its complex flavor and simple steps, makes it one of the best sweet treats to enjoy this holiday season! Overnight option.
These Gingerbread Cinnamon Rolls + Maple Cream Cheese Frosting are so festive and really put me in the Jolly spirit for the Holidays.
With Christmas fast approaching, I've been extremely busy with work, Christmas shopping, curating recipes, blog goals, my little guy, household duties, and so much more!
It's definitely one of the busiest times of the year! I'm sure that you can relate, too! Right?
More recently, I've decided that I wanted to make cinnamon rolls again because it's such a great comfort dessert!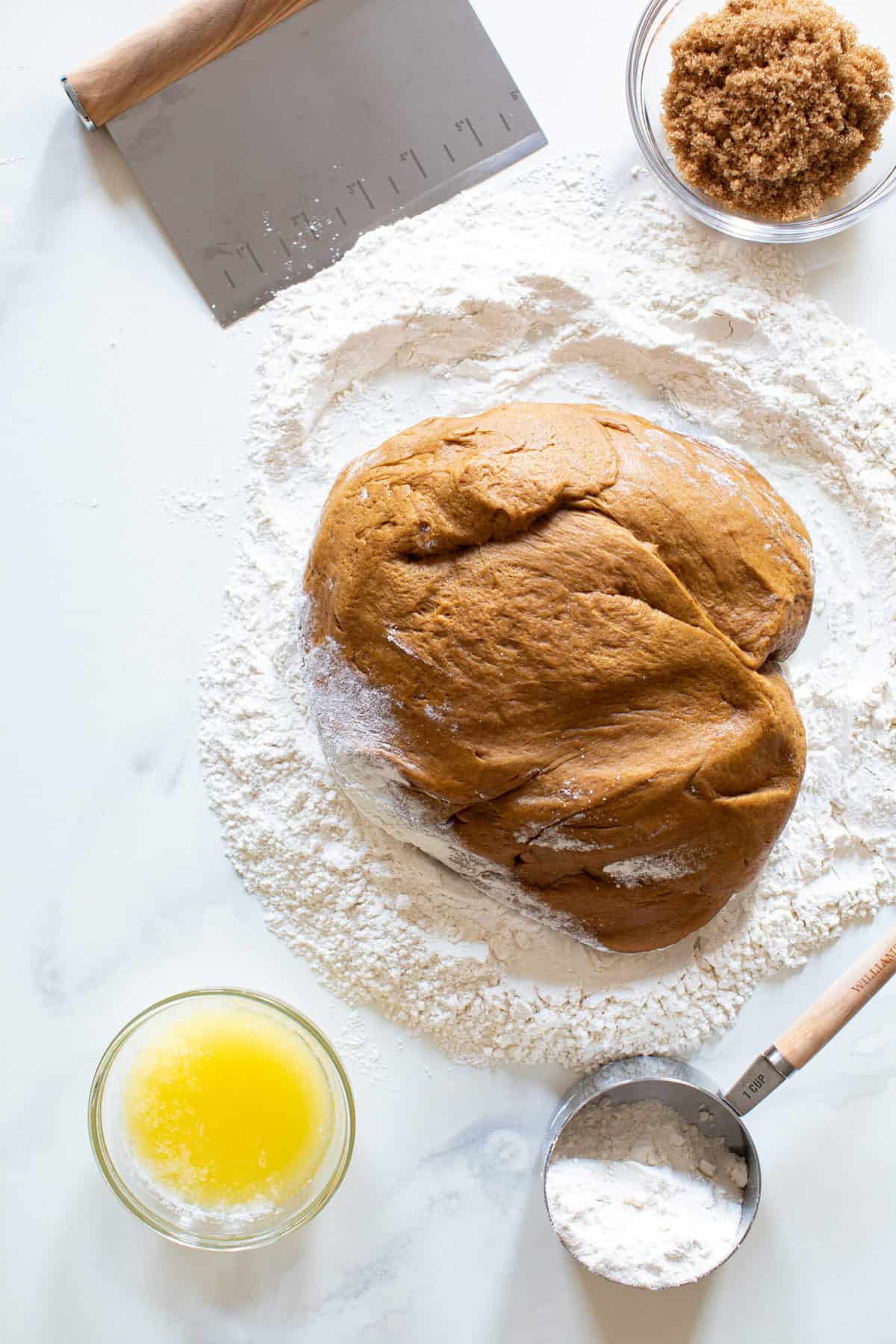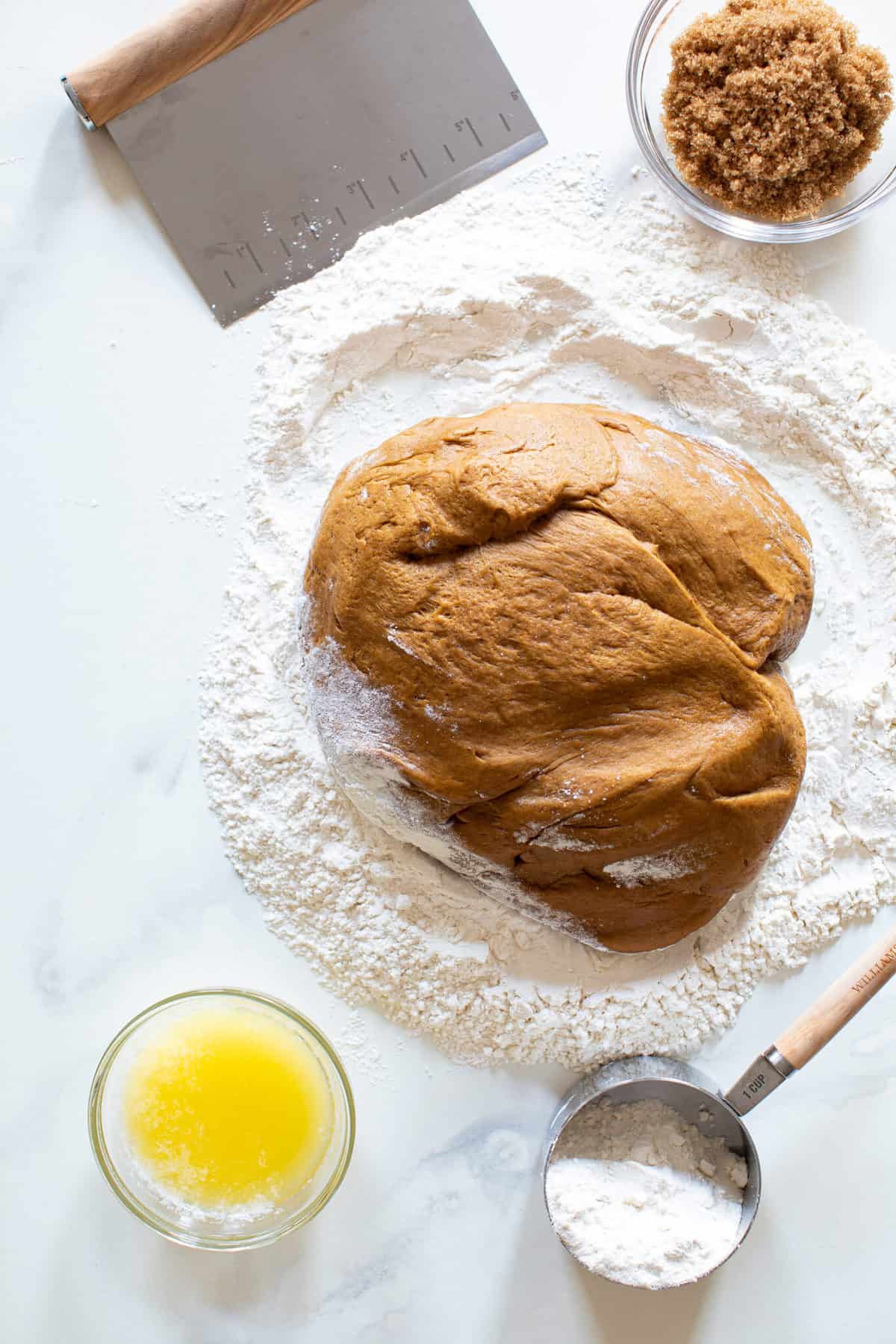 I mean, who doesn't enjoy a nice, warm cinnamon roll fresh out the oven!? Haha. Anyway, I didn't want to do the classic cinnamon rolls because it wouldn't really give off a holiday season feel, so I thought about doing something a bit more creative!
Granted, there are a few Gingerbread Cinnamon Roll recipes already out there, BUT this recipe showcases some really bold flavors that are TOO amazing not to try! Maple Cream Cheese frosting? Need I say more?
The best thing about it—-it's not as hard as you may think it is to make!
The "rising" time takes the longest, but if you're anything like me, you'll probably end up using that time to get other things done OR maybe watch your favorite show, etc.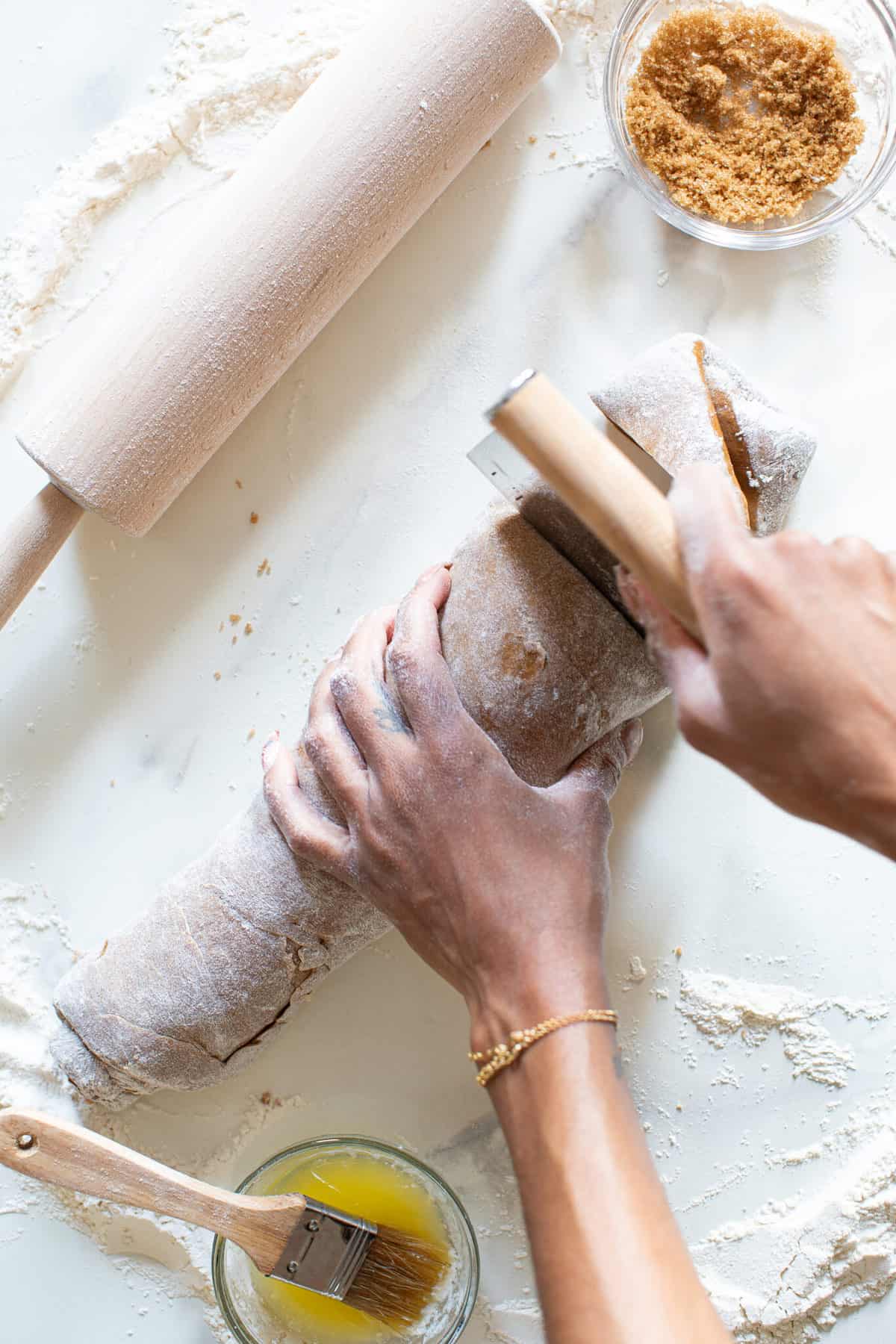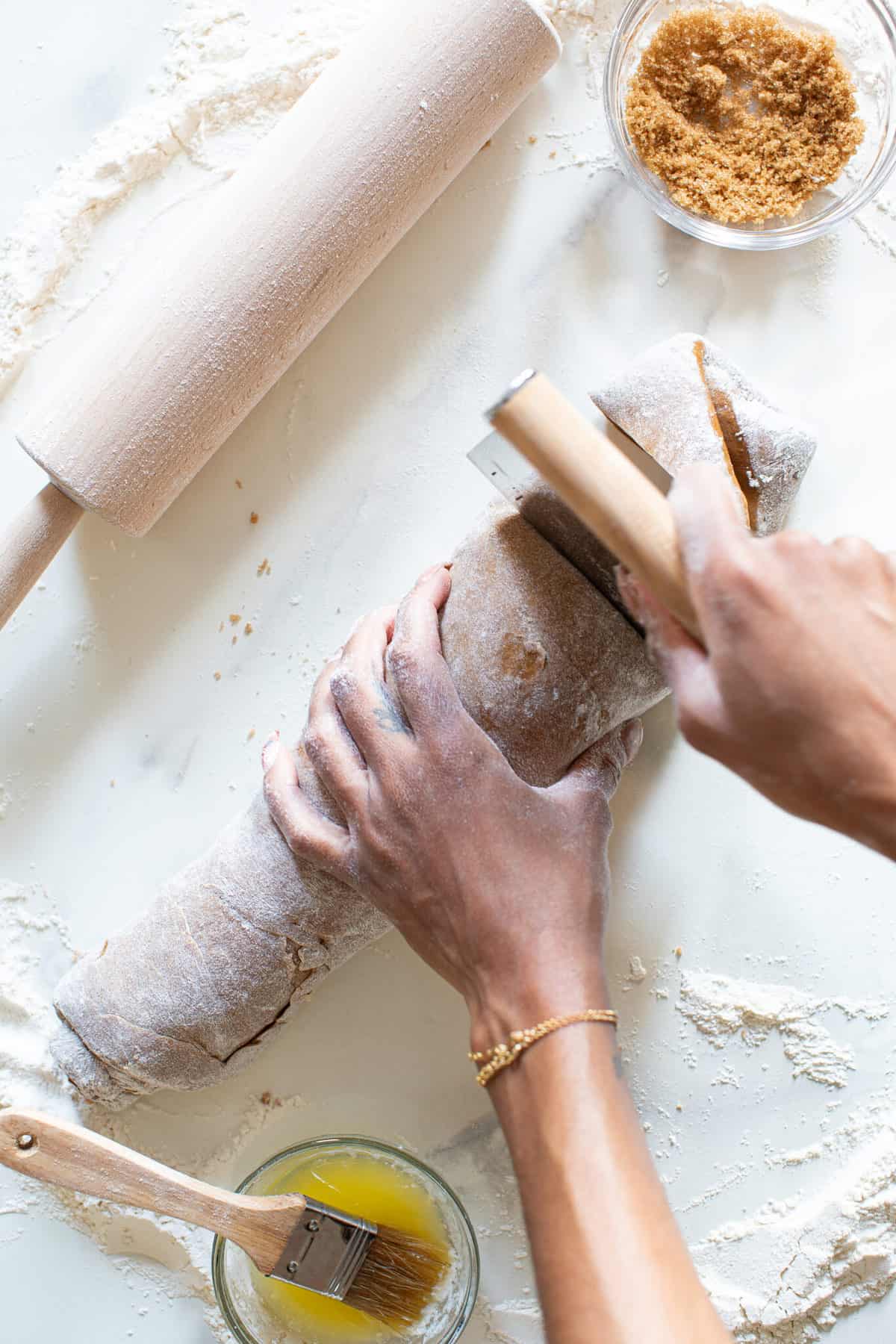 Multi-tasking much? Yup.
What You're Guaranteed to Love About these Rolls.
OK, so if you're still not entirely sold on these cinnamon rolls, then let me tell you what's so great about them. They are SOFT, FLUFFY, + BRIOCHE-LIKE in texture. Yup. I love making my cinnamon rolls more brioche-like. Who doesn't love the extra 'pillowy-ness' of it all? I totally made up that word. Haha.
Seriously, there's something about Gingerbread + Spices that create a real comfort and warmth for the Holidays. Don't believe me? You have to try this Vegan Gingerbread Cake + Chai Buttercream or these Vegan Gingerbread Donuts + Chai Glaze. SO Good!
Of course, I more Gingerbread recipes coming this Holiday season and to keep up, simply search our site for 'Gingerbread'.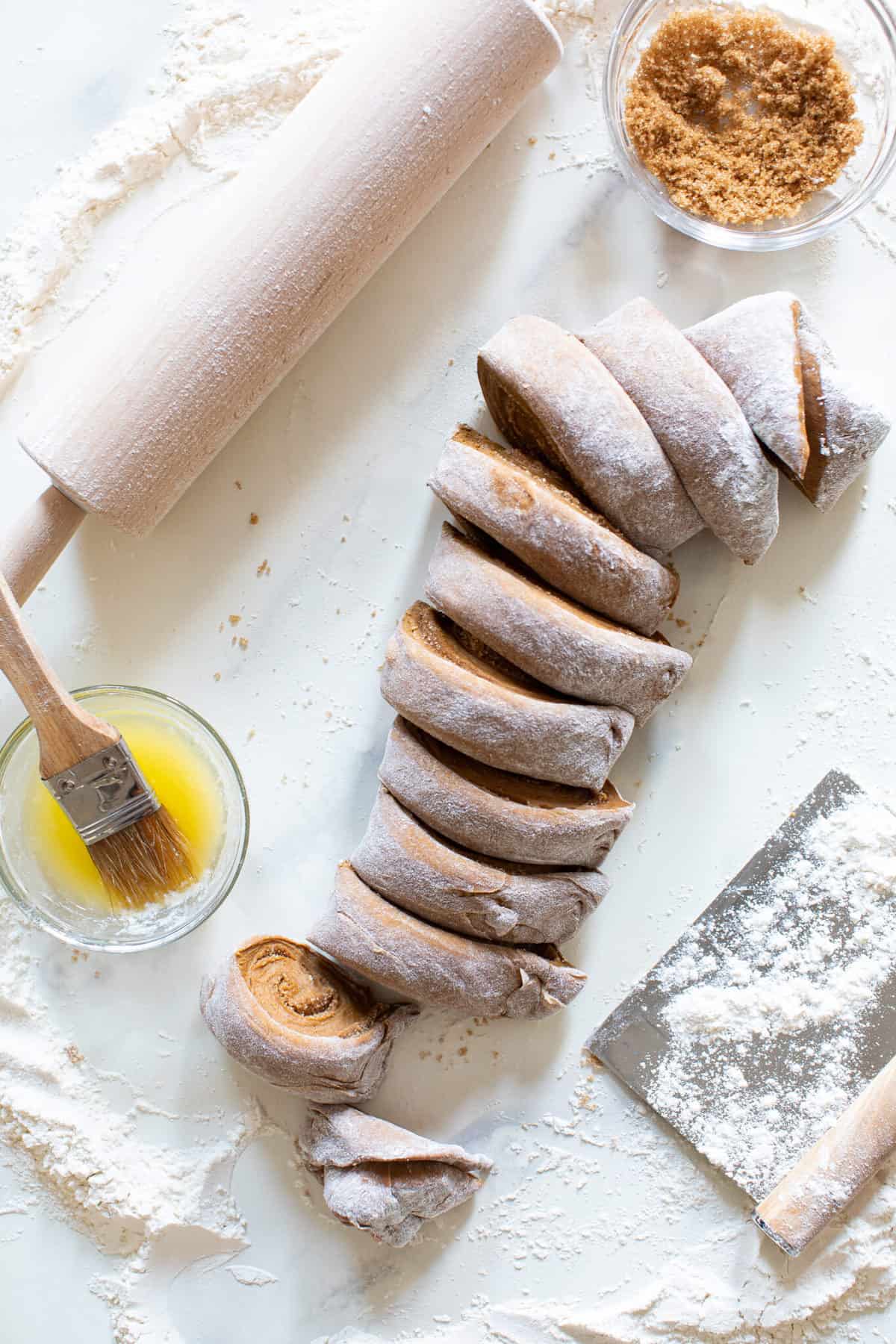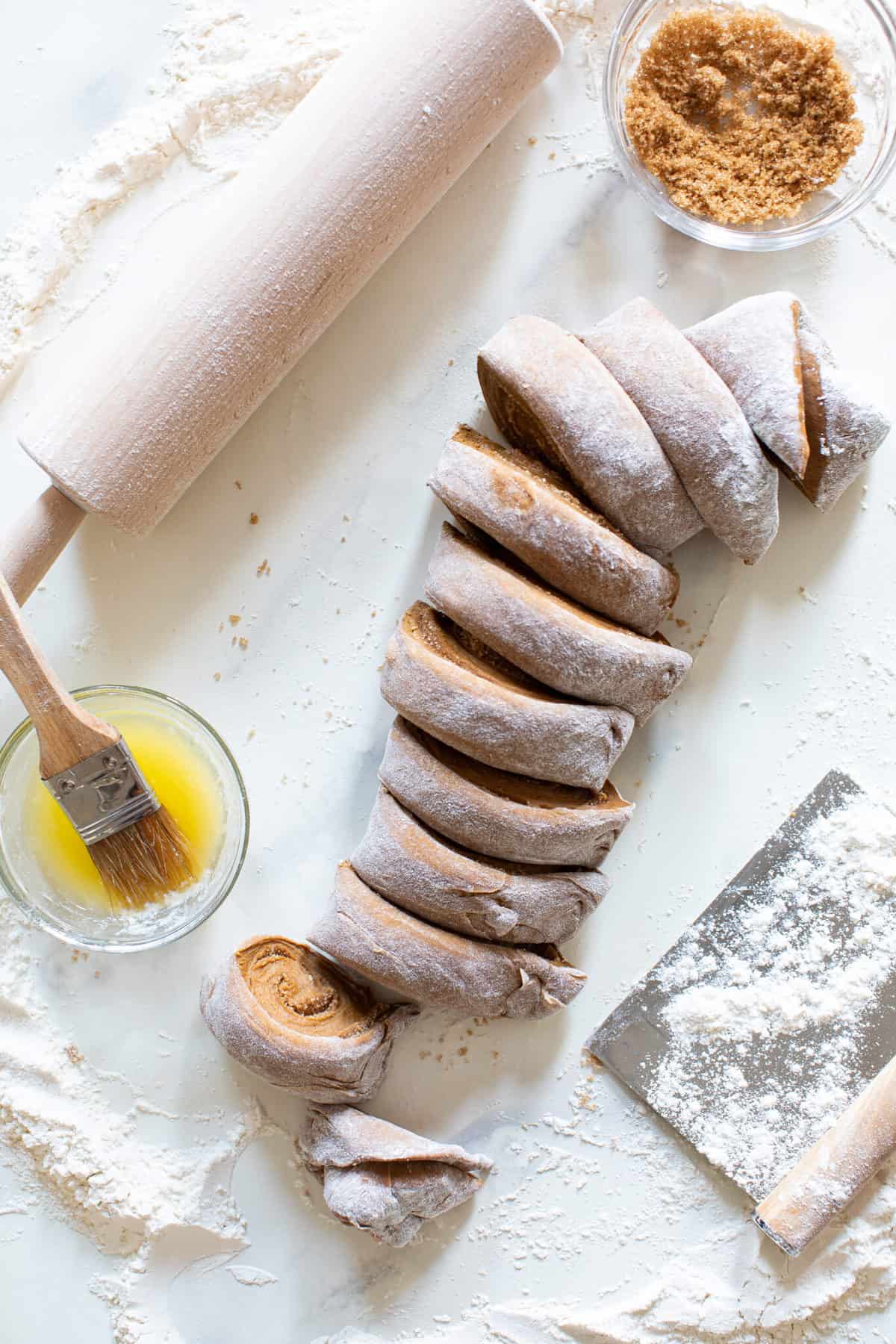 Once the dough doubles in size, the remaining steps are pretty easy! Just roll it out, sprinkle, roll it up, and cut! Wallah!
REGULAR MOLASSES VS. BLACKSTRAP MOLASSES?!
OK, so if you aren't aware, there are two types of Molasses—-regular and blackstrap.
While most people use regular molasses which is literally 'bittersweet', I tend to use blackstrap molasses in all of my recipes as a way to cut back on the sugar content.
Blackstrap is hardly used by many due to it's bitterness and 'heaviness' when use din baking since it can make the texture of your baked goods more thick and dense if not used correctly.
That's why I use only HALF THE AMOUNT of molasses that a recipe might otherwise require. That way, I get the darker color (not too dark) without compromising the texture or taste. Don't worry—I make a not of this in the recipe below as well.
But did you know that Blackstrap Molasses actually has more nutritional value? Yup.
It actually contains vital vitamins and minerals such as: iron, calcium, magnesium, Vitamin B6, and Selenium. In addition, it is considered a superfood.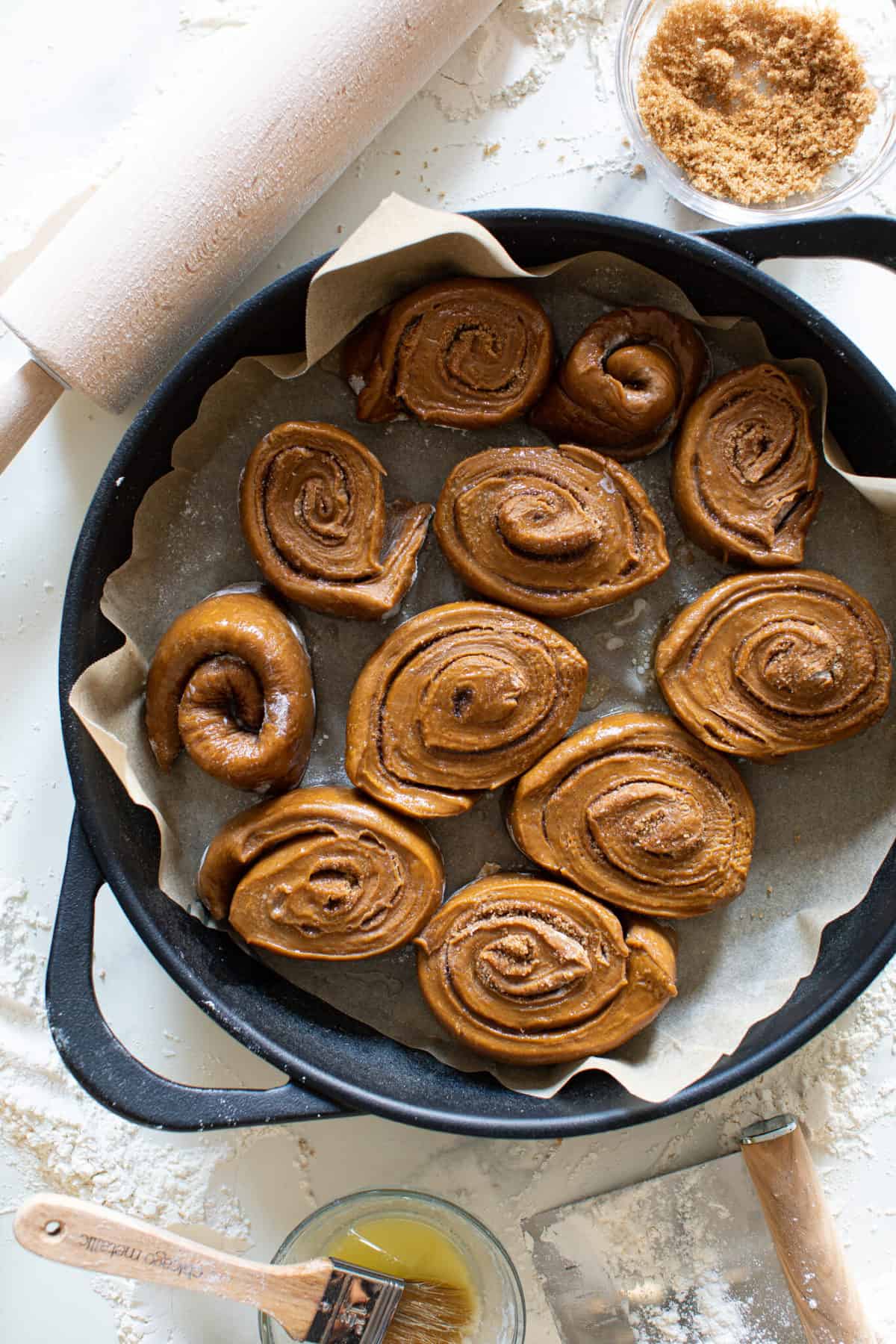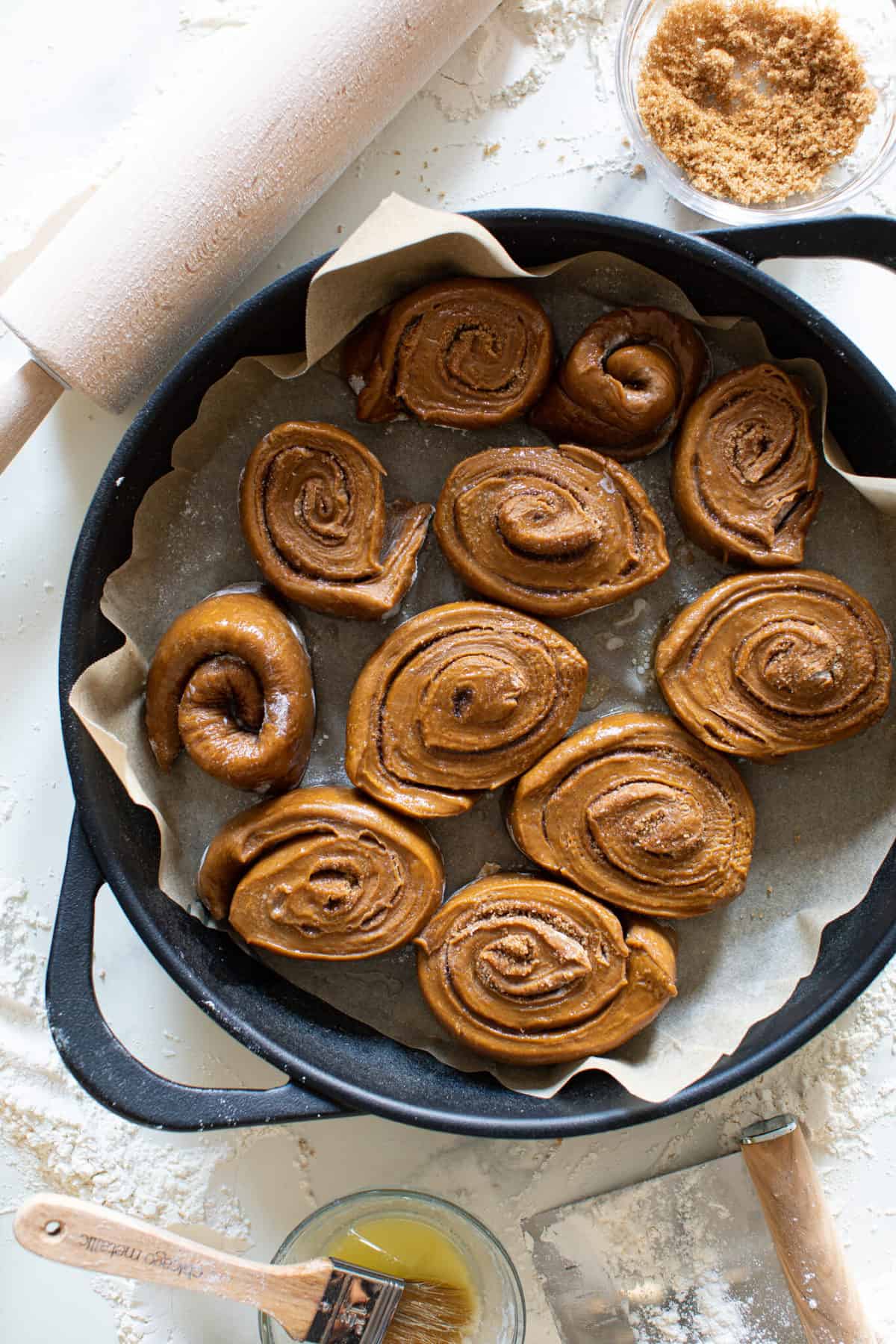 Lover of Cinnamon Rolls? Be sure to check out the latest dairy-free Cinnamon Roll recipe on Orchids + Sweet Tea: Vegan Pumpkin Cinnamon Rolls.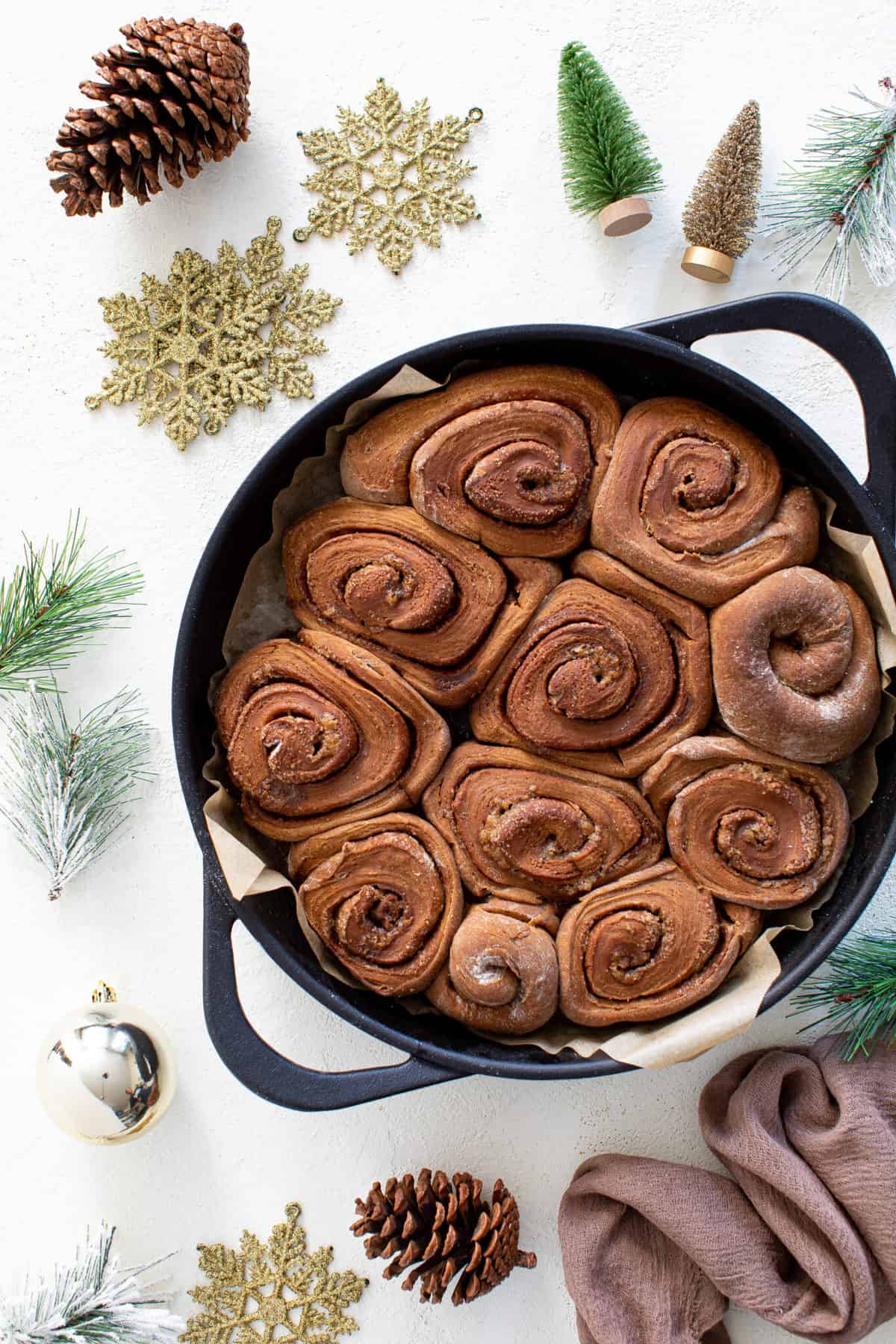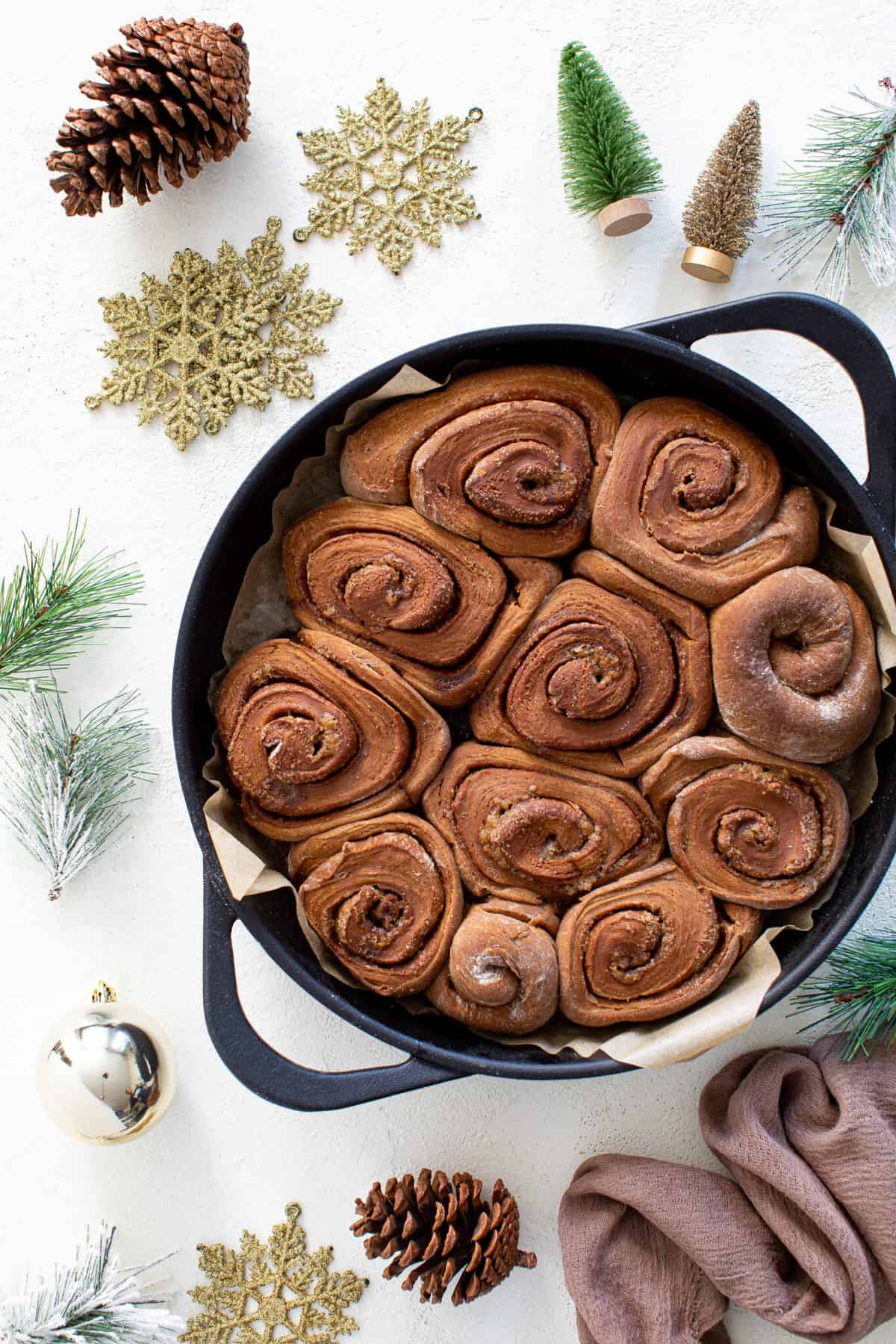 To Make the Maple Cream Cheese Frosting:
1/2 pack of (8oz.) cream cheese, softened
2 Tbsps butter, softened
1/4 cup organic maple syrup
3 cups powdered sugar
1 tsp vanilla extract
Simply beat the cream cheese, butter, and maple syrup together on medium speed in an electric mixer until well incorporated.
Next add the powdered sugar, cinnamon, and vanilla extract and mix until nice and creamy! Enjoy!
Greatest Challenge with Gingerbread Cinnamon Rolls.
OK, so if I'm honest, the greatest challenge with making these cinnamon rolls is the addition of molasses. To be transparent, molasses can be very 'drying' which in turn creates a drier than usual dough for your cinnamon rolls. In most cases, recipe developers avoid adding it to the dough but rather create the 'gingerbread feel' in the filling along with the brown sugar + spices.
However, I just LOVE the brown look of gingerbread cinnamon rolls and wanted to keep things traditional in that sense. The trick to making your dough less dry is by reducing the amount of molasses to a perfect amount + subbing the bread flour with bread flour (because it has a higher hydration capacity = super soft + moist rolls)—you'll see the exact measurement in the recipe itself. THE BIG SECRET!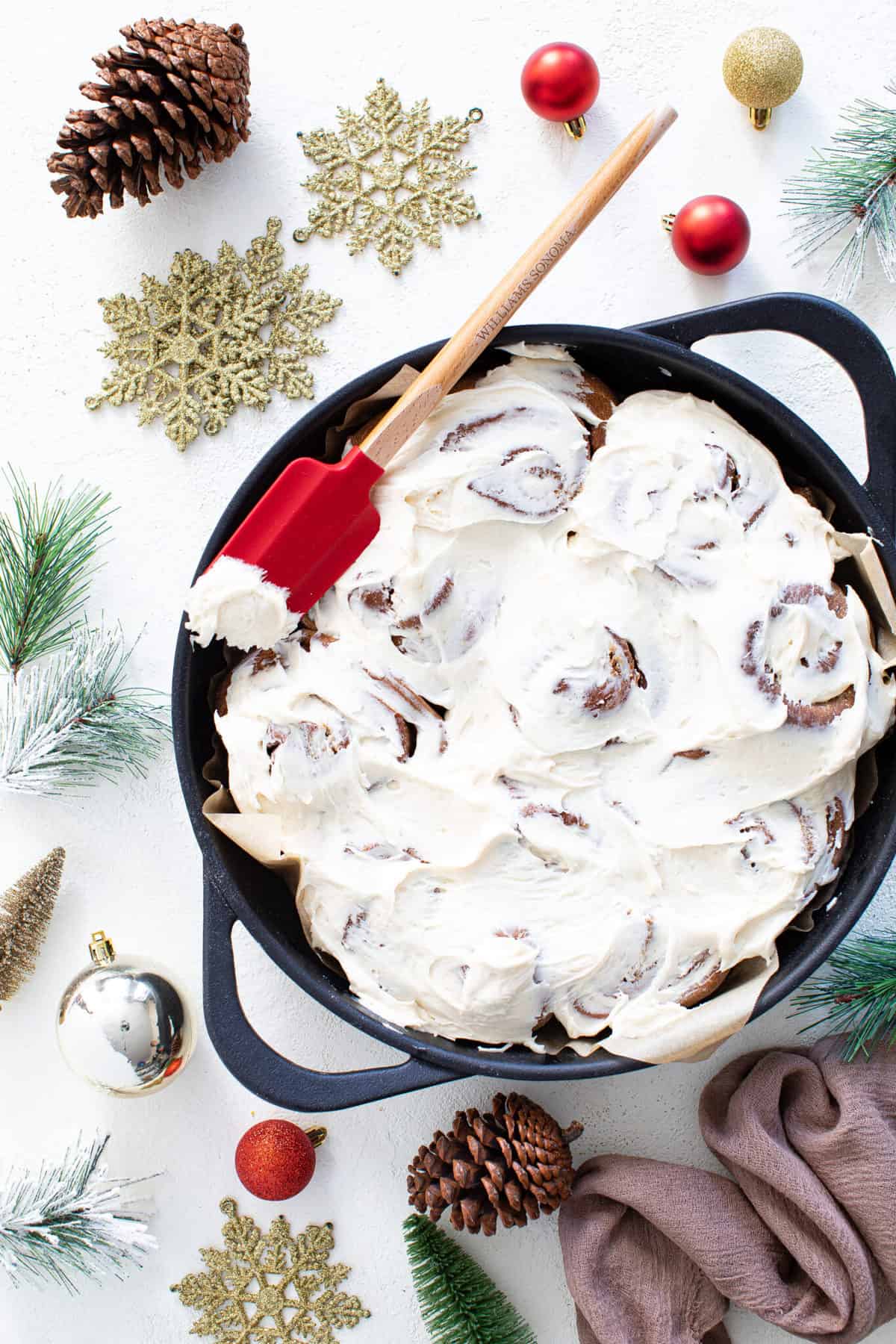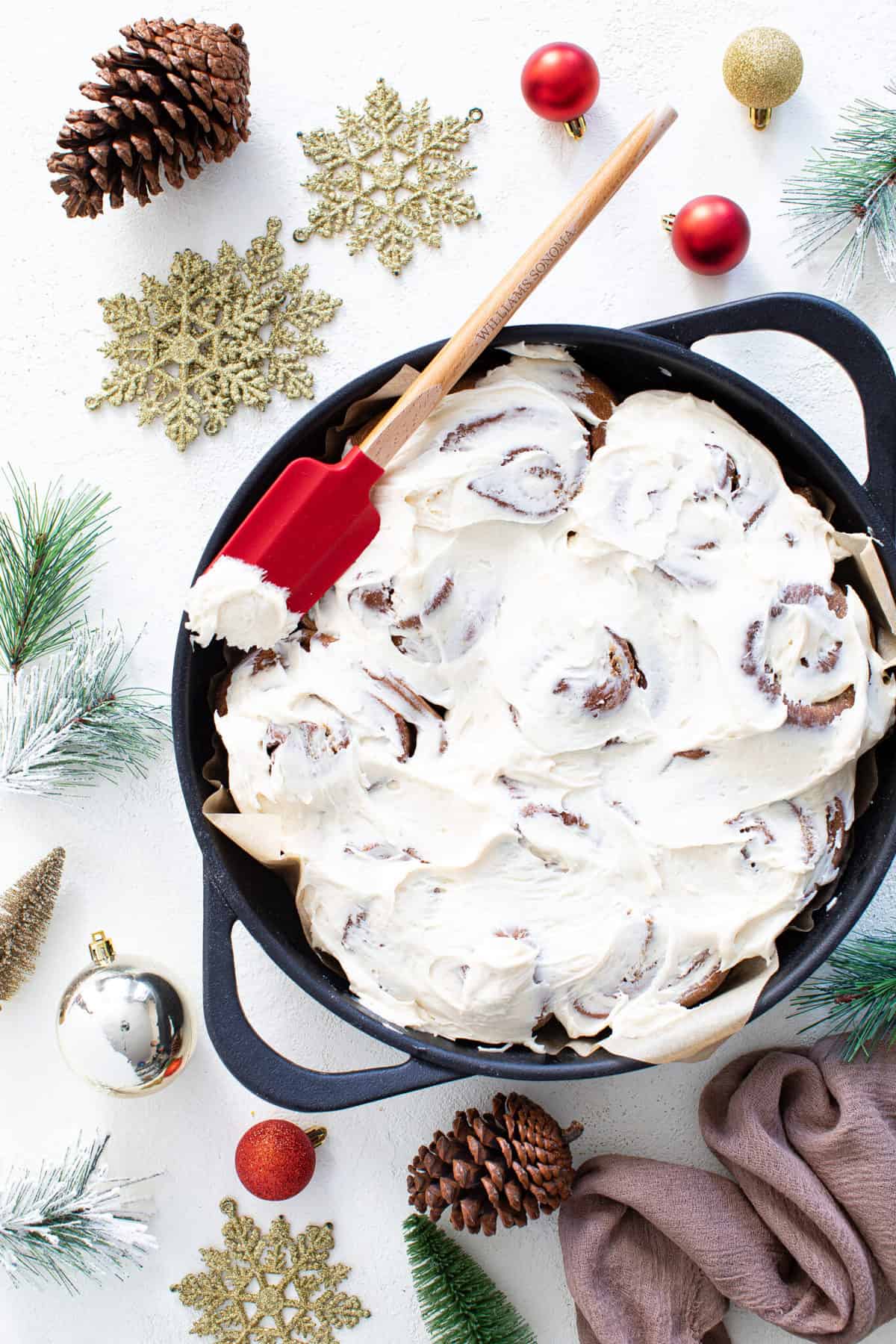 Obsessed with Cinnamon Rolls? These are a MUST!
These Delicious Homemade Classic Cinnamon Rolls are the best thing you'll ever taste–seriously! Big, fluffy, tender, and smothered in a rich, but light cream cheese frosting, these cinnamon rolls are sure to win over any sweet tooth.
If you're a lover of Fall spices and sweet flavor, then these Homemade Pumpkin Chai Cinnamon Rolls are the best thing you'll ever taste–seriously! Thick, fluffy, tender, brioche-like rolls that come completely smothered in a rich, but light chai spice cream cheese glaze. Hands down——these cinnamon rolls are sure to be the newest Fall craze! Overnight + Vegan options available.
These Vegan Chai Tea Latte Cinnamon Rolls are something right on point for the Fall/Winter season. They are fluffy, soft, thick, sweet, and surely does just melt in your mouth with every bite. Not being your typical Cinnamon Roll, this recipe is topped with a mouth-watering Black Tea-infused Chai Tea glaze that will leave you 'Cinnamon Roll obsessed'. Definitely not your average vegan sweet treat, but 100% homemade and filled with pure goodness! Overnight option available.
These Perfect Apple Streusel Cinnamon Rolls are not your traditional cinnamon roll at all. These rolls come loaded with apple + pecan bits and topped heavily with a brown sugar and pecan crunch crumble. Every bite will have you feeling like you're eating a warm slice of Grandma's apple pie. There's really no other way to eat a cinnamon roll after finding this recipe.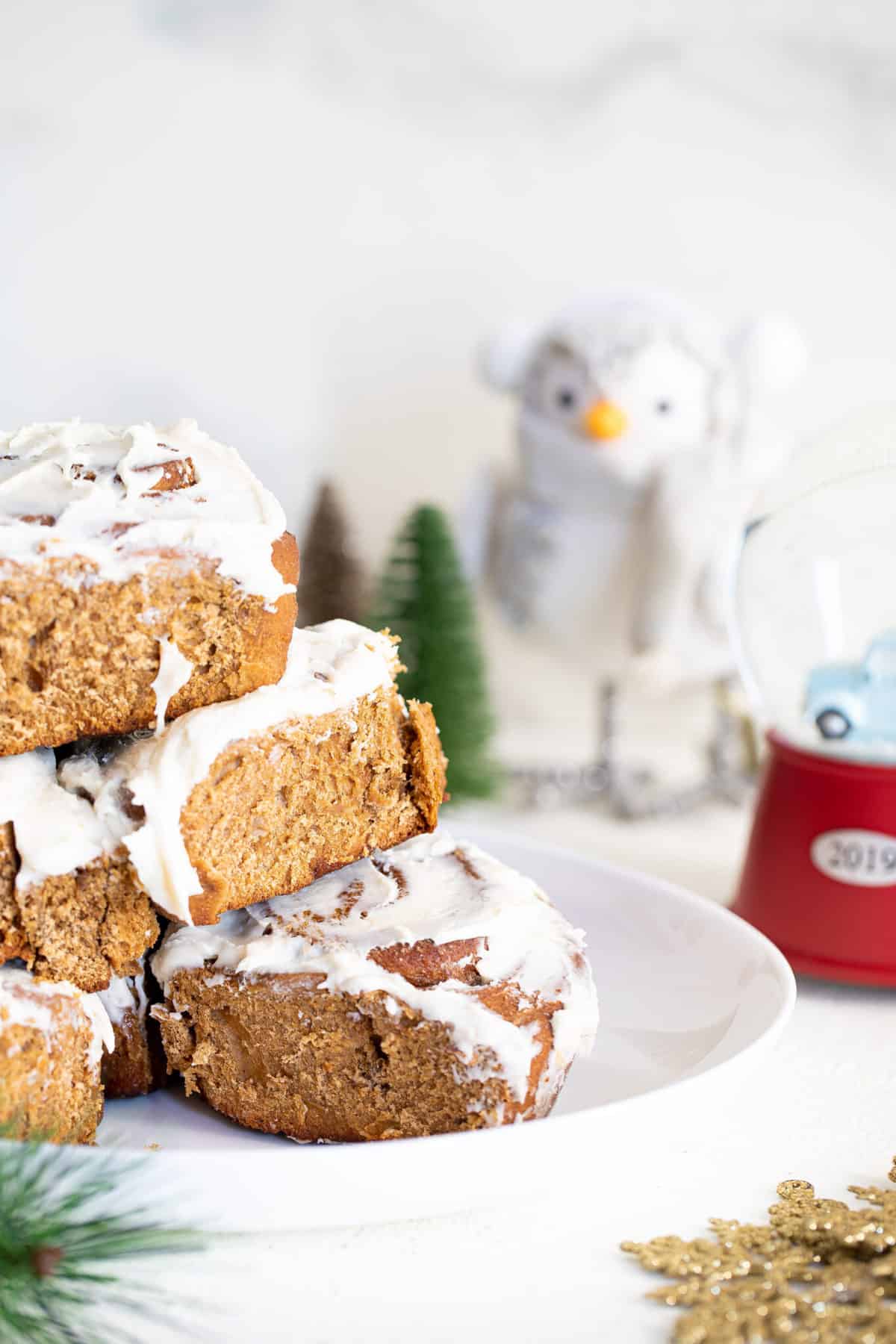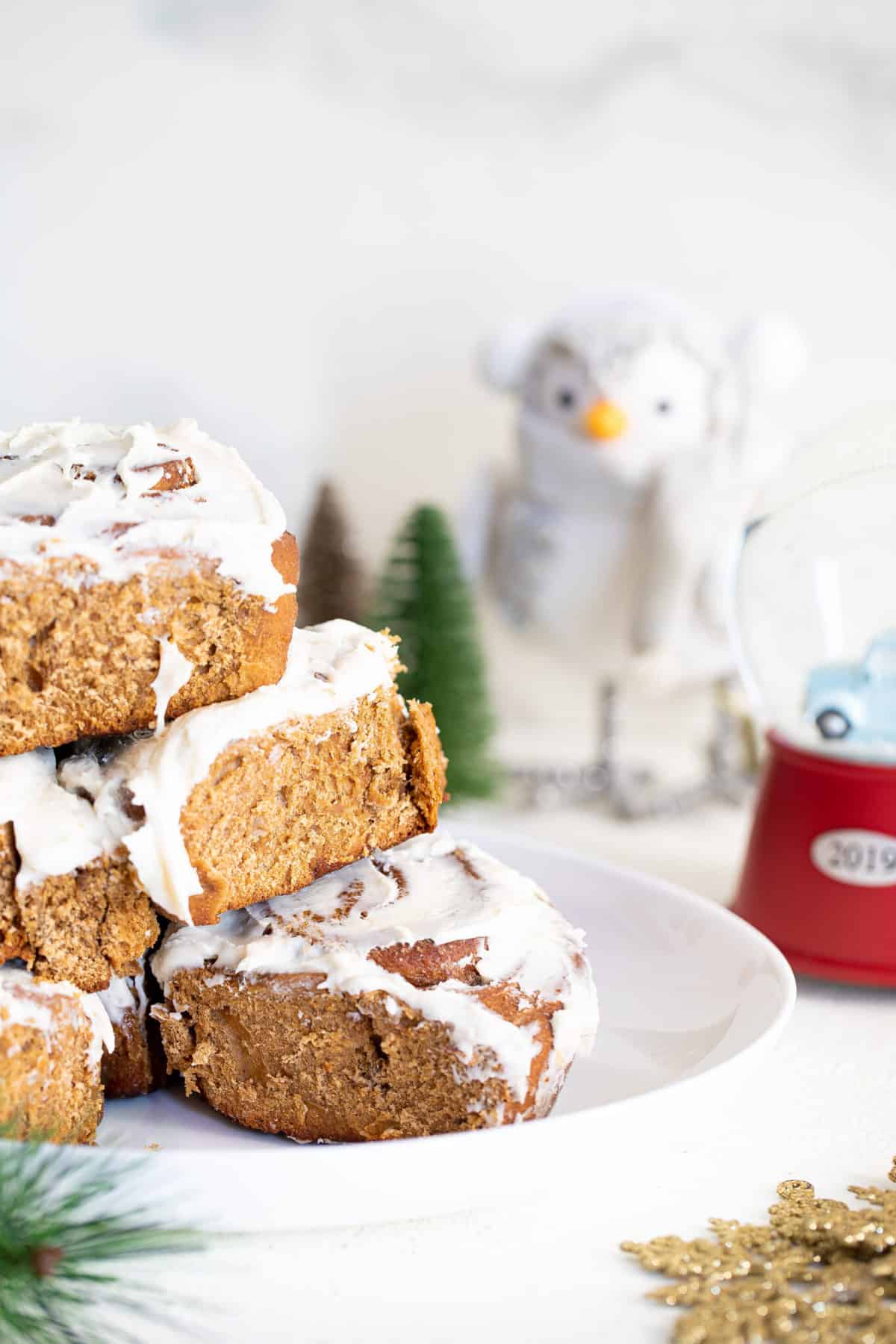 6 Tips for the Perfect Cinnamon Rolls.
But before we head over to the full recipe, here are a few tips that I've learned along the way to ensure that I make the perfect Cinnamon Rolls:
Like I said—NEVER overheat the milk.
This one is super, super imperative. You have to always make sure that your milk is warm to the touch and not even a degree hot. Even if you heat your milk and it's hot, simply let it cool until it feels warm. This ensure that you don't kill the yeast and your dough rise to a nicely big fluff.
Use very soft butter at room temperature.
This is the ultimate secret to tender cinnamon rolls. Much like with other cakes and doughs, room temperature butter creates a nice texture. Simple.
Unlike most other recipes, you actually want to mix (or knead) your cinnamon roll dough to its capacity so that you release the gluten and it becomes extremely elastic. This helps when rolling and allows you to create a nicely flat, thin square, which is later filled with your choice of filling and rolled.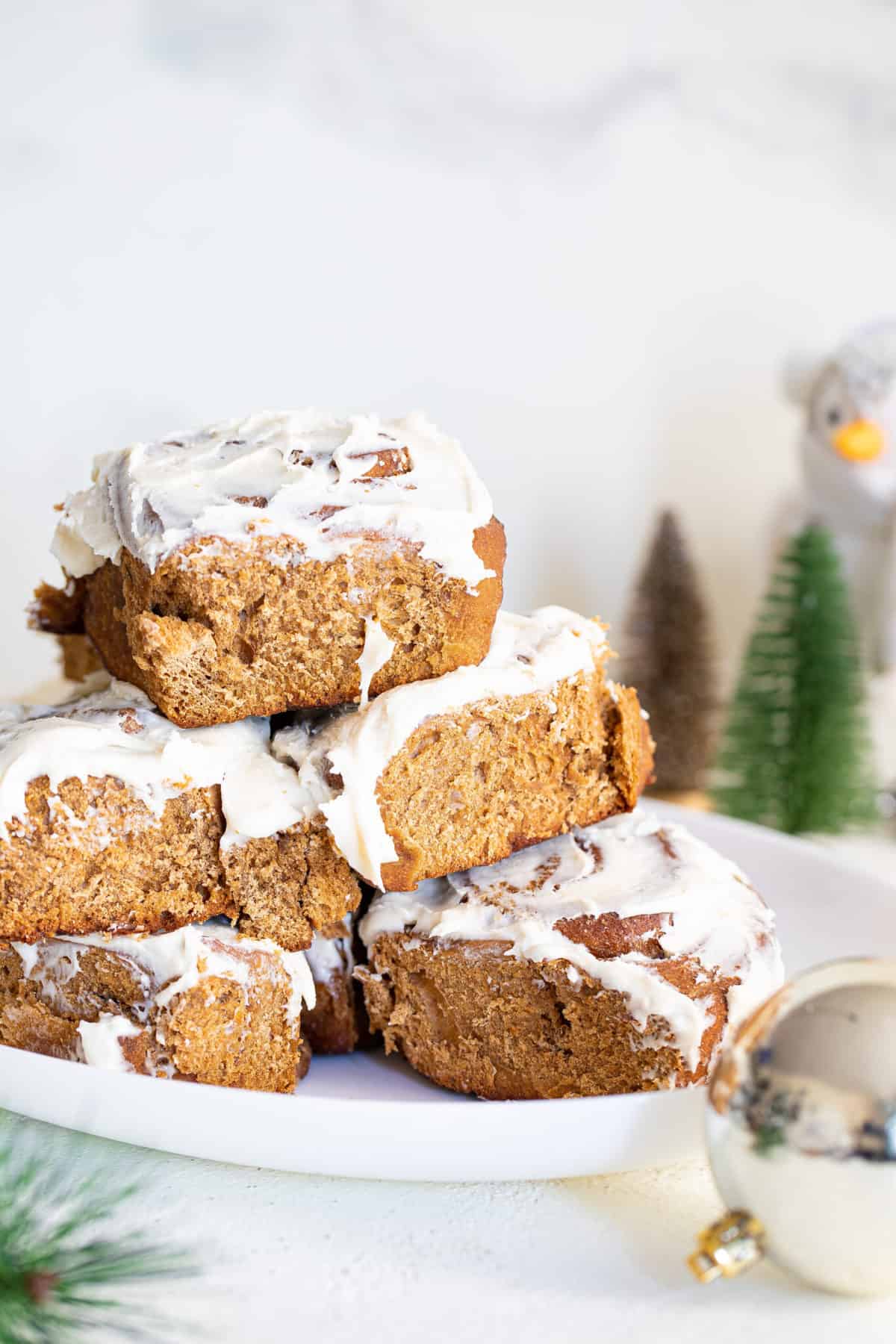 Although I've mostly made my cinnamon rolls within the same day, ultimately, rising your dough overnight in the refrigerator is the best! This slow rise process allows the yeast to completely feed off of the sugar and creates great flavor and of course—a lot more fluffiness.
One of my latest discoveries was the use of bread flour in my cinnamon rolls. Before, I would use only all-purpose flour. However, after a little experimenting, I've learned that bread flour creates a beautiful texture—tender, thick, and even more fluffy, almost 'brioche' like.
Yes, you read it right. Although the assembly part is extremely messy, I've learned that the rolling is the star process! Before, I use to struggle with rolling the perfect cinnamon roll, however, lately I've been able to roll it pretty tight, which not only creates a nice structure, but it allows you to cut the dough more evenly which helps with baking. When rolling, always start the initial first roll really tight to keep the same momentum throughout.
There you have it.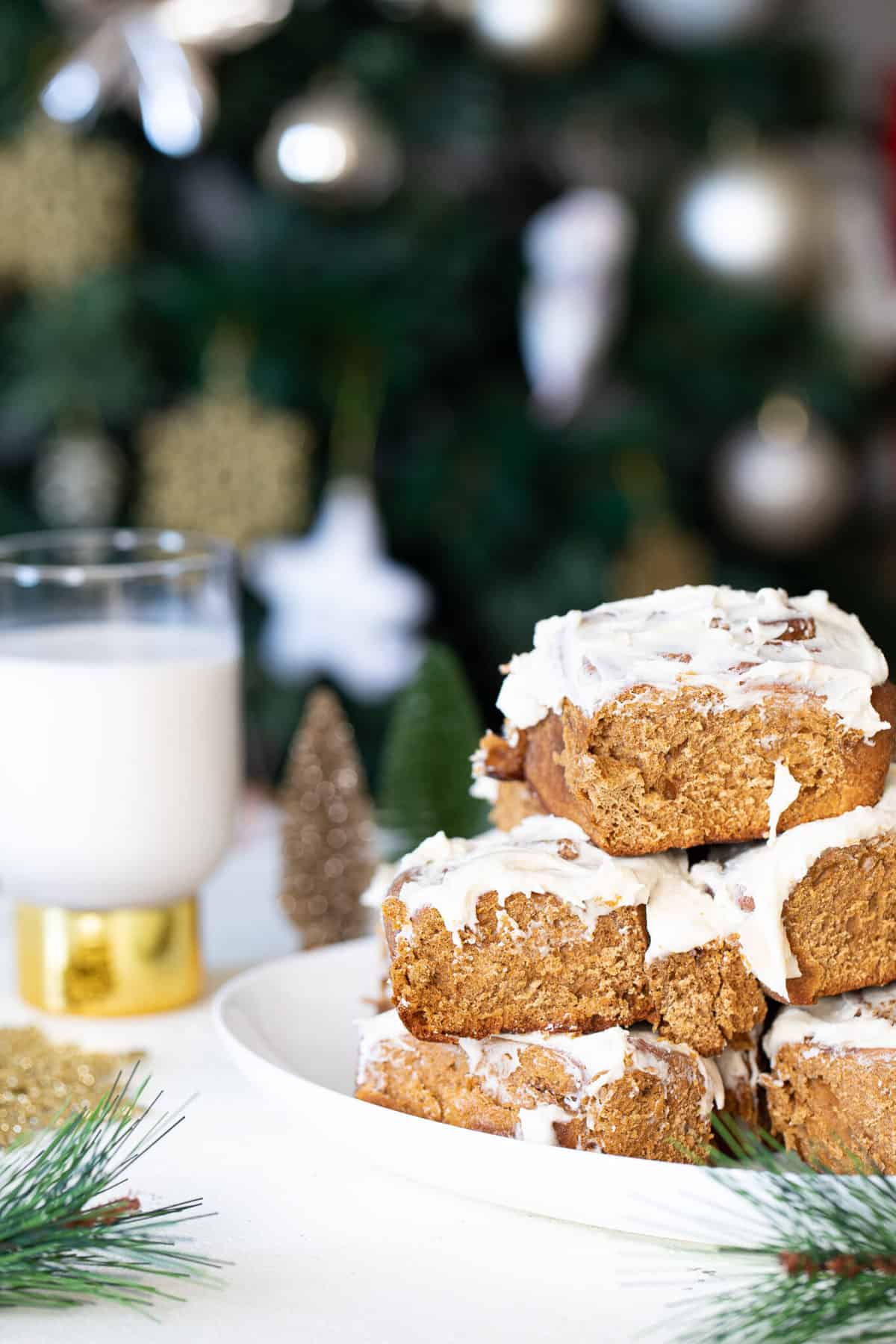 WHAT YOU'LL LOVE MOST ABOUT THIS RECIPE?
It's super easy to make (I have Tips below to ensure this!).
Bold Fall/Winter flavors + spices—-All about that Gingerbread + Maple!
Only requires ONE baking dish.
Can be MADE AHEAD! (See Notes!)
The epitome of COMFORT SWEETS!
Super thick and fluffy (Just like we like it!)
Perfect for the Holiday season.
Did I mention that it's just TOO GOOD TO PASS UP!?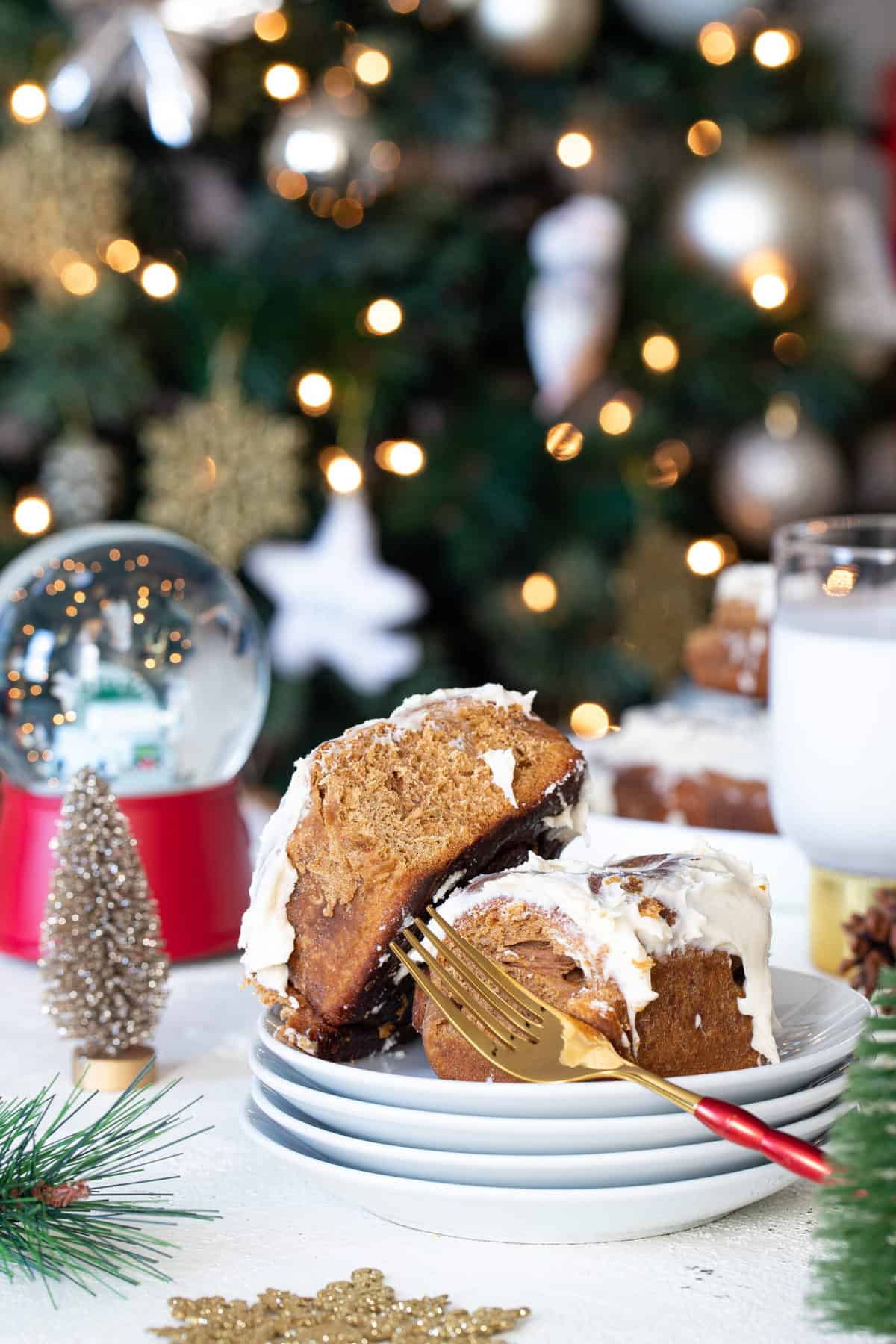 Gingerbread Dough:
3

cups

Organic All-purpose flour

(I use Bob's Red Mill; See Notes!)

2

cups

Artisan Bread flour

(I use Bob's Red Mill; See Notes!)

1

packet

Rapid Rise Yeast

(That's 2 1/4 tsps!)

1/2

cup

organic brown sugar + 1 Tbsp

(I use Sugar in the Raw!)

1 1/4

cup

Almond milk

(You can use your fave plant-based milk or Whole milk!)

3

Tbsps

molasses

(See Notes!)

1/4

cup

WARM water

1/4

cup

unsalted butter

(I use Land O'Lakes; That's 4 Tbsps!)

2

large

organic eggs, room temp.

1

tsp

ground cinnamon

1/2

tsp

ground nutmeg

1/4

tsp

ground ginger

1/4

tsp

ground cloves

1/8

tsp

allspice

1/2

tsp

sea salt
Maple Cream Cheese Frosting/Glaze:
3-4

cups

organic powdered sugar, sifted

4

oz.

organic cream cheese, at room temp.

(That's 1/2 a pack!)

1

tsp

vanilla extract

1/4

cup

pure maple syrup, warmed

(See Notes!)

2

Tbsps

unsalted butter, softened at room temp.

(I use Land O'Lakes)

pinch of

ground cinnamon
Start by combining the yeast and 1 Tbsp brown sugar in the bowl of an electric mixer and then slowly pouring in the warm water, while stirring everything together. Allow 10 minutes for the mixture to sit and the yeast to activate (It'll become foamy when done right!).

Meanwhile, melt the butter and milk together over the stove top on low to medium heat, stirring frequently until the butter has fully melted. NOTE: You don't want the mixture to get too hot or boil! Set aside and let it cool until WARM.

Add lukewarm butter-milk mixture to yeast and mix until well combined. Add eggs, one at a time and continue mixing on low speed until well combined. Add in molasses and mix until well combined.

Next, combine the all-purpose flour, bread flour, brown sugar, sea salt and spices to the wet ingredients and mix on low-speed until well combined. 

Change "mixer head" to kneading accessory and knead dough for 5-10 minutes on medium-high speed until dough ball becomes smooth and elastic and dough springs back when lightly pressed with 2 fingers. NOTE: If dough is too sticky, add 1 Tbsp of flour at a time until texture is achieved!

Once dough ball is perfectly kneaded, add it to a lightly greased bowl and cover with plastic wrap. Let it sit and rise for 1 hour to an hour + 15 minutes.

In the meantime, you can work on the filling!
For the Filling:
Melt butter and set aside. In a separate bowl, combine cinnamon, ginger, nutmeg and brown sugar and set aside as well.

Once the hour has gone by and your dough has risen (about double it's original size), preheat the oven to 375 degrees Fahrenheit. Next, flour a flat surface and place the dough on it and using a rolling-pin, roll it out to a rectangle (approximately 9"x14), trimming the edges if needed. NOTE: Try not to make the dough too thin or else rolling it up will be hard to do!

Then, generously brush melted butter overtop of dough and spoon the sugar-spice mixture over the butter. NOTE: I also use a 'pastry brush' to sweep sugar mixture evenly across the dough to ensure that every bite is sweet!

Tightly roll dough (long-ways) and using a pastry cutter, cut dough into 1.5" rolls, placing each roll into a large baking dish (lined with parchment paper!).

Then place plastic wrap over the baking dish with rolls and let them rise again (for another 20 minutes).

Once the rolls have doubled in size (once again!) or have gotten significantly larger, brush the tops of the rolls with a little more melted butter and then bake them for approximately 35-40 minutes in the preheated oven.

While all the baking magic is happening, make the Maple Cream Cheese Glaze and set aside.
For the Maple Cream Cheese Glaze:
Simply combine the cream cheese and butter in the bowl of an electric mixer & beat together on medium-high speed until fluffy.

Add powdered sugar, vanilla extract, maple syrup, cinnamon, and continue to mix on medium speed until you reach the desired consistency. **Add heavy cream (1 Tbsp at a time if too thick) or powdered sugar (for more thickness).*

Remove the rolls from oven and add HALF the glaze to the warm cinnamon rolls. This allows for the rolls to become moist. Then, wait 15-20 minutes or so (until it completely cools), and then spread the REMAINING glaze atop the rolls using a rubber spatula.

Bon Appetit!
TO STORE: Cinnamon Rolls can be kept fresh at room temperature when tightly wrapped or sealed for up to 3 days. Fresh for up to 1 week in the Refrigerator. Baked rolls can be frozen up to 2 months.
OVERNIGHT OPTION: If you don't want to make your Cinnamon Rolls on the same day, you can simply follow all steps (including the initial 1+ hour rise) and after cutting rolls and placing them into your baking pan, just cover them tightly (using foil paper of plastic wrap) and refrigerate them overnight or for 8-12 hours instead. The following day, remove from refrigerator and keeping them covered, let cinnamon rolls rise at room temp 1 to 1 1/2 hours.

RAPID (INSTANT) RISE YEAST VS. ACTIVE DRY YEAST: If you're not using the Rapid Rise Yeast for this recipe, please know that the rise time will be twice as long (about 3 hours) since regular Active Yeast doesn't work as quickly. FLOUR: If you don't have bread flour, you can always just use all-purpose flour entirely instead.  MOLASSES: If using regular molasses, you can use the recommended amount as listed in the recipe. If using Blackstrap Molasses, simply use 1 less Tbsp than the amount listed to ensure that the batter isn't too bitter.
Gingerbread Cinnamon Rolls + Maple Cream Cheese Frosting.