These Jumbo-sized Easy Vegan Double Chocolate Muffins are the perfect grab-n-go breakfast or snack full of superfood cacao goodness. Packed with rich + decadent chocolate flavor and a nice crunch from organic cacao nibs, these muffins are the perfect naturally sweetened indulge. Literally made in under 30 minutes and completely dairy-free + vegan.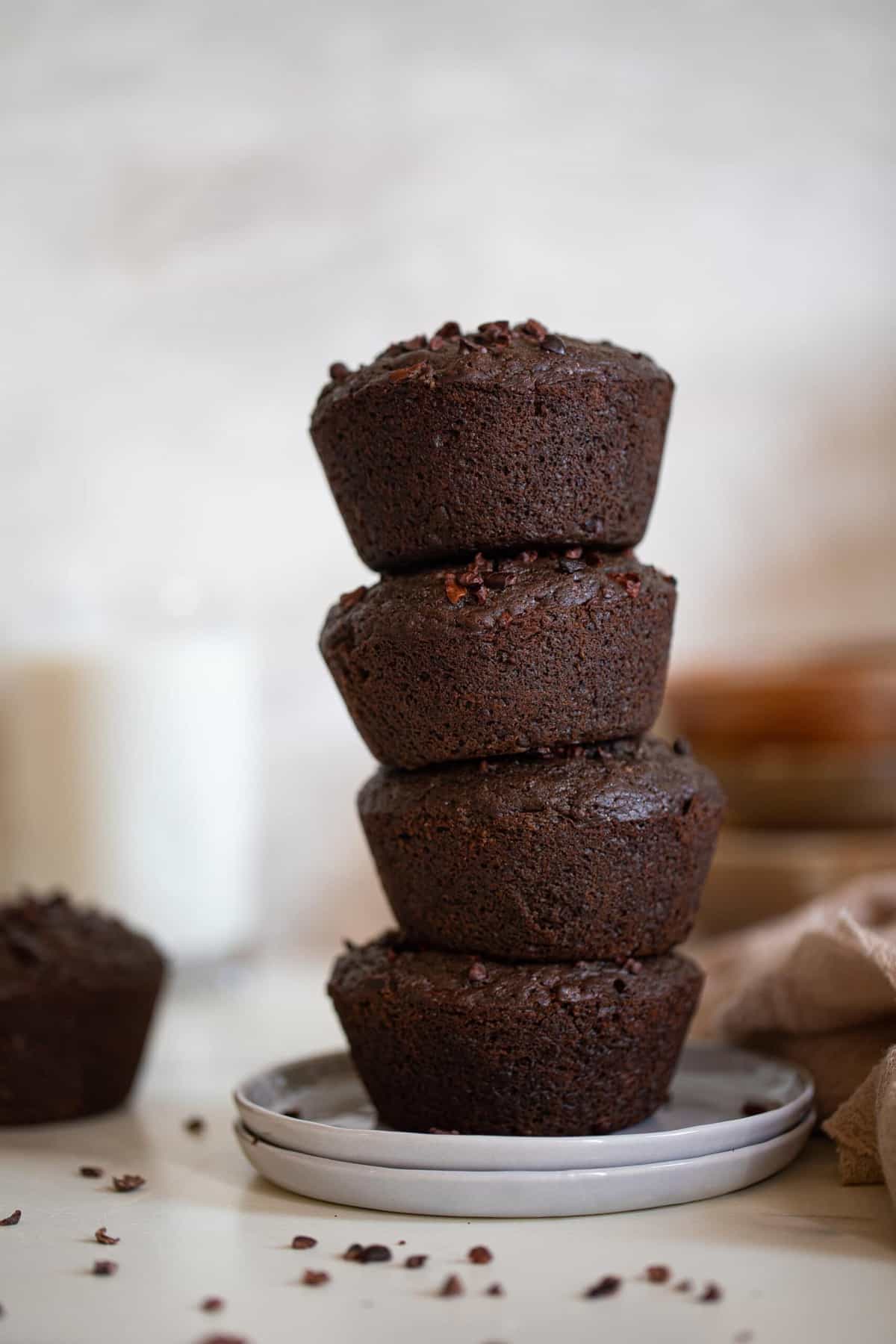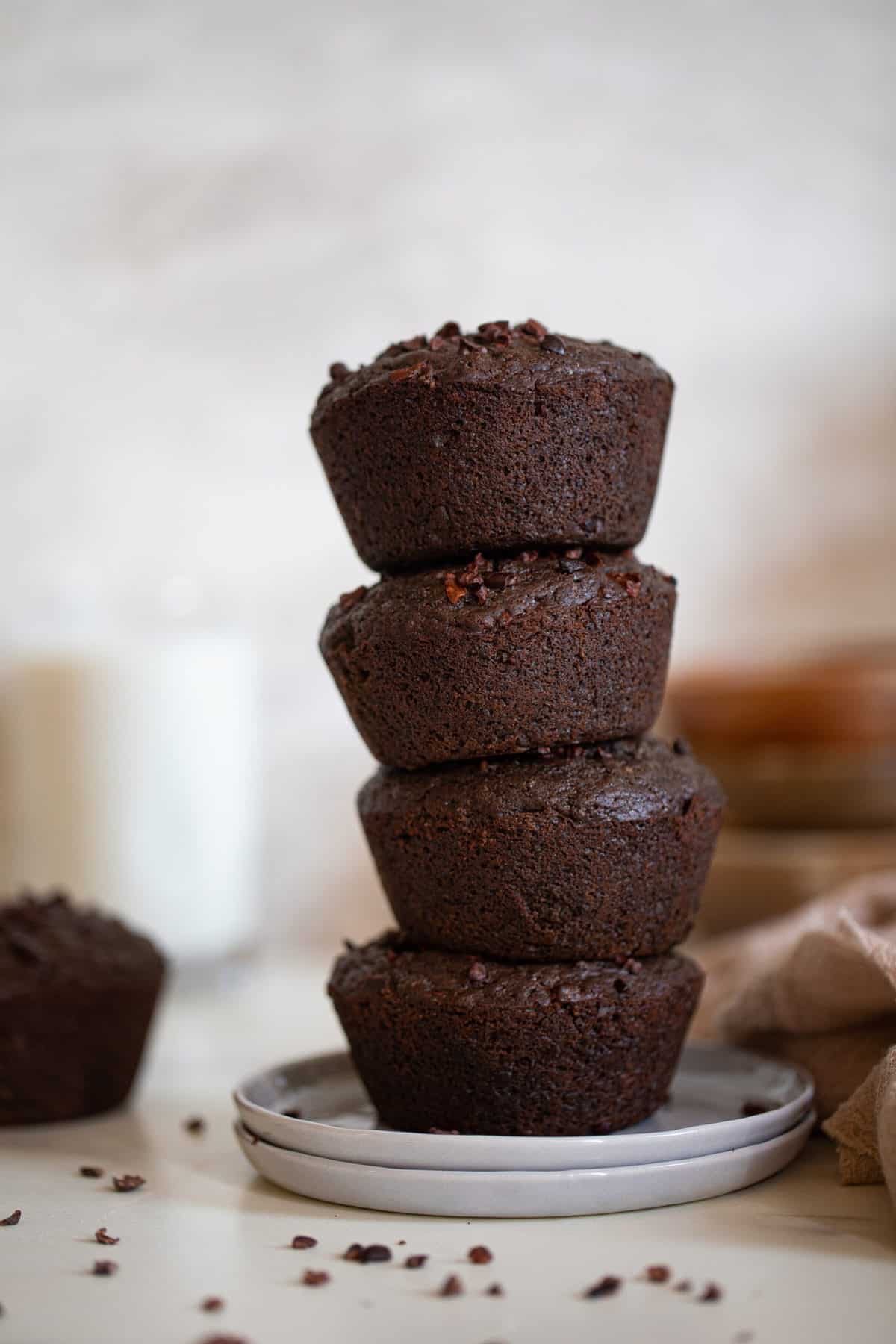 This post contains affiliate links + sponsored links by Navitas Organics.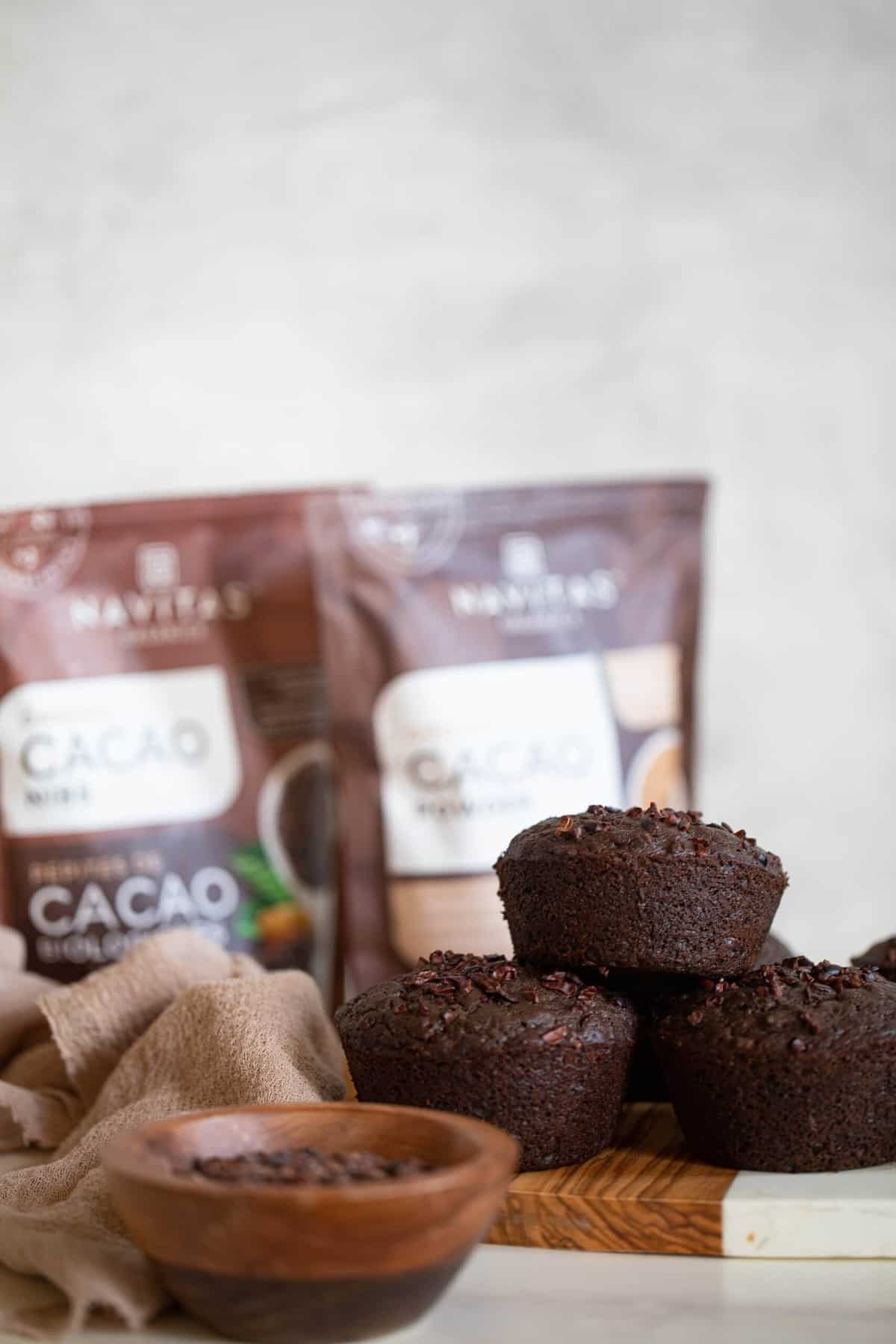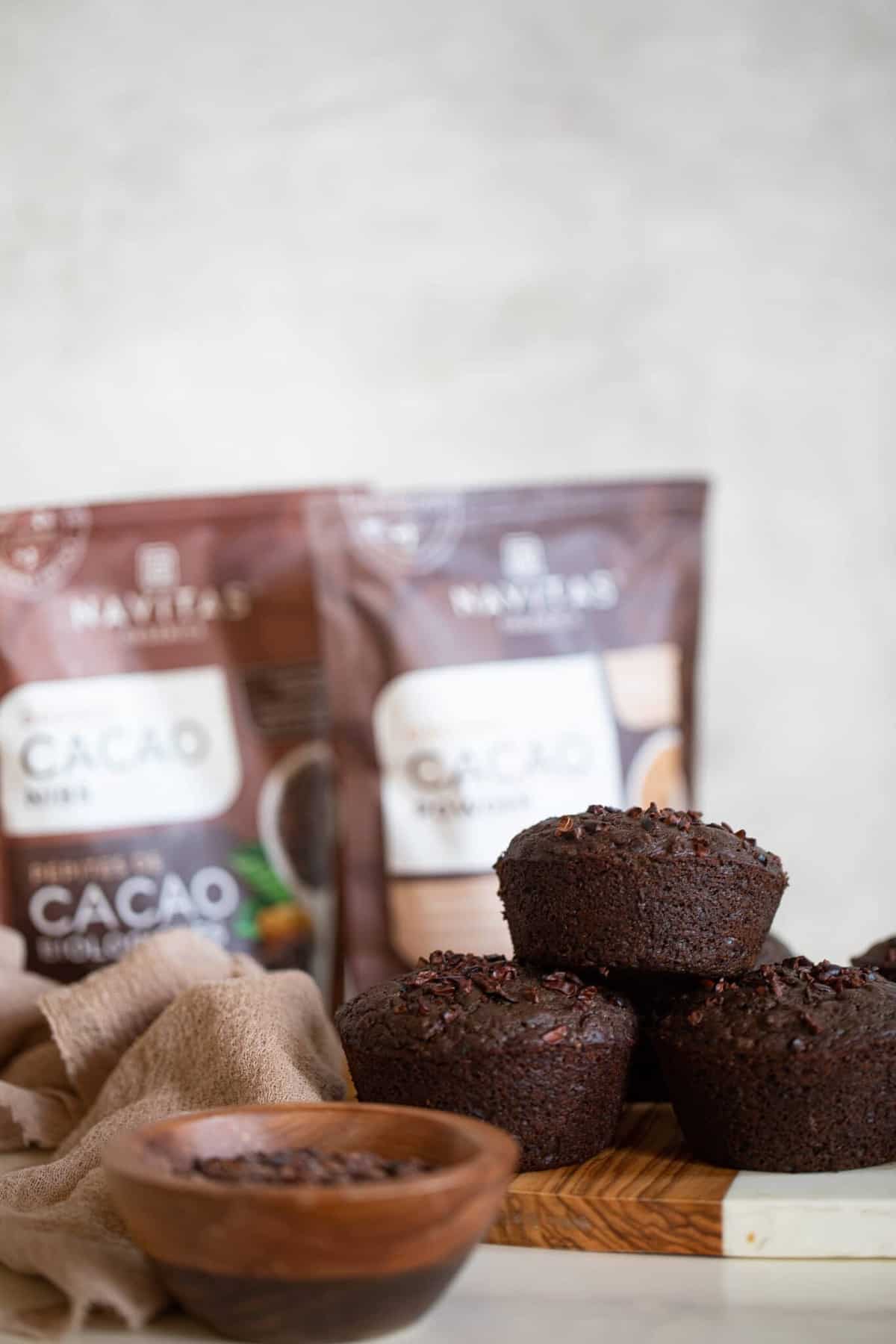 LOOKING FOR A HEALTHIER SWEETENER OPTION?
The Best Healthy Sugar Alternatives + Substitutes list is all about finding better ways to enjoy your favorite sweets without compromising your healthy lifestyle. For those who follow a vegetarian and/or vegan lifestyle, this lists offers a few great ideas to incorporate healthy sweeteners into your diet.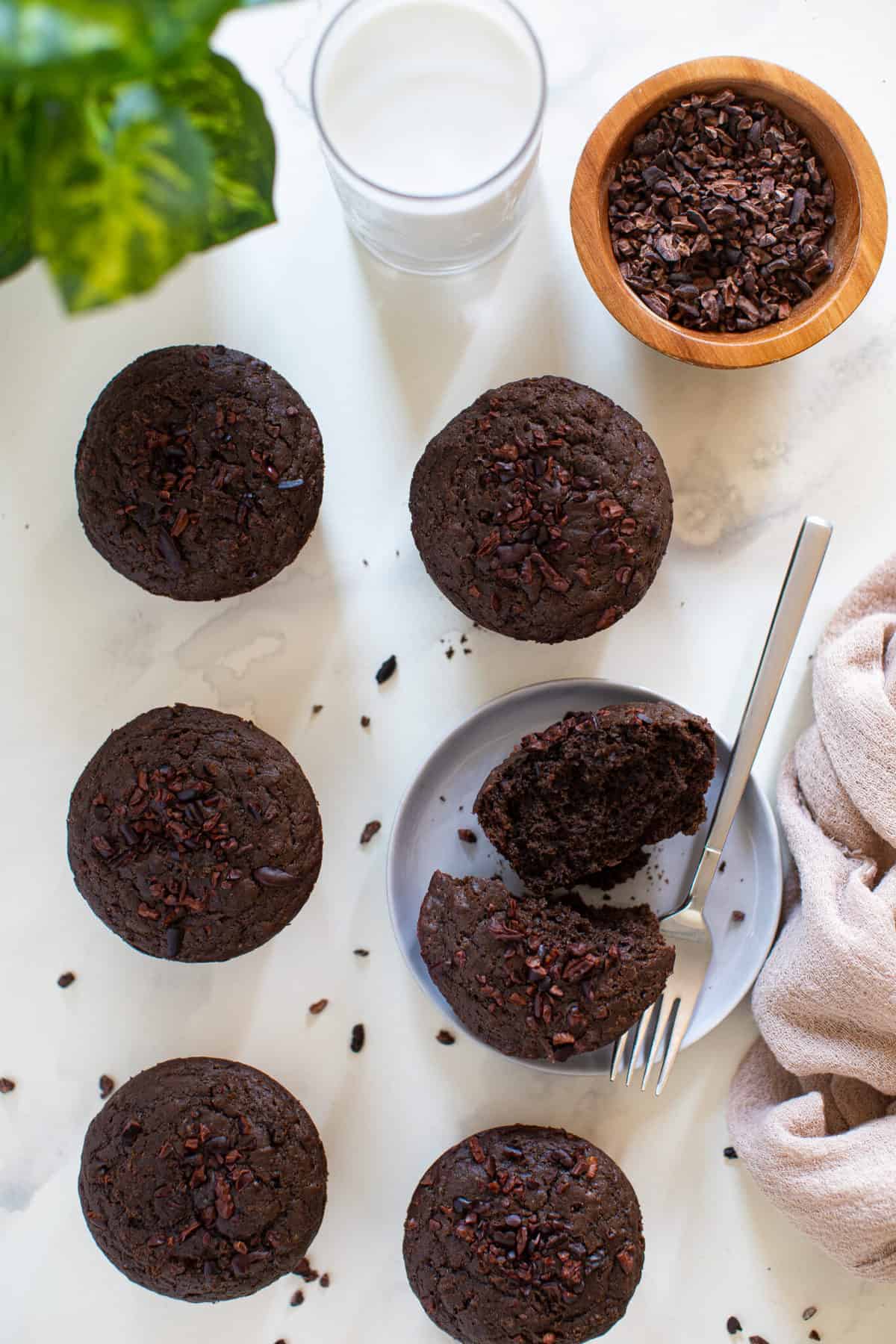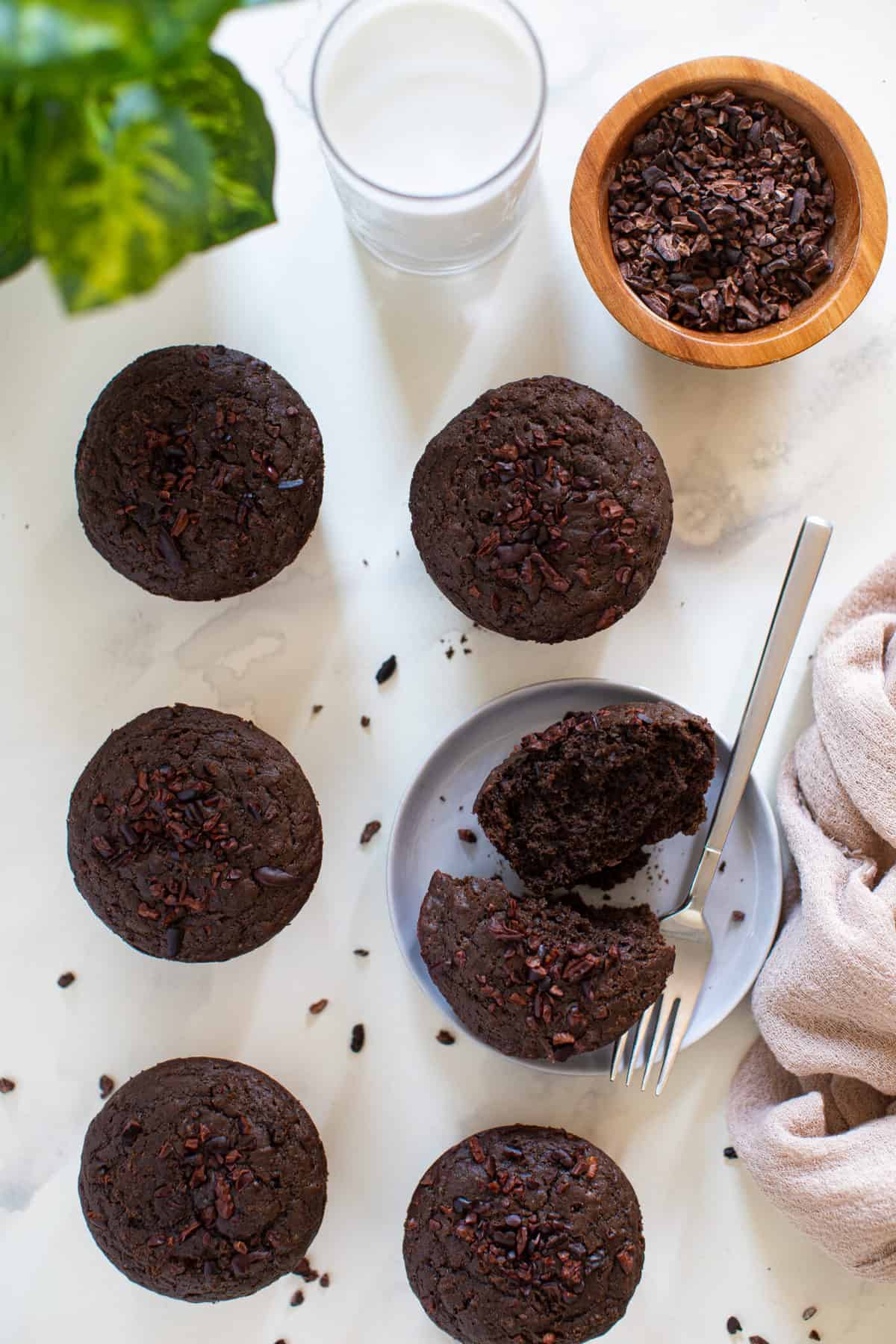 WHAT YOU'LL LOVE ABOUT THESE MUFFINS?!
They're super easy to make. Perfect as a meal substitute for breakfast, dessert, or a healthy snack. Loaded with delicious chocolate-y flavor—PLUS, little crunchy nibs! Not too sweet, but perfectly sweet! NATURALLY sweetened! Super fluffy and melt-in-your-mouth in every little bite.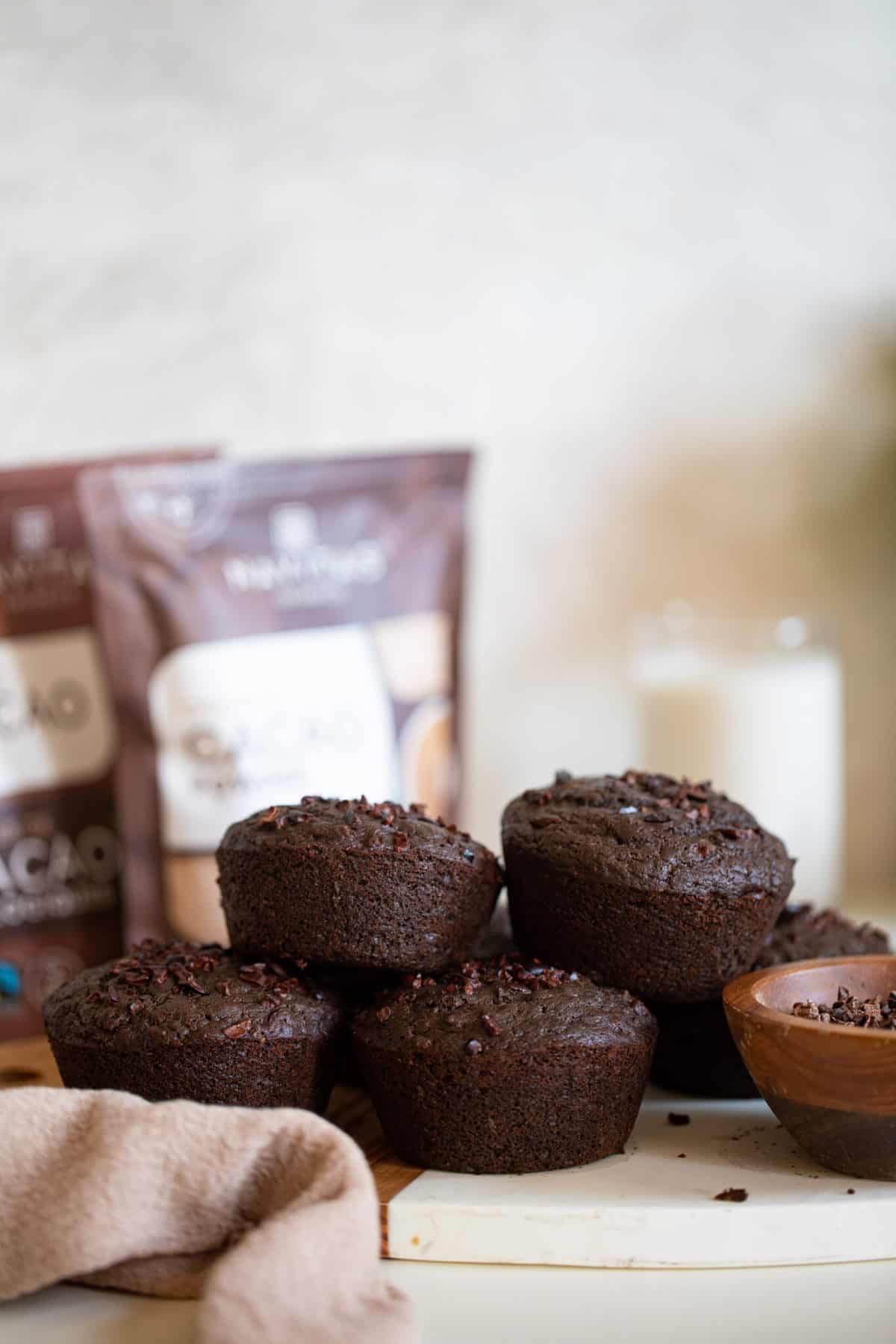 Why Navitas Organics?
Navitas Organics has so many great options when it comes to eating healthy and this powder is just ONE of the amazing flavors available. In case you aren't too familiar, Navitas Organics has an array of options which include Cacao, Goji Berries, Maca Powder, Superfood blends, Turmeric, Chia Seeds, Mulberry Berries, and so much!
In addition, they have Latte mixes, Powder Boosts, Power Snacks, and more.
My Top 5 Tips for the Perfect Muffins.
Always mix your wet and dry ingredients separately. Once well mixed, you then add both together. This avoids your batter from being overworked.
NEVER Over-mix! Always mix batter until just combined.
It's best to use a liner for your muffins, but if not, ALWAYS generously grease/butter your pan.
ALWAYS add things like fruit, nuts, chocolate chips, etc. LAST + only fold them in.
FILL EACH MUFFIN CAVITY! Unlike cupcakes where filling them ¾ full is key, always fill your muffin cavities to the very tops to ensure that your muffins are nice and full.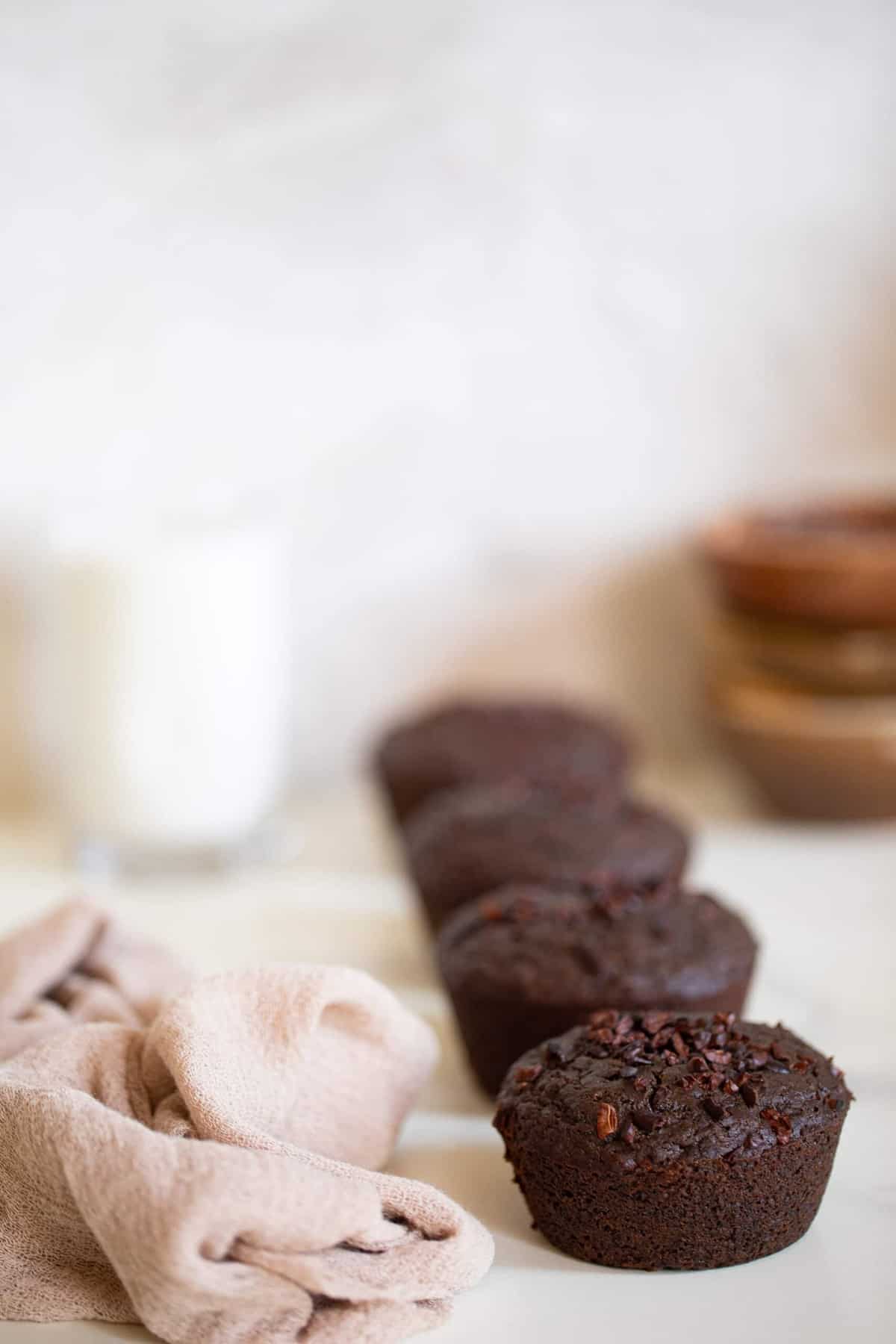 Steps to Making these Double Chococolate Muffins.
While these muffins looks so decadent, soft, + moist, whipping them together is literally SO EASY! I love using Navitas Organics' Organic Cacao Powder especially when I am baking. Not only is it super easy to incorporate, but I love that it's made from unroasted, non-alkalized, Fairtrade Certified cacao beans and is so nutrient-rich. Let's not forget about their Cacao Nibs which are the most delicious little crumbles of whole cacao beans that I've ever tasted.
Made with basic ingredients, these muffins are easily put together:
Mix the dry ingredients together
Whisk the wet ingredients together in another bowl
Combine both the wet + dry ingredients together
Fill the muffin cavities with batter
Sprinkle Cacao nibs generously on the tops
Bake
Cool muffins for a few minutes
Grab and go.
Enjoy!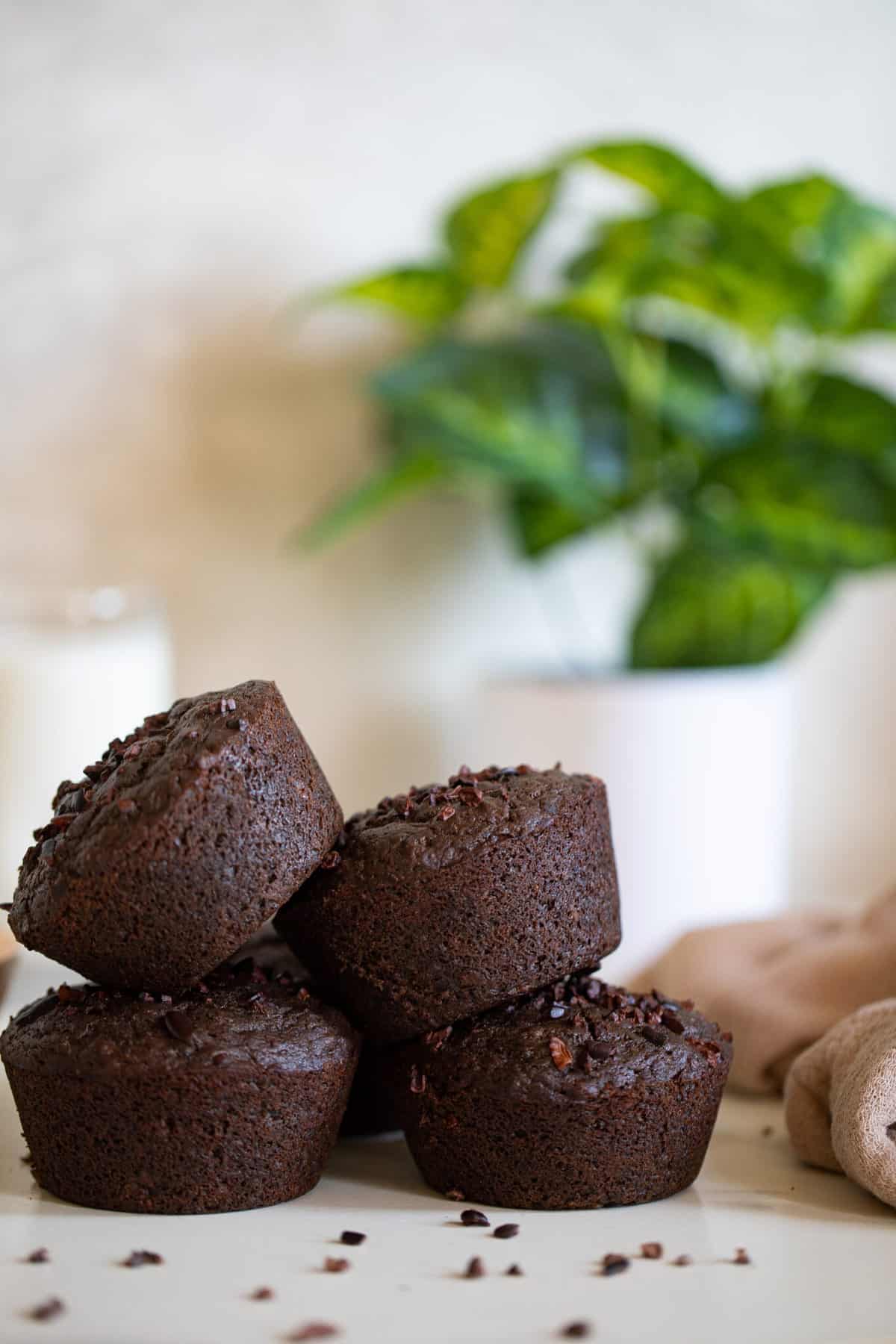 What is Cacao Anyway? Cacao vs. Cocoa.
OK, so can we talk about Cacao for a sec? Did you know that Cacao AND Cocoa are the same thing?
I know. Insane. I was totally confused about this for a long time and honestly assumed that once was healthier than the other. However, it's come to be determined that they are just used interchangeably.
Chocolate is actually made from Cacao beans (or seeds). It's said that companies who use the term 'Cacao' are referring to the beans, pods, or ground up version of the beans. However, the term Cocoa is often referred to as the powdered version of it all (which is formed after the fat is pressed out of the bean).
However, be mindful that since Cocoa has the fat removed for it to be powder-like, it does make Cacao a greater option in terms of health benefits.
Cacao has a host of health benefits which include: antioxidant properties, heart-protective and anti-cancer properties, contains iron and tryptophan (which is an amino acid that helps the body make serotonin—a relaxing chemical).
So of course, it's always best to go with a brand of Cacao that contains those nutrients and are premium to ensure that your body actually receives all of those boosters. Navitas Organics' version of Cacao not only does that, but it's so delicious as well! You can always purchase it on their site or through a large retailer like Amazon.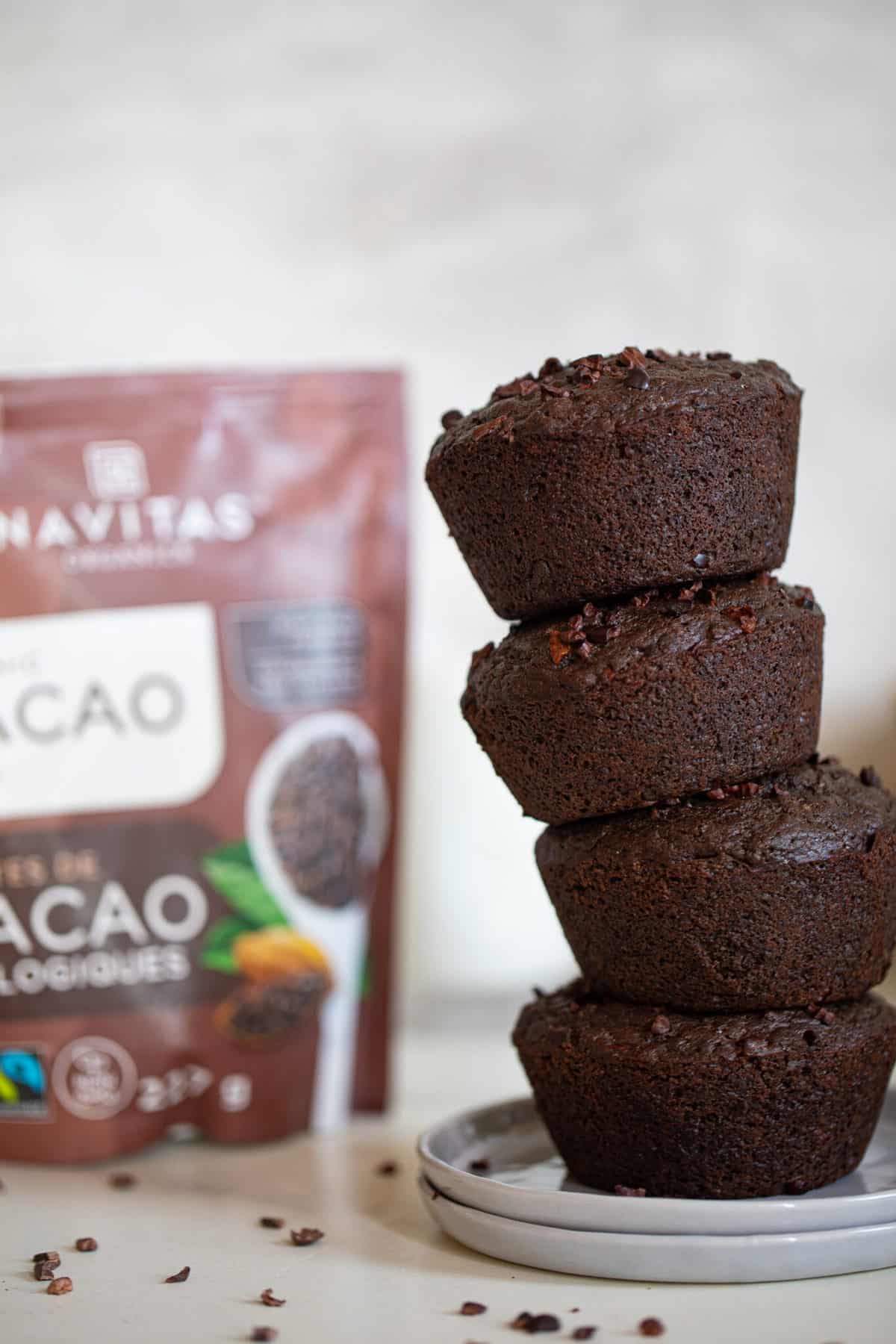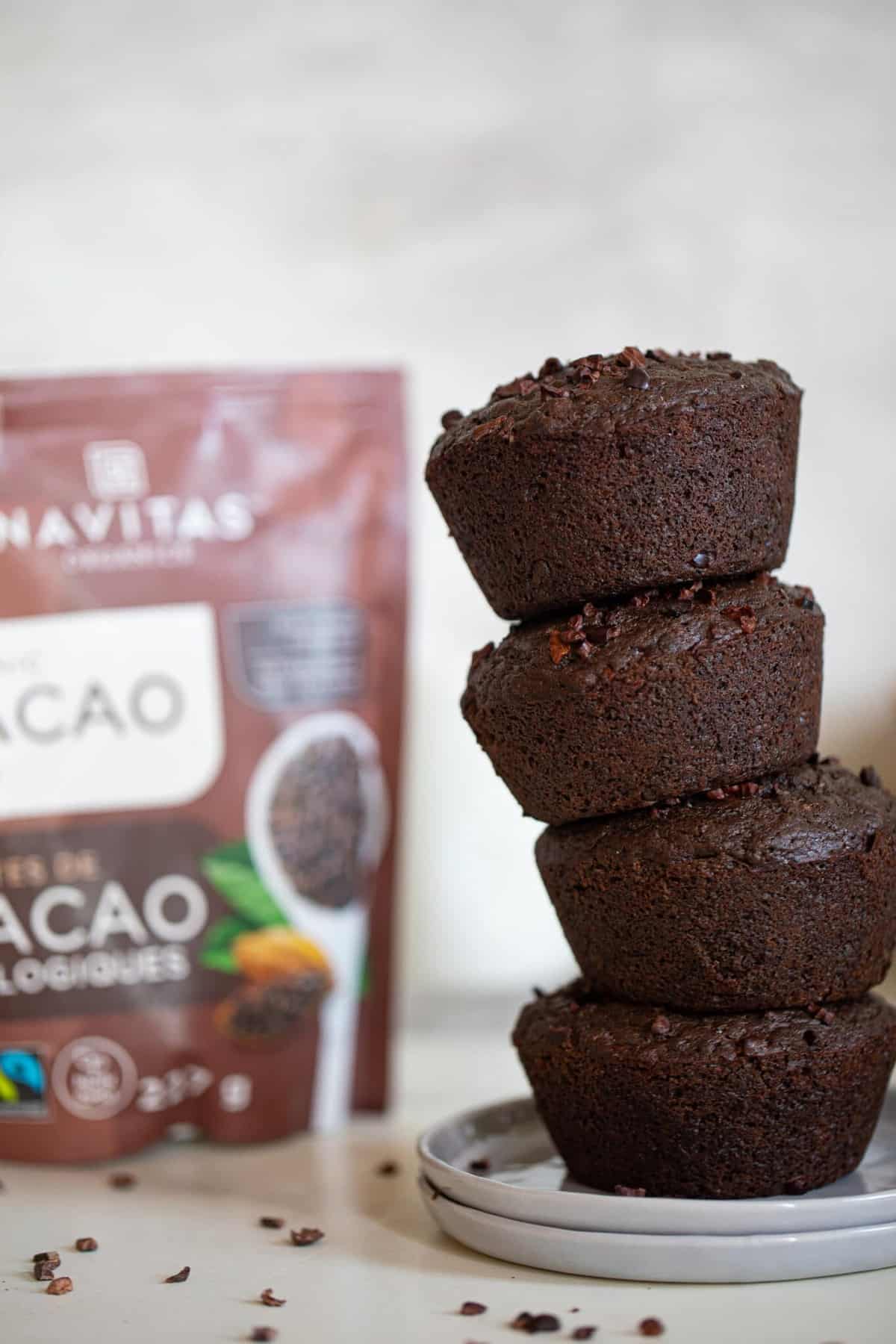 1 ¼

cup

all-purpose flour

¾

cup

pure cane sugar

(See Notes!)

½

cup

Navitas Organics Organic Cacao Powder

(See Notes!)

2

tsps

baking powder

½

teaspoon

sea salt

1

cup

plant-based milk 

(You can use your fave plant-based milk!)

1

tablespoon

apple cider vinegar

¼

cup

coconut oil

(See Notes!)

1

cup

Navitas Organics Organic Cacao Nibs

(See Notes!)
Preheat your oven to 400F. Lightly grease a 6-cavity jumbo muffin pan (for larger muffins) or standard 12-cavity pan for smaller muffins----line the wells with liners.

In a large bowl whisk together the flour, sugar, cacao powder, baking powder, and salt. Add the milk + ACV, coconut oil, and stir until just combined. DON'T OVERMIX! Now gently fold in the cacao nibs.

Divide the batter evenly among the wells of the prepared muffin pan and sprinkle additional cacao nibs on the tops of batter.

Bake for 20 to 24 minutes or until the centers come out clean. Once fully baked through, remove from oven and let the muffins cool in the pan before removing.

To serve, enjoy muffins along with your favorite coffee, tea, or a glass of plant-based milk.

Bon Appetit!
STORAGE: Can be tightly sealed in the refrigerator for up to 5 days. When ready to serve, slightly warmed before eating.
MUFFIN SIZE: This recipe will make 6 Jumbo muffins OR 12 standard muffins, if desired.
CACAO:You can purchase the Navitas Organic's Cacao Powder + Cacao Sweet Nibs via the links.
SWEETENER: If you choose to opt out of pure cane sugar, you can always substitute with pure maple syrup, Agave, or Date syrup as well. Simply, reduce amount to ½ cup.
OIL: Instead of coconut oil, you can also use melted vegan butter or vegetable oil, if preferred.
Calories:
389
kcal
|
Carbohydrates:
51
g
|
Protein:
7
g
|
Fat:
21
g
|
Saturated Fat:
15
g
|
Polyunsaturated Fat:
1
g
|
Monounsaturated Fat:
1
g
|
Sodium:
391
mg
|
Potassium:
112
mg
|
Fiber:
8
g
|
Sugar:
26
g
|
Calcium:
155
mg
|
Iron:
2
mg
Easy Vegan Double Chocolate Muffins.