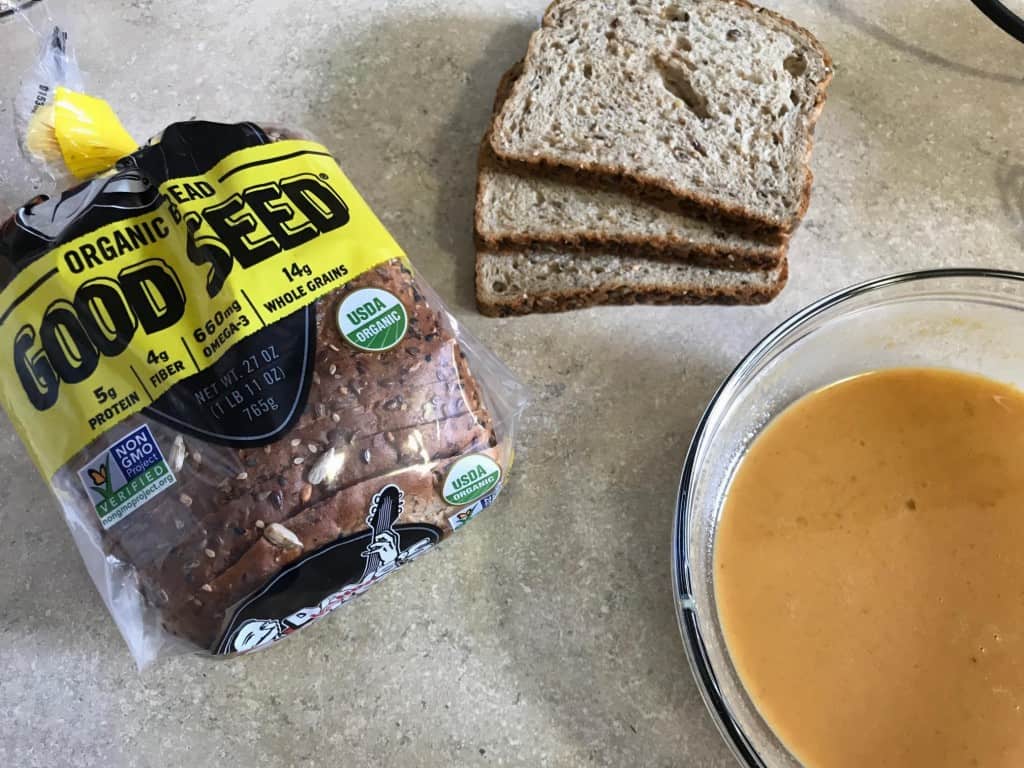 With Fall rearing it's precious head at us in the coming weeks, I've already begun baking in the spirit of the season. Normally, I'm not a huge fan of pumpkin (I'm more of a sweet potato kind of girl!), but I've surprisingly fallen in love with it's subtlety sweet flavor lately. Perhaps it has something to do with no having the standard pumpkin pie and actually experimenting with it in other ways. Who knows!
Anyway, over the weekend, I made this Pumpkin French toast and might I add that it was delicious. French toast in and of itself is great, but adding a hint of pumpkin brings it to a whole new level of greatness. Trust me! Per usual, I chose to use our family favorite organic bread–Dave's Killer Bread, Good Seed. I actually really love this bread and it comes in other flavors as well. You can find it at Target and Amazon Fresh or at least those are the two places where I purchase from. In the wake of our continued journey to eat healthy, I also used Coconut milk instead of regular milk. This works perfectly for us as we've substituted regular milk with Coconut milk entirely in our house. However, you can always use whatever you'd like.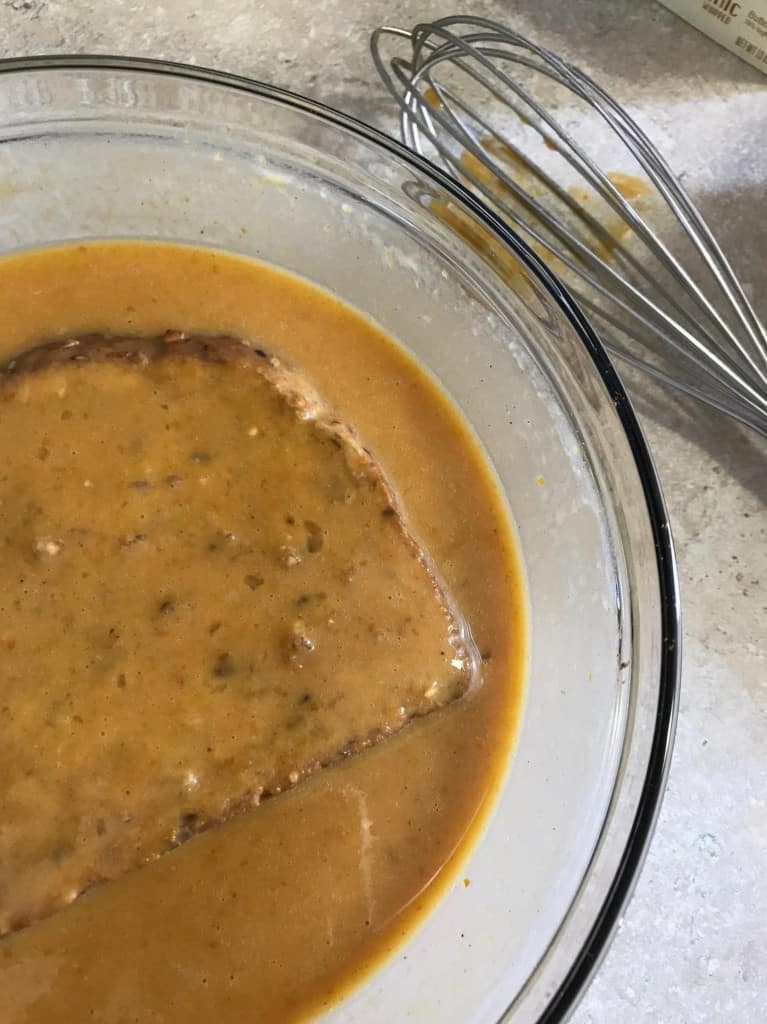 Now you know that I'm a big believer in flavor, so I couldn't make this french toast with pumpkin spices. It adds a really nice hint of nutmeg, cinnamon, and ginger. Yummy!
Just know that the pumpkin puree adds a nice thick creaminess to your french toast and the bread surely soaks it all in.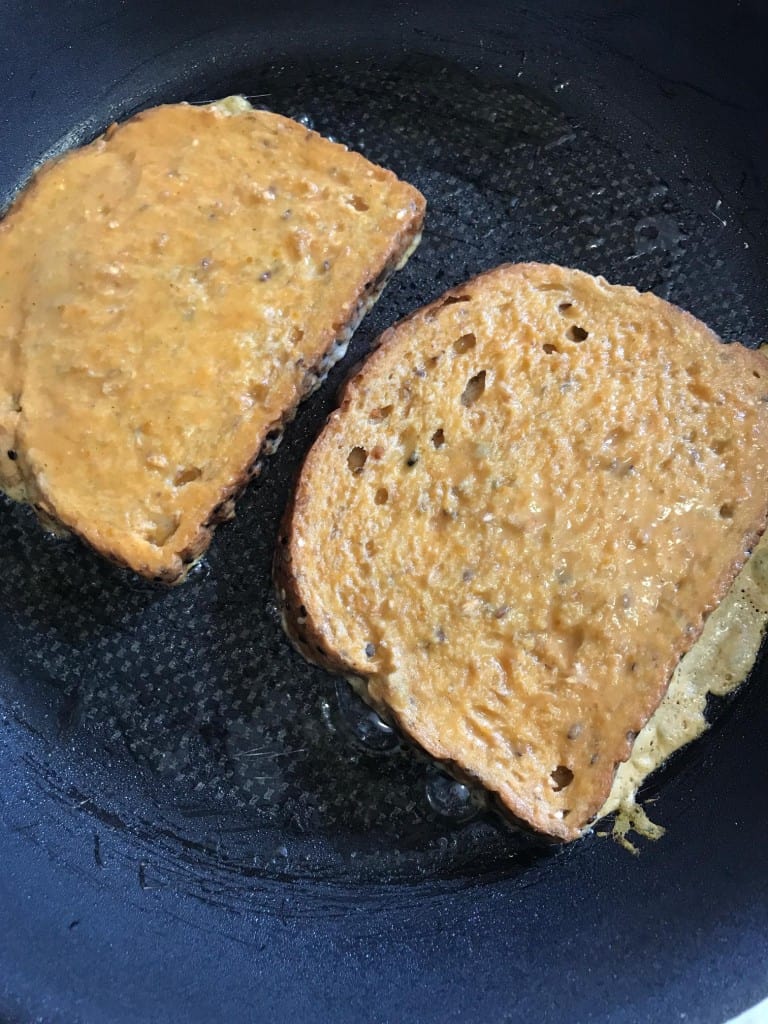 Since french toast already uses egg, I didn't feel like making a side of scrambled egg or anything. Therefore, I chose to dive into my Southern roots by making Brown Sugar Bacon. Ever since trying bacon this way, I haven't looked back! No more frying bacon the regular way. You simply lay your bacon strips flat on a baking sheet, sprinkle brown sugar generously over each strip, and toss them in the oven on 375 degrees Fahrenheit. Once the sugar begins to caramelize, simply turn the bacon over to it's opposite side and let it bake for another 10 minutes or so (watching it to ensure that it doesn't burn). Once fully cooked and all the sugar is caramelized, it's time to remove it from the oven and BAMMM!
For a more fancy effect, I chose to grind my bacons strips slightly and sprinkle them over my french toast! Haha. No need to do this, of course! This dish makes for an amazing breakfast, brunch, and dinner (if you're like me and enjoy breakfast foods for dinner sometimes!).
All in all, this recipe definitely gets me excited for the Fall. I most certainly won't be making any pumpkin pie this season, however, I am thrilled to experiment with the pumpkin flavor in other recipes. Don't forget to check out the recipe for this delicious dish below.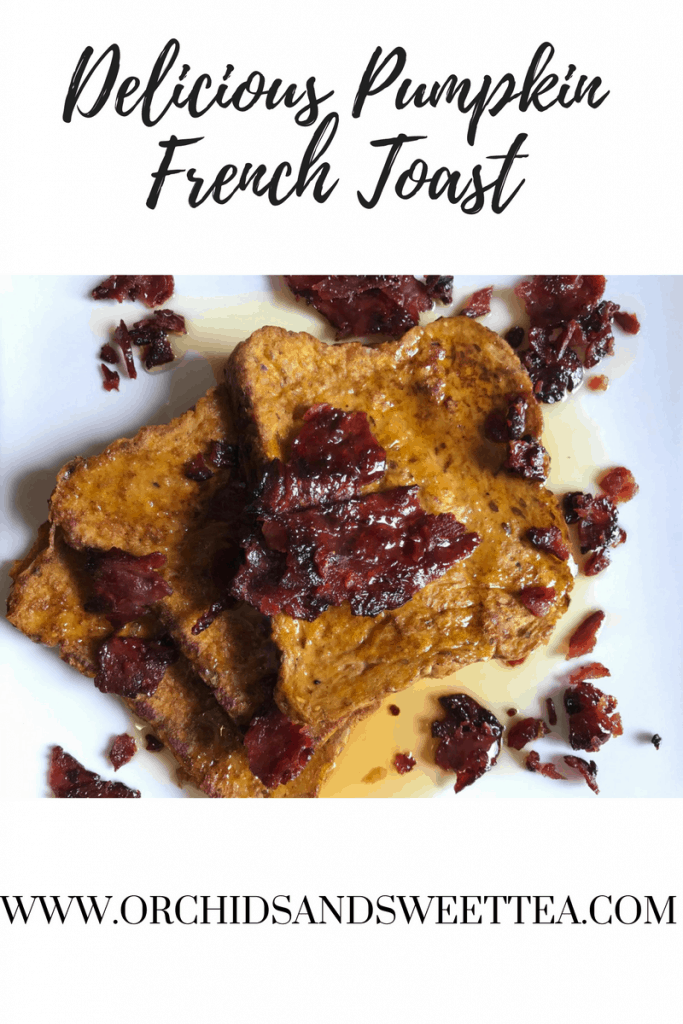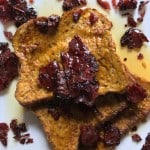 Delicious Pumpkin French Toast
Must-Haves:
3/4

cup

Coconut milk

(You can use your own favorite milk instead)

1/2

cup

pumpkin puree

4

eggs

2

Tbsps

brown sugar

1

tsp

vanilla extract

1

Tbsp

pumpkin spice

8

slices

organic bread

(You can use your own favorite bread instead)

vegan butter, for frying

(You can also use your own favorite butter)
Instructions:
Preheat your griddle or non-stick skillet on medium heat.

In a medium mixing bowl, whisk together coconut milk, pumpkin puree, eggs, brown sugar, vanilla extract, and pumpkin spice until well combined.

Add butter to griddle (or non-stick skillet) and dip bread slice into egg mixture (allowing a few seconds for it to absorb mixture). Then rotate and coat opposite side.

Transfer to griddle (or non-stick skillet) and cook until golden brown on bottom, then lift, butter griddle once more and flip french toast to opposite side and cook until golden brown.

Repeat until all slices are made.

Serve warm with butter and maple syrup. Add brown sugar bacon if desired.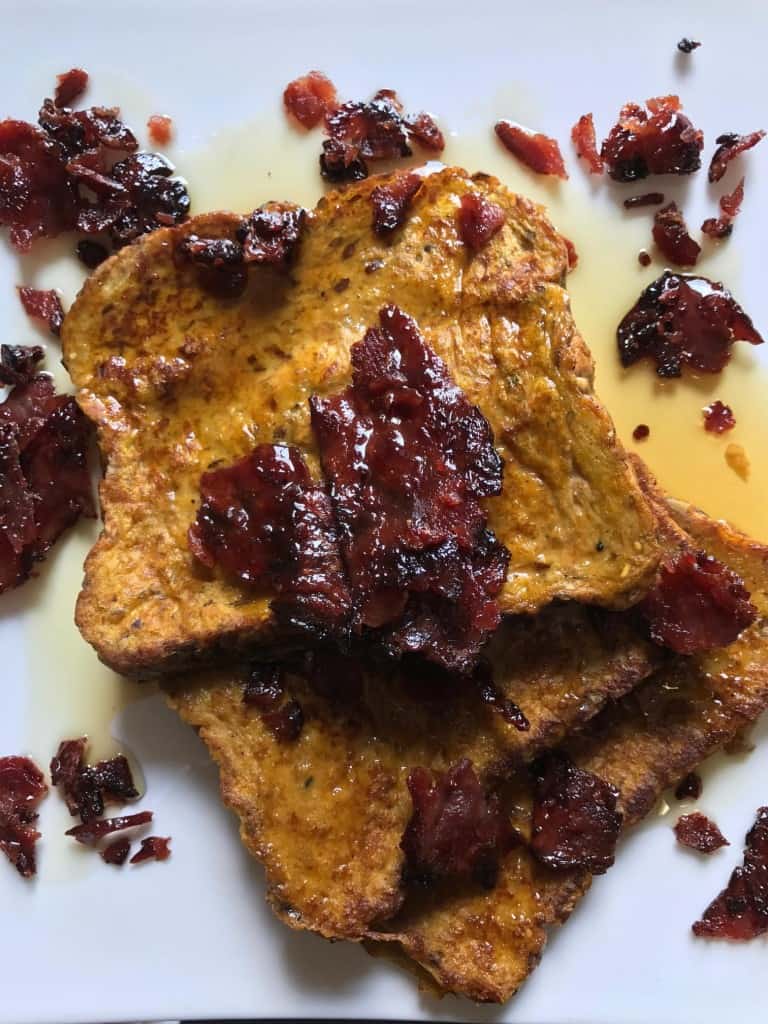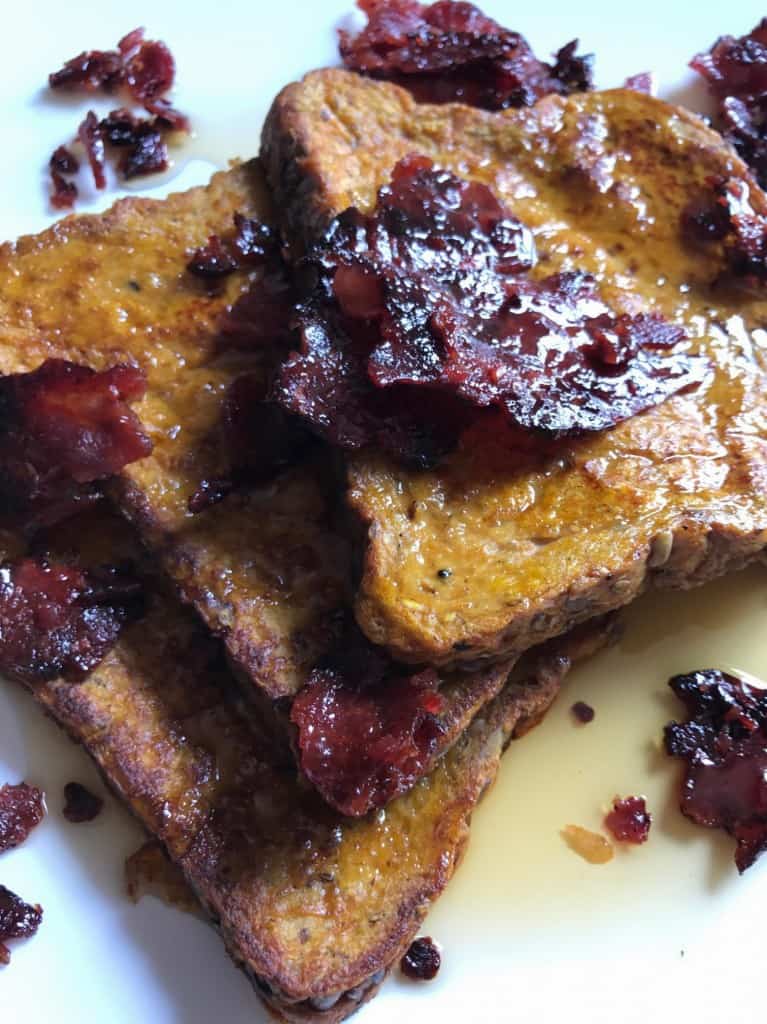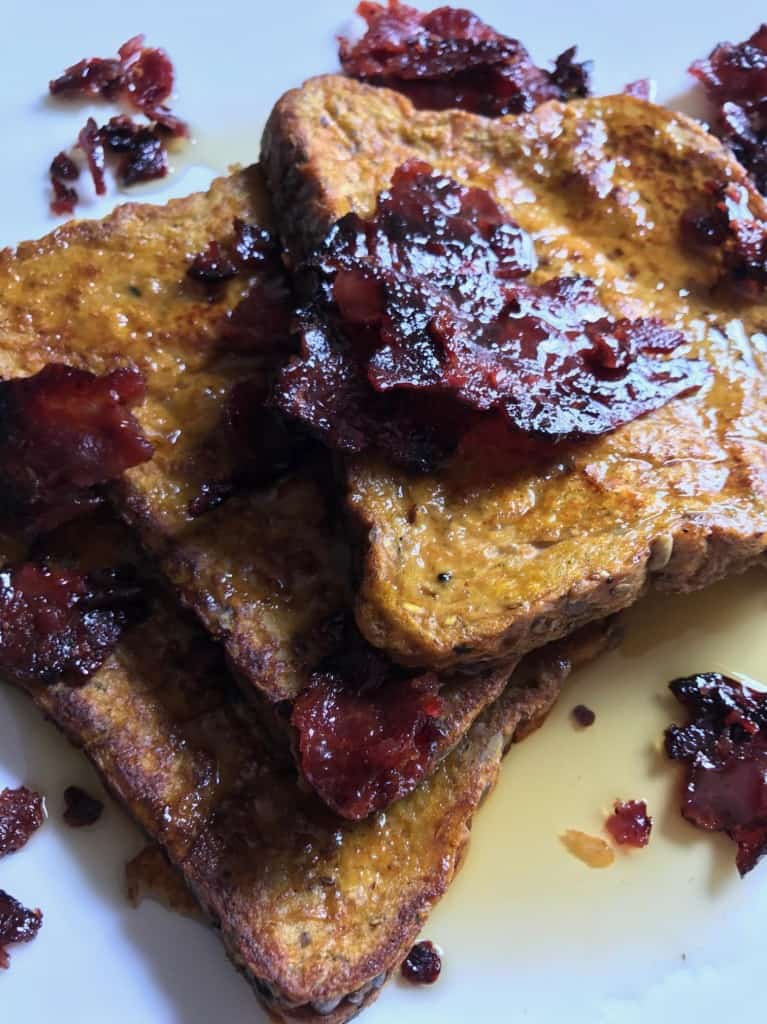 There you have it! Pumpkin French toast + Brown sugar bacon! Oh, my goodness!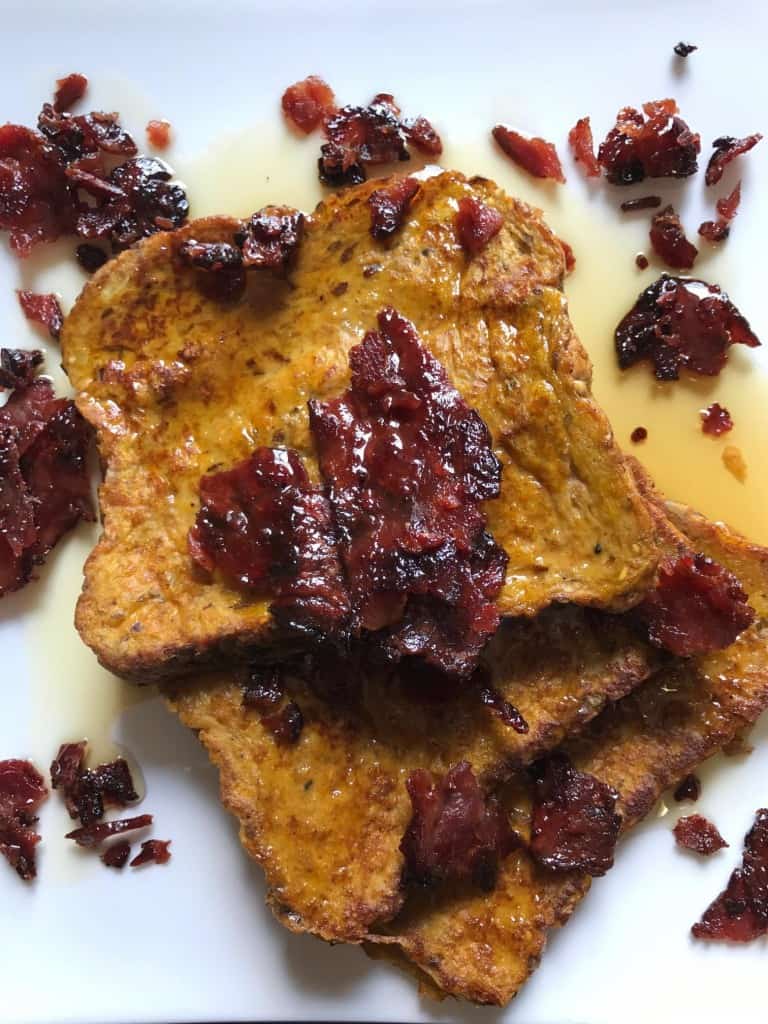 Check out my latest post on tips + tricks to getting your child to enjoy healthy lunches: Here!
Tweet with Me on Twitter
Do you have any favorite Fall-inspired recipes?
Be sure to let me know in the comments below.